Featured
How This Chicano Poet From Diamond Bar Got Into 50 Bookstores Without a Major Deal
7:48 AM PST on March 3, 2022
What has two thumbs and has gotten his book of poetry into 50 bookstores in Southern California without having landed any deal with a major publisher? This foo. Every poet and author dreams of their work being held up against the greats, and of course, immediately becoming a New York Times bestseller. Every poet looks for people, institutions, and situations to blame when a book is released and it doesn't rock the world. I was no different.
That includes 30 Barnes & Noble locations and prestigious independent bookstores such as Skylight Books, Stories Books & Café, and Tia Chucha's Centro Cultural. 
My name is David A. Romero. I am a Mexican American spoken word artist and poet from Diamond Bar, CA. I'm a USC grad, the first in my family to graduate from college. My father, from Boyle Heights, worked for Cal-Trans for over 30 years. My mom, from East L.A., has been a volunteer with church organizations for nearly her entire life. My uncle is the legendary Chicano muralist Frank Romero. 
Me? I have written two self-published books of poetry and have performed and read my poetry at over 75 colleges and universities in thirty different states in the USA. My latest book, My Name Is Romero was published by FlowerSong Press of McAllen, TX. 
Featuring cover art from celebrated Angelino muralist (and my prima) Sonia Romero, and featuring quotes from Gustavo Arellano, Curtis Marez, and Ulises Bella, My Name Is Romero, was released in June 2020, in the middle of the first wave of the pandemic, with very little hype, and just a handful of sales.
At the time of my book's release, I was working a full-time job in the receiving department of a restaurant supply store in Anaheim. I often had little time or energy to think about selling or promoting my book. Both my waking hours and nightmares that June was spent thinking about trucks and bills of lading and the towers of pallets and boxes of PPE materials that threatened to collapse on myself and my co-workers each day. During my lunches and smoke breaks, I would think of the car I was saving up for, and how I might soon bet my savings on myself and my success.
One day I got called into the office at work, the pandemic still very much ongoing, and got chewed out by my boss for coming in on a day I had off to try to make the next week easier for myself and my co-workers. "No overtime allowed. No exceptions." I quit on the spot. 
That day, I abandoned the workers who depended on me. I considered many of them my friends. I still feel guilty about this, even though I probably shouldn't.
Now jobless, and finally in possession of a car after years of calling up rideshares and riding the bus), I decided it was time to bring the hustle I had brought towards building up my resume and touring across the country towards hustling books. 
And now that I've told you my inspirational story (and I really hope some of you are moved because we've all bumped Kanye West's "Spaceship" or Atmosphere's "Guarantees" at one point in our lives), here are my ten points that may serve as a roadmap for other working writers hoping to emulate my success...porque el sol sale para todos.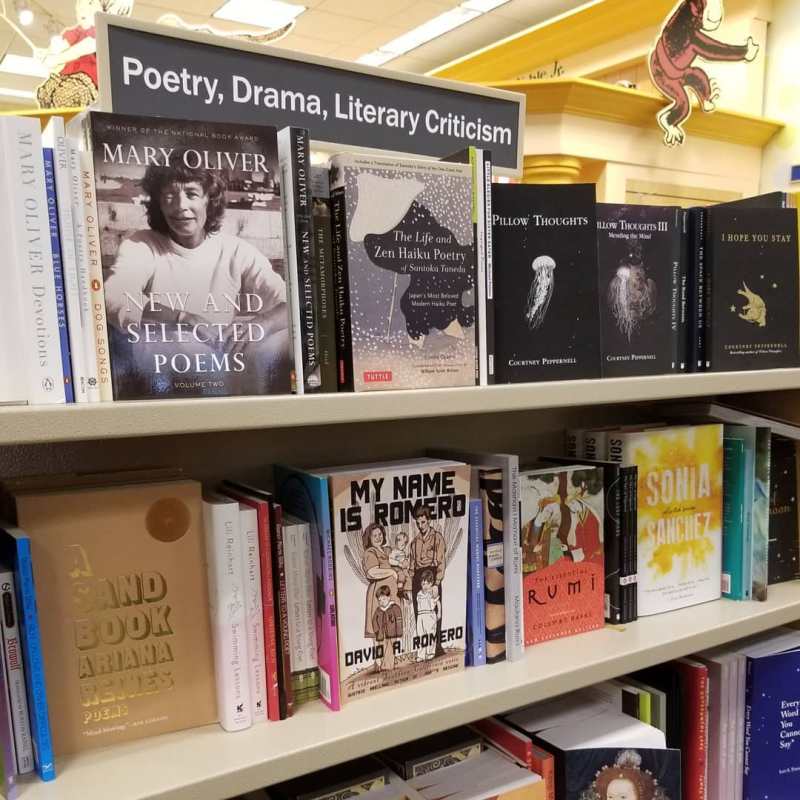 How I Got into 50 Bookstores without a Major Deal
1. Find someone who directly inspires you.
I saw the author of Dreaming with Mariposas, my pressmate and friend, Sonia Gutiérrez, get her book carried at Barnes & Noble Oceanside. I had always heard of this being a possibility, but never before had seen anyone I had known so well and had traveled in as many of the same circles with, achieve it before. It made me believe I could do it, too.
2. Ask a bookstore to carry your book and make it easy for them.
I asked for my closest Barnes & Noble location to carry my book. my publisher Edward Vidaurre and his team with FlowerSong Press had registered my book on barnes&noble.com and had printed my book through Ingram, a major distributor, ordering copies was easy for B&N Chino Hills. Just by looking up my book in their system, they could see that while it was "print-on-demand," (typically a no-no for them to carry) it was also "returnable," and thus they would have no problem selling it in-store (potentially having customers buying and returning copies). 
3. Personally ask the managers of bookstores to carry your book.
I visited nearly ten Barnes & Noble locations in one long afternoon, after that first one, with my best friend, fellow pressmate, and the author of Mowing Leaves of Grass, Matt Sedillo. He traveled with me that day as we had often traveled the country together to perform at colleges, covering an area from Fullerton to Redlands, asking to speak to managers at each location, asking if they would be willing to purchase copies of my book, all the while informing them that I was a local author. Within the first trip, I was amazed by how many managers agreed to purchase the books, some ordering as many as five copies. 
I learned from doing some research that about a decade ago, Barnes & Noble had undergone a huge shift in their corporate buying strategy, giving regional buyers, and in some cases, store managers, a great deal more freedom in deciding what books to carry in their stores. In many cases, those buyers and managers had been given a mandate to support local authors, and thus ingratiate themselves to their local communities. 
Without corporate mandates such as these, to buy locally, it would be nearly impossible for self-represented writers published with emerging publishers like FlowerSong to be carried in-store by big-box retailers like Barnes & Noble. Without the push of a literary agent or a major publisher, most books find their way to very few shelves or even get printed after their initial runs. With many of the major publishers and literary agencies based in New York, it can be a challenge for Los Angeles-based authors to catch their attention.
4. Once you're on a roll getting yes responses, keep going and visit further book stores. 
With success in getting into so many local stores and getting so much positive feedback in posting about my experiences going into the stores and sharing in-store photos with ordered copies of my book, I was emboldened to visit every Barnes & Noble within 30 miles. Soon, I had visited every store within 50 miles and then visited every store within one hundred miles (the search radius provided by the Store Locator function on the company's website). I have traveled from Ventura all the way to San Diego, asking locations to carry my book. 
Not every Barnes & Noble store agreed to carry My Name Is Romero. Some managers told me it was up to regional buyers and that they had passed on buying it. Some employees shot me dirty looks and told me what I was asking for was "impossible." Some employees never responded to follow-up emails or messages through social media. However, the vast majority of Barnes & Noble employees I dealt with were extremely kind and supportive, even trading stories with me about other authors they had met. 
5. Take advantage of book signings to interact with readers and people who support you. 
Managers would invite me to sign my copies once they came in, whether they be single copies, or five, and take photos. They would share the photos on the social media accounts for their individual stores. Each share was a wonderful way to reach potential fans and galvanize my existing fanbase (who could see with each photo, and each new city I had visited, how driven I was for my book to succeed). 
Store managers began to take notice, following the social media accounts of their neighboring stores, and in some cases, I was recognized as I walked through locations, some managers and employees already knowing my name and the name of my book.
Even during the pandemic, I have been fortunate enough to have done in-store signings at Barnes & Noble locations in Rancho Cucamonga, Montclair, Aliso Viejo, and Thousand Oaks. My next one will be in Encinitas.
6. Go to Barnes & Noble to check in on how your sales are doing. 
Often, I would double trip to Barnes & Noble stores with visits to independent retailers. Google Maps was my ever-present guide.
7. Look for unconventional spots that sell books. 
I kept a watchful eye on where friends were selling their books and kept myself open to selling books in unconventional places, such as Mobar Café in El Sereno, a place only recently known for carrying books, but one of my best-selling locations (coming in second only to Re/Arte Centro Literario in Boyle Heights).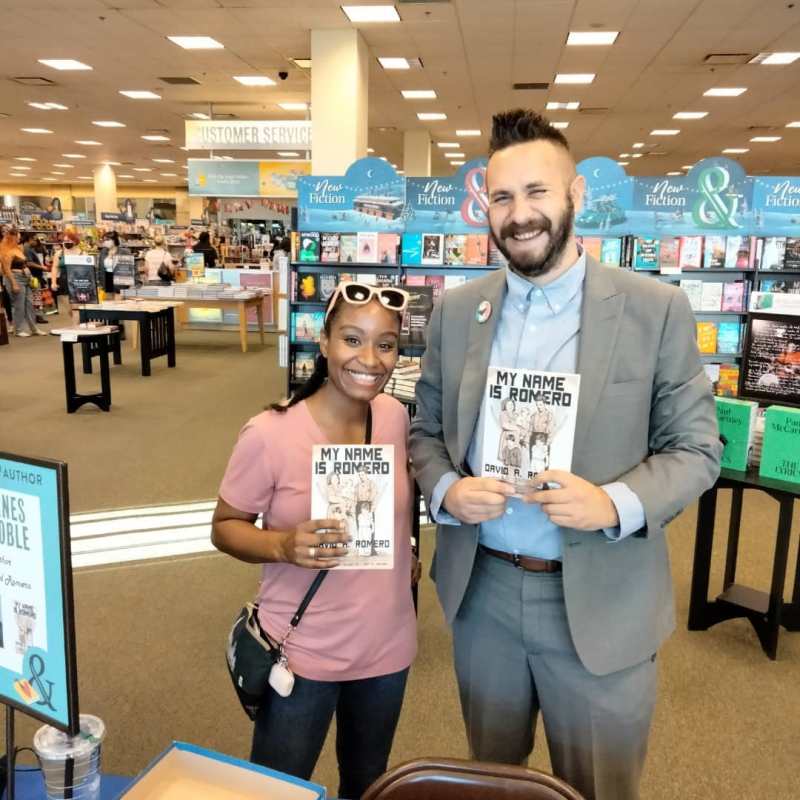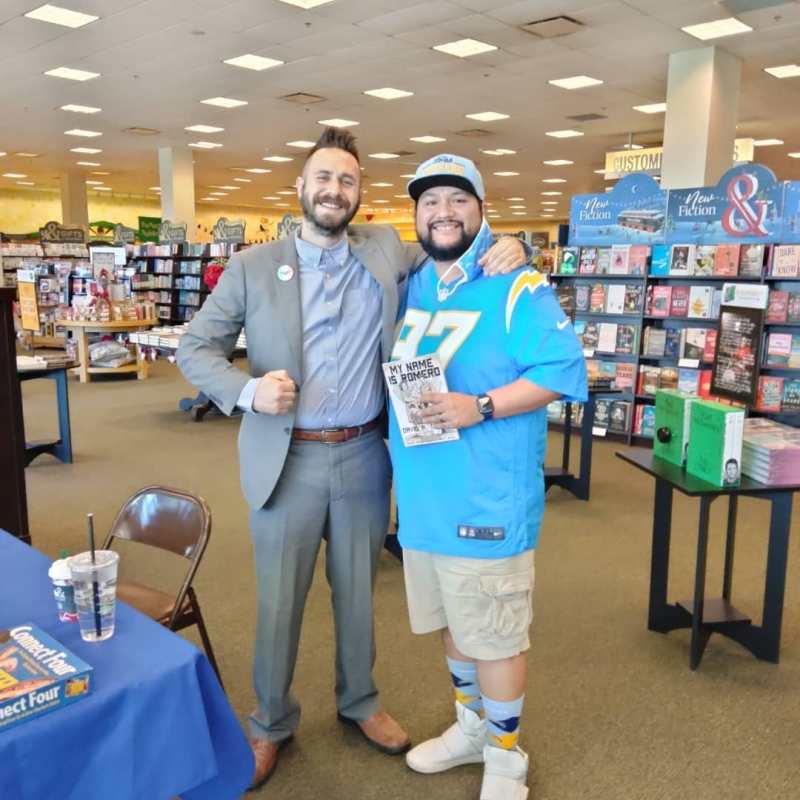 8. Take business cards of owners and managers, and keep following up—always politely and professional. 
In some independent retailers, I would take business cards of owners and managers, sending them emails, sometimes waiting months before I heard back from them. I kept contacting them, always polite and professional. 
9. Don't focus on the first order of books a retailer buys from you, they will order more.
In one independent retailer location, the manager tried to tell me that my book was self-published and that they wouldn't carry it, and I quickly informed him that FlowerSong Press was a celebrated press that had published Alurista, and was on its way to publishing bestselling authors such as Luis Alberto Urrea and former US Poet Laureate Juan Felipe Herrera. The manager bought two books for a profit, to me, of two bucks per unit. To me, the important thing was getting into the store. Within a week, the two copies were sold out and they had re-ordered copies through Ingram. 
10. Build powerful connections with independent bookstores.  
I built powerful connections with independent bookstores: Medicine for Nightmares in the Mission District in San Francisco, Re/Arte Centro Literario in Boyle Heights, Los Angeles, The Book Jewel in Westchester, Los Angeles, and La Tiendita, a small bookstore and cultural shop located in the historical Centro Cultural de la Raza in Balboa Park, San Diego. Each of these amazing locations expressed their interest in hosting me and some of my FlowerSong press mates for readings. 
As a group of FlowerSong authors based in Southern California, we have helped each other to book readings, and in some ways, more importantly, help each other get placed into various bookstores. In order to play in the big leagues, we're building a team; our own team. 
I wish I could take credit for the idea. It was Matt Sedillo's plan.  
More than a year after releasing my book and a little more than half a year after quitting my job at the restaurant supply store, I have a list of all the places My Name Is Romero is carried at. It's at more locations than any poet or author I know of who hasn't landed a major deal. 
I plan on continuing north through Santa Barbara, the Bay, and Fresno. I plan on traveling through Arizona, New Mexico, and Texas after that.
The next goal is to be carried at over a hundred stores. 
The experience of trying to build my following, store by store, has reaffirmed in my mind that anything is possible with enough hard work, enough smiles, enough handshakes, and enough miles on the road. 
David A. Romero is a Mexican-American spoken word artist from Diamond Bar, CA. Romero is the author of My Name Is Romero (FlowerSong Press 2020), a book reviewed by Gustavo Arellano (¡Ask a Mexican!), Curtis Marez (University Babylon), and founding member of Ozomatli, Ulises Bella. Romero has appeared at over seventy-five colleges and universities in thirty different states in the USA.
Stay in touch
Sign up for our free newsletter