History
He's Giving the Final Tours of the L.A. Times Historic Downtown Headquarters ~ After 35 Years
11:59 PM PDT on June 12, 2018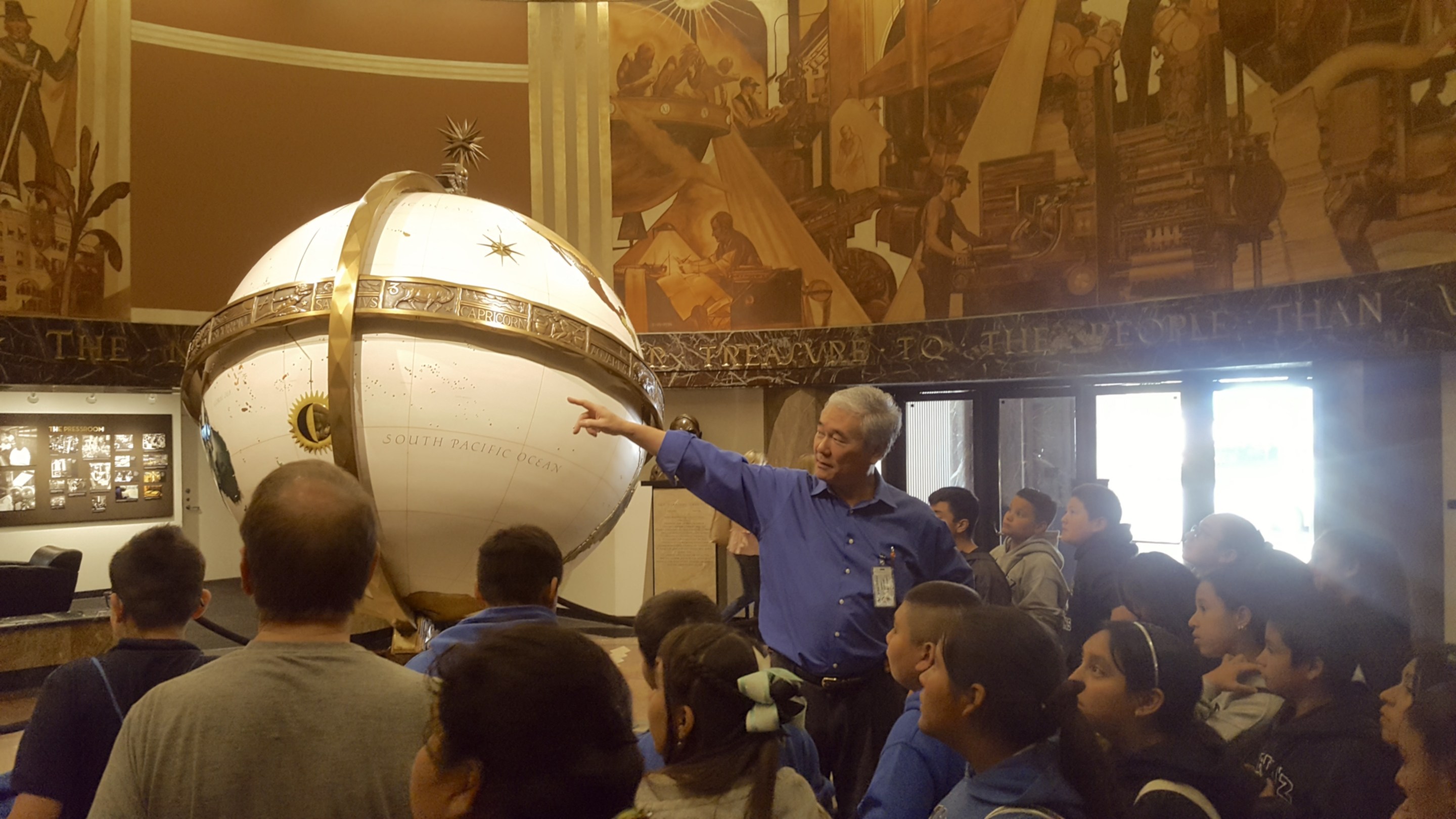 [dropcap size=big]D[/dropcap]arrell Kunitomi points to a mural in the Art Deco-decorated Globe Lobby of the Los Angeles Times, an image of the recently canonized Junipero Serra with an indigenous person.
"Father Serra is now a saint, we have a California saint," he tells the gathered group of elementary school kids, cheerily but neutrally. "But the Native Americans didn't do so well under Father Serra. Many died."
His words are perfectly true and straightforward, the kind of quick factual statement that is natural to newspaper people like him, if unnatural to the dogmatic or the ideologue. The kids listen. They are impressionable young Angelenos who, if you think about it, are perilously close to inheriting an era where fact becomes meaningless.
"Cool thing about journalists," the tour-guide tells them. "They're kind of like teachers and nurses. They don't make a whole lot of gosh darn money, but they love what they do."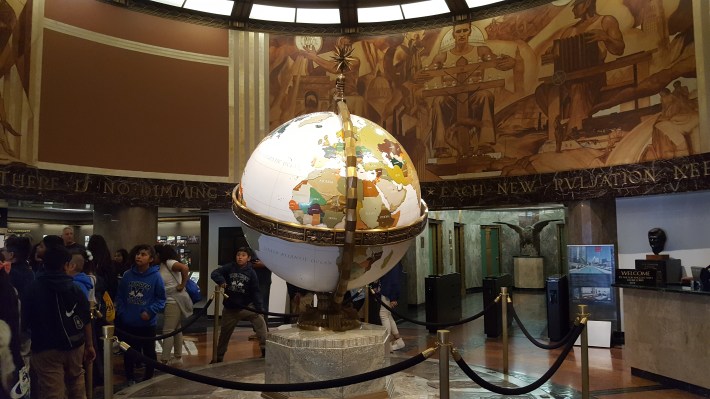 Kunitomi is conducting the last of these tours of the Los Angeles Times headquarters on First and Spring streets. By the end of this month, the future of the lavish Globe Lobby — designed by master architect Gordon Kaufmann in 1935 and named for its mechanical globe of the world, now motionless — is anyone's guess.
That's right. The biggest newspaper on the West Coast and a standard-bearer in American journalism is supposed to move to a new building in El Segundo, by the airport, after more than 130 years of printing on a daily basis from offices in downtown Los Angeles. Supposed to, because the deadline for the paper's move is extremely close — July 1 is the end of the paper's lease — and the LAT still hasn't technically been sold and transferred completely to its bidder, the billionaire L.A. doctor Patrick Soon-Shiong.
For years now the L.A. Times has not owned its building (current owners: a Canadian real estate group called Onni). And as the newspaper industry at large is literally dying before our eyes, the paper has to immediately go elsewhere for it to survive.
Facing the school kids, Kunitomi turns to a plaque on a wall. "This is the serious part of the tour." The children and their teachers are antsy but remain respectful.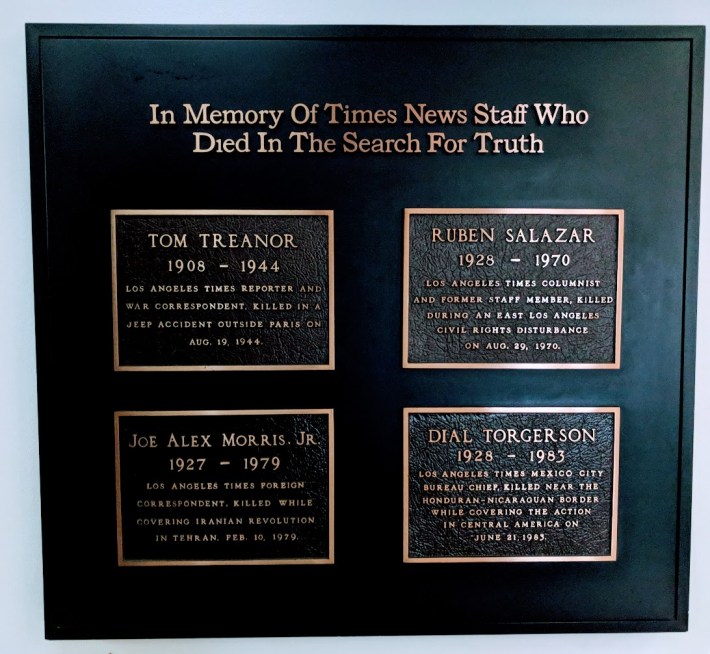 Kunitomi says the four names listed on the plaque belong to the L.A. Times reporters in the history of the 137-year-old newspaper who have died while performing their duties as journalists. There is Tom Treanor, killed in an accident with an Allied tank, in France in 1944 during World War II; Joe Morris, killed by a sniper in Tehran during the Iranian Revolution, in 1979; Dial Torgerson, killed by a grenade launched at his vehicle while covering the civil war in Honduras in 1983 (he was The Times's Mexico City bureau chief at the time); and "you may have heard of Ruben Salazar, leading Chicano journalist."
As Kunitomi explains, Salazar was killed by a shooting projectile from the Los Angeles Sheriff's Department while covering the Chicano Moratorium in 1970. Salazar's legacy is palpable when his name is invoked. The adults in the room murmur.
[dropcap size=big]K[/dropcap]unitomi has worked at The Times for 40 years, and has been been giving tours of the place for 35. He estimates he's guided around 400,000 people over the decades beyond the Globe Lobby and through the often labyrinthine combination of buildings that once housed the Times Mirror Company.
Some old-timers still call the block between First, Spring, Second, and Broadway, "Times Mirror Square." That custom too is fading.
On the third floor, the main city room of the paper is quiet and nearly empty around 11:30 am. Having worked once in this room myself, I know that the reporters and editors will start gathering and getting frantic as the day progresses; making a newspaper is an afternoon-to-late night thing.
Kunitomi stops at a silent cubicle, leans over its carpeted ledge, and yanks up a heavy book. "I want all of you notice, young and old, a very important book that's on every desk," he says.
It's a dictionary. The adults laugh.
Kunitomi reaches again. "This is another important book, the L.A. Times Style Guide," he says, leafing through some pages. "Does the L.A. Times use Hispanic or Latino? Is Asian American hyphenated or not hyphenated?"
The kids raise their hands with guesses.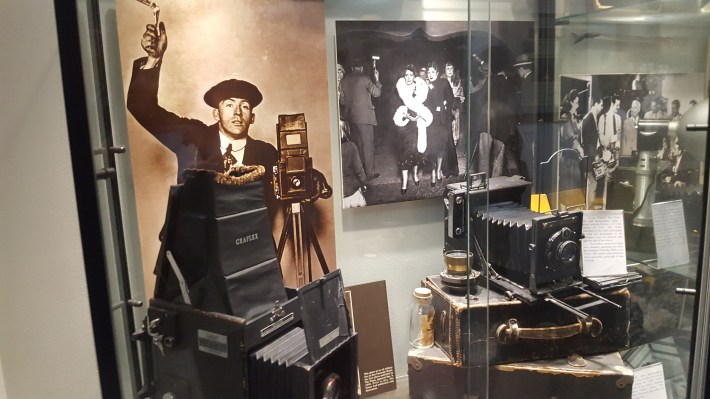 [dropcap size=big]A[/dropcap]fter this month, Kunitomi — a third-generation Japanese-American native of Los Angeles — will become a part of living history: the last of the great newspaper tour-guides at the last of the great newspapers. He expects to keep conducting tours of the L.A. Times at its new building, but these are definitely the last days that the downtown office is open to the public during operations.
'I'm just going to continue to take every visitor who wants to come.'
Kunitomi, now 65, says he sees his job as a something of a public service, especially these days. When the president of the United States spends most of his day belittling news organizations that try to adhere to standards of accuracy and fairness, dubbing critical press "fake news," it's arguably more urgent than ever for news consumers to have a good grasp on how, exactly, the news is made.
"We talk about it all the time," he explains. "I have to help clarify people's feelings, because they're assuming The Times is a straight liberal paper. Actually, we're more moderate if anything."
Kunitomi is not sure when the last tour of the complex will be. Could be end of June, could be as soon as this Friday. Requests have been mounting.
"I'm just going to continue to take every visitor who wants to come, and there has been a definite uptick in requests," Kunitomi tells me. "Including retirees, and old employees from other states, people who live very far away."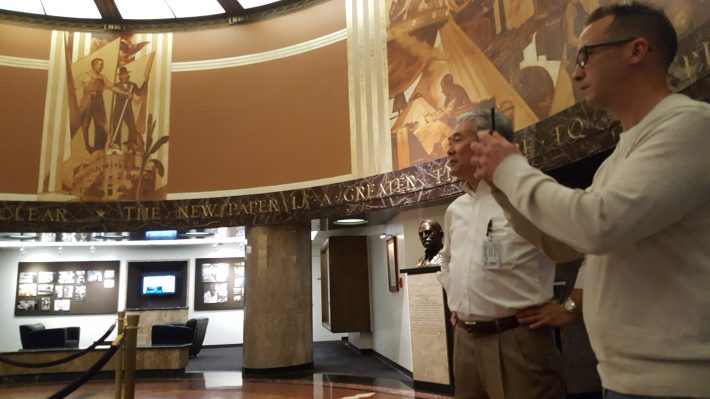 [dropcap size=big]D[/dropcap]arrell started working at the newspaper in 1977. He had stints in the archives and in circulation before starting tour-guide duties. He took to it, naturally. Kunitomi moonlights as an actor and director, and has had a rich career in the field, appearing in multiple television shows and films since 1986, including on episodes of Seinfeld and Married With Children.
"It's been excellent training for an actor, because I've interacted with people from around the world, and sometimes difficult people," he says. "It's given me incredible insight, and it's from every community, from the poorest to the richest. Kids from South-Central, the Valley kids, the East L.A. kids, kids from the Marlborough School … and from very liberal people to very conservative people, too."
On the third floor, hallways and elevator landings are adorned with prints of historic front pages and plaques honoring the newspaper's Pulitzer Prize-winners. I stop at one showing Jeff Gottlieb and Ruben Vives, co-winners of the Pulitzer in Public Service in 2011 for uncovering a wide-reaching corruption scandal in the city of Bell.
I remember Vives well. He wasn't officially a journalist in the early 2000s, when our stints crossed at the paper. He was one of the news assistants, the young folks who sorted mail for the city desk and sometimes answered the phones. Ruben was quiet, unassuming, always helpful. I was a young staff reporter, not much older than him, really.
A year after I left the paper, Vives started contributing to the paper's Homicide Report blog, and before long, getting out on bigger stories. Brought to the U.S. as a child from Guatemala, Vives should make us all proud. He came up. He is the very picture of what is possible in this country, on this continent, with freedom of the press.
And he's not the only cat of color repping at the paper today, either ...
The tumultuous recent history of the L.A. Times — scandals, buy-outs, cutbacks, corporate boondoggles galore — have rendered the mighty paper a bit of a shadow of its former greatness. It's still kicking, of course, but under the constant duress caused by hostile ownership seeking to squeeze every last penny out of a dying model. Soon-Shiong offers some measure of hope.
Right now, it seems via social media that everyone who works there is getting nostalgic. Who could blame them?
"It's gonna be a big change for everybody," Ben Welsh, data editor for the paper, tells me. Welsh has been posting photos on Twitter of idiosyncratic design details from inside Times Mirror Square (see his posts gathered here). "For me, it brought home that we'll be leaving this eccentric, sprawling, historic, lovable building that I've been lucky enough to work in for the last decade."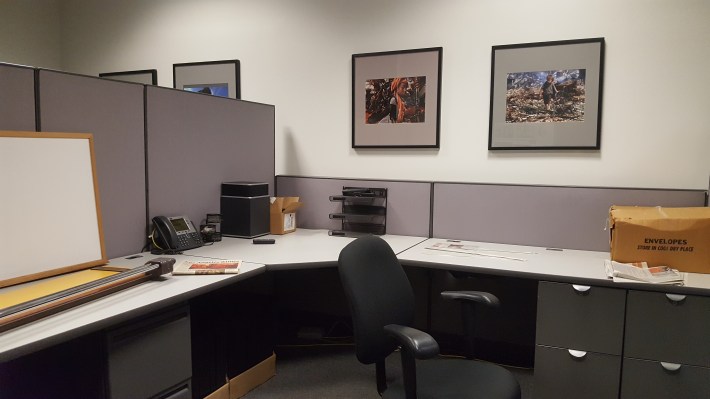 [dropcap size=big]A[/dropcap] newspaper, it bears repeating, is a collection of sheets of low-quality inked paper folded together and decorated with strings of words known as headlines and articles, as well as photographic images and advertisements, some in color, intended as a whole to give its reader a sense of the most relevant things that happened in the world and their direct community in the previous day.
Future generations may need to keep this definition handy.
Today, the product and its corresponding industry are in a steep decline. Earlier this year, "smart" billionaire investor Warren Buffett said that all but three newspapers are doomed in the 21st Century, and he might have been right, except on one point. In a typical lazy slight to the West Coast, he said these would be The New York Times, The Washington Post, and The Wall Street Journal. I'd say the Los Angeles Times will remain among those, in some form or another.
Back at the Globe Lobby, Kunitomi is recalling the darker aspects of the newspaper's history: like the fact that it was bombed by radical unionists on Oct. 1, 1910, killing 21 innocent people. The dynamite explosion destroyed an earlier Times building, on Broadway and First, across from the present Times Mirror Square. It was a turning point for the paper, for the city, and for the American labor movement.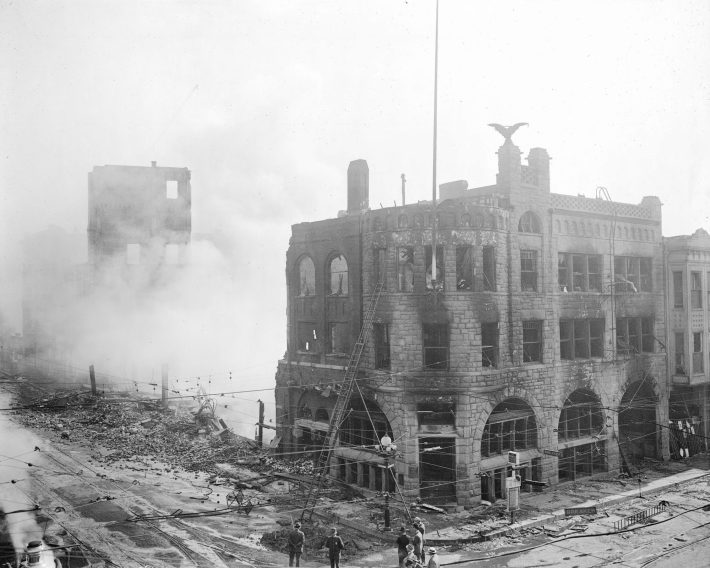 Now unionized — incredibly — The Times was notorious for being anti-worker and not exactly welcoming to people of color. The paper's role in the dirty history of the city is the stuff of cinematic legend.
"General Otis was the first publisher, this man was a real Civil War general, and he promoted the heck out of the city, because … we had to grow," Kunitomi explains, during another tour, set at evening hours and drawing a slew of design and history buffs. "So we extolled the beauty of Southern Cal, open land, ocean breezes … Come to California — land is cheap!"
He points to a map showing the extent of Los Angeles a century ago, boundaries visible: all of it fits in what is now little more than the space taken up by the Civic Center and Pershing Square.
"L.A. was so small look at this address, 10 Spring, no North or South," Kunitomi says, to whispers. "The bank didn't list an address because everybody knew where it was."
The tourists laugh.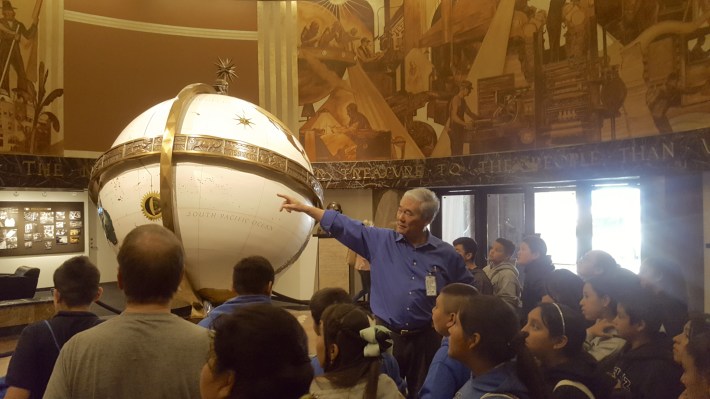 If in public Kunitomi is on and great at the punchline, in private, he's a bit reserved, even forlorn for the days of The Times's — and the city's — golden era. One person's golden era, though, is always another person's prehistoric past.
"I really don't like the fact that they sold our home," he tells me. "It is to me what's going on in L.A. Outsiders are coming in, buying properties, jacking up rents and prices, blowing L.A.'s vibe out of the water, bringing in their bad attitudes from other states and cities ... and I think they're ruining my hometown."
As for the future, Kunitomi, ever the booster, says he's not giving up hope. He loves the paper and the city too much. El Segundo, here he comes.
"I'm guardedly optimistic, because we've been through quite a bit," he sighs. "And I think anyone will tell you we have the scars to prove it."
The last tour date at Times Mirror Square is uncertain. Call (213) 237-5757 for more information.
ALSO BY THE AUTHOR:
An Ode to Oaxacan L.A. ~ Friday Nights at Poncho's Tlayudas
The L.A. Taco Interview ~ Brian Calle, Publisher of L.A. Weekly, Answers Critics
Street Vendor Gets a Taste of Justice ~ The Case of Humberto Yauli
Daniel Hernandez is editor emeritus of LA Taco, serving 2017-2019. He is currently a staff writer for the L.A. Times. He is former Mexico bureau chief for VICE News, and former staff writer at the Los Angeles Times and LA Weekly. Daniel is author of the book "Down & Delirious in Mexico City."
Stay in touch
Sign up for our free newsletter