Tacos
'Have You Ever Been Frightened by a Dumpling?' ~ J. Gold on the San Gabriel Valley
3:14 PM PDT on July 26, 2018
[dropcap size=big]I[/dropcap]s heaven a San Gabriel Valley strip mall? Jonathan Gold might've volunteered that it is. Jonathan logged a significant percentage of his annual mileage exploring the boulevards and avenues of the San Gabriel Valley, and some of his most wonderful writing came about as he championed the area's enormously diverse restaurants.
It was apparent in his reviews how much respect he had for these places, a respect rare in mainstream media back when he first started writing about food and not quite as common as we'd like to see in today's major publications. He obsessed over soup dumplings; he admired a proper pho broth. The skill required to shave a bowlful of noodles from a clump of raw dough, or to roll a proper beef roll, did not escape his attention. And maybe most importantly, Jonathan was pretty damn funny, so if there was a restaurant with a dumpling the size of softball, you could count on him to have a field day with it.
Kindly, of course: Jonathan was the sort of critic aware enough of his privilege to know that whether a joke uplifts or cuts often depends on who's delivering the punch-line.
The number of reviews Jonathan filed restaurants over his career is staggering; if you organized them all into an anthology, you'd well have a recent history of the region. Here are a few choice quotes — or excerpts, rather, because it's near impossible to pull a Jonathan quote without pulling in everything else around it — from a few of his jaunts to the SGV.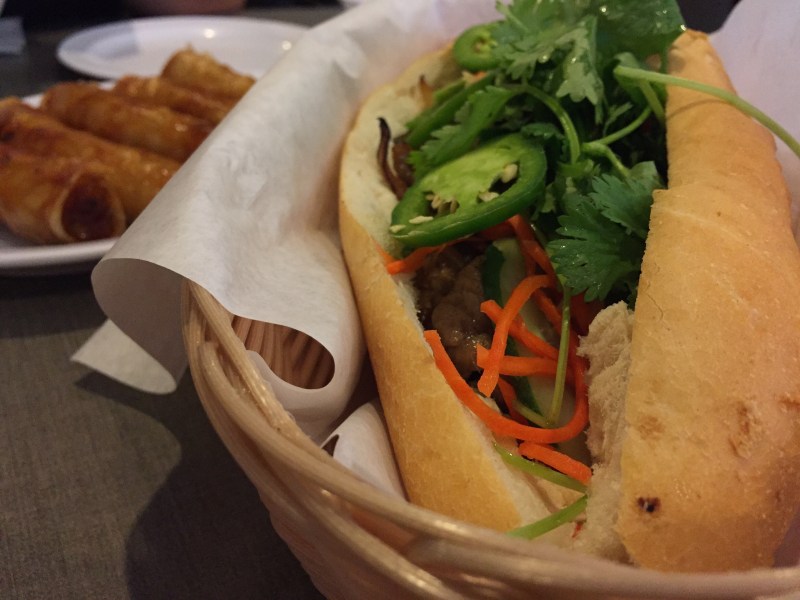 About the mini-malls of Las Tunas Drive, in a piece co-written with Laurie Ochoa
The heart of the Las Tunas eating district is made up of essentially two mini-malls, cater-corner from each other on each side of Las Tunas at Mission Drive. Mini-malls may be ugly and undistinguished, strings of small business that have little in common with each other, but they are attractive compared to the alternative--a city becoming a "revitalized" theme-park version of itself, stuffed with chain stores.
At their best, mini-malls can make dreams come true: an opportunity for the undercapitalized businessman with a knack for shish kebab or Hainanese chicken rice, an opportunity for neighborhood residents to explore a world of cuisines.
Inside the self-contained world of the Las Tunas Plaza, for instance, its parking lot almost always filled to capacity, three excellent restaurants, one right after the other, serve the food of Indonesia, Taiwan and Vietnam.
About drawing inspiration from the SGV
When the big Chinese food mall San Gabriel Square was young, the most popular restaurant was probably Tung Lai Shun, inspired by a famous Islamic restaurant in Beijing and serving a style of food we had never seen here before. I used to take visiting cookbook writers to Tung Lai Shun — I was convinced that Richard Olney would find hints of Provence in the plush braised lamb and that Fannie Farmer auteur Marion Cunningham might find inspiration in the flatbreads. (They didn't, but it in no way diminished my admiration.)

There has never been a local restaurant quite like Omar's, a few tables squeezed into what used to be the Taiwanese noodle joint MaMa's. It specializes in Islamic Uyghur cooking, a cuisine that more closely resembles the cooking of Uzbekistan and Afghanistan than it does anything you might think of as Chinese — Central Asian cooking approached from the East rather than the West. When you eat Mrs. Omar's Uyghur cooking, you begin to understand the interconnected nature of the world.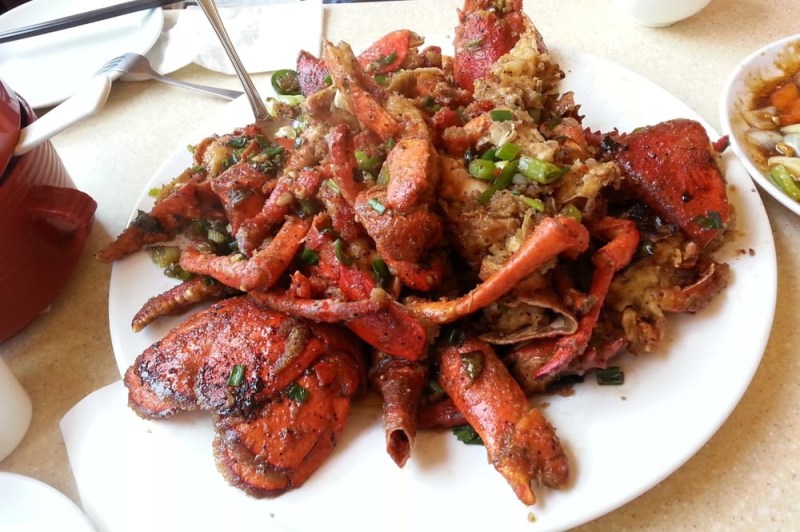 About the single-dish restaurant

My first restaurant column for The Times, written when I was still a music writer who answered his phone "Guns N' Rosesdesk," was about the concept of single-dish restaurants, places like Lawry's, Shiro and Philippe, whose menus may be as long as a remix of "November Rain" but which might as well serve just the one thing they are famous for. I was writing then about El Parian in the Pico-Union district, still the best place to go in Los Angeles for a bowl of Jalisco-style birria, but the single-dish principle is universal. As a waiter at the original Palm was once reported to have said, "Sure, I'll bring you a menu. But first, tell me how you'd like us to cook your steak."
The Asian swath of the San Gabriel Valley is, of course, a hotbed of single-dish restaurants, from the spicy fried lobster at Tan Cang Newport Seafood to the Beijing duck at Beijing Duck House, the spring rolls at Golden Deli and the roast catfish at Phong Dinh. Din Tai Fung in Arcadia is where you go for xiao long bao, soup dumplings, although the menu lists dozens of other things; 101 Noodle Express in Alhambra is where you go for flaky, crunchy beef rolls, although it opened as a restaurant dedicated to the cult of De Zhou chicken, a famous dish from Shandong.
Hui Tou Xiang Noodles House is a tiny new restaurant in a San Gabriel mini-mall, a few steps from the only restaurant in town serving a proper version of Nanking duck, and right next to Luscious Dumplings, an insanely popular noodle shop beloved for its crusty pan-fried dumplings. [...] But what you are here for are the titular hui tou, an invented name for … Chinese blintzes, more or less: dumpling skins burrito-wrapped around thumb-sized lozenges of pork minced with onions, flattened into oblongs, and pan-fried tawny brown. The pork juices become pressurized, and when you breach the crisp skin with your teeth, they jet across the table or right down at your lap.

About preternaturally large soup dumplings
Have you ever been frightened by a dumpling? Truly, genuinely scared? Because the juicy crab and pork buns at Wang Xing Ji — smoking-hot dumplings the size of water balloons, sneakily full of boiling juice — could probably be weaponized.
You could deploy them as grenades, I'm pretty sure, lobbing the heavy spheroids over battlements. Or you could employ them as sub-lethal projectiles, splatting them into the enemy at will, although the sticky broth is undoubtedly prohibited in an obscure codicil of the Geneva Conventions. If you were on the other end of such an attack you would die happy, with sweet crab and pork juices trickling down your cheek — but you would still die. Does battlefield protocol in such cases include the administering of vinegar and fresh ginger to the fallen along with last rites? I would hope so.
It's 107 degrees in the San Gabriel Valley sun, a blasting heat with a sulfurous, hydrocarbon edge, and the sweating hordes packed inside the lobby of the new King Hua huddle under the one vent in the room that even promises a bit of cool, jostling one another for the chance to have their cheeks licked by the hint of a breeze, and muttering threats toward the newcomers, whose entrance is accompanied by 100 cubic feet of stinking, superheated air. You stumble outside to the patio waiting area, and just as quickly, the heat forces you back in. After 45 minutes or so, you start to wonder whether any dim sum breakfast could be worth this. The woman at the podium barks out Cantonese numbers with a sneer you imagine more appropriate to a prison guard assigning new inmates their cells. And then your number is called, the crowd parts and you are in an air-conditioned heaven with a dripping glass of ice water in your fist, a pile of fried smelts at your elbow and a tableful of dumplings on the way.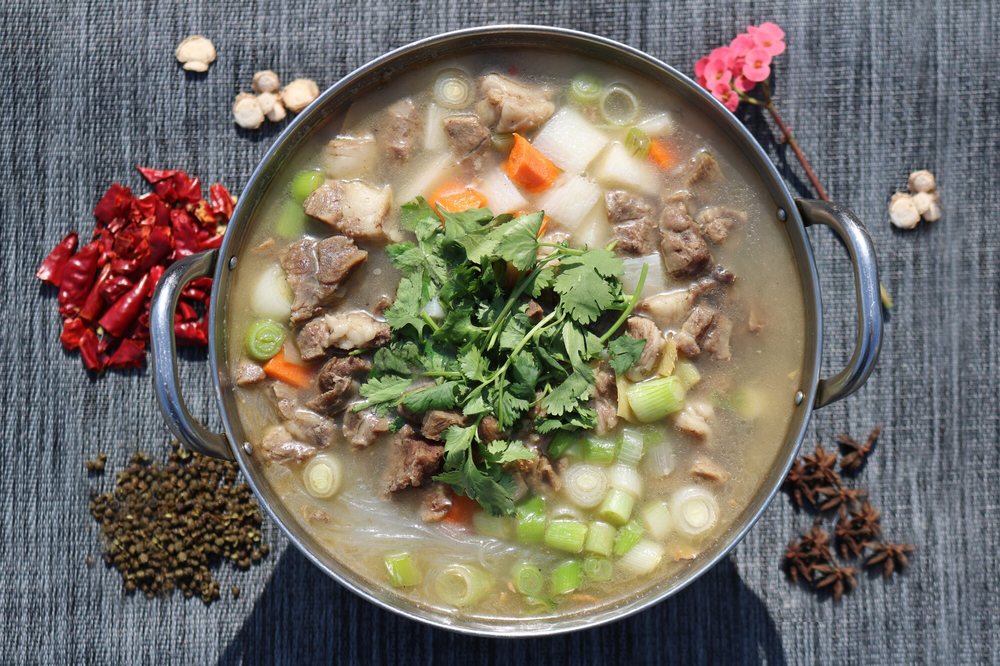 "If you gaze long into an abyss," Nietzsche wrote, "the abyss also gazes into you."
If you gaze long into Nothingness, or at least into the San Gabriel Sichuan restaurant of that name, the Nothingness that stares back at you is likely to include steamed whole fish, braised lamb with jelly noodle, and pig feet with hot pepper. The steam rising from hot pots may suggest an infinite void, but only for that moment before the vivid red of the roiling broth becomes visible through the mist. Also, I imagine the empty world does not smell quite so strongly of garlic and toasted chiles.
Why is there something rather than nothingness? Because the presumption of nonexistence does not allow for the possibility of live crawfish steamed in chile sauce, while Nothingness the restaurant does. Does existence precede essence? I haven't read a lot of philosophy since college, but I maintain that the snap of the shell, the softness of the flesh, indicate that it probably does.
I had assumed that "Nothingness" was a mistranslation of the Chinese characters — it's not — or else a statement of rebellion, a way of identifying itself as The Artist Formerly Known as Huo La La. The people at the restaurant suggest that the name refers to a positive Chongqing attitude toward life. A friend thinks that it may be something like the "no worries" you hear from Australians. I'm still going with Sartre.

It has come to my attention that some of you think I have been paying too much attention to noodle shops in San Gabriel. And I realize, yes, I have been writing quite a bit about San Gabriel noodle shops lately, although in my defense I would point out that some of them are technically in Alhambra or Rosemead.
San Gabriel noodle shops are a particular interest of mine, as you have probably determined — a subject I deem to be worth a lifetime of study. You may be wishing that I had spent more time exploring the San Jose–based chain restaurants that populate the new Santa Monica Place, or the murderers' row of bad Italian restaurants in Brentwood, but we all have our weaknesses: This is mine.
When I see all the new Dongbei dives that I'll never get to, when I work through all the new dumpling places up on Las Tunas Avenue, I sometimes regret that I can't devote my entire life to the medium of wet, geographically inconvenient dough. I could probably point you to 20 or 30 San Gabriel noodle shops that I haven't had time to write about so far, pho counters and mee slingers and mian merchants, and I suspect each of them is more interesting than the latest bistro to open in Van Nuys.
Which is to say, here we are again on Valley Boulevard, in another well-worn mini-mall, which seems mostly deserted yet is full of cars. We are outside Nha Trang, a cramped shop specializing in the noodles of Central Vietnam, and the reason we are outside is because the restaurant itself is slightly smaller than the backseat of a Hyundai — 15, 16 seats tops.
RELATED: 
'I Am My Truck. My Truck Is Me': Seven Classic Jonathan Gold Quotes About Los Angeles
A Cold Email From a Food-Obsessed Teen: Why I Owe Everything to Jonathan Gold
'Taco Should Be A Verb' ~ Five Essential Jonathan Gold Quotes About Tacos
Tien Nguyen writes about food and culture. She co-authored the New York Times bestseller "L.A. Son: My Life, My City, My Food" with Roy Choi and Natasha Phan, and her work has appeared in the Los Angeles Times and Lucky Peach.
Stay in touch
Sign up for our free newsletter