Film
How El Pino From 'Blood In, Blood Out' Became East L.A.'s Own Tree of Life
11:43 AM PST on January 29, 2021
[dropcap size=big]M[/dropcap]ystical and figurative interpretations of the Tree of Life, or Etz Chayim in Hebrew, can be tied to the Garden of Eden, the Torah, fertility, immortality, family, and the search for spiritual enlightenment. Being connected to the earth, or finding a sense of identity through a tree's roots are enduring metaphors that span multiple religions and cultures.
Some may chalk it up to coincidence that El Pino, the southland's most famous bunya pine tree, is located in what is, historically, one of the city's most ethnically diverse areas, East L.A. But from a human perspective, the tree is a towering focal point deeply embedded in the soil of a microcosm that has been home to Japanese Americans, Jews, Latinos, Buddhists, Koreans, African Americans, and Armenians. Whether spiritually destined or fortuitous, El Pino is L.A.'s tree of life.
Just before New Year's, there was some suspicion that El Pino was going to suffer an unconscionable demise at the end of a chainsaw blade. Prior to being reported as a bad joke, the community came out in droves to show their undying support for El Pino. An online petition to save the tree was started, and it continues to grow in virtual signatures despite the property owner stating that El Pino is not being chopped down. (The petition was originally addressed to Mayor Eric Garcetti; it has since been updated and is now addressed to L.A. County Board of Supervisors Chair Hilda Solis.) The tree was even serenaded.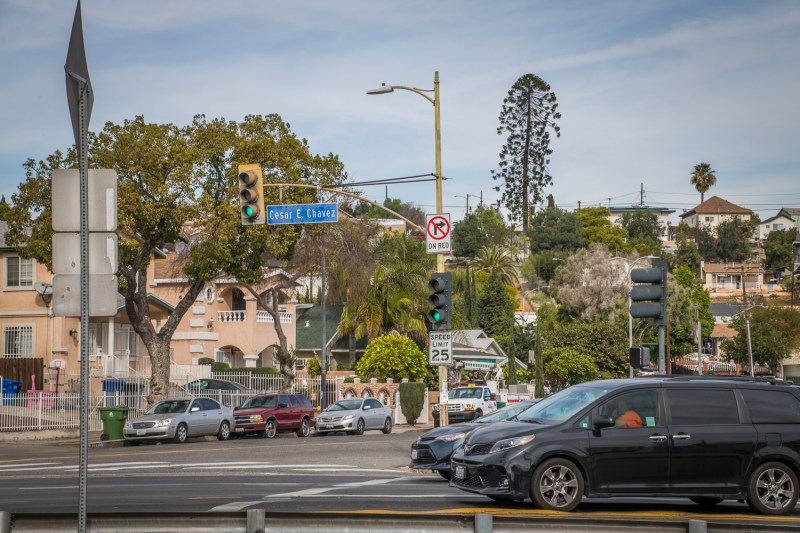 Arguably, El Pino is more famous than the actual Tree of Life located in Bahrain, and thanks to Blood In, Blood Out, El Pino is known the world over. 
Damian Chapa, who plays one of the film's lead characters, Miklo, tells L.A. TACO that he's encountered fans in Japan, Sweden, and Germany who want to talk about El Pino. "It's quite interesting and incredible that a movie that was done 27 years ago has that much impact in countries so far away."
Blood In, Blood Out screenwriter and executive producer Jimmy Santiago Baca tells us that he's seen images of El Pino as far away as Guam, India, and Japan. "A lot of people that I've encountered on my tours as a poet, as a writer, a lot of people come up to me and raise their shirt and turn around so I can see their back. They all got El Pino tattooed on them," says Baca, laughing. "I was in Japan and these guys—they looked like sumo wrestlers, man—they walked up to me and they ripped open their shirt and there's El Pino next to their heart, and they pounded their heart and went, 'Hey!' It brought tears to my eyes."
Blood In, Blood Out is a film of sobering violence yet graceful redemption, and at its heart is El Pino.
At the age of 20, Baca, the award-winning poet, and New Mexico native, was convicted on drug charges and learned to read and write while incarcerated for five years in a maximum-security prison in Arizona. He says that the story of Blood In, Blood Out is a shared one. "It doesn't come out so much of just [my story], but it comes out of so many of us Chicanos from the pipeline to school to prison," says Baca. "It's the racist institution of education that sends all these kids to prison. You screw the kids up young and you send them to prison. So it's a communal, mythical story."
Blood In, Blood Out is a film of sobering violence yet graceful redemption, and at its heart is El Pino. The tree is one of the first images of the film, and from the outset, it symbolizes home. 
When 17-year-old Miklo arrives back in East Los after violating his probation in Vegas, one of his initial stops is Los Cinco Puntos at 3300 E Cesar E Chavez Avenue (still named Brooklyn Avenue at the time of filming). While eating a tamal, Miklo, with a look of reverence on his face, gazes over traffic and rooftops. His eyes are fixated on El Pino rising in the distance. He salutes the tree with the Vatos Locos gang sign. 
Chapa, who recalls seeing El Pino for the first time when eating at El Tepayac, tells us, "When I did that scene, I really got connected not only as a character but as a human being, as a person, as a Chicano." Chapa, like Miklo, is part Mexican and grew up trying to fit in. "I really connected with the tree in a real way then because my character is really all about the foundation of trying to be connected to his culture."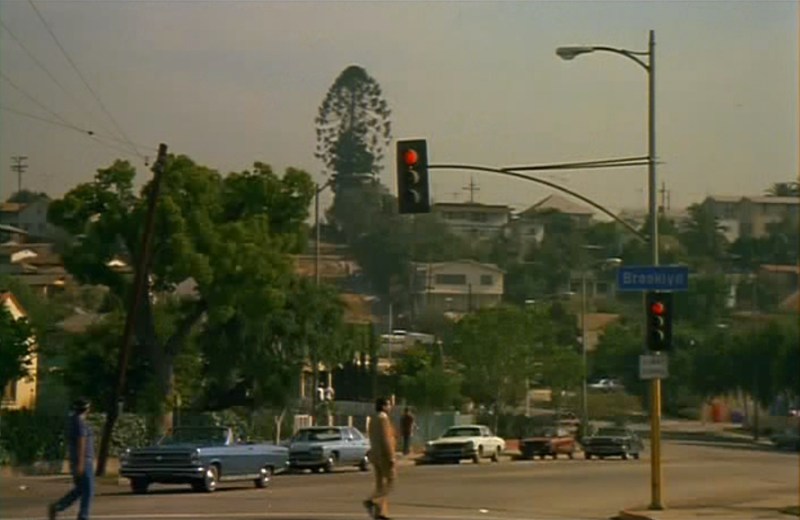 Soon thereafter, Miklo reunites with his cousin Paco (Benjamin Bratt) and Paco's stepbrother, Cruz (Jesse Borrego), both members of Vatos Locos. Paco asks Miklo, "Where do you want to go, Vegas vato?" Miklo replies, "El Pino."
How El Pino came to be a central focal point of Blood In, Blood Out is something of art imitating life. Director Taylor Hackford planned on using Los Cinco Puntos as a location. While scouting and eating a green chile tamal—Hackford credits the tamales at Los Cinco Puntos as "spectacular"—he looked up and saw this monumental tree perched at Indiana Street and Folsom Street. "I'm looking up and I'm saying, 'My God, this is this big, mature tree, it sits up at the top of this hill, and I think it would be a great place to have the guys meet whenever they get together.' It's the kind of common ground that they all meet [at] and relate to when they're young kids, and it then has significance as we tell the story," says Hackford.
Baca, who has family all around L.A., remembers first encountering El Pino somewhere between the ages of 15 to 17. He likens the tree to la resolana (glare of the sun). "That's where the sun shines," says Baca. "It's where we sit and we talk about news. We talk to each other about what's going down. 'Did you hear so-and-so cops busted so-and-so? Did you hear about so-and-so-cops were on the take? Did you hear about she left him, he left her? Did you hear about the Dodgers winning?' La resolana, that's what that tree is. It's where you meet your homies and you talk about shit that went down. You talk about your grandpa in the hospital. You talk about your mom who got a job."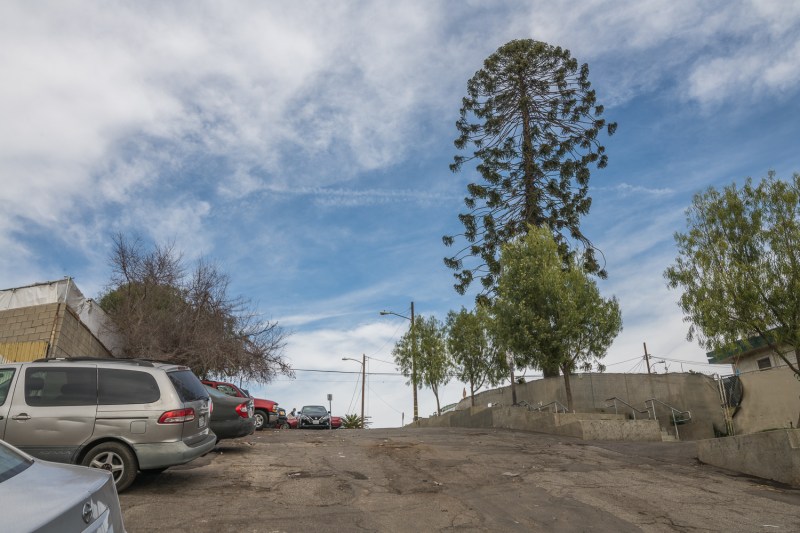 Baca gives Hackford full credit for El Pino's impact on Blood In, Blood Out, and says that without his vision the tree wouldn't exist the way it does in the hearts of locals and visitors from all over the world.
Hackford grew up working class in Santa Barbara and was raised by a single mother who was employed as a waitress. He tells us that most of his friends were Chicanos. "It's funny, I would go into my friends' houses and their parents would speak to them in Spanish and my friends would reply in English because it was the big melting pot, they were assimilating. But clearly, there was this incredible sense of Chicano culture in Southern California that I, from my earliest days in school, understood because I was part of it," says Hackford.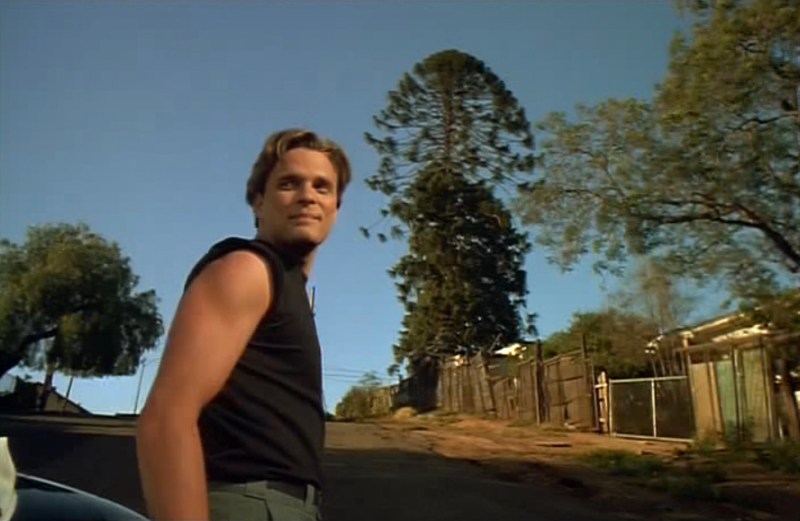 After graduating from USC with a major in international relations, Hackford went into the Peace Corps and traveled to South America where he learned to speak Spanish. Upon returning, he decided against an earlier desire to attend law school and instead went to work at KCET, where he graduated from a mailroom clerk to become a political reporter-producer. 
Though released in 1993, Blood In, Blood Out takes place between 1972 to1984. During some of the intervening years in which the film is set, Hackford was covering the L.A. City Council, the Board of Supervisors, and the L.A. school board. He reported on the controversial practice of busing. In the early '70s, during a live broadcast of a school board meeting, Hackford was presented—off the record – with a new report that showed Latinos were the largest ethnic group in L.A. city schools, outnumbering white students. The school board wasn't projecting this to happen for another 15-20 years, but they were stating that whites were the largest group in L.A. schools. When he challenged his source, Hackford was told that they were presenting numbers thought to be accurate prior to this brand new report. However, Hackford believes the school board didn't want to publish the actual numbers. While the meeting was in progress, but without the statistics in-hand, Hackford reported on-air that projections were moving at a greater pace than being disclosed. 
Baca says, "You must understand how important it is to have a director who understands Chicano culture, and he does, better than any gringo I've ever met, and that's no small task, believe me, considering even us Chicanos hardly understand each other—place a fine-looking hyna between two young vatos who like her and you'll see what I mean. Shit happens."
"You can't get any more 'white boy' than Taylor," Chapa quips, "But he loves the Chicano community very much. … He's not using it for political purposes like a lot of politicians try to utilize this whole 'we-love-the-Hispanic' routine."
"I was always interested in Latin subjects," says Hackford. After turning to narrative filmmaking and having success directing movies like The Idolmaker (1980), An Officer and a Gentleman (1982), and Against All Odds (1984), which was partly shot in Mexico, Hackford used his clout to produce the ever-popular Ritchie Valens biopic La Bamba (1987). "It's still the most successful Latino film made in America," says Hackford. "It shouldn't be. We made it back in the '80s. There should be many more successful Latino films." Hackford tells us it was La Bamba director Luis Valdez, arguably the most well known Chicano dramatist in America, who turned him on to Baca.
El Pino remains constant as the years progress through the film. El Pino is always there.
After that light bulb moment outside of Los Cinco Puntos, Hackford traveled the short distance up the hill and found the tree just as impressive when standing directly beneath it. Hackford also uses the word "mythical" when describing what he was looking for, and he found that quality in El Pino. He designed multiple scenes around the tree including a tense standoff with police after Miklo is shot during a no-holds-barred gang confrontation. El Pino also rises toward the heavens when spied in the background of heartbreaking scenes shot in nearby Evergreen Cemetery. Hackford's establishing shots are not of buildings; he uses El Pino when transporting the audience from San Quentin back to East L.A. 
The juxtaposition of images involving El Pino is equally as important as the mise-en-scène. Following the police confrontation at the foot of El Pino, the camera cranes up to the top of the tree; Hackford then cuts to a wide shot of San Quentin. Freedom vs. confinement. After an attempted robbery in which Paco is forced to shoot Miklo, Hackford immediately brings the audience back to El Pino. Add the pan flute of Bill Conti's inspired score—a sound akin to the composer's work on the Karate Kid films—and the tree acts as a spiritual warrior standing guard over the joy and anguish experienced by the characters. La resolana. El Pino remains constant as the years progress through the film. El Pino is always there.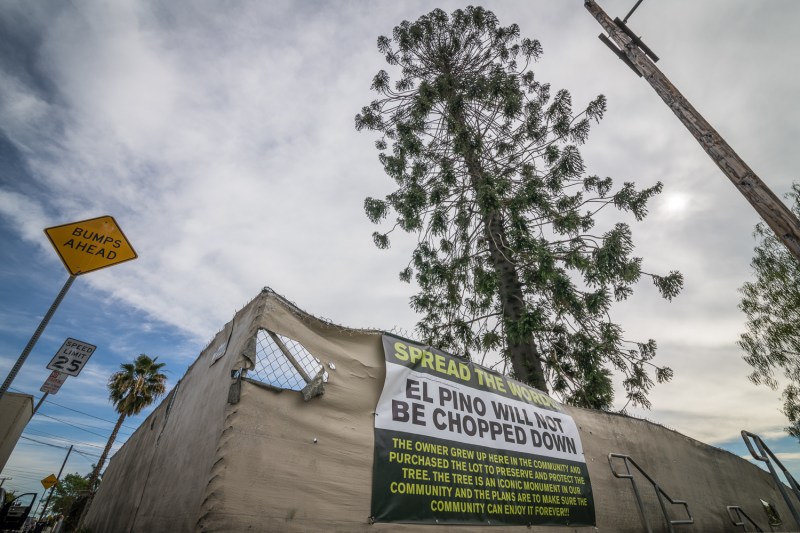 Chapa remembers Hackford shooting a lot of footage of El Pino. "He was quite obsessed with it, and with good reason," he says.
Perhaps the most intriguing revelation in speaking with Baca and Hackford is that the tree didn't have an official moniker until Blood In, Blood Out.
Hackford says, "Jimmy saw it and I said, 'What do we want to call it,' and he says, 'Well, I don't know what it really is, but it looks like a pine. We'll call it El Pino.' So Jimmy put the label on it and it obviously stuck."
Baca tells us, "Yes, I christened El Pino," but again stresses Hackford's directorial vision and says that he simply developed what was initially Hackford's gut instinct about the tree. "Revelations scintillate all over L.A. Often it takes a good director to point them out to the ordinary take-for-granted mind. Taylor knew our indigenous roots merged with El Pino's."
"It's such a cultural piece that we can hang onto. When you take away people's culture, you take away everything."
How appropriate that L.A.'s tree of life, the roots of which thrive in the soil of multicultural heritage, was a rallying point that brought the community together when filming commenced beneath its long, sagely shadow. 
"When we were shooting there at that tree, everybody was there and they all got it, man, without even explaining it to them," says Baca. "They knew what a symbolic force it was and they were digging it, man. Not just Chicanos. We're talking about people from all over L.A. They were coming out to view the shooting from the sidelines, and there was a real excitement to it."
Chapa says, "When people came out to see us at El Pino, you could just feel the energy."
Baca, Chapa, and Hackford wholeheartedly agree that El Pino should be made a historical landmark. 
Chapa says, "It means something to people. Like a flag means something to people; Black History Month means something to people; the Washington Monument means something to people. El Pino means something to Mexican American people, specifically." Even though the recent controversy over El Pino started as a bad joke, Chapa says it's an opportunity to stand up. "It's such a cultural piece that we can hang onto. When you take away people's culture, you take away everything."
Hackford says El Pino should be protected not because he used it as a symbol in a film, but because the community has rallied around it. "The city should say, 'Hey, this is as important as the other landmarks in L.A." While the Hollywood sign and the Griffith Observatory may be archetypal markers that "say" Los Angeles, Hackford ends by telling us, "Well, El Pino says L.A. – it says East L.A."

Follow Jared on Twitter at @JaredCowan1.
Jared Cowan writes and podcasts about L.A. filming locations. He also works as a photographer and camera operator.
Stay in touch
Sign up for our free newsletter