Crime
UPDATE: Company Selling L.A. Cop-Influencer Gear Removes Item After Cease and Desist From City
2:55 PM PST on February 9, 2021
Update February 9, 2021: Following this report, L.A. Taco learned through a public records request that on December 17, the Los Angeles City Attorney's Office sent Side Action Apparel, LLC, a cease and desist order instructing the company to immediately stop selling products that infringe on LAPD trademarks. In the letter, the city attorney noted that the use of the LAPD trademarks by the company was "unauthorized" and "constitutes trademark infringement." As of now, the Toni McBride challenge coin has been removed from the Side Action Apparel website.
[dropcap size=big]I[/dropcap]n April, Toni McBride–an LAPD patrol officer and competitive shooter that also moonlights as a model and influencer–fatally shot 38-year-old Daniel Hernandez in South Los Angeles while on duty. The shooting propelled the already popular LAPD officer even further into the public spotlight as videos of McBride shooting guns with celebrities like Keanu Reeves, and Halle Berry resurfaced over the summer. 
Following the fatal shooting, McBride briefly deactivated her Instagram account, which currently has nearly 100,000 followers, in June. But after a month's hiatus, McBride returned to social media. And in August, she was back posting videos of her shooting guns with entertainers like Joe Rogan, a podcast host, and comedian, at Taran Tactical Innovations, a shooting range in Simi Valley, CA. That month, McBride endorsed a plastic surgery center in Oxnard, and since then, she's kept her loyal followers up to date with everything from the products that she uses to her health and her relationship with God.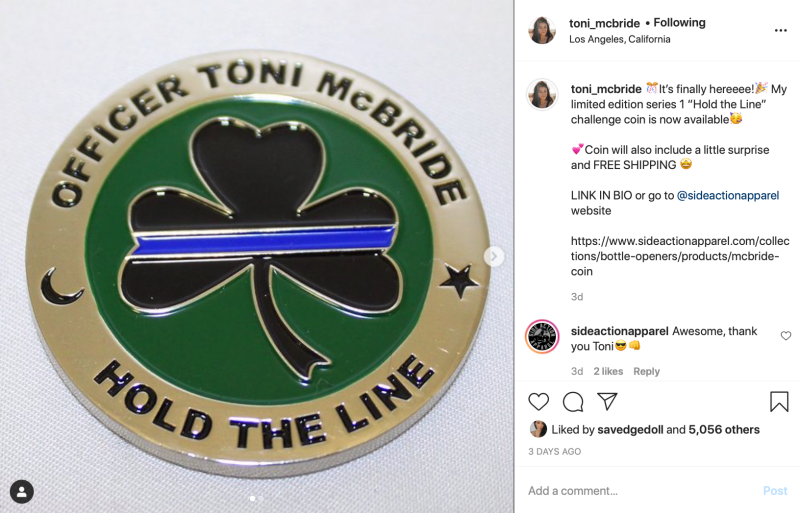 Last Thursday, after teasing the collaboration for weeks, McBride released her latest product: a $25 limited edition "challenge coin"–a pocket-size medallion used by military personnel and politicians as a sign of camaraderie–through an Inland Empire based screen printing company called Side Action Apparel. The coin features McBride's LAPD badge on one side, while the other side features a three-leaf clover with a blue streak through it and the popular law enforcement phrase "hold the line." Last week, McBride also began endorsing a veteran-owned fitness apparel company called Never F*cking Quit. "Use Code 'TONI' at checkout to save some monnnaaayy (sic) a portion of your money will be donated to the Officer Needs Help Fund by using my code," McBride said in an Instagram post last Friday that has since received over 15,000 likes (in an earlier post from November, McBride claimed that all of her commissions through NFQ would go to the fund.)
According to Captain Stacy Spell, commanding officer of the LAPD Media Relations Division, Side Action Apparel does not have a licensing agreement with the department, which gives them the right to approve the way trademarks are "distributed," "displayed" or "placed in the stream of commerce."
Through licensing agreements, "the LAPD has quality control requirements allowing the review, approval, and rejection where Department marks visually appear. The purpose of the agreement is "to ensure the City Department and employees are not cast in an unfavorable light," Capitain Spell told L.A. Taco a day after McBride's challenge coin officially went on sale last week.
 The challenge coin also infringes on the official LAPD badge's trademark, owned by the City of Los Angeles. According to Captain Spell, "Companies are not permitted to sell merchandise with LAPD trademarks on it if they do not have a licensing agreement. For any individual or company that violates the trademark licensing requirements, it is general practice that the City Attorney's Office is contacted, and their office will usually serve a cease and desist notice." The LAPD has an entire unit responsible for trademarks.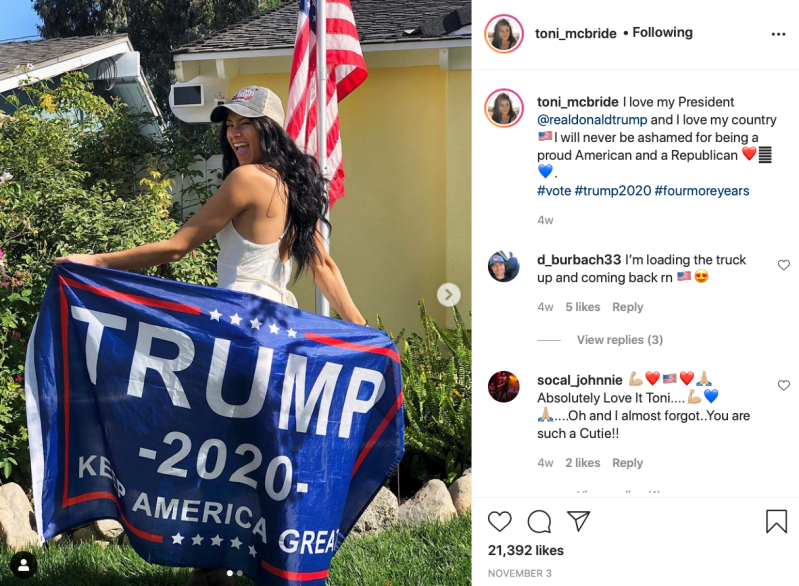 McBride's challenge coin and her conduct on Instagram also appears to be a violation of LAPD policy. The official LAPD policy manual states, "that each employee must scrupulously avoid using his/her official capacity, title, or position in the Department to endorse any organization, program, product, or service when such endorsement is not approved and required in the performance of his/her duties as defined by the Chief of Police and the Board of Police Commissioners."
The LAPD also has clear guidelines on using social media. Officers are permitted to use online platforms for "situational awareness," "investigations," and "community engagement." Still, the department prohibits using social media for "endorsing commercial products" and "expressing or promoting political, social or religious beliefs," according to a March 2015 memo from Chief Beck to all department personnel. The detailed memo also bans the unapproved use of trademarks.
Been working on LAPD challenge coins for 6 months now. Some early results but yesterday floodgates opened! Still organizing, but check this wtfly chaplain coin.

For background see the wiki. The point is, as always, to expose aspects of cop militarizationhttps://t.co/QwGunF5Xn9 pic.twitter.com/hbAfdVGGSh

— Michael Kohlhaas Dot Org 🌞=🧼 🧽 🧹 (@DotKohlhaas) October 3, 2019
Challenge coins have historically been produced in the name of various LAPD divisions and individual representatives, but Capitan Spell noted that McBride's coin was manufactured through Side Action Apparel and not the LAPD.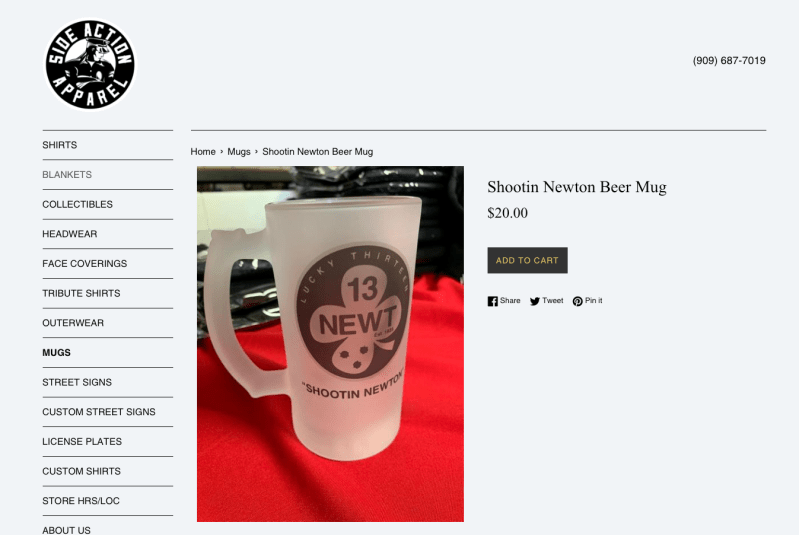 In addition to McBride's challenge coin–which also comes with a free autographed picture–Side Action Apparel sells t-shirts, hats, wallets, and custom street signs that appeal to law enforcement. But the Inland Empire based company also sells merchandise that celebrates police violence, glorifies controversial figures, and likely infringes on other intellectual property.
McBride isn't the first LAPD officer to become a "celebrity." In the age of influencers, it's not uncommon for some police officers to straddle the lines between "public service" and public influence.
Founded in 2016 by Danny Arrona, an ex-marine and a current 20-plus year veteran LAPD officer, Side Action Apparel is currently selling t-shirts with a redesigned Corona beer logo that says, "Light Them Up...Hold the Line...40MM standby," a reference to less-lethal munitions that have caused horrific injuries over the last several months. In September, a demonstrator was hit in the groin with a foam projectile was rushed into emergency surgery and suffered serious injuries to his testicles, the L.A. Times reported.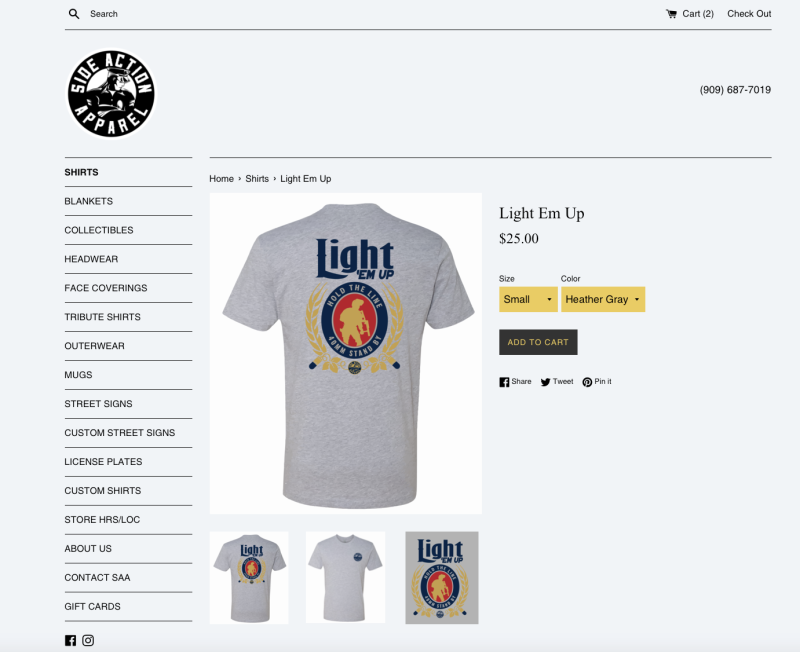 Side Action Apparel is also selling a hat that reads, "Runnin' & Gunning." During celebrations following the Laker's historic win in October, multiple people sustained injuries from less-lethal munitions that landed them in the hospital. The L.A. Times reported that a foam round exploded someone's eyeball, and another person lost over seven teeth after being hit with a less-lethal round in DTLA, during celebrations that escalated into police vs. crowd situations. The LAPD reported that eight officers were also injured that evening.
The LAPD's use of foam projectiles has been called into question since May. According to LAPD policy, mere "non-compliance" is not a justification for using so-called "less-lethal" firearms.
In addition to t-shirts and hats, Side Action Apparel also sells an iron-on patch that reads, "Saint Gates, patron saint of civil unrest," a reference to Police Chief Daryl Gates, the Los Angeles Chief of Police during the 1992 uprisings. Gates once told the senate that casual drug users "ought to be taken out and shot."
Another one of Side Action Apparel's shirts depicts a George Romero-eque looking zombie with the words, "NARCAN, code three zombie infestation zone. Bringing the dead back to life." Narcan is a life-saving medication that reverses the effects of an opioid overdose.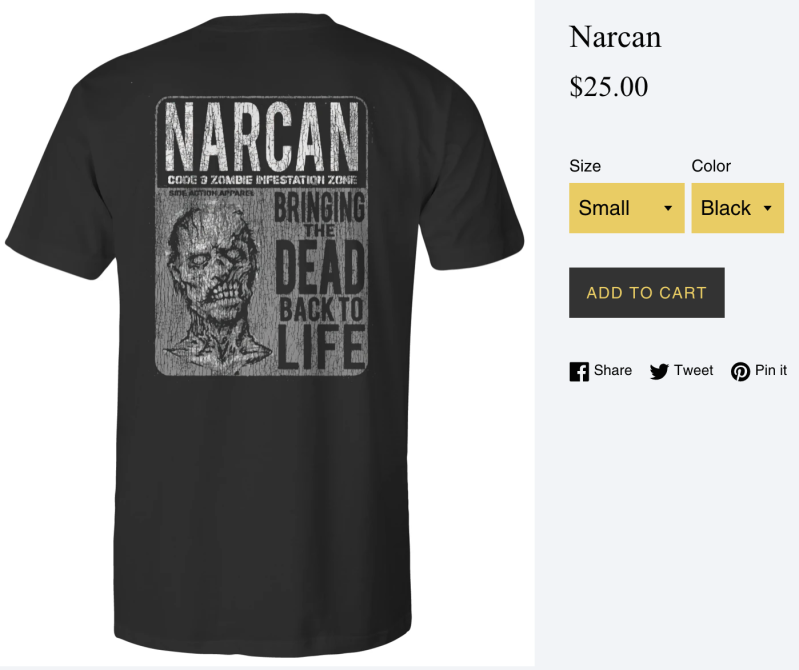 This summer, the Long Beach Police Department came under fire after multiple news outlets reported that an LBPD officer was selling LBPD branded challenge coins that depicted a skull with a helmet as well as a less-lethal firearm and baton with the text "hats and bats," through a company called Clear Hot Gear. The LBPD described the coins as "derogatory," according to the Long Beach Post.
A Culture of Idolizing Law Enforcement
McBride's fans have been supportive of her new product. "I want one!" "Just ordered mine," "You're a stud! Much gusto!" Hundreds of McBride's followers reached out to her in her comments. McBride responded to dozens of messages with "thank yous." When building a loyal following on social media, engagement is critical.
McBride isn't the first LAPD officer to become a "celebrity." In the age of influencers, it's not uncommon for some police officers to straddle the lines between "public service" and public influence. 
On a national level, Tulsa Police Officer Sean Larkin walked the red carpet of the 2020 Grammy Awards while dating musician Lana Del Rey (the two reportedly split up in March.) Larkin is also the host of the hit A&E TV show, Live PD, a controversial reality-based show reminiscent of cops.
George Gascón will ultimately decide if the officer faces any criminal charges for fatally shooting Vergara's brother
Locally, Deon Joseph, an LAPD officer that worked in Skid Row for over 20 years, became known nationally as the "angel cop" because he acted compassionately towards the homeless in Skid Row when the cameras were around. Recently, Joseph was able to transition into consulting work.
Commanding Officer Cory Palka has appeared on Hollywood red carpets. Earlier this year, he briefly became the focus of national news regarding protests in L.A. when he took a knee allegedly "in-solidarity" with protestors following the murder of George Floyd. At the same time, hundreds of people were arrested and injured during demonstrations.
And McBride's father–Jamie McBride–a detective with the LAPD and board member with the Los Angeles Police Protective League (a special interest group representing L.A. police officers), has appeared in several Hollywood films and T.V. shows, according to IMDB. The 2012 David Ayer film, End of Watch, starring Jake Gyllenhal and Michael Peña was reportedly loosely based on the elder McBride and his partner.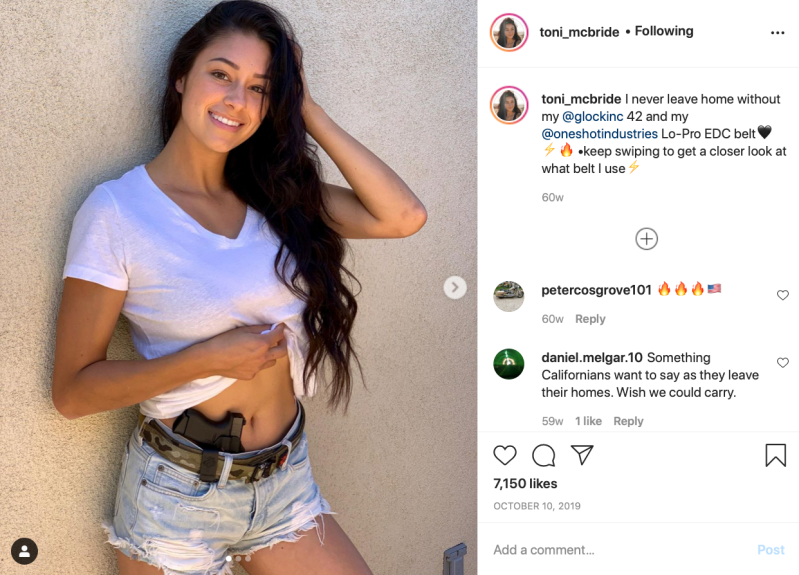 But neither Palka, Josep nor Toni's father have tens of thousands of Instagram followers (Larkin tops everyone with over 250,000 Instagram followers.) Toni McBride currently has almost 100,000 followers on the social media platform. Next year, she's slated to be on the cover of Dillon Precision's 2021 calendar, and she regularly endorses products, discounts, and services via her Instagram Stories. "If you're wondering how I have clear glowing skin, it's because of this woman right here @skinbycecily," McBride said in an Instagram post in October.
"I was not shocked. It's reprehensible, but I'm not surprised." Daniel Hernandez's sister, Marina Vergara, reflected on the McBride challenge coin this weekend, the day before her niece's birthday. "This is a person you can tell does not have any regard for life."
"My brother only had one daughter, and he adored his daughter, and tomorrow is her birthday," Vergara told L.A. Taco. "In our culture, we celebrate this milestone in everybody's life." Due to the pandemic, however, the family did not have a celebration this weekend. 
Similarly, when McBride shot and killed Vergara's brother Daniel in April, the family could not congregate because of the shelter at home order, which was even more strict than the current order. "We were not able to mourn my brother in a normal way," Vergara says that the holiday season is exceptionally difficult because it's a time when you think about the past but also the future.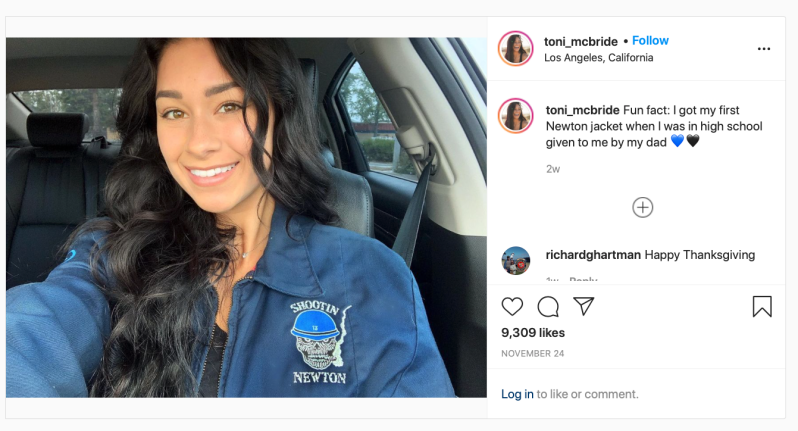 Vergara says she's gotten through a challenging year by attending protests and making herself available for other families who have lost their loved ones to police violence. She told L.A. Taco that on December 15, the Los Angeles Police Commission–the civilian oversight board of the LAPD–will rule if the fatal use of force against her brother was "in policy." Based on the Police Commission's track record of siding with the police, Vergara is skeptical. "Rules and laws apply to others but not to police officers."
The police commission will rule if the shooting was in or out of policy and Chief Michel Moore will be in charge of any disciplinary action taken against McBride. George Gascón will ultimately decide if the officer faces any criminal charges for fatally shooting Vergara's brother. Vergara told L.A. Taco that her family has already met with Gascón twice, and the DA-elect has asked that Attorney General Becerra investigate the fatal shooting. But that's not enough, Vergara says she will continue to fight for her brother. "We're continuing to ask and push for Gascón to make sure that something happens."
L.A. Taco emailed Side Action Apparel and Toni McBride questions regarding their partnership but did not respond.
Originally published on December 7, 2020. 
Lexis-Olivier Ray is a housing, justice and culture reporter for L.A. TACO.
Stay in touch
Sign up for our free newsletter