Drink
Making Mom and Dad Proud: Two Brothers From Chihuahua Open a Coffee Bar Steps Away From 'Los Callejones' In DTLA
12:53 PM PDT on May 6, 2022
Recently, brothers Alex and Alan Morales opened their second Civil Coffee in downtown Los Angeles. Their new cafe at 8th and Los Angeles Streets serves nice coffee drinks to the local residents and fashion and flower district businesses with warm hospitality. Expanding their company to DTLA brings these brothers, who moved to L.A. from Chihuahua, Mexico when they were very young, back to a neighborhood they shopped at with their family when they were little kids. Only now they are there as business owners.
Alex and Alan feel proud and a little embarrassed when their family in Los Angeles and Chihuahua gush about their success on the family WhatsApp group or Zoom calls. Opening a second location of their popular cafe feels like a significant step in their commitment to grow and expand Civil. This spot at 8th and Los Angeles Streets in the Fashion District near the Flower Market is just steps from Santee "Los Callejones" Alley shopping, an L.A. destination that is significant to their family. 
When Alan and Alex were very young, their father Mere, a mechanical engineer, moved to Los Angeles to join his brother in a copier repair business run out of his apartment. After their father got settled in Glendale, he brought the family over from Chihuahua. Alex was 3 1/2 and Alan was one year old. "I remember orange and grey copiers in the living room and my dad would be fixing them," says Alan. That business Regional Duplication Specialists (RDS) has grown today to occupy a warehouse of copiers that their father and uncle rent, lease, repair, and service. (They don't have a website. "Everything is run word of mouth. Very OG")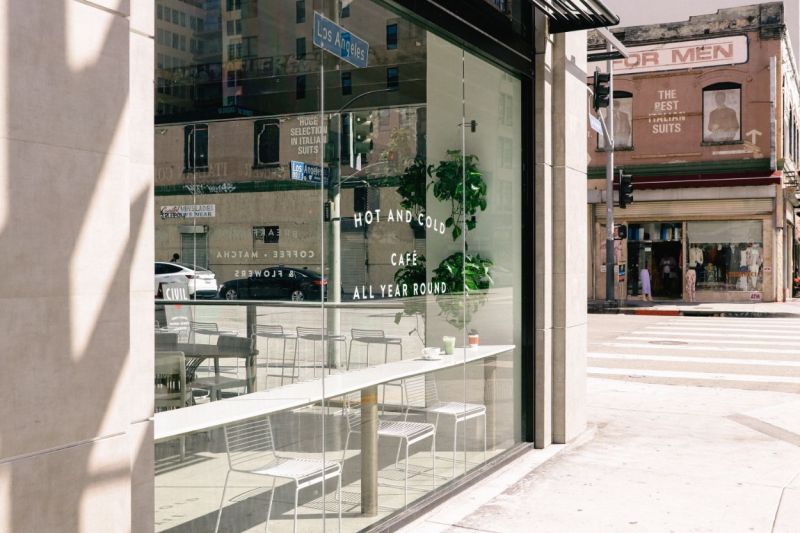 The Morales brothers have fond and funny memories of family outings to Santee Alley. They would pick up essentials, like underwear, asking their mom Marisela for the Teenage Mutant Ninja Turtle ones. When they started school they would head to Santee for off-brand navy blue dickies style pants and white polo shirts to approximate the uniforms. Their parents would buy clothing for their family in Chihuahua, also picking out items for their Tia Vero to sell in the shop that she ran in front of her home in Mexico. If you live in the U.S. and visiting extended family in Mexico, it is almost expected to bring some clothing for them. 
Over coffee one recent Tuesday morning. Alex and Alan recall some childhood memories. "I remember all the fried smells," Alex says with a smile. "The bacon-wrapped hotdogs and the chiles frying on the pan. And the churros. I remember getting paletas de coco y sandía." 
"I remember it being an event, a family Sunday outing to go to Santee Alley," adds Alan. "My parents would buy cologne. Dad liked CK1 and Mom would buy Donna Karan. Both in frosted bottles."
One time when the family was a Santee Alley, Alan, who was supposed to stay near their abuelita, wandered off. When their mother discovered that Alan was gone, she desperately ran through the sea of people looking for her little boy. He was about three years old at the time. They found him. Good thing, big brother Alex was going to need a business partner one day.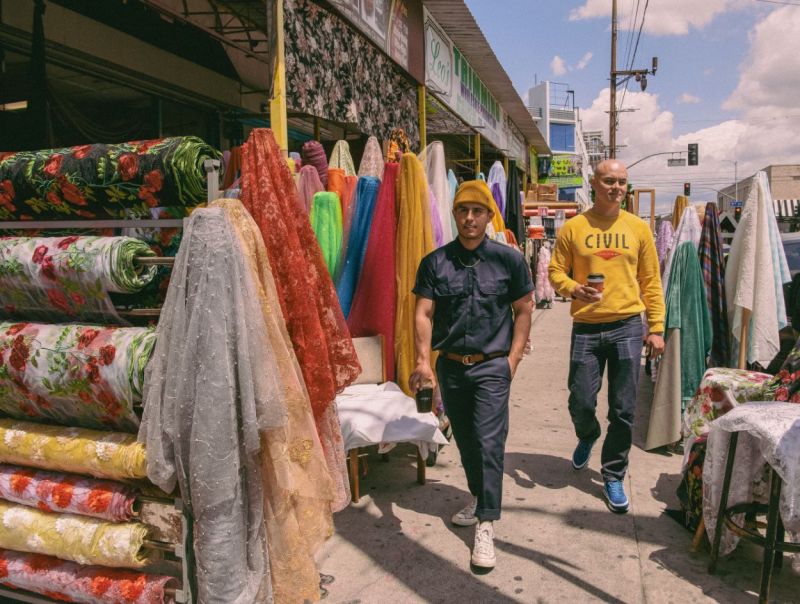 A year later, Alan was studying electrical engineering at Pasadena City College. One day he walked into Intelligentsia Pasadena and ordered an espresso. He describes the moment he took a sip as an epiphany. All the flavors in the cup and the deliciousness of the beverage resonated with him. 
Alan began talking about coffee and Alex became curious about what his brother was going on about. They started to do pop-ups with De'Longhi and learn about roasting and production with Chris Owens at Handsome. They got jobs at Tiago on Hollywood Boulevard and began to do events, starting their own company with a coffee cart set up with a GS3 La Marzocco. "Then we did Coachella!," explains Alex "And we got a contract to be at Beats by Dre for 2 years. Year one into the Beats by Dre, we find the Highland Park location." 
Six years ago they opened Civil Coffee in Highland Park, bootstrapping their way into a beautiful coffee bar space on Figueroa. They found many ways to live up to their company motto… "It's a good day to be civil." They introduced themselves to neighbors and shop owners in Spanish and English. The summer they were building the café, they stood in front of their construction site serving free coffee with conchas they bought from Delicias Bakery down the street.
The Morales brothers have dropped off pastries and beverages there and at other local businesses to introduce themselves. Alan adds, "We do not pretend we are the cool kids on the block. We thank them for welcoming us to their neighborhood."
On the Civil Coffee website, they include this quote by Cesar Chavez, "We cannot seek achievement for ourselves and forget about progress and prosperity for our community... Our ambitions must be broad enough to include the aspirations and needs of others, for their sakes and for our own." As their summer of free coffee wound down and they readied to open their doors, they strategized the best ways to be welcoming in the shop and help in the community. Now in 2022, at their second shop just steps from Santee Alley where they pined over anything that said Fila while begging their parents for churros.
Their sleek, elegant, and welcoming DTLA space, originally built by Stumptown, feels perfect for their style of coffee service with warm hospitality. Giant floor-to-ceiling windows look out over the intersection at 8th and  Los Angeles Street. They love how the morning light glows through the space at the start of each day. This vantage point helps the Morales brothers learn about the neighborhood and the community that they are serving as they transform Civil DTLA into a neighborhood hub.
On May 17, there will be an event with the Downtown Loa Angeles Neighborhood Council and the Captain of the Los Angeles Fire Department Station number 9. A local florist named Juliana Jiménez buys at the local flower market makes arrangements for the shop and sets up a display to sell bouquets there. They are reaching out to more local shop owners and community groups to invite them to have meetings at the space or to collaborate on products or events. When the Morales brothers say they want to be part of the community, just ask the people who have met them in Highland Park, they really mean it.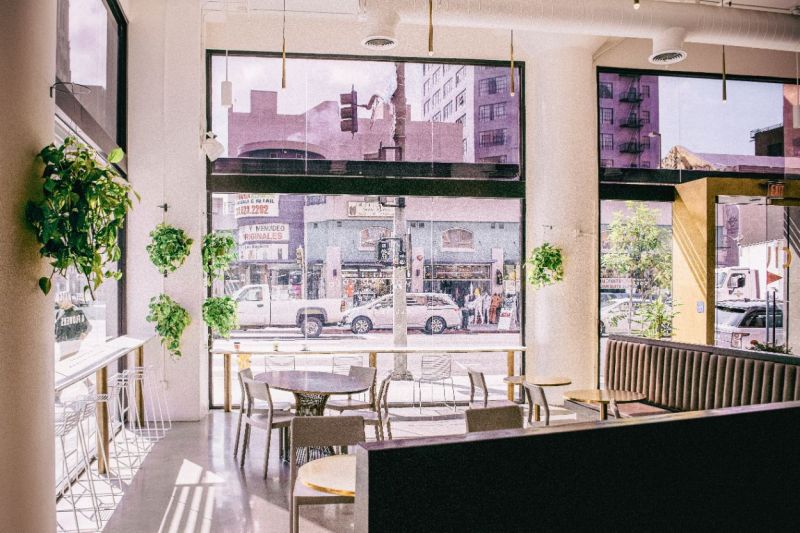 At the new location, they've created a new signature drink called the Vanilla Oaty. This lightly sweet iced drink is perfect for sipping in the café or taking to walk along the streets looking at quinceañera dresses. Carry one to stay caffeinated for a Santee alley shopping expedition or to the flower market. They make this drink with espresso, oat milk, and Madagascar vanilla syrup, and dust the top with black lava salt. The food menu features pastries, salmon toast, and barbacoa breakfast burritos. 
When taking back on what they've accomplished so far, Alex and Alan Morales blush a little. Their family here in Los Angeles and in Mexico often tell them how impressed they are with their accomplishments. The brothers give each other a fist bump. They talk about being close growing up, the excitement of discovering their mutual love for coffee, and how teaming up to open a family business is working out. Some days are challenging, but they have found ways to divide the responsibilities. Alan supervises business operations and heads up the planning for the food menu. Alex focuses on branding, design, product development, PR, and social media. They both oversee the coffee program and the overall vision for the company. It's a team effort. 
Alongside the Morales brothers Kendrick Shen is their coffee educator and trainer, Jaime Morales serves as their cafe lead ordering analytics, Amelia Hernandez heads up the kitchen, and James Lontayao has the distinction of being Civil's longest standing employee. 
Proud of their Mexican heritage, the Morales brothers realized now that being Latino business owners in Los Angeles having accomplished what they have so far, gives other people hope to be able to open their own businesses. 
When asked how important it is to serve coffee beans that are grown in Mexico at Civil, Alex shares his own coffee aha moment. About 10 years ago he tasted Intelligentsia's La Perla from Oaxaca. In that cup, he began to understand the beauty of high-quality coffee prepared well. Now Civil sources coffees from Oaxaca and Chiapas with their roasting partner Coava coffee. They hope to visit more coffee farms in Mexico, meet coffee farmers there, and form direct relationships. 
Recently Alex and Allen walked out of the café and down to Santee Alley and through a crowd of people, the piles of patterned socks, the rows of hair bands, and racks of colorful dresses. Alex says childhood memories keep flooding back. He looks a little emotional while he talks about the experience. Back at Civil Coffee sitting at the counter, Alan takes a sip of coffee and looks out the window at a clothing store across the street. "They have been here more than thirty years," he says. The Morales brothers have dropped off pastries and beverages there and at other local businesses to introduce themselves. Alan adds, "We do not pretend we are the cool kids on the block. We thank them for welcoming us to their neighborhood." 
As they establish their downtown Café and their place in the community, look for the Morales brothers to branch out to the valley and open in Studio City near where Alex lives. Being part of the community in each place will remain incredibly important as they move forward. 
120 E 8th St #400, Los Angeles, CA 90014
Julie Wolfson is a writer and arts educator. She travels around L.A. and all over the world writing stories about design, architecture, culture and culinary arts.
Stay in touch
Sign up for our free newsletter