Featured
Chicas Rockeras SELA Is Teaching Young Girls in the Barrio That It's OK to Be a 'Rocker'
3:51 PM PDT on June 21, 2018
[dropcap size=big]W[/dropcap]alking into Aspire Ollin University Preparatory in Huntington Park is like walking onto a stage where a rock n' roll band is about to play the show of a lifetime.
Rooms inside the school have been converted into practice rooms for the week. One classroom looks to be hosting a drum showdown — a handful of drum sets are lined up facing each other. Walk into another room and you'll find bass guitars on their stands waiting to be plucked. Printed out images of Sid the Kid, Selena, Tegan and Sara, and other women in music take over walls. Walk out into the hallways and find a wall of band tees and posters with the female gender symbol smack dab in the middle. Each door holds signs with the names of all the women in Beyonce's band.
It's summer and Chicas Rockeras SELA camp for girls is ready to rock.
The camp in Southeast Los Angeles (SELA) is just one of the several girl camps empowering and teaching girls ages 8 -17 to use their voice, play guitar, bass, keyboard, and drums throughout the U.S. The first camp was founded in Portland, Ore. by a Portland State University student in 2001, but has expanded throughout not only other U.S. cities but also around the world including a chapter in Peru. Locally in California, camps can be found in the Bay Area, Santa Barbara, San Diego, Orange County, and Los Angeles — a camp separate from SELA. All camps work independently of each other but meet yearly to bounce ideas off each other and build community amongst themselves.
"A lot of folks, sometimes that don't know, they'll confuse us with like 'The School of Rock' — that Jack Black Movie," Mayra Aguilar tells L.A. TACO.
Aguilar, one of the six founders of the SELA camp, says a school of rock is not what they are. "We're more of a mentorship program, but we're using music as the medium."
They are also helping the community understand that being a rocker who wears black every day and has long hair is as normal as any other person. They are breaking the rocker stereotype.
Born and raised in Huntington Park, Aguilar practically grew up on Pacific Blvd, one of Huntington Park's most famous streets known for its mom and pop-owned shops, a raw vegan eatery, quinceañera boutiques, shoe stores, and many Mexican restaurants.   
"I feel like I learned to walk on [that] street because that was the thing my mom and I did, we just went to the little stores," she says in her Sleater Kinney t-shirt.
The community and its culture have definitely shaped the way the camp runs. Walk into the SELA camp and you'll notice that the girl band breeding ground is bilingual. While other camps may incorporate Spanish, the SELA camp is the only one with a bilingual camp song. You'll find Spanish signs and translations throughout the camp, their social media and website.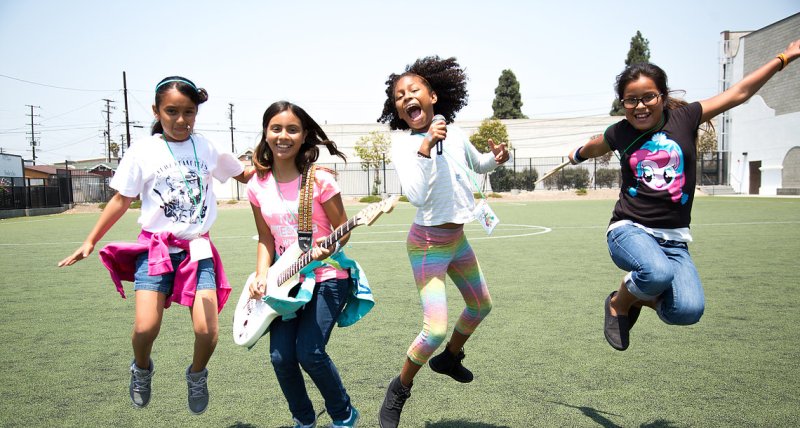 Just 20 minutes from downtown, Chicas Rockeras SELA serves Huntington Park, Maywood, Bell, and Bell Gardens, among other neighborhoods in Southeast L.A. They are aware that most of the residents in these neighborhoods are working-class Latino populations whose predominant language is Spanish, so they make sure that their class curriculums embrace it. Aguilar grew up with parents who only spoke Spanish, so she understands the language barrier that can arise in certain academic situations with first-generation kids.
But language isn't the only barrier these women are breaking in SELA. They are also helping the community understand that being a rocker who wears black every day and has long hair is as normal as any other person. They are breaking the rocker stereotype.  
While Huntington Park has its share of punks, emo kids and metalheads walking down sidewalks, the rock n' roll lifestyle is still worlds away to some there. Another founding member of the SELA Chapter, Noel Lozano grew up in Bell and would get harassed for being a punk kid.
"I grew up in Bell. I was a punk kid, so I looked really weird." Lozano said. " I wore a bunch of patches and bullet belts and what not," Lozano said. "I remember getting shit thrown at me from cars. They didn't really tolerate people that looked different."
RELATED: L.A. Taco Report: El Gallo Giro in Huntington Park  
Both Lozano and Aguilar grew up in SELA's underground music scene. "In the late 90s and like early 2000s this place was cracking with live music from multiple genres," Aguilar said. "I mean, between here and south central, it is the birthplace of ska-punk bands like the Chencha Berrinches."
While underground, independent music scenes have emerged in SELA, Aguilar noticed the lack of music venues in the area as she got older. "Oh, you want to go to a good show? You have to go to the Roxy, the Whiskey, Long Beach, or you have to go to Orange County, " Aguilar said.
The camp is an opportunity to bring more arts and music programming to their community, as arts education continues to be among the subjects that get cut from schools.
Being music fans and volunteers at other rock girl camps, founding members decided to stop commuting to other places and help build the camp in their own community. They received support from other girls camp and for a year before they opened doors in 2015, found ways to make it happen. Now, Ollin Prep lets them set up camp in their school and instruments are donated, borrowed or bought when possible. Organizers fundraise throughout the year, receive donations and work with a couple of partnerships to keep the camp going. Tuition is sliding scale so families of all incomes can afford it.
So far the camp has been met with great support, even if some of the organizers look and dress a little different than what the neighborhoods are used to.     
"We're introducing a pretty new concept to this community," Aguilar said as she thinks about when the camp initiated. " At one point I was like well, you know, we look like a bunch of punks, so its like how are they gonna even just trust us with their kids," Aguilar said.
Every year the camp organizers and volunteers make sure the space is welcoming for parents, in English and Spanish and whether or not they are rock music fans.  
"We're like [the] weird cousin in the family," Lozano says laughing. "You know that weird cousin, but everyone likes them."
"We get to know [the parents] and they get to know us," Aguilar adds.  
The camp open house on a Saturday gave girls curious about the camp and their parents an opportunity to check out the camp. Girls who had participated in last year's program returned with as much excitement as their first year.
Lozano hopes the camp inspires more girls in the community to do music and be OK with themselves if their life happens to gravitate to black clothing, Dr. Marten boots, and fast music.
"I'm looking for a repeat of that again where she's gonna build even more confidence, build more friends, and empower her as a young Mexican American female," said Benjamin Arteaga, one dad who accompanied his daughter to the open house.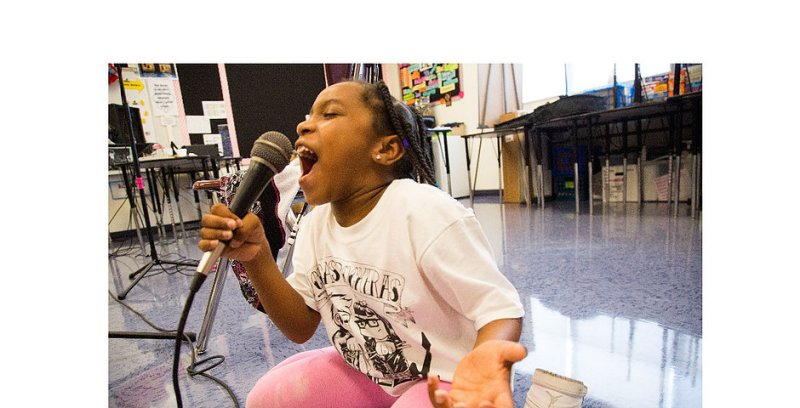 For another dad whose daughter grew up around music, this program lets her have her own experience.
"I think it's awesome… my daughter grew up with music and she knows that both my brothers in law play, that her grandpa plays, and everyone around plays, but she's not really around female musicians," Baltazar Rodríguez said. "So I thought it was really important for her to come out here and see that girls also rock and to learn from female musicians."
More than wanting girls to come out of the camp knowing how to play an instrument, Chicas Rockeras wants young girls to feel confident about their abilities to do what they set their minds to and to take up space, something young girls sometimes are not taught to do.
"If they learn one or two chords, they have that confidence and that excitement to just rock out to those two chords, we did our job," Aguilar said. "Our whole thing is just to believe in yourself and believe that you can do it and we're here to help you. And it's OK to make mistakes. We're all in it together."
Rodriguez's nine-year-old daughter began her camp experience not wanting to sing but ended up singing at the camp's showcase finale.  
"For a lot of these girls, it's their first time playing instruments and the fact that they are able to write and perform a song is amazing," he said.
Confidence is a major theme throughout the camp. The camp's mantra is what they call TacoxCore — the ability to be able to do anything. It is also incorporated into the genres the girls can learn. While some girls learn to be in a rock or hip-hop group, others get to make their own genre under TacoxCore. Girls learn empowerment through workshops and DIY art projects too.
Aguilar says it's something that she wishes she could have experienced when she was little.
"I wish I had that when I was growing up," she said. "If I had a program like this, maybe something would have been different. Maybe I would have been comfortable in my own skin a lot sooner than having to take so many years to work that out."
Lozano hopes the camp inspires more girls in the community to do music and be OK with themselves if their life happens to gravitate to black clothing, Dr. Marten boots, and fast music.
"I want to see more brown girls playing drums or on guitar or on bass or signing or keys.  Whatever they want, I want to see them doing it."
Chicas Rockeras SELA SHOWCASE
The Chicas Rockeras SELA showcase is Friday, June 22 at Fiesta Mexicana Banquet Hall.
Jennifer Velez is a multi-media journalist covering news and culture in L.A.
Stay in touch
Sign up for our free newsletter