El Monte
Dr. Beer Butch: To Survive the Pandemic, This South El Monte Brewery Started an Experimental 'Beer Club'
7:00 AM PST on January 15, 2021
Welcome back to L.A. Taco's column, "Dr. Beer Butch," where Professor Hidalgo examines L.A.'s craft beer scene using her background in academia, LGBTQ, and [real] eastside L.A. culture.   
[dropcap size=big]F[/dropcap]ancy a Queen Elizabeth-themed English Pale Ale kissed with Mint and Peach? Wanna throw down a trago of a Mexican Lager laced with herbaceous gin and tonic named after Emiliano Zapata? 
A new beer club at Progress Brewing showcases these and other unique versions of the classic ales and lagers that made the South El Monte brewery a local favorite for craft beer drinkers since it opened in 2013. 
Co-owners and brewers Diego Benitez and Kevin Ogilby launched the Progress Beer of the Month Club in August to help sustain its operations and showcase some of their rare, aged, and more experimental ales. As scientists—both Benitez and Ogilby are trained chemists who met at UCLA—they also want people to stay home and do their part to stop the virus transmission.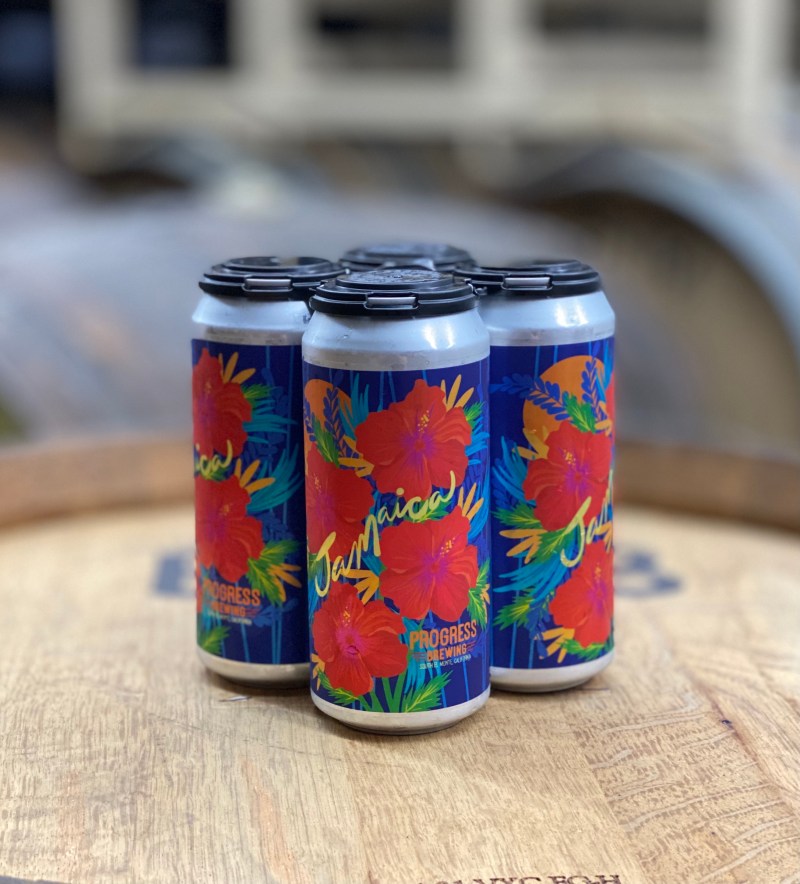 Now in its fifth month, the Progress Beer of the Month Club is tailor-made for stay-at-home restrictions. The club allows Benitez and Ogilby to release limited runs of single-barrel wheatwines, aged sours, and other rare beers alongside larger-volume favorites like Bronco Belgian Pale Ale, Sidewinder Double IPA, and Alamo Cream Ale. 
For members, the club provides a flexible and affordable way to consume fresh beer at home while supporting an independent brewery which, like so many others around L. A. County and the state, must find new ways to survive in a pandemic with no clear end in sight.  
"COVID was the catalyst" 
The idea to start a Progress beer club predates the pandemic. 
For over seven years, Progress Brewing has served up adventurous ales, classic lagers, and bold Belgians to craft beer drinkers all over the San Gabriel Valley and beyond. Progress's robust portfolio of nearly 30 brews includes signature takes on classic European beer styles such as English ales, Helles lagers, and German hefeweizens.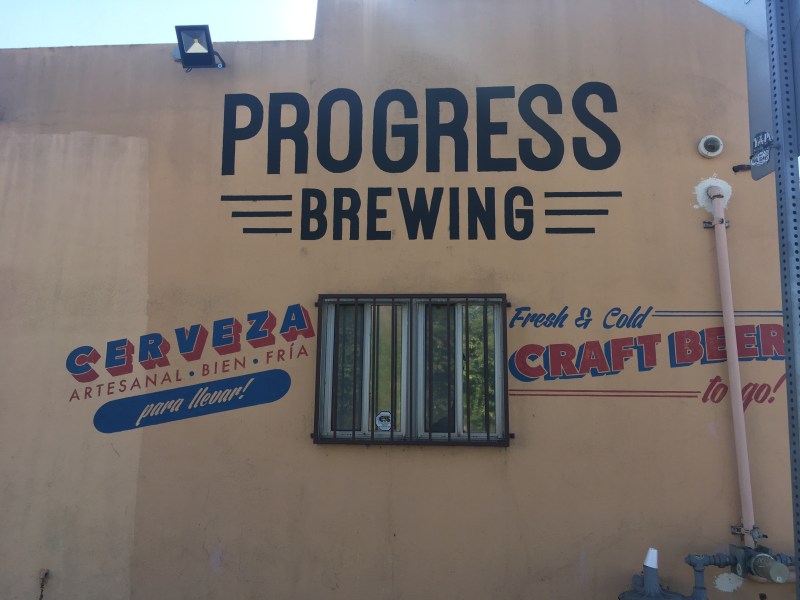 Progress Brewing also pays tribute to local tastes and palates, keeping loyal customers coming back for beers like Frida Wheat Sour with red currants and the tangy Key Lime Hef.
"We had been planning some sort of [brewery] membership, but it never got past the planning stages," explained Benitez.
Meantime, he and Ogilby partnered up with two others to start Progress on Main, a craft cocktail bar in El Monte that opened its doors in February (now temporarily closed.) And in March, the two friends started building a winery in South El Monte. 
...$69 dollars a month gets you ten full-pint cans of delicious South El Monte beer crafted to exacting standards by guys with chemistry degrees.
Benitez has a winemaking background and studied at UC Davis's prestigious enology and viticulture program before learning to brew beer. He and Ogilby had already started making and selling wines like Santa Rita Hills Chardonnay and Santa Barbara County Syrah at the brewery before the pandemic stalled operations.
They returned to thinking about a beer club as another way to distribute flagship Progress brews and barrel-aged specials. None of the existing beer club models or promotions at other breweries, such "Beer for Life",  exclusive bottle releases, or monthly growler fills offered the kind of price point or flexibility that Benitez and Ogilby wanted for their customers.
"It wasn't until we started the winery that we thought about following the traditional wine club model but with beer," Benitez told L. A. Taco. "COVID was the catalyst."
Barrel-Aged and Side-by-Side 
He and Ogilby purchased new equipment to separately produce and package limited edition beers on a much smaller scale, one or two barrels at a time, so as not to interfere with their regular production of higher volume best-sellers. They also have a stash of special barrel-aged beers they have saved over the years and now include in the monthly club boxes. 
"The pandemic gave us the ability and need to not only go into our multiple-year reserve of single barrels, but also the time to try some experimental flavors and other ideas that we have been writing down for years in a beer notebook," said Benitez in an email to L.A. Taco.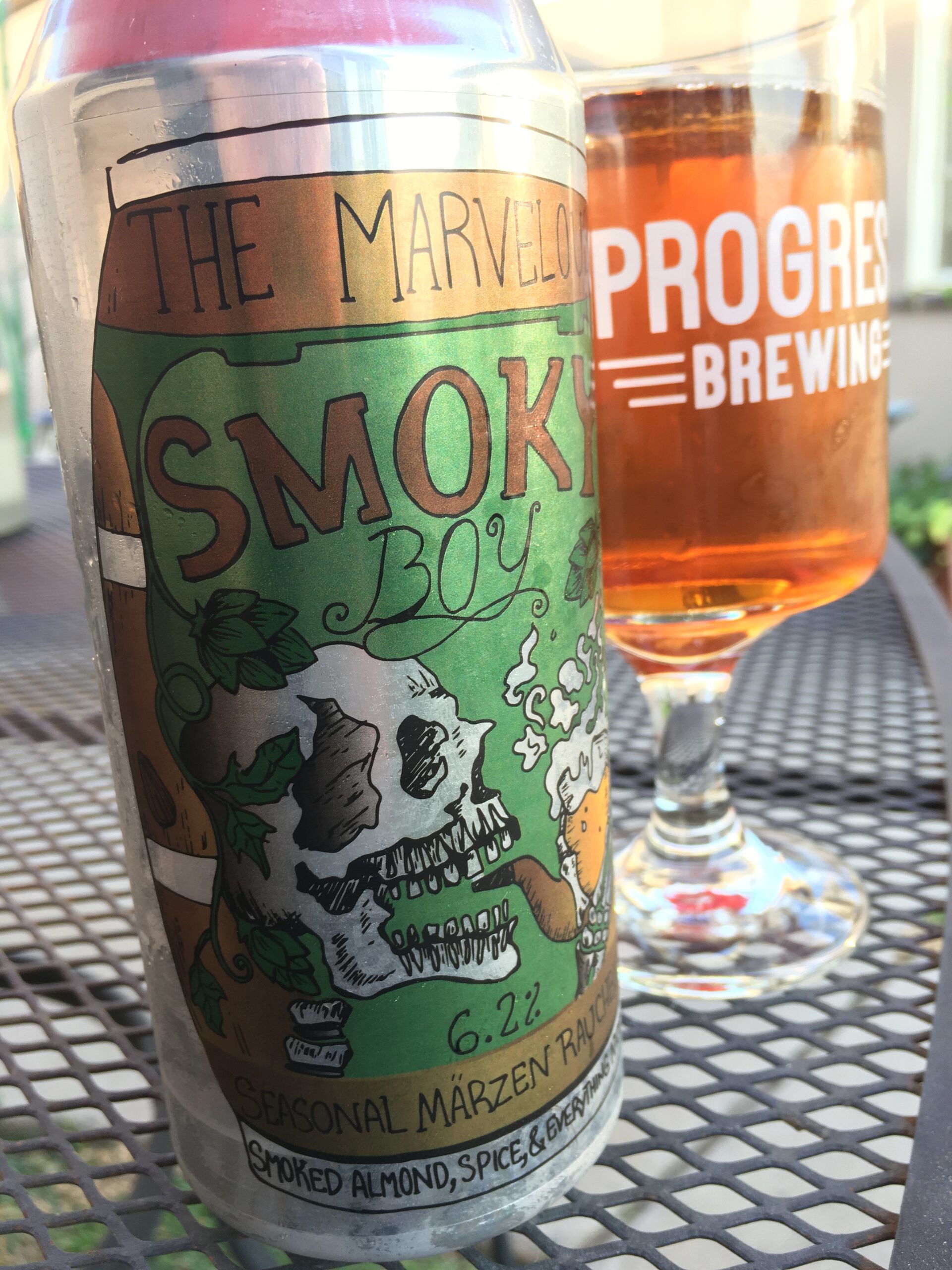 A featured highlight of the Beer of the Month Club, the "Side-by-Side" series takes a Progress classic and adds a little something special to create a new twist on a familiar beer. Thus, Turner Red Ale gets mole-fied and Emiliano Mexican Lager gets infused with botanicals for an Emiliano G&T. And club members get both versions to try "side-by-side."
"Turner Red Ale is one of everybody's favorites," said Benitez. The mole version takes a cue from Progress's tamarindo beer brewed with pasilla and mulato chiles, a summertime seasonal hit at Progress. "We wanted to try something along those lines with Turner."
But Benitez, a Mexico City native, credits the "earthy flavors" of his abuela's made-from-scratch mole as the main inspiration for the "winter chelada" they named Mole Turner Red. 
"We tested a few mole recipes without the oils and it worked great because of the toasted nuts, roasted seeds, and especially the complex mixture of chiles," Benitez explained. "We decided to add a combination of Mole Negro de Oaxaca and Mole Poblano [that] played really well with the malty Turner."
Another series includes longtime Progress favorite, Emiliano Mexican Lager. "We love gin and tonics and all the botanicals in them, especially juniper, coriander, cassia," said Benitez. "Emiliano's slight sweetness balances well with some of bitterness in botanicals of tonic. Its light lager profile does well with the floral notes from botanicals typically found in gin." 
Other notable "Side-by-Sides" include the Blonde and Jamaica Blonde, a crisp kölsch style ale and its hibiscus-infused counterpart, and the Calvary Double IPA infused with ginger and lemon. Beer connoisseurs will appreciate the more exclusive fermentations, including a barrel-aged wheat wine that clocks in at 11.3% ABV and an Oud Bruin, a dark Flanders-style ale aged for two years in a large form barrel called a foeder—a first for Progress.
"Only science will get us out of this one" 
No matter how many foeders they fill up, at the end of the day, Benitez and Ogilby are scientists first.
Benitez earned a Phd. in Chemistry at CalTech—so yes, he's Dr. Benitez. He met Ogilby at UCLA, where the Long Beach Poly grad studied chemistry and biotechnology and Benitez worked as a postdoctoral research fellow. They understand exactly how exponential virus transmission works. They prepared early on, purchasing a pulse oximeter to measure blood oxygen levels, masks, gloves, and isopropyl alcohol.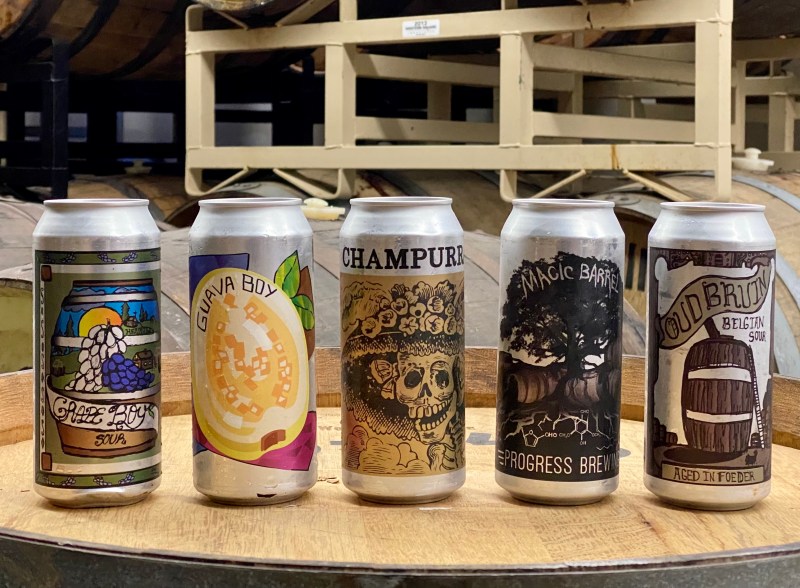 "When we started seeing the reports of Wuhan in January-February 2020 of a SARS virus transmission going exponential, we knew that it was going to be bad," Benitez explained in an email to L.A. Taco. "Many people do not understand exponential transmission so they think it is only a few cases. The problem is that in only a few days, a few cases can turn into a significant portion of the population getting sick." 
Dr. Benitez continued. "Since the beginning, we have not only complied with all the L. A.  County measures, but hoped for people to take it more seriously because tighter lockdowns could have meant shorter stay at home orders….Kevin and I are both scientists and trust only science will get us out of this one."
Progress, v. To advance toward a better state
When you join the Progress Brewing Beer of the Month club, $69 dollars a month gets you ten full-pint cans of delicious South El Monte beer crafted to exacting standards by guys with chemistry degrees. Your monthly membership includes four cans of the "Side-by-Side" series, four cans of brewery selections, and two cans of exclusive single-barrel releases. Club members also gain access to a 'secret' link for special purchases while supplies last.
The cans are wrapped in eye-catching labels made for Progress by L. A. graphic artist Cat Thoss, so you get art, too! And your money goes to sustain a small independent business that can keep paying health insurance for their valued employees during a pandemic.
At less than seven dollars a pint, the Progress Beer of the Month club is one of the best craft beer values for your hard-earned money. As the pandemic rages on, we could see more local breweries turning to monthly sustainer programs like the BOTM club to keep their lights on and beer flowing. 
Though the novel coronavirus presents its many challenges, Benitez and Ogilby move forward, press on, and continue to work toward improving conditions for their brewery, the staff, and their loyal customers. 
As the dictionary tells us, that's progress.
Melissa Mora Hidalgo was born in Montebello and grew up in the L.A./O.C. borderlands of East Whittier and La Habra. She holds a Ph. D. in Literature from UC San Diego and is the author of Mozlandia: Morrissey Fans in the Borderlands (Headpress UK, 2016).
Read More:
Stay in touch
Sign up for our free newsletter