Featured
'We're One Bullet Away From Becoming a Hashtag:' Santa Ana Community Demands Justice After Unarmed Man is Killed By Police While Having a Mental Health Crisis
12:33 PM PST on November 10, 2021
It's been over a year since massive protests unfolded around the country calling for a stop to police brutality after the murder of George Floyd, and unfortunately, not much has changed. In Santa Ana, another family and community find themselves in the same situation as they mourn and demand justice for Brandon Lopez, a man who is said to have been suffering a mental health crisis when he was shot and killed by police in late September.    
According to the Anaheim Police Department, Lopez, 34, was spotted at around 5 PM on September 28, driving a stolen vehicle in Santa Ana. When police attempted to make a traffic stop, Lopez is said to have driven off, prompting a police pursuit. Eventually, Lopez's vehicle became disabled in an area under construction on Bristol Street and Santa Ana Boulevard, where he was then surrounded by APD and Santa Ana police officers. 
SAPD spent three hours attempting to convince Lopez to get out of his car before being relieved by the Anaheim PD SWAT personnel and Tactical Negotiators.
Anaheim PD said in a press release that Lopez had previous warrants for armed robberies but did not disclose any further details on the call that was made about the stolen car. Lopez's cousin and Santa Ana council member Johnathan Hernandez, who overlooks the district where his cousin was killed, said that because he knew his cousin's history, he attempted to help officers de-escalate the citation but was denied each time.
"My cousin was born and raised in Santa Ana. When we were kids, he went through a lot of experiences that changed him drastically," Hernandez said of his late cousin. "He was in and out of the system from juvenile up to the point where he died—he died at the hands of the system." 
According to Hernandez, the vehicle that Lopez was driving was his girlfriend's car. The two had been in an argument earlier that day which prompted Lopez to take the car. After driving off, his girlfriend is said to have called the police to report the vehicle as stolen. 
Hernadez, his family, and his cousin's girlfriend and children all arrived at the scene as everything unfolded in front of them. Hernandez said that at around 8 PM, he made multiple attempts to let officers know that not only was he a trained mental health professional but that he could aid in getting his cousin out of the car in a safe manner. 
"I told one of them, I am not trying to get in the way of an investigation, I'm trying to help you so that you don't kill someone today and the officer responded with 'people kill people every day if you're so concerned about saving someone why don't you tell your neighbors and your family to go inside, so they don't get traumatized,'" said Hernandez of the first officer he approached. 
The council member said he went around to all the officers both SAPD and APD, explaining to them that his cousin had mental health issues. "He wasn't going to come out of the car because he was scared, and he was crying," he said. "In addition, pointing a rifle at him and yelling 'get the fuck out of the car isn't de-escalation.'"
At approximately 10 PM, chemical agents were used to get Lopez out of the car. In a video posted on Youtube, smoke fills the car, and Lopez is seen exiting the vehicle before being shot multiple times. In the distance, neighbors and family are heard screaming moments after gunfire is heard. Lopez's father, who was at the scene when his son was shot, ran across the yellow tape in an attempt to get to his son's body but was handcuffed and put in the back of a police car for two and half hours before being released, according to Hernandez. 
"People from outside of our community came in and turned Santa Ana into a war zone and then left. They executed him, shot him in the head, and shot him repeatedly across the body," said Hernadez over a Zoom call. "There's not a crime serious enough that Brandon did that should result in death."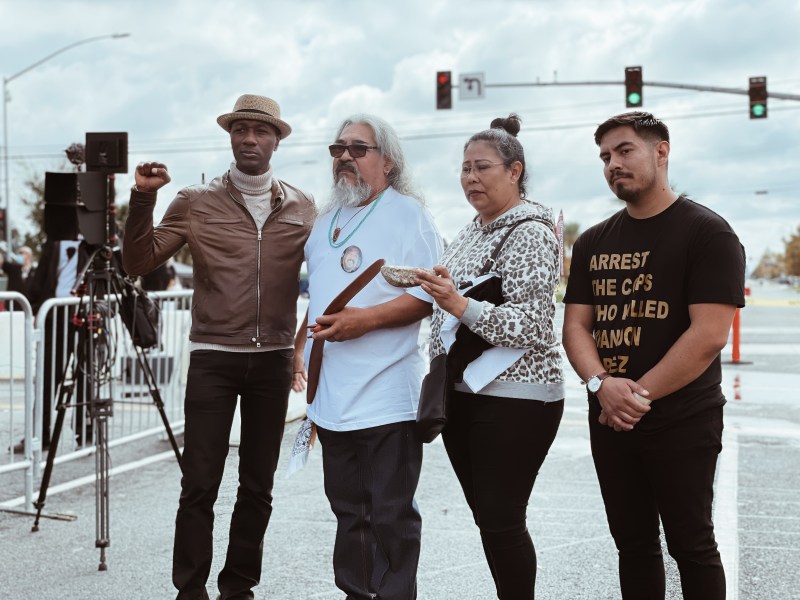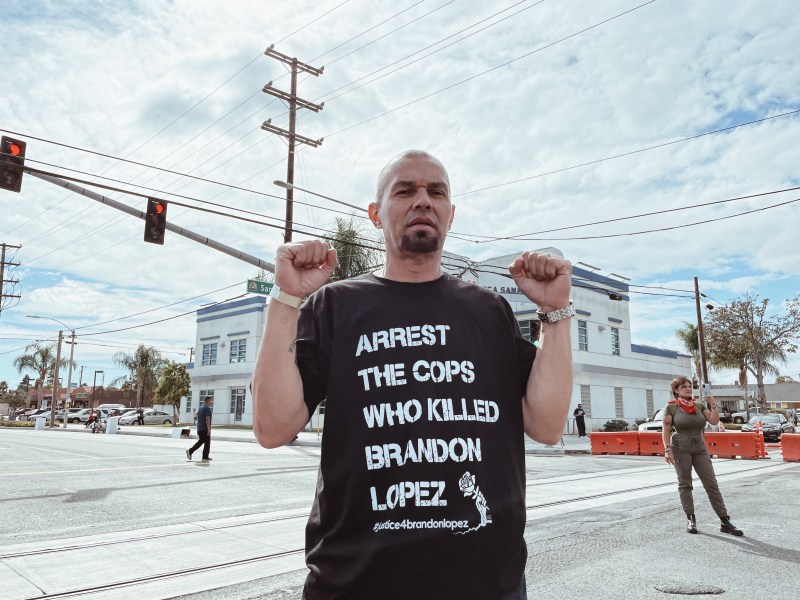 In the United States, it's been reported that over 900 people have been shot and killed by police in the past year. And according to a report by the ACLU just four years ago, APD ranked 9th place out of 60 cities in the U.S. for having the most officer-involved deaths during arrests. So for Hernandez, it's not just about getting justice for his cousin. He said it's about making sure that no other family has to go through the same experience in the future. 
Friends and family gathered at an event put on by Hernandez to honor his cousin's life felt the same way, and all expressed their solidarity with the family.
"I want to remind these corrupt police departments that on my worst day, I am your strongest enemy, and if you think you are going to get away with killing people in our communities, I promise you we will go after you."
"Brandon Lopez was murdered unjustly by Anaheim PD in our city, and this is nothing new. Things like this happen all the time, and unfortunately, this won't be the last time. That's why it's important to raise our voices," said artist Samantha "Samy Love" Ramirez. 
"If those police officers would've let Johnathan speak with his cousin, we would've seen a different outcome, we wouldn't be here mourning the life of someone who did not have to die," said Jeff Bieber, who works for an organization that helps people who have been previously incarcerated.
According to Hernandez, who stayed on sight till his cousin's body was taken away, his cousin's body lay lifeless for 13 hours as officers began their investigation. What troubles Hernandez is that while he was at the scene of the ongoing stand-off, he received an email from SAPD where police described the situation and stated that the suspect displayed a firearm. 
"He didn't have a firearm," Hernandez reiterated. "How could you send an email that changes the course of an investigation and then kill a man."
When asked by L.A. TACO if Lopez ever displayed a firearm throughout the pursuit or while the car was stranded, APD said: "Because it is an ongoing criminal investigation being led by the DOJ, I won't comment on specifics that happened during the incident. APD's Post Incident Critical Debrief video will be released in the coming weeks and may answer some additional questions related to the pursuit and stand-off."
The California Department of Justice is now investigating the police shooting under assembly bill AB1506 which requires a state prosecutor to investigate incidents of an officer-involved shooting resulting in the death of an unarmed civilian.
"We're one bullet away from becoming a hashtag, and Black and Brown lives are worth more than that," Hernandez said. "How is it that people with intent to kill can march the State Capital, kill a police officer, and those people have a due process where they get tried, we know if you're Black or Brown. you'll get killed for lesser."
Hernadez said way before police killed his cousin. He was already working towards providing the city of Santa Ana with a police oversight and a fourth 911 emergency option for specific mental health-related calls. Making the loss even greater, knowing deaths like his cousins were the very thing he was hoping to avoid in his city. 
Since September, not much information has been released regarding the investigation. Still, the names of the officers involved in the shooting have been released and shared on Twitter via visual journalist Benjamin Camacho. A total of four officers were involved in the incident that took place in September, and according to APD, they are all back on duty. 
The Lopez family is being represented by civil rights attorney Dale Galipo who has dealt with cases similar to Lopez in the past. Galipo told ABC News: "We need to remedy this problem -- it's not just getting justice in this case, it's really seeking reform and change in terms of the training, the policy, the applicable law, so that police officers are able to recognize that people in a mental health crisis need medical help and attention."
Hernandez said he hopes people remember Lopez as the dynamic person he was, a man who went through a lot at a very young age but always managed to put a smile on his face, who had a great sense of humor, and who was a good father. As for the ongoing investigation, he says, "I want to remind these corrupt police departments that on my worst day, I am your strongest enemy, and if you think you are going to get away with killing people in our communities, I promise you we will go after you." 
To stay updated on Brandon's case, follow @justiceforbrandonlopez on Instagram. 
Janette Villafana is a multimedia journalist from Santa Ana, CA who often covers stories that highlight diverse communities, their issues, success, and personal stories.
Stay in touch
Sign up for our free newsletter