Tacos
Eat This Black-Owned Vegan Taco to Help Build South Central's First Organic Grocery Store
1:56 PM PDT on June 3, 2021
[dropcap size=big]W[/dropcap]hen you're given a chance to create something extraordinary for the community of people that grew up in Los Angeles, it only fits you to share space with your friends and supporters to turn those opportunities into a communal win for everyone—and provide delicious vegan tacos while you're at it.  
This is what happened at the notorious Jeffrey Deitch Gallery in Hollywood, where Melahn Frierson and AJ Girard celebrated the closing weekend of their iconic debut gallery exhibit, Shattered Glass. Girard says, "It's a co-curated project between myself and Melahn. We built this project around June last year, thinking through power, beauty, and justice," he notes. 
Girard is an arts educator who graduated from Howard University with his B.A. in Art History in 2012. He later moved to California and became a tour guide for the Broad Museum, where he just so happened to facilitate an impressive tour that left a lasting impression on Jeffrey Deitch himself. For Melahn Frierson, her journey with Deitch's gallery began in 2018. Two years later, Frierson became the gallery's director, which put her in a position to team up with Girard, who searched for an outlet to process the pandemic's ongoing uncertainty.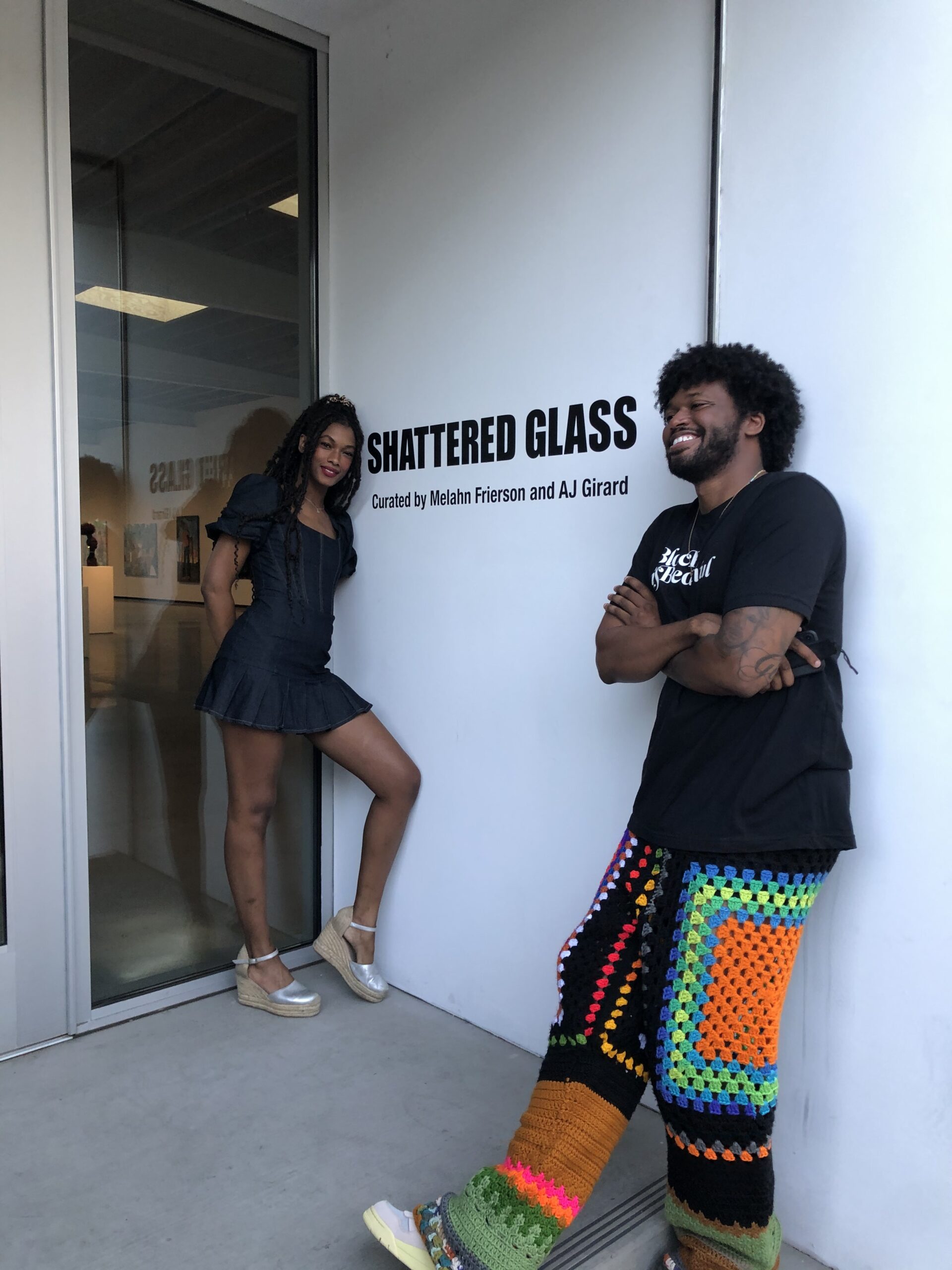 The two quickly proved to be a dynamic duo and began selecting friends and friends of their friends to create a moment that captured their sense of being in the midst of chaos. On the closing weekend of the show, Frierson and Girard were accompanied by their good friends, Na'eem Outler, founder of Vurger Guyz, and Olympia Auset, founder of Suprmarkt. Across the street from the Deitch Gallery, the Vurger Guyz kicked off the release of their exclusive off-menu item collaboration with Suprmarkt, the Suprgrilled Taco.
This delicious, vegan taco was created after Auset approached Outler with the idea. It provided Auset and Outler a collaborative opportunity to add a fun, promotional item to the Vurger Guyz menu while also supporting Suprmarkt's great cause. "We knew tacos were going to get our customers to try anything on the menu. If they weren't open to trying a burger, this was an opportunity to try a taco," says Outler.
The Suprgrilled Taco features BBQ jackfruit, guacamole, and pico de gallo, topped with special Vurger Sauce on your choice of a flour or corn tortilla.
The Suprgrilled Taco features BBQ jackfruit, guacamole, and pico de gallo, topped with special Vurger Sauce on your choice of a flour or corn tortilla. L.A. TACO had a chance to try it, and you would never believe this taco is 100% plant-based.
On top of a great meal, customers also pay it forward through every purchase of the Suprgrilled Taco, with 50% of proceeds supporting Suprmarkt's first brick and mortar location in Nipsey Square. Outler tells L.A. TACO, "I think it's important for us as a Black-owned company to spill out and partner with other businesses to help them grow."
Vurger Guyz's story began as most successful businesses do. A brilliant idea amongst a few close friends. Outler attended Miami University of Ohio, where he met three of his current business partners, Kendall Patterson, Kory Vines, and Philip Bennett. All four of them were NCAA athletes who quickly realized the lack of healthy food options outside major cities while traveling. This was a significant problem for them due to the critical role that a strict diet played in their lives. 
A few years ago, Outler and his friends became more health-conscious about the importance of nutrition, and they decided to switch over to a plant-based diet. This sparked an idea in Outler to create a vegan menu that still had the same great taste people fear they will miss out on when they eat vegan food. He then pitched the idea to a few friends, but only Patterson, Vines, and Bennet decided to pursue Outler's business proposal. Outler says, "From the point of actually talking about it and executing, the actual plan was about four months, so it honestly just cultivated itself." By October 2018, Outler and his partners decided it was time to take their model to the next step and purchase a food truck.
Their menu consists of your classic plant-based cheeseburgers with the options of adding caramelized or golden brown fried onions, fried jalapenos, and their special Vurger Sauce, BBQ sauce, or a combination of both. Vurger Guyz also offers two types of tacos with your choice of plant-based meat or seasoned jackfruit, guacamole, pico de gallo, and Vurger Sauce on a flour or corn tortilla. "The menu items came from just knowing what we would want at a vegan burger joint," Outler notes. "We view ourselves as customers, so we want to create the best experience that is also as healthy as possible." 
Some of his personal favorites are the "Smoky Sunset" Burger, which he describes as an Aunty's BBQ style dish and the "Sunburn" Burger that he says he especially enjoys on a Monday. Outler also shared some of Vurger Guyz's secret menu items, such as their two breakfast sandwiches, consisting of sausage, egg, cheese, mushroom, egg, and cheese, and a Philly Cheesesteak sandwich, all plant-based of course. 
"By the time I leave this planet, I want food deserts to be a thing of the past, so that's what keeps me going."
Vurger Guyz's combination of chosen family and plant-based eating has cultivated a health-oriented culture amongst themselves and their supporters. Their comradery goes beyond friendship and community and extends into advocating a healthier lifestyle for everyone around them. "Vurger guyz is here to give friends and family the ability to eat plant-based and open up their mindset. I know a lot of people I've put onto Vurger Guyz, who actually went vegan and lost 50 to  100 pounds. I see things like that, and I believe I'm serving my purpose and doing the best I can do," Outler notes. "We're just trying to normalize eating cleaner in the Black and Brown communities, but also in any community willing to accept it."
Before Vurger Guyz's inception, Outler made business cards to let people know ahead of time that he was starting a vegan pop-up. One of the business cards he handed out just happened to be Olympia Auset's grandmother, who Outler met at a fish shack when he decided to do a good deed and pay for her food. Life came around full circle later that year, after Vurger Guyz had their first pop-up, and Auset was able to attend thanks to the business card she received from her grandmother. He says, "When [Olympia] told me that story, it made me realize, when you do good things, it continues to open up doors and allows you to be a great person in general."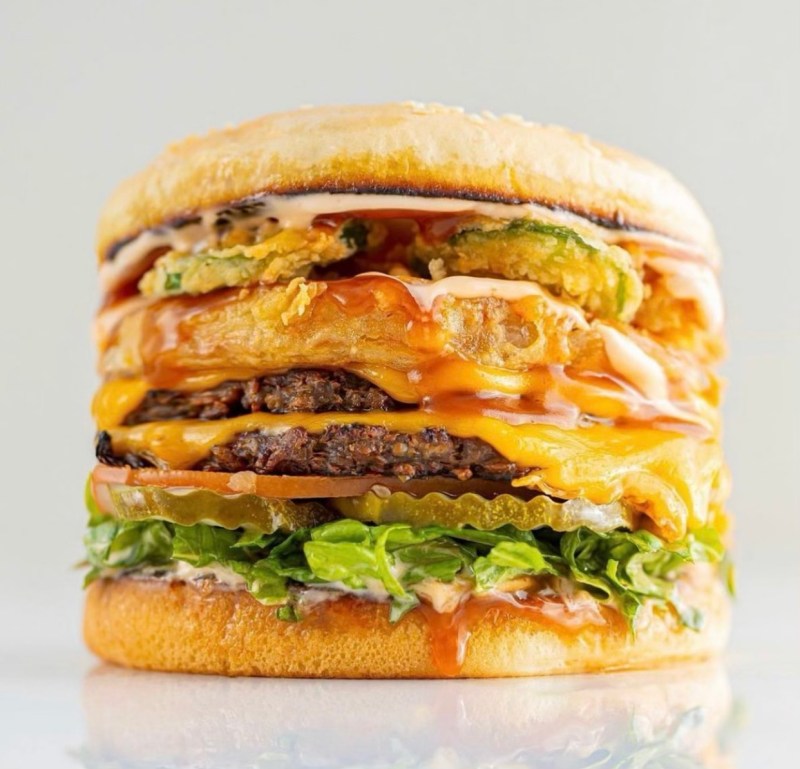 Olympia Auset's journey in vegan food started when she left to attend Howard University in 2008 after living in South Los Angeles most of her life. During Auset's second semester at college, she participated in a power study group where she learned about the term Food Deserts, geographical areas in which residents lack access to affordable, healthy foods. 
According to a study by Poverty USA, "Many neighborhoods [in Los Angeles] don't have a single grocery store. This means that many people rely on convenience stores and fast food for the majority of meals, which causes and exacerbates many of the population's health issues." In a community as large as South Los Angeles, there are only a little over 60 grocery stores to serve its entire population of 1.3 million people. 
Such information not only influenced Auset to switch to a vegan diet, but it became her mission to provide infrastructure for better help in the South Central community once she graduated from Howard University in 2012. "I learned a bunch of things about the world and the ways I've been lied to," Auset notes. "My mission when I finished college was to create information and infrastructure to change the world, so I spent a few years after college to find the best way to do that."
In 2016, Auset officially started Suprmarkt, a low-cost organic grocery subscription service that makes it easy and affordable to eat well in L.A. Auset says she had less than $100 saved up, a table, and a tent at the time. "A lot of people probably would've quit because I wasn't making money in the beginning. There were times where I couldn't make my rent, and I would have to find cleaning gigs on craigslist to pay my bills, but I stayed committed," she says. "By the time I leave this planet, I want food deserts to be a thing of the past, so that's what keeps me going."
"When we found out that Mr. Wisdoms was closed, it all kind of happened at one time. I really hope what we create, [Nipsey] can look down on, and be proud of something that benefits the community and brings light to that block."
Now her business stands tall and proud with a distribution of over 75,000 pounds of organic produce in the Los Angeles community. Suprmarkt has also raised above $90,000 to help subsidize healthy food and provide health education to the South Central community through their Keep Slauson Fresh campaign. Keep Slauson Fresh has even gained support from Issa Rae, Roy Choi, and Kat Von D to help them raise additional funds for subsidized food and education in South Los Angeles.
This year, they hope to open South Central's first full-service organic grocery, serving as a community wellness hub. Suprmarkt is currently looking for support so it can serve millions more through a new brick-and-mortar store. This concept would make history as the first vegan, organic produce market and cultural wellness center located at the historic Nipsey Square, previously known as Mr. Wisdom's Specialty Health Food Store. "It's going to be an oasis for the community, so we encourage everyone to please donate to keep everything going. The proceeds benefit Keep Slauson Fresh to help us subsidize everything and keep everything that's in Suprmarkt affordable," Auset said.
The wellness center will feature cooking classes, workout regimens, educational courses, immersive experiences, and more. "When we found out that Mr. Wisdoms was closed, it all kind of happened at one time. I really hope what we create, [Nipsey] can look down on, and be proud of something that benefits the community and brings light to that block."
The Suprgrilled Taco will be available at Vurger Guyz food truck until June 21 at their Truck #1 location in 1311 W. 3rd Street Los Angeles, CA 90017 and Truck #2 location in 7725 Melrose Ave Los Angeles, CA 90046, as well as Door Dash, Uber Eats and Postmates. For destination updates, follow Vurger Guyz and Suprmarkt on Instagram.
Stay in touch
Sign up for our free newsletter