L.A. Taco Guides
Tour De Long Beach: Six Spots to Hit Up This Summer In La Playa Larga On A Bike
1:06 PM PDT on June 21, 2022
Summer in Long Beach isn't just for taking your dog to L.A.'s only dog beach and taking in the views of its famous oil islands while brown-bagging it. There is also that indescribable feeling when you bump Sublime in your car while cruising Cherry Avenue, too, plus the cooler coastal temperatures that you won't find the deeper you go inland. But perhaps, most respectable of all is the city's many miles of bike lanes, and where there are bike lanes, there are bikers with a nearly insatiable hunger and thirst.   
We've mapped this route to help navigate your journey through some of the different neighborhoods that make up the city of Long Beach to take advantage of some quality street food options that we've handpicked to get your grub on. 
This is an intermediate-style ride, so if you aren't feeling confident navigating the streets on your bike, take advantage of public transportation or carpool with friends. Of course, if you bike, obey all traffic laws for bike safety and always wear a helmet.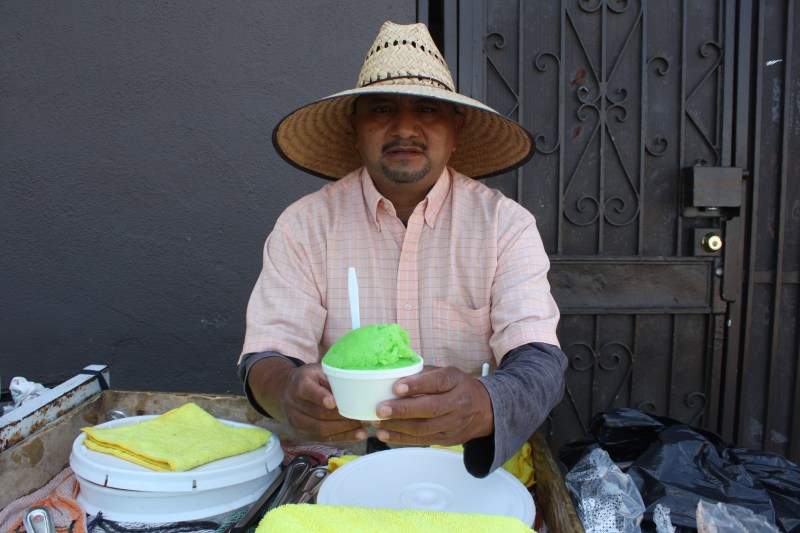 Finding a good frutero en La Playa Larga isn't hard. The ubiquitous rainbow-colored umbrellas with their makeshift shopping carts pushed up and down the grand boulevards either by or converted bicycles are part of the city's landscape. Eliu Ramírez is one of the many known for his tasty snacks like his nieves (Mexican shaved ice) or his creamy-meets-spicy esquites. What is worth noting is that Ramirez himself has become a symbol of justice for street food workers. In Summer 2021, a group of young people assaulted Ramirez and another vendor, dumping the contents onto the sidewalk. Following the incident, Ramirez called Long Beach Police for assistance. Instead, the officers who responded to the call would issue him and his fellow vendor a ticket for not having the proper permits. The incident was covered widely by L.A. TACO and other news outlets bringing attention to the daily plight of street food vendors. Since the incident, Ramirez has become one of the more well-known street food vendors in the area. These days, Ramirez makes his way around various neighborhoods on a converted motor scooter that's painted light blue and sells his tostilocos and freshly cut mangoes at a nearby high school during the week and churches on the weekends.
Where to find: Check El Sabroso's Instagram account to find out where they are popping up next.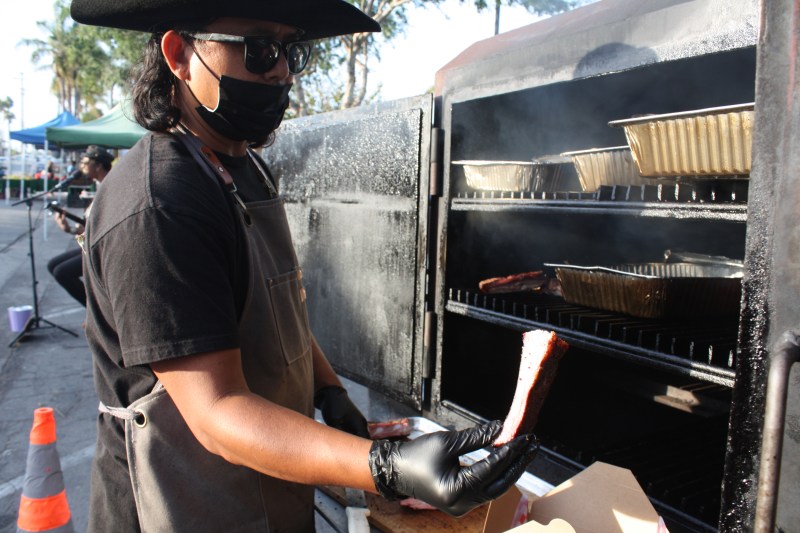 If you find yourself at Uptown Certified Farmers Market on a Thursday at 3 PM, located in a northern section of the Bixby Knolls neighborhood. There is where Battambong BBQ pops up regularly. Proprietor Chad Phuong grills up his signature "Texas-style BBQ with a Cambodian twist." Phuong is often behind his smoker trailer, donning his bent bill cowboy hat, resembling something akin to a character out of the graphic novel the Preacher but instead of gun slinging, he's serving up some of the tastiest 'cue this side of the 710 freeway. No better dish encapsulates Phuong's thesis of mestizaje than the Nom Pang, the Cambodian cousin to Vietnamese banh mi. The sandwich features a crusty-AF demi-baguette slathered with a mixture of pâté and Sriracha mayo, fresh-tasting pickled papaya salad slaw, and the 15-hour smoked brisket and drenched in tangy signature BBQ sauce. Those looking for more sustenance can opt for the Smoked Meat Plate, featuring an array of offerings such as the aforementioned smoked brisket, stick-to-your-fingertips spare ribs, tri-tip lemongrass chicken, twako aka, Cambodian beef sausages. Save some room for the delicious sides of the plate, specifically the always wonderfully tasting Cambodian coconut corn, which is the perfect mixture of sweet and savory. The first bite will undoubtedly be followed by a second and third until there's nothing left. So here is the fuel required to help power the rest of the journey. Let's keep it moving.
Where to find: Atlantic Avenue & E 46th St, Long Beach, CA 90807.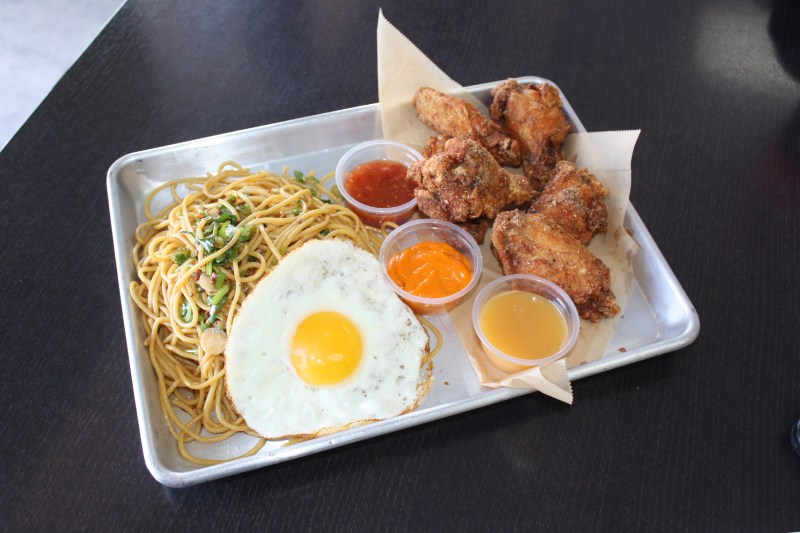 Did someone say Cambodian chicken wings? The owner of Hawk Tea lived in San Francisco, working at corporate jobs when they got the idea they wanted to open their own restaurant space. Tea grew up in the restaurant biz, where he helped his parents run their family-owned restaurant in Long Beach. Opening in March of 2022, Shalp Muan refers to chicken wings in the language of Khmer. Their expertly fried drumstick drumsticks and flats feature bold flavors and crispy crunch with each bite. Tea makes it a point to incorporate the traditional Khmer flavors that he grew up eating as a way to honor his cultural heritage. With various dry seasonings such as Cambodian dirt and Jalapeno MSG and their wet sauces, Orange Habanero and Water Buffalo are all made in-house and pack a serious punch that awakens the senses. Take advantage of their many Khmerican dishes while you are there to round out your meal. Some options to consider are their Beef Lok Lak, made with seasoned bits of quality shaken pepper steak,  tossed with their signature Master sauce, a savory soy sauce, and grilled onions served with a helping of steamed rice and glorious lime dipping sauce providing for an extra bit of tartness for each bite. There is also Chay's Famous Shrimp Fried Rice, made with crispy-licious shrimp bathed in their Master sauce that sits atop a bed of golden fried rice. 
Where to find: 2150 E South St #105, Long Beach, CA 90805
 

View this post on Instagram

 
At Mariscos El Garage, you will find owner Elsa Barragan the madrina of Long Beach's mariscos scene. It's easy to see Barragan has quickly risen through the ranks serving up some of the tastiest mariscos in Long Beach. It's hard to miss. Look for the Barragan's wrapped Ford 150 with the red, white, and black camouflage design attached to the lonchera trailer adorned with Barragan's father's image Don Diego who used to slang cóctel de camarón out his garage, and the business names is in homage to. Greeting you with a smile and welcoming presence, Barragan, with her signature red hair, will take your order with care asking you what you like and making sure that you are aware of daily specials. It's that type of personal attention that keeps Long Beach locals returning time and time again. Not to mention the stellar ceviches, botanas, aguachiles, and tacos gobernador. It's hard to go wrong with all the great options that Chef Elsa offers. If you want to ball out, order the callo de hacha (pen shell clams), which is a tender scallop-like delicacy. 
Where to find: 1901 E Pacific Coast Hwy, Long Beach, CA 90806.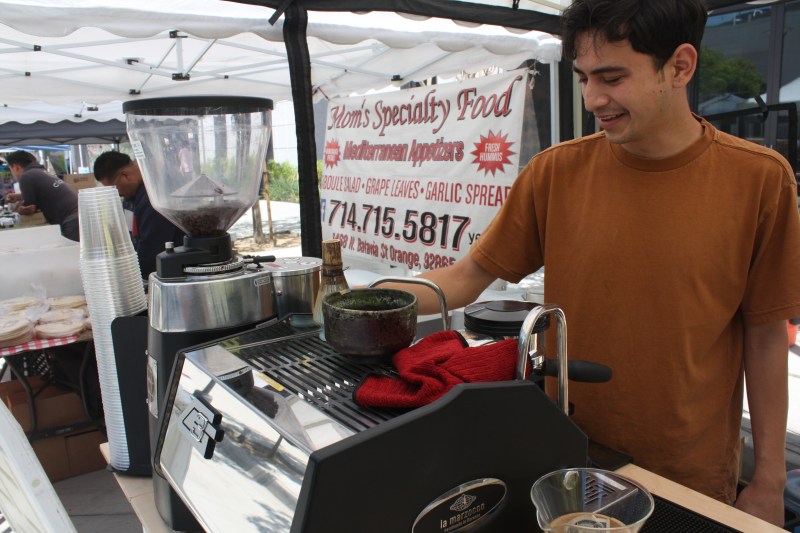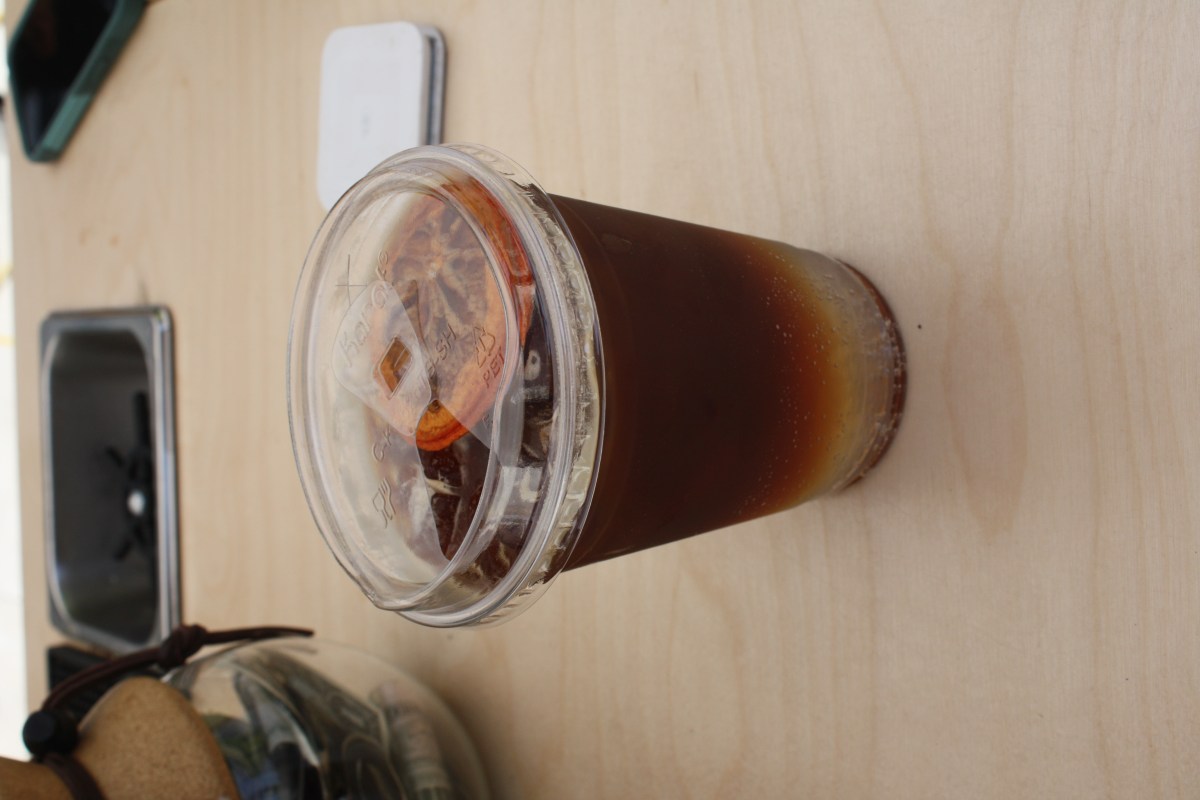 His Instagram bio reads "The coffee guy at the farmers' market,'' although it wasn't always Ricky Sanchez's goal to get into specialty coffee. Hailing from North Long Beach, near the border of Paramount, Sanchez got his start working in a coffee shop in 2018  learning the basics of the coffee-making business. At the same time, his own budding interest drove him to try to sample the variety of pulls of spro throughout the Southland, where he developed his own palette. Throughout this period, he realized something about the industry: "There's a lot of specialty shops that are well respected, but it's not really a specialty. I feel like they call it specialty coffee because they use really good beans but the ingredients are shit," Sanchez puts it bluntly. Feeling empowered by that knowledge, he sought to create a coffee pop-up centered around community-based events such as farmers' markets that would seek to counter that fact. Sanchez makes it a point to put a special emphasis on quality ingredients, such as only using plant-based milk for his beverages and sourcing organic and non-GMO beans whenever possible. Currently, he's using Counter Culture Coffee beans. The always popular latte drinks make for perfect sipping while pursuing produce at the Downtown Long Beach Farmers market. The vanilla latte is made with Madagascar vanilla beans and agave syrup. Another option includes their Signature made with a condensed oat milk to fully power up before our next stop.   
Where to find: Downtown Long Beach Farmers Market, 315-412 The Promenade N, Long Beach, CA 90802 (Fridays, 10 AM-2 PM)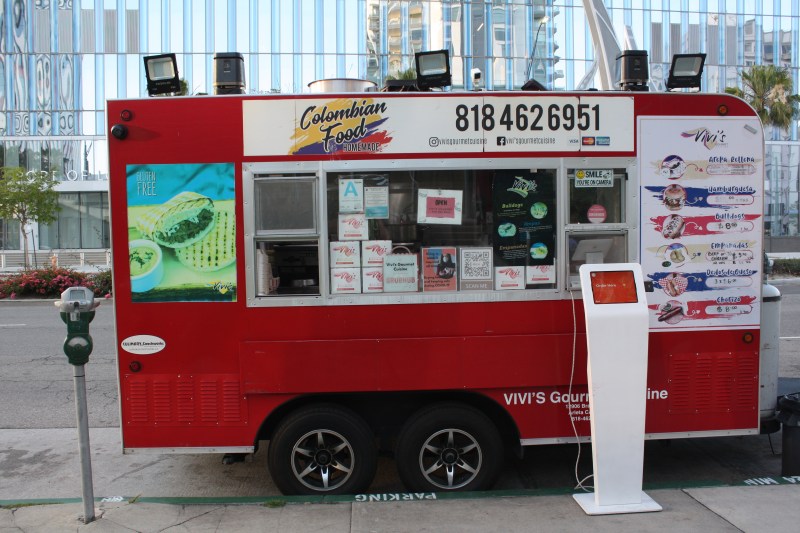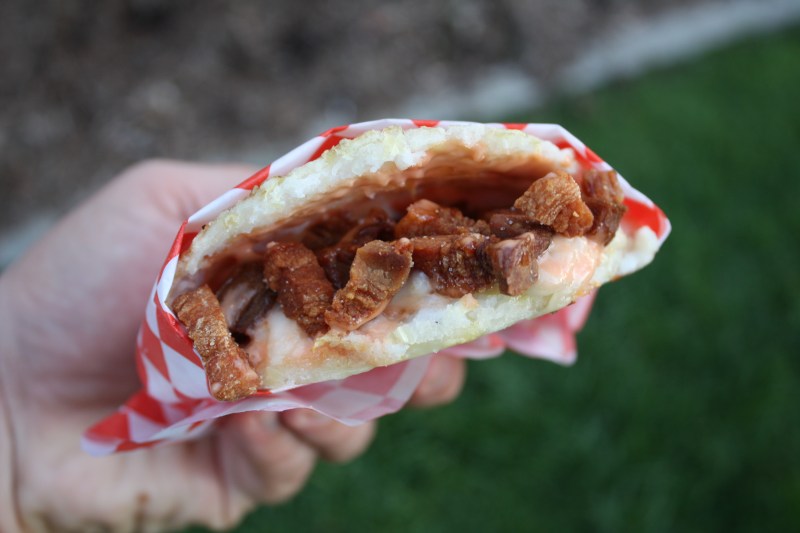 Friday nights, you'll find Vivi's Gourmet Cuisine food trailer parked along Ocean boulevard, specializing in various forms of Colombian street food. The little red trailer makes regular stops in the Valley (Reseda and Van Nuys), Pasadena, as well as Long Beach throughout the week. Their menu packs a punch with lots to choose from. Take your pick of perfectly crisped arepas rellenas with a choice of chicken, beef, cheese, or chicharrón (fried pork belly) smothered with a creamy cilantro-based sauce. Couple that with one of her Bulldogs, a tasty Colombian takes on a hot dog which. Topped with a combo of mayonnaise-based sauce with pineapple, orange juice, carrot, and crispy bits of potato chips, making a very satisfying bite. Finish up your meal with a pairing of empanadas that have a sweet-yet-crispy cornmeal dough with your choice of chicken or beef, topped with house-made chimichurri sauce. Take a load off and find a bench, and stare up at the highrises along Ocean Boulevard while washing down your meal with a Colombian soft drink and admire how far you've come. You made it. 
Where to find: 400 W Ocean Blvd, Long Beach, CA on Friday nights. 
Gabriel Chabrán is a food writer and journalist from Highland Park. He currently lives in Long Beach with his wife Katie, their new baby, and their Russian Blue cat, Mars.
Read More:
Stay in touch
Sign up for our free newsletter