Tacos
The Seven Best Tacos to Try In Santa Ana
3:14 PM PST on January 19, 2023
Located just 25 miles south of Los Angeles Santa Ana is a city that is full of culture, art, life, and great food on every corner. It is the second largest city in Orange County and the food scene here is as diverse as its community. You can find anything from Mexican food to Vietnamese food and more. But the tacos are where it's at, Santa Ana has hands down more than a handful of taquerías, restaurants, food trucks, and food stands that serve some of the best tacos in the city. Tacos that transport you back to Mexico with just one bite. Let's embark on this taco journey, here are the best tacos to eat when visiting Santa Ana.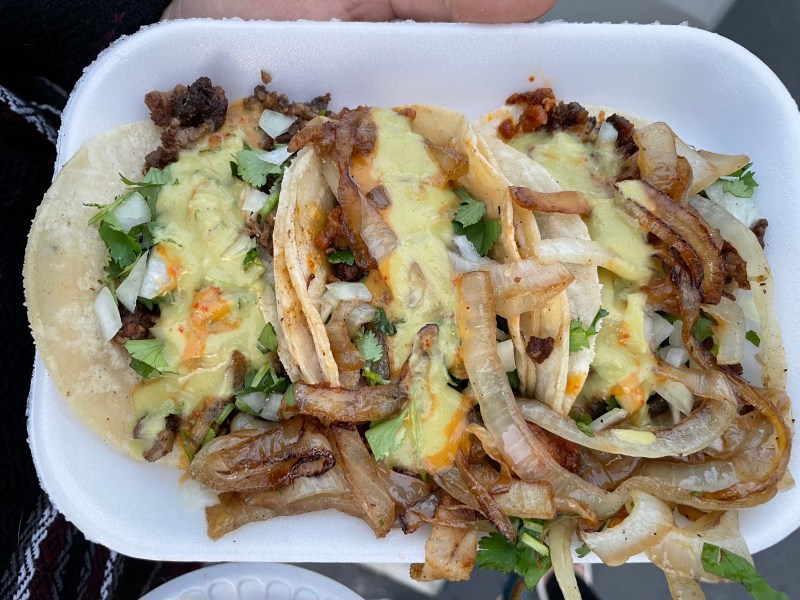 Tacos Las Cabañas Estilo Guerrero is a family-owned food truck that is conveniently located near two dispensaries which means you can get more than tacos when visiting. My go-to order consists of al pastor, carne asada, and what I consider one of their best meats, suadero. They do offer handmade tortillas, so make sure to ask for those, although their regular pre-packaged tortillas as just as good. Of course, we cannot talk about tacos and not talk condiments. Any good taquería has to have good salsa. And Las Cabañas hits the spot. If you go, you have to get both their habanero salsa, a bright orange and beautifully emulsified sauce, and their green salsa filled with so much flavor. Each order of tacos comes with cilantro, onion, and a side of grilled onions. If you are in the mood for something cheesy, ask for their handmade choriqueso, I promise it will not disappoint.  
2300-2498 S Birch St, Santa Ana, CA 92707
Open: Monday-Thursday from 10 AM- 10 PM, Friday-Sunday from 10 AM- 11 PM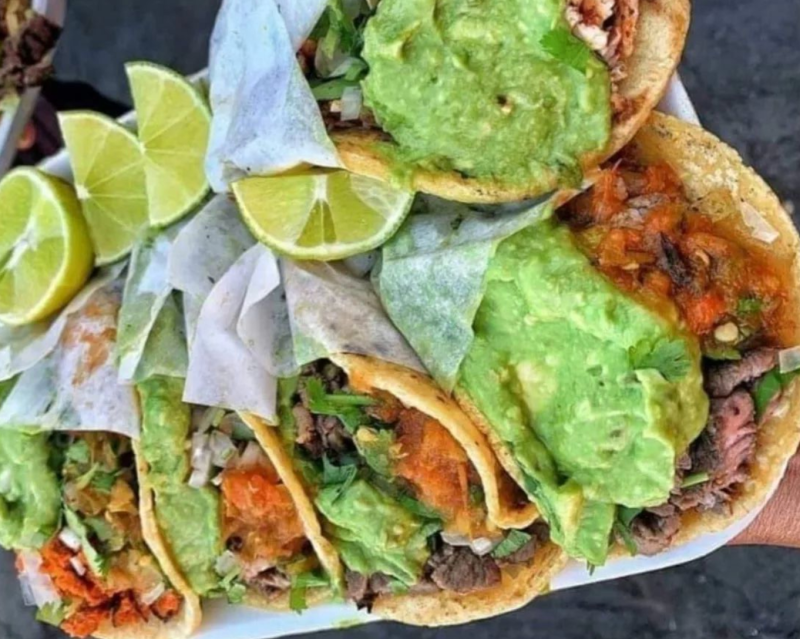 You can ask any Santanero, and they will tell you we love T.J. style tacos, after all, Tijuana is about an hour and a half away. But for a long time, it was hard to find good ones in the city. That was until Los Angeles's own Ah Carbon Tacos decided to make their way to Santa Ana. Like many taco businesses, Ah Carbon Tacos is family owned and started out as a taco stands both in Los Angeles and Santa Ana. The smoke from their meat cooking over mesquite sends smoke signals that lure anyone in. The perfectly charred carne asada and chorizo can be smelled a mile away. Now the stand has upgraded, as any good business does and they have a food truck that they now operate from and is a lot easier to spot. My personal order at any stand will always include carne asada and al pastor. (If a place has good al pastor and asada, then the chances of their other meats being good are high). Their tacos come in handmade tortillas, topped with a big scoop of guacamole, and their fire salsa, cilantro, and onion all wrapped up in a little piece of parchment paper, which is the signature quality of a Tijuana-style taco. One bite, and you can taste the fire it was cooked in. Their al pastor is cut into thicker pieces, as is common with tacos de adobada in Tijuana (which is the way tacos al pastor are sometimes called in Tijuana) while their asada is nice and tender. They are the perfect tacos after a late night out. And the vibe there is lit, too, with music blasting cumbias sonideras to put you in the mood while you wait for your order. 
1502 E. Warner Ave Santa Ana CA
Open: Check open days and times on Instagram: ah_carbon_tacos_santa.ana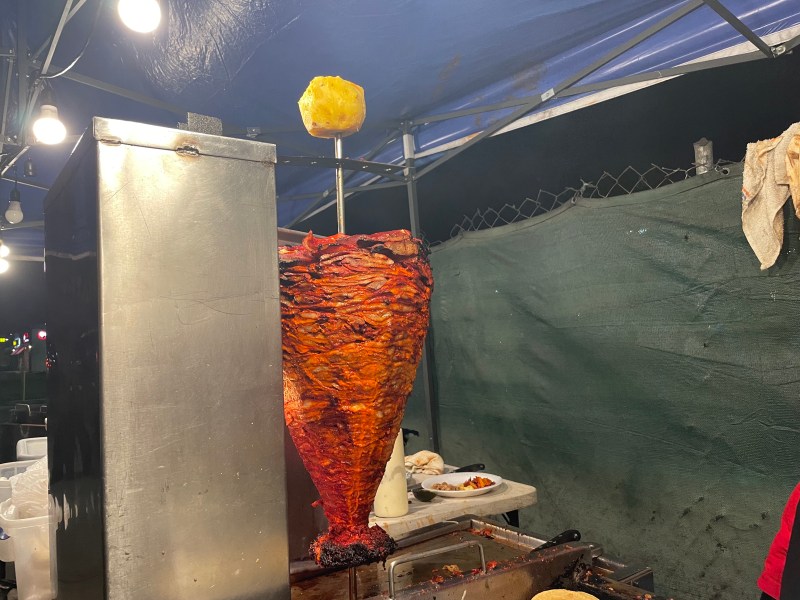 Tacos Lahui Estilo Oaxaca 
If there are any al pastor tacos that I recommend when in the city of Santa Ana, it has to be these tacos Estilo Oaxaca. Their al pastor is marinated differently than your regular al pastor, and it is cut perfectly thin, so much so that when you take that first bite, it almost melts in your mouth. And they are not stingy with their meat. Each taco comes with handmade tortillas and a hefty amount of meat. When you visit, it truly feels like you are in Mexico. You are greeted with a "Que le voy a dar?" "What am I going to give you?" from the taquero as you approach the stand that is located near the parking lot of Food 4 less. Their tacos are served plain, but for a good reason, on the side, they have a table filled with condiments: cut-up cucumber, rábanos (radishes), cilantro, onion, and of course, their fire salsas of which I recommended their habanero one a little goes a long way. The combination of the spicy salsa on the al pastor and pineapple is simply mouthwatering. And although my top recommendation is their al pastor, I also recommend their tacos de buche. They are perfectly salty, and if you like your buche crispy, you can ask for them to crisp it up on the plancha. 
2140 S Bristol St, Santa Ana, CA 92704 (right before the Food4Less parking lot)
Open: Times vary, 5 PM- 12 AM (open times may change depending on weather)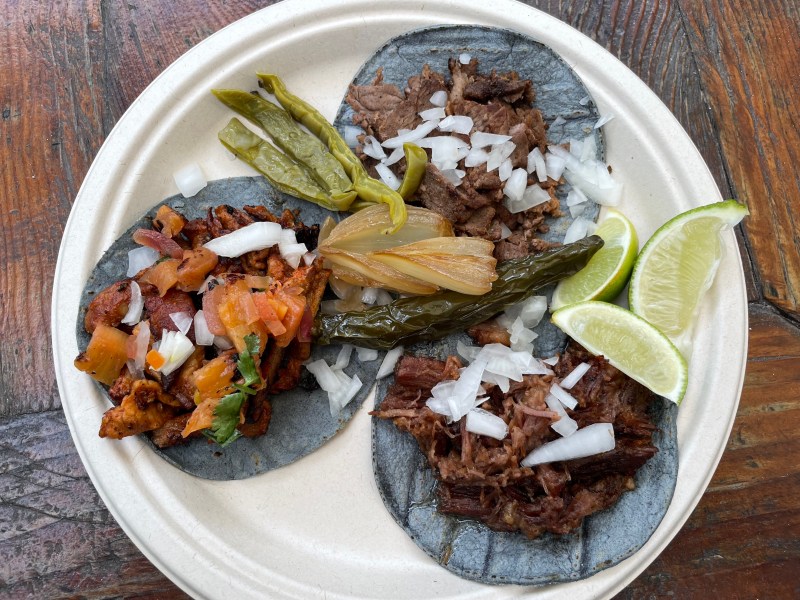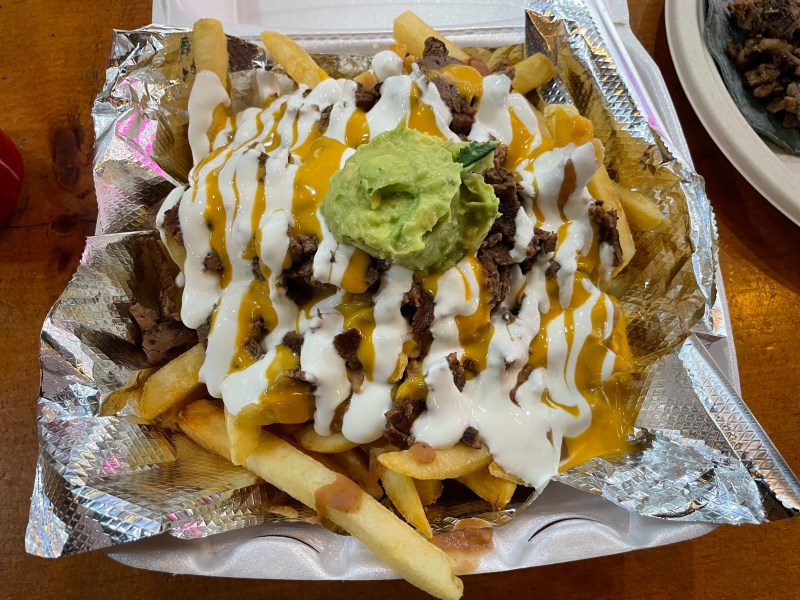 Tacompadre in downtown Santa Ana is also a gem you must visit. You can't miss it, it's located inside the McFadden Public Market, and it's run by Jermaine Sanchez, his brother, and his wife. The flavors Sanchez and his family are trying to bring to their city is the taste of Mexico City, where they lived for several years. Missing the tacos from Mexico, they decided to embark on their own journey and opened up Tacompadre. Their menu is simple and straight to the point. They have cochinita pibil, asada, al pastor, suadero, birria, and more. Their tacos are served over blue corn tortillas and are served plain, so you can dress them with any of their condiments which include, cilantro, onion, grilled nopales, serranos charros, grilled onions, and a variety of chunky and salsa molida. If there is a taco I can recommend, it has to be their suadero; the meat for their suadero is imported from a distributor in Mexico City and seasoned here in Santa Ana. It's delicious. If tacos are not on your radar, but you want something for the munchies, their carne asada fries are what you want to get. They are loaded with meat, fries, sour cream, cheese, and guacamole. 
515 N Main St, Santa Ana, CA 92701
Open: Tuesday-Thursday from 10 AM- 9 PM, Friday 10 AM - 1 AM, Saturday 1 PM- 1 AM,
Sunday 1 PM- 8 PM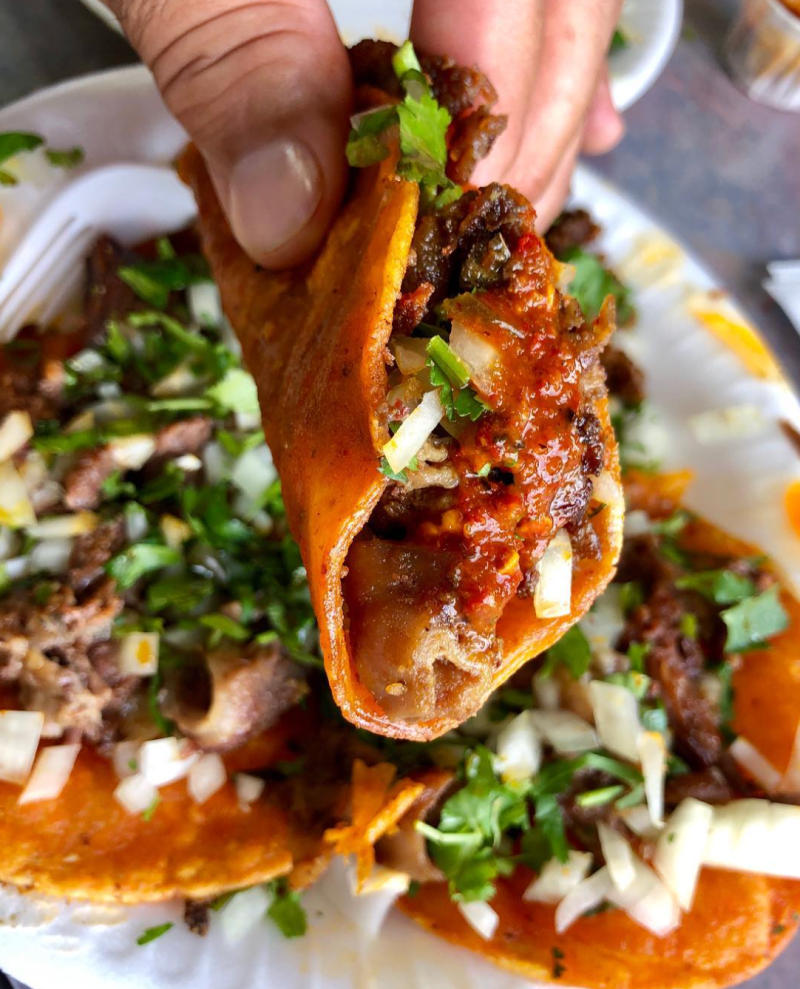 Tacos y Birria El Guero is the go-to spot for beef birria tacos. Their birria is perfectly cooked and flavorful, and their other meats are just as good. El Guero does have three different locations, two food trucks, and a brick-and-mortar restaurant. Although I always recommend visiting their food truck locations, I have to say that you truly get the same service and flavor at all three locations. What makes their tacos so good is when you order them enchilados, in return you get crispy, red tacos which are perfect for holding the steamy and juicy birria (you can make any of them "enchilados"). And you have to double up on their salsa, combine their salsa de aceite with their avocado salsa, and you are set for the perfect bite. 
Food Truck #1: Bristol Street and Wilshire (parking lot- red truck)
Restaurant: 2330 W Edinger Ave, Santa Ana, CA 92704
Monday-Sunday from 8 AM- 9 PM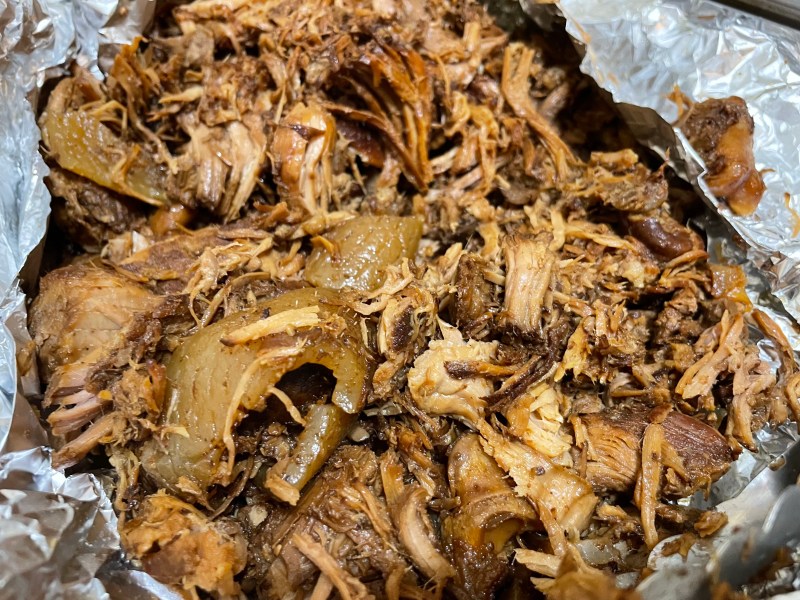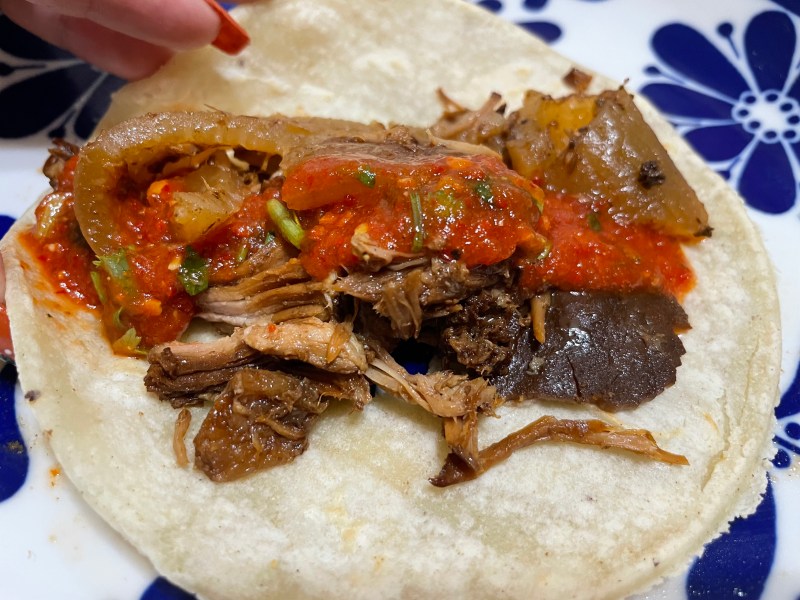 Carnicerias Zaragoza's 
Zaragoza has been around for years, open since many Santaneros can remember. My family has gone here to buy carnitas for years, and you have to get it mixto so they include carnitas, buche, and cueritos to your order. They are family-owned, and if you aren't careful, you may drive by the hidden restaurant. Although they are on a main street, their location is pretty small. Right here, you don't order tacos, you order by the pound, and yes, they always give you more than what you order because treating their customers like family is their specialty. The carnitas are never dry, the buche is absolutely delicious, and their cueritos are divine. Get them with a side of their salsa and go home and make some tacos or tortas with the meat. You know the meat is good when all you need is limón and salsa to top your tacos. Hands down, this place is a Santa Ana treasure. 
1229 S Main St, Santa Ana, CA 92707
Open: Monday-Friday 8 AM- 7 PM, Saturday 7:30 AM - 7 PM, and Sunday 7:30 AM - 6 PM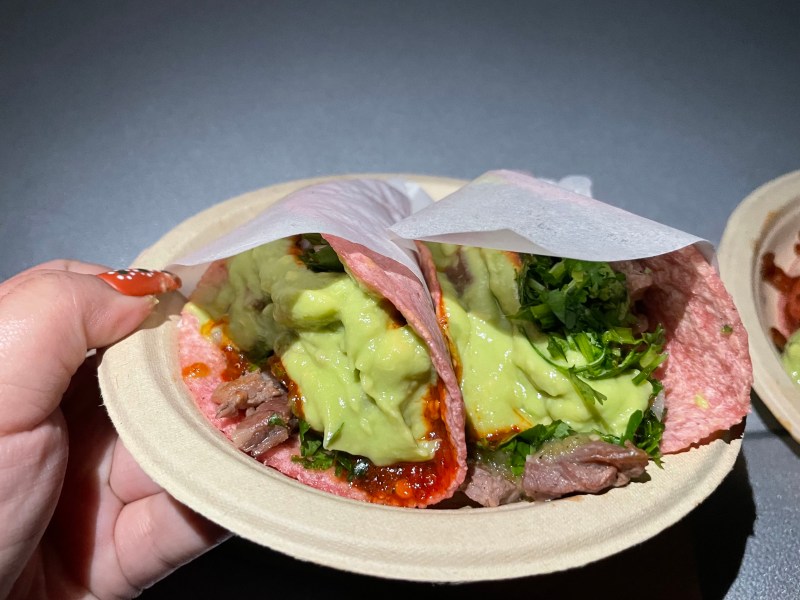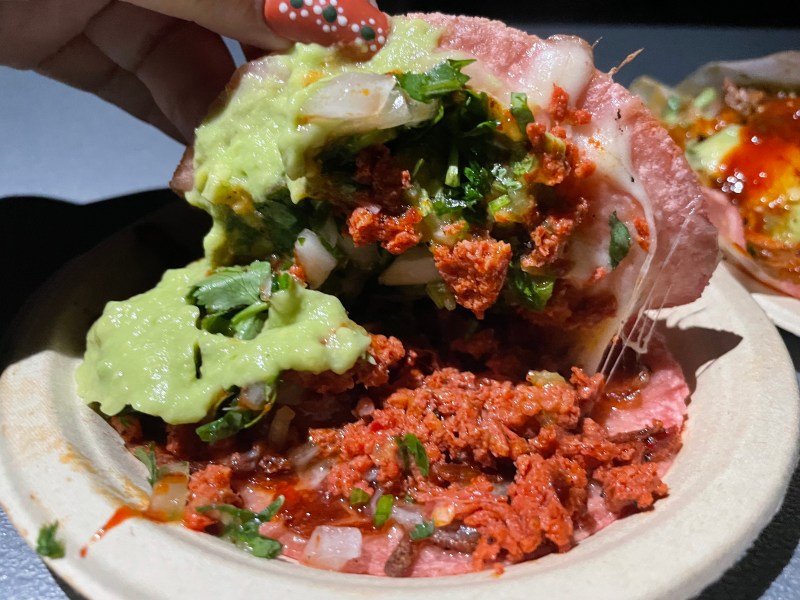 For our last location, we are heading to Santa Ana's Little T.J., where the streets are lined with street vendors of all types: churros, tacos, fish, flowers, and merchandise; you name it, you'll find it there. Food vendors down this street range from those just starting out and testing out the waters to those who have full food trucks and the lines to prove how good their food is. Here on Broadway and Central, you will also find Bandito Taqueria. You won't miss them. The line is always long, and for a good reason. They sell, you guessed it, Tijuana-style tacos. The meat is cooked 100% al carbon and served on pink tortillas. The taquero will ask you, "Con todo?" "With everything," and if you enjoy a good taco, you will say yes. You already know what I'm going to recommend, their al pastor, and seeing the taquero serve these up is pure art. The way he dabs the tortilla on the trompo to flavor the tortilla before throwing it on the comal is just the perfect touch. Then he goes in to cut the meat, a skill not many taqueros have. To finish it off, the classic flick of the wrist is done to cut off a piece of pineapple that comes flying down on your taco. If this doesn't convince you to try them, know that they were also named one of the 50 best tacos in Orange County. And like any good success story, the taquería that started out on the streets of Santa Ana will now have a brick-and-mortar location. 
2520 S Broadway St, Santa Ana, CA 92707
Open: Thursday-Sunday from 6 PM to 12 AM (check their Instagram for additional dates and times)
Editor's Note: Santa Ana has a multitude of perfectly delicious tacos, which only means we'll be back for more. Don't see your favorite taquero on the list? Comment your favorite.
Janette Villafana is a multimedia journalist from Santa Ana, CA who often covers stories that highlight diverse communities, their issues, success, and personal stories.
Read More:
Stay in touch
Sign up for our free newsletter