Featured
Neighborhood Food Guide: The Ten Best Tacos and Restaurants In Hollywood
1:09 PM PST on February 2, 2023
L.A. TACO is embarking on its biggest mission yet: to create a taco guide for every single neighborhood in Los Angeles! Along the way, we will also be releasing brief histories of each neighborhood to understand L.A. a little more and why each and every neighborhood that makes our fine city is unique in its own way. Check out our neighborhood page to get to know why Los Angeles is the best damn city in the world. 
It's impossible to talk about living in Hollywood to people who judge and hate the neighborhood without them immediately assuming you work adjacent to the film industry or spend every strutting up and down the Walk of Fame past the Donald Trump and Ronald Reagan stars and ending up at a gimmick bar like No Vacancy. The neighborhood is synonymous with tacky glamour, but as someone who's lived there for a brief four years, it hasn't been too difficult to find some of the more bespoke, consistently rewarding local spots. I'm absolutely not averse to the classics on the boulevard and there are few bars more entertaining than a night at the Frolic Room. But here are some more casual spots you might want to check out even if you're not trying to meet with an agent or sell a screenplay. These are a few spots in my neighborhood worth trying.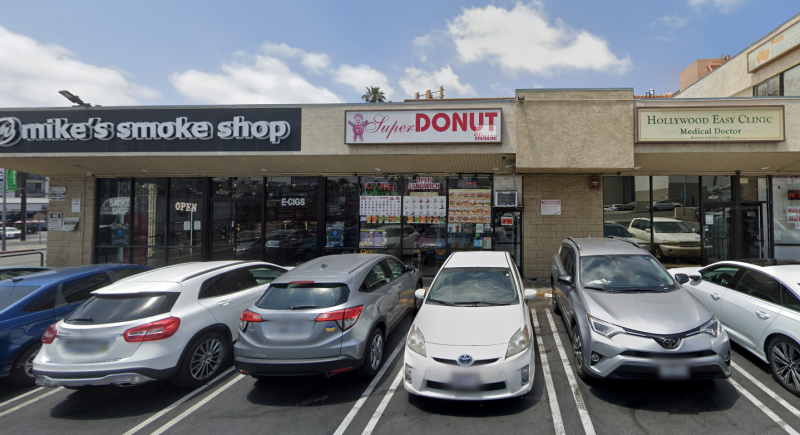 Super Donut House 
This Cambodian-owned donut shop is a staple of my breakfast routine. The owners say it's been around at the same spot for over 30 years. The donuts are a small part of the menu, which is also chock full of breakfast sandwiches, juices, and coffee. I'm partial to their #1 croissant sausage and egg sammy but they have bagels and baguettes, and if you aren't a shitty customer, it's more likely than not you'll end up with a few donuts tossed in for good measure. I'm a sucker for their mocha coffee. 
7307 Sunset Blvd #A, Los Angeles, CA 90046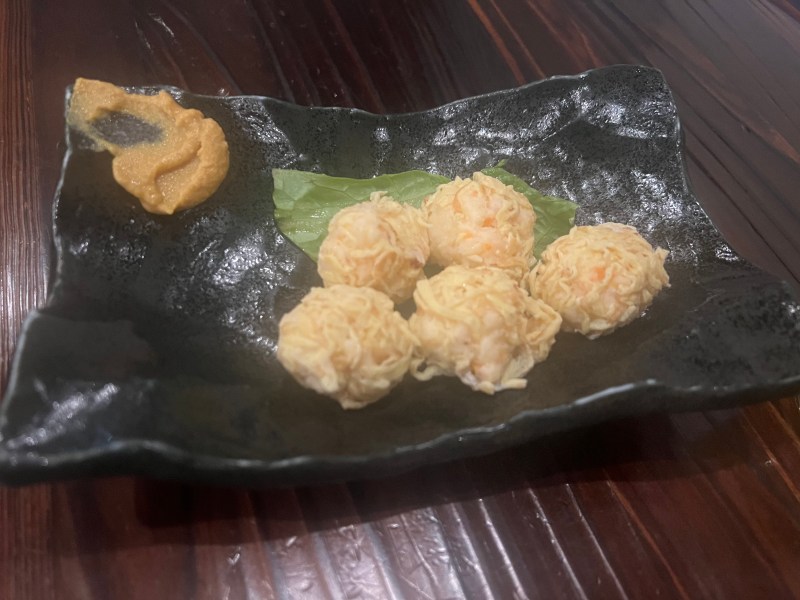 Soregashi 
This is an unassuming Japanese bistro in a Highland Avenue strip mall that is all relaxing vibes. It isn't the cheapest, but you can strategize ways to get full without throwing down completely. I like my sushi on the saltier side, so I love their salmon, ikura, and mackerel sushi, but if you want to try out the menu, go with their chirashi bowl. Their cooked food—particularly the broiled miso-glazed black cod—always hits the spot. Their shitake mushroom miso soup and their shrimp shumai, wrapped in egg, are wonderfully cozy dishes on a chilly night. Soregashi was closed for lunch for a while but has recently re-established daytime hours as of February 1st. I recommend sitting at the sushi bar for the atmosphere after a long day. 
6775 Santa Monica Blvd #3, Los Angeles, CA 90038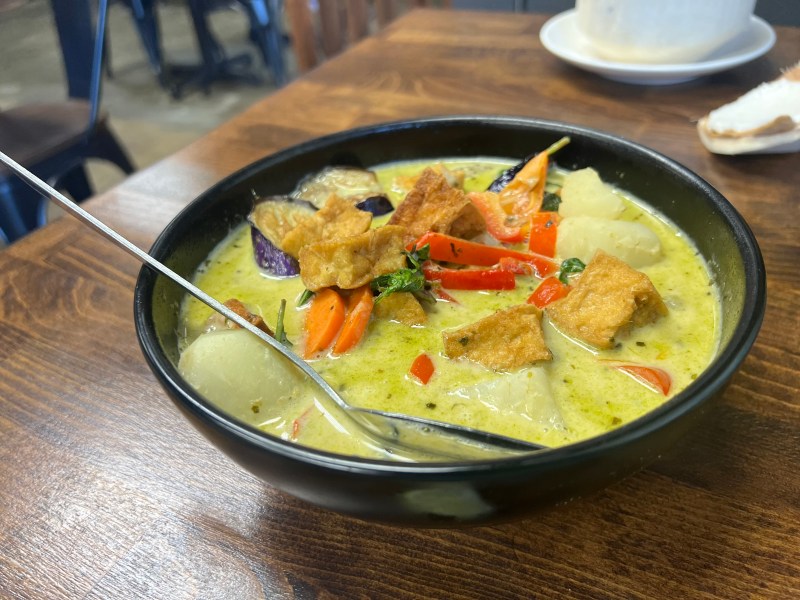 Luv2Eat's Hat Yai fried chicken is out of this world, there's no way around it. I always find myself showing up to order something on the menu slightly healthier, but when I show up at the restaurant I simply cannot resist. Their jade noodles with three different meats—BBQ pork, duck, and pork belly—are also outrageously good, and the portions here are consistently massive.  The moo ping—BBQ pork skewers—have just the right amount of smoke and are practically dripping off the skewers when they arrive. If you decide to add any proteins to their noodle dishes, I recommend the pork belly, as you'll add some crispiness to an I douse everything here in their pickled Thai chilis, which are irresistibly vinegary. I also ate with my gluten-free friend here, who assures me they have excellent options. Never had a bad Thai iced coffee here either. 
6660 Sunset Blvd, Los Angeles, CA 90028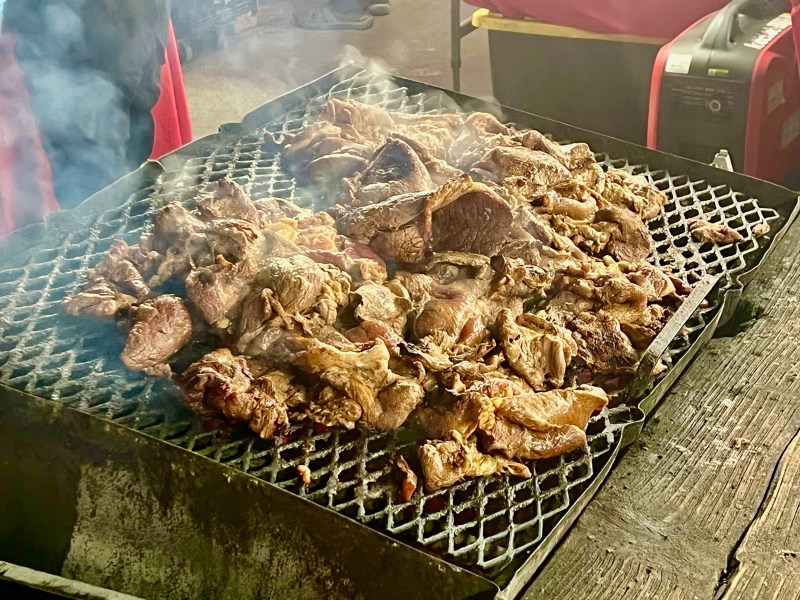 This stand started popping up last year by a public storage locker on Santa Monica Boulevard, but it moved over to next to a gas station on Highland Avenue. On my route home, when I am often blasting Bob Seger in my Subaru, I almost always drive by it and I can smell the smoke coming off of their asada grill. They have a pastor trompo, but I always go for their juicy, crispy asada, chorizo, or cabeza burritos. They make their own corn tortillas— which run a bit on the thicker side—but outsource the flour ones. I often see Los Angeles Sheriff's deputies driving in from West Hollywood to stop here, so I don't know what that means, but it does feel like a little community parking lot when you stop here late. It's a good time.
The Mobil Gas Station on Santa Monica Boulevard and Highland Avenue.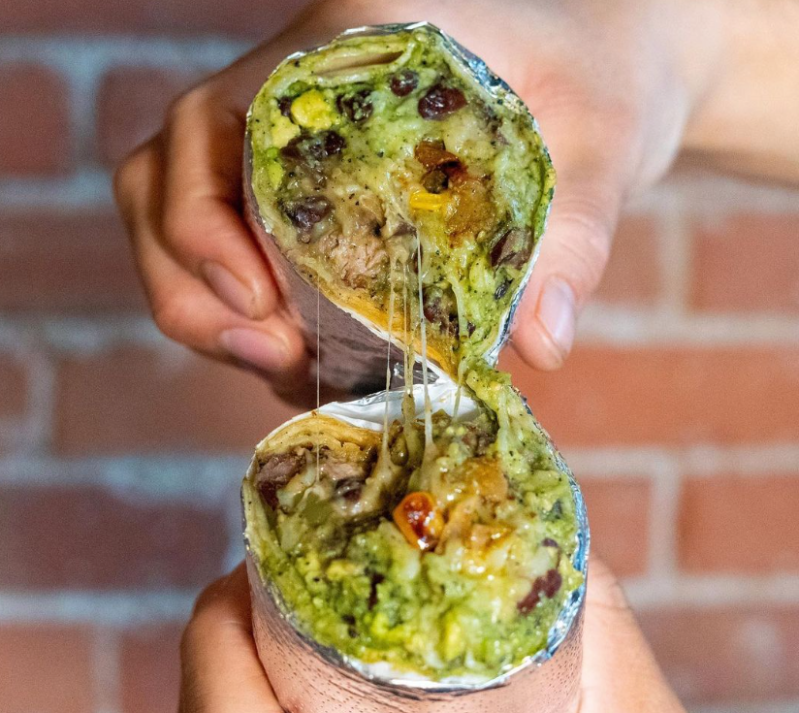 Tacos Neza is a newer spot, but extremely reliable for quick service, great pastor, and addictive beans. If you want something on the lighter side, they have fantastic tuna and shrimp choices too. I'll often get a large pastor quesadilla and a couple orders of beans and have that tide me over for a couple of days. I highly recommend trying their green salsa on everything possible. Oh, and they show sports if you're looking to watch a game. 
6801 Hollywood Blvd suite 314 Los Angeles CA 90028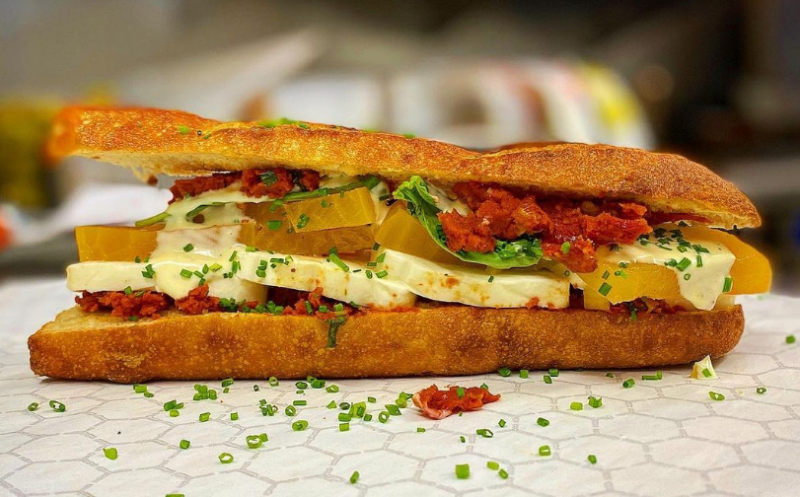 Oui's homemade baguettes are a gift from the baking gods as a medium for sandwiches. They do everything right here, bread-wise. You can get greek wraps, or thinner sandwiches like the smoked ham and gruyere which comes on one of the crunchiest baguettes you'll ever bite into (worth shredding your mouth over.) They are also home to Tony Khachapuri—a menu of Georgian cheese-filled breads. They also have a fried cod sandwich that's consistently perfectly fried and tasty, and what looks like a very expensive espresso machine. I wish the buns they used on their burgers and cod sandwich were used throughout the city. I also highly recommend taking home some of their homemade hummus. 
6909 Melrose Ave, Los Angeles, CA 90038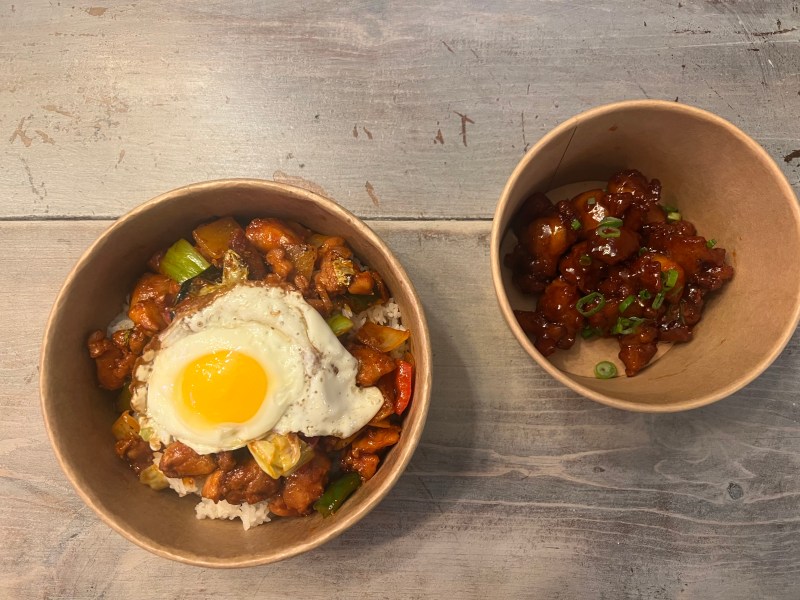 This Korean rice bowl stop is my favorite bang-for-your-buck meal to pick up, as I can almost never finish their hardy bowls in one go. I love their 24-hour marinated bulgogi, but their black pepper chicken is savory, and their pickle game is always refreshing. You can get a gyoza appetizer for $2 or a side of Korean Fried Chicken for around the same price. Make sure to ask for their homemade soy and sesame sauces. I find that all my meals there go perfectly with a Snapple. 
5706 Santa Monica Blvd Los Angeles, CA 90038   
This Mixe-owned modest taco stand on the south side of Santa Monica Street, in front of a strip mall, is easy to spot but hard to make time for, disappearing into L.A. County's taco universe like a salsa spoon swallowed by the salsa that never gets seen again. Chances are you've driven by it a few times on your way out from having a solid "I Love L.A." moment after picnicking and drinking at Cinespia at Hollywood Forever. But this al pastor stands out for its incredibly seasoned—not shy with the vinegar amount in the adobo—al pastor. They are one of the latest Indigenous-owned trompos in the city, following the footsteps of other Mixe al pastor legends like Tacos Leo, Tacos Tamix, and Tacos Lionydas. —Javier Cabral
5944 Santa Monica Blvd. 90038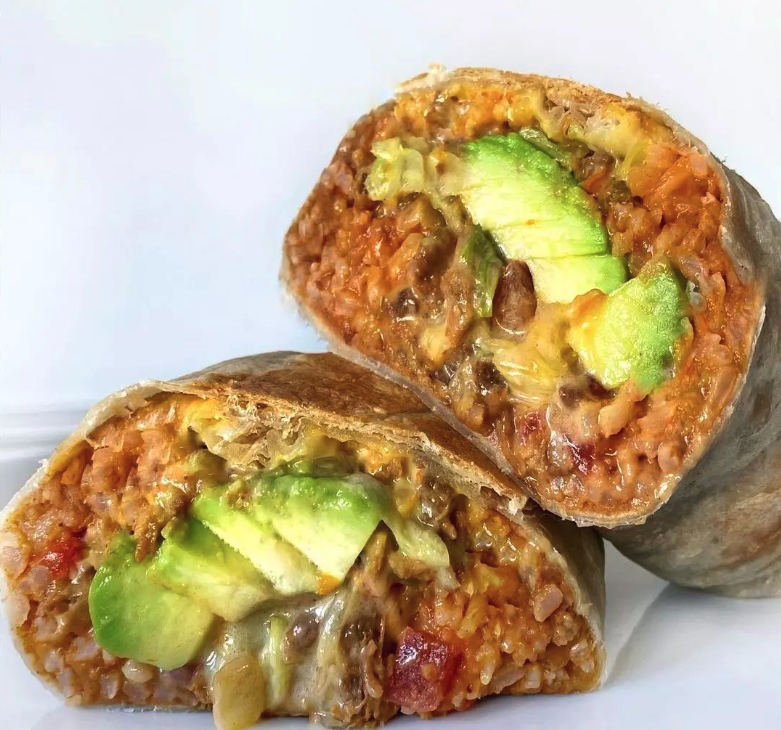 Doomie, the mysterious goth chef behind this strip mall gem in Hollywood, is an OG in L.A.'s industrial music scene. He first wowed L.A.'s always hungry vegan punk community in 2007 with his unpretentious DIY vegan fried chicken that he cooked out of a goth nightclub in Chinatown and all these years later, his chill approach to vegan food is still kicking in Hollywood via this Mexican concept and another vegan fried chicken concept in City Terrace. The menu at Doomies NextMex is pure nostalgic dopamine: wet burritos, carnitas, buñuelos, and many other dishes vegans secretly wished they can still eat carefree. Well at Doomie's, they still can. —Javier Cabral
1253 Vine St, Los Angeles, CA 90038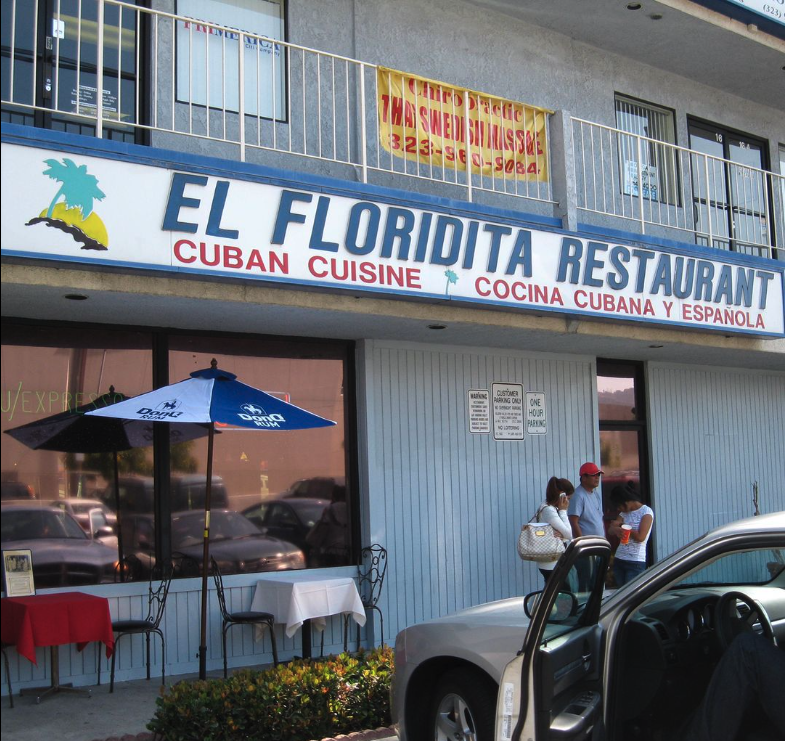 L.A.'s salsa dancing community flock to this hidden restaurant and dance hall on nearly nightly basis, but what many don't realize is that the Cuban-inspired menu is worth stopping into for a full hearty meal for lunch or dinner, even if you are a wallflower. Tostones (fried green plantain) with garlic shrimp, fricase de pollo, and chicharrón con yuca are all there. Their cocktails are strong, too, so may you end up dancing by the end of the meal because they just don't make restaurants and bars like this in Los Angeles anymore. — Javier Cabral    
1253 Vine St, Los Angeles, CA 90038
Jon Peltz was born in the city that Pitbull calls, "The Big Pineapple." He prefers the dryness of Los Angeles, and lives under a Clear Channel billboard in Hollywood with his two cats.
Read More:
Stay in touch
Sign up for our free newsletter