La Puente
The Seven Best Tacos (Plus Two Taco-Adjacent Spots) In La Puente
4:32 PM PDT on July 5, 2023
La Puente—Bridgetown—was named for a bridge built by the Portola Expedition in 1769 to cross San Jose Creek in what is now the unincorporated city of Bassett.
La Puente is now a no-frills, all-business, and often overlooked community of about 40,000 on the eastern edges of the San Gabriel Valley. One of those 40,000 is my friend, Joe Bautista, with whom I took Gustavo Arellano's Narrative Journalism class two years ago. 
Posting as La Puente Eats on Instagram, Bautista lives and breathes La Puente, supporting local businesses at no charge through his account.
So what do you do when L.A. TACO is working on neighborhood guides and you're a freelance journalist with a La Puente connection? You pitch, get a tour guide, and like Nikola Jokic in the 2023 playoffs (sorry, Lakers fans), you let him cook.
"All of these places I'm suggesting are from La Puente," explains Bautista.  "None of these vendors come into the city and leave. No Angel's Tijuana Tacos. These are family businesses. Locals. And the food is delicious." 
Tacos that would hopefully make long-time "Top Chef" host and Workman High School grad Padma Lakshmi proud. 
Without further ado, here's the L.A. TACO taco guide to the best tacos in La Puente.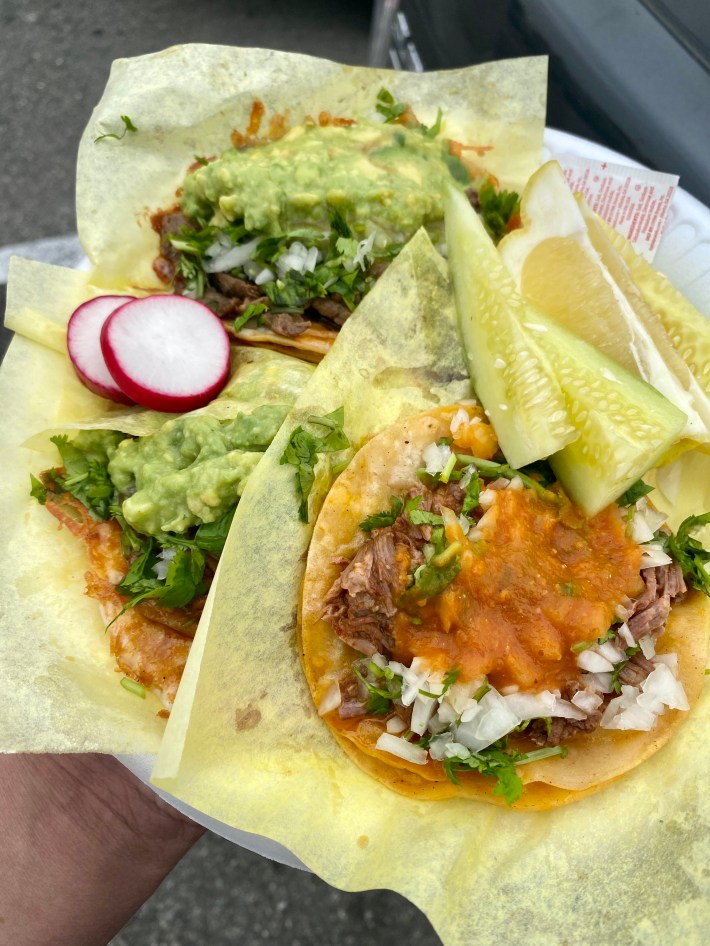 Their truck says "Birria Super Pepe." Their Instagram handle is "El Super Pepe."  Either way, the tacos that come out of this Road Runner and Wile E. Coyote-adorned lonchera, adjacent to the Aldi on Hacienda Boulevard, truly are super. As evidenced by the two smiling cows drawn atop the truck near its ordering window, birria de res is the specialty here. What are the best options?  The birria quesataco and the birria taco dorado. There are tender chunks of birria de res topped with onions and cilantro on the taco dorado, while the quesatacos come topped with onions, cilantro, guacamole, and perfectly crisped cheese. Curiously enough, the one Looney Tune character one would think would be associated with a truck called "Pepe"—Pepe Le Pew—is nowhere to be found on the outside of this truck. Maybe that's because these tacos don't stink.
Traditional meat options here: Asada, pollo, al pastor, and chorizo. Cash only.
1545 N. Hacienda Blvd. La Puente, CA 91744.
10 AM to 6 PM. Closed Tuesdays.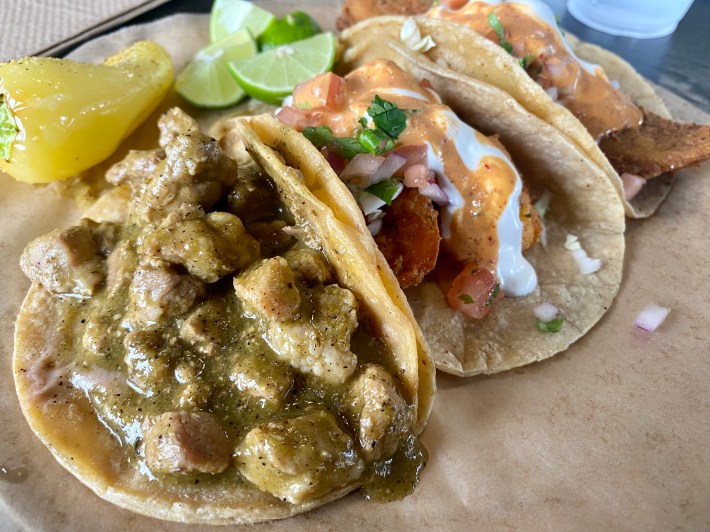 Surprisingly enough, the standout taco at Baja Urban is the chile verde. A guiso of tender, slow-cooked pork in a green chile sauce rests upon an extremely thin layer of refried beans, giving the chile verde an important barrier to rest on so it doesn't fall through your corn tortillas. Like Rhianna at this year's Super Bowl, no special guests are required...no shredded cheese, no onion, no cilantro, no sour cream…this chile verde speaks for itself all on its own. Other standout options include the taco de camarón and taco de pescado (with a hefty piece of tilapia), as the chipotle sauce strikes a nice, spicy balance with the cool sour cream.
762 Glendora Ave. La Puente, CA 91744; Closed Mondays.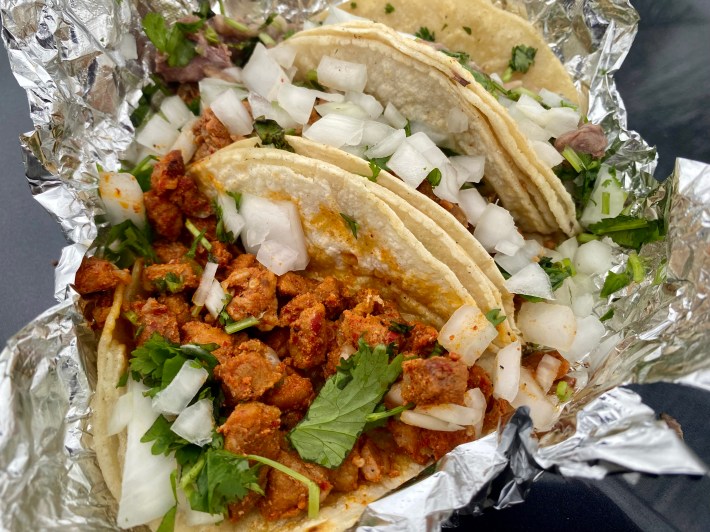 Taquería La Princesa
Located in a simple strip mall off of Valley Boulevard, this family-owned taquería serves up outstanding, no-frills tacos. The standout is the taco de cabeza, with chunks of slowly rendered beef cheek topped with onion and cilantro, then finished with a squeeze of lemon or lime and a dollop of salsa. The asada and al pastor options are also very good. Other standout choices include the chicken tinga—in burrito or quesadilla form—or the calabaza quesadilla. Handmade flour tortillas are offered for both the burritos and the quesadillas. Cash only!
17349 Valley Blvd. La Puente, CA 91744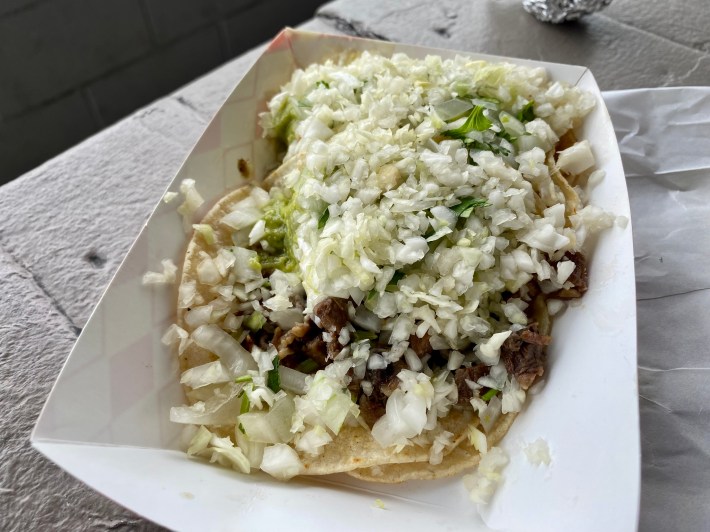 Taco Del Rio
"In La Puente, it's either one or the other," says Bautista. "You say you like one, supporters of the other will say you got it wrong." 
He's referring to the taco divide that "The Del Rios," Boca Del Rio and Taco Del Rio, have in La Puente. Both offer hefty amounts of toppings such as onion, cilantro, and shredded cheese (but Boca also offers dollops of both guacamole and sour cream). For this guide's purposes, the tacos at Taco Del Rio take the cake over Boca Del Rio's. The tacos de lengua and asada at Taco Del Rio had a nice flavor that didn't seem as lost in the toppings as the ones at Boca Del Rio were. Credit is also due to the meat selections listed on Del Rio's menu, while Boca's merely has one listing under the curious description of "meat." Ask for them to go easy on the cheese if you don't want a blanket of dairy atop the tacos. Cash only.
445 S. Azusa Ave. La Puente, CA 91744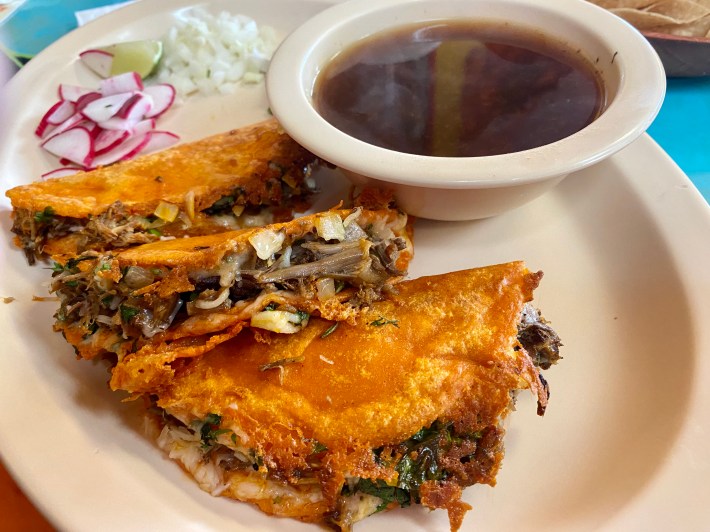 Located in the strip mall shops directly behind Taco Del Rio, you're at Birrieria La Suprema for the birria. Get the res (beef) if you want, but their birria de chivo is truly something special. Slow-cooked for eight hours, the birria is rich, flavorful, and clean, served inside a taco dorado with cilantro and cheese and a side of consomé. Get that same birria de chivo as a stew or the chile verde, which is made in-house from scratch. Get it in a burrito or by itself, along with rice and beans. Truly a stand-out spot in an unassuming location.
437 S. Azusa Ave. La Puente, CA 91744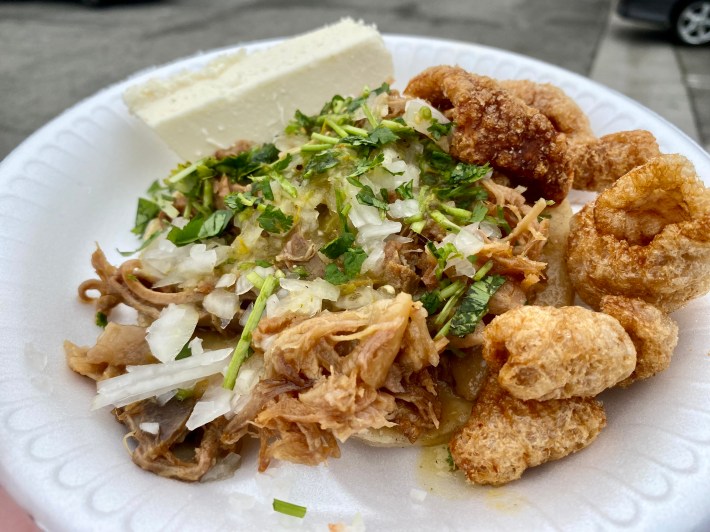 La Lupita 
The exterior signage says meat and produce market but this small shop located off of Amar and Sunset doubles as a small taqueria. The order here is the carnitas mixto taco… just be sure to specify that you want it on a bigger tortilla so the insides don't fall on you as you eat it. The tacos are packed with a hefty portion of fatty, crispy, piggy goodness with onion, cilantro, and salsa verde and are served with crispy chicharrones. Pro tip: Ask for a slice of delicious queso fresco for a somewhat salty, cool, creamy bite between taco bites.
913-915 Sunset Ave, La Puente, CA 91744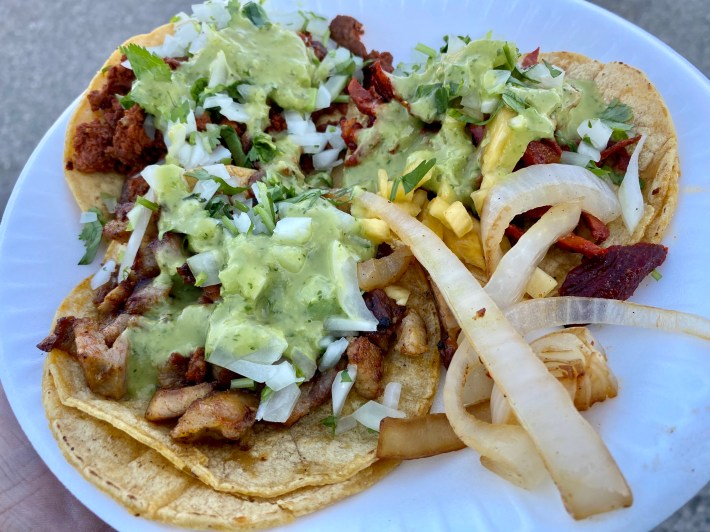 Started during the pandemic by three friends who got their hours slashed working in the service industry, Covyd Tacos has a name you surely won't forget, for better or worse. The standout is the al pastor sliced directly off the spit. Because canned pineapple is used in lieu of sliced, it ensures that the piña stays juicy throughout the cooking process, adding an extra bit of sweetness and pineapple flavor thanks to the syrup. It gives this marinated pork taco a different flavor than that of other trompos. Other stars include the suadero—tender chunks of confit beef belly—and (when they have it) the crispy tripas.
"We wanted a name that would stand out," says Juvenal Flores, one of the owners of Covyd Tacos. "Something that people would remember." As evidenced by the line of people waiting on this particular Tuesday night, people are also remembering the food.  
1043 N. Hacienda Blvd. La Puente, CA; Closed Mondays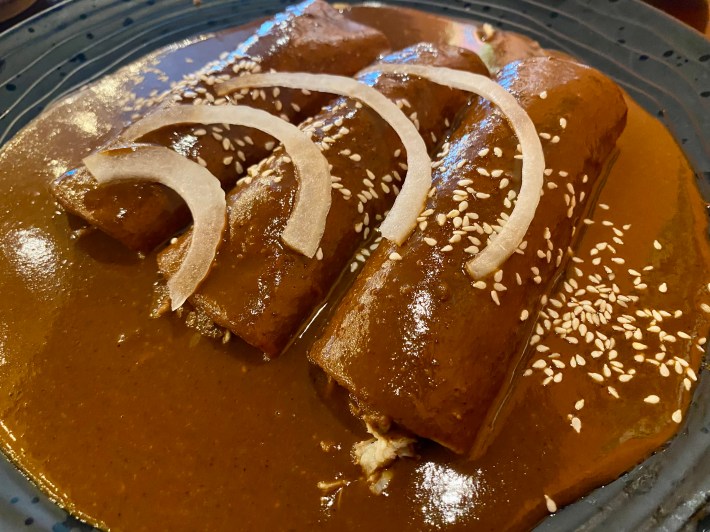 Sabor De Mexico
The mole at this hole in the wall spot in Old Town is worth seeking out. Enticing aromas of chocolate hits as soon as it lands on your table, instant validation for your order of chicken enchiladas at Sabor de Mexico. The dish is deep, decadent, spicy, sweet—so many flavors burst onto your palate with every bite. Like every great mole, the secret blend of ingredients is closely guarded. 
"I don't even know, honestly," states my waiter when I ask how many ingredients go into it. "The chef gets here really early in the morning [to make it.] Even before I get here."
Other great options include the chile relleno burrito and the enchiladas en crema poblana. 
"My wife always gets the [crema] poblana and I always get the molé," says Bautista.
15811 Main St. La Puente, CA 91744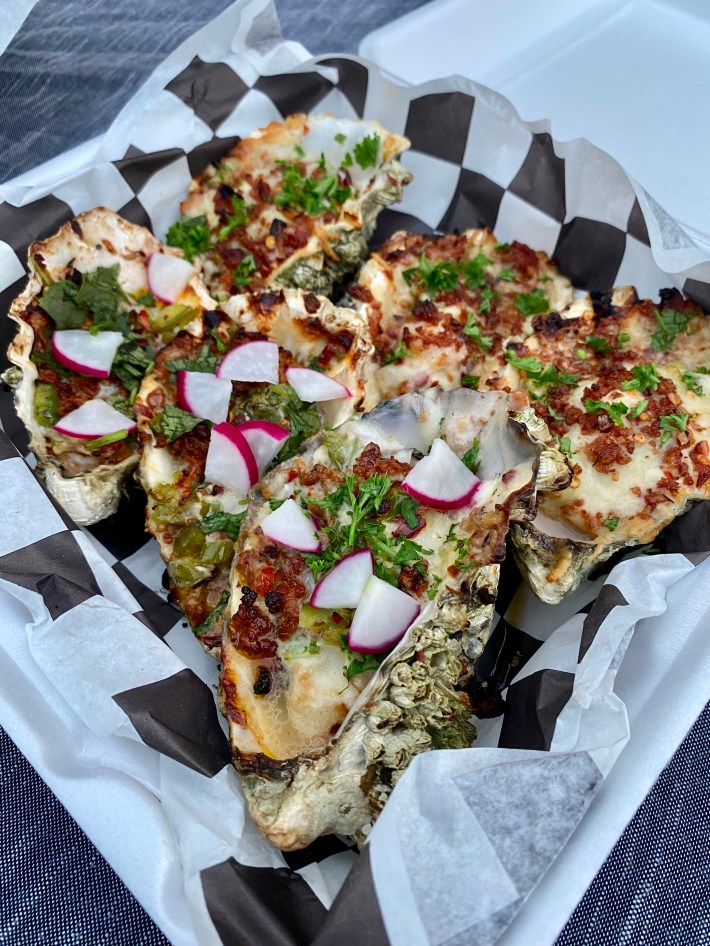 Leave it to a La Puente driveway to serve some of the best oysters that I've ever had. Is it a taco in the traditional sense? No. But as a wise man once said, "everything is a taco." And we're adding oysters to the list.
Eric "Red" Alvarado and his son/partner, Jakob, grill up their take on Clams Casino: fresh, fat Fanny Bay oysters, char-grilled, and topped with whatever their collective brains can think of as they churn out so many variations of the decadent dish. There's the traditional Louisiana-style with Amboy Quality Meats' bacon, BBQ butter sauce, and a hand-shredded four cheese blend, as well as a Mexican-inspired option using Chori-Man chorizo, a cilantro BBQ butter sauce, and a Oaxacan cheese blend, all topped with radish and lemon zest. 
The best part may just be the briny broth that sits at the bottom of each meaty oyster. Add hot sauce, scoop, or slurp. Or, as the elder Alvarado suggested, dab or pour it atop the crostini included in your order. 
Always looking for ways to evolve the menu, the Alvarados tell us to watch out for future menu additions, such as an actual taco using fried oysters, as well as oyster sandwiches. Sandwiches are kinda like tacos too.
Check their Instagram account for their weekend menu; DM on Instagram to order.  $20 for a half-dozen.
Stay in touch
Sign up for our free newsletter