Tacos
Twenty L.A. Tacos That Made 2020 Suck Less
5:57 PM PST on December 15, 2020
[dropcap size=big]T[/dropcap]ortillas make every single thing in life better. 
Case in point: 2020. As we read headline after headline of unnerving news, at least we had our city's latest raved about taco to look forward to at the end of the day. This year, we saw an even deeper dive into regional styles, we witnessed tacos dorados take the spotlight, and we saw carnitas get the respect it deserves as one of the best tacos of all time. 
Working with our internal Taco Intelligence Agency, we have compiled this list of tacos that made our 2020 just a tiny bit less cringe. 
Los Angeles' Taco Life will always prevail—pandemic be damned.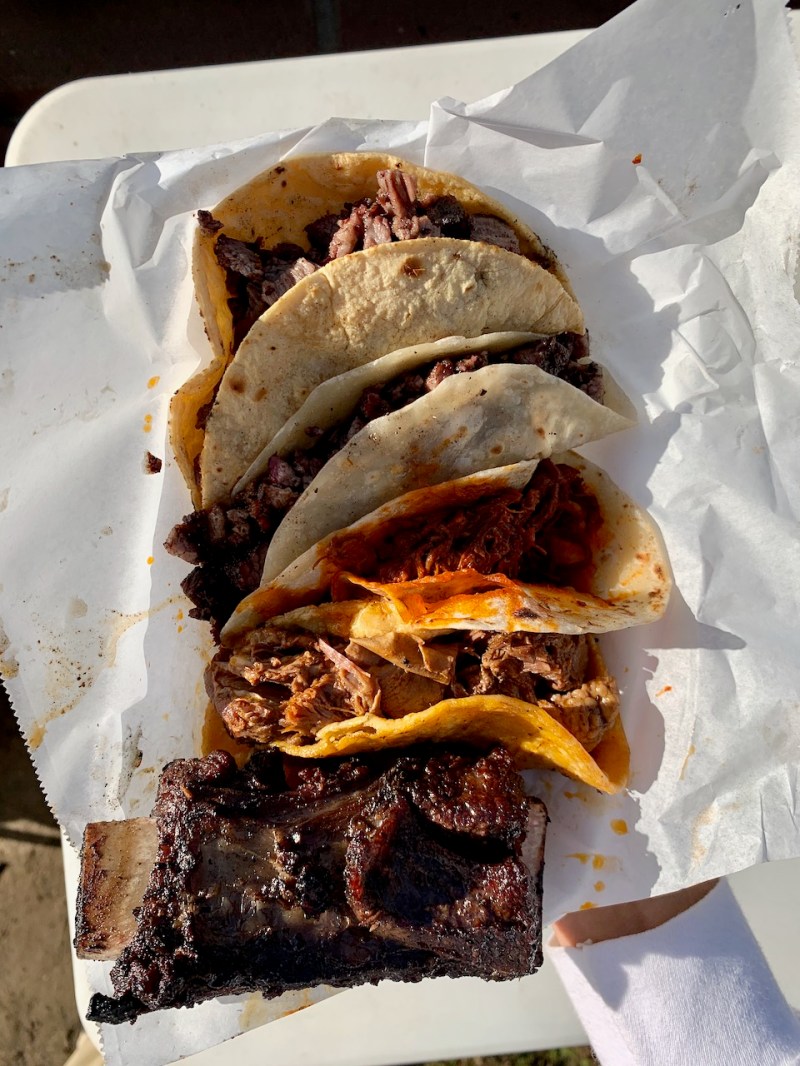 Aguja Asada (Beef Rib) Taco - El Ruso
Just when you thought one of the city's biggest taco stars couldn't get any better, Walter Soto adds mesquite-grilled beef ribs to his menu. When the incredibly tender bone-in smokey meat is sliced off the rib, it is as close as Angelenos get to experiencing the cut that is the pride and joy of northern Mexico: aguja. The resulting asada is bacon-like thanks to the marbling that Jennifer Feltham of Sonoratown lovingly calls "fat pearls."
1401 Mirasol St, Los Angeles, CA 90023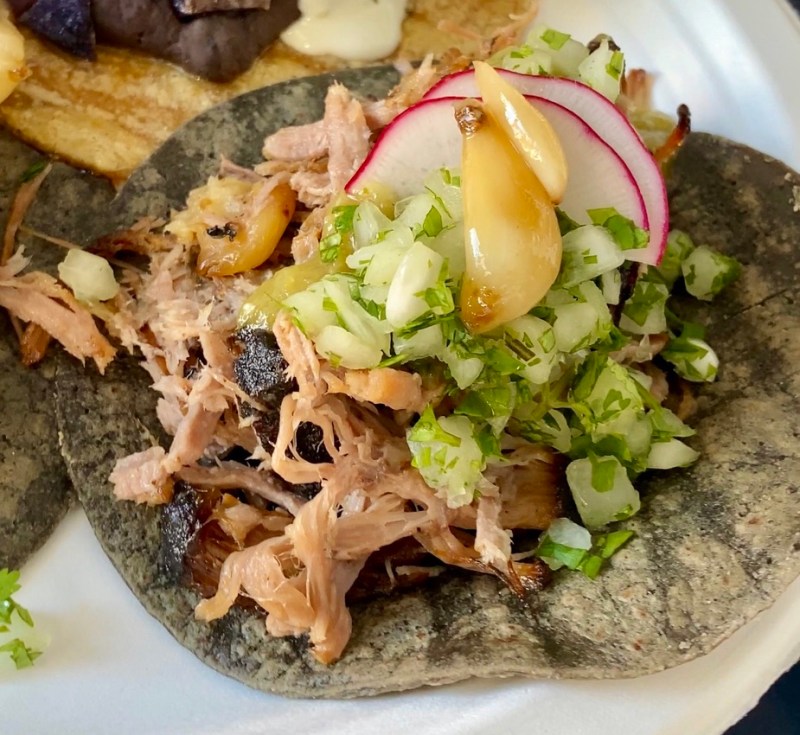 Carnitas Taco with Confit Garlic - Flaco
After L.A.'s long-respected carnitas master imploded on social media earlier this year, a slew of newcomers showed up offering their own properly slow-cooked confit take on one of L.A.'s most underrated tacos. Flaco, in East Hollywood, is one of them. Besides the painstakingly caramelized pork, what sets this carnitas taco apart from the rest is the crispy, sweet confit garlic that adds a dimension of allium craziness never before encountered in an L.A. Taco. On a Kernel of Truth Organics blue corn tortilla…¿que mas quieres? 
5652 Hollywood Blvd, Los Angeles, CA 90028
 

View this post on Instagram

 
Burritos at Taco Maria 
Is the burrito the ultimate socially distanced food? An intimate affair, sometimes best if enjoyed alone, a perfect to-go meal that allows you the eater to enjoy its perfectly encapsulated goodness without dealing with the burden of a plate or utensil. Of course, we all have our favorites, but Carlos Salgado's at Taco Maria might be one of the best ones we had in recent memory. Wrapped tightly in foil, as you unwrap, it feels like you are giving yourself a little present. Taking the hyper-local approach with featuring SantAna's own Burritos La Palma flour tortilla, the first bite of the delightfully succulent pieces of carnitas, whole pinto beans, flavorful cooked down onions, tied together with a fresh salsa verde makes you ponder, "is this the best burrito I've ever had?" Maybe. It also restores your sense of hope for better things to come, so there's that too. -  Gab Chabran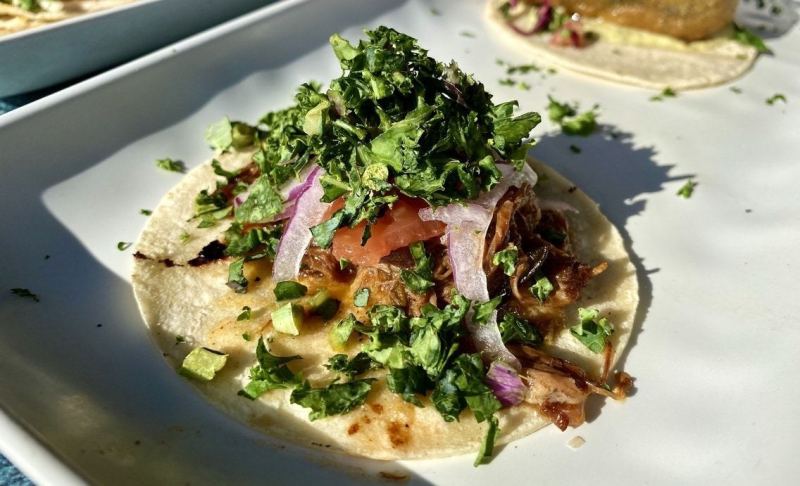 Oxtail + Salted Codfish Tacos - Tacos Negros 
Tacos Negros' tagline is "where the soul and tortilla meet," and after taking a bite of their taquera's take on tacos, you'll understand why. Tortillas make everything better, including succulent braised oxtail and the Puerto Rican-inspired salted codfish guisado. Every tasty item on their menu is a study in the diaspora of Latino and Black foodways that can only happen in Los Angeles. Ethnography never tasted this good. 
5583 West Pico Blvd, Los Angeles, CA.
 

View this post on Instagram

 
White Mole with Chicken Taco - Macheen 
Jonathan Perez and his family that operate his never-not-hustling taco pop-up, Macheen, have earned a permanent spot in our "Best Of" taco lists. Why? His creativity is neverending, and nothing can stop him. White mole is a subtle variation of its big bad primo mole negro. It's hard to find in L.A. and is quickly becoming another Macheen classic, alongside his demi-glace birria and, of course, his pork belly burrito. 
Follow @_Macheen_ on Instagram to find out his latest schedule.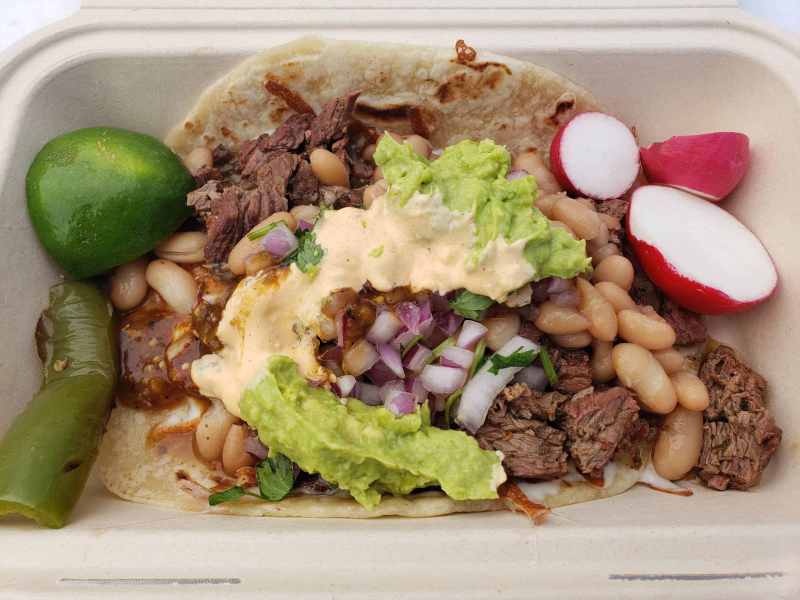 Perro Taco at Perro 110 
When the guys at Perro 110 hand you one of their tacos perrónes, or "Perros," you might find yourself a bit overwhelmed by the monstrosity of these tacos. Gargantuan and splattered in a chaos of grilled mozzarella, Peruano beans, guacamole, onions, chipotle crema, salsa roja, and cilantro. Tender, smoky carne asada spills from both ends, leading to visions of a nice, long nap and a few badges of salsa-stained honor on your t-shirt, jeans, or car seat. Grab one now. 
Perro 110 ~ Sat & Sun 12-8 PM ~ 4505 S. Central Ave., Los Angeles, CA 90011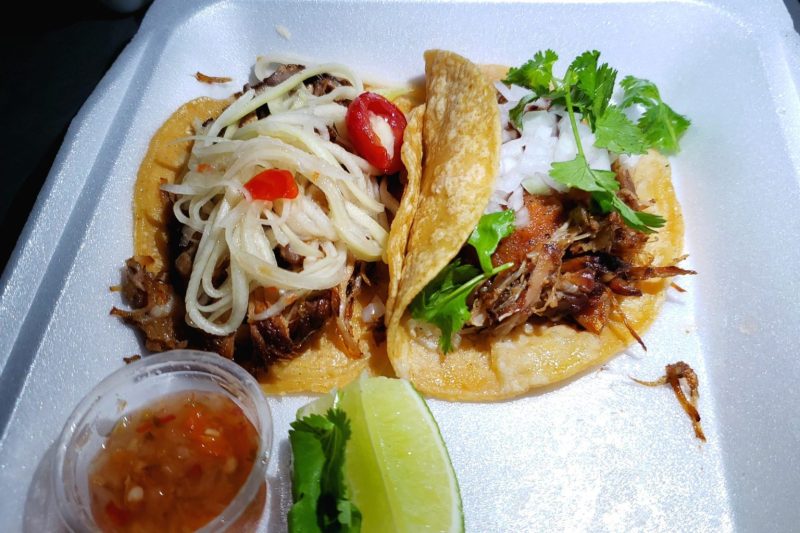 Thai and Mexican Style Carnitas - Anajak Thai
These carnitas tacos have become the mainstay at Anajak's Thai Taco Tuesdays. The carnitas is lush, and the acidic-spicy-sweet papaya salad cuts through the richness. Each taco is served with a Thai salsa called 'Nam Jim Seafood.' It's made with pounded shallots, cilantro roots, and chiles. In Thailand, this spicy sauce is usually served at weddings, but Pichetrungsi pairs it with carnitas. "It goes well on anything," he says. And using high-quality pork like the stuff he sources from 'Peas and Barnet,' the Gucci of pork, is like cheating.
Only on Tuesdays at Anajak Thai. 14704 Ventura Blvd, Sherman Oaks, CA 91403.
 

View this post on Instagram

 
All the Flautas - Los Dorados 
If you're a follower of L.A.'s Taco Life and you live to live, you will give in to your altered senses and order a pair of perhaps L.A.'s most magnificent flautas. And the crispy, juicy, and spicy euphoria that ensues will probably make you wonder: Why did it take this long for a roving taquero in Los Angeles to specialize in tacos dorados? Whether you opt for chicken, full-flavored lamb barbacoa, fluffy papa, or their handmade chorizo. You will find yourself craving this magical flute of a taco regularly. If you love living a life full of excess, ask for your flautas to be "Glutster-Style" and see what happens. 
Follow @LosDoradosLA to find out where they are popping up next. 
Hot Fried Tripas - Rojo's Tacos
Another outlier in big bad O.C. Chef Rolando Rubalcava has already won us over with his Mexican-inspired take on the Nashville inspired Mexican Hot Chicken Sandwich. It has nopal on it! One has to wonder what alchemy he possessed while coming up with this next effort: a tripa taco using a similar fiery spice oil that permeates every nook of the tripa. Topped with a contrasting slaw meets escabeche, containing equal parts of sweet dill pickle slivers and spears of nopal, and bits of dressed onion. All of which seem to dance together on top of the taco to some cumbia rebajadas. While it might be easy to dismiss something like a Nashville-style tripas taco as a gimmick, we owe it to our taco-obsessed selves to do the work to develop our collective understanding. We will no doubt be better as a taco society for it.
2235 W Lincoln Ave, Anaheim, CA 92801.
Pescadillas - Elena's Tamales 
Afro-Mexican tacos from the state of Guerrero have arrived in Los Angeles in this SELA gem tucked away in B.G. (Bell Gardens). Aside from their vibrant green pozole verde in L.A. that some already proclaimed as the best in Los Angeles, their crispy tacos stuffed with minced fish are a sleeper taco hit. Well worth a hop on the 710 from anywhere in L.A. You can't have one without the order, so make sure to order both. 
8101 Garfield Ave, Bell Gardens, CA 90201.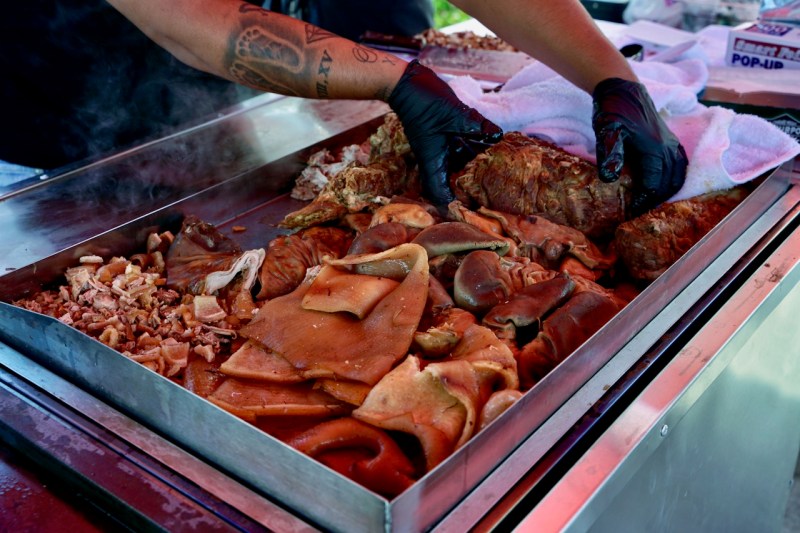 Carnitas "El Pansas"
The ultimate goal for the young carnitas revivalist behind "El Pansas' in the Valley is to give carnitas the respect it deserves; with one bite of this juicy taco, it will most likely earn your respect immediately. The portions are as generous as the people of Michoacán, and the colorful salsas cut through the succulent pork juices like any good comfort food helps cut through the heaviest of times. The hand-hammered copper cazo they use to slowly confit their carnitas have been passed down in the taquero's family for three generations now, so there's that too. 
Follow Carnitas El Pansas on Instagram for schedule and location updates.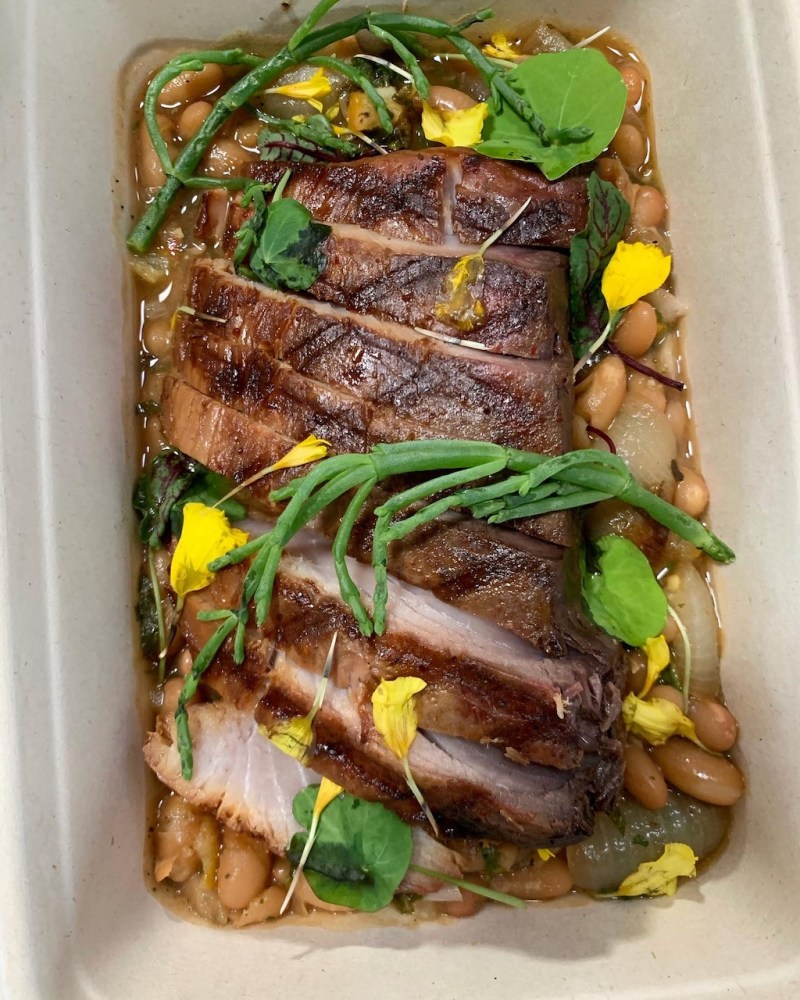 Black Lime Mayacoba Beans on a Handmade Tortilla - Mírame
Only a madman would think to add the funktastic flavors of fermented hyper-citrusy black lime to some frijoles de la olla. That madman is the fine taco veteran behind Mírame in Beverly Hills. It gets even better when you cut off a piece of either their grilled kampachi, hanger steak, or heritage pork and add that to your take-home "family meal" from this popular new Alta Cocina destination in L.A. On their seasoned handmade corn or flour tortilla, this is as beautiful as frijoles can get. Who says a bean taco doesn't deserve to be in Beverly Hills?  
419 N Canon Dr, Beverly Hills, CA 90210.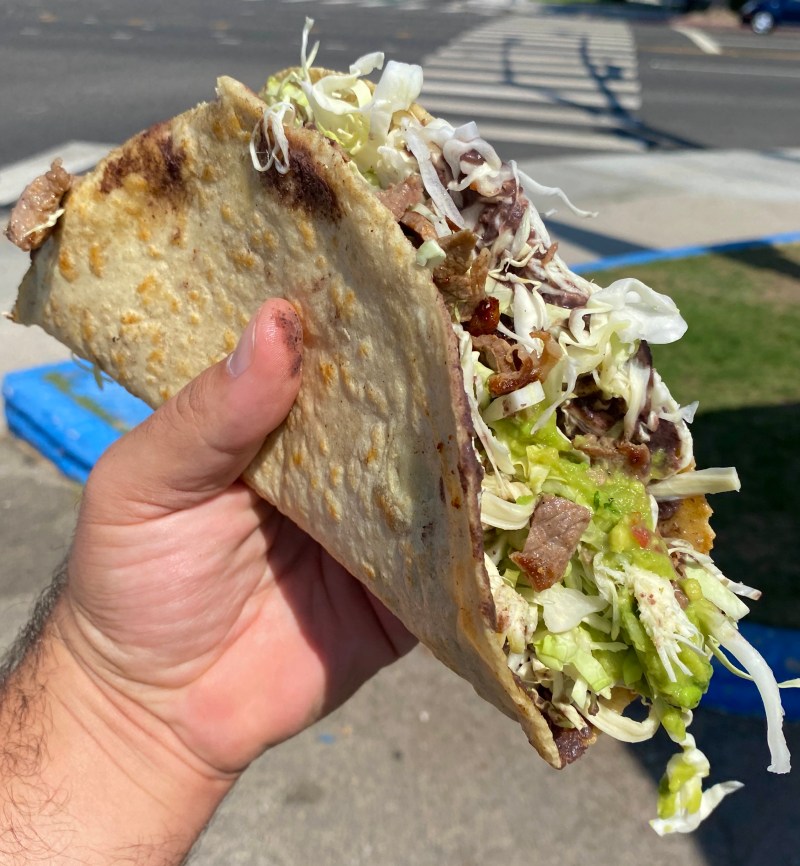 Tlayuda Taco - Tacos Del Valle
Yes, essentially, this taco is a slightly smaller-sized tlayuda built instead with a large, freshly handmade tortilla and guacamole. But that aciento...the wondrous chicharrón paste that makes almost every Oaxacan antojito taste so much better is where it's at. Through each bite, it is as soft as it is sturdy. Black refried bean paste, covered in salty quesillo (Oaxacan string cheese), cabbage, and a paper-thin grilled piece of tasajo or cecina is a reminder that Los Angeles will forever be a part of Oaxacalifornia.
Tacos del Valle has two locations. Follow them on Instagram to get the details.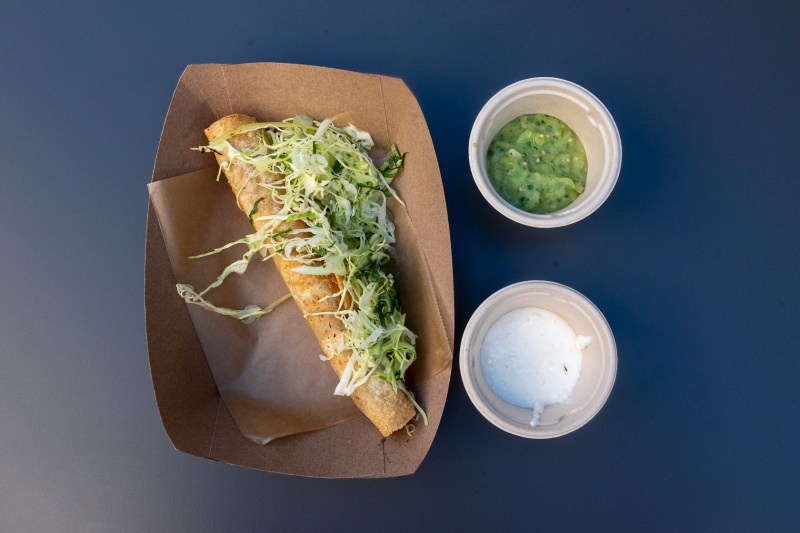 Swordfish Machaca "Fish Flauta" - Ditroit
Ditroit's crispy swordfish machaca flauta fried in rice bran oil and topped with a creme fraiche- queso fresco mixture, and avocado salsa is the highest expression of a taco dorado in Los Angeles. The highly awaited taquería opened by the Enrique Olvera Mexican restaurant empire came out swinging with this taco. It is virtually greaseless, and the fishiness that can exist in this apex fish is minimal. If you find yourself spending a small fortune on three of these, you are not alone. 
2117 Violet St, Los Angeles, CA 90021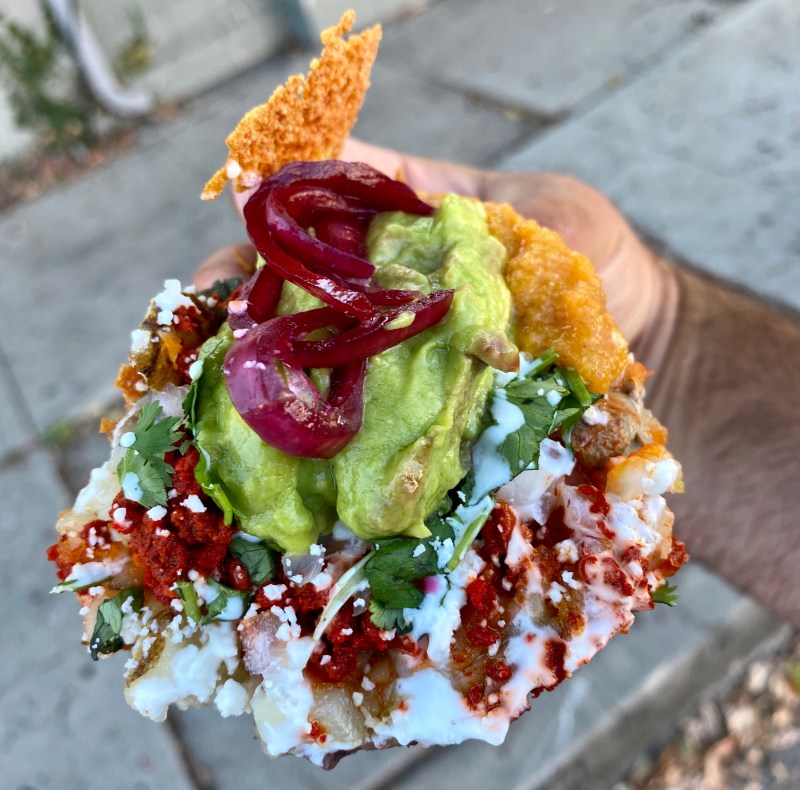 Asada - Villa's Tacos 
There is no happier taquero in all of Los Angeles than the one you'll find high-on-life and serving you the deliciously messy tacos found at the Villa's Tacos pop-up in Highland Park. If you are in the maximalist school of L.A.'s Taco Life, you will find your happy place in a take-out container full of Villa's Tacos. Besides the usual diced onions and cilantro, your tacos will have a fat drizzle of crema, a hefty sprinkle of cotija, and a generous dollop of non-watered down extra chunky guacamole. Behold, "the seven-layer taco" of northeast Los Angeles.
Follow Villa's Tacos on Instagram for order info and hours.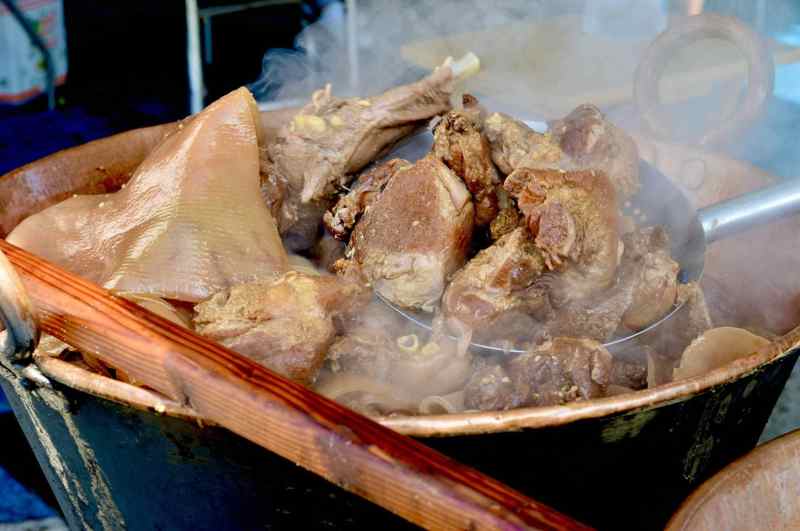 Carnitas El Artista
This DIY carnitas stand serves their South Bay community of Hawthorne delicious, traditional carnitas in the style of Tangancicuaro, Michoacán. The carnitas is "traditional rancho style," as their carnitas master puts it, unafraid of giving away any secrets; it involves garlic, lime, salt, and a little Mexican Coke for coloring. The gentle bubbling of oil in large copper pots, a heavy butcher knife pounding against a surface, and the crinkling of foil as it's being filled with bronzed, caramelized meat being weighed and wrapped are all signs that you're at the right place. 
Follow Carnitas El Artista for order info and hours. 

Birria Tatemada - Birrieria El Jalisciense 
This tradition of birria tatemada or birria al horno has been maintained in small towns all over Jalisco and especially in Guadalajara. There, you'll find it advertised in birrierias when you're speeding by Los Altos de Jalisco on your way to Aguascalientes or small stands while passing Tequila to Puerto Vallarta. But never in Los Angeles, until now. As a result of this two-stage cooking process, the birria in question is crispy, tender, and full of those lovely and fatty pieces that make goat so unique. It is only available on Saturday mornings. It sells out quickly to Boyle Heights' crudo elite who flock there as soon as they wake up their bloodshot eyes, so plan accordingly to avoid taco heartbreak. 
Birrieria El Jalisciense is open from 8 AM until they sell out every Saturday. They are at 3436 E Olympic Blvd, Los Angeles, CA 90023
Strawberry Cheesecake Tostada - Evil Cooks
The couple behind L.A.'s most rockero taco stand in El Sereno are forever pushing the boundaries of what a taco can be. First, with their flan taco, and now with this barrio-modernist "Tostada de Cheesecake." A freshly fried buñuelo, fresh strawberry sauce, cream cheese, and chocolate de Abuelita whipped cream will most likely blow your mind after inhaling their other flagship tacos like handmade chorizo verde and black al pastor, made with charred Yucatán chiles and spices. May hell bless this taco stand. 
Follow Evil Cooks on Instagram for ordering info. 
Tripita, Pero Bien Doradita - La Santa Cecilia Restaurant
Nestled in Mariachi Plaza's corner with hand-painted signage sits this unassuming storefront that may hold L.A.'s best taco de tripas. Why? Because the tripas themselves, when requested "extra crispy," are nothing short of a revelation. Imagine if a piece of jaggedly crispy chicharrón got the Flamin' Hot treatment, seasoned magnificently—with the haunting flavor of tripa as the backbone. This study in savoriness is underscored by a soft, warm, handmade white corn tortilla, a rarity in the tripa taco game. We are still thinking about days later.
1707 Mariachi Plz De Los, Los Angeles, CA 90033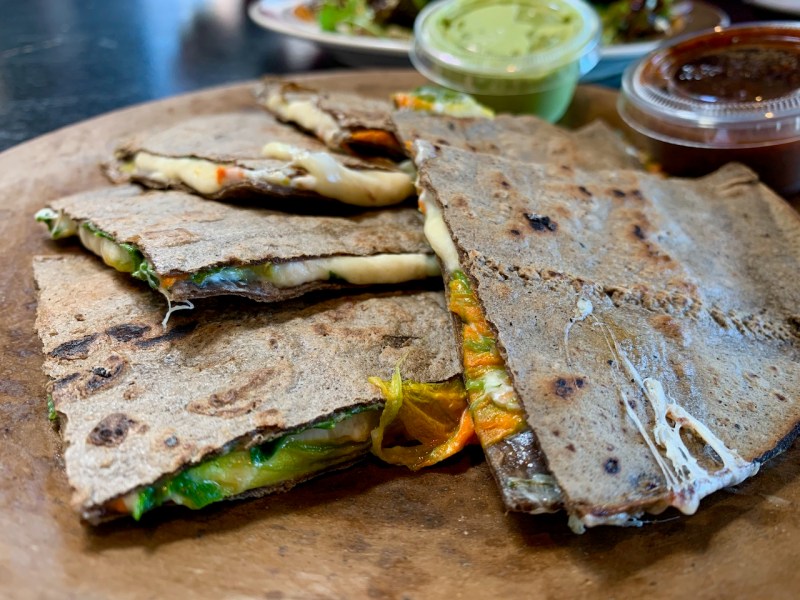 Quesadilla de Flor de Calabaza - Valle 
It is a little known fact in L.A.'s dining scene that immigrants from Mexico and Central America are the backbone of the hospitality industry. They are the line cooks, the prep cooks, the dishwashers, the bussers, the expediters behind the scenes that make sure your food is always consistent and received as quickly as possible. Now, what would happen if they were to take control of the menu and cook whatever they wanted to cook? In the case of the mostly Oaxacan back-of-house staff at the former MTN restaurant space on Abbot Kinney in Venice? Valle, in all its boldly flavored Oaxacan glory. It started as a pop-up and was so well received that it turned into a permanent restaurant concept. If you love your things on a tortilla on the meatier side, their pork belly tacos are just as delicious. 
1305 Abbot Kinney Blvd, Venice, CA 90291
Cesar Hernandez, Memo Torres, Gab Chabran, Erick Hernandez, and the rest of the L.A. Taco newsroom contributed to this report. 
Editor for James Beard Award-winning L.A. TACO. Associate Producer for JBA-winning Las Crónicas Del Taco. Former restaurant scout for Jonathan Gold. Co-Author of "Oaxaca: Home Cooking From the Heart of Mexico (2019, Abrams) and "Asada: The Art of Mexican-Style Grilling" (2023, Abrams).
Stay in touch
Sign up for our free newsletter