Koreatown
The Ten Best Tacos In Koreatown
2:13 PM PST on January 24, 2023
L.A. TACO is embarking on its biggest mission yet: to create a taco guide for every single neighborhood in Los Angeles! Along the way, we will also be releasing brief histories of each neighborhood to understand L.A. a little more and why each and every neighborhood that makes our fine city is unique in its own way. Check out our neighborhood page to get to know why Los Angeles is the best damn city in the world. 
Koreatown is a neighborhood in the center of Los Angeles County, roughly 2.7 square miles total, and for its small size has had a significant impact on the rich history of L.A. With all of its rich racial history, the neighborhood has also had its history of racial tensions, most notoriously the '92 riots and most recently the scandal surrounding a leaked recording of council members making disparaging remarks against black folks and Oaxacans while attempting to redistrict Koretown to weaken the voting power of renters. Oaxacan residents in Koreatown didn't take the racist remarks lightly, showing up to march in protest at city hall and encouraging everyone to support local Indigenous-owned restaurants.
Koreatown has a bustling nightlife scene jam-packed with karaoke, fancy cocktail bars, dive bars, restaurants, and one of the most historic music venues in the whole city. You can find food from the three largest community groups in Koreatown: Mexico, Central America, and South Korea. However, certain parts of South America and even Greece are also represented.
Since there are so many strip malls and major streets that run through Koreatown, there are many significant areas to set up taco stands. I'm from Koreatown, and I will be the first to admit that the best tacos in L.A. are most likely in Historic South-Central and East L.A. That being said, Koreatown has always been important to the history of tacos in Los Angeles, like when the owners of El Taurino brought the 4-inch tortilla die cut from Mexico City back in the 70s in a suitcase. Without further ado, here's an honest Koreatowner's list of the best taco places to eat while you're in the most excellent neighborhood in Los Angeles County.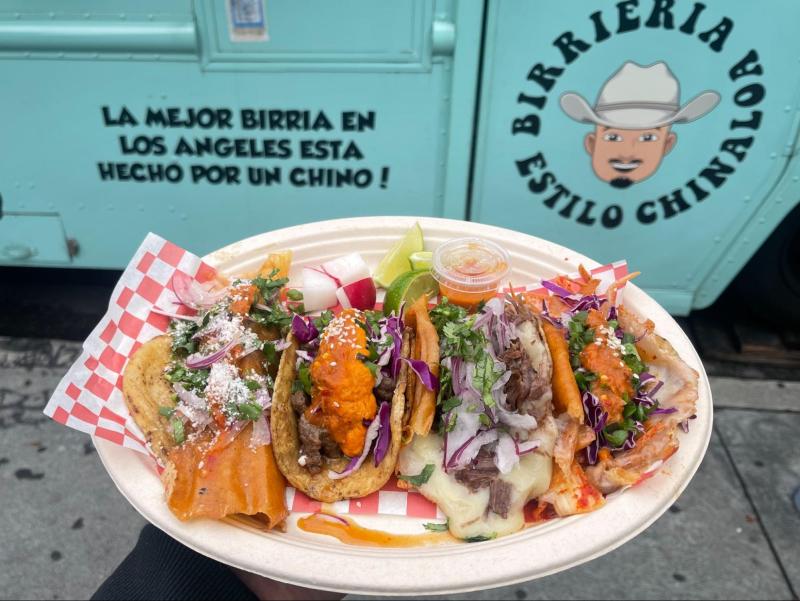 Chinaloa L.A.
This Korean-Mexican fusion truck is run by cousins Xavier Velasco and Misael Torres. Started initially by chef Richard "The Changster" Chang after falling in love with birria in Sinaloa and spending ten years in Mexico perfecting his recipe and bringing it over to the states. Their birria is tender, and their consomé is some of the best I've had the whole city; with the perfect blend of warm spices, the deep broth is worth the trek alone. Now pair that with their vegetarian-friendly kimchi taco, bulgogi beef marinated taco, 4-cheese quesorollo taco (mozzarella, Monterrey jack, parmesan, cotija), and classic birria topped with their bright orange homemade salsa, and you have yourself one of the most colorful and delicious tacos stand dishes the city over. Even renowned influencer Chocolate Uno has to admit that this place is one of the "top three trucks [he's] tried in all of L.A.," who happened to be there to record his own review of the place when I was there. Keep an eye out for a brick-and-mortar coming soon off 7th and Broadway in DTLA. Tell them Vlad sent you. 
Located off Serrano and Wilshire. In front of or across the Starbucks of 3680 Wilshire Boulevard Aroma, Los Angeles, CA 90010. Closest Metro lines and stop: Metro D Line or Bus Lines 18, 20, 66, 207, 210 or 720 - "Wilshire/Western Station."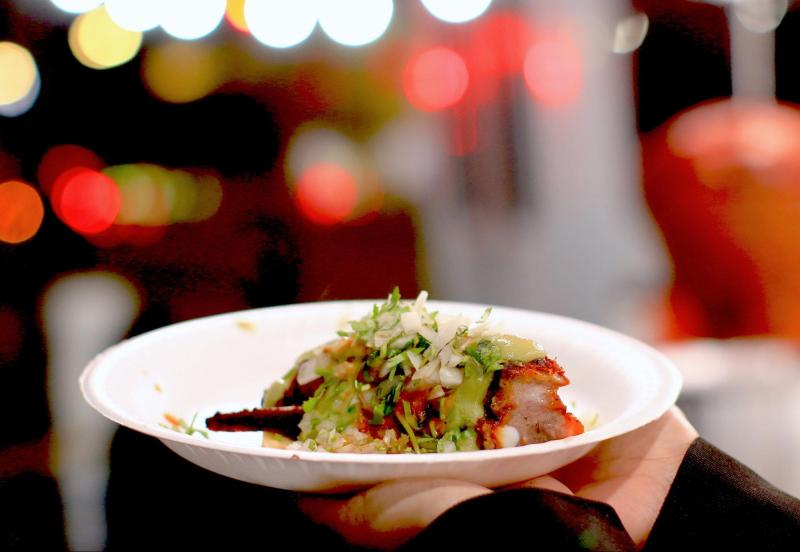 Tacos El Parillón
This is my daily—or should I say nightly—spot to grab one of the best bites in Koreatown. For $3, you can get charcoal-flame grilled tacos, burritos, and tortas of juicy pork ribs, tender asada, and flavorful and charred al pastor, chorizo, and pollo. These guys don't play about their meats, so look no further if you're in the mood for something filling and packed with all the proper Tijuana-inspired charcoal-grilled tacos. 
Located right in front of the Radio Korea building on Wilshire between Serrano and Oxford. Closest Metro lines and stop: Metro D Line or Bus Lines 18, 20, 66, 207, 210 or 720 - "Wilshire/Western Station."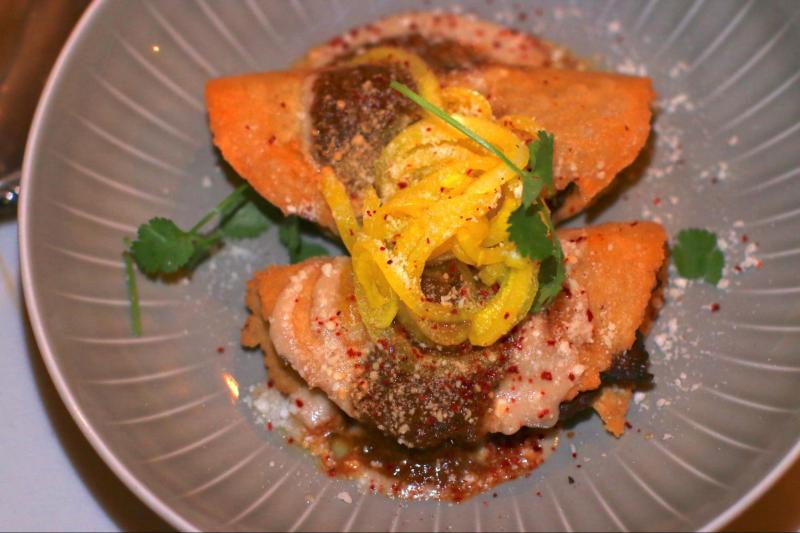 Technically these are Chef Mario Alberto's plantain and burned eggplant dobladas, but they are very much in the spirit of what makes a taco a taco: quick and tasty bite between a tortilla. This doblada is an off-menu secret item in an already impressive menu at this vegan and vegetarian-friendly restaurant, which boasts some of the most exciting dishes being made in Koreatown currently. The eggplant is burned over an open flame and then blended with fried sweet plantains used to make the filling of handmade corn tortilla that is then deep fried and topped with a brown chipotle with chile árbol salsa, cotija, and finally, turmeric pickled onions that give that much-needed acid to such an incredibly complex bite. Again, this is off the menu so tell Owner Daniel Oh that Vlad sent you. 
205 S Vermont Ave, Los Angeles, CA 90004. Closest Metro lines and stop: Bus Lines 16, 204, or 754 - "Vermont/3rd."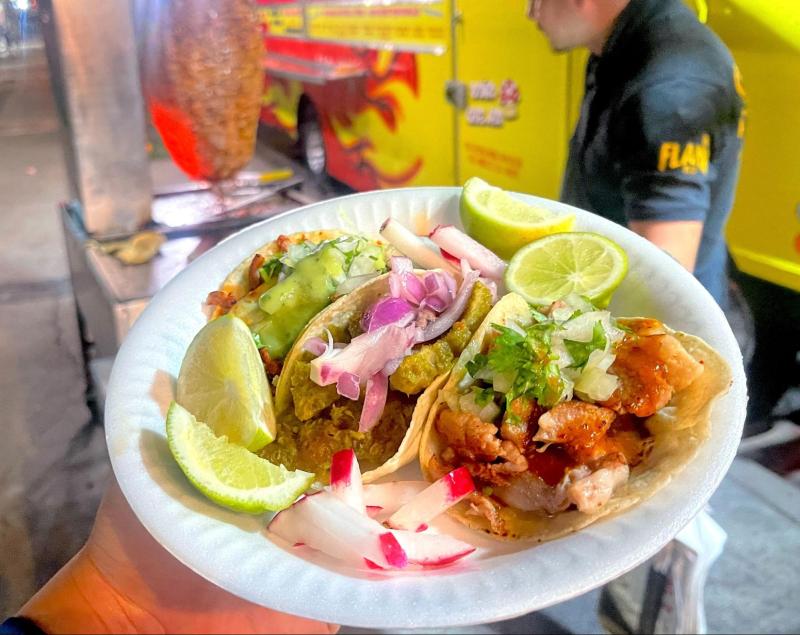 This place, to me, is a Koreatown institution. Even though they have two other trucks in Echo Park and Los Feliz, respectively, this is the one for me, with upfront bias, is the best. Their al pastor taco is the gold standard. It's always charred perfectly, balanced between savory and sweet. You know it's good when you have a whole taquero dedicated just to cutting al pastor and handing them out separately from your other tacos. Speaking of their other tacos, try their Suadero which is both meaty and fatty, their chicharrón en salsa on a handmade corn tortilla, and everything and anything on their menu. The asada fries and burritos are jam-packed and perfect after a night of drinking. They also offer quesadillas that have their own handmade corn tortillas. 
Located in front of the Vermont Express Auto Spa at 505 S Vermont Ave, Los Angeles, CA 90020. Closest Metro lines and stop: Metro B and D Lines - "Wilshire/Vermont Station" or Bus Lines 18 or 204 - "Vermont/6th."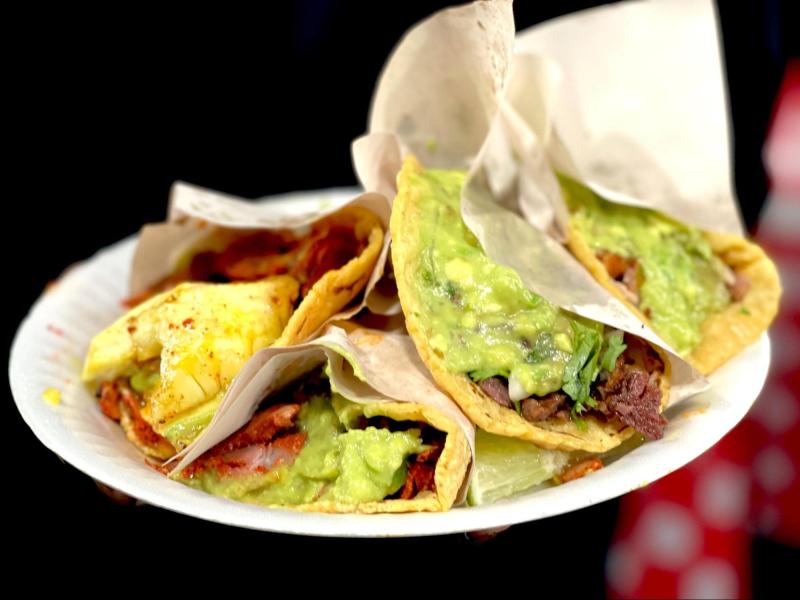 This place also has two other locations, one in Huntington Park and the other in Wilmington. I'm glad they decided to bring their Tijuana-style tacos to Koreatown, and at $2 for a charcoal grilled taco on handmade tortillas, this has to be the best deal in town. They offer medium-rare asada, tender juicy adobado, crunchy and perfectly seasoned chorizo, and juicy grilled chicken. What else do you need really when it's done this well? Generously slathered with salsa grounded up in a molcajete and buttery guacamole, this is the closest you can get to Tijuana in Koreatown. They offer burritos as well as grilled potatoes.
Located off 162 S. Vermont Avenue. Closest Metro lines and stop: Bus Line 204 - "Vermont/1st" or Bus Lines 16 and 754 - "Vermont/3rd."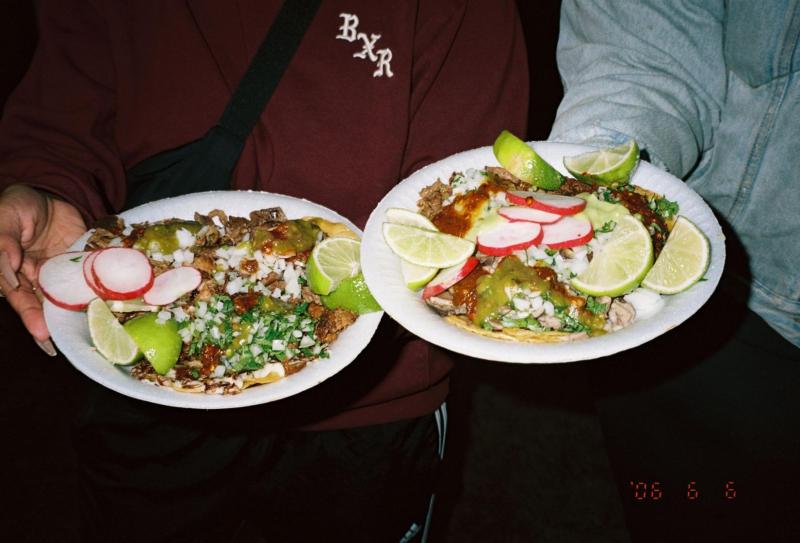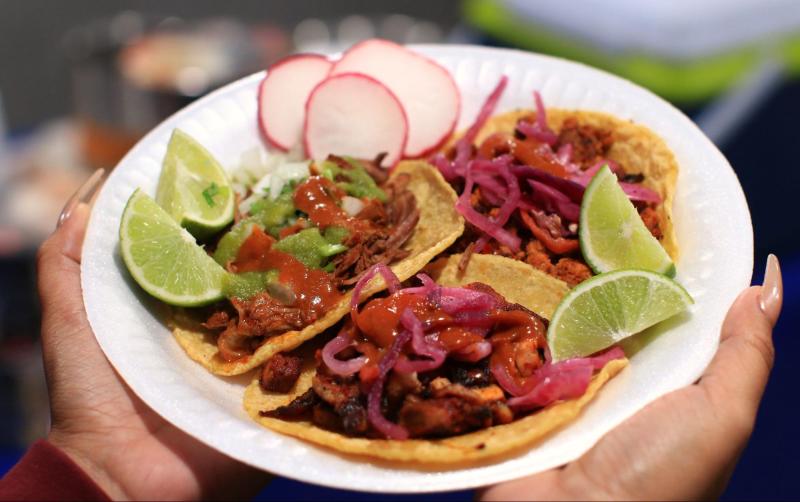 Tacos Luna
These folks are from Durango and Veracruz and they offer up all the taco stand staples while also offering up some great birria. They do everything well and they do it across various well seasoned cuts of lengua, asada, birria, al pastor, as well as chorizo and pollo. They also offer "birria ramen" which is surprisingly not that common in Koreatown. Their salsas and toppings are all plentiful and made with love. This is spot stands out because of how flavorful their birria is while also offering a lot of variety at a high standard.
Located on W. Olympic Blvd and Harvard, in front of Hobart Elementary School. Closest Metro lines and stop: Bus Line 28 - "Olympic/Harvard" or Bus Line 207 - "Western/Olympic."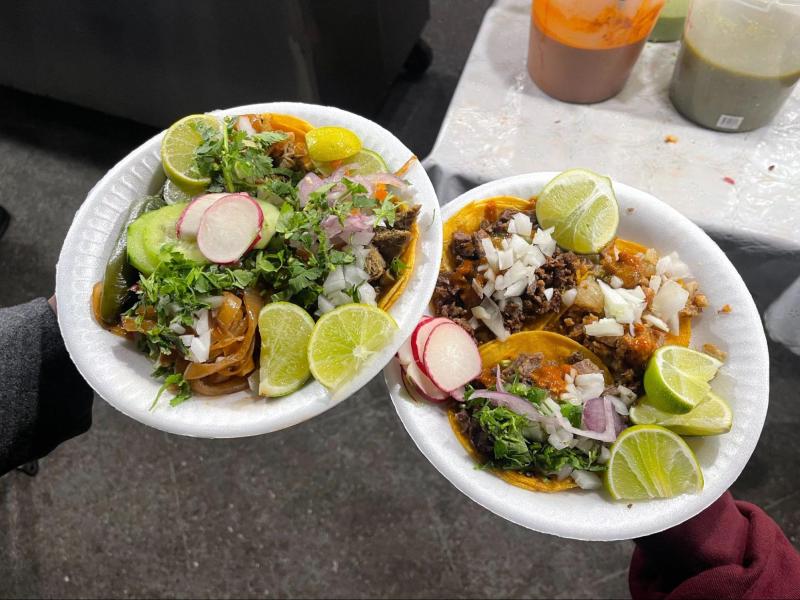 Kary's Tacos
This spot offers guisado tacos that are from Oaxaca. They do everything well here from al pastor on the trompo to cabeza, suadero, and buche that all simmer in the same saucy pan. The cabeza that is tender and silky. Their salsas are on not watered down and they offer you a heaping mountain of grilled onions and pickled red onions to your onion-loving heart's content. This is a go-to working-class spot, you'll see everyone from UPS drivers, moms looking for a quick and tasty dinner to bring home, as well as your local paisa who just downed a few tall cans on the bus on his way home from that line cook job in the Westside.
Located in front of the plaza at 2528 W Olympic Blvd #102, Los Angeles, CA 90006. Closest Metro lines and stop: Bus Lines 28 or 603 - "Olympic/Hoover."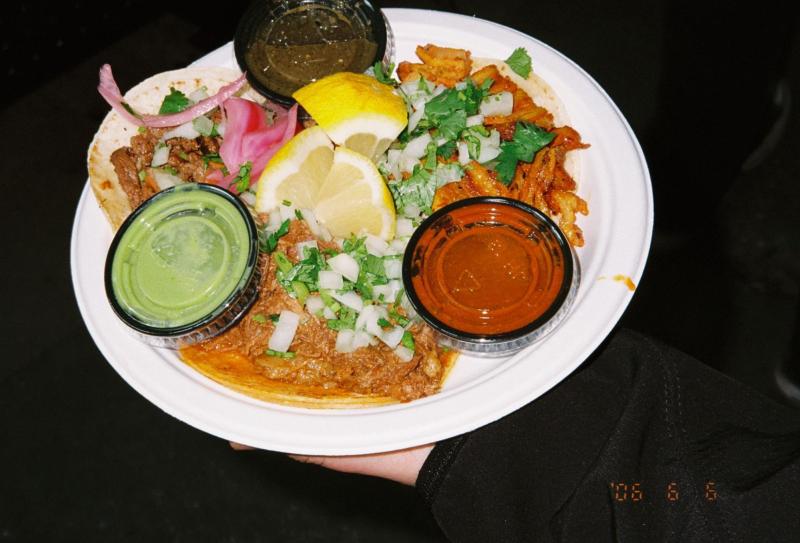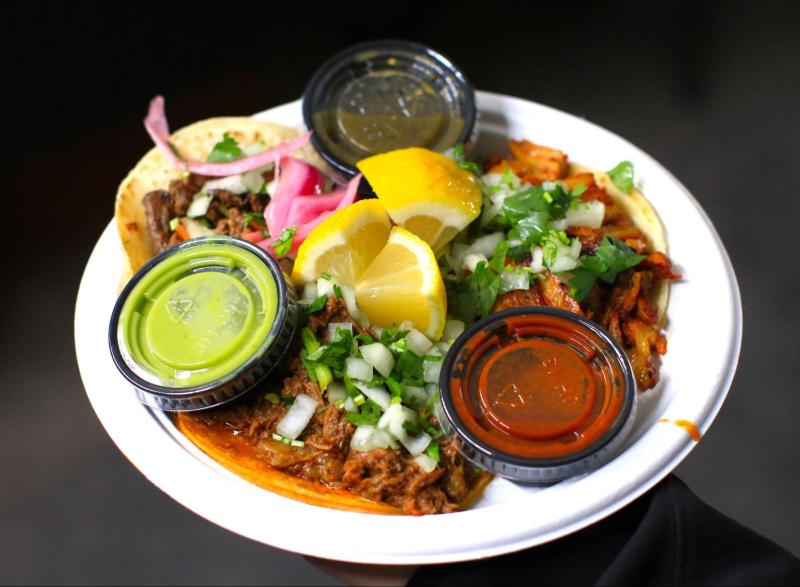 Ariel's Tacos
This is a low-key locals only spot. I say this because it is at the northernmost edge of Koreatown in a side street not many traverse through. It is not far from the Vermont / Beverly train station so the folks I've observed eating here are mostly getting off work and grabbing a quick bite on their way home. They offer great al Pastor, saucy birria, and great charcoal grilled asada. The charcoal aspect of the asada cannot be understated, as it really makes any taco spot stand out above the rest that just pan fry theirs. They also offer hamburgers and fries, which is very interesting and I have to admit I did not try but I was very tempted. Alas, I was on a taco assignment not a hamburger one, so I could not indulge. Although I did see a couple of orders on their way out that looked really good. They also have a small speaker bumping cumbia by the likes of Aniceto Molina (surprise these taqueros are Guatemalan!). 
Located in front of Saver Liquor Store at 3940 Beverly Blvd, Los Angeles, CA 90004. Closest Metro line and stop: Metro B Line or Bus Lines 14, 204 or 754 - "Vermont/Beverly Station."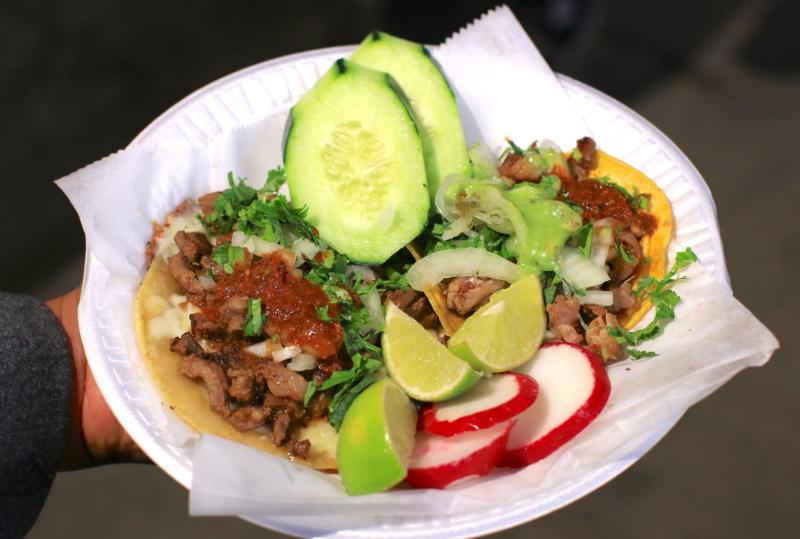 Taquería Juquilita
This place is really a blink and you'll miss it spot even though it's right off Western Avenue. These taqueros are Guatemalan and Oaxacan; they stood out to me because they offer handmade flour tortillas for their queso tacos. That really blew my mind because I have not seen that anywhere else in L.A., aside from established and respected brick and mortars like Sonoratown, Loqui, and Homestate, and of course El Ruso. Their regular tacos are $2 while the flour queso tacos are $4 and I would say worth every cent. The asada is not charcoal-grilled but still is juicy. They also have suadero that was guisado-style.
Located on the corner of 4th and Western. Closest Metro lines and stop: Bus Lines 16, 207 or 210 - "Western/3rd."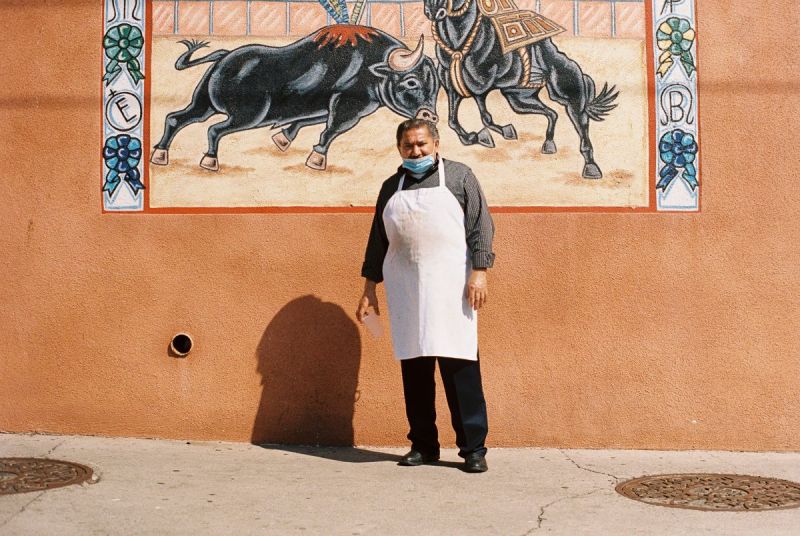 El Taurino
This place is not only iconic but also highly influential. You can't tell the story of Koreatown without it, let alone the story of tacos in L.A. without it. This place was their before our modern culture of taco stands across Koreatown and I would bet it will be there to see the next iteration of taco stands. You can't go wrong with their staples like asada, al pastor, and lengua. What you really want to do is come in on the weekends and get yourself an order of their costillas, barbcoa, and cabeza de borrego. They all make for excellent tacos. It's a great weekend breakfast taco that will hold you over while you hit the other nightly spots that are always sprouting up all over Koreatown. Though it may be technically pinpointed in Pico-Union just a few blocks away from the borders of Koreatown, many KTown residents who grew up on it consider it their own, too.
1104 Hoover St, Los Angeles, CA 90006. Closest Metro lines and stop: Bus Lines 28 or 603 - "Olympic/Hoover."
Vladimir De Jesus Santos is a Salvadoran-American "rocker foo" from Koreatown, Los Angeles, CA. He's worked as a Cinematographer/Editor for the past decade focusing on documentary, short horror films, low budget music videos and in 2019 he started his own podcast "Ey, Foo You A Rocker?" which discusses the intersection between race and identity around extreme music in the hood.
Read More:
Stay in touch
Sign up for our free newsletter