Sponsored
The Ten Best Tacos Along Metro L.A.'s 720 Rapid Bus Line
Next stop: tacos!
3:28 PM PDT on May 31, 2023
Choosing L.A. Metro to chariot you through your next taco hunt could mean the difference between hangrily circling the block for a parking spot 2,000 times or slipping gracefully from a big, beautiful steel public transit behemoth and straight into some warm corn tortillas.
L.A. TACO is here to remind you that this great, big taco-packed city is yours to enjoy, with Metro providing the freedom to travel anywhere you wish in Los Angeles without bringing your own motorized conveyance.
And if you're already a dedicated Metro rider, we thought it'd be a big help to chart some of the best tacos along the lines you frequent for a series we're calling The Stop.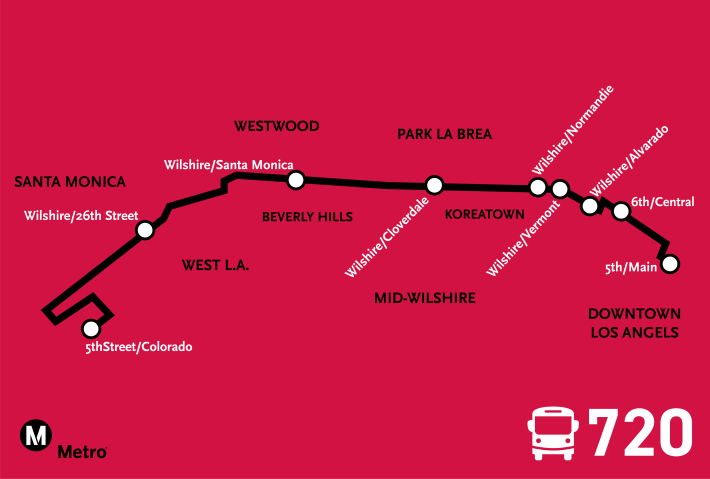 Today, we're riding along Metro's 720 Line, which stretches between Downtown and Santa Monica, mostly along the wide, historic boulevard of Wilshire. The 720 comes very frequently, approximately every eight minutes or under, except early and late on weekends and holidays.
Along the way, you'll be driven on this journey by tacos filled with flaky fish, rich cow's tongue, and even a Westside cache of San Pedro's legendary Chori-Man.
Next stop… tacos!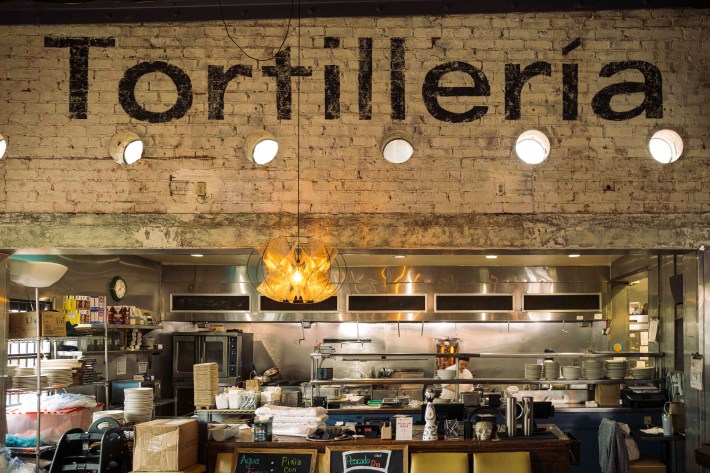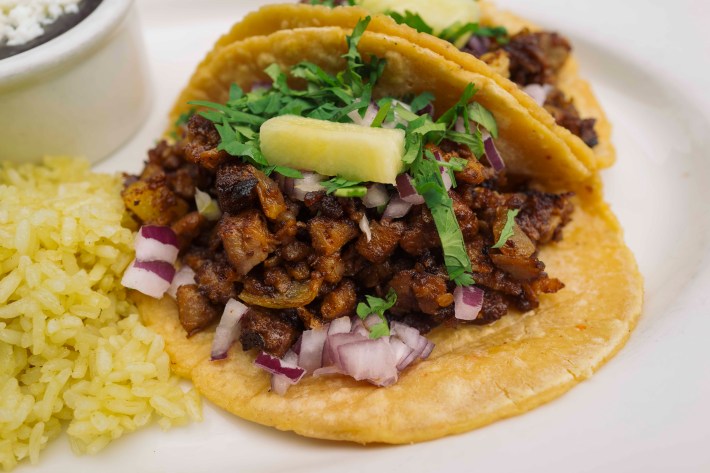 The Stop: 6th/Central 
Yxta
Daytime Al Pastor
Jesse Gomez's 14-year-old restaurant has defied every single odd that was ever stacked against it. Open since 2009 on the edge of Skid Row. The laidback spot is a straight-up oasis for consistently delicious and excellent, high-quality Mexican food. It is eastside DTLA's top destination to have an executive taco lunch since they are one of the few brick-and-mortar restaurants in the city with a lunchtime trompo spinning with al pastor. The secret to this restaurant's success is chef Jose Acevedo, who has been with the restaurant since the early days. He personally makes sure the food is consistently delicious every single day. The tortillas are handmade, and the little slice of piña that separates al pastor from the rest of the taco kingdom is always ripe and delicious. Since you're not driving, take advantage of their full liquor license and their Mexican wine. If you're in the mood for build-your-own tacos instead, their carne asada plate packs a legendary level of juiciness. 
601 S Central Ave. Los Angeles, CA. 90021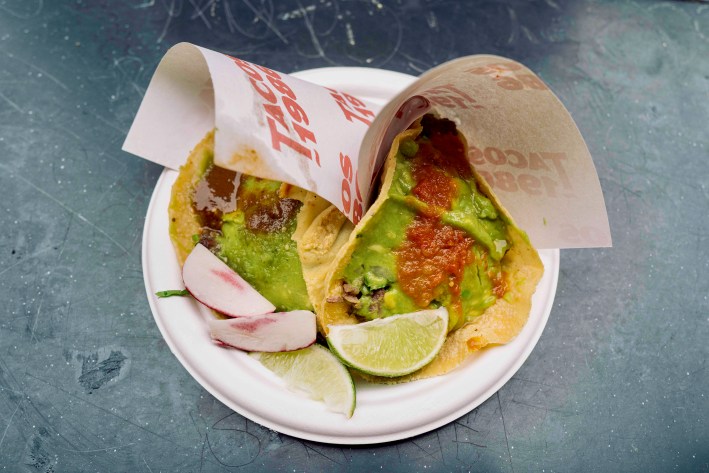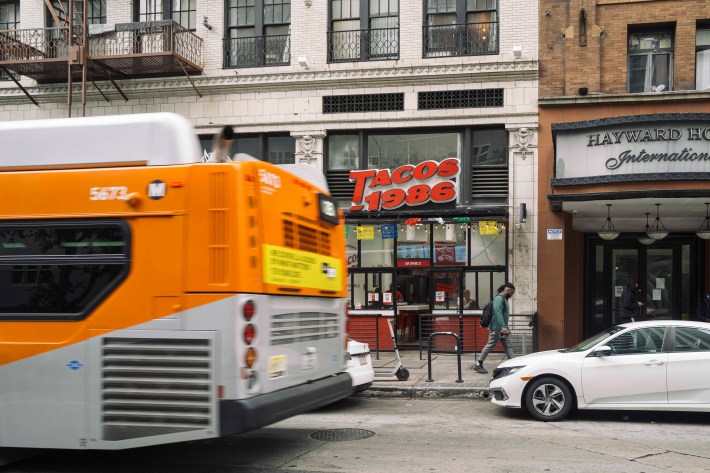 The Stop: 5th/Main
Tacos 1986 
Mesquite Grilled Carne Asada On a Handmade Tortilla
Tacos 1986 is a homegrown chain of Tijuana-style taquerías famous for their rapid expansion following their humble beginnings as a popular street-side stand around Los Angeles. Their menu is tiny but mighty: tacos de asada, trompo-shaved adobada, and grilled mushrooms, which is a deeply savory vegetarian option that makes them stand out among the glut of taquerías in town. It's a solid and reliable choice for al pastor lovers, asada adherents, guacamole fans, and the plant-based alike. Tacos 1986's adobo (marinade) in their adobada is extremely unique in its addition of strawberries. If you can pick up the ultra-faint, tart tang in the taco, congrats, you get extra credit bonus points in L.A.'s taco life.
609 S. Spring St. Los Angeles, CA. 90014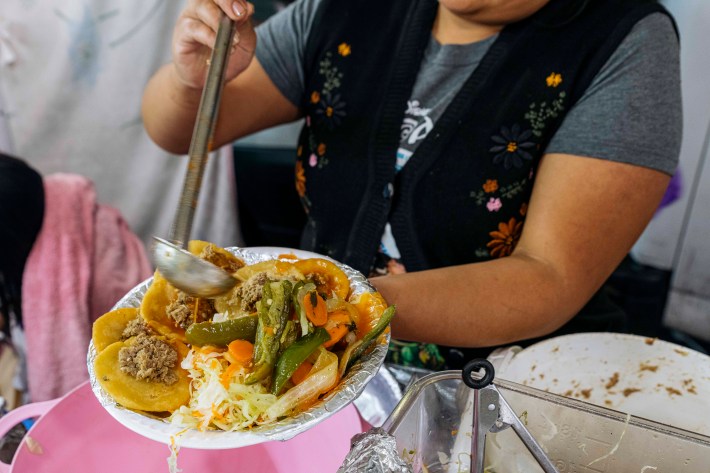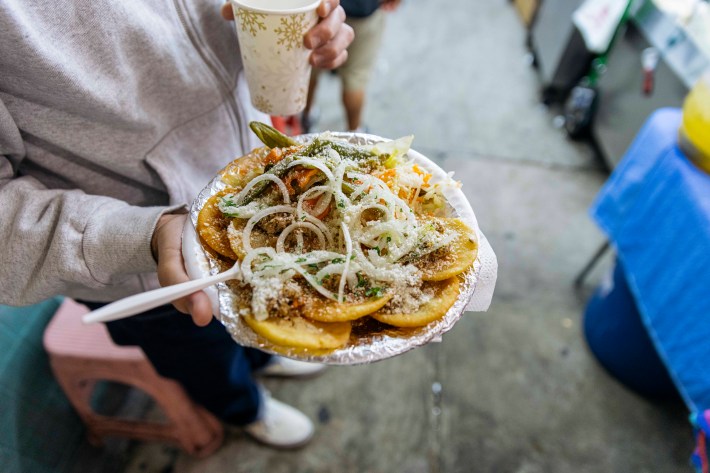 The Stop: Wilshire/Alvarado 
Guatemalan Night Market
All the Central American Street Foods You Can Imagine 
The streets and intersections around the northeastern corner of MacArthur Park mark L.A.'s epicenter of Guatemalan and Salvadoran street food. There are plenty of places in L.A. to duck into if you want to feel like you're in the actual country their menus represent, such as the open-air Thai street food market at the Wat Thai Temple in the Valley, or Central and Olympic's extravagant Mexican street food mercado running through L.A.'s piñata district. If you want the same for the crispy, savory, sweet world of Central American street food, you go to the collective of vendors that some have called the Guatemalan Night Market. Stop at Wilshire and Alvarado for a plate of garnachas, fried thick tortillas topped with seasoned ground beef, minced cabbage, and zippy tomato salsa. Fried plantains, unripe green mango simply sliced and served with lime and alguashte (pepita powder), hand-patted pupusas stuffed with chicharrón and cheese, aguas frescas, and much more. Like any other night market, there are more vendors and offerings on weekends than on weekdays. 
1834-1898 W 6th St. Los Angeles, CA. 90057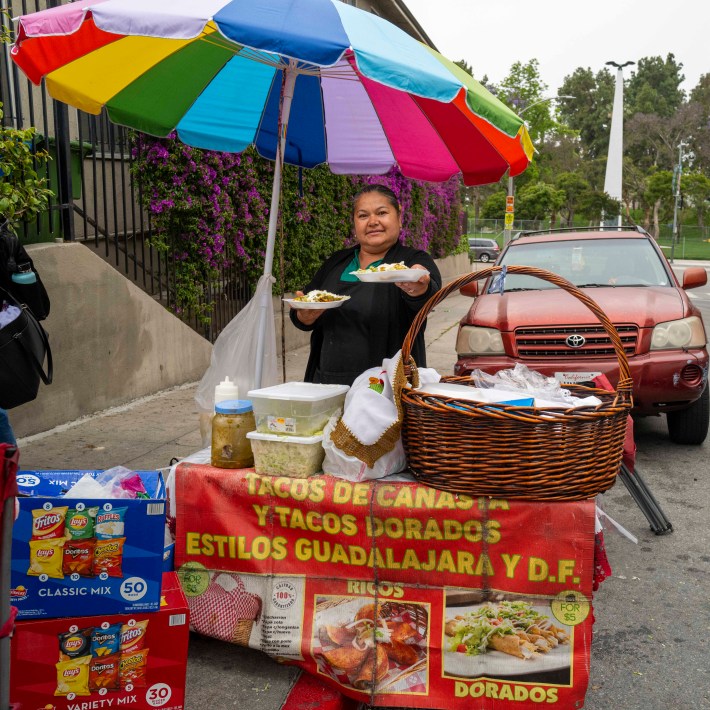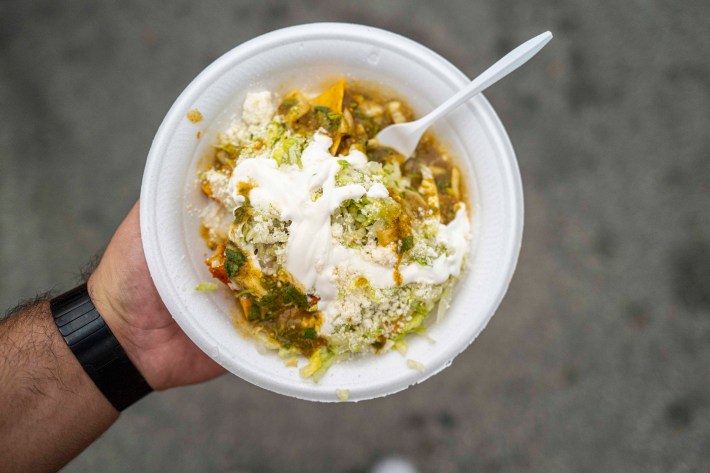 The Stop: Wilshire/Alvarado
A Regional, Hard-to-Find Taco By the Park
Tacos de Canasta Outside the Mexican Consulate
These tacos de canasta stand out among Earth's taco pantheon. They are not made to order, and that's the point of them, proudly cooked and pre-packed early in the morning to be served streetside throughout the day from the guts of a large basket. This traditional cooking process allows the flavors to rest and become more delicious as the day passes. The most common fillings you'll find inside these specialty tacos are frijol, papa, and chicharrón—the holy trinity of taco de canasta guisados. The term "de canasta" (from the basket)  is used because they are folded in half and stacked inside a plastic-bag-lined wicker basket, pot, foil, or even a bunch of towels. In all of Los Angeles, only about two dozen or so taqueros specialize in this taco. One of the better ones in town is this vendor that also sells tacos dorados by the Wilshire/Alvarado stop, while you wait in line to deal with your bi-national business. Chicharrón is usually the first taco that runs out, but the potato and bean-filled varieties are just as delicious. 
10:30 A.M.-2:30 P.M. 2325 W 6th St. Los Angeles, CA. 90057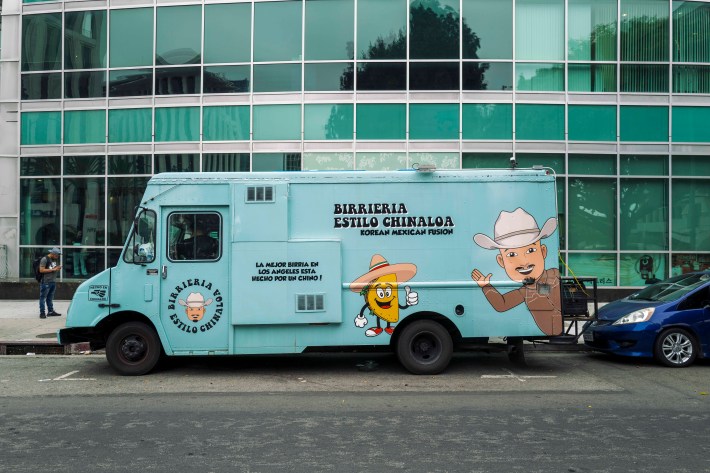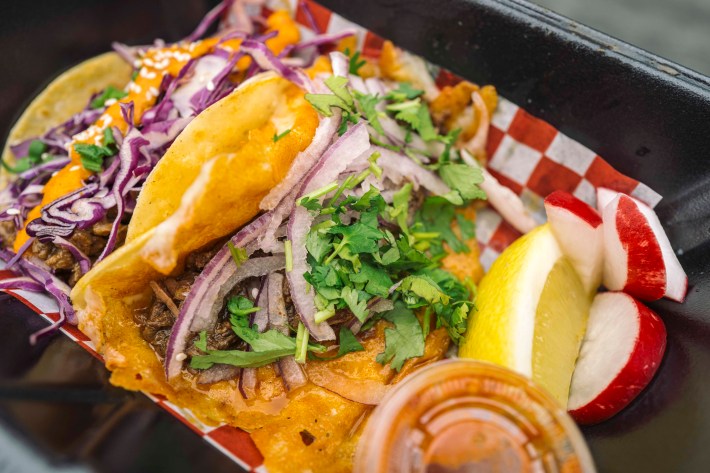 The Stop: Wilshire/Normandie
Birriería Estilo Chinaloa 
Asian-Inspired Birria in Koreatown
This Korean-Mexican fusion truck is run by cousins Xavier Velasco and Misael Torres. It was initially founded by chef Richard "The Changster" Chang after he fell in love with birria in Sinaloa and spent the next ten years in Mexico perfecting his recipe before bringing it over to the States. Their birria is tender, and the consomé is some of the best in the whole city; with a perfect blend of warm spices, the deep broth is worth the trek alone. Now pair that with their vegetarian-friendly kimchi taco, bulgogi beef marinated taco, four-cheese quesorollo taco (mozzarella, Monterrey jack, parmesan, cotija), and classic birria topped with bright orange homemade salsa, and you have yourself one of the most colorful and delicious taco dishes the city. Keep an eye out for a brick-and-mortar coming soon off 7th and Broadway in DTLA.
Located off Serrano and Wilshire. In front of or across the Starbucks of 3680 Wilshire Boulevard Aroma, Los Angeles, CA. 90010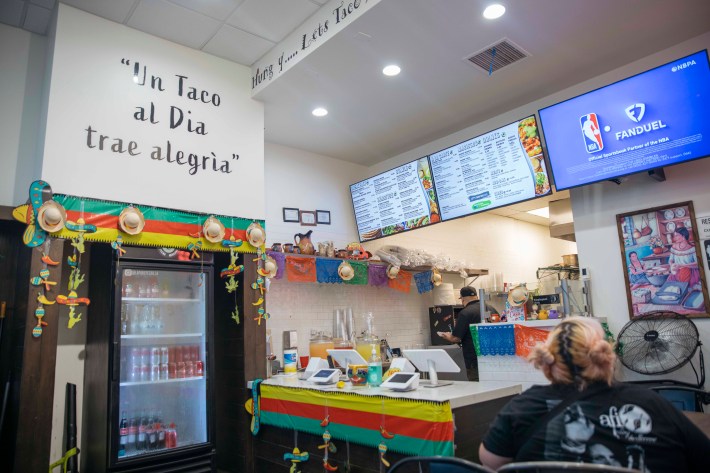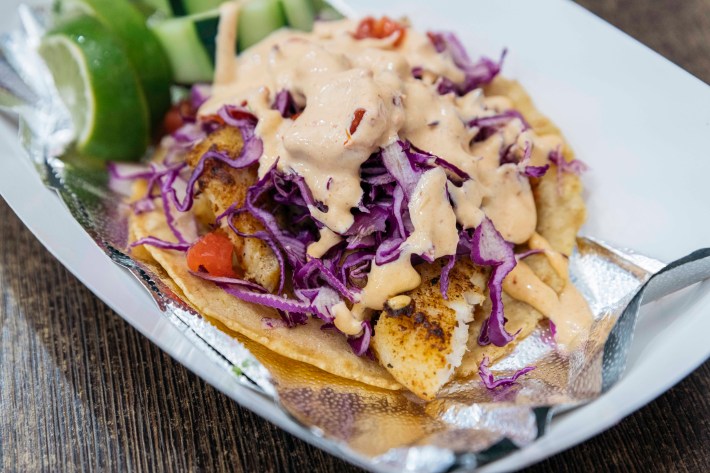 The Stop: 5th/Colorado
La Purépecha
Fish Tacos With a Coastal Breeze
You step off the bus and stroll two blocks east, one block north, and enter La Purépecha's small, white-walled space on Broadway, briefly fiddling with your camera to snap a shot of the pink, neon "Make Tacos Not War" sign. But you've got things to do and tacos to eat, so you place a fast order for the fish tacos on rustic-looking handmade corn at the register with co-owner and local Pedro Palomo, whose grandmother's recipes fuel this taquería like the compressed natural gas in Metro's NABI 60-BRT (sorry, we're suckers for transportation humor). Soon, you're slipping into an umami-field in the form of a flaky, grilled fish taco set off on all sides by fresh crema, crunchy cabbage, and sustained heat. And if you've come on a Tuesday, you're getting your tacos for $1.99. On the quick walk back to your bus stop, you smile in satisfaction as a sea breeze blows through your 'do, salsa lingering on your palate, and Westsiders walking by with arms full of frozen Trader Joe's birria.
725 Broadway. Santa Monica, CA. 90401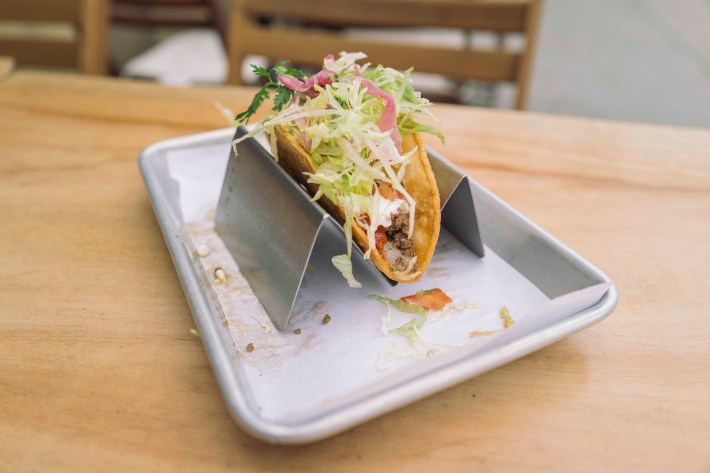 The Stop: Wilshire/26th
Jonah's Kitchen
They Call This Taco "King Wagyu"
After being dropped off at Wilshire and Santa Monica Boulevards, you cross the street and dip into Jonah's Kitchen for a taste of Hollywood-style glamor in the usually more collegiate climes of the Westside's nightlife. Jonah's is the culinary passion project of chef Jonah Johnson, known, among other things, for being a personal chef and friend of Leonardo DiCaprio. Which is why you're squinting between all these pretty people, trying to figure out if that's that one guy from that thing you saw. Whoever it is, you're way more impressed by the brisket mulitas and Yucatán-inspired cioppino anyway. But there is one titular celebrity you're here to meet: King Wagyu, a high-end version of everyone's favorite pocho/gringo/Tito's taco dorado that finds exquisite, fatty carne molino (ground beef) on a crisp, fried tortilla sharing space with a sprinkle of queso fresco, some rich salsa roja, and–the Westside still being the Westside–shaved lettuce. You have two choices from here: a brief visit with the ducks in Douglas Park across the way. Or get back on that bus to follow our map to the homes of star tacos.
2518 Wilshire Blvd. Santa Monica, CA. 90403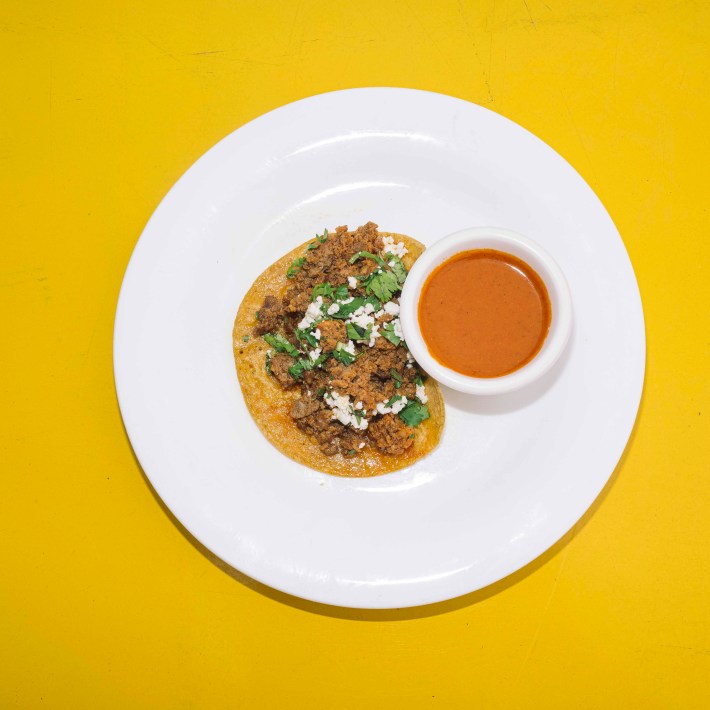 The Stop: Wilshire/Santa Monica 
Otro Dia Tacos
Chori-Man 90210
You probably didn't know there was a taquería in Beverly Hills. Or that it was good. Nor did you have a clue that it serves Zacatecan-style chorizo rojo inside its tortillas, made by San Pedro's venerated Chori-Man, aka Humberto Raygoza, using pork shoulder, guajillos, and a proprietary vinegar blend. No, you had to get off at Santa Monica and Wilshire and find out yourself, diving into Otra Dia Tacos and being all like, "damn! I didn't know there was a Beverly Hills taquería with Chori-Man's chorizo!" as the sausage crumbles in your boca, a shower of sharp feta jousting with its smoky front. "Do I tell everyone about it or gatekeep the Hell out of this one?" The decision racks your prefrontal cortex until you almost miss the next stop.
9911 S. Santa Monica Blvd. Beverly Hills, CA. 90212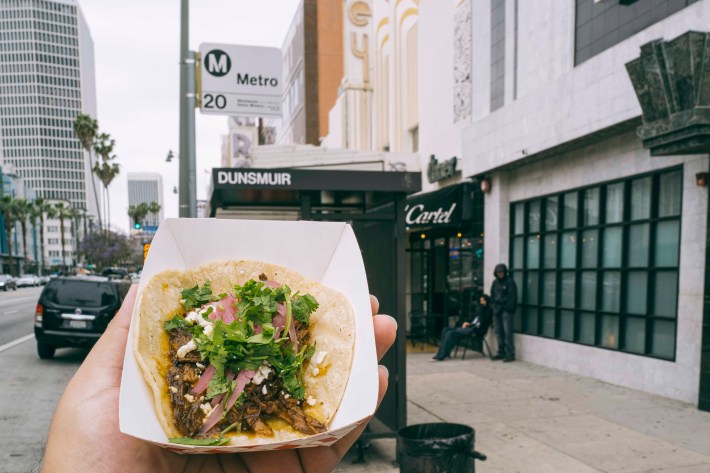 The Stop: Wilshire/Cloverdale
El Cartel
BBQ Short Rib Tacos
As you get closer to Koreatown Town, your brilliant taco mind naturally turns to thoughts of short rib tacos. You silently blame Roy Choi, then get off at Cloverdale and Wilshire in Mid-Wilshire, walking two blocks west to El Cartel. It's a nice name for a cute, kicked-back little cafe glued to the lobby of El Rey Theatre and professing a pronounced affection for tacos. While you will be tempted by the shrimp, which are delicious, we'd like to direct your attention to the short rib, starring a simple, soft AF, and a highly tender hunk of beef topped with a little queso fresco, ribbons of cilantro, and deep purple pickled onions. Avocado is extra. Then again, so are you. You dash back to the bus stop just as a line forms. Unlike you, these people are just here for the band.
5515 Wilshire Blvd. Los Angeles, CA. 90036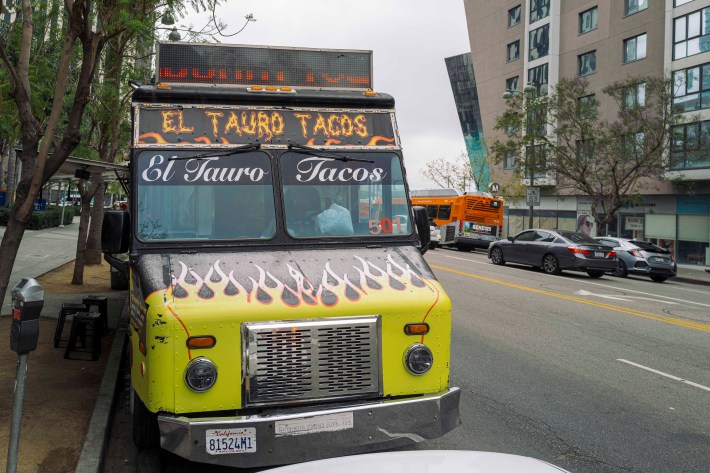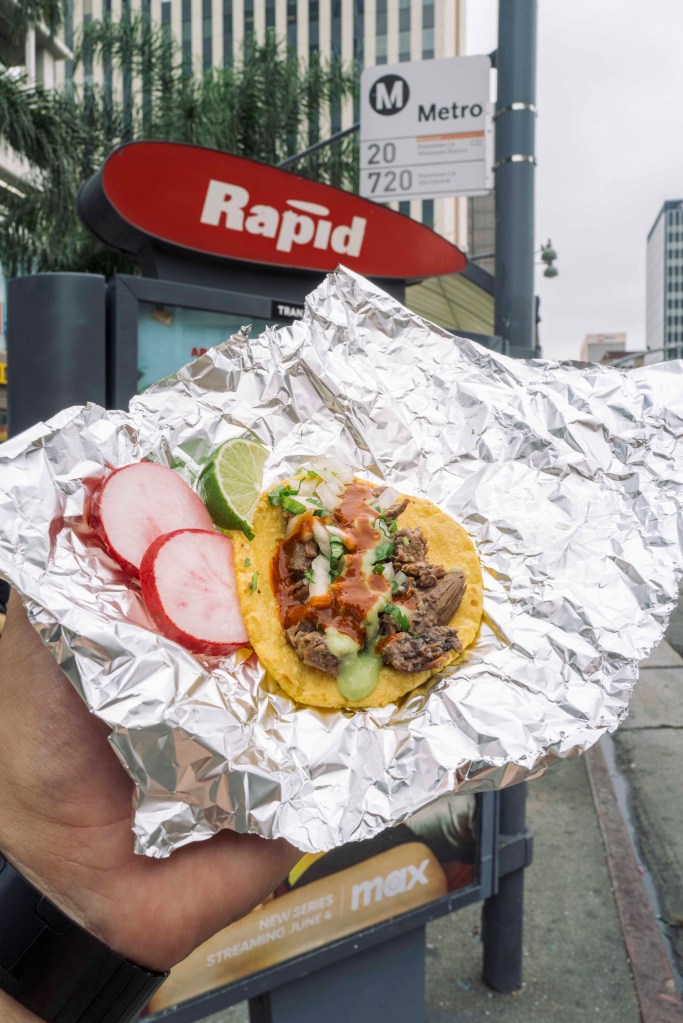 The Stop: Wilshire/Vermont
El Tauro Taco Truck
Bite Your Tongue in Koreatown
After riding the steel wheels of a 30,000-pound vehicle all day, you begin lusting for the classically sexy form of a solid taco truck. You stop at Wilshire and Vermont and walk one block west to El Tauro, an oldie but goodie with a wide menu of decent traditional standards, including asada, pastor, and carnitas. There are also buffalo wings. But seeing as you're on an adventure here, today you'll open your mind and esophagus to more intrepid recipes, of which El Tauro has plenty. Forms like buche (cow stomach), tripas (small intestine), cabeza (head meat), and a very supple grilled lengua (tongue) that seems to be harder to find around town these days in the age of inflation. You stand there blinking at the sweeping lights of your city, hands and belly warmed by your plate of tacos. This is what you live for.
3108 Wilshire Blvd. Los Angeles, CA. 90005
Stay in touch
Sign up for our free newsletter