Drink
Where to Find the Best Pulque in Mexico City and Oaxaca, and How I Learned to Appreciate It
12:55 PM PST on January 13, 2023
I'm a proud pocha born and raised in greater East Los Angeles. Growing up, my exposure to Mexican beverages was reasonably limited to champurrado during the winter holidays and aguas frescas or bottles of Jarritos with carnitas tacos at Olvera Street. 
When I reached drinking age, my world of thirst-quenching Mexican choices expanded to include alcoholic ones like tequila, mezcal, sotol, rompope, and of course, all those fizzy yellow lagers like Model, Pacifico, and Tecate. 
Pulque was never part of my drinking vocabulary for a good reason. 
I did not learn about the mysterious pre-Conquest "drink of the gods" until about four years ago when I started writing for this publication. I'd heard that one could only find pulque in Mexico, but where?
Until this past November, my only trips to Mexico had been to border cities like Tijuana and Juárez, Baja beach towns like Rosarito and San Felipe, the coast of Cozumel thanks to a cruise with my grandparents, and the occasional trip to el Mexico's wine country in Valle de Guadalupe. I didn't see any pulque in these parts of Mexico, but I also didn't know to look for it, perhaps too busy drinking cold chelas and meaty red wine rather than seeking to expand my beverage horizons.
Then I took my first trip to the interior of Mexico, visiting CDMX and Oaxaca during Día de Muertos season of 2022. It was a given that I'd drink plenty of beer and mezcal there. I also vowed to try pulque, made of fermented aguamiel, or agave sap, for the first time.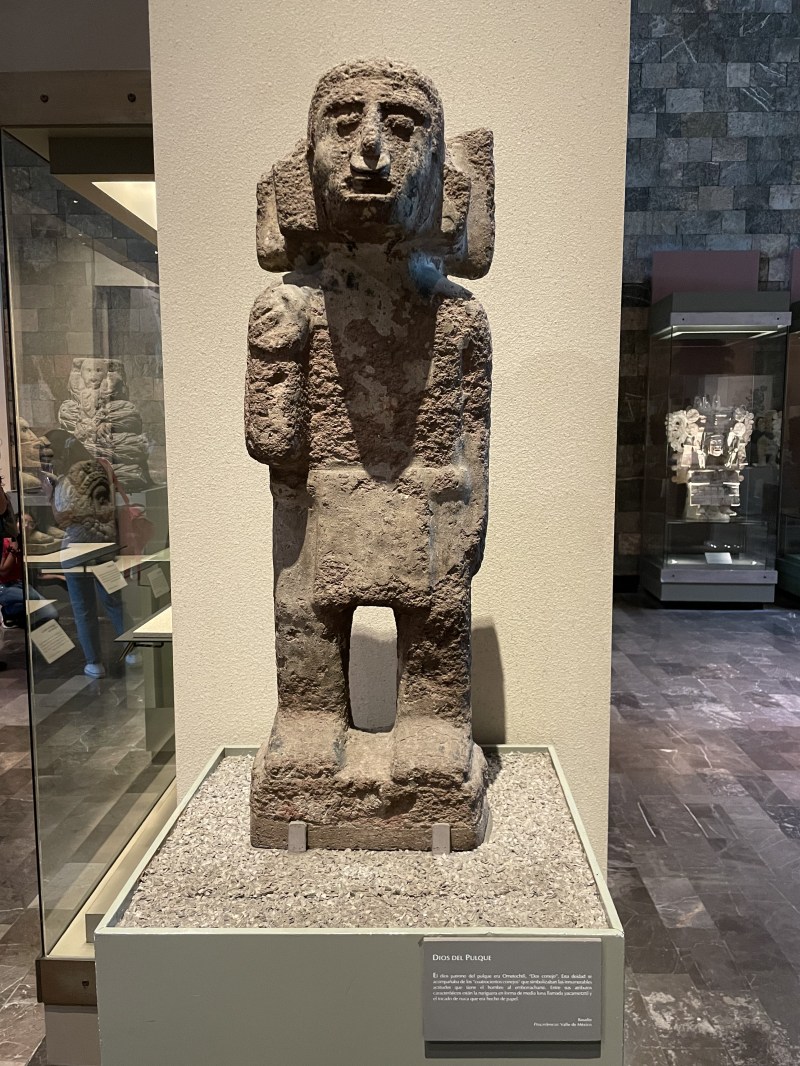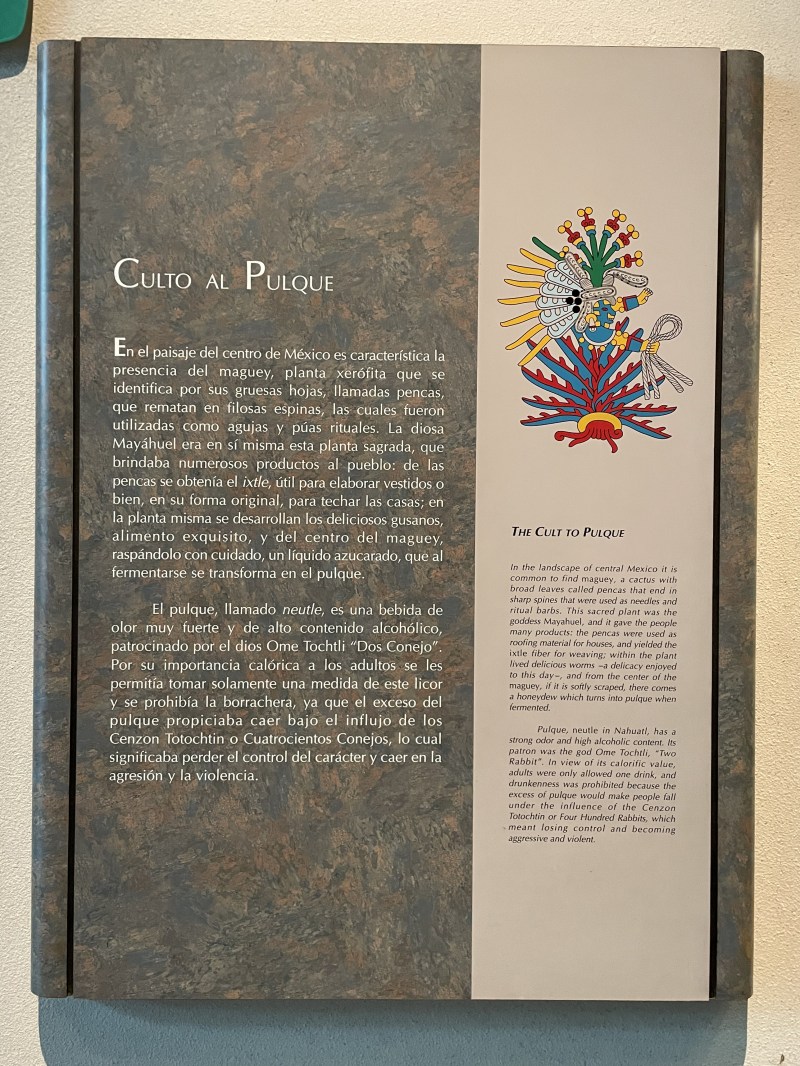 I wasn't worried about whether I liked it enough to finish a whole serving. I just wanted to try it, and check it off my list of "must-do" things in Mexico City, like visiting the Coyolxauhqui stone at Templo Mayor and tasting mezcal at a palenque in Oaxaca. Neither was I worried about where to find pulque because I had plenty of reliable sources who told me where to go. But once I started reading about this fermented alcoholic beverage derived from the agave plant, I wondered if I could get past drinking something that, according to our former L.A. TACO editor, went down like a glass of "wet boogers" and other bodily secretions. 
I'm happy to report that yes, I got past the potentially off-putting texture of this ancient Mexican drink and liked it. And when I saw pulque on a menu somewhere, this pocha ordered it like I've been drinking it my whole life. I learned that the taste, flavor, and composition of pulque could change with the seasons and terroir, just like wine, and I learned to appreciate its qualities for good gut health, which came in handy for my upset stomach in Oaxaca. Whether served natural or curado—flavored or 'cured' with various ingredients like fruit, nuts, or oats—pulque indeed is an alcoholic gift from the Mesoamerican gods.
Here are my "primera vez" impressions of drinking pulque in Mexico City and Oaxaca. 
Coyoacán: Ecos del Mundo Café and La Casa de los Tacos
I drank my first pulque the day after I landed in Coyoacán, the neighborhood in Mexico City best known for Frida's Casa Azul.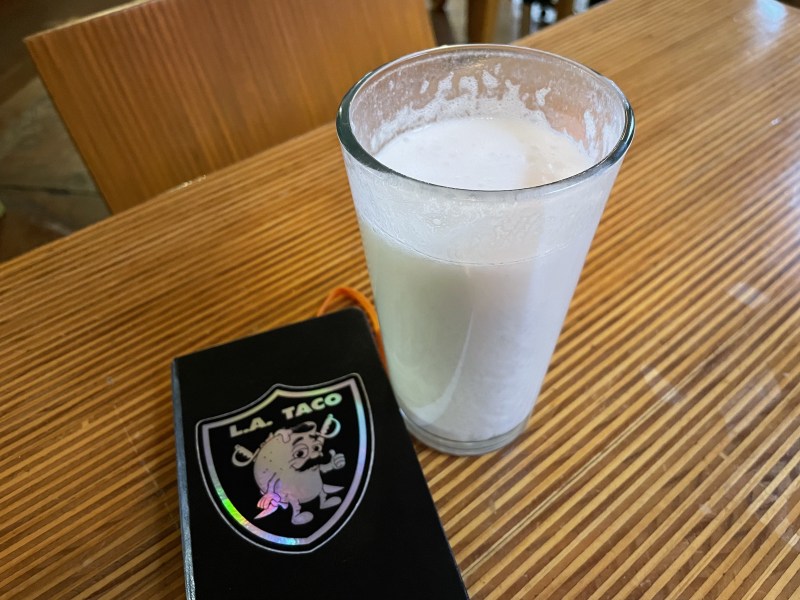 Ecos del Mundo Café on Calle Higuera featured four kinds of pulques on its cold drinks menu—natural, curado, coco, y nuez. In my best third-generation East L.A. Spanish, I asked our server a few questions, including which one he'd recommend for a first-time pulque drinker like me. With some translation help from my partner, whose español is much better than mine, I learned that the coconut pulque was the "least offensive," according to the server, for the "primera vez" palate, so I ordered that one.
The coco pulque arrived in a pint glass, looking frothy and inviting, like fresh horchata. I hoisted the glass, thanked the goddesses, and sipped pulque for the first time. Delicious. I sipped it again, surprised at the milkshake consistency and creamy coconut flavor because I was expecting something slimy and gross. Instead, I downed the coco pulque, an excellent gateway flavor, and I couldn't wait to try the others.   
Next, I tried the pulque curado con frutas rojas. It looked even more enticing, all pale pink with flecks of berries topped with a light marshmallow-y foam. Compared to the chilled coco pulque, the red fruit pulque was served at room temperature, so I tasted more of the drink's tangy qualities, like strawberry cream cheese that goes down like nectar. After that, I was done for the day. It's a filling beverage, and at around 4 to 5% alcohol content, two glasses of pulque are plenty to feel a nice warm buzz.
The next day, we headed to Casa de los Tacos, where pulque was advertised along with tequila, mezcal, and cocteles. This spot served it chilled and curado con piñones, or Mexican [pink] pine nuts. I found the drink effervescent and refreshing, not as thick as the ones at Ecos del Mundo. The blush hue and slightly sweet flavor come not from berries or other fruits, but from the fatty piñon nuts, which used to be an oil-rich protein and nutrient for Indigenous societies across Mesoamerica, and now gave this pulque a pleasantly creamy texture.  
The three pulques curados I drank in Coyoacán provided a solid baseline for comparing the ones I would drink in other parts of Mexico City. When we moved from Coyoacán to the Cuauhtémoc-Roma Norte area of CDMX, my pulque options expanded to include bottled ones, seasonal curados, and pulque natural—the OG unadulterated form of the drink that rightfully earns its slimy, sour, body-fluid descriptors. 
Cuauhtémoc and Colonia Centro: Antolina and Las Duelistas
I ordered my next pulque at Antolina Cocina Mezcalera in the Roma Norte-Condesa-Cuauhtémoc neighborhood of Mexico City. When the pulque de ofrenda, or seasonal pulque "offering" inspired by local Día de Muertos festivities, arrived at the table, it looked like a floral display too pretty to drink.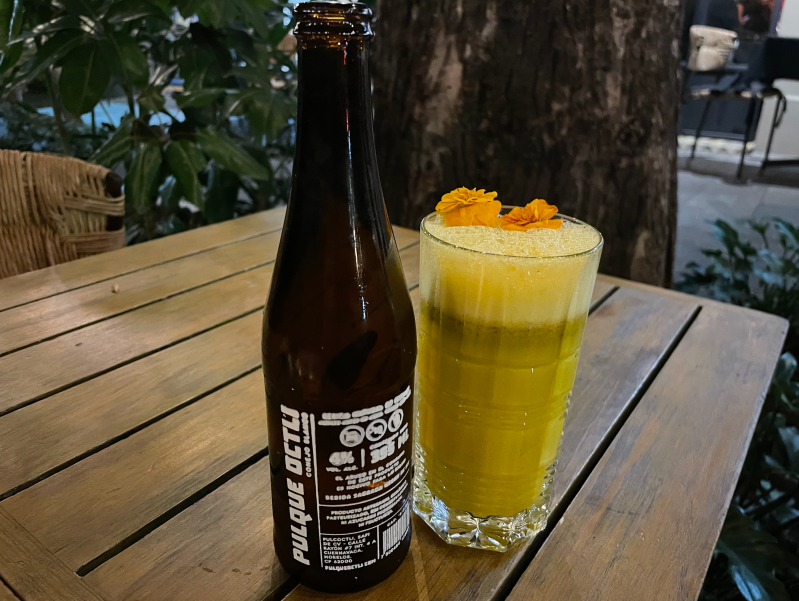 Antolina's pulque de ofrenda had the color of turmeric and a light golden foam garnished with miniature marigolds, or cempasúchiles, ubiquitous around Mexico during Día de Muertos season. The pulque was mixed with marigold flowers, honey, and tangerine juice that imparted floral, peppery, herbaceous goodness. After a few sips, it became clear that the marigold garnish was central to the drinking experience and not just decorative, enhancing the floral nose of the beverage while clearing room on the palate to taste the commingling of flavors. 
Antolina uses Pulque Octli Conejo Blanco, an all-natural bottled brand of pulque made in Cuernavaca, Morelos, as a base for their curados. It was the first and only time I saw a bottled pulque in Mexico, where most pulque is super local and should be enjoyed fresh. However, Antolina's use of seasonal local ingredients in each house curado elevates the bottled pulque and enhances its natural flavors. I also found the bottled pulque to be a friendly starting point for rookies like me looking to explore pulque natural in all its slimy, sour, funky glory. 
Note: Since pulque is alive with naturally occurring wild yeast, most bottled or canned pulque is usually pasteurized or fortified with artificial sugar substitutes to halt the fermentation and keep the bottle or can it is contained in from exploding. In the U.S., unless you have a private source, which there are some street vendors in Angeles, but not consistently—the only pulque you will find are at fine beverage establishments like Ramirez Beverage Center in Boyle Heights are bottled. At Northgate Markets across southern California, you can sometimes find canned pulque. Both options are pasteurized and not a fair representation of the real stuff found in Mexico, but they get the job done if you're craving some. 
But not even the easy-drinking Pulque Octli could prepare me for the pulque natural I tasted, but I still need to finish at Las Duelistas in Colonia Centro.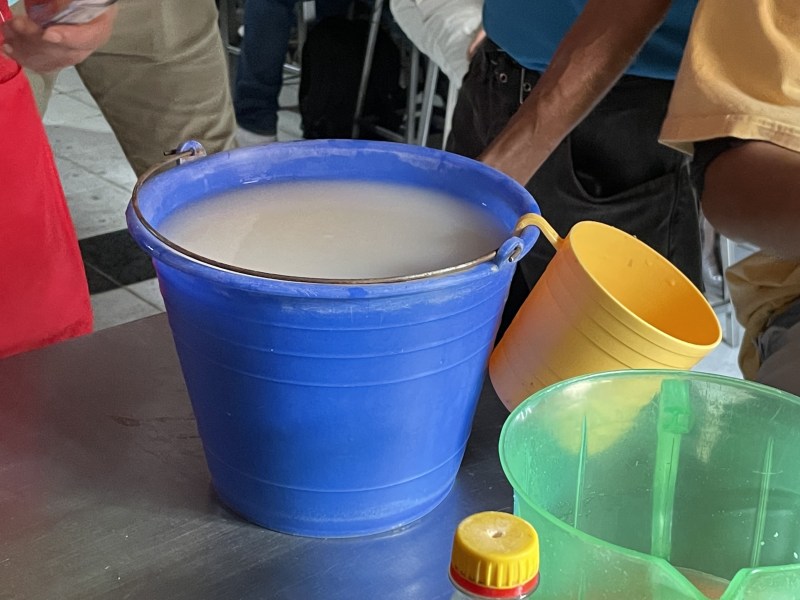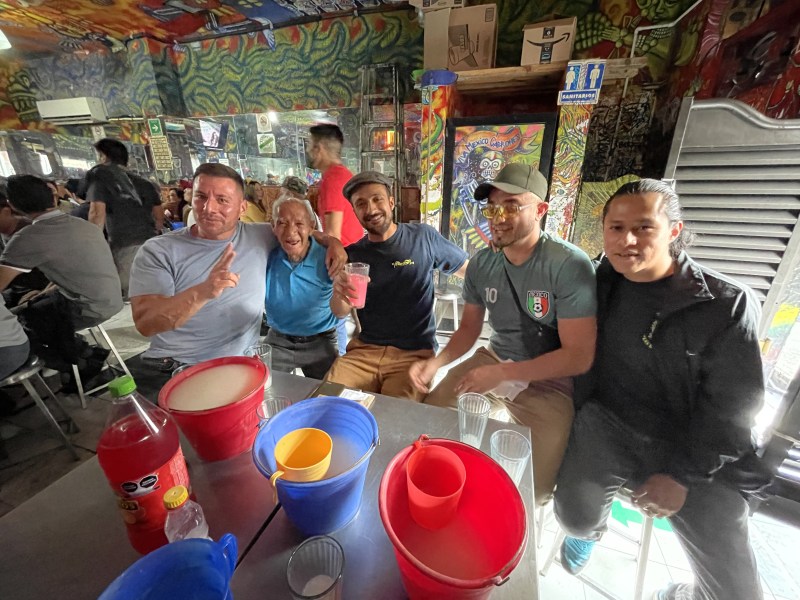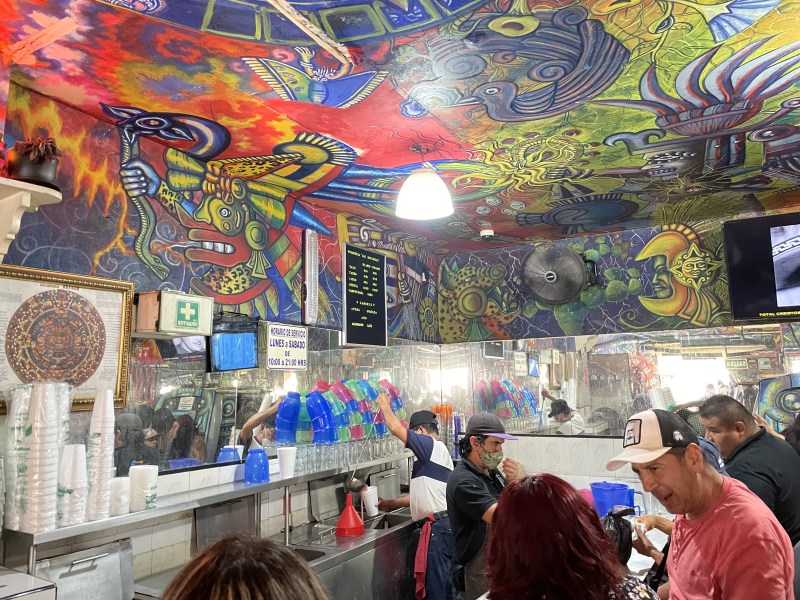 Las Duelistas is a pulquería within walking distance of the Zócalo, Palacio de Bellas Artes, and other DF landmarks. The smell of the place hit us as soon as our Uber driver let us out in front of the loud, raucous bar: swampy ass and body odor. Las Duelistas was packed with all kinds of gente, old and young, crowded around tables and drinking glasses of pulque from colorful plastic buckets. Vibrant murals covered the walls and ceilings. Hard rock and metal music played on the jukebox, and the pulque-fueled sounds of people laughing and talking above each other filled the lively bar on a Tuesday afternoon.
My traveling companions and I ordered pulques de avena (oats) and de arándano (cranberries). The day before, we drank a vendor's homemade pulque de avena on the trajinera boats at Xochimilco, and the group of us—including two new amigas we made who are also first-time pulque drinkers from Los Angeles—found the Xochimilco pulque with oats to be sweet and smooth, if not a bit watered down. In comparison, the pulque de avena at Las Duelistas was thicker, fizzier, and more sour-tasting on top of the smooth consistency provided by the oats. The cranberry pulque, as expected, was tart and tangy, like kombucha.
The pulque natural surrounded us at Las Duelistas, and it was time to try it. The guys at the neighboring table were on their second communal bucket of pulque natural, and one of them, Gustavo, kindly offered us a cup. He admitted that pulque natural was an acquired taste, something to "get used to" with its body-funk reputation, and I understood why after one sip. Pulque natural went down a little like sour phlegm. No berries, oats, or pine nuts to soften the blow. That's why his friend across the table, a guy they called "Messi" for his uncanny resemblance to the Argentine fútbolero, was pouring Jarritos Tutti-Frutti soda into his pulque to offset its sliminess and add some flavor. 
But even with a splash of Tutti-Frutti, I couldn't finish the cup of pulque natural. I tried, but I kept going back to the curados, which were funky and fun to drink at Las Duelistas. 
Santiago Matatlán, Oaxaca: A y V La Casa del Pulque
After drinking a range of viscous, frothy, funky, and sour-sweet pulques in Mexico City, I expected more of the same in Oaxaca. But the house-made pulques at A y V La Casa del Pulque could not have looked and tasted more different than the dozen or so I drank in DF.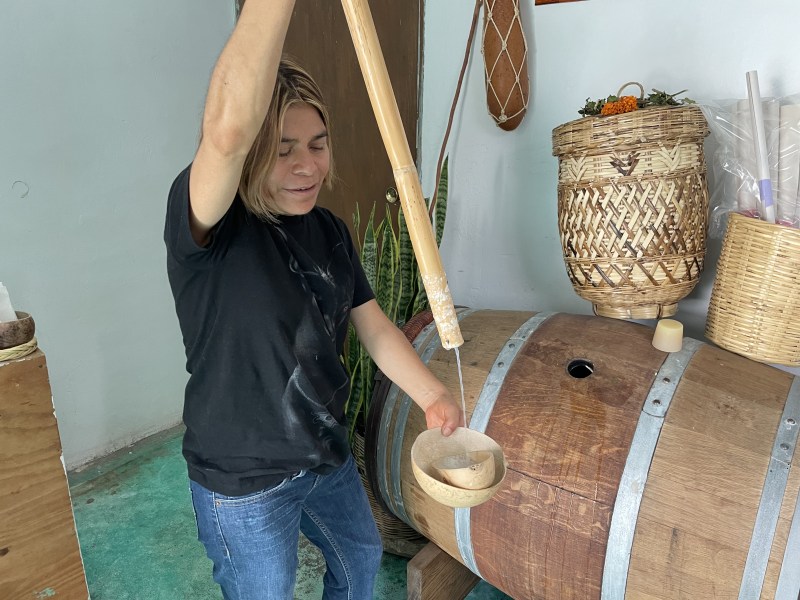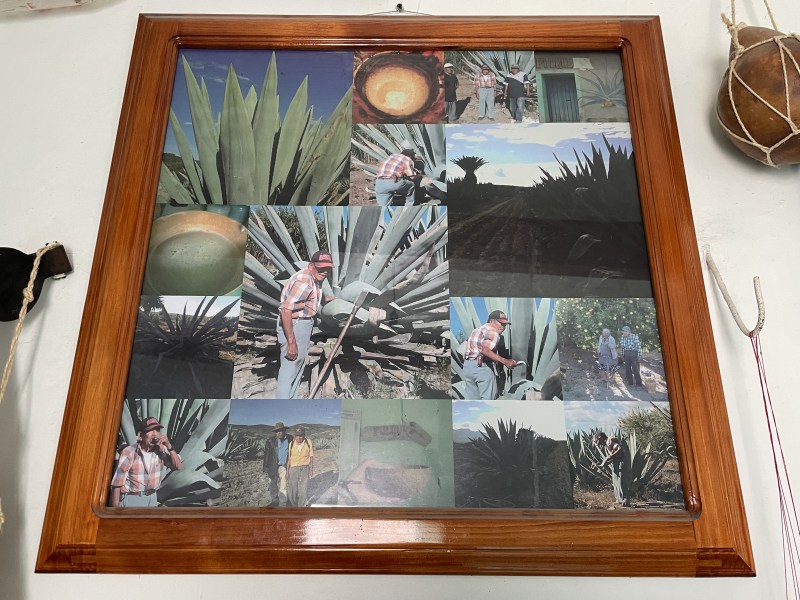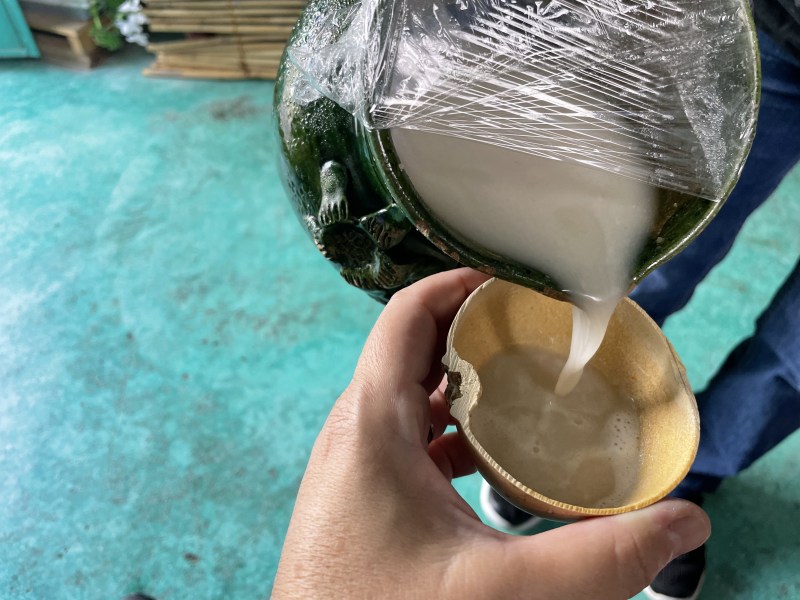 Surrounded by a sea of agave fields dotted with mezcal distilleries and tasting rooms in Santiago Matatlán, a village in Oaxaca's central valley dubbed "the World Capital of Mezcal," A y V La Casa del Pulque specializes in artisanal and organic pulques. Reina Cortés Cortés runs the fifth-generation pulquería and is the first woman to do so since her family started making pulques in 1871. She offered us five different samples from the day's beverage selections.  
First was tasting pure and fresh aguamiel, which really does taste like honey water. Cortés Cortés explained that the pulquera/o must scrape the core of the agave plant to access its sweet sap, which starts to ferment immediately once it is extracted from the agave plant. The same plant can produce aguamiel for days or years; accordingly, the pulque's taste and texture change as the plant ages. Pulque from younger plants, for example, tend to be lighter tasting and not as thick or slimy as pulque from more aged agaves.
To illustrate, Cortés Cortés poured us the following sample, a fresh pulque made the day before that tasted fresh and fizzy, drinkable like a barely sweetened seltzer that was soft on the palate. Next, we tasted a pulque barrel-aged for five months. Cortés Cortés inserted a long narrow reed into the barrel and sipped it like a straw until she drew pulque, then poured it in dried gourds called jícaras for drinking. This pulque was much thicker and more viscous than the day-old one, and the sweet aguamiel flavor was still present through the sour effervescence. 
The last few pulques were refreshing palate cleansers. Cortés Cortés served a seasonal pulque curado with passionfruit and marigold. My favorite was the pulque curado con cacahuate, or peanut, which had a beautiful roasted flavor and smooth texture; a sippable mazapán. The final pour was the family's tepache, a fermented pineapple drink that Cortés Cortés makes with honey and piloncillo. Every taste at A y V La Casa del Pulque showcased the clean flavors of pure organic aguamiel taken from agaves grown by the family for generations. 
The tastings at A y V capped off the perfect "primera vez" trip into pulque territory. Whether at a swampy dive bar in Mexico City, on a trajinera in Xochimilco, or in a quiet tasting room in the Oaxacan countryside, I found a new appreciation for pulque and the communal ritual of imbibing this most ancient of Mexican beverages. 
Melissa Mora Hidalgo was born in Montebello and grew up in the L.A./O.C. borderlands of East Whittier and La Habra. She holds a Ph. D. in Literature from UC San Diego and is the author of Mozlandia: Morrissey Fans in the Borderlands (Headpress UK, 2016).
Read More:
Stay in touch
Sign up for our free newsletter