Tacos
The L.A. Taco Guide to the 20 Best Al Pastor and Adobada Tacos in Los Angeles, Mapped
7:00 AM PDT on August 27, 2019
[dropcap size=big]Y[/dropcap]ou might think the title of this list is redundant but it speaks to an interesting debate about marinated pork in the Mexican community. Whether you believe that al pastor and adobada are the same things or that they are completely different, the argument speaks to the growing literacy of Mexican food in L.A. Fortunately, we are blessed with a bounty of Comida Mexicana in the city of Angels, where you can find both.
What is the difference between the two? 
Adobada purists, aside from the difference in language, believe that it differs in preparation and cooking method. Instead of being spit-roasted it is grilled or oven-roasted, but in L.A. and parts of Baja, you'll see spots that call their trompo adobada as well. At times, it can feel like the argument is splitting hairs and the debate goes further than that but for the purposes of this list, L.A. Taco is going based on self-identification. If a place calls their marinated pork adobada, then that's how it is grouped. Whether it's shaved from a beaming red trompo or grilled over coals, they're both delicious. 
Dare I say it has become L.A.'s favorite taco? No, because that would be an insult to our city's outstanding asada scene. But for a certain type of Angeleno, al pastor is their number one. 
Al pastor is the most recognized of the two but there's no denying that adobada has its place in L.A.'s tacosphere, especially with the invasion of Tijuas-style tacos. Places like Leo's set the standard for good al pastor in L.A. and has also become one of the symbols of our strong taco culture. But there are so many other great trompos out there in this big city, here are a few that are worth dropping a pin on and driving for.
Protip: Sometimes, if you go to a trompo spot during off-times such as when they are getting started for the day, about to pack up to leave for the night, or simply on a slow weeknight, trompo spots are known to throw their sliced meat on the grill to finish it off. We recommend going during peak taco hours, which is usually when it is dark out and you see a line formed for the taco. 
Al Pastor
Shaved from Trompo
Of course, there are sub-categories and methods to each al pastor: The classic way is to shave off the protein from the trompo right into a tortilla, but then there is the controversial trompo-to-plancha, where the meat is shaved from the trompo and crisped-up on a flat-top grill. The former is the closest to the shawarma method that al pastor comes from (everyone's favorite piece of Mexican food history).
These are the spots that stick to that purist trompo-to-tortilla method.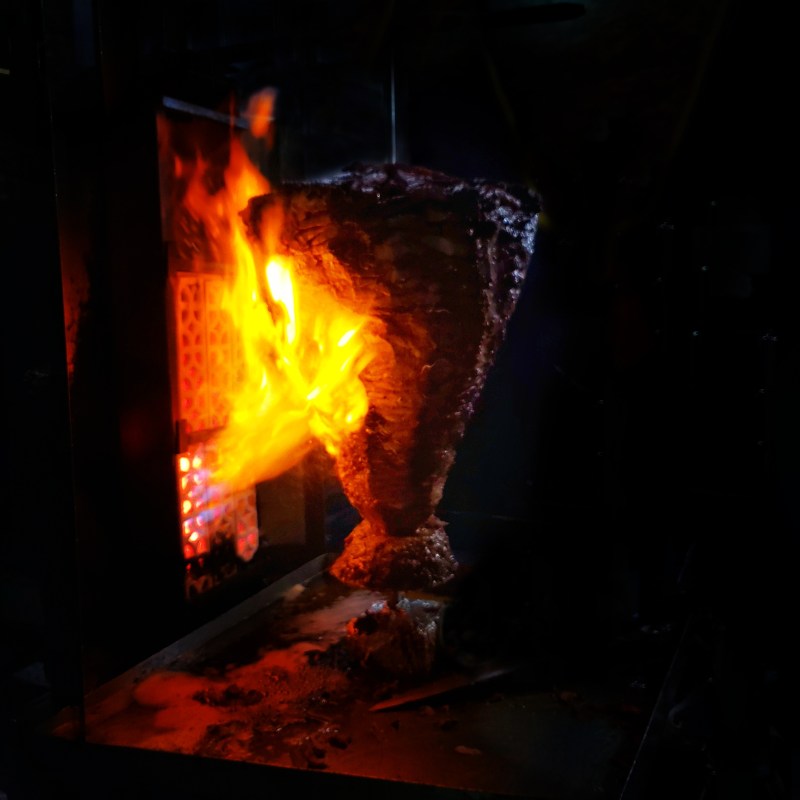 South Central
The massive trompo is scorched by an overactive gas burner that is more high-octane than a Michael Bay movie or an Elon Musk flamethrower. The sound of the roaring flame mirrors the burning hunger in your belly. Once you give your ticket to the trompo swordsmen, they'll thinly slice sizzling portions of pork from the giant trompo. The charred crispy edges of the pork combined with the al-pastor-tailored salsa and lime make me want to write a Shakespearean sonnet. Shall I compare thee to an al pastor taco? I should note that Los Guichos doesn't include pineapple with their tacos but their al pastor excels nonetheless.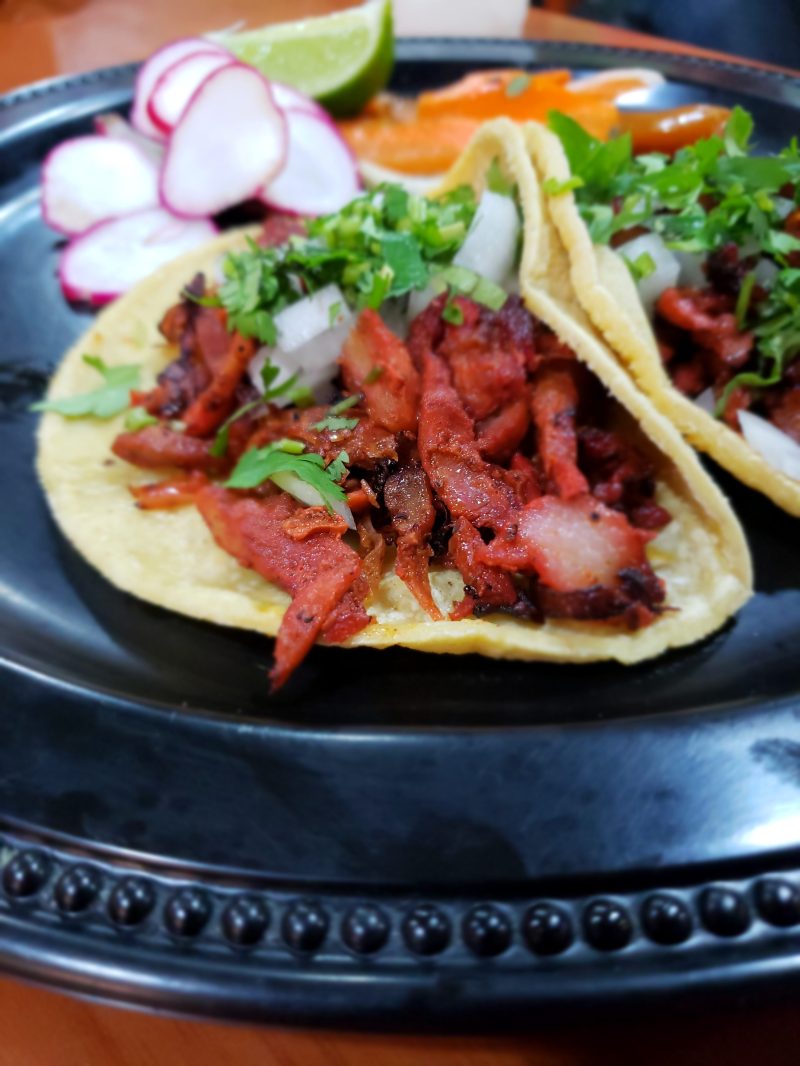 South Central 
Mercado La Paloma is home to many of my food muses and this al pastor specialist is one of them. Their logo depicts a flaming trompo and they serve regular taco and taco-adjacent items but the centerpiece is the al pastor. The sazón is where this taqueria shines. The deep red slivers of al pastor paired with their mighty avocado salsa make the taco pop. The salsa is a thin avocado-based salsa that is heavy on the acid but it brings out the well-spiced adobo of the al pastor. Additionally, each dish is served with pickled carrots that still have a slight snap with each bite. Another entry that is sans pineapple but makes up for the acidity with their aforementioned salsa.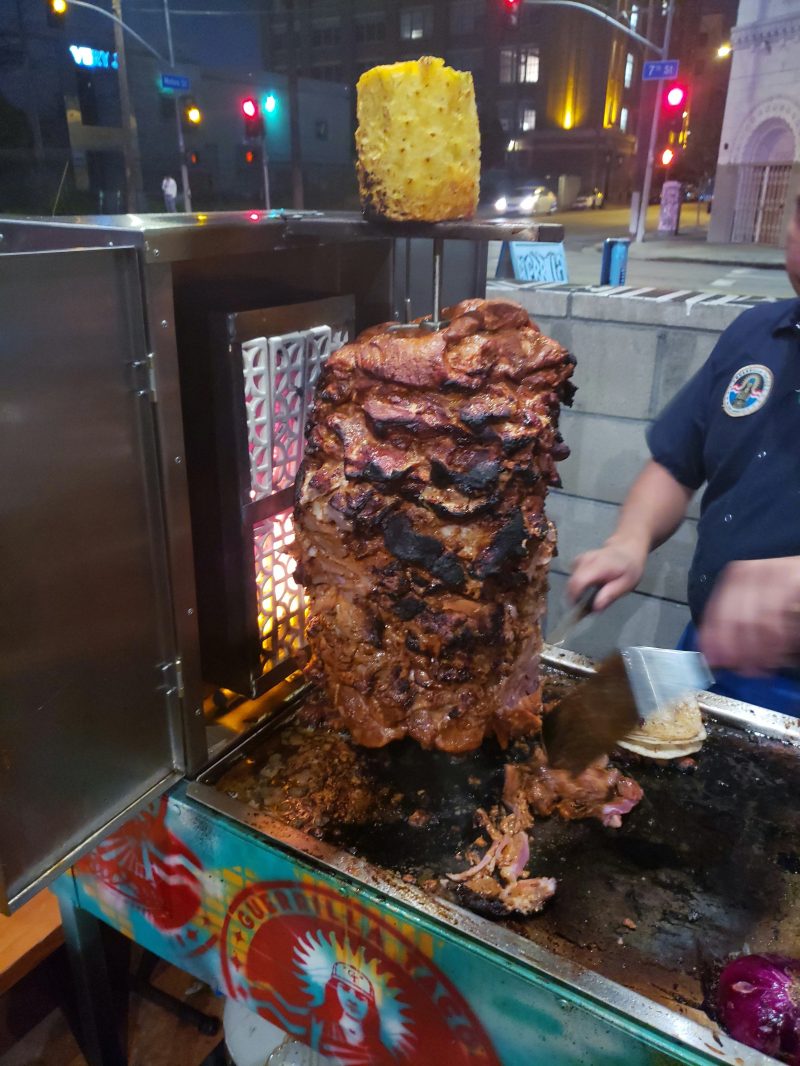 Arts District
When taquerias who specialize in inventive tacos get in the traditional taco lane, it almost seems unfair. Well, that's what happened when Guerrilla launched their late-night menu. Once the late-night menu starts the outside seating area is converted into a trompo designated area.  Adorned around the trompo station are self-serve bowls of the taco toppings. Make sure to try the pork on its own (which let's face it you don't need a stupid list to tell you to do that), the juicy pork marries so well with lime and great salsas. It is worth mentioning that the spectacle of a trompo in the Art District catches the eye of bumpkins on the sidewalk. So be prepared to be hit with jealous looks as you wolf down these tacos.
Multiple locations
One of the big players in the al pastor game and after trying a taco or twelve you'll see why. The trompo is hidden and housed inside the truck. So there will be a lot of forlorn looks at the sluggishly roasting spit but don't worry everyone else is doing it too. The crispy pieces of al pastor manages to stay juicy even though it is so sliced thin. The tortillas are small but are packed with their winning al pastor.
Multiple locations
Perhaps one of L.A.'s most recognizable tacos. The massive ruby-colored trompo is shaved and placed on what might seem like a too-small tortilla and garnished with a flicker of pineapple. Once dressed, the taco(s) packs a flavorful punch. Their tacos are cleverly, if not mischievously, designed so you'll go back for more. The sweetness of the pineapple is the cherry on top and creates a stellar culinary pocket—savory, sweet, and spicy delivered in two bites. Leo's is in a class of their own with over 5 million trucks (kidding, but they do have a fleet) sprinkled around L.A. but the original La Brea location in a gas station is still my favorite way to experience these "Sheppard's" tacos.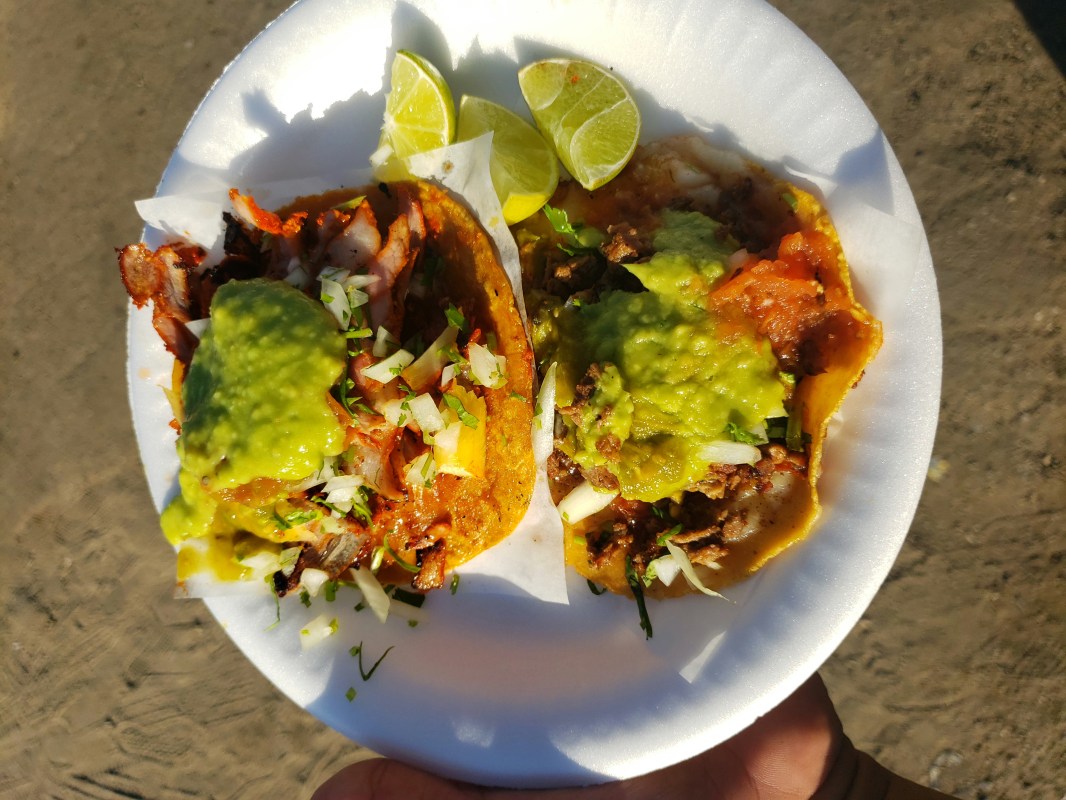 Multiple locations
There's never a lack of hungry patrons at any of their multiple locations, but part of that draw is the behemoth trompo. That thing is so big that the trompero has to jump to slice off a piece of pineapple (no, not really). The al pastor is such a draw at Angel's that the other carnes are served much faster. I should mention the other carnes are impressive but the al pastor is the star of the show. Speaking of which, the impressive flame imparts a quick sear but that trusty trompo fencer moves quick, making sure the pork never burns. It always has the right amount of crispiness and char so you don't consume too many carcinogens (you know you are health conscious after all). Another plus to this spot is that each taco de al pastor comes with guacamole and they'll even dress it for you, talk about convenience.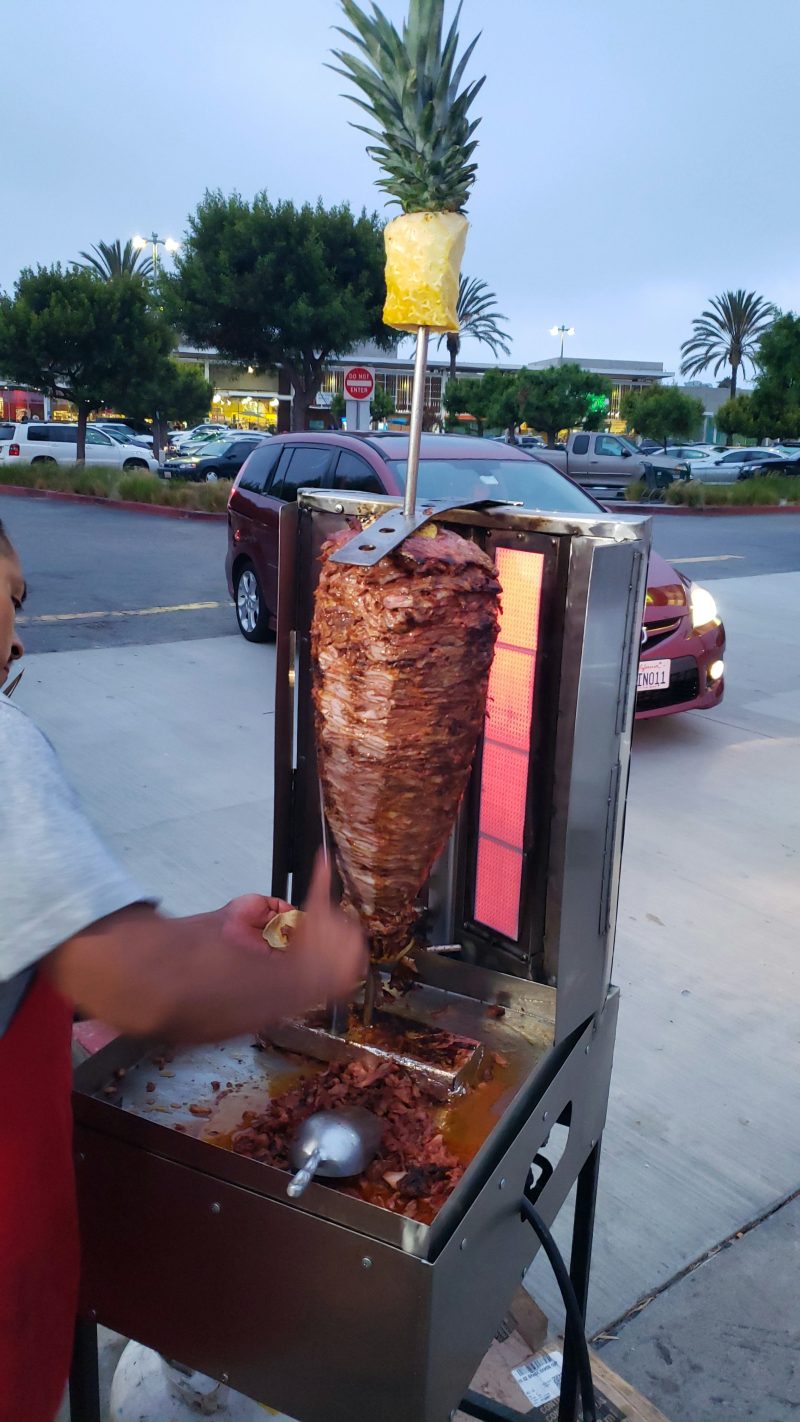 Multiple locations
Subtlety is the name of the game here. The trompo has a faint red color but is well spiced. Thin slices of their pork are placed on a fresh tortilla that they hand-make. The flavor of the pork is the most apparent with the tacos here. Sometimes the adobo can drown out the pork flavor but here it is at the forefront. Chunks of pineapple are at the base of the trompo and at the top for garnishing.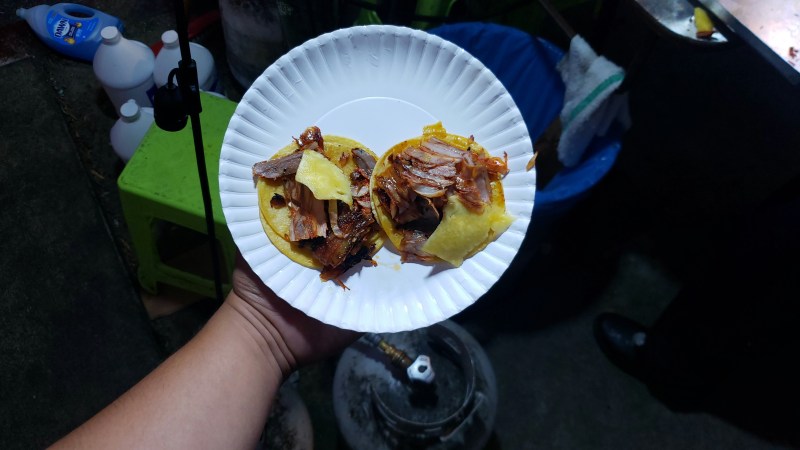 Multiple locations
La Guera's puestos are set up with the line starting at the trompo. They recognize the strength of their adobo. The acidity of their juicy al pastor marries well with the library of assorted condiments they offer. Thankfully, La Guera has so many stands around that city you don't have to drive too far to get good al pastor. Their captivating Tijuana-style recipes gather crowds in any city they post up at. With 11 locations (two are known as Tacos La Guera Estilo TJ) La Guera has a stronghold on the taco game that doesn't seem to be slowing down.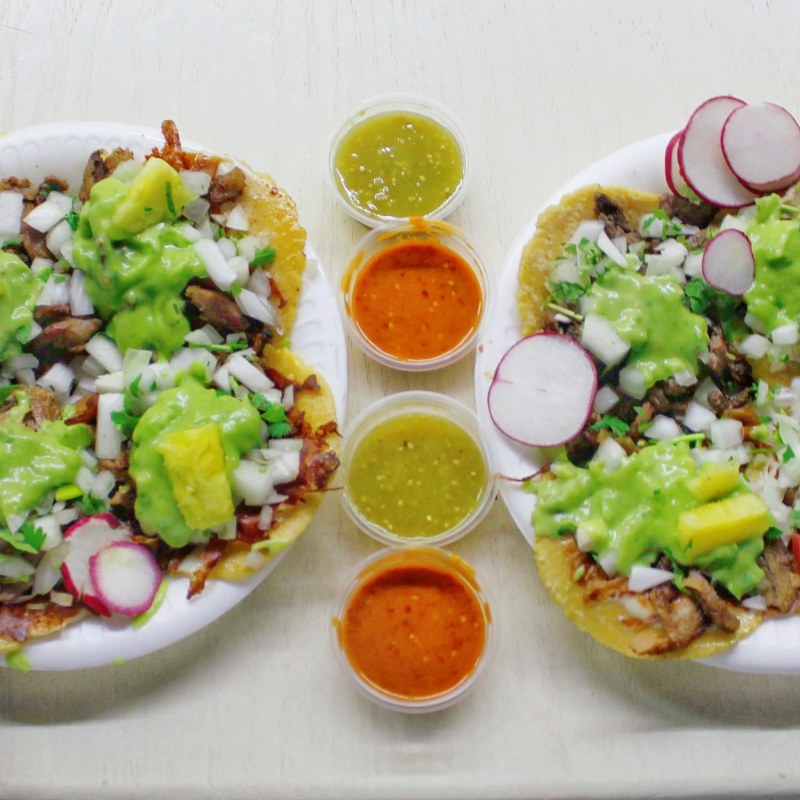 Downey
La Guera might have a stronghold on the al pastor game in SELA but Don Goyo stands tall against the giant with their DF and Tijuana-style fusion. Another version of al pastor that is not concerned with color but rather flavor. The pork draws colors from the char and spices. The guacamole salsa combined with their flavor-over-color al pastor and chunks of piña combine to form the taco Voltron. Make sure to get the quesatacos, the burnt cheese adds a welcomed crispy texture.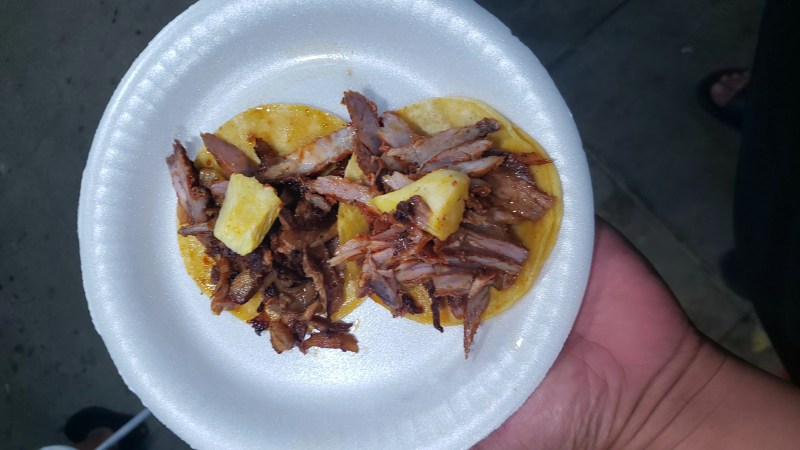 Multiple locations
One of the big players to join the tacosphere with over 100k followers on Instagram, they even made it to round two of Taco Madness 2019. Most notably, they stick to the northern areas of L.A., making El Venado a taco destination. They are known for slanging burritos, loaded fries, and their fantastic al pastor. They'll often have a crimson trompo with crispy parts scabbed over ready to shaved. The crispy bits are a textural treat and impart a slight smokiness.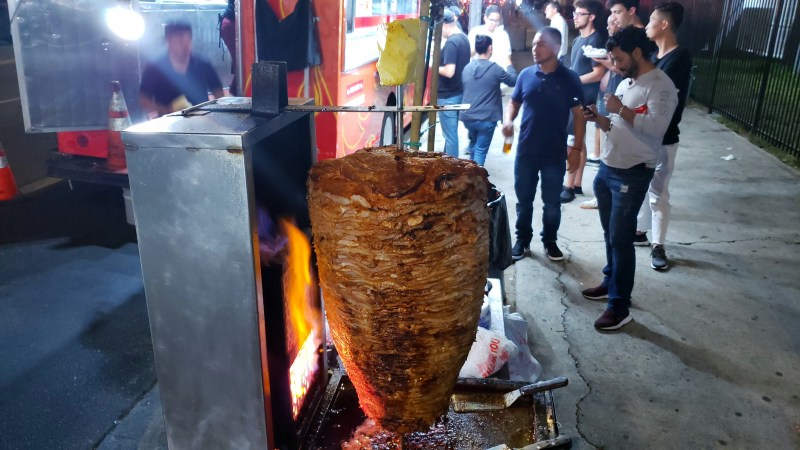 Multiple locations
The adobo of the trompo here is heavily spiced but not overwhelming. The spice of the al pastor lingers and tastes like the ghost of cloves, chiles, and acid. The salsas act as a flavor enhancer so each bite of the taco shocks your palate. The El Flamin lonchera, the K-town location, is parked curbside on Vermont Avenue and draws crowds from all over. On the nights I went I saw children sitting on the sidewalk eating loaded fries, Asian patrons using their best Spanish to say "un burrito de lengua," various Latinos ordering enough tacos to feed a small militia and it all speaks to the curb appeal of El Flamin. The menu is regular taco fare but there is a dedicated stoner menu that consists of extra cheese, sour cream, etc. It is the multicultural scene that the 80s hoped to accomplish, maybe the melting pot refers to a late-night taco experience. At least it does to me.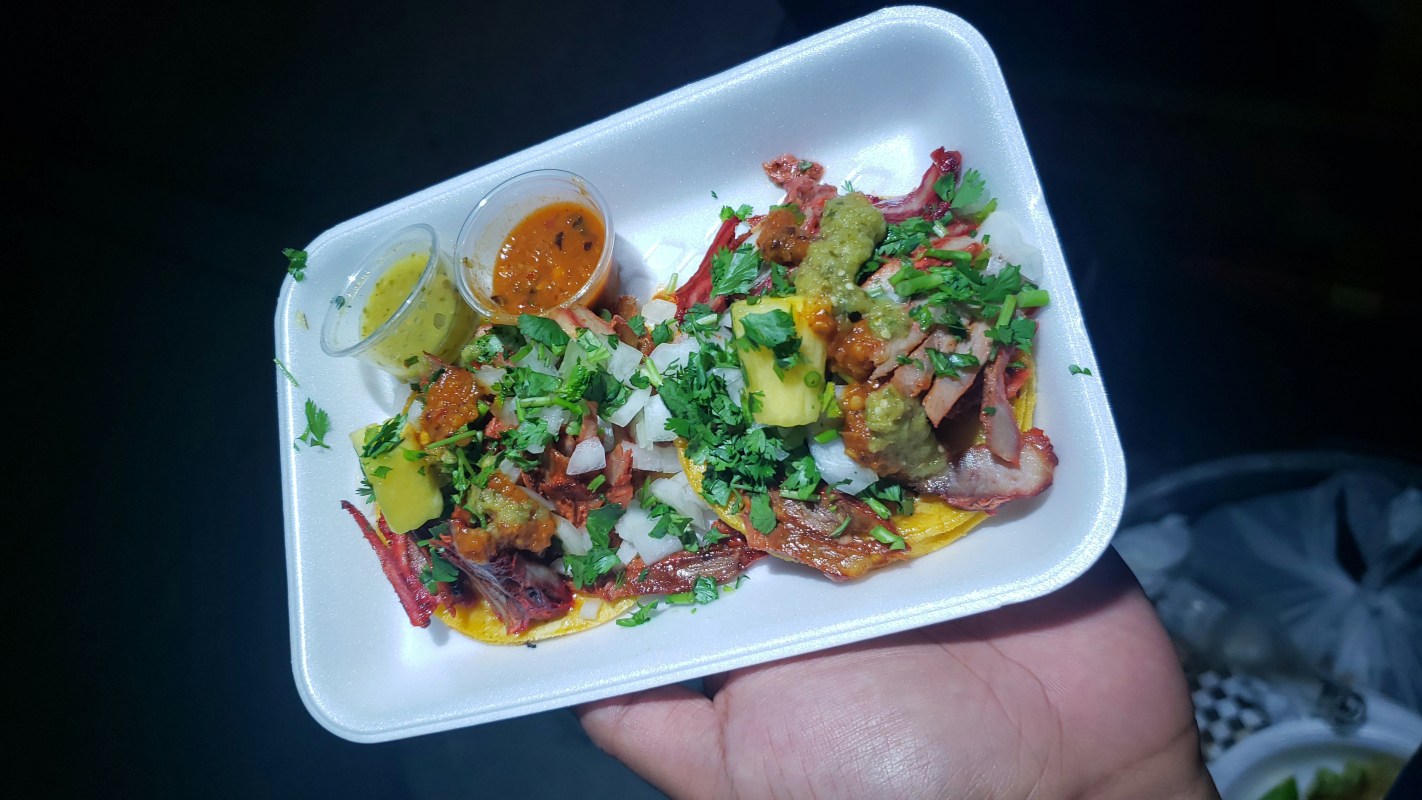 Long Beach
This lonchera is most known for their keto taco or what they call a "waffledilla," but they have great al pastor. Their logo is a grinning donkey with a blinged-out gold tooth and plastered on the black truck is their mantra,"If you're going to cheat, cheat with a taco." The al pastor is so juicy that it glistens in the light almost like the meat is sweating. It tastes salty, sweet, and faintly spicy. The habanero salsa is a good pairing.
Trompo to Plancha
These locations shave the raw and/or slightly cooked al pastor and finish it off on the plancha. Some people may say that it stops being true al pastor at that point, but that doesn't stop it from being delicious.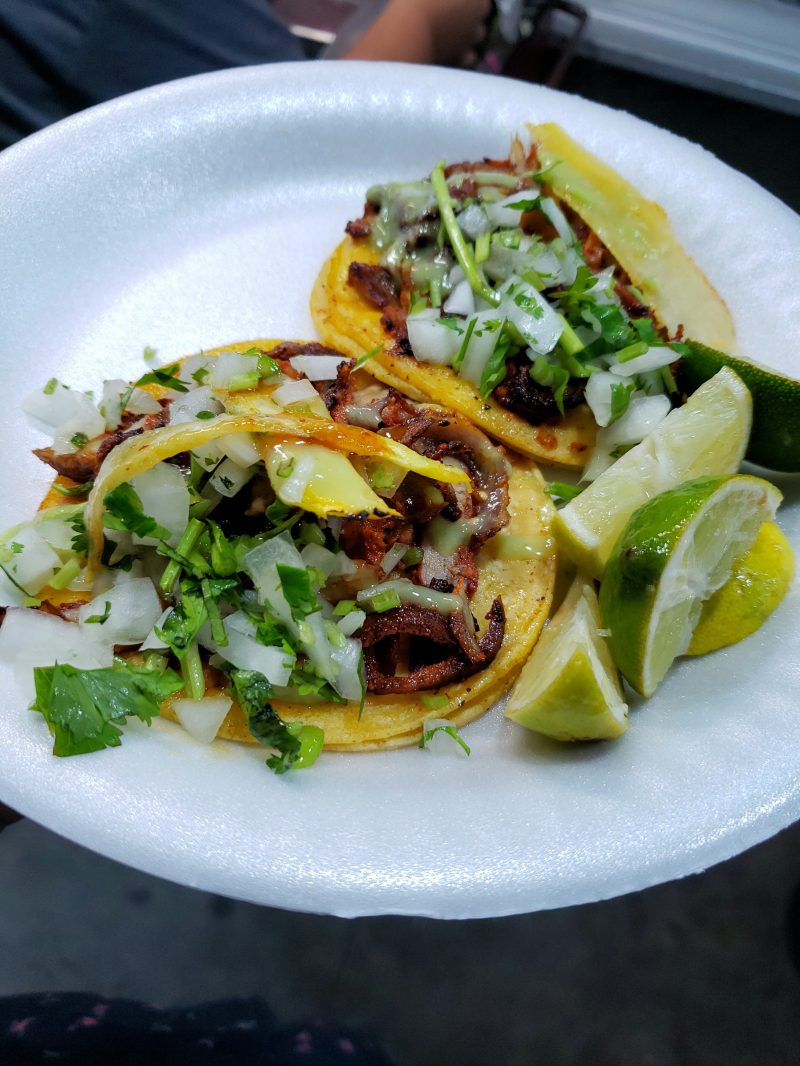 East L.A.
This lonchera is parked curbside on Whittier Boulevard in an East L.A. pocket known for its powerful taco scene. They keep their trompo outside so you can see how the magic happens. Attached to the trompo rig is a small plancha where they'll place the shaved pork and cover it with two corn tortillas - like they're tucking them into bed. Placing the already crispy pork on the plancha for extra crispiness is what us taco goers deserve. With a flick of the wrist you'll see a small piece of pineapple flying through the air but the trompero always catches it. If not, he'll try it again,to get you your damn pineapple. Remember, al pastor is a virtue.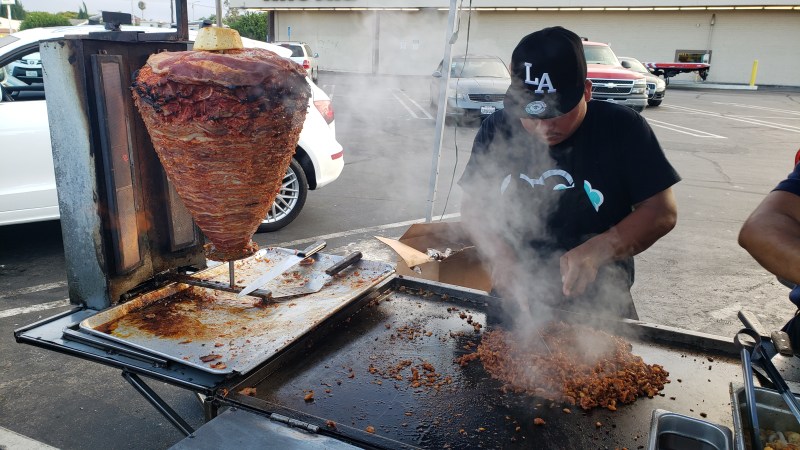 National and Sawtelle
One of the westside emerging taco voices, with the lines to prove it. They slice the slightly cooked pork from the trompo and finish it on the plancha. But what stands out is the speed at which the taquero chops the searing pork on the plancha. After it reaches the right sear it is served and placed on small tortillas. The pineapple isn't served with each taco de al pastor but they have chunks ready to be served, when asked. The great thing about taqueros with the choricera is they'll have things like nopales, caramelized onions, and on occasion potatoes, which are all readily available for your taco supplemental needs.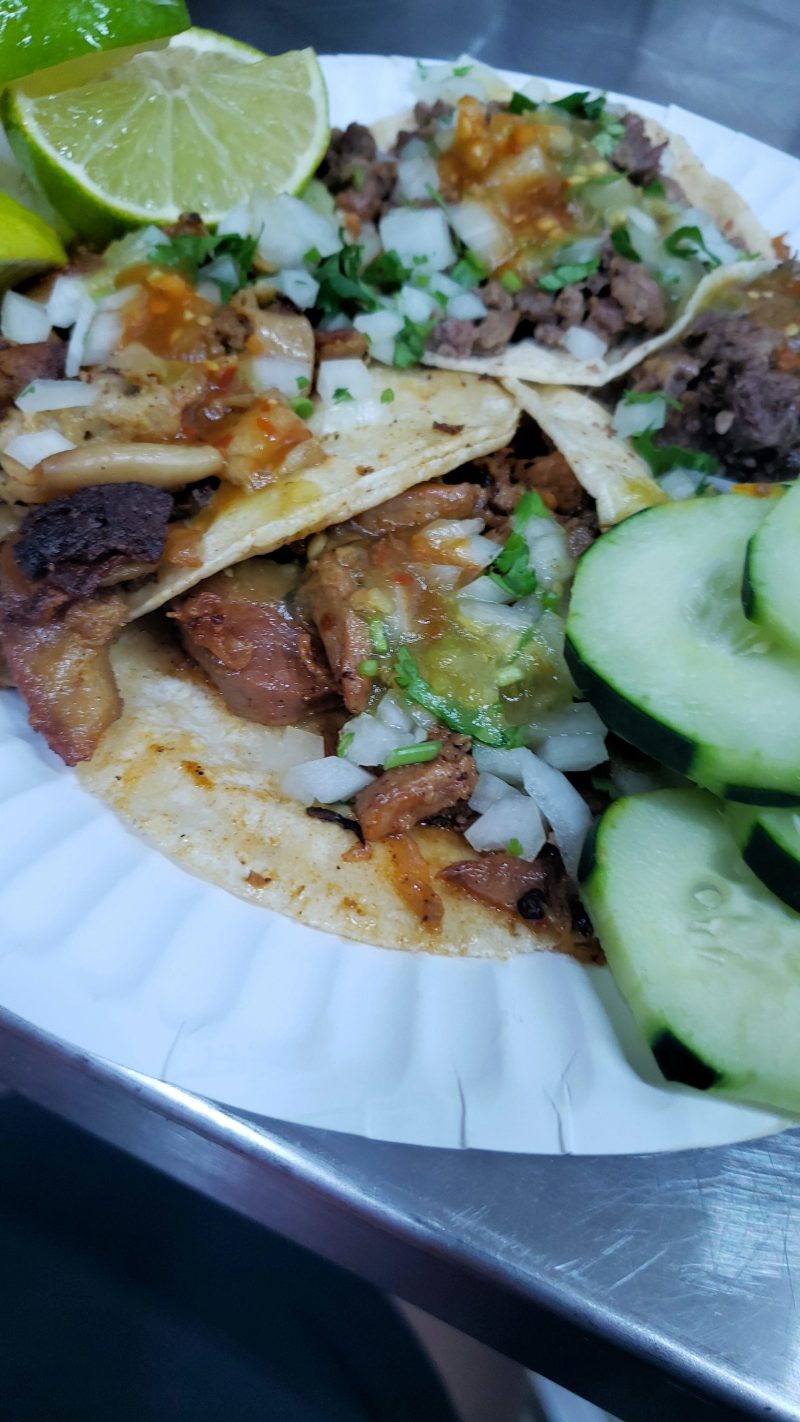 Multiple locations
This popular taqueria in the OC always has a line out the door. The al pastor here has a strong but pleasant taste of sweet caramelized onions. The trompo isn't a bright red as others but more reminiscent of a gyro spit. This is another location that does the trompo to plancha method for a quick sear. They also grill the cheese here so make sure to get a quesadilla or mulita.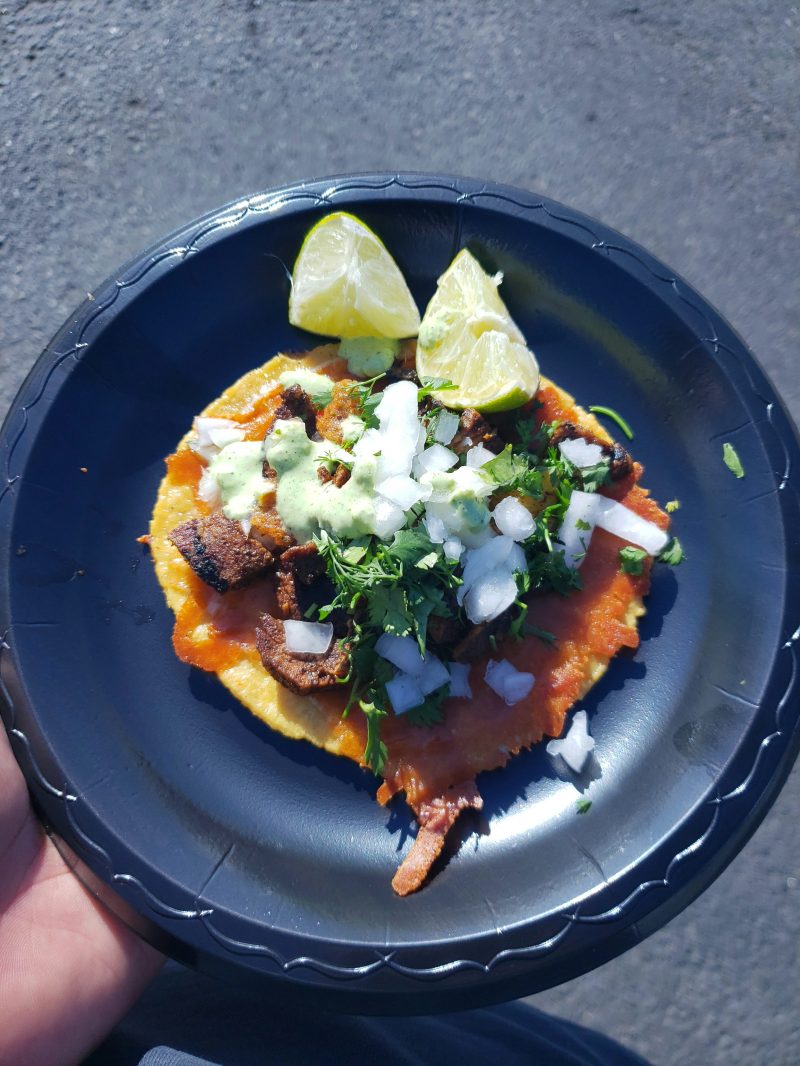 Multiple locations
Pablito's has one of the most unique al pastor on this list. It comes from the additional ingredients that they add to their adobo. The first being the incorporation of a chile called panca that's found in Peruvian cuisine, it adds an extra smokiness. "Panca is the brother from another mother to pasilla," Danny Rodriguez, co-owner of Pablitos, tells L.A. Taco. The other addition is chica de jora, "a fermented corn beer that goes back to Inca days." On top of all the extra salsas and sauces, this al pastor stands out with bold smoky, sweet, and acidic flavors. The rest of the menu is just as good too, so don't skip it.
Adobada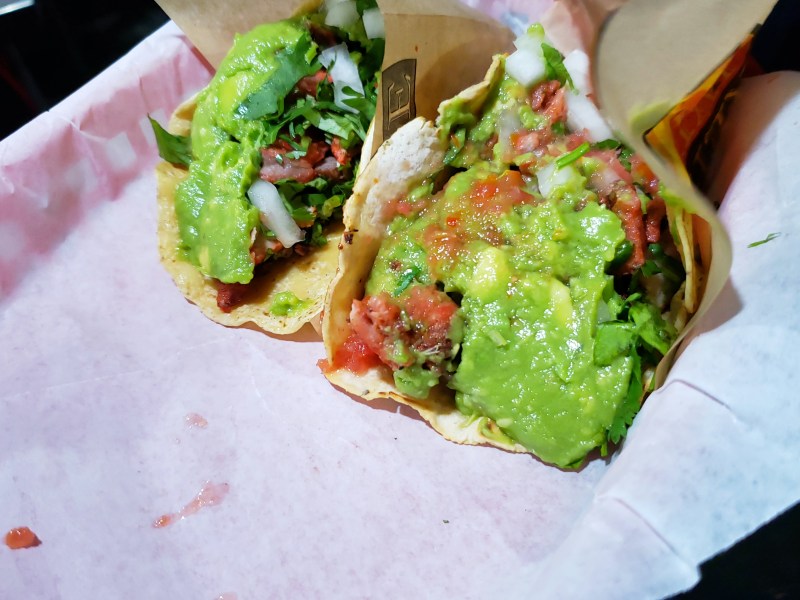 East L.A.
One of East L.A.'s best Tijuana-style tacos and they serve adobada. They make the distinction that adobada and al pastor are completely different. They outline that the difference is in preparation of the pork and the way it is cooked. At Don Cuco the adobada is grilled over coals instead of on a trompo, which they believe to be the true method of adobada. The result is smoky, succulent pork that certainly tastes different than al pastor. They also use handmade tortillas, have a great selection of salsas, and thick guacamole is standard with each taco.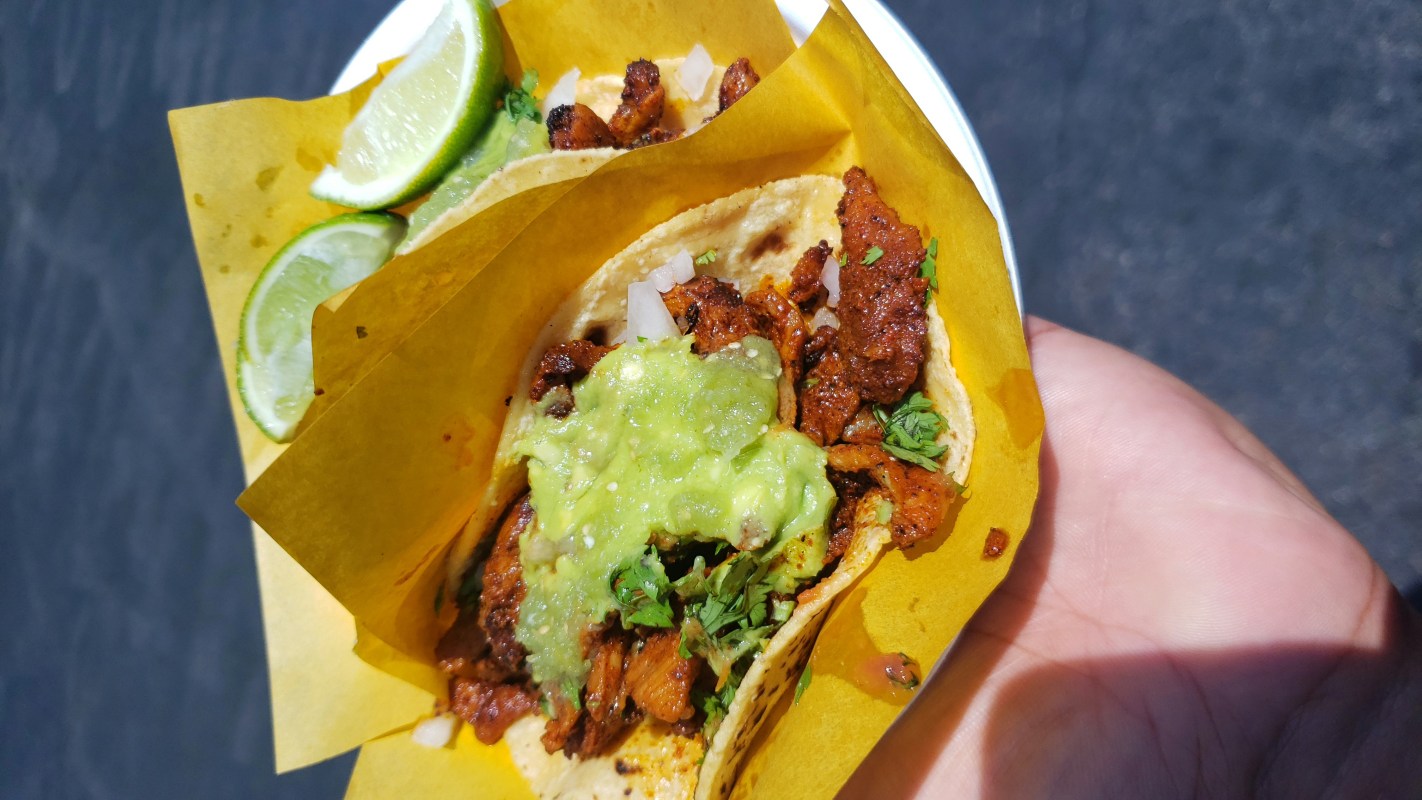 Multiple locations
The modern golden boys of L.A.'s taco game, 1986 had a meteoric rise. This taqueria had trouble finding a permanent location but finally opened a brick and mortar earlier this year. They're still at Smorgasburg every Sunday and have residencies they sporadically announce (right now it's the Doheny room). A big part of their success is the consolidation of an aesthetic and the camera-friendly confident taquero, Joy. 1986 also serves adobada but they use the al pastor method of spit roasting. Part of the appeal and what makes their adobada stand out is that they add some strawberries. The tart fruit is faint and hardly noticeable but entirely unique.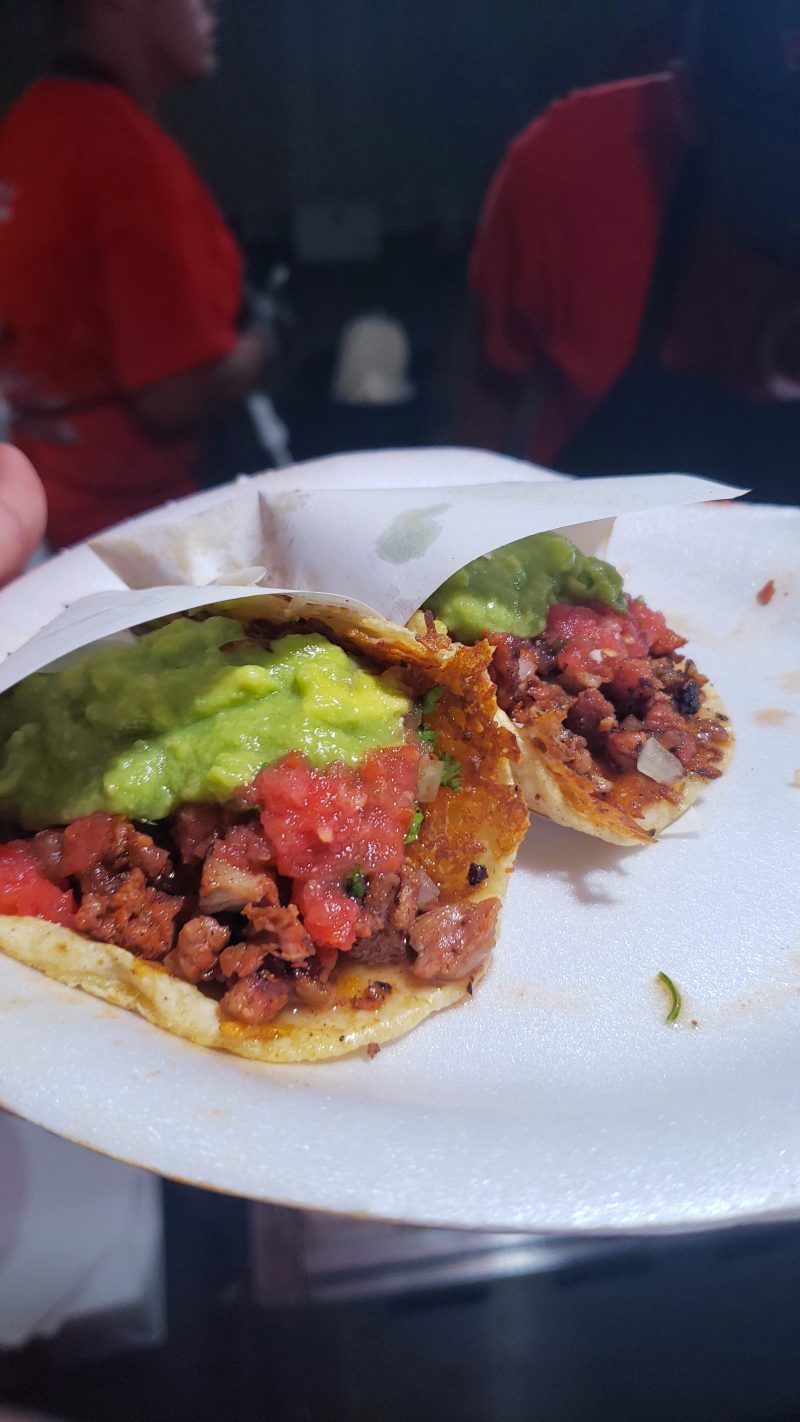 Multiple locations
This is a small puesto that started in Whittier that specializes in Tijuana-style tacos. They're known for their grilled meats and handmade tortillas. While waiting in line, you can get mesmerized by the mechanical speed at which the tortillera works to keep up with the demand. When asked if what they serve is al pastor or adobada, the taquero told me, "It's the same thing." But the difference here is that they also grill their marinated pork. The tacos "con todo" comes with guacamole, onions, and cilantro, and a salsa that is tomato-forward but feeds into the taste. I usually go for the quesa tacos because I have a bad cheese habit.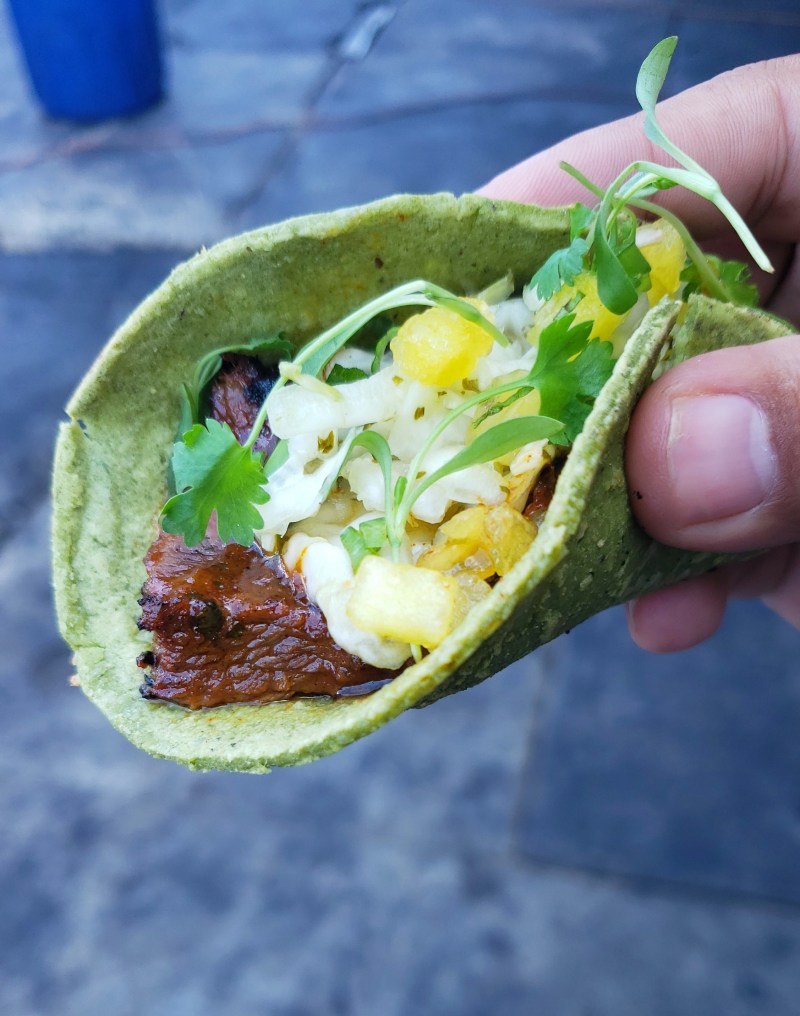 L.A. Ale Works, Every other Tuesday
Smorgasburg, Sundays
One of the most promising and consistent taqueros with colorful tortillas and bold experimentation. Chef Jonathan Perez, a skater-turned-chef is constantly rotating tacos but one of his mainstays is an adobada pork belly taco. The taco starts with a nopal tortilla (that he drives to San Diego for on a weekly basis), a smear of frijoles volteados, a piece of decadent adobada pork belly, green apple avocado salsa, and topped with nopales. The adobo is welcomed by the pockets of melt-in-your-mouth pork belly fat which leaves no room for dryness, a severe issue that al pastor runs into without proper fat content. Bonus round: Macheen has a passion fruit gochujang short rib taco that has the same components as an adobo—acidity, spices, and love. Consider it a Korean adobo steak taco. It is topped with with golden watermelon and a citrus slaw. Probably, what I'd nominate as my taco of the summer.
Cesar Hernandez is Lynwood's second best export behind Weird Al, and a writer and podcaster. Illustration by Tommy Gallegos.
Read More:
Stay in touch
Sign up for our free newsletter