Featured
Uptown Provisions, the Mom and Pop Food Shop of Whittier's Dreams, Is Opening September 14
12:58 PM PDT on September 10, 2021
[dropcap size=big]A[/dropcap]fter a delayed grand opening and months of anticipation for its social media followers, Uptown Provisions deli, market, and specialty food shop will open its doors on September 14.
Aaron Melendrez, a food and beverage professional and fifth-generation Whittierite and wife Sarah Melendrez, a nutritionist by training from a kosher bakery family in Seattle, open their new market on Penn Street in Whittier's historic Uptown district just in time for the fall bounty of fresh produce and holiday goods. 
Uptown Provisions offers what the Melendrezes call "better for you foods." These include items like handmade shelf and pantry foods to farm-fresh organic produce. Their vendors are small, local, use sustainable ingredients and practices, and pay their workers fair wages.
The deli and marketplace features chef-driven products locally sourced around Southern California. The Melendrezes say their market responds to what people around Whittier have been asking for in terms of greater access to fresh foods and specialty ingredients that don't require a trip to Pasadena, Long Beach, Brea, or Los Angeles.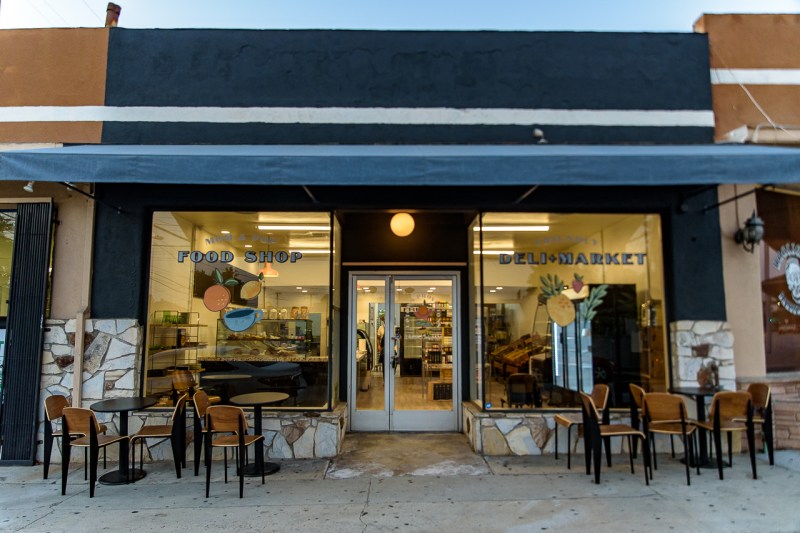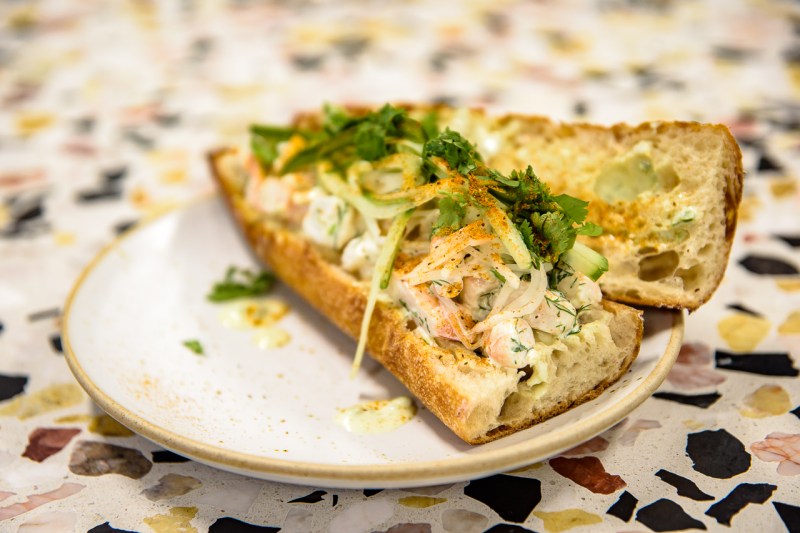 With a newborn baby and a dream to plant roots in Aaron's hometown, Uptown Provisions also represents the Melendrez family's pandemic-era shift to supporting themselves sustainably in community with other vendors while offering fresh food products that people in town want.  
What You'll Find at "Ye Friendly Mom and Pop Food Shop" 
Artisanal bread. A good, quick cup of coffee and morning pastry. Market vegetables and everyday groceries. Cookbooks and serving bowls. A jar of preserved Meyer lemons you didn't know you needed. 
At Uptown Provisions, customers can expect to find unique foods, essentials meant to inspire home cooks, and access to otherwise limited products around the city, such as farm-fresh organic eggs and pantry products from small vendors.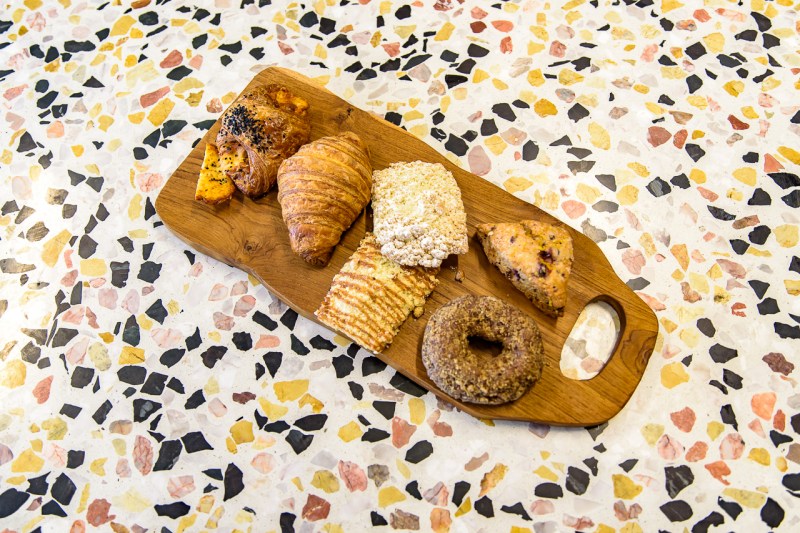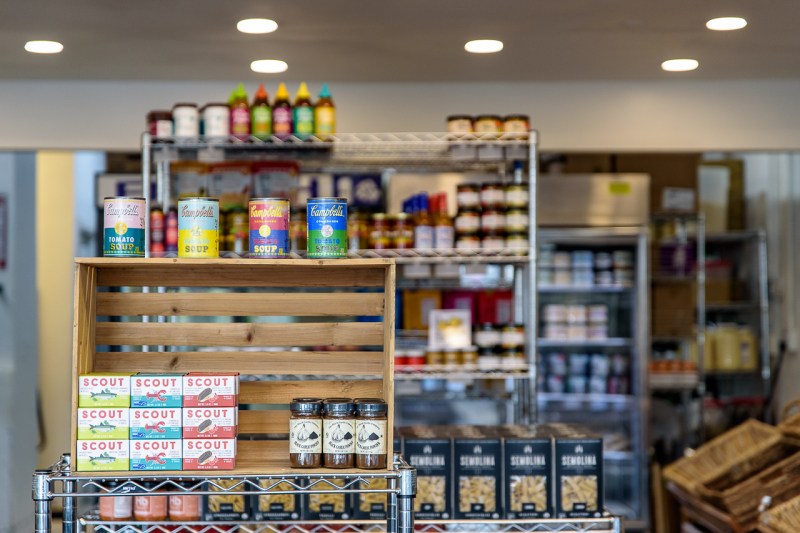 Sarah Melendrez describes the community 'wish list' of items she collected from replies to one of the first Instagram stories she posted on their Uptown Provisions page. 
"On Day 1 on our social media account, we asked what people wanted to see in this store," she told L. A. TACO. "We were inundated with requests. Fresh bread was at the top of the list. People also wanted cheeses, vegan options, deli products. I kept that list and used it to start procuring products and vendors."
One of the first vendors to join their roster was Hey, Brother Baker. The Bellflower bakery will supply fresh handmade loaves daily for the deli sandwiches and to sell in the market. 
The made-to-order sandwich menu is the centerpiece of the deli. The tuna sandwich uses line-caught wild tuna from a company that pays its fishers fairly. The beef in the prime rib and brisket sandwich comes from cows that enjoyed a grass-fed diet, and the veggies in the vegan sandwich came fresh from one of the area farmers' markets. Other sandwiches include the aguachile Bahn mi, the smoked "Tijuana-style" roasted chicken Caesar, and a roasted Moroccan carrot with Israeli couscous.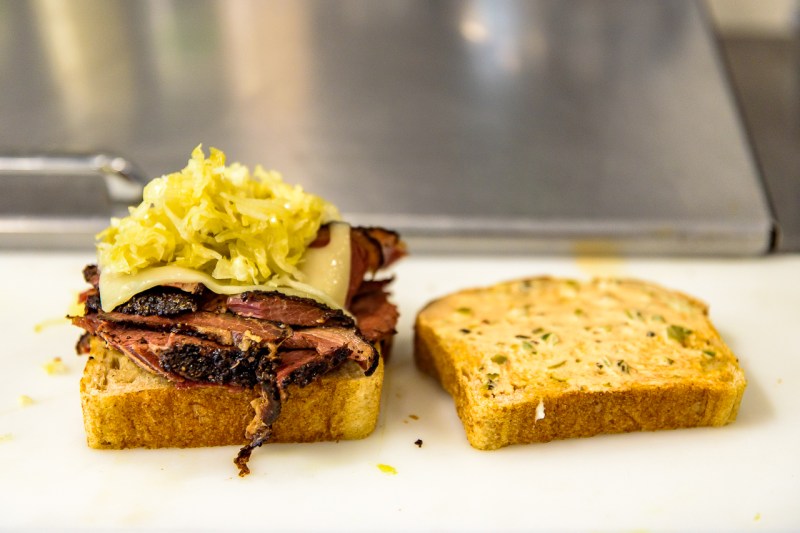 Visitors to Uptown Provisions will also find delicious pastries, cakes, and other baked treats by North Hollywood's Cake Monkey to pair with drip and cold-brewed coffee from East L. A.'s independent Post Era Roasters. The Melendezes will also stock tortillas from Mejorado and Kernel of Truth Organics, ice cream from L. A. Creamery and Jeni's, and take-home burrito kits from El Monte's famous Burritos La Palma.
"You can stop here to get that one chile, onion, or bell pepper you need for dinner tonight," said Aaron Melendrez. "And because we just did a farmers' market pickup, it's fresh." 
He notes that most working people cannot take advantage of Whittier's only farmers' market, held on Friday mornings from 8 AM to 12 PM in Uptown. "Those aren't conducive hours to the average blue-collar worker in Whittier, which is what our city is mostly comprised of," he said. "We'll do hauls from farmers' markets in Cerritos, Hollywood, Santa Monica, and around the area. We wanted to give convenient access to seasonal farmers' market offerings five to six days a week for those people who can't otherwise get to one."
For both Sarah and Aaron Melendrez, access to the fresh daily rotation of local farmers' market produce remains key to their store's mission to offer products that the community wants and that "make sense" for the neighborhood. They want Uptown Provisions to be the go-to "quick shop" market for families in the community, especially for those who don't have the time to stop at a big-box store for the basics or whose work schedule prevents them from trekking to farmers' markets. 
"As we come to better understand the needs of our community," said Sarah Melendrez, "We can start to bring in the things they're requesting. We want to stock products that make sense for our neighborhood."
A home for small vendors, local artisans, and the home chef 
The Melendrezes also want Uptown Provisions to be a home for local food vendors, many of whom lost their main lines of work during the peak of the pandemic that devastated the restaurant, food-beverage, and hospitality industries.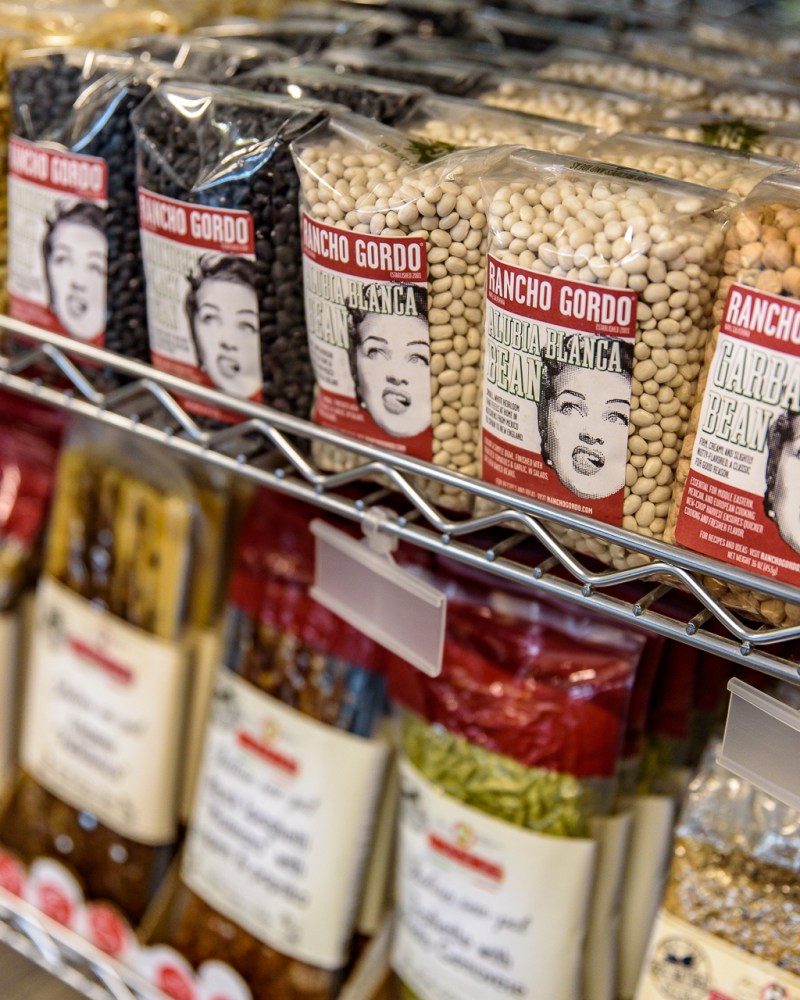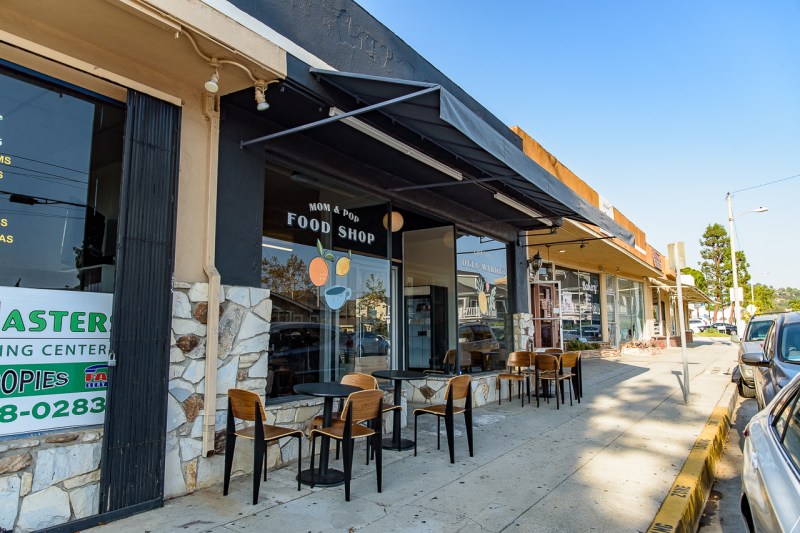 Aaron Melendrez knew these losses first-hand as a bar manager and food-beverage professional at marquee restaurants such as SoHo House, Hotel Bel-Air, and Salazar. He was a founding member of Va'La Hospitality, a local bar and consultant group who made headlines with their non-profit No Us Without You, which provides food security for undocumented back-of-house staff who have lost their jobs due to COVID-19 restaurant closures. 
"I knew a lot of chefs and restaurant, hospitality professionals who had to resort to side-gigs during worst of COVID restaurant shutdowns in 2020," said Aaron Melendrez. 
"We want to support local artisans, people producing food right here in Southern California and give them a place to sell their products," added Sarah Melendrez.
Uptown Provisions rides on the faith that the move to support local, smaller, and keep dollars in the community is not a passing pandemic-era fad. More people now see the value in supporting their small community businesses, especially those that offer employees fair wages and health care. 
The Melendrezes have built partnerships with area purveyors such as Maust California Poultry in Chino. The eggs of the latter have beautiful orange-gold yolks because they feed greens and kelp to their Araucana chickens and Sarah's SoCal Garden in La Mirada. "Sarah creates a custom microgreens blend for our sandwiches, and we give her a retail spot for her merchandise. And there are a lot of 'Sarahs' who have products we like and that we want to offer in our store."
"Everyone loves a good sandwich": The Mom & Pop shop of their dreams and a community hungry for it 
They used to joke about opening a sandwich shop.
Before I left, the Melendrezes shared about their mutual love of sandwiches as a through-line in their relationship, ever since their first date at the Hollywood Farmers' Market. 
"Throughout our whole existence together, sandwiches have been the thing that ping-pongs between us," they said. "We'd make each other sandwiches if one of us going to work, and we'd follow up with each other to see if the other one liked it, what we could do to make it more delicious." 
Aaron Melendrez has always been around food. His first job was at Barro's Pizza, in unincorporated East Whittier, waiting tables. After graduating from La Habra High School in 2002, he immersed himself in professional food and beverage. He worked his way up the restaurant chain, from waiting tables and tending bar to creating programs and managing bars for Michelin Star restaurants.  
Sarah Melendrez's great-grandfather opened Seattle's first kosher bakery, Lippman's, in 1907. She grew up eating fresh produce and seafood from Seattle's famed Pike Place Market and earned degrees in communication and nutrition at the University of Washington. Her passion for food, health, wellness, and emerging brands guides her contributions to Uptown Provisions. 
"I was doing all these amazing things in L. A., in Hollywood, so why not at home? And my community was hungry for things, for fresh concepts."
"We turned a decrepit old WIC store with expired permits into the mom and pop sandwich shop of our dreams," said the Melendrezes, their newborn snug in the car seat on top of the sandwich counter. 
For Aaron in particular, Uptown Provisions represents a "coming home" project for him. This pandemic, he explained, made him question what he wanted for his family and his future. It was the first time he had no work agenda. 
"I was doing all these amazing things in L. A., in Hollywood, so why not at home? And my community was hungry for things, for fresh concepts," he said.
As a Whittier local who has lived in Uptown for over a decade and as someone who frequents my neighborhood's restaurants and shops, I have seen many "new concept" shops come and go. A $14 cocktail, a $12 sandwich, a $6 jar of some random fruit preserves—all very hard sells in Whittier, which just welcomed an Amazon Fresh market, and the Uptown area, specifically, where cheap micheladas and Sysco-food abound.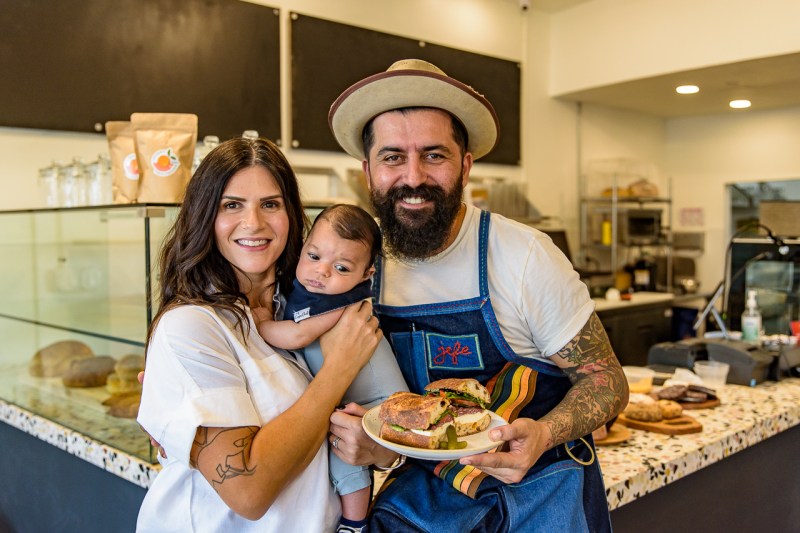 In our current pandemic era, it's fair enough to say that Uptown Provisions might benefit from some of the larger forces and cultural shifts on their side right now that could sustain the Melendez's homegrown dream of their very own "Ye Friendly Neighborhood Mom & Pop Food Shop" and deli. To be as inclusive as possible, Aaron tells L.A. TACO they have filed their application to be able to accept EBT as payment and is waiting to hear back. There are no plans to sell booze at this shop, but Aaron hopes to be able to offer booze in future markets. 
There are plenty of cynics in town, people who may not want to pay $13 for a tuna sandwich, or who may not want to pay more for a loaf of bread made same-day by bakers down the freeway because it's cheaper to go to Ralph's or Costco.
So, what will be the secret to Uptown Provision's staying power in Whittier?
"One way to bridge the gap between Whittier skeptics and a small local business offering something unique," said Aaron Melendrez, "is to be clear about our message, our store's mission. I want you to know who we are, what we offer, and why that tuna sandwich costs $13." 
Sarah Melendrez, who previously worked as a registered dietician and in the natural products industry, offering hospitality and education about their merchandise are keys to building customer relationships and being a good neighbor. Part of this effort includes hosting community engagement activities, including classes, chef pop-ups, and in-store vendor product demonstrations.
"As a neighborhood store, we want to offer a place where a personalized shopping experience matters. You may not want to go stand in line at the big grocery store on a Sunday when you're trying to go home and cook dinner for your family," said she said. "Our core values include being friendly to everyone, to offer education, and treat everyone who walks through that door as a new relationship." 
Uptown Provisions' grand opening will be Tuesday, September 14. The store will be open from Tuesdays through Sundays, with Mondays closed for farmer' market shopping and re-stocking. 
Melissa Mora Hidalgo was born in Montebello and grew up in the L.A./O.C. borderlands of East Whittier and La Habra. She holds a Ph. D. in Literature from UC San Diego and is the author of Mozlandia: Morrissey Fans in the Borderlands (Headpress UK, 2016).
Stay in touch
Sign up for our free newsletter