Weed
The Ultimate L.A. TACO Guide to Living Your Best Cannabis Life Around the City on 4/20
5:07 PM PDT on April 19, 2021
[dropcap size=big]T[/dropcap]omorrow marks the Christmas of cannabis.
The Independence Day of Indo.
The Memorial Day for Mota.
The... Arbor Day of... aw, forget it.
Given months of lock-down and years of legal-ish herb, it very well may feel like 4/20 every day in this bitch, but April 20th officially marks the highest holiday on the planet, a single day dedicated to nothing else but the unbridled embrace of la lechuga del diablo.
This is also the time of year when a lot of dispensaries, sensi suppliers, paraphernalia producers, and even our beloved taquerias stoke you with unique releases, steep discounts, and special guests.
So we took a minute to round up some of our favorite new products, people, and items yearning to get you baked in L.A. Taco's Guide to 4/20 Gifts. Just a stray gram of guidance as you bound into the holiday. Go ahead and get something special for a friend. Or a friend named you. You deserve it.
Just make sure to check in with dispensaries about the availability of anything you really need to get your hands on. Negative comments ruin our high.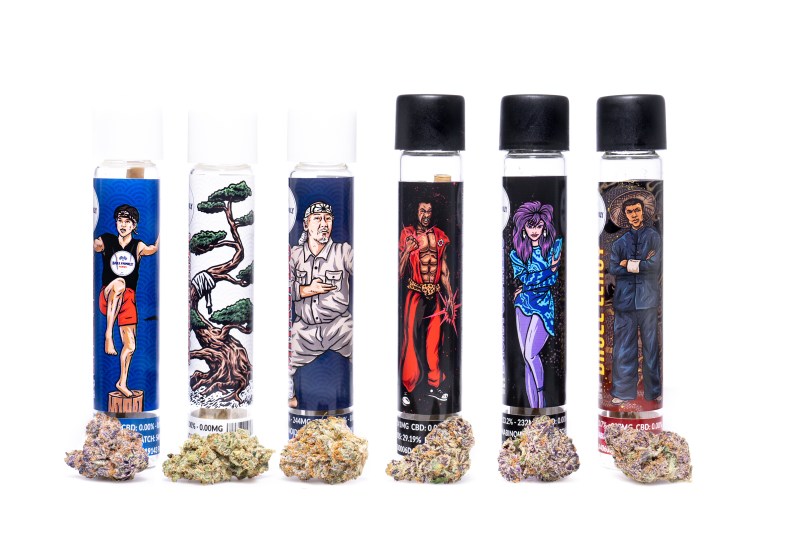 Name: Ball Family Farms' "$4.20 on 4/20"
What's That?:  The Kung Fu-obsessed L.A. locals, whose strains include "Bruce Leroy," "Laura Charles," and "Miyagi-Do," are selling pre-rolls filled with their crystal-crusted, dank AF strains for only $4.20 on 4/20.
Where Do You Find It?: A list of participating dispensaries will be listed on Ball's Instagram ahead of the "$4.20 for 4/20" drop.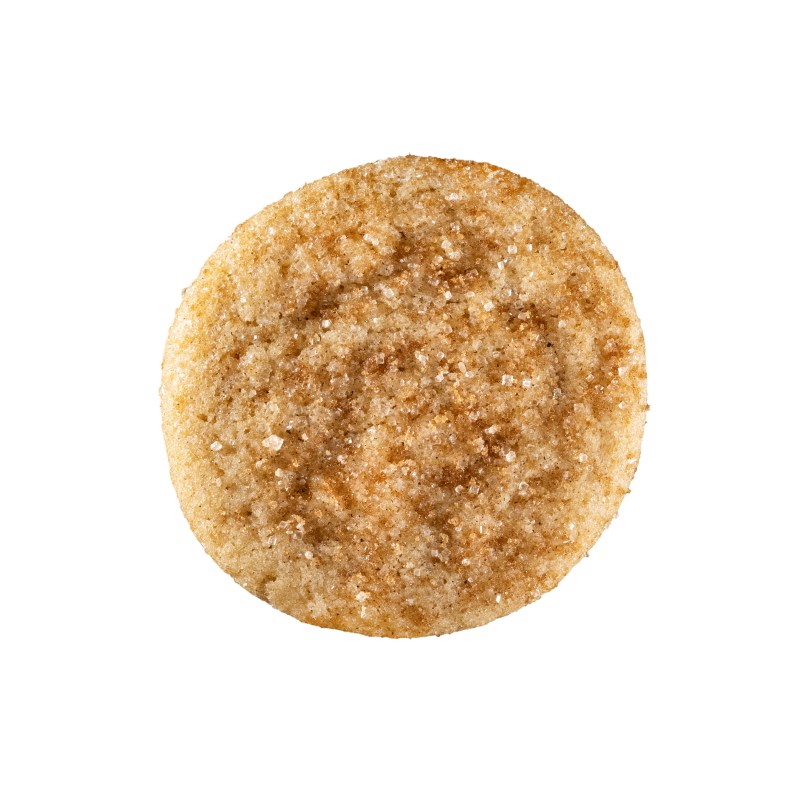 Name: Dr. Greenthumb's "Insane Churro Cookie"
What's That?: A special edible collaboration from B-Real's Dr. Greenthumb and Big Pete's that will debut on 4/20. The legendary Cypress Hill emcee will personally introduce this 10 mg-strength, fire-cut OG-and-brown sugar-based cookies that blend churros and Indica, two of humanity's favorite flavors.
Where Do You Find It?: On 4/20, B-Real himself will appear at the Sylmar location of his Dr. Greenthumb from 11 AM to 1 PM to promote the launch. Later, Señor Real heads over to the DTLA location to do the same. Expect goodie bags, prizes, food, vendors, promotions, and a 25% off special all day.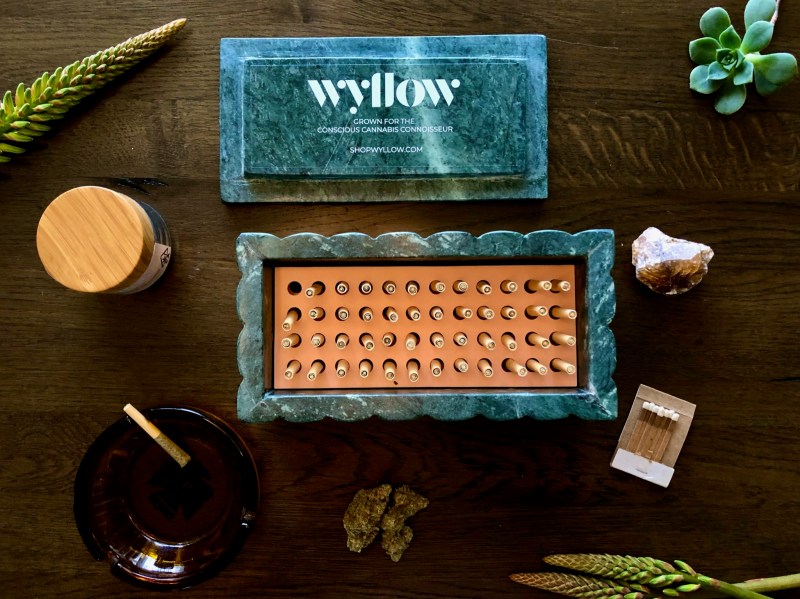 Name: Wyllow's "Luxe Marble Stash Box"
What's That?: A conscious brand of hand-trimmed, Coachella-grown cannabis founded by Pasadena-raised Camille Roistacher. Releasing a few days before 4/20, the box contains 48 of the company's new mini pre-rolls. Which should hold you for 4/20, at least.
Where Do You Find It?: Jade Room, Atrium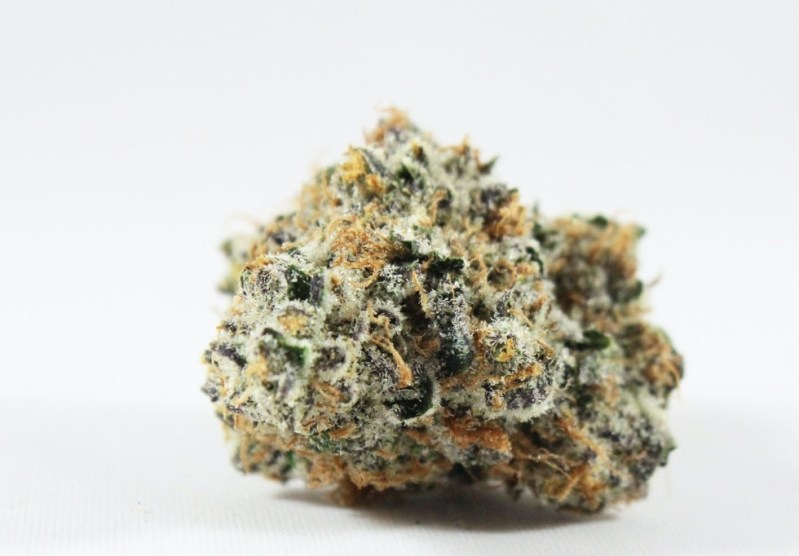 Name: Pearl Pharma's "Sin Mint Cookies"
What's That?: Known as the Pheno-Hunters, Pearl Pharma is all about finding the best plants to use for their gorgeous buds. Measured at a mighty 32.63% of total cannabinoids, this High Times Harvest Cup-winning Indica-dominant hybrid of Blue Power and Forum Cut Girl Scout Cookies is a strain to covet for the big day, as evidenced by how quickly it often sells out.
Where Do You Find It?: City Compassionate Caregivers DTLA, Dr. Greenthumb DTLA, Sun Valley Caregivers, and Stiiizy DTLA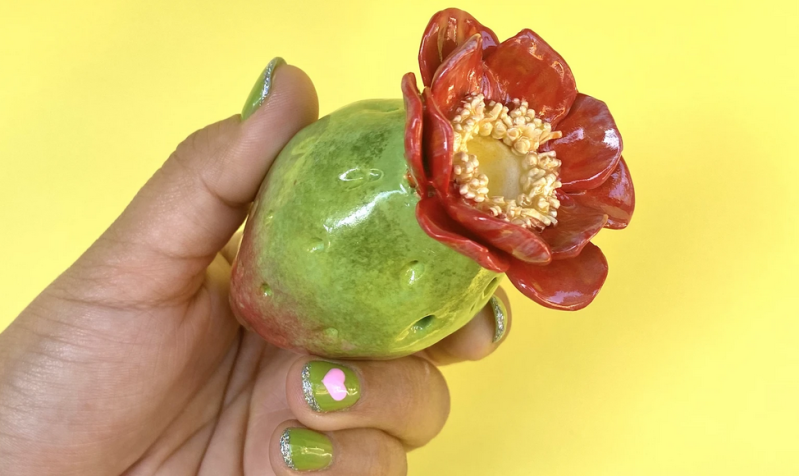 Name: Munisa Ceramica's "La Tuna" Pipe
What's That?: We don't have enough room to list all the things we love about L.A.-based Isabela Munoz's ceramic fruit pipes and stash jars, which work waaaay better than the ad-hoc apple bongs we've fashioned. No wonder the demand is so high there's a waiting list for these.
Where Do You Find It?: Online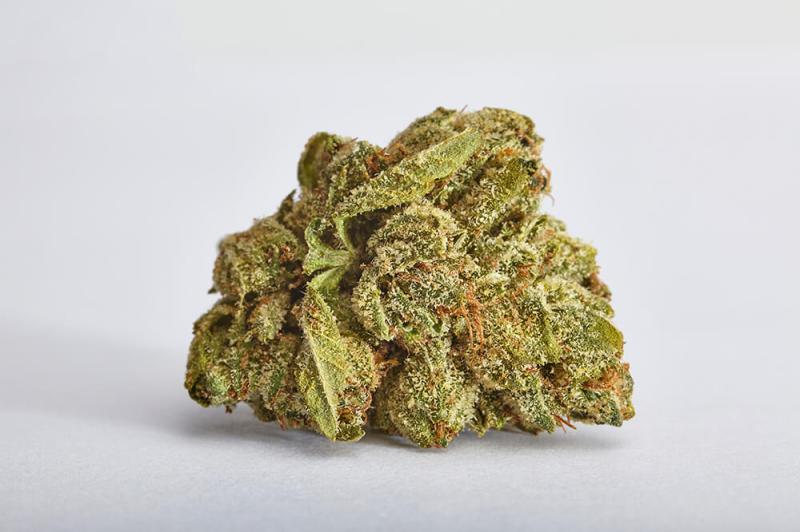 Name: 22Red's "22OG"
What's That?: Founded by System of a Down bassist Sharvarsh "Shavo" Odadjian, 22Red strives to connect creative personalities with the cannabis strains that will best spark their imagination. 22OG is a potent Indica-powered strain derived from '98 Kush, noted for its ability to mellow you the fuck out.
Location: Find the product, along with 4/20 appearances from a gift-bag-bearing Shavo, at Lemonade in Pacoima at 11 AM, Calma in West Hollywood at 2:30 PM, and MMD in Hollywood at 4 PM.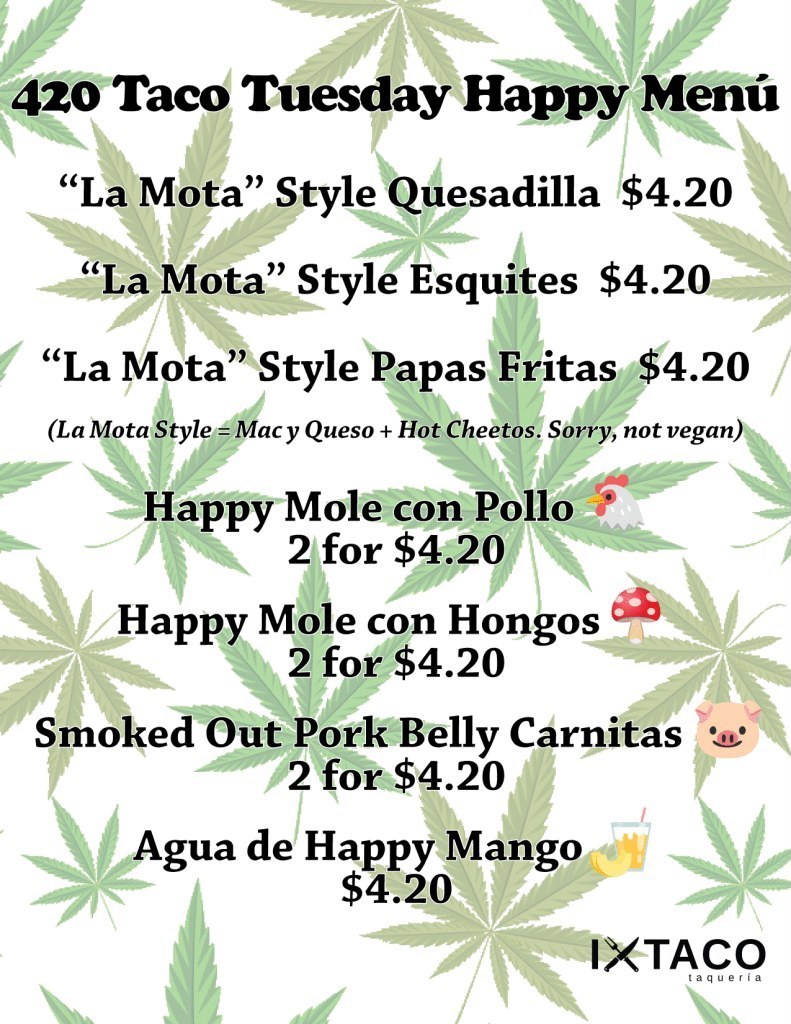 Name: Ixtaco Taqueria's "Special Menu"
What's That?: The El Monte taquería has a special CBD-and-Hot Cheeto-infused version of its "Taco Tuesday" menu in store for 4/20, which should go down nicely somewhere between your wake-and-bake morning and couch-lock shutdown. On Sunday, they'll have a 4/20-friendly reggae show on-site, starting at... you guessed it, 4:20 PM.
Where Do You Find It?: Ixtaco ~ 10021 Valley Boulevard, El Monte, CA 91731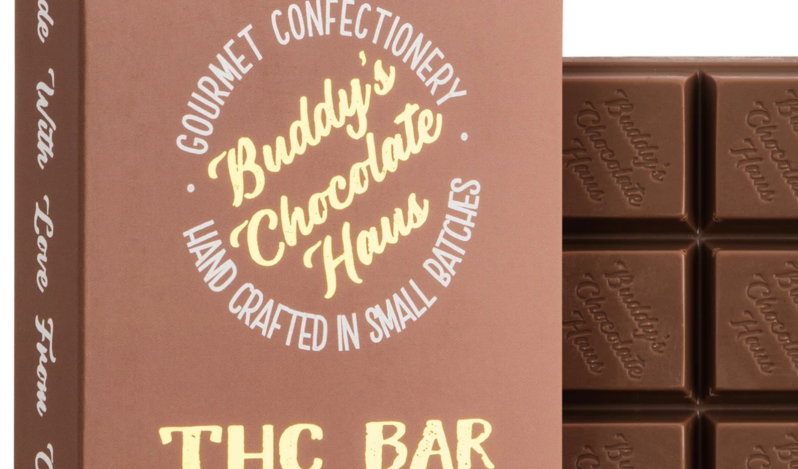 Name: Buddy's Chocolate Haus' "Hazelnut THC Bars"
What's That?: It's basically Nutella in small-batch chocolate bar form, with a 100-mg. kick. So… better than Nutella.
Where Do You Find It?: At Nine SoCal dispensaries including CCA in Silver Lake, Club 78 in Reseda, and Dank DePot in Cathedral City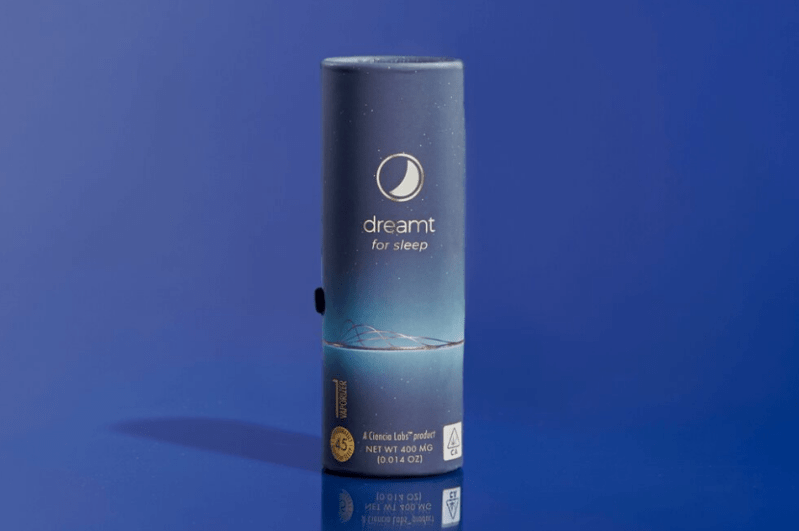 Name: Dreamt's "45-Night Sleep Pen"
What's That?: Named the "Best New Product" at WeedCon 2020, scientist Carolina Vasquez Mitchell's vape pen blends THC and CBD with valerian root and melatonin, offering sleep in approximately 45 minutes to your favorite insomniac.
Where Do You Find It?: 99 High Tide in Malibu, ASHE Society in Santa Ana, Catalyst, Dr. Greenthumb, House of Flowers in Westlake, among others
Name: Besito's "Minis"
What's That?: 10 half-pint-sized joints that fit into a tiny tin box that reminds us of the Altoid's box we once kept our road stash in. Their super-clean, geometric vape pens are also a favorite.
Where Do You Find It?: Erba Markets in Sawtelle/West LA, MMD North Hollywood, NAN in Culver City, others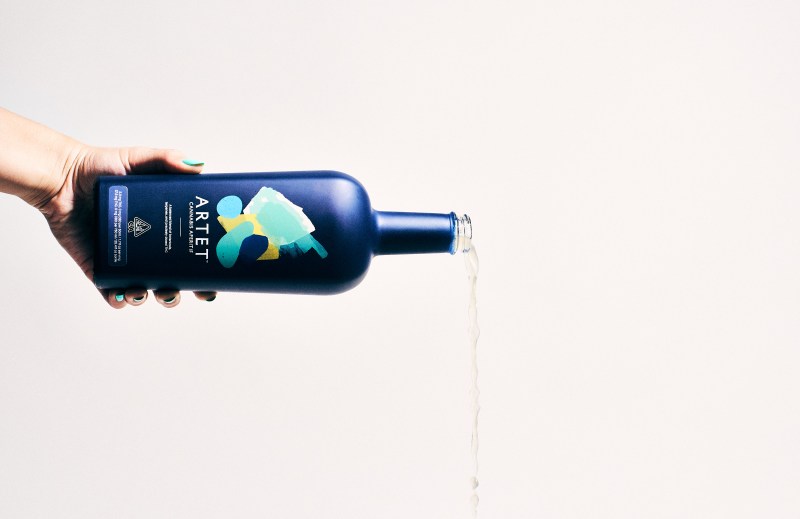 Name: Artet Cannabis Aperitif
What's That?: A cannabis-based, non-alcoholic aperitif from three Cali-based cousins. It's a complex dram that goes great by itself or as the buddha-based heart of your next cocktail. They've just launched a glassware collaboration with NY's MAMO if you want to get fancy with that.
Where Do You Find It?: Sweet Flower, Serra in West Hollywood, Cornerstone Collective in Pasadena, The Pottery in Mid-City, among others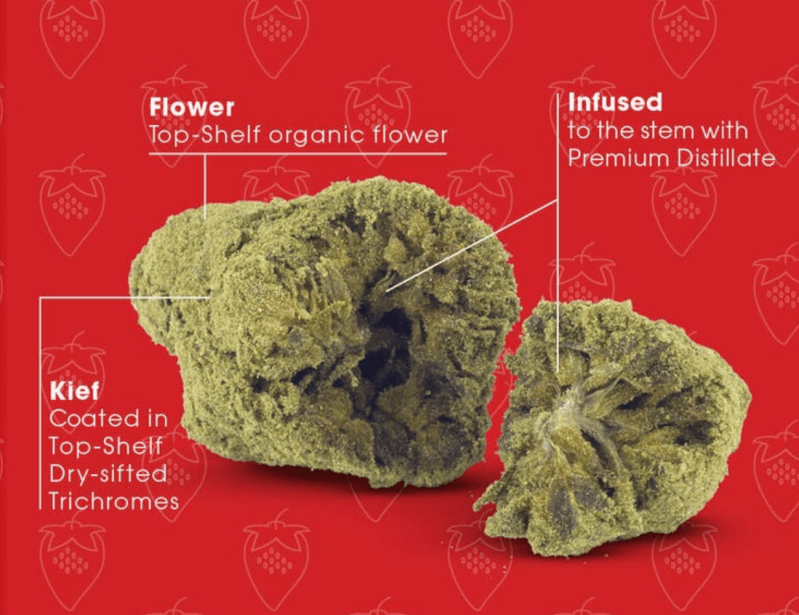 Name: Presidential's "Moonrock"
What's That?: It's a big old nug saturated with distillate before being rolled in trichromes. And it just might get you zooted.
Where Do You Find It?: The Medicine Woman in Bellflower, Muzeum Collective in Van Nuys, Ashe Society Santa Ana, Euflora Long Beach, and others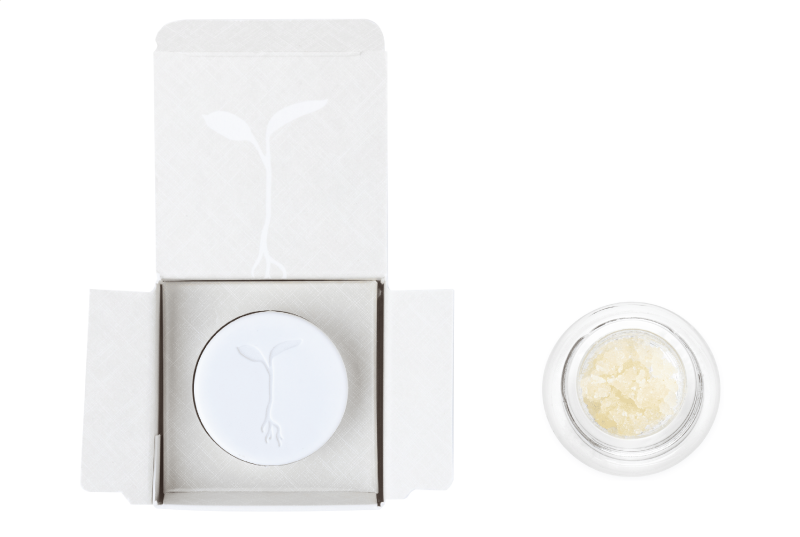 Name: Raw Garden's "Live Resin-Crushed Diamonds"
What's That?: Fine crystals of THC concentrate from the brand's organic, flash-frozen flowers. They deliver the high of a dab but can be placed in bowls and jays just as easily as a rig.
Where Do You Find It?: LA Wonderland Caregivers Retail Inc. and Lit Co. in Downtown, Firehaus in West L.A., MCC in Lincoln Heights, among others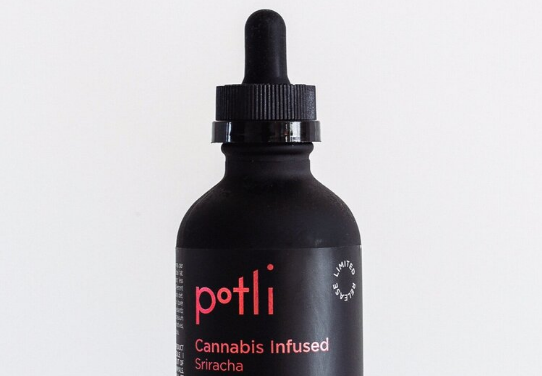 Name: Potli's "Sriracha"
What's That?: A spicy Vietnamese chile sauce with 100 mg. of nano-emulsified THC. From Potli, founded first as a cannabis-infused honey by founder Felicity Chen, who tapped her father's newfound love of beekeeping to help combat her mother's autoimmune disease.
Where Do You Find It?: At MedMen's L.A. locations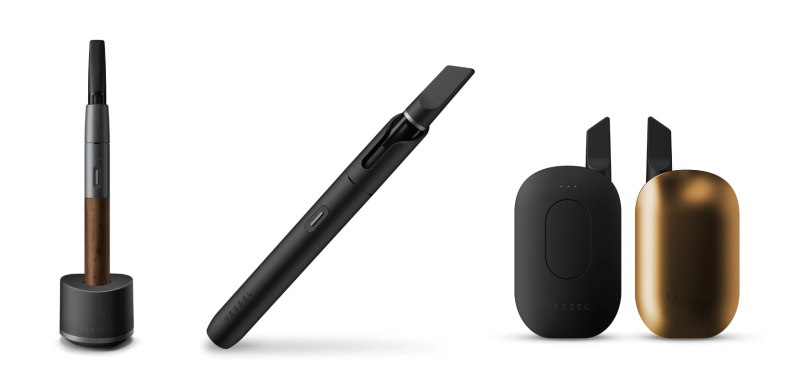 Name: Vessel Vape Pens
What's That?: A stylish, smartly designed roster of ergonomic vape pen batteries crafted with premium materials and finishes (like walnut wood and full-grain leather). They can fit and power any THC or CBD oil cartridge of your choosing, using optimized airflow technology, an extra-long battery life, and low-temperature settings. So you can finally toss all those crummy vape batteries that never seem to work when you need them most. Orders placed through 4/30 receive $25 off any device, with an additional $20 off when bundled with a charging base and case.
Where Do You Find It?: Online, as well as various retail locations across L.A.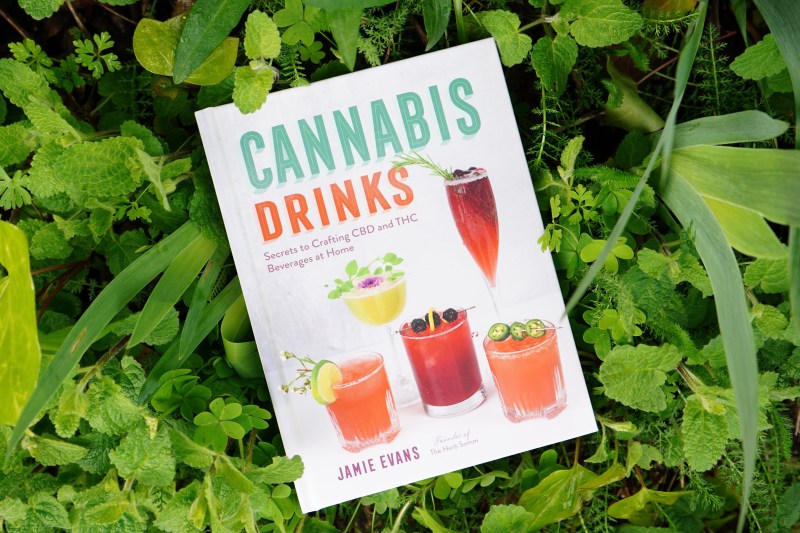 Name: "Cannabis Drinks," by Jamie Evans
What's That?: It's a new book from an expert wine sommelier-turned cannabis pro, releasing 4/13 and covering just about everything you need to know about quaffable cannabis, including cocktail recipes, mocktail recipes, and general advice on how to work with CBD, THC, terpenes, and other green goodness in liquid forms.
Where Do You Find It?: You can find it on Amazon. But may we suggest finding it on Indiebound? Assuming it's not already owned by Amazon.
Name: Kaneh Co.'s Chile-Mango Fruit Jellies
What's That?: Surely someone out there has weed-infused chamoy gummies on DM. Until those are located, you can score Kaneh's 10-pack of 5mg THC/5mg CBD chile-mango jellies made from all-natural ingredients. They also have Duos, 100-mg of THC-laced sweetness spread among two desserts.
Where Do You Find It?: Green Earth Collective, Stiiizy DTLA, and Essence Dispensaries Pasadena.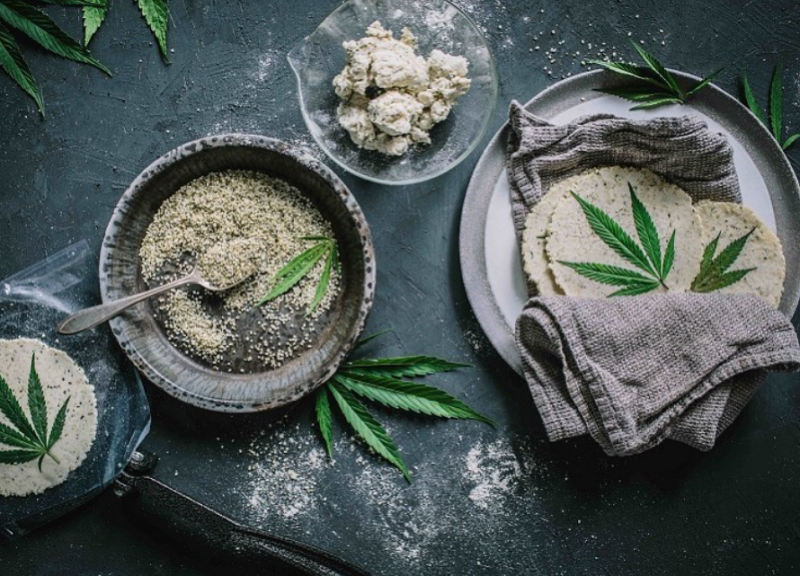 Name: MasaTaco's "Hemp Tortillas"

What's That?: Make sure your Instagram followers are sitting down before you unleash this stunning tortilla made from masa mixed with hemp seeds, cilantro, tomatillo, and serrano chiles on their unsuspecting collective asses. You'll just be chilling regardless since your order also comes with a CBD-infused salsa macha.
Where Do You Find It?: Available during MasaTaco's first indoor dining event in Whittier.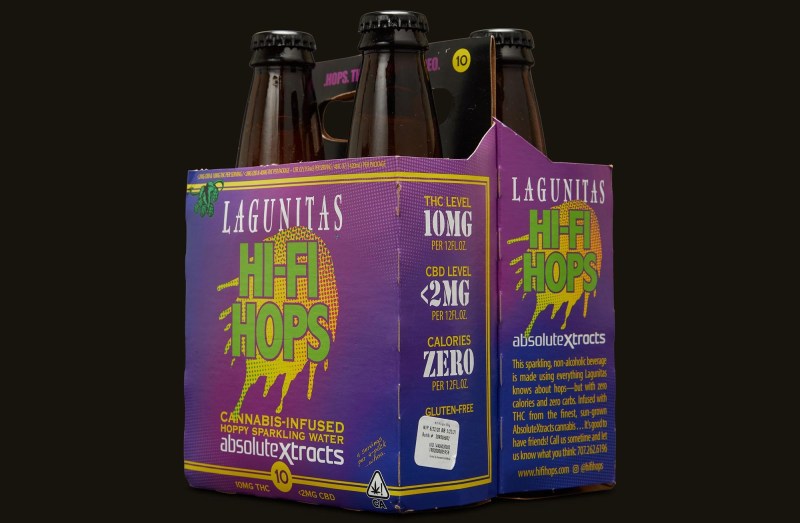 Name: Lagunitas' "Hi-Fi Hops: Reverb"
What's That?: A hoppy, IPA-inspired sparkling water from the NorCal brewer, which skips the alcohol for 10mg of THC. Works well as a mixer or applied straight to the dome.
Where Do You Find It?: Order online or find at Farmacy in Santa Ana and Sweet Flower's Studio City and Westwood locations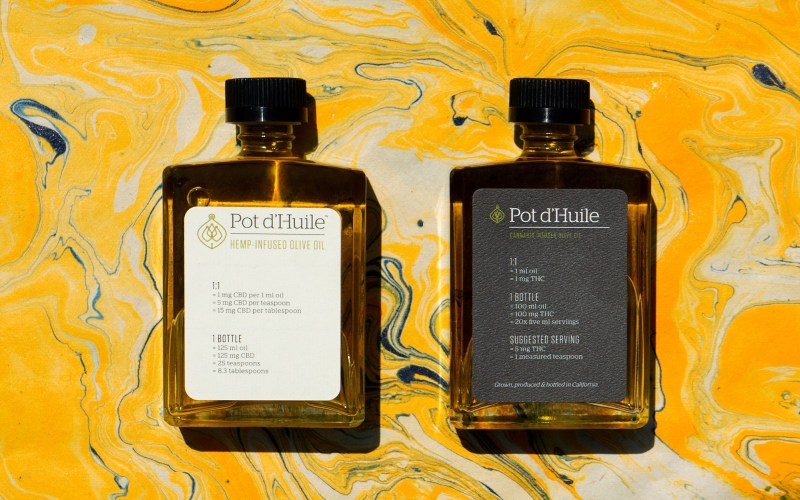 Name: Pot d'huile's "THC EVOO Olive Oil"
What's That?: A THC-infused version of the brand's popular CBD-tinged certified EVOO olive oil, dropping on 4/18 for your 4/20 feasts. They also have a CBD chile crisp oil, should that fit your holiday menu better.
Where Do You Find It?: Cookies in Maywood, Melrose, and Woodland Hills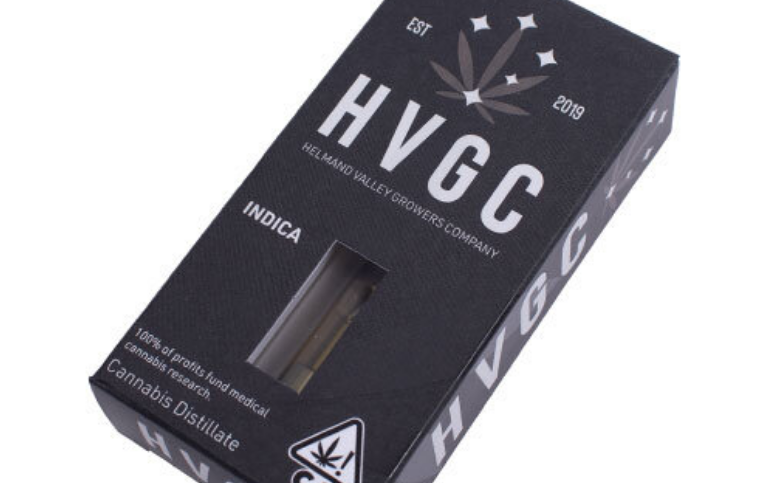 Name: Helmand Valley Growers Company's "Afghanimal" distillate

What's That?: A brand of THC oils using Cali-grown herb, founded by former U.S. Special Ops soldiers with the goal of countering opioid use among trauma survivors. Afghanimal crosses strains of Animal Cookies with Afghani for a 90.3% THC content that's perfect for pain relief and general kicking-the-fuck backness while listening to Pink Floyd on giant headphones.
Where Do You Find It?: CAC Venice, From the Earth Santa Ana and Long Beach, Leaf & Lion LBC, and Captain Jack's San Bernardino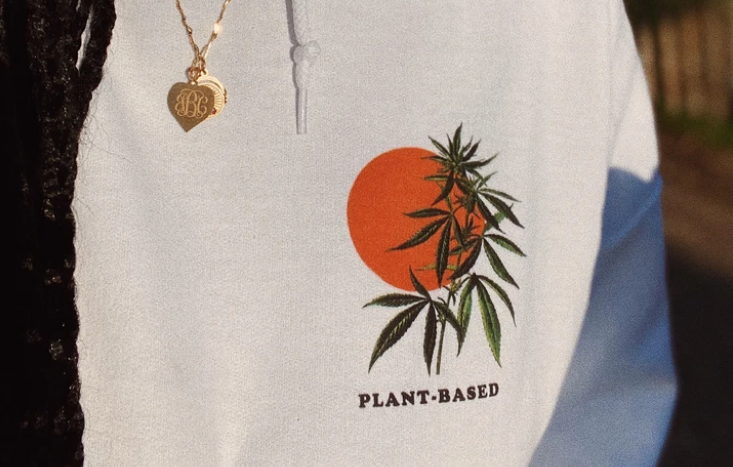 Name: Jane Parade's "Plant-Based Hoodie"
What's That?: It's a soft, cozy sweatshirt. With jokes.
Where Do You Find It?: Online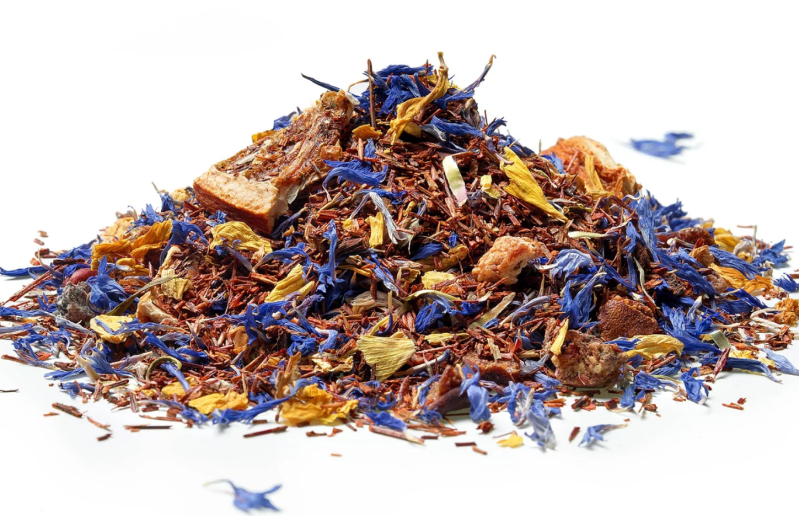 Name: Liv Collective's "The Healer" Tea
What's That?: Aja Fonseca-Arnold and Vincent Arnold's therapeutic tea blend containing small amounts of Pineapple-Tsunami CBD flower to provide relief for chronic pain and inflammation.
Where Do You Find It?: Online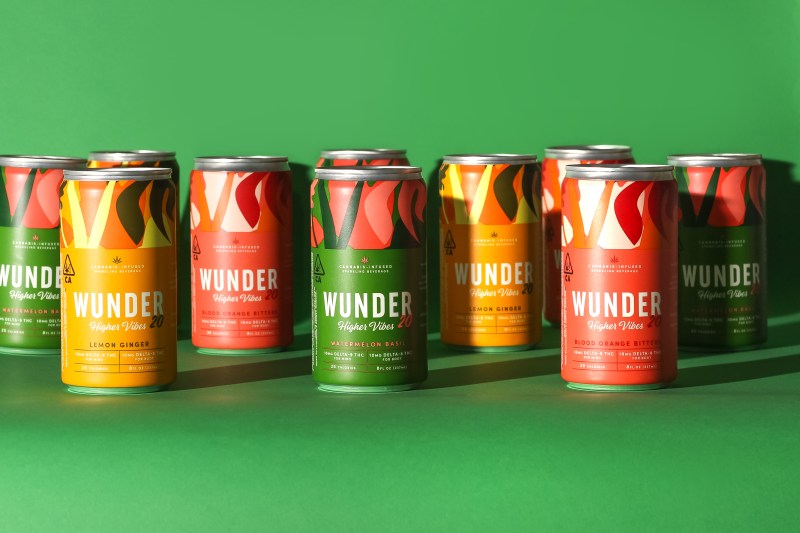 Name: Wunder's "Higher Vibes"
What's That?: A natural, sparkling cannabis drink that taps the powers of the lesser-seen cannabinoid Delta-8, praised for its body-centered effects, in addition to THC and CBD. Wunder comes in both low and higher doses, depending on how you do.
Where Do You Find It?: The Pottery in Pico-Union, Sweet Flower in DTLA, Melrose, and Studio City, and delivery from Emjay, among other sources.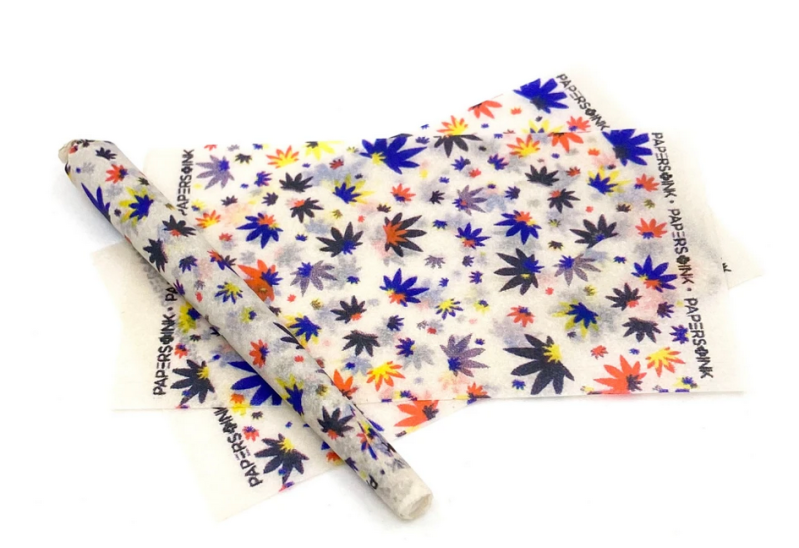 Name: "Papers + Ink x Tuleste Rolling Papers"
What's That?: A collaboration between a women-led arts collective and a sister-run jewelry company resulting in organic hemp rolling papers that will turn your joints into modern masterpieces. For 4/20, you get 20% off any additional collection pieces with a purchase. And Papers + Ink's cool lighters and grinders share similarly eye-catching designs.
Where Do You Find It?: Online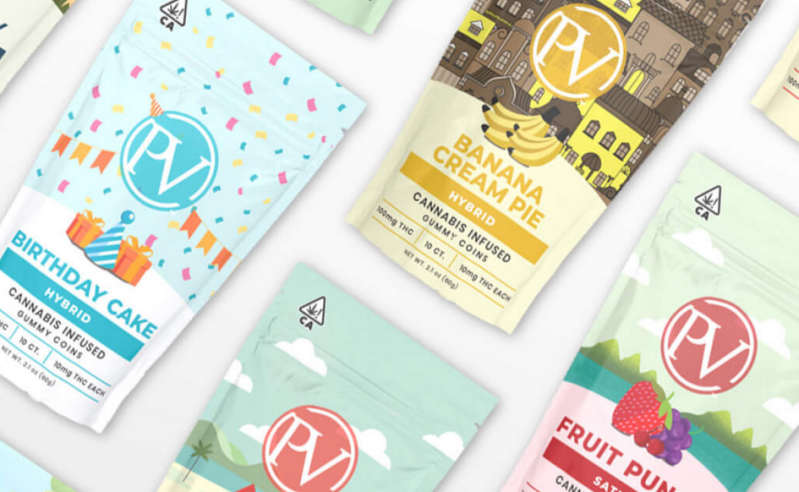 Name: Platinum's "Blueberry Slushie Sourz"
What's That?: One of three new flavors of gummy coins being released on 4/20 from Platinum, a company known for strong, pesticide-free strains and uniquely flavored edibles. The new line sounds summery as all get-out: Hybrid Watermelon, Sativa Tropical Punch, and for Indica fiends, Blueberry Slushie, each weighing in at 10mg.
Where Do You Find It?: Atrium in Topanga, Dr. Greenthumb, Haven Maywood
One of L.A. TACO's co-founders, Hadley Tomicki is a critic and journalist whose work has appeared in the Los Angeles Times, New York Magazine, and many other places.
Stay in touch
Sign up for our free newsletter