Featured
The Six Best Tacos in Palmdale
3:57 PM PDT on March 29, 2023
L.A. TACO is embarking on its biggest mission yet: to create a reliable taco and food guide for every neighborhood in Los Angeles! Along the way, we will also be releasing brief histories of each neighborhood to understand L.A. a little more and why each and every neighborhood makes our fine city unique. Check out the rest of our history and food guides on our neighborhood page. 
When you think of tacos, the first place you think of going definitely is not going to be found off the 14 freeway, but there are great spots in L.A.'s north-facing desert in the Antelope Valley. After scouring the desert for days and nights, we are happy to report that should you find yourself in Palmdale, some of their spots may rival the tacos you'll find in L.A.'s metro area. 
Here are the best places to grab tacos in the City of Palmdale.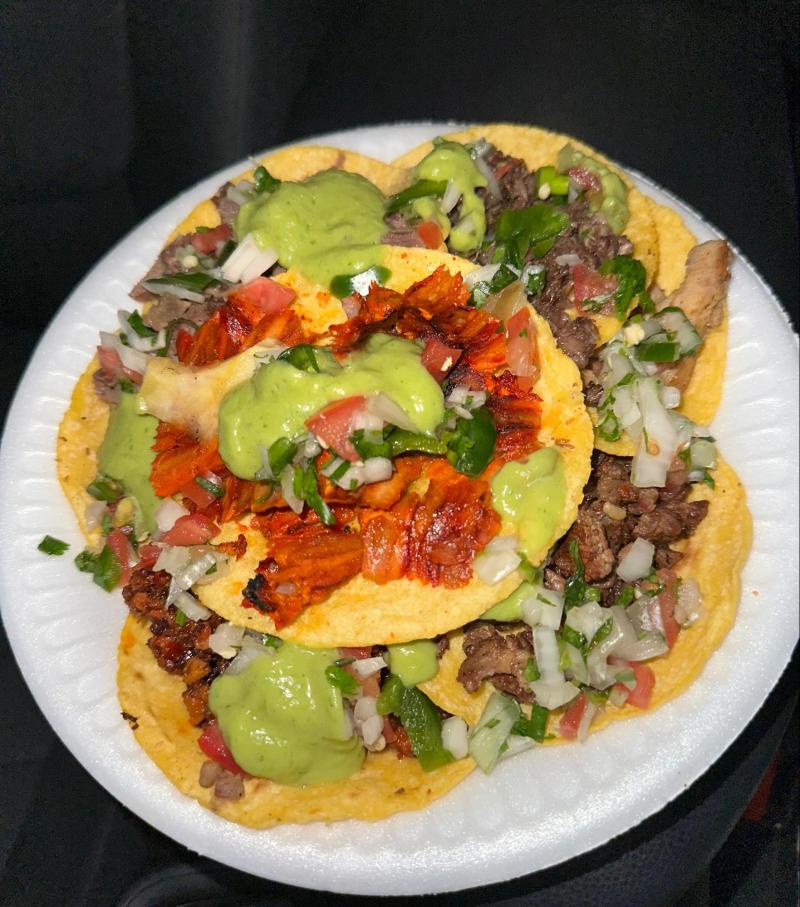 A relatively new spot in Palmdale, you can find the Tacos El Llano taco pop-up off the corner of East Avenue R and 30th Street East. This spot is cash-only but doesn't fret. There is a 7-eleven just across the street where you can load up on snacks and drinks because you will not just be walking away with some tacos. This spot, in its short seven months, has the community braving the bitter cold for their al pastor trompo. Their lights shine, guiding you straight to the aroma that perfumes the neighborhood. One patron called it "the desert oasis," alluding to its placement in the corner of a street where cars have to park off the road to get to it. When you visit this spot, you feel like you hit the jackpot! The carne was fresh, and the tortillas were handmade and fresh off the plancha for every order, and at $2 a taco, you can be sure to load up on these. You can find one of the taqueros manning the trompo, making sure that your slices come off thinly with a bit of the crispy char that compliments you with every bite. While you're here, enjoy the al pastor, asada fresh off the grill, and a personal favorite, the tacos de suadero. Not often do you find a spot to make a taco de suadero successfully, but you can find them here at Tacos El Llano. If you bring a friend, do not miss out on their massive tortas. They are made estilo Jalisco with fresh market bread and loads of juicy meat; it is an ungodly experience. 
2873 E Ave R, Palmdale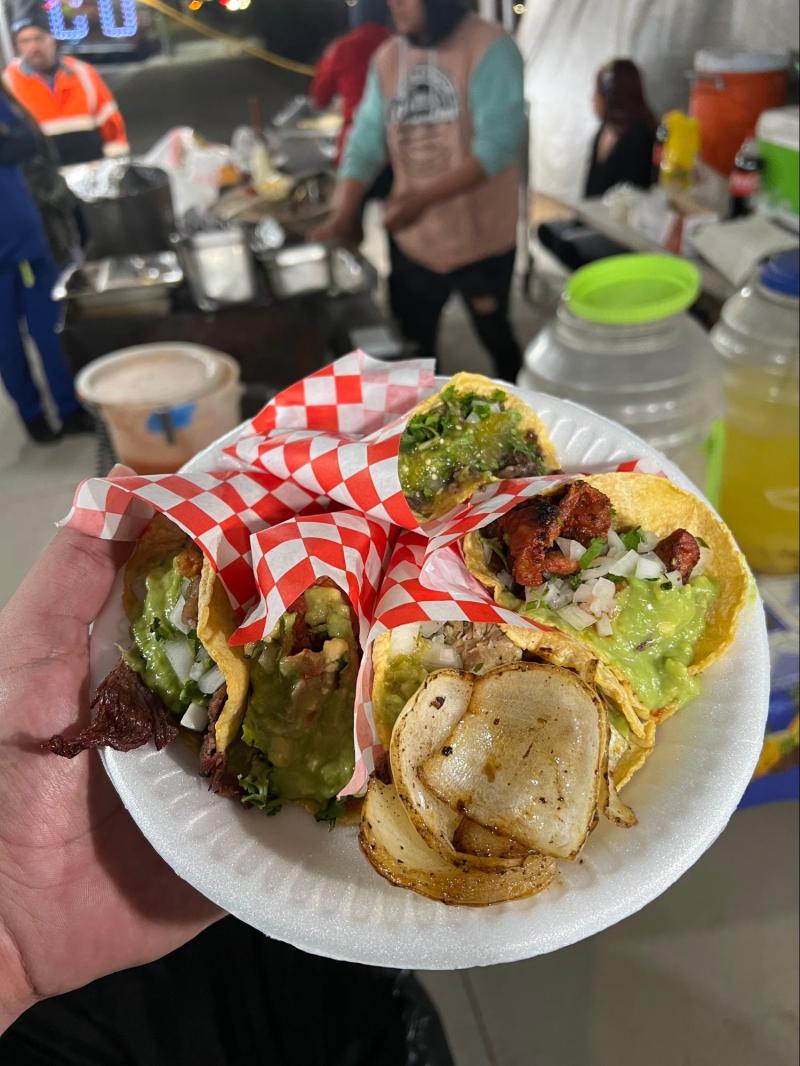 If you are looking for a taquero that pumps out tacos by the minute, you can look no further than El Taquería Poblano. With their Tijuana-style tacos, you are in for some of the freshest tacos in the Palmdale region. With continuous patrons lining up against the high desert winds, this spot is obviously well worth the wait. The crowd favorites include tacos de chorizo, cabeza, and of course, their carne asada. I had all three and went as far as ordering a mulita with carne asada that did not disappoint. El Taquería Poblano has its home in Palmdale with its truck on East Avenue R and 47th Street East. You can find the team of two making their handmade tortillas and grilling their meat up until the late night hours. If you are in the mood for a hardier meal, get a burrito that is notoriously stacked high with asada, their famous salsa roja, and all the fix-ins. Their al pastor trompo is also not to be missed. The taqueros at El Poblano take pride in using the freshest ingredients daily. 
38235 47th St E, Palmdale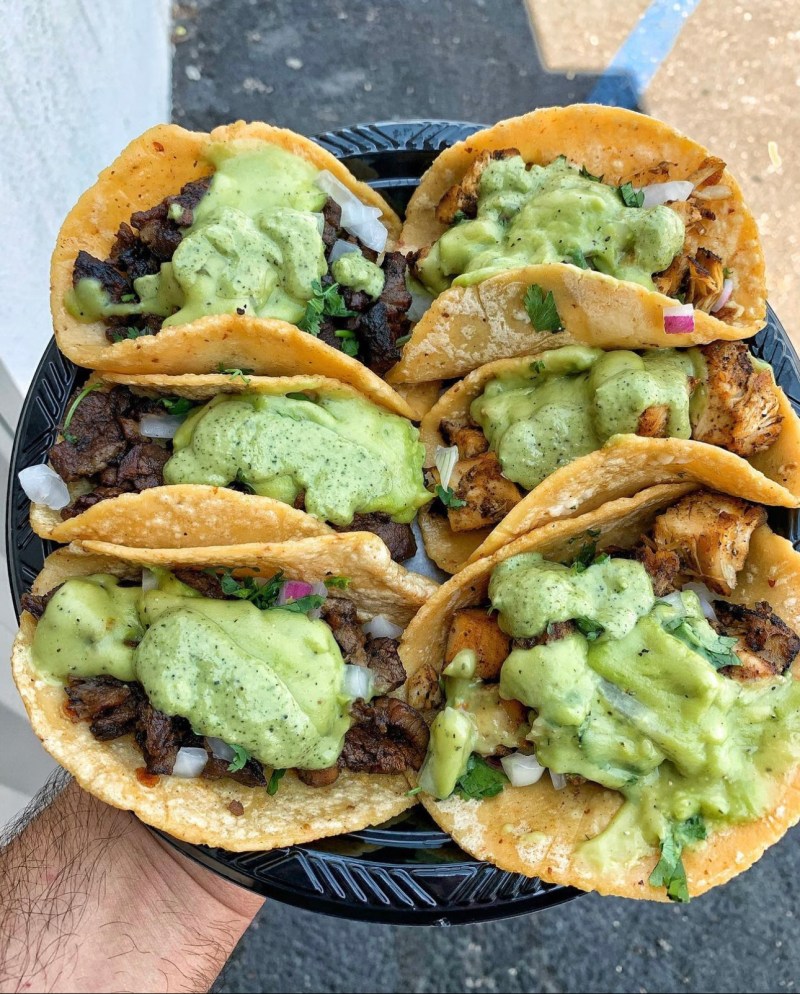 A Los Angeles staple has made its way to the Antelope Valley! Pablitos Tacos offer tacos de asada, pastor, chicharron and a new A.V. favorite, lomo saltado, a Peruvian marinated steak. The stand can be found in East Palmdale off of 30th Street East and Palmdale Boulevard near Circle K. The stand found itself struggling to find its footing after multiple raids by the Health Department, but after much trial, they established their food truck. Pablitos is available to the High Desert from 6 PM to 12 AM, and with cars camping out waiting for the truck to start serving, Pablitos is causing loyalties to shift. Their tacos de lomo saltado with an extra serving of crack sauce is new to the A.V. palette and has patrons flocking back Tuesday through Sunday for more. Their owner Danny Rodrigues has continuously referenced his tacos as Tijuana-style ones with a South American twist. Needless to say, Pablitos is a standout amongst the other taqueros in Palmdale, and the community has embraced their flavors. 
3851 E Palmdale Blvd., Palmdale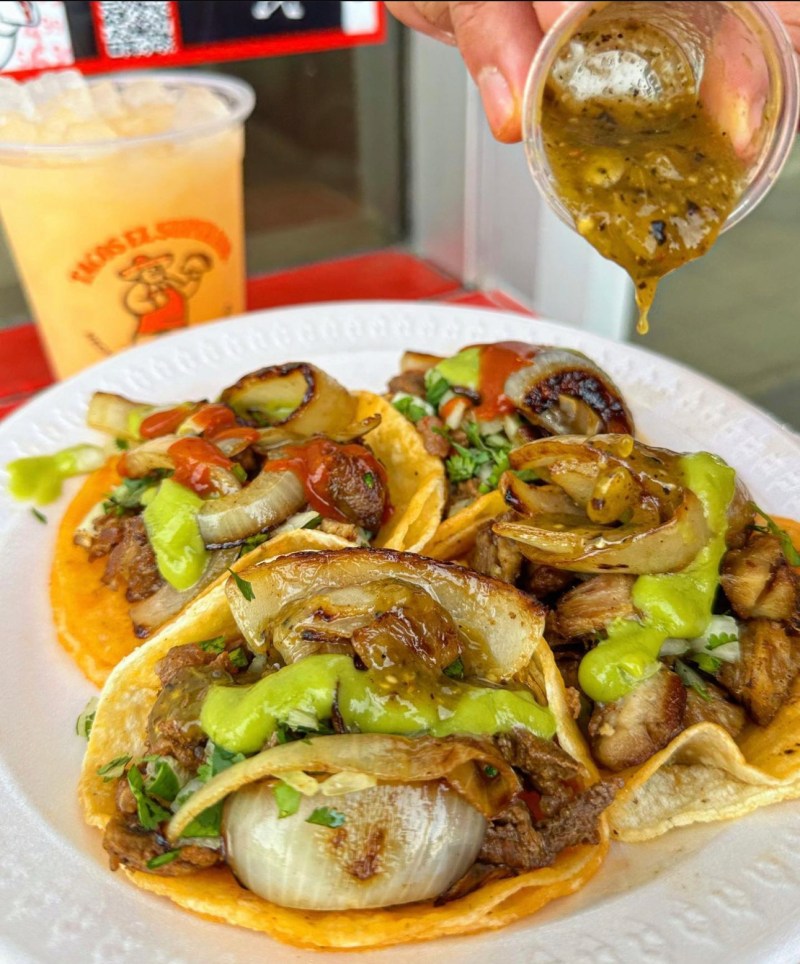 With roots in the City of Palmdale, Tacos El Superior began with the dreams of fresh quality Mexican cuisine. The family now has multiple locations across Los Angeles but hold a special place in the heart of the Antelope Valley. The tacos from El Superior, according to their owner, are a Mexican experience, not just tacos. Their dedication to serving the highest quality food is showcased through their tacos with quality-grade meats and angus beef. Their motto is Hecho con Amor y Calidad which translates to, made with love and good quality. After having a plate of tacos de asada, al pastor, and birria, I definitely understood why the restaurant is quickly blossoming into the Sylmar and Hawaiian Gardens. There is a community feel when you walk into Tacos El Superior. The staff ensures that they greet you and get to know you. They go as far as to give you their personal favorites if you find yourself tied between decisions. With this type of hospitality and the quality of tacos to back them, this is a Palmdale staple for years to come. 
473 E Palmdale Blvd., Palmdale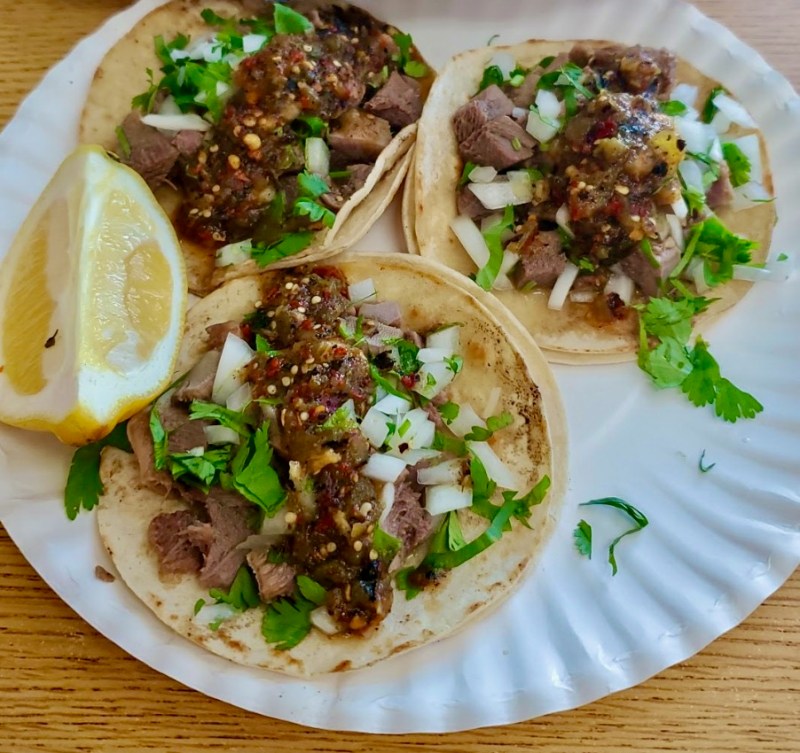 Tacos Guero
This Palmdale spot is an OG with over 30 years in the same place. Tacos Guero is well known for having consistently great tacos, and the quality is evident from their long reign in the Palmdale region. When you stop by, you are transported. Their red, white, and green decor reminisces the 90s taquería. Their tacos de tripa are made extra crispy per request and rival all others. Tacos Guero is keen to highlight that their meat is always fresh, and the ingredients within their marinades and salsas will leave a lasting impression. This family-owned restaurant prides itself on having excellent customer service and making everyone who comes feel like they are coming home for a good plate of food. Families that have been going to Tacos Guero for years recount their first time and revere that the staff goes out of their way to serve you a piping hot meal accompanied by great conversation. And even though their online footprint is elusive/nonexistent, after three decades in Palmdale, Tacos Guero is definitely an "if you know, you know" spot. 
323 E Palmdale Blvd. Palmdale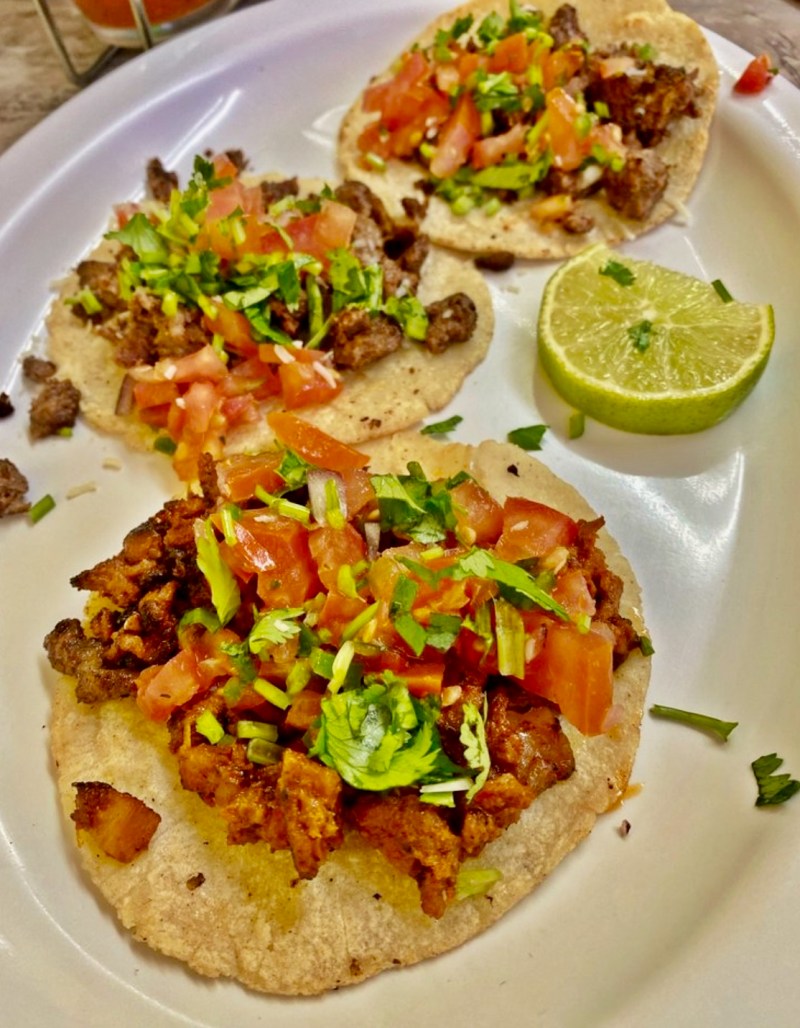 Last but certainly not least are the family-style tacos from Guadalajara Taco Grill. This small restaurant off Palmdale Boulevard can be spotted just from the aroma alone! Their tacos are made fresh to order, and people stop by and categorize them by the dozens. When you arrive, you are greeted with the scent of chiles roasting and the carne charring on the hot plancha. This spot has some of the spiciest salsa roja and a nice green salsa casera. If you find yourself in the area, do not hesitate to try any of the meats for your tacos. The favorites here are the tacos de pastor, chicken, and carnitas. You can always rely on the carne asada, but when there are this many great choices, you should try them all. Guadalajara Taco Grill isn't only known for their tacos. If you find yourself looking to branch out into their other menu items, you should not miss out on their wet burritos or weekends, their menudo. This place brings that "family restaurant" feel back into the desert.
832 E Avenue Q-6, Palmdale
A proud San Fernando Valley native, Samantha "Sam" Nuñez is our Director of Marketing and Social Media. She holds a background in Public Relations and has a Corporate Communications focused Masters from USC. When Sam isn't grinding at the Trompo, she is out trying new foods, dancing Mexican Folkloríco or tasting new tequila and mezcal for her collection.
Read More:
Stay in touch
Sign up for our free newsletter