Featured
How This WeHo Barber Took Control of His Life Again After Years of Meth and Prison
11:42 AM PDT on July 12, 2021
hen I got out, I had nothing but the prison clothes on my back," Jordan Halem, the 48-year-old owner of West Hollywood's The Barber Den L.A., tells L.A. TACO about his against-all-odds ascension from a personal low.
Released from federal incarceration in 2014 after serving five and a half years of a seven-year sentence for narcotics trafficking, Halem was fortuitously not without a few assets.
He was alive, sober, and free following years of a crazy life, and determined to take full advantage of his resurrection. He also knew how to cut hair.
Together, these gifts drove him on a new path to achievement. Today, he presides over a gleaming new neighborhood barbershop with a flourishing reputation for excellent customer care.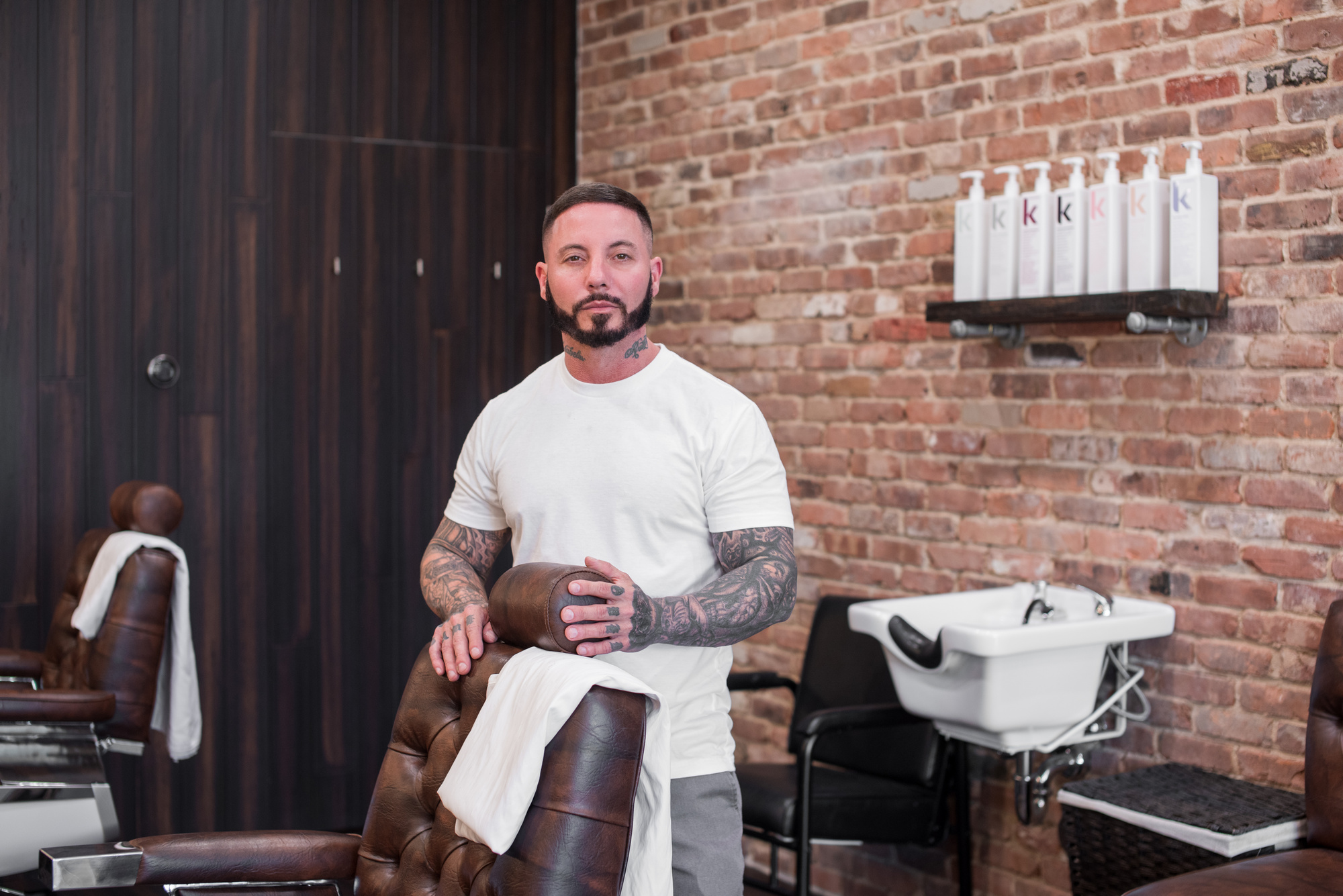 Statistically, it's a marvel he's still here, let alone the owner of his own business. And in the midst of realizing his dreams of entrepreneurship, Halem is also making it a point to give back to guys living through the same nightmare he long did.
Halem was raised in Miami by a dentist and housewife who stressed the importance of school. After finishing college and earning his law degree, he enthusiastically embraced work as an attorney for a firm that represented a handful of the city's beach-side nightclubs.
But he quickly came to hate the whole profession, finding his anesthesia for the long day's grind and a despair over deep law school debts through the pulsing nightlife scene that surrounded him. As well as all the drugs that came with it.
"Crystal meth was kind of new on the scene," he recalls. "From the very first time I tried it, I just did it every day. And I did it every day for the next ten years."
Addiction was fast to drop its infernal snare on the 25-year-old. It wasn't long before he was mishandling clients' cases. Within about a year, he lost both the job and his license to practice.
"I was smoking crystal meth in the law office itself, it was crazy," he says.
Unemployed and highly hooked, he started dealing to satisfy his mounting demand for meth. An L.A. supplier would ship it to Halem in Miami from across the country. Once that connect turned unreliable, he boarded a plane to the West Coast and started shipping the product back home himself, the initial inroad to a city he would increasingly frequent and now calls home.
It's around this time that the arrests started. Primarily for possession and other small offenses.
He sobered up during a sixth-month stint at Beit T'Shuvah, a Jewish treatment facility in L.A. All too briefly. Even before leaving rehab, Halem jumped back into selling meth, while promising not to use it himself.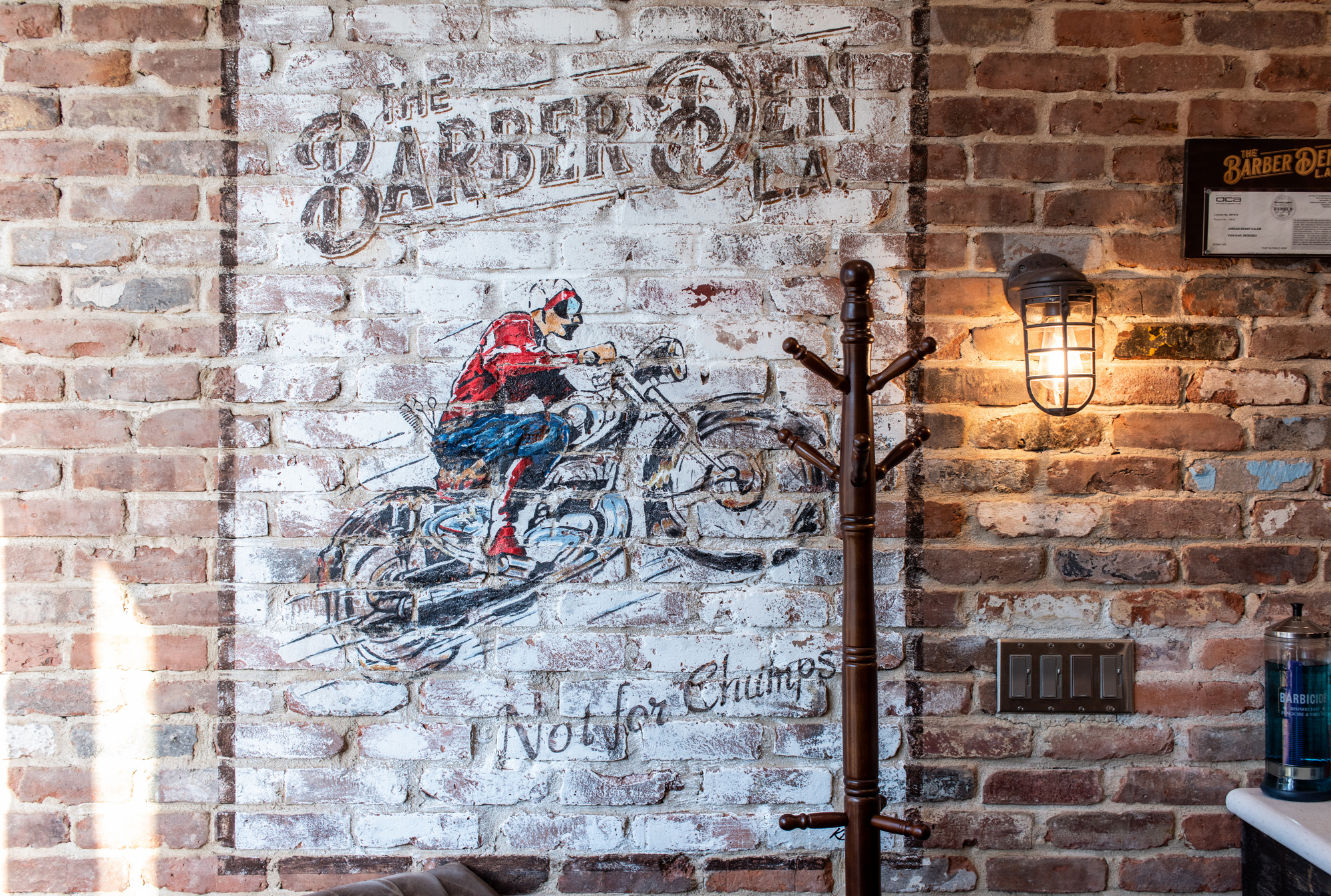 The fool's gambit lasted as long as you can imagine, rapidly plunging him back into the talons of addiction and the enduring insanity of life on the streets.
The following five years were insane. Halem, now in L.A. permanently, says he began dealing "large amounts of drugs" amidst a half-remembered maelstrom of delipidated motels, dangerous deals, and daily survival.
"I'd go from living in a $10,000 a month penthouse to being homeless to having money to being homeless again," he recalls. "It was a roller coaster. Running around on the streets, I've witnessed a lot. And I did that for years."
Death, misery, and desperation shadowed him and his cohorts closely along the underbelly of Los Angeles. Drug buddies withered or died. Connects got busted. People stole from him, a witness to the frequent violence that surrounded his world.
Still, Halem continued selling and transporting crystal, sustaining a small group of clients in New York and Miami along with his fierce habit.
In 2009, unbeknownst to the 36-year-old Halem, who was busy darting from L.A. motel to L.A. motel, a federal warrant was put out for his arrest for transporting narcotics.
Pulled over by LAPD in a routine traffic stop, he was arrested, learning later that a New York associate had been recording their conversations since day one, long before the police cared about either one of them, as a kind of criminal insurance policy.
Indicted in New York, Halem faced a mandatory minimum sentence of five years. The prosecution, going typically hard on meth-related trafficking, was seeking a much stiffer sentence of 14-20 years.
Halem counts himself lucky. He'd still be buried today if he hadn't received a touch of compassion from a judge who saw some potential in him. He knows more than his share of people sentenced to decades upon decades for first-time offenses.
"It was really the first time in my life I had someone who said, 'Okay, you fucked up, but I believe in you. I believe you've got something in you,'" Halem recalls. "He goes, "I'm not going to give you the minimum, but I think 14-20 years in excessive.'"
Instead, he was sentenced to seven years in federal custody, serving the first year of pre-trial in New York. In 2010, he entered West Virginia's Gilmer penitentiary.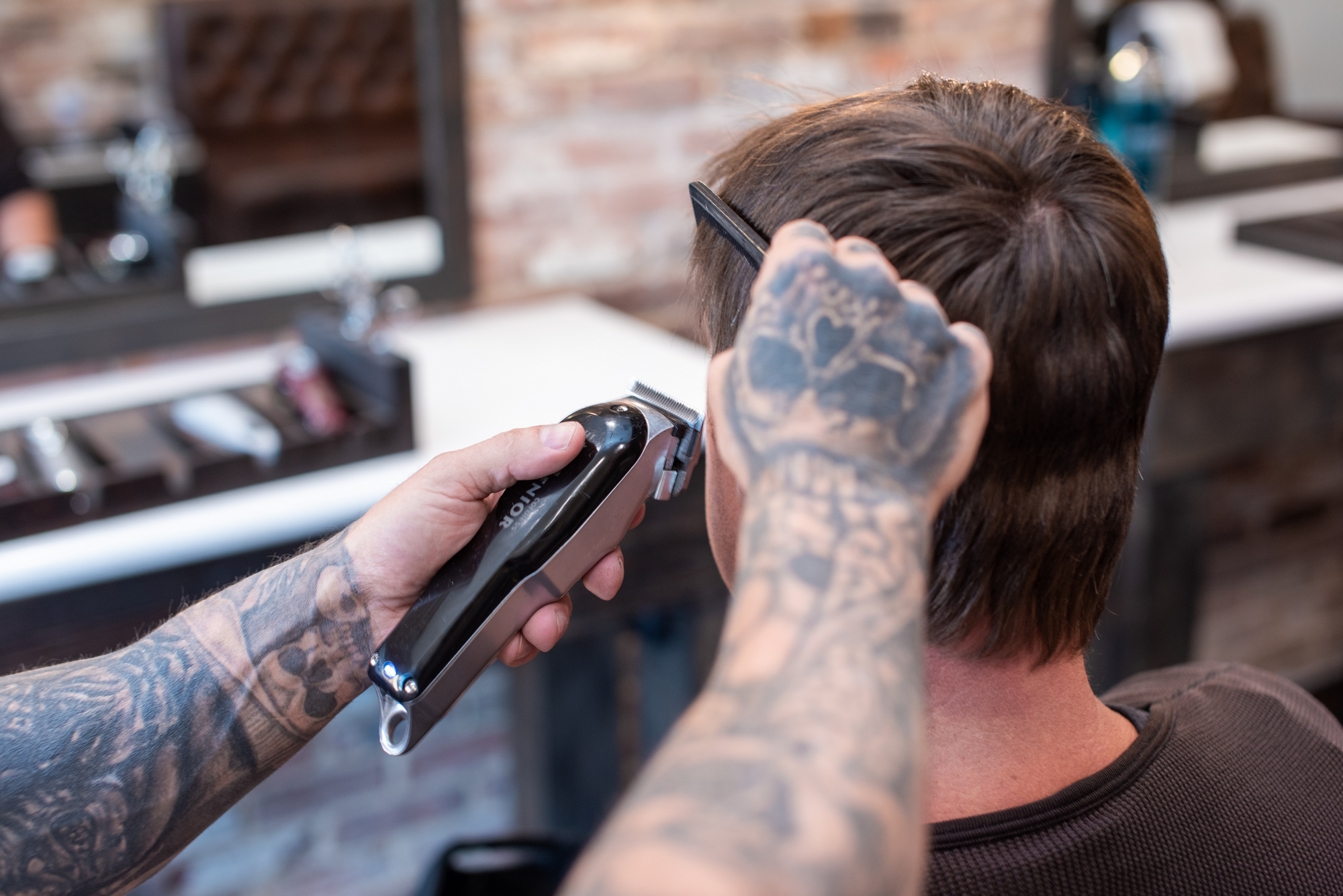 Right away, before Halem's hellish first week had really even started, his cellmate stole from his locker. He could either do something about that or serve the rest of his time in captivity as a punching bag. Or likely worse.
"You have to (fight)," he says. "You have to."
The ensuing brawl landed him in solitary, where he'd remain for the "hardest year of his life" while the incident was investigated. Without his family sending him books and his sister holding him down from outside, he's not certain he'd be here today.
Halem was constantly moved throughout prisons in multiple states—West Virginia, Kentucky, Ohio, Oklahoma, Georgia—amid the changing tiers of the federal system where inmates get shuffled between camps— low security, mediums, and penitentiaries— based on a point system that depends on their offenses, behavior, and other factors.
Early on, Halem developed the passion that would someday change his fate. During pre-trial detention, he taught himself to fade with a comb and razor blade. Inmates are desperate for haircuts and "everybody in prison needs a hustle."
"Some people clean cells, some people clean sneakers, some people make cards or run stores out of their cells," he recounts. "Everybody's got something, whether it's a gambling hustle or something like that. My hustle was cutting hair. Nobody showed me, nobody taught me, you just learn how to do it."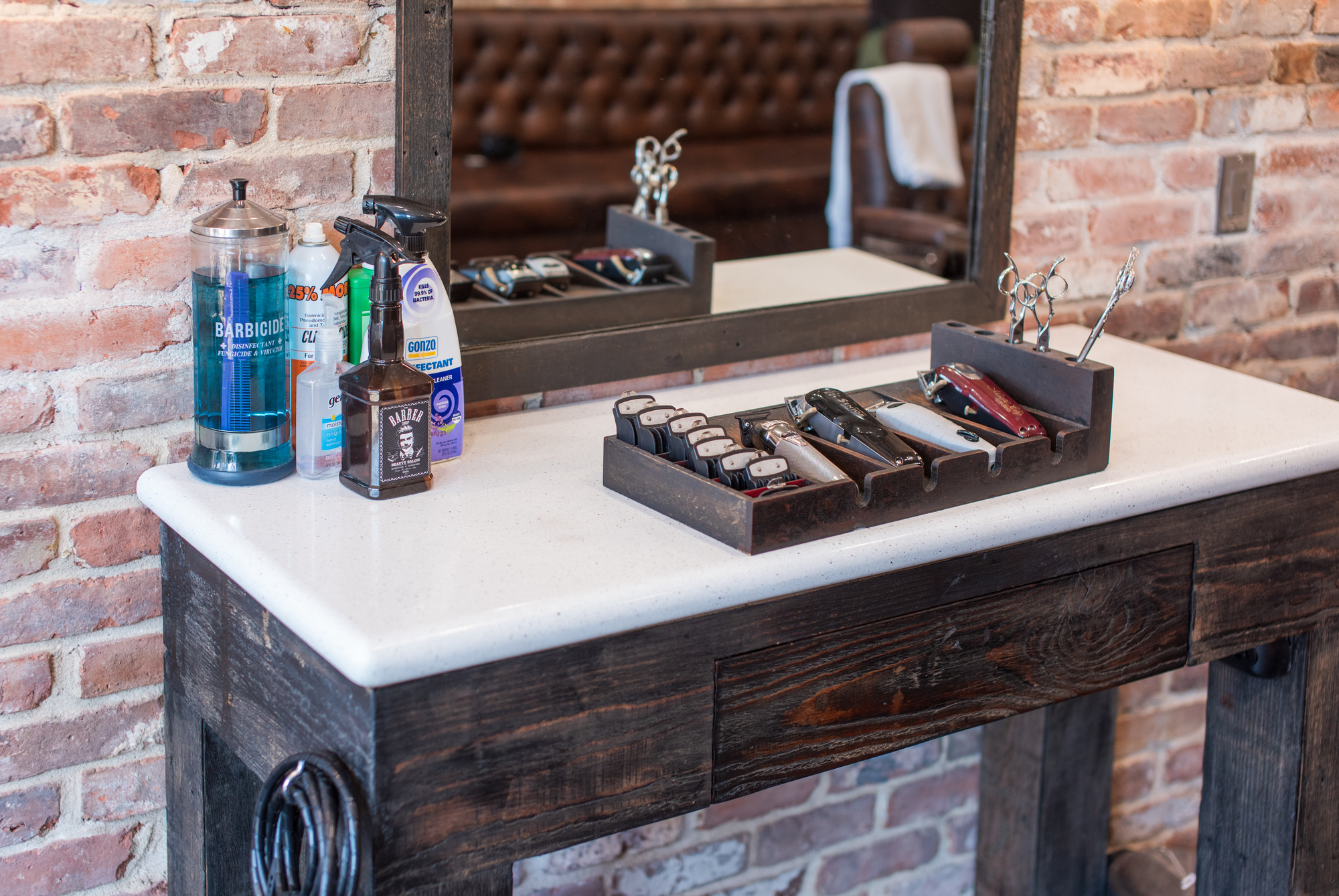 Once he was moved into prison, he was able to buy clippers. People from his unit started coming to him for haircuts. He found he loved the work, especially the ties that form between people and their barbers. Over time, he just got better and better.
Released in Ohio at the beginning of 2015, Halem had stayed in touch with Beit T'Shuvah through all his life's insanity. The organization let him use its address, helping Halem to move into a South Central L.A. halfway house.
He now confronted the task of putting his future together piece by piece, eager to obtain his barber's license and dreaming distantly of having his own shop.
Despite facing great difficulty in getting a job or an apartment with his criminal background, he was eventually able to secure a $12 an hour job at Tailwaggers, a pet salon on Fairfax just a few doors up from Shorty's Barbershop.
While attending barbering school and still on four years probation, he got a job at Shorty's front desk and slowly worked his way up to buying a beat-up Ford F-150, and eventually, his own chair at the shop where he began cutting professionally.
Over the next year and a half, Halem built his savings along with a devoted clientele. Another 18 months later, he was ready to accommodate them in a place of his own.
If not for the Covid-19 pandemic and its rash of retail devastation, that fantasy may have never been fulfilled.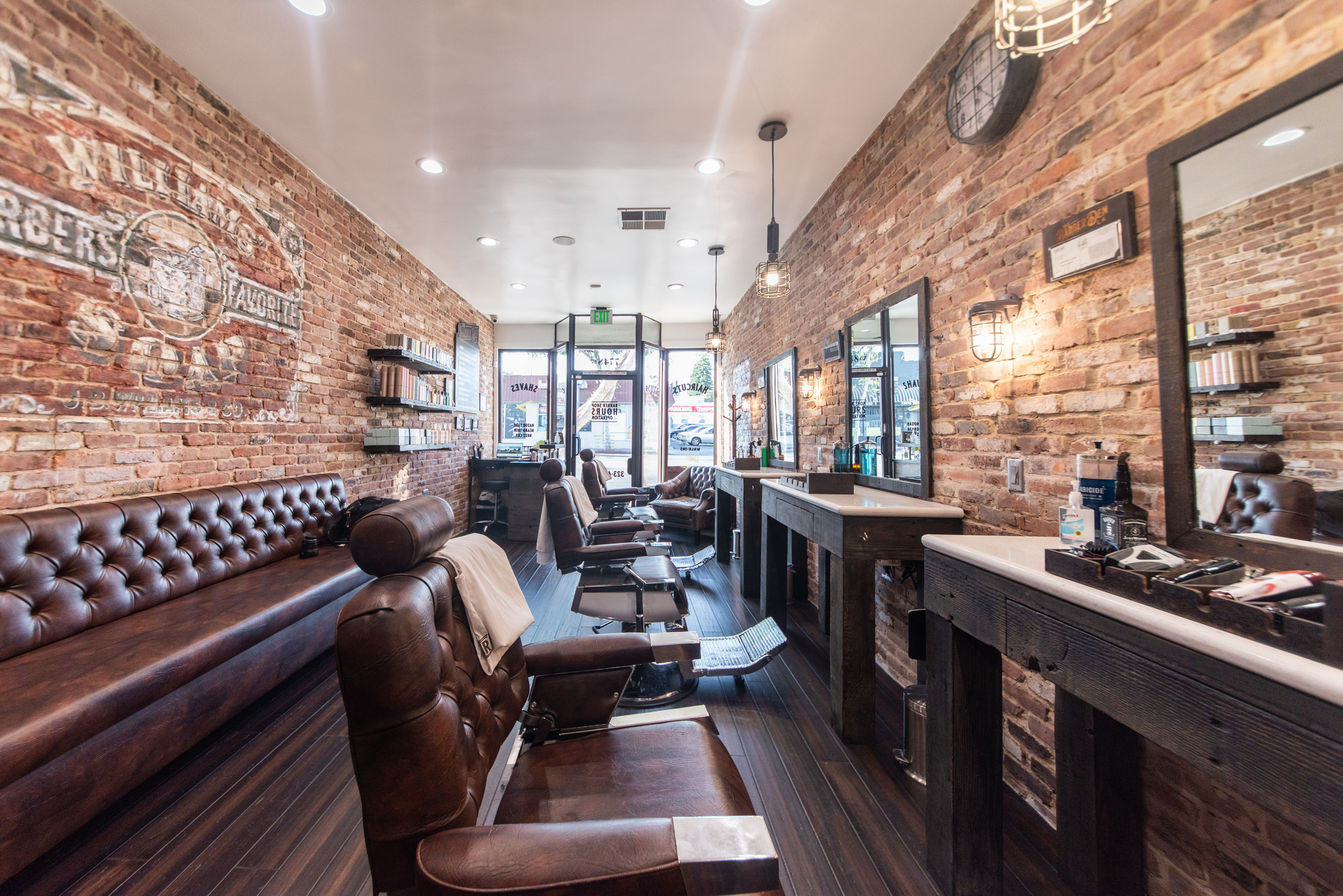 With a federal conviction that can never be erased from his record, getting a lease for an apartment or business has proven very difficult. Ongoing meetings with his landlord eventually built the man's faith in him. There was the matter of a huge deposit and a self-funded renovation, as well.
"They did not want to give it to me. I have a rap sheet this thick," Halem explains, the prison-inked fingers on his thickly muscled, prison-inked arms stretching into a three-inch gap.
"When you're using drugs, you're getting arrested for possession, you're staying in stolen hotel rooms. When I had to do the criminal background for this place, I just handed them my file," he says. "Because I don't remember half the things that are on there. And they're all drug-related, every single one of them. Not violence or anything like that. Which I think helped me."
"It's hard to judge someone on their past. I'm the most responsible, reliable person now. I've made changes in my life. And I think (the landlord) realizes that."
The Barber Den LA opened last February after Halem's complete makeover of a small warehouse space. It's a markedly beautiful room next to a cool coffee shop, a barbershop in the classic model that shares the same Little Odessa block as West Hollywood's famous Studs at the Pussycat Theater.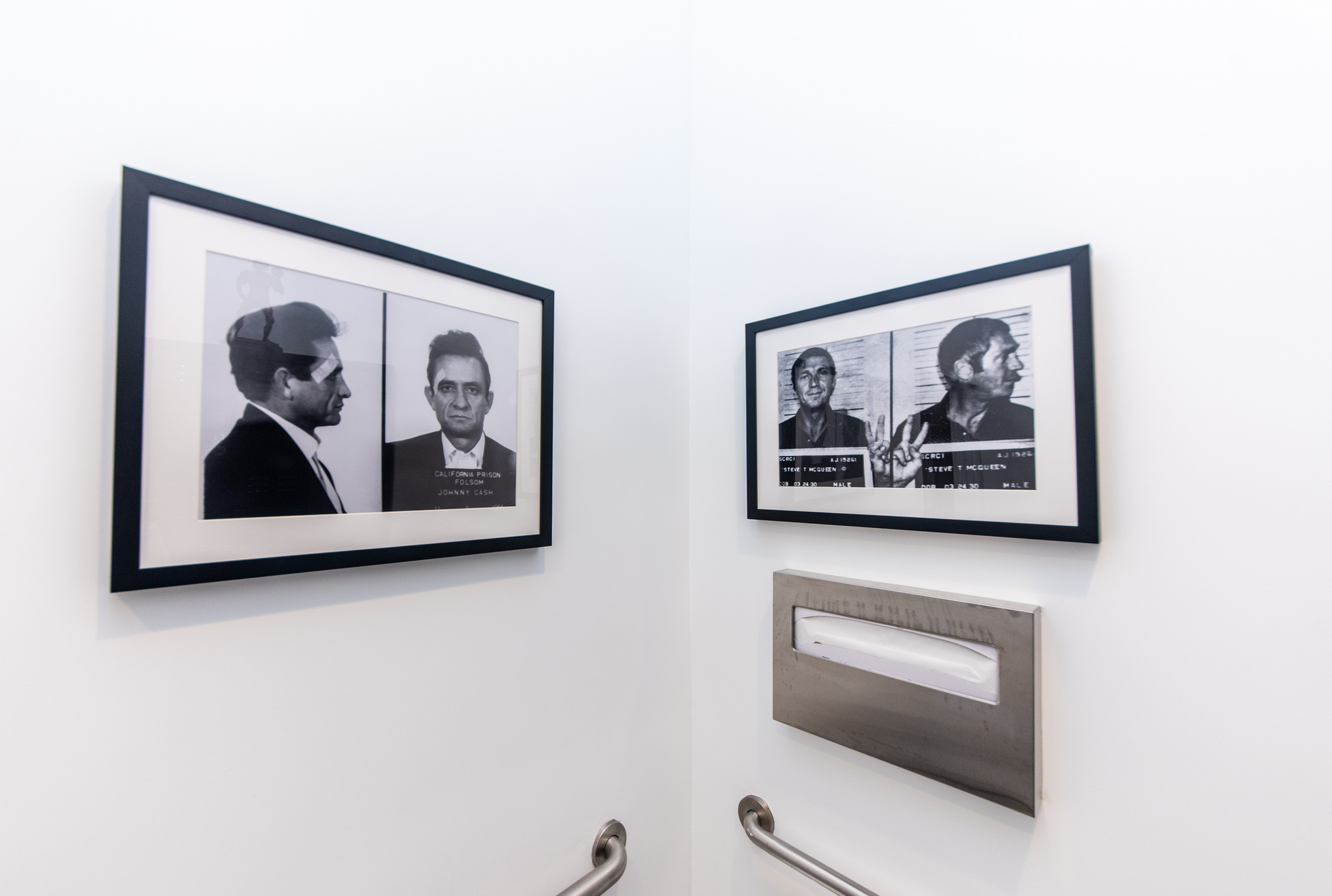 Four chairs backed in chocolate-toned leather, gleaming with polished steel accents, are spaced out between gorgeous, original brick walls. Two intentionally distressed murals lend it the vintage character and vintage vibes many men seek while getting their hair cut and whiskers whacked these days. Spray bottles resemble Jack Daniels's fifths and framed mugshots of Johnny Cash and Steve McQueen hang in the bathroom.
"I want it to feel like a local neighborhood barbershop," Halem says. "It's a friendly, cozy place. My chair is at the front so I can greet everybody that walks in myself. We know customers by name and offer them water. There are a lot of shops out there that are run like chains or factories, with barbers switching or leaving all the time. I don't want that. I love connecting with clients."
The full-service hair and grooming shop offers anything a customer may seek, and specializes in fades, shaves, color, line-ups, and beard trims.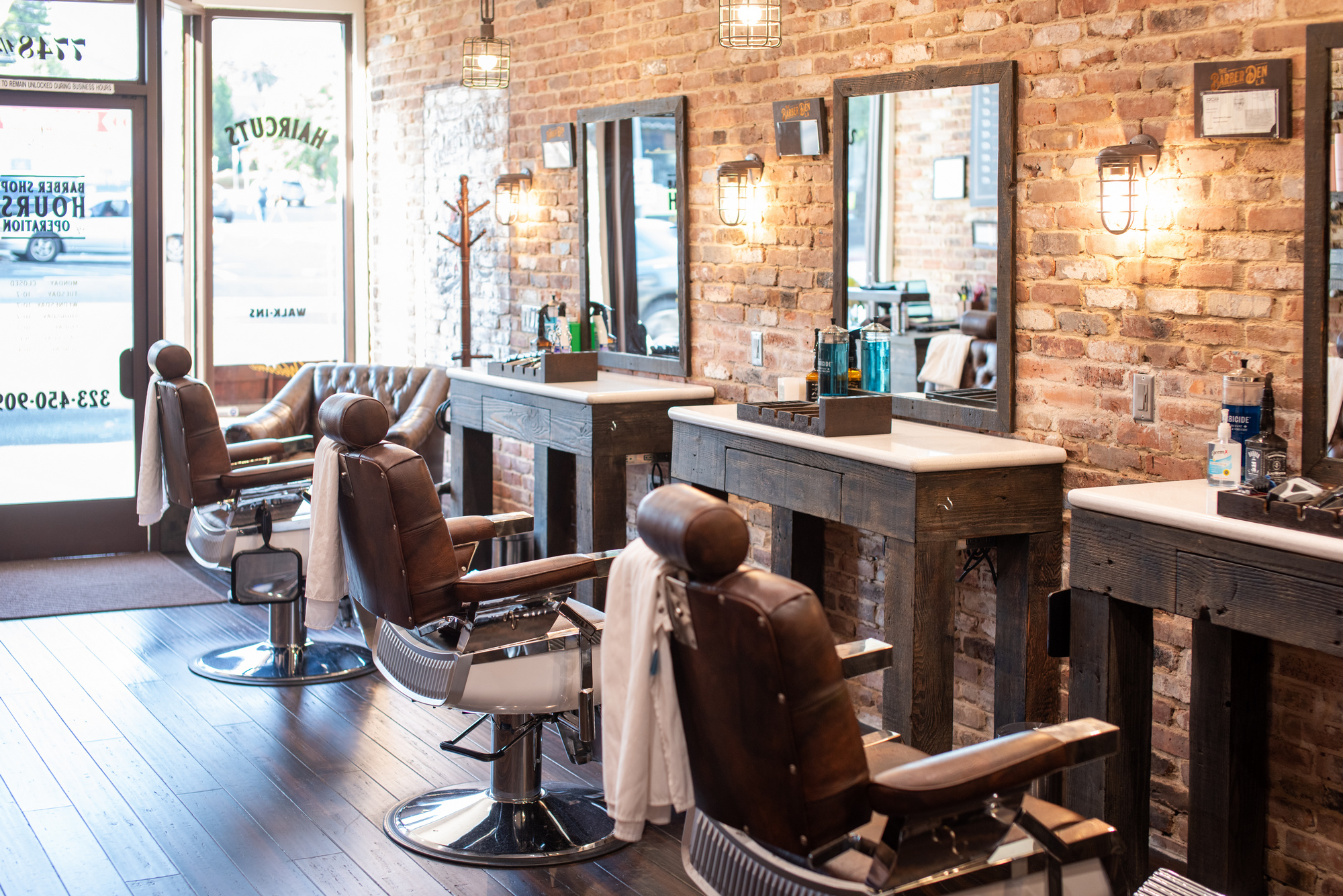 Blessed with a committed clientele and frequent walk-ins, The Barber Den is currently booked out two weeks in advance, while Halem is seeking another talented barber for that fourth chair. He won't hire anyone he wouldn't trust to cut his own hair.
Not only has Halem realized the first step in his dream, but he's also committed to giving back to guys who are stuck in the same terror of addiction he survived. He frequently gives free treatments to the residents of Westwind Recovery, a rehab network owned by a friend, aware of the power a shave and a haircut has to restore one's confidence.
"I remember going into rehab and the only thing you wanted was a haircut," he says. "You're coming off the streets, you're coming off of drugs, and you feel like shit. To have someone that comes in and helps start putting you back together, not just from the inside like rehab does, but from the outside. It's an amazing feeling to be able to give back. It makes me feel good to make others feel good."
In addition to giving steady donations to the rehab that helped him, this is work he plans to continue and expand on. He eventually wants to start his own non-profit focused on those in recovery for drugs.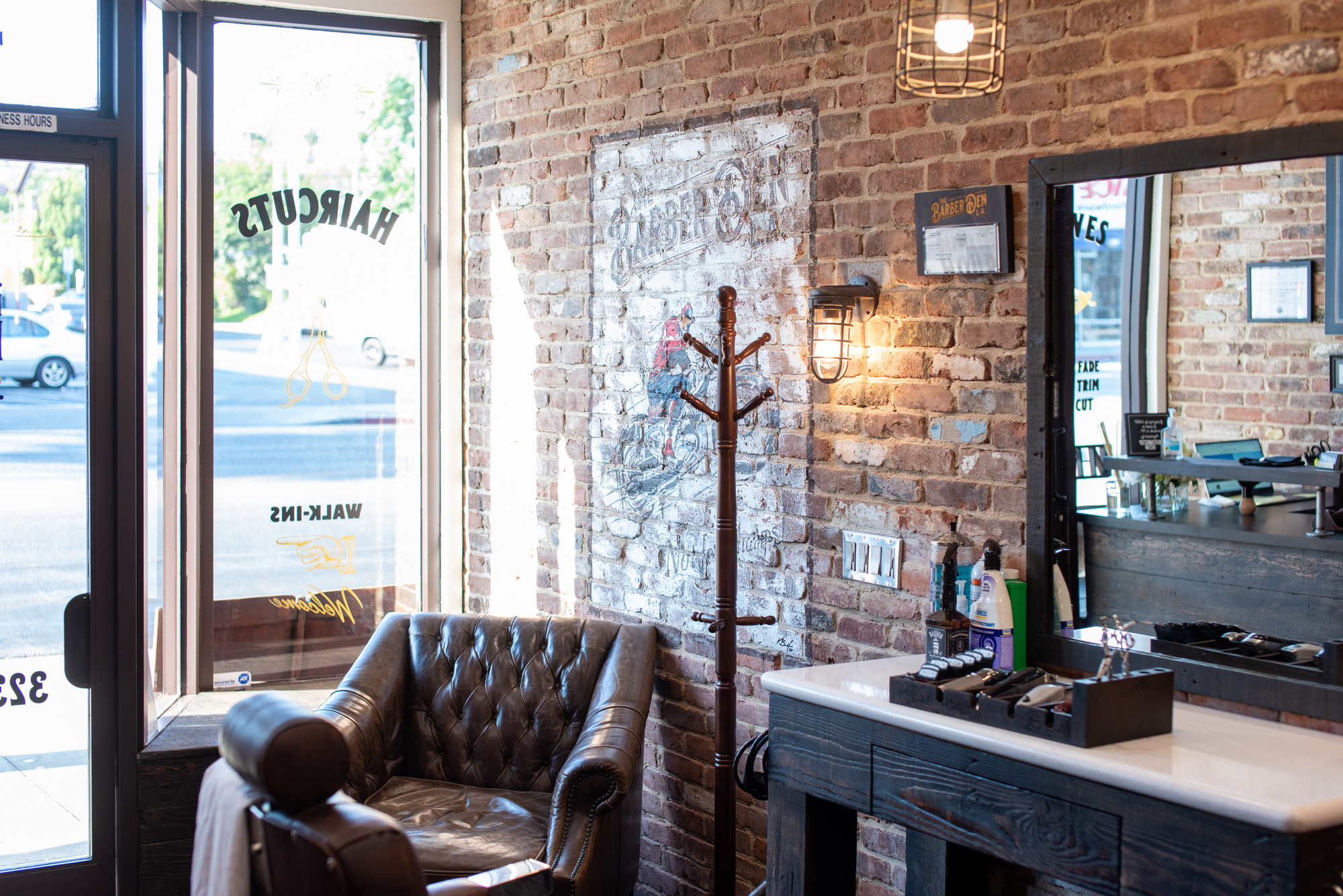 Halem knows he's fortunate to be here today, unlike so many he spent his early years running with. He mentions his close friend, Eric, someone he'd been through it all with, and later attempted to save following his own release. Eric refused to leave his beloved dog alone for the rehab Halem was pushing him towards. Weeks later, he was found deceased beside his trembling pup at a nearby bus stop.
"I've seen a lot of that. Somehow, I made it out," the barber says. "100% prison saved my life. It was hell. There was violence and lockdowns and solitary and riots. It was bad. But for prison, I'd be dead. There's no way I would have stopped. Never. Ever."
Halem is rightly proud of where he's at today. And is motivated to thrive. He shows up an hour early at his shop every day to focus on ensuring his success and still goes to weekly recovery meetings.
Naturally, he hears his clients discuss West Hollywood nightlife and the kind of partying he used to fiend for. But he's much too busy to even think about dipping so much as a toe back in.
He has his roster of dedicated clients. A shop to run. And in October, he'll marry his fiancée, Greg. Looking further forward, he foresees a day when he can step out from his chair to spread The Barber Den LA into additional locations.
At the moment, he feels beyond happy and thankful simply to be sober and alive, with an infectious excitement about life and his vocation, acquired to survive a bad turn in life, evident through his every word. And that, impossible as it once may have sounded, is enough to keep him content.
"The journey to get here has been fucking crazy," he says. "To go from being a lawyer to selling drugs to prison to now, having something that I love to do, that I'm very proud of, it's a really good feeling. I see things differently now. I'm very content and have nothing but gratitude for things."
The Barber Den L.A. ~ 7748 1/2 Santa Monica Blvd. West Hollywood, CA 90046 ~ (323) 450-9095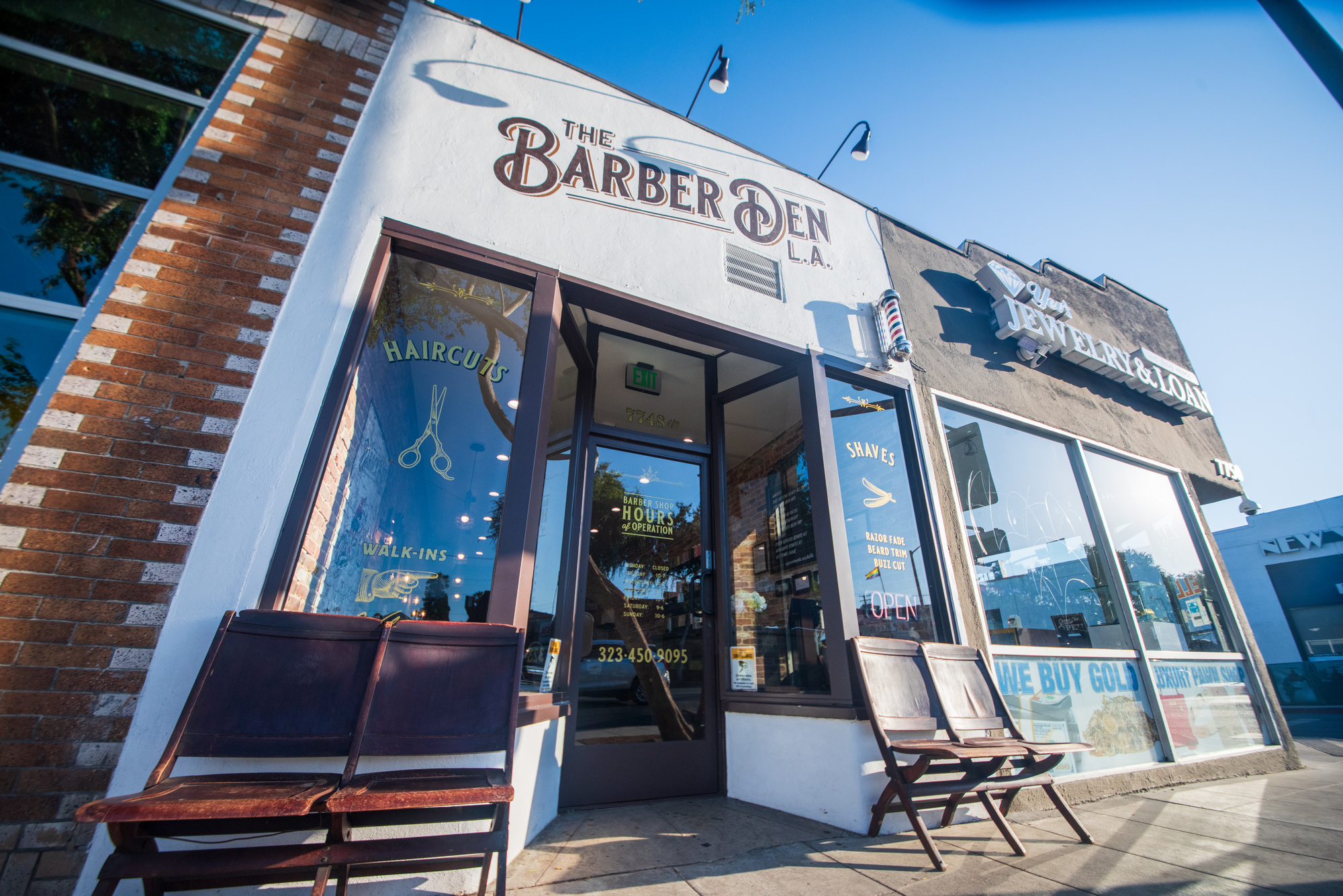 One of L.A. TACO's co-founders, Hadley Tomicki is a critic and journalist whose work has appeared in the Los Angeles Times, New York Magazine, and many other places.
Stay in touch
Sign up for our free newsletter