Art
Photographing the Filming Locations of 'Menace II Society,' 25 Years Later
11:50 PM PDT on May 24, 2018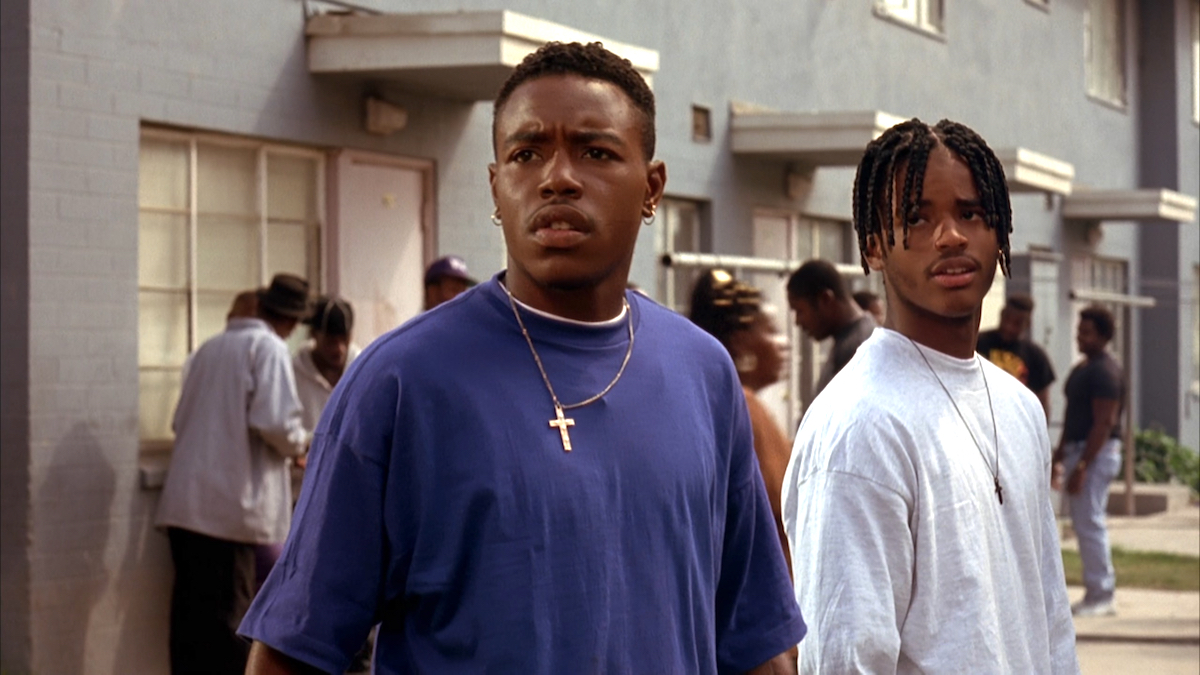 [dropcap size=big]T[/dropcap]wenty-five years ago, filmmakers Allen and Albert Hughes burst onto the Hollywood scene with an unflinching, raw, and, at times, brutal portrayal of African-American teenage life in South Central L.A. Hot on the heels of John Singleton's L.A. classic, Boyz N the Hood (1991), the Hughes Brothers' Menace II Society (1993) is one of a handful of films dating back to Melvin Van Peebles' Sweet Sweetback's Baadasssss Song (1971) and Charles Burnett's Killer of Sheep (1978) that hasn't shied from and vividly depicted life in South Los Angeles.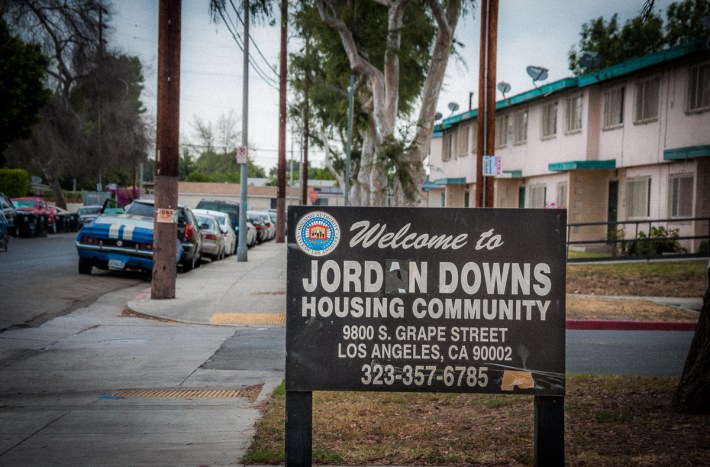 Menace II Society, about a recent graduate of Jordan High School in Watts who struggles with becoming trapped in the violent gang culture of which a contemptuous society has deemed him fit, is one of the darkest – both figuratively and literally – not only of 'hood film but also of L.A. films in general. Though comparisons are naturally made between Boyz N the Hood and Menace II Society, the latter might actually be more akin to films that depict a seedy and malevolent nighttime underbelly of Los Angeles like L.A. Confidential (1997), Collateral (2004), and Nightcrawler (2014). Where Dennis Hopper's Colors (1988) and Singleton's film were depictions of an L.A. simmering in what was to boil over into the L.A. riots, Menace was shot about six months after the riots ended. Boyz's sun-drenched neighborhood of Cimarron St. gave way to the midnight joyrides and luridly lit interiors of Menace.
RELATED: Watch TAG, a Short Film About a Young Graffiti Artist On the Run in Los Angeles
Menace II Society combined locations across L.A. County to create the South Central neighborhood of Watts, where the film is largely set. Many of the locations including those in Watts itself, Inglewood, Leimert Park, Jefferson Park, and even locations in areas as removed as Long Beach, San Fernando, and Castaic had never been used before in a major motion picture and have not been seen on screen since the theatrical release of Menace II Society, which debuted on May 26, 1993.
For the film's 25th anniversary, L.A. Taco explored and photographed a number of the film's locations to see how they appear today.
The Liquor Store
When Caine (Tyrin Turner), the film's main character, and his impetuous friend O-Dog (Larenz Tate) enter a Korean-American, husband and wife owned liquor store in the opening scene of Menace II Society, it's hard not to recall the murder of Latasha Harlins. A Korean market owner in South L.A. shot the 15-year-old African-American girl in the head after she was accused of shoplifting a bottle of orange juice, a claim that was later refuted by the police and witnesses.
As soon as O-Dog and Caine enter the store, suspicion between owners and customers is made abundantly clear. The female storeowner begins shadowing the two young black men as they approach the beer refrigerator. All the while, the male owner behind the register is demanding that O-Dog and Caine hurry up, pay for the beer, and leave the store.
After paying for the beer and not immediately receiving his change from the register, Caine and O-Dog begin walking out of the store. The man behind the register, under his breath, insults O-Dog by saying, "I feel sorry for your mother." O-Dog proceeds to pull out a gun, shoot both owners, take the security tape, and rob the register and the owner's pockets.
The lack of identifying markers makes the corner store difficult to pinpoint, but the film's location manager, Earl West, directed us to a corner liquor store in Mid-City.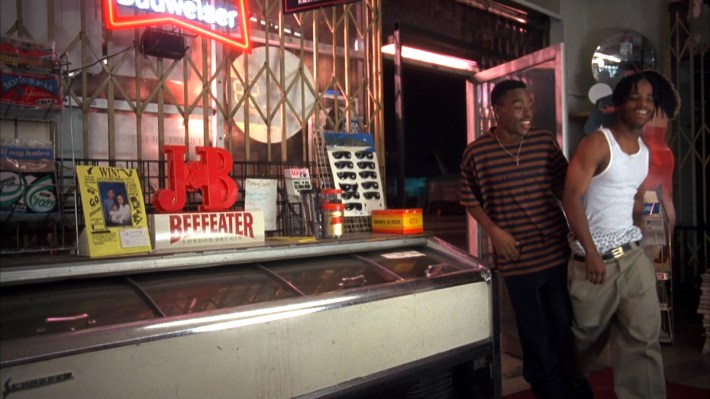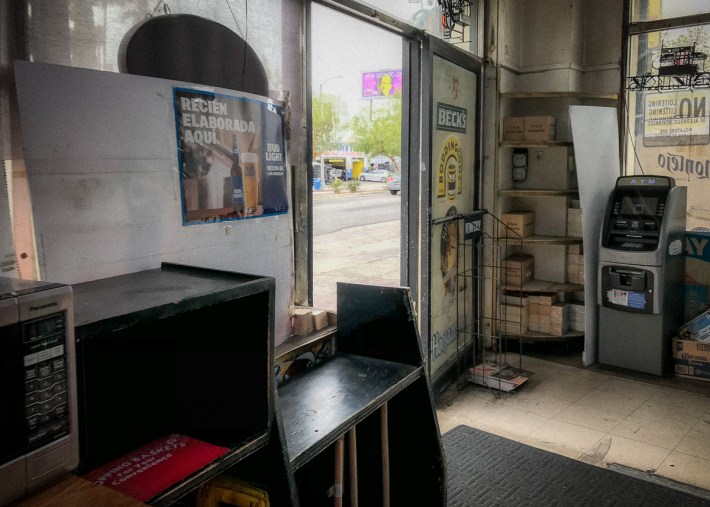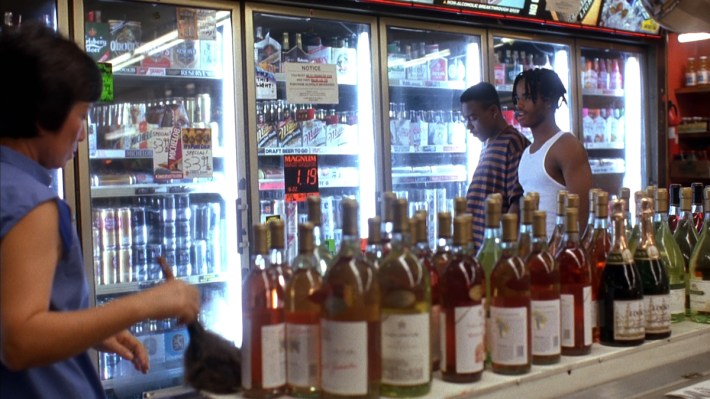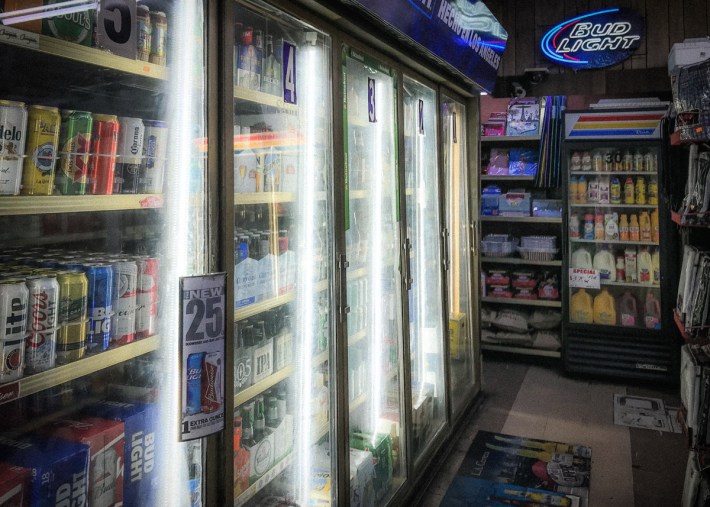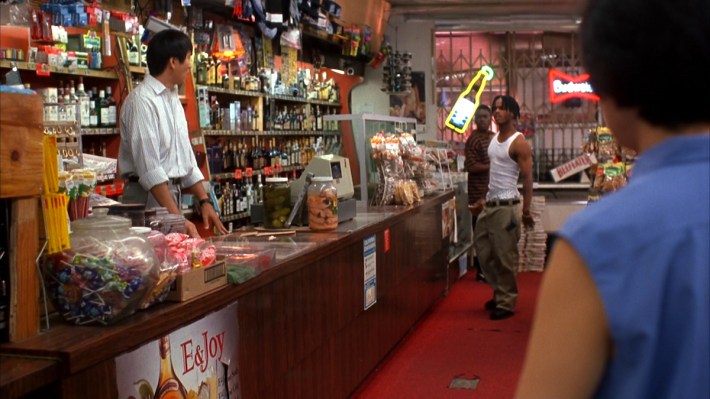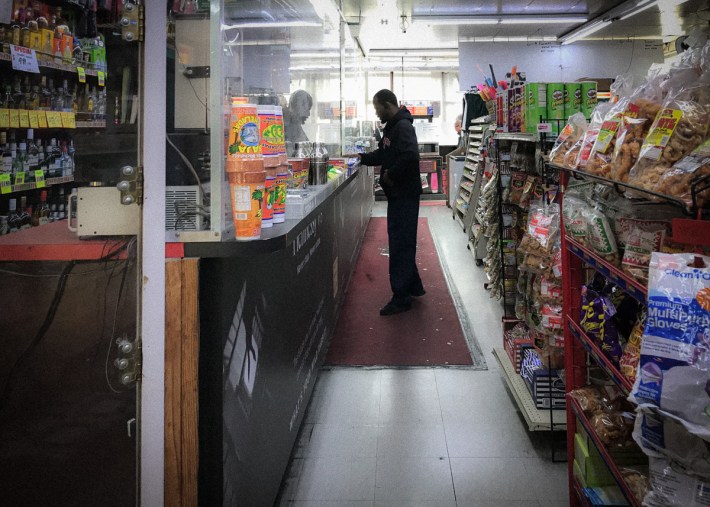 Ronnie's House
In an early flashback scene, we learn that a pair of neglectful parents raised Caine: his drug-dealer father, Tat Lawson (Samuel L. Jackson), and his addict mother, Karen Lawson (Khandi Alexander). Instead, Caine is taken under the wing of local hood, Pernell (Glenn Plummer), who shows Caine the way of the streets.
Cut to years later and Pernell is in prison while his girlfriend, Ronnie (Jada Pinkett Smith), is raising their young son, Anthony (Jullian Roy Doster). Caine, feeling a responsibility to take care of Pernell's family while he's in prison, often visits Ronnie and Anthony at a 900 square foot, single-family home in built in 1922. It's here, later in the film, that a harrowing, emotionally charged drive-by shooting scene takes place, which sees a couple of the film's main characters senselessly killed.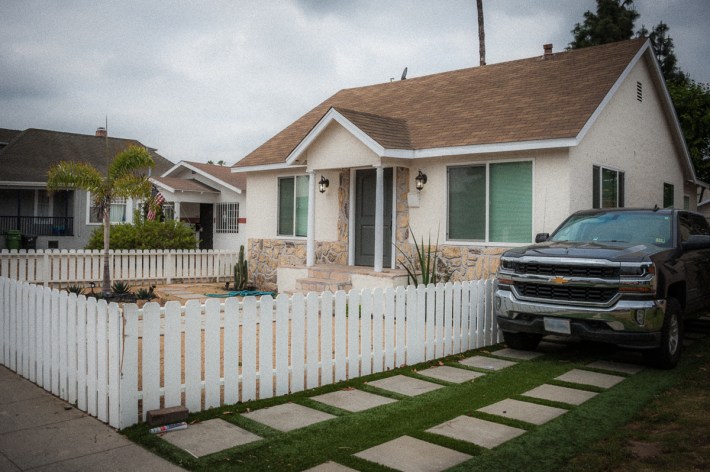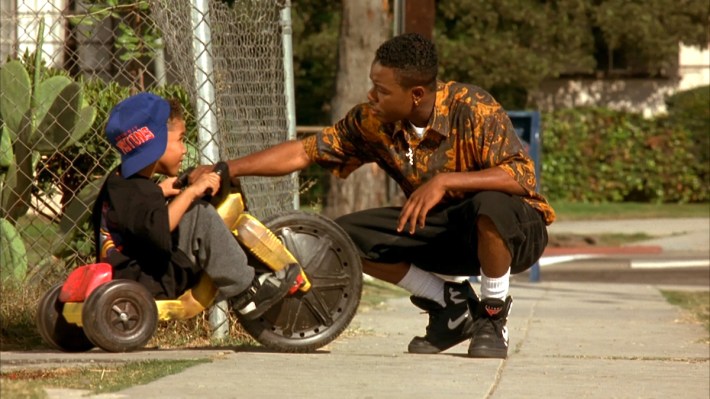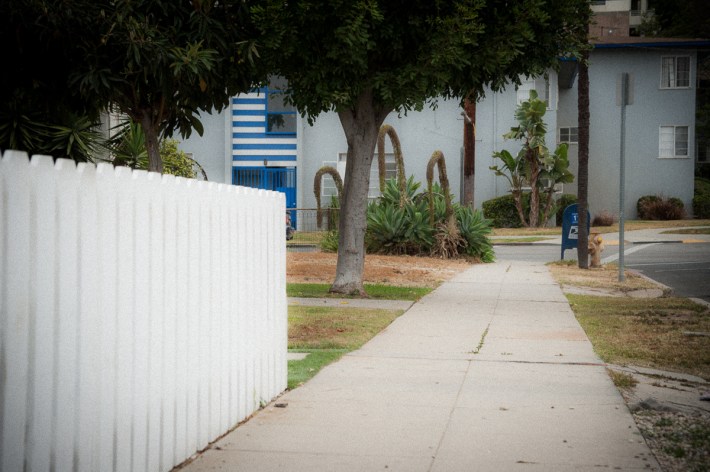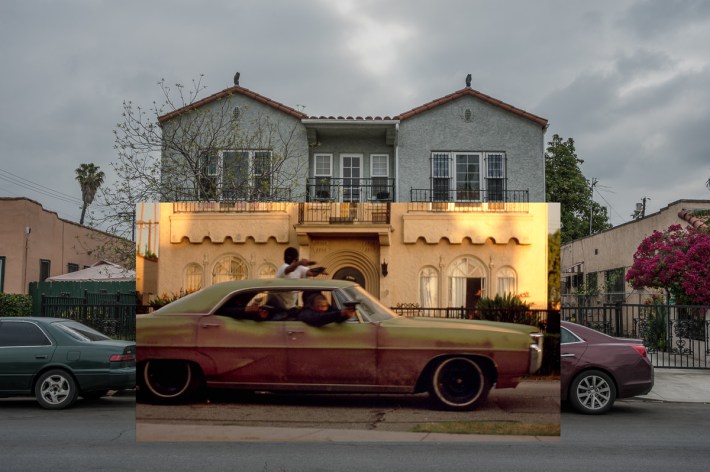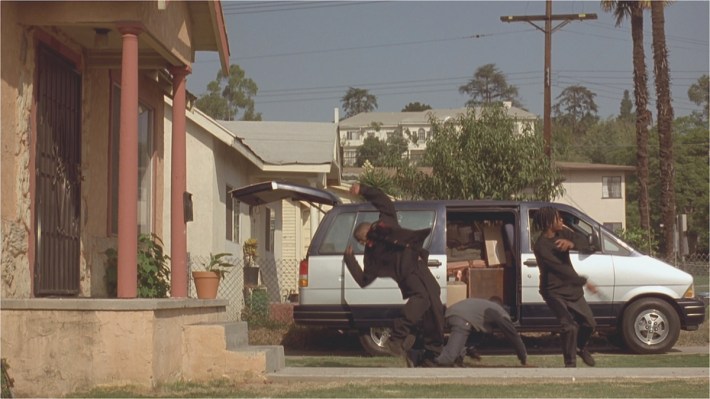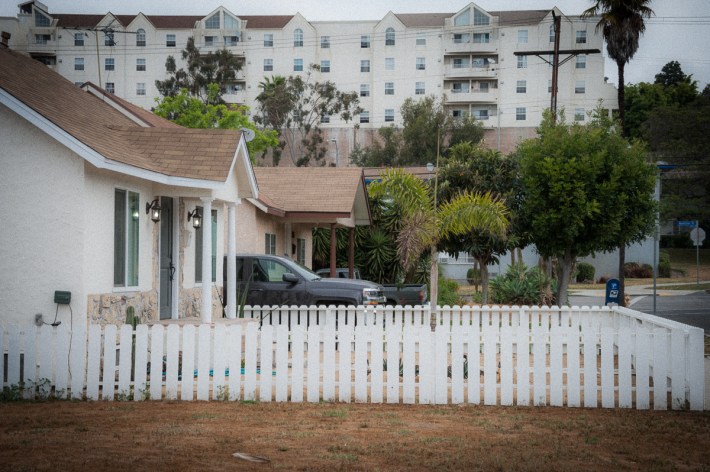 Jordan Downs Housing Community
Of all the locations in Menace II Society, none is more central than the Jordan Downs Housing Community in Watts. The 700-unit public housing complex, which was built between the 1940s and 1950s, is specifically mentioned in voice-over narration as the place where Caine lives with his grandparents, who took him in after both his parents died.
Never had a Hollywood film featured the location, and in fact, most of the people seen in the background while Caine and O-Dog are walking through its common areas were residents of Jordan Downs.
Jordan Downs is currently undergoing a multi-phase redevelopment, which, over the next few years, will see the original 700 units become 1400 brand new units of mixed-income housing. A retail shopping center is also planned. Phase one will be completed by this fall when the first of the new units will be completed and current residents of Jordan Downs will have the first opportunities to move in. Eventually, all of the old buildings as seen in Menace II Society will be demolished to make room for additional new buildings.
The adjacent David Star Jordan High School was also used in Menace II Society.
RELATED: Watts Waits: Documentary Film on the Jordan Downs Housing Project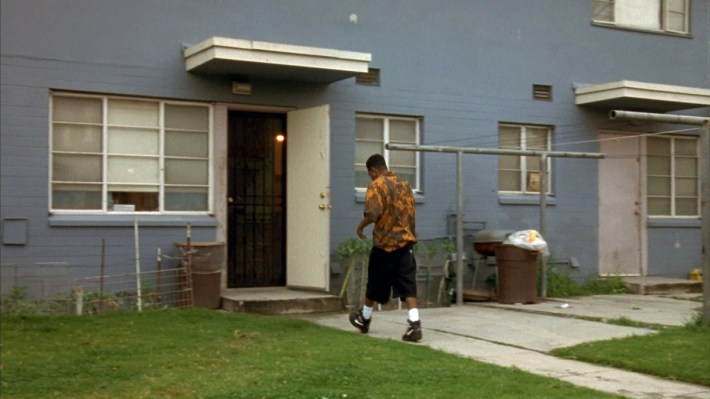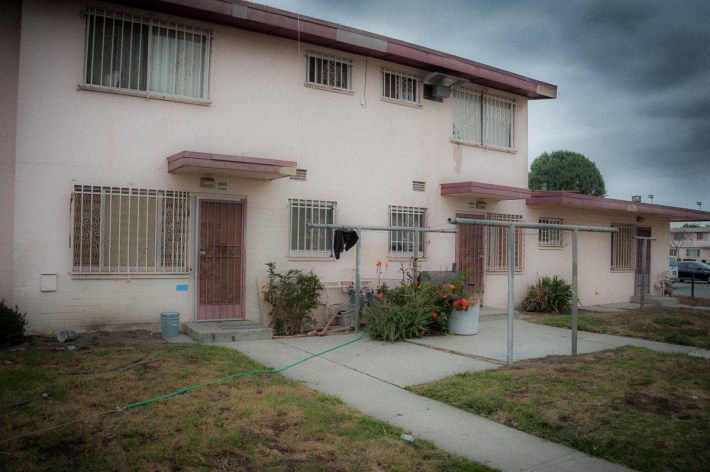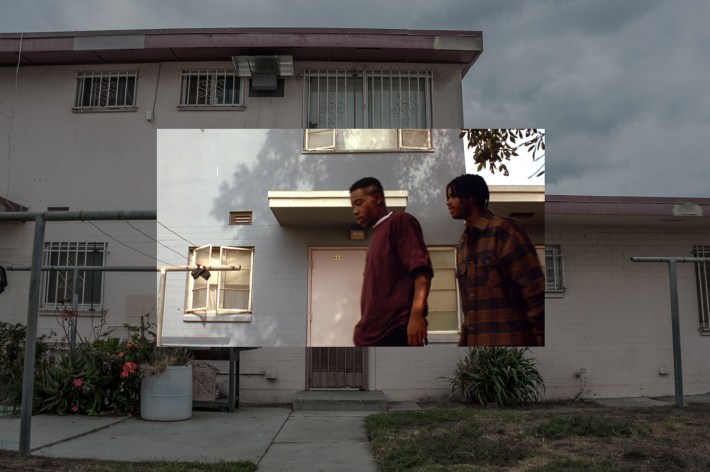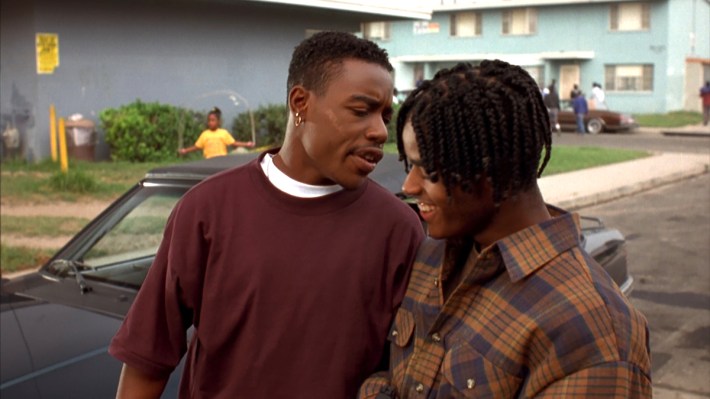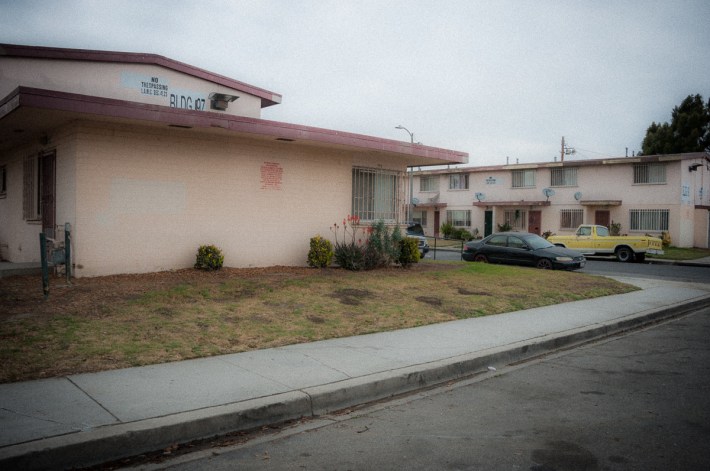 Party House
On graduation night, Caine and his friends hit up a wild house party. In a Goodfellas inspired Steadicam shot that follows Caine from across the street, through the house, and into the backyard, we're introduced to most of the characters we haven't yet met including Caine's cousin Harold (Saafir), Doc (MC Pooh), A-Wax (MC Eiht), Sharif (Vonte Sweet), Stacy (Ryan Williams), and Jackie (Cynthia Calhoun).
The Craftsman-style house, built in 1901, is actually about 12 miles north of Watts in the historic Harvard Heights neighborhood. Next door to the "party house" is the only surviving home within the Los Angeles city limits designed by famed architects Greene and Greene.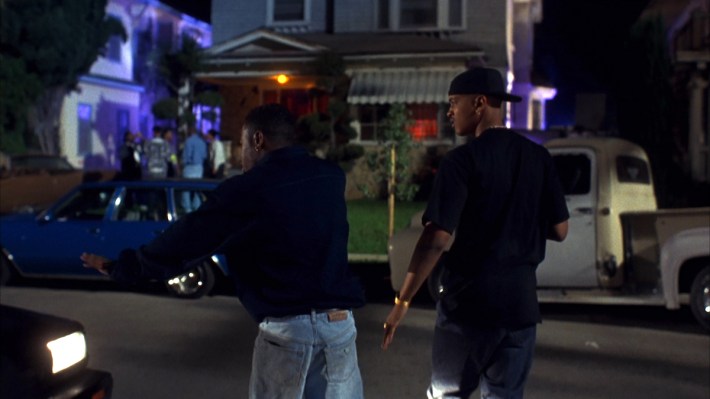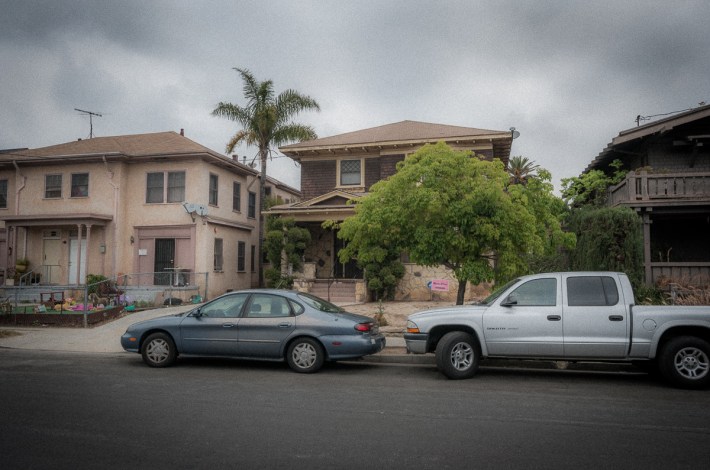 The Carjacking
Upon leaving the graduation party, Caine, O-Dog, and the rest of the crew head to Jack In The Box, or, as they refer to it by its infamous nickname, Jack In The Crack.
The group splits up into two vehicles: O-Dog, Sharif, Stacy, and Jackie in A-Wax's 1973 Cadillac Fleetwood Eldorado – Caine and Harold in Harold's 1991 BMW. A-Wax pulls his car into a gas station directly next door to the Jack In The Box while Harold's car is stopped at a red light down the street. While stopped at the light, a mini-van rolls up on the driver's side of Harold's car and two gun-wielding men demand that Caine and Harold get out of the vehicle. As Harold reaches for a gun under his seat, one of the assailant fires into the vehicle, seriously wounding Caine and killing Harold. Upon hearing the shots fired, O-Dog can see that his friends are getting jacked.
Though the two locations are in close proximity to one another on the border of Baldwin Hills and Leimert Park, the gas station, and the carjacking locations aren't within eyesight as the film suggests. The gas station location, now completely shuttered, can be found on the corner of Crenshaw Blvd. and Stocker St., right next to Jack In The Box. The intersection where the carjacking was filmed is just down Crenshaw Blvd., adjacent to Leimert Park Plaza.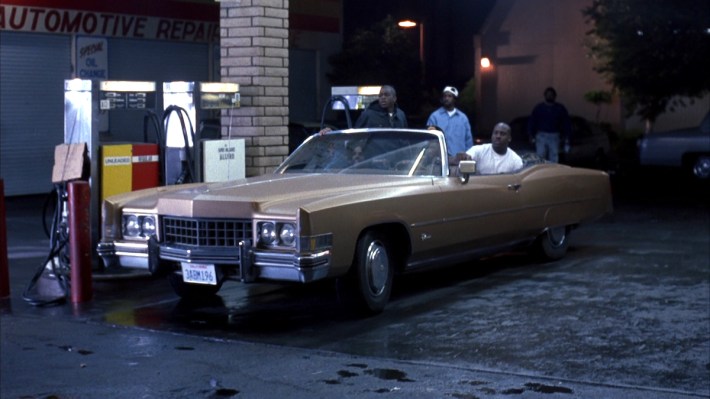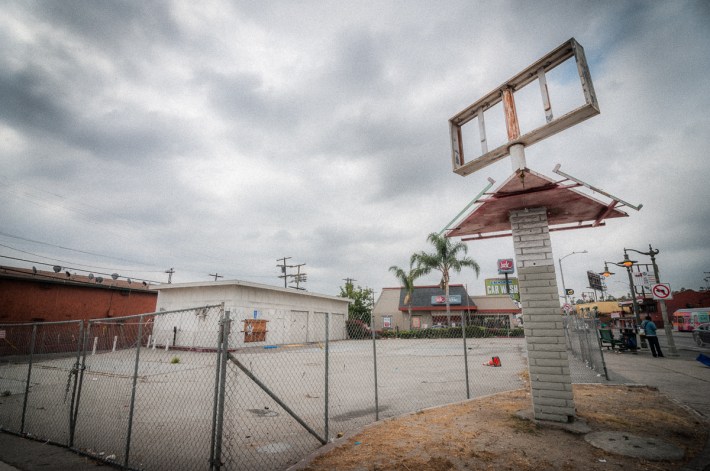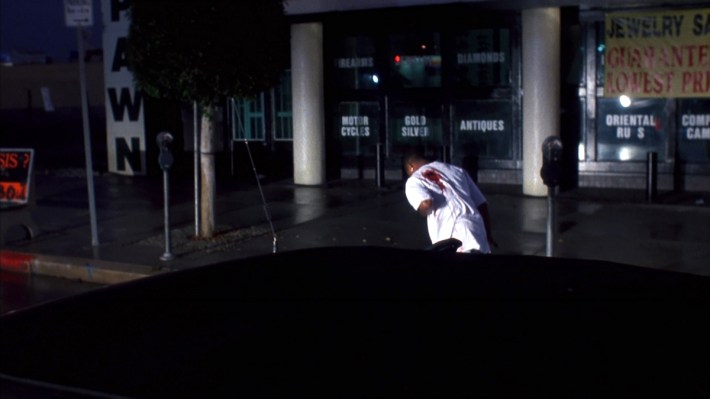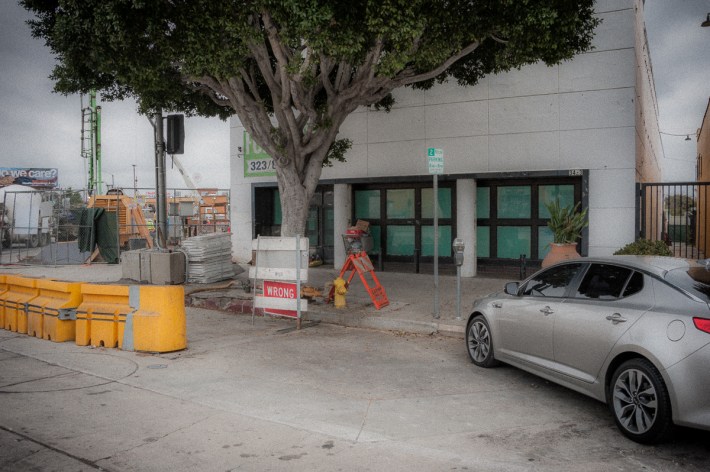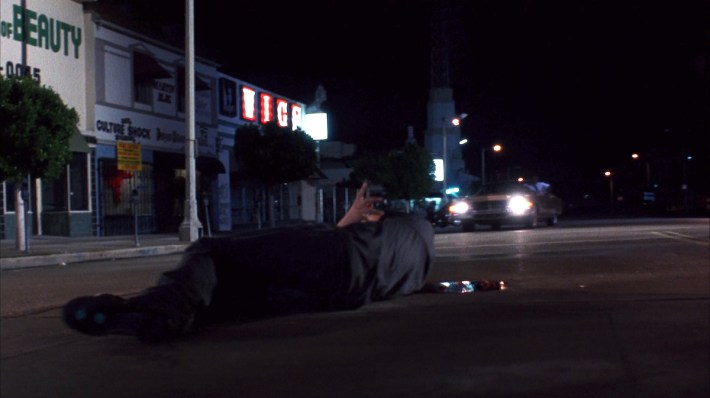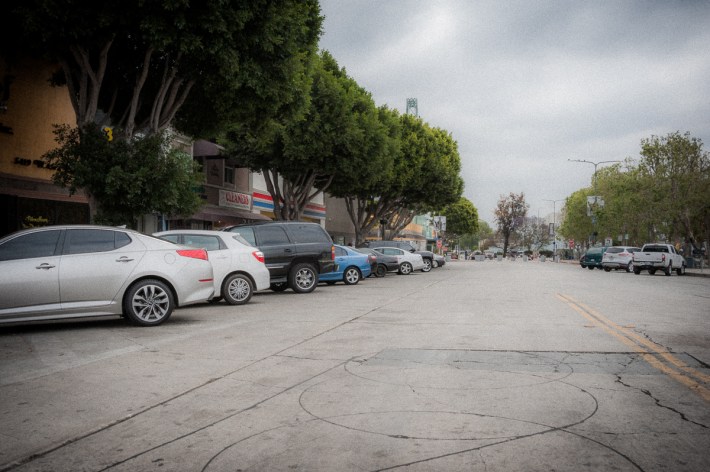 Martin Luther King, Jr. General Hospital
Caine is shot in the shoulder in the car jacking and taken to Martin Luther King, Jr. Community Hospital in Willowbrook; just a stone's throw away from Jordan Downs.
The hospital was dedicated in 1972 and was built in response to the 1965 Watts riots in an attempt to upgrade healthcare in the underserved section of Los Angeles, which didn't have a medical center that could attend to serious medical conditions. The building, which faces east on Wilmington Ave. was designed by the famed architect, Paul R. Williams, who also designed LAX's iconic Theme Building and worked on other well-known pieces of L.A. architecture such as the Shrine Auditorium the Beverly Hills Hotel. In 2007, the hospital shuttered after multiple accounts of medical negligence and incompetence were exposed.
However, a nearly $300 million overhaul a few years ago transformed Martin Luther King, Jr. Hospital into a state-of-the-art facility with new structures surrounding the original Williams-designed building.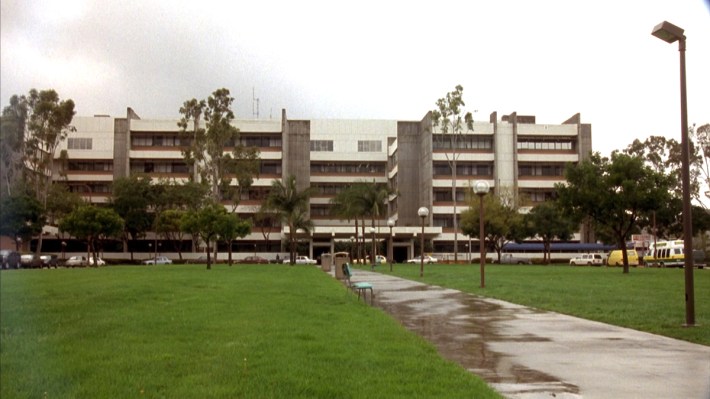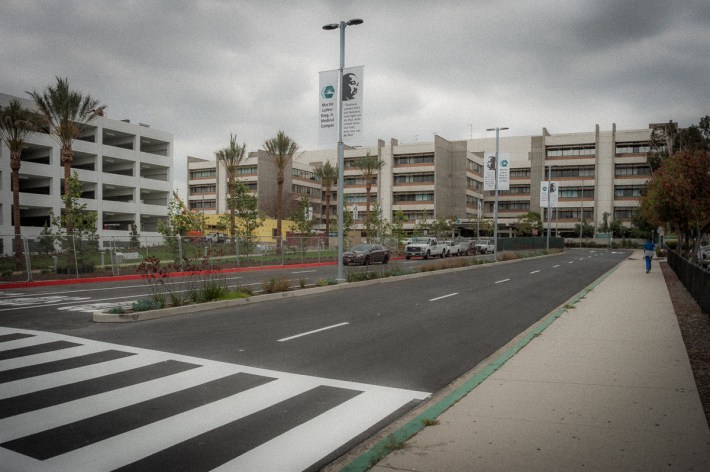 Jungle Chicken
Learning of the whereabouts of the men who shot and killed Caine's cousin Harold, O-Dog, Caine, and A-Wax head out to get revenge.
Late at night, the two carjackers are chatting up a girl working the order window of a fast food stand. A-Wax's car pulls around to the back of the restaurant as Caine and O-Dog put on black ski masks. They then walk around to the front of the restaurant and begin firing upon the two carjackers. One of the men is killed almost immediately by O-Dog's shotgun blasts, which spray blood all over the restaurant's windows. The other man, who Caine shoots in the back with a handgun, is able to evade more gunshot wound by running to the rear of the building. A-Wax approaches him and shoots him point black in the chest.
Though the restaurant appears to be in South Central it's actually nowhere near Watts. Intersecting street signs of San Fernando Rd. and Huntington St. indicate that the restaurant, Jungle Chicken, was located in the San Fernando Valley in the city of San Fernando. Today, the restaurant is shuttered with a chain link fence surrounding the property and a swarm of killer bees buzzing around the back of the building.
RELATED: Inside LOCOL ~ Watts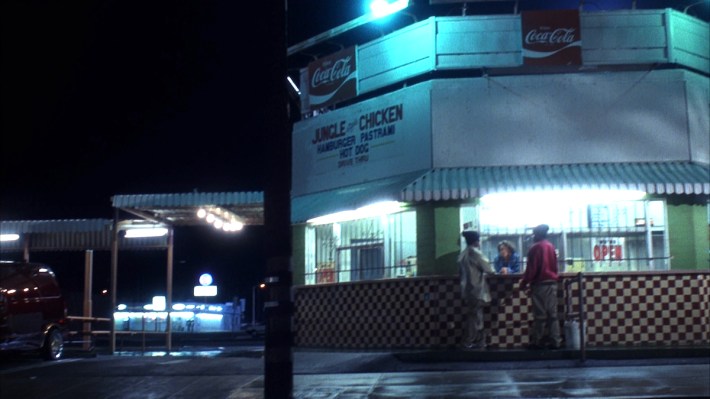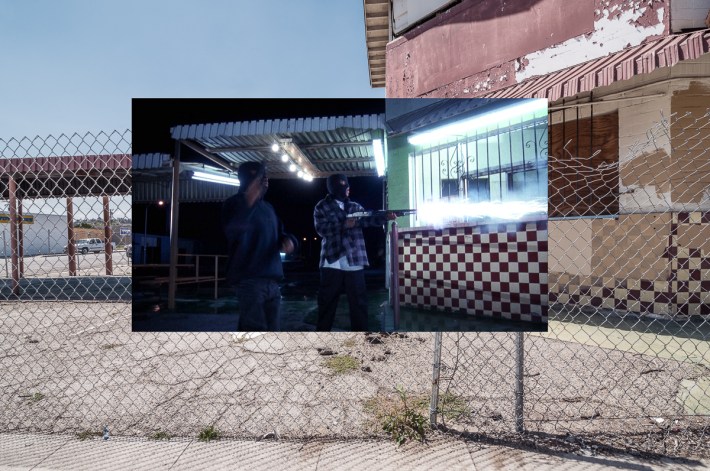 Chauncey's House
A block away from Jordan Downs on E. Century Blvd. is a multi-family residence, one of the unit's belonging to Chauncey (Clifton Powell), an older member of O-Dog and Caine's gang. Chauncey is running a sting with an insurance man (Ian Davids) to steal cars in order to collect the insurance money.
On the east side of the house is an alley where O-Dog shoots and kills a neighborhood basehead (Dwayne Barnes) after he desperately offers, in lieu of cash, to give O-Dog a blowjob in return for drugs.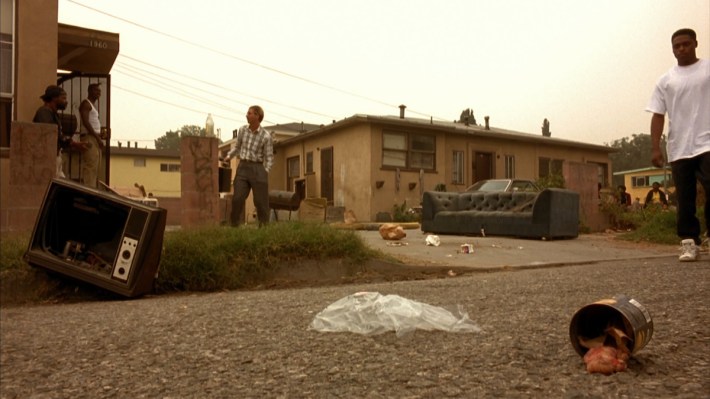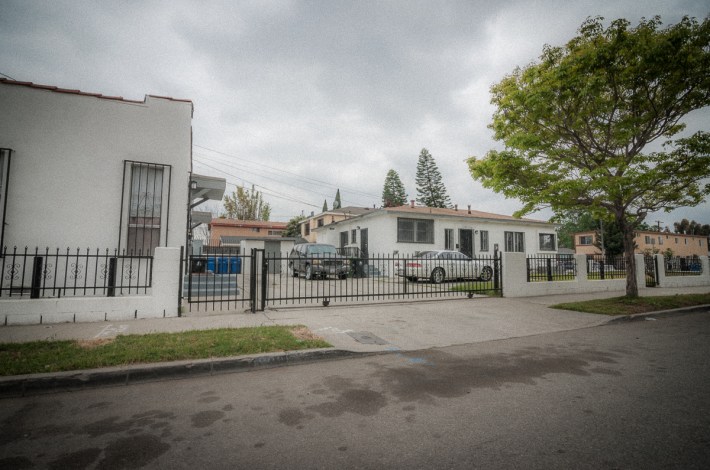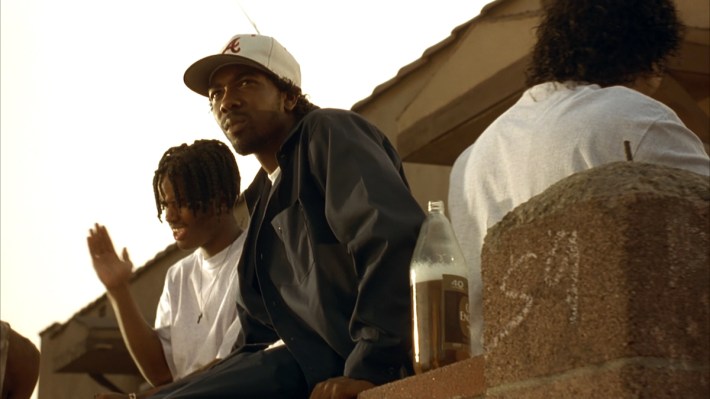 The Parking Garage
After Chauncey makes arrangements with the insurance man about the make and model of the car to steal, A-Wax drives Caine and O-Dog into an underground parking garage. As they look for the black Nissan Maxima they're supposed to steal, a security guard makes a phone call from his guard booth, presumably to the police. Upon spotting the Maxima, Caine and O-Dog are dropped off and A-Wax leaves the garage.
The two successfully unlock the Maxima and drive it up the ramps to the street level. Upon arriving at the exit, they're met by two squad cars with lights flashing. Instead of surrendering, Caine and O-Dog run back into the garage only to be chased and caught by a police K-9.
This particular garage would be difficult to discern from any other underground garages in L.A. due to the lack of exterior shots or identifying markers. However, looking inside out, a building address of 6732 is seen across the street, which, upon searching Google Street View, was deemed to be 6732 Franklin Pl. in Hollywood. This puts the garage entrance on the south side of 1800 N. Highland Ave., which is directly across the street from the Hollywood United Methodist Church.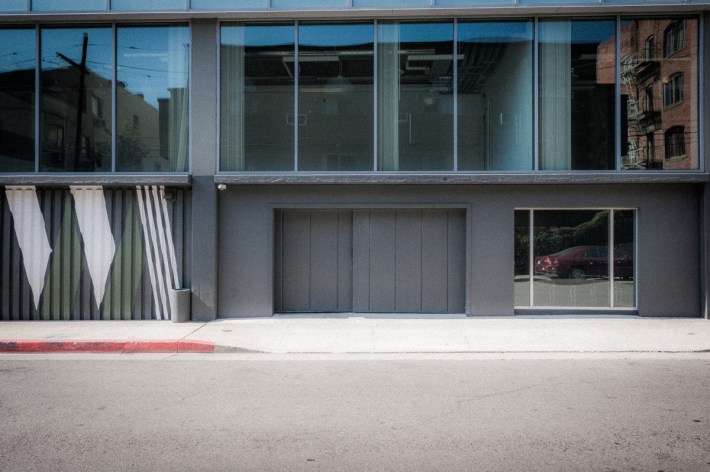 County Jail
Caine and O-Dog are booked and arrested for stealing the Nissan Maxima. Being his first on-record offense, Caine's crime is reduced from grand theft auto to attempted joyriding. O-Dog is released with a warning since he's a minor.
While in prison, Caine is interrogated by a detective, played by the inimitable Bill Duke, in what is perhaps the film's most referenced scene.  
It turns out that Caine's prints were lifted off a bottle a beer he dropped in the film's opening liquor store robbery scene. As the camera fluidly travels around the interrogation table, Duke attempts and succeeds, to confuse Caine by first telling him he bought the beer at 11:15 pm, which Caine confirms. After further questioning, Duke then tells Caine he purchased the beer at 12:15 am, and again, Caine confirms the time. Caught in an obvious lie, Duke repeatedly asks Caine, "You know you done fucked up, don't you," which has become the film's most oft-quoted line of dialogue.
All of the prison footage in Menace II Society, including a later scene in which Ronnie and Caine visit Pernell jail, was shot in Castaic inside the East Facility of the Peter J. Pitchess Detention Center, also known as the Wayside Honor Rancho, which is run by the Los Angeles County Sheriff's Department. According to the LASD website, Pitchess Detention Center is the country's largest operating jail complex and the oldest one in L.A. County. The East Facility, built on part of the 2,600-acre property in 1951, was at one point a maximum-security jail. Today, the building is mostly non-operational except for a section that houses a small group of inmates, who are meticulously selected through rigorous medical and physical screenings, to participate in a fire training camp program. Graduates of the program assist the L.A. County Fire Department. East Facility is still occasionally used for filming.
RELATED: East L.A. Gang Members Admit to Fire-Bombing Black Homes in the Ramona Gardens Projects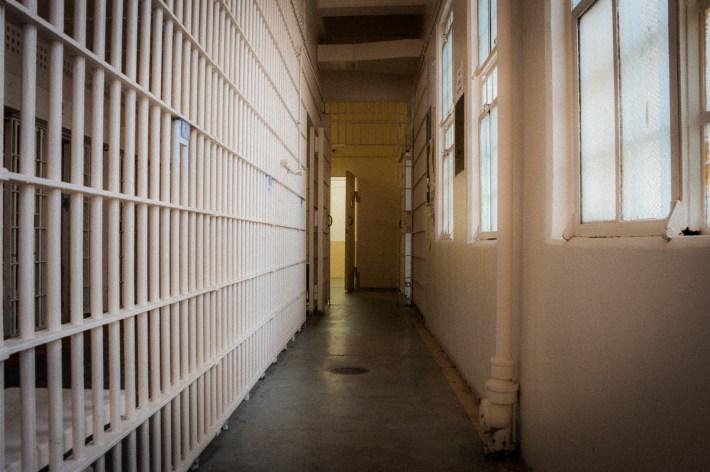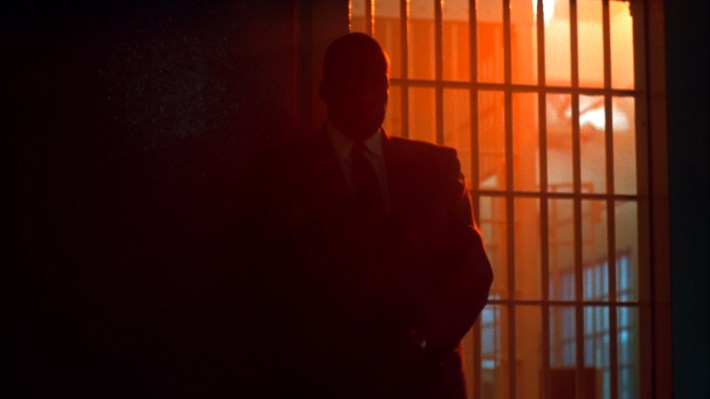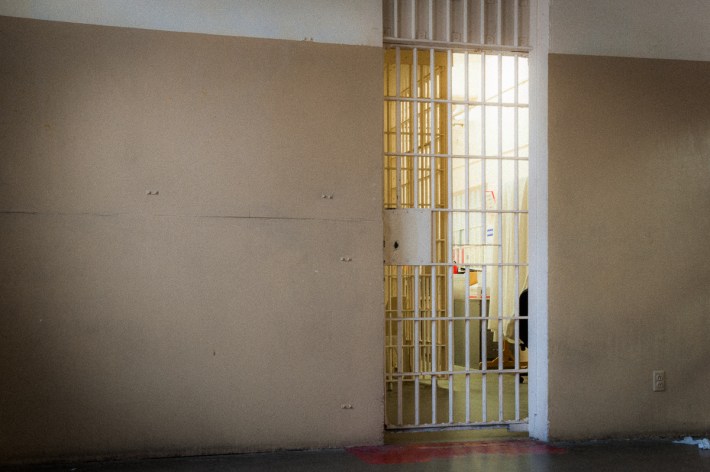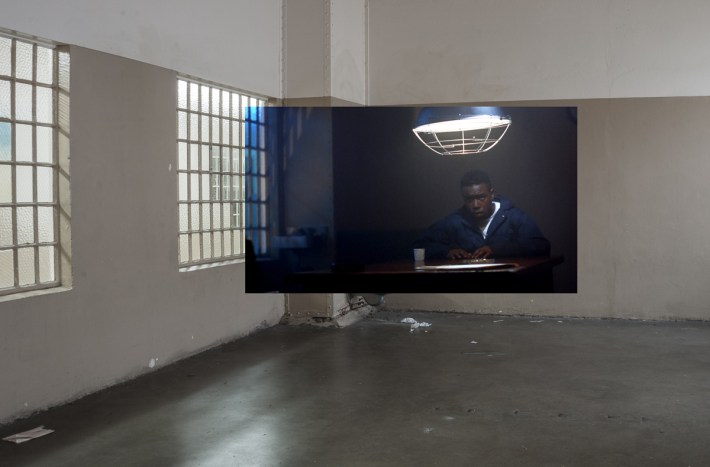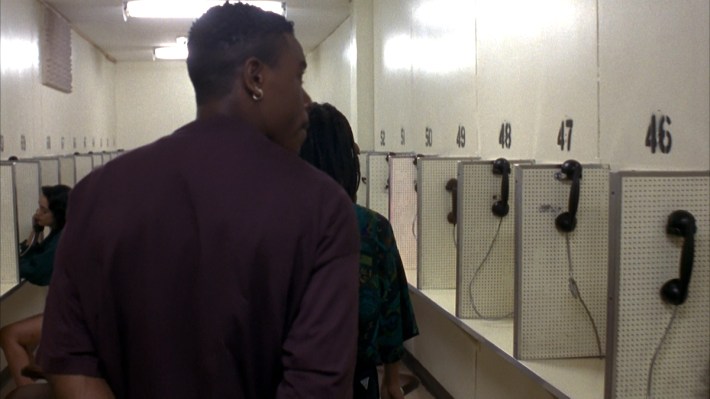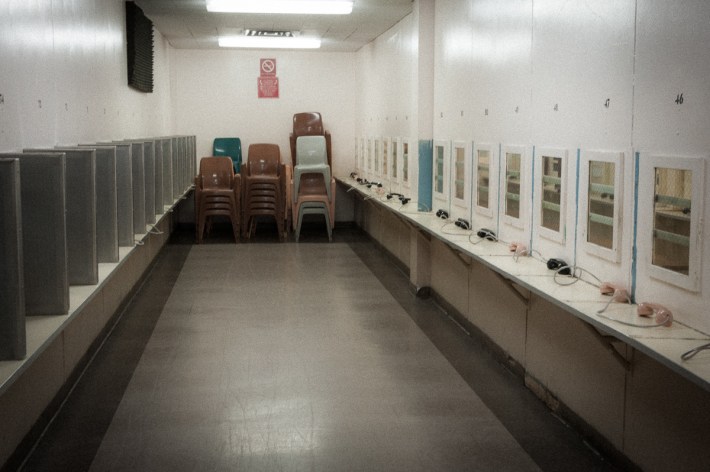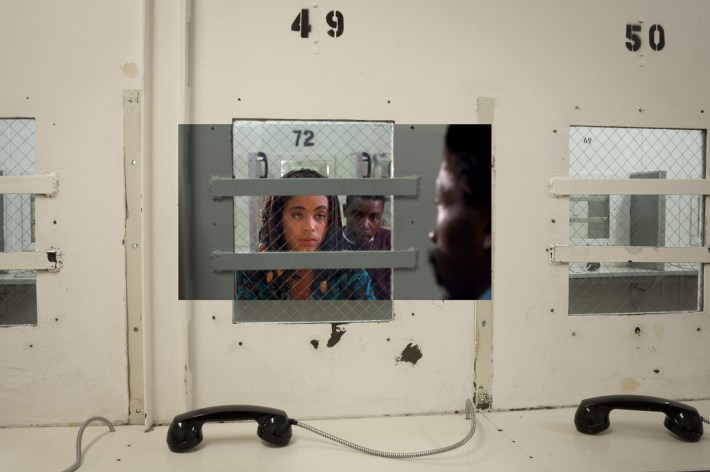 The Chop Shop
Back at the graduation house party, we learn that Stacy, with whom Caine has been friends since they were young, doesn't attend Jordan High School and goes to another school because of his talents in football. After receiving a scholarship, he always talks about going to Kansas to play ball.
One afternoon, Stacy and Sharif, another of Caine's friends who's gotten himself out of trouble by turning to Islam, drop off Caine at a chop shop to buy a new car. They try to convince Caine to move to Kansas with them to get far away from South Central. No luck persuading Caine, he goes into the auto shop and buys a 1991 Ford Mustang LX 5.0 convertible.
The exterior and interior of the auto shop are Auto ER Collision & Tires on Vermont Ave. in South L.A.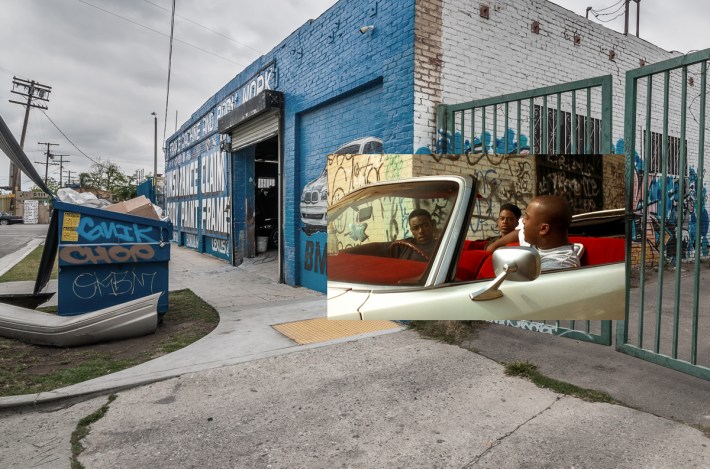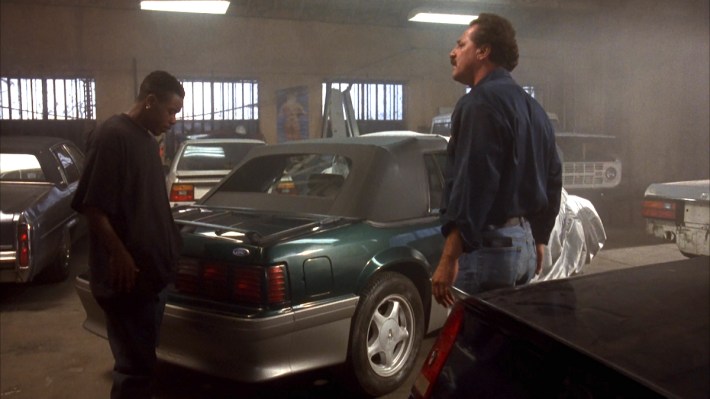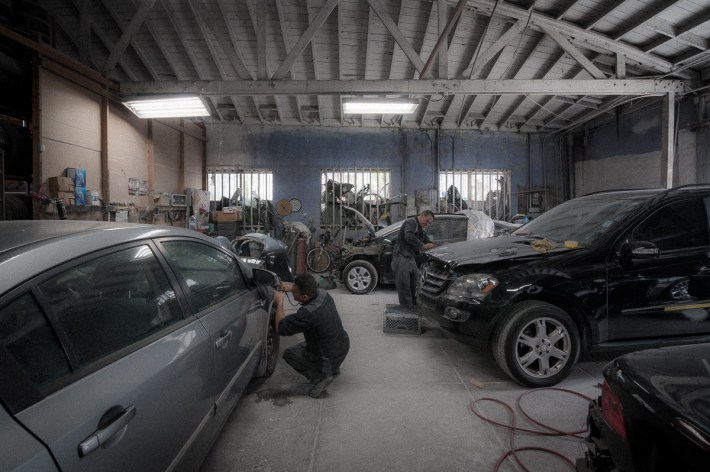 The Drive-Thru
Though he has a hot new ride, Caine isn't satisfied with the car's stock rims. Not planning to pay for a new set, Caine spots a set of silver and gold Dayton rims on a bright red 1990 Ford Mustang. Caine follows it to a fast food restaurant and as it pulls into the drive-thru, Caine jumps into the passenger seat. Gun drawn on the driver, Caine demands the rims, the car stereo, and a double burger with cheese at the drive-thru.
The fast-food joint was filmed on Long Beach Blvd. in Long Beach at what is today Elephant Thai Kitchen. The building was renovated and looks nothing like how it appeared in Menace II Society when it boasted a red A-frame roof.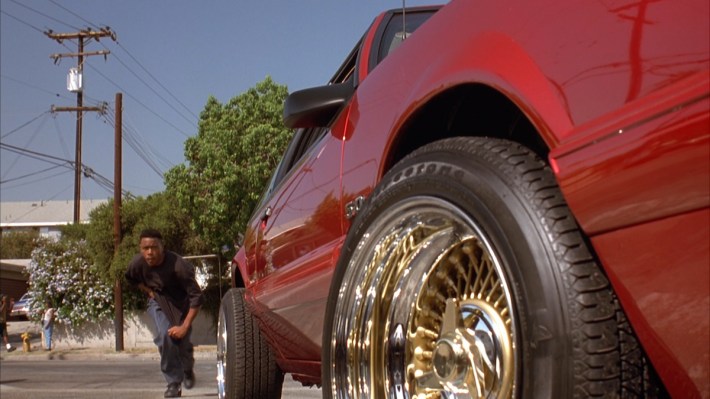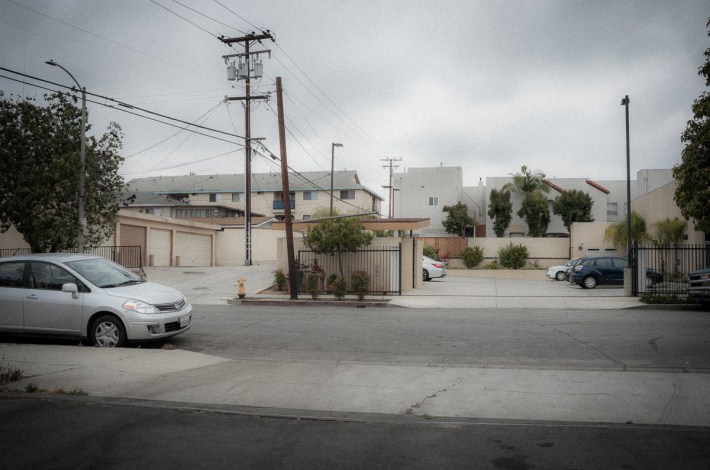 The Park
On the edge of the park where Caine is going to meet his friends for a BBQ, he spies an attractive young woman getting into her car. He stops his new Mustang right behind her parking spot, blocking her in. Caine introduces himself to Ilena (Erin Wiley Sands) and gets her number.
As the group plays dominos on a picnic table, Sharif's father, Mr. Butler (Charles S. Dutton), joins the conversation. Stacy proceeds to ask Mr. Butler about why Sharif is constantly preaching his Muslim beliefs to the rest of the group.
The scenes were shot along Warren Ln. in Edward Vincent, Jr. Park, otherwise known as Centinela Park, in Inglewood. Some of the structures in the park including the park's stone water fountain, tennis courts, and Veterans Memorial Building date back to the 1930s.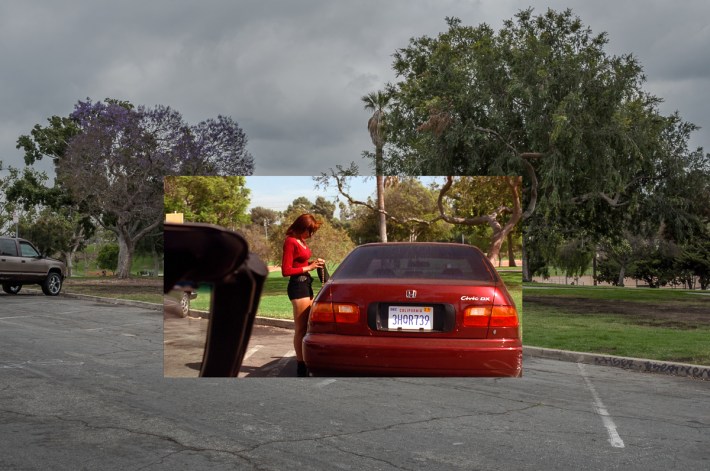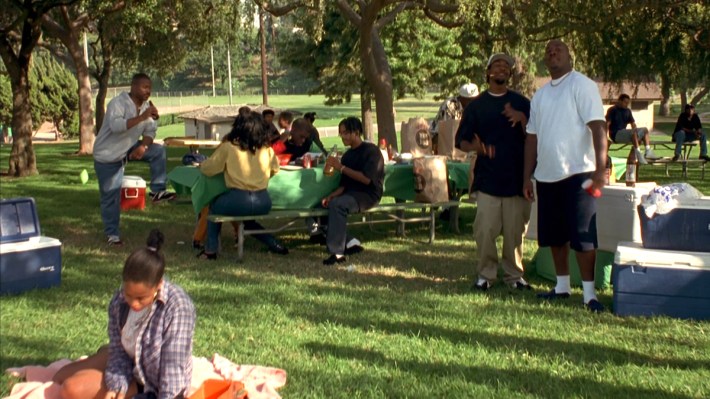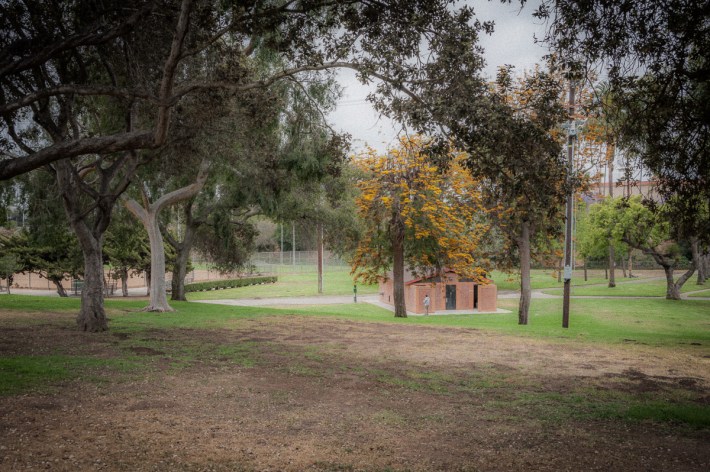 Credit: Jared Cowan
The Church Alley
Caine a Sharif are unjustifiably arrested outside of a liquor store by a couple of white LAPD officers. In voiceover, Caine says that the Mustang with Dayton rims doesn't help matters with the police. Instead of taking them to jail, the cops abandon Caine in Sharif in an alley in a 'hood where they don't belong – "where the eses stay," says Caine.
The only identifying markers of this nighttime location shoot are a church's Spanish-style steeple and its glowing stained glass windows.  A Google search of mission church architecture in L.A. eventually led us to an alleyway behind the Westminster Presbyterian Church of Los Angeles in Jefferson Park. The church was built in 1931 as St. Paul's Presbyterian Church. Westminster acquired the property in 1949 and the building was declared an L.A. Historical Landmark in 1980.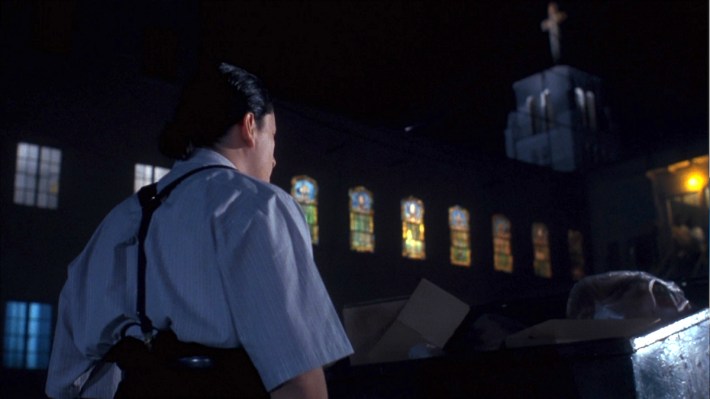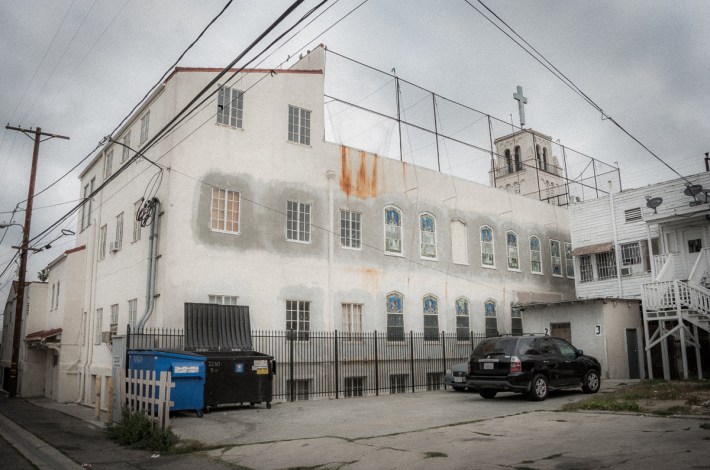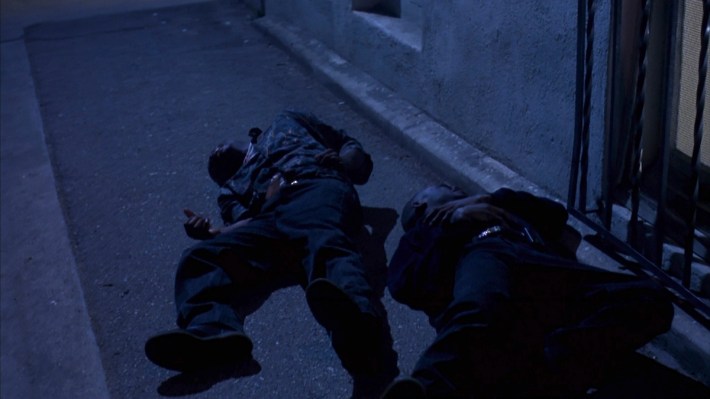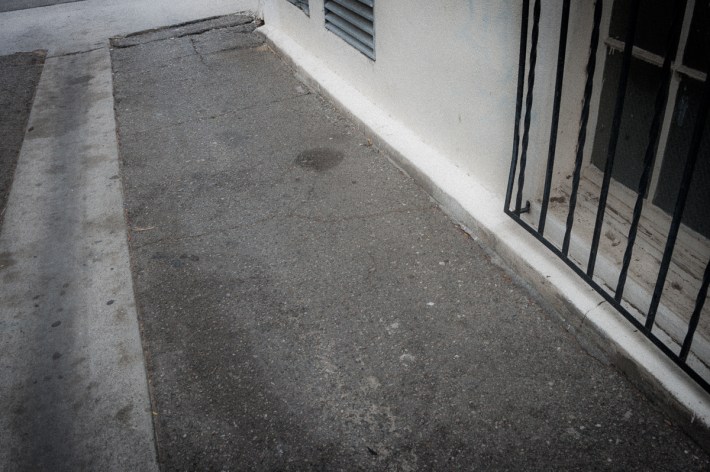 Ilena's House
When Caine gets a call from Ilena telling him that she's pregnant and he's the father, Caine denies it. As a result, Ilena's cousin (Samuel Monroe, Jr.) confronts Caine outside of his grandparents' house in Jordan Downs. Caine proceeds to beat Ilena's cousin to within an inch of his life.
To Ilena's protests, her cousin gets into a car parked outside of her house adjacent to Crenshaw High School.  In retaliation, her cousin and his gang proceed to Ronnie's house where the film's aforementioned climactic drive-by shooting takes was filmed.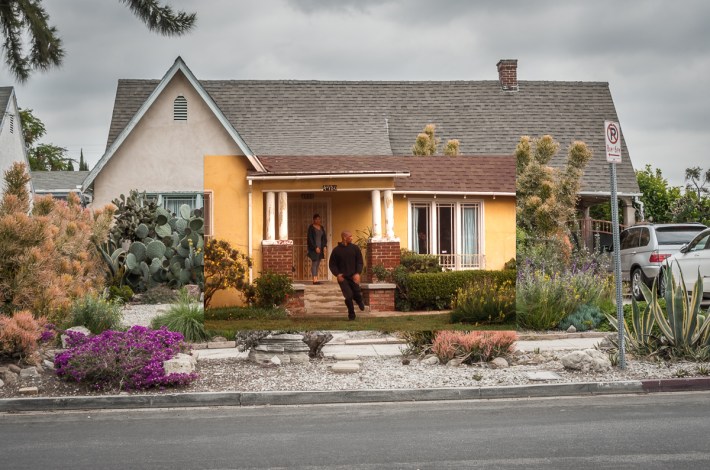 Thanks to location manager Earl West for directing us to a few of the film's locations. Please keep in mind that a number of these locations are on private property. Do not trespass or disturb the owners. Follow Jared on Twitter at @JaredCowan1.

Jared Cowan writes and podcasts about L.A. filming locations. He also works as a photographer and camera operator.
Stay in touch
Sign up for our free newsletter