This Popular Oaxacan Restaurant in Los Angeles Got Rid of All Its Tequila, But There's a Catch
4:21 PM PST on January 19, 2022
At 440 bottles and growing, Los Angeles-based Madre! Oaxacan Restaurants proudly claim the largest north-of-the-border collection of artisanal mezcales and other distilled agave spirits from 14 Mexican states. 
But at the end of summer 2021, Vásquez quietly removed all the aged tequilas he once carried at his three locations in Culver City, Torrance, West Hollywood. And he won't serve any at his newest branch in Santa Clarita, coming in September 2022.
Not that Iván Vázquez, the Oaxacan-born restauranteur and mezcal ambassador behind Madre's impressive bottle collection, ever offered mainstream tequilas or celebrity swill at any of his locations since opening in 2015. 
Vásquez eliminated all barrel-aged and industrialized tequila and mezcales at his restaurants, taking a stand to fill his twenty-two-page "mezcal bible" of a menu with nothing but 100% agave distilled spirits from small, independent producers in Mexico, many of them indigenous, who use traditional methods and operate outside of the standardized, nationally-sanctioned spirits industry.
Vásquez cites many reasons for this shift, and they all come back to an essential truth.
"Mezcal shouldn't be aged," Vásquez tells L. A. TACO. "And tequila as we know it is a type of mezcal, not the other way around. I don't want to pass that down," says the proud grandson of an Oaxacan mezcal vendor now at the helm of a growing mezcalería business in Los Angeles. 
He's not against tequila, per se. But Vásquez does want to fight the "tequilization" of mezcal in Mexico, one small maker at a time.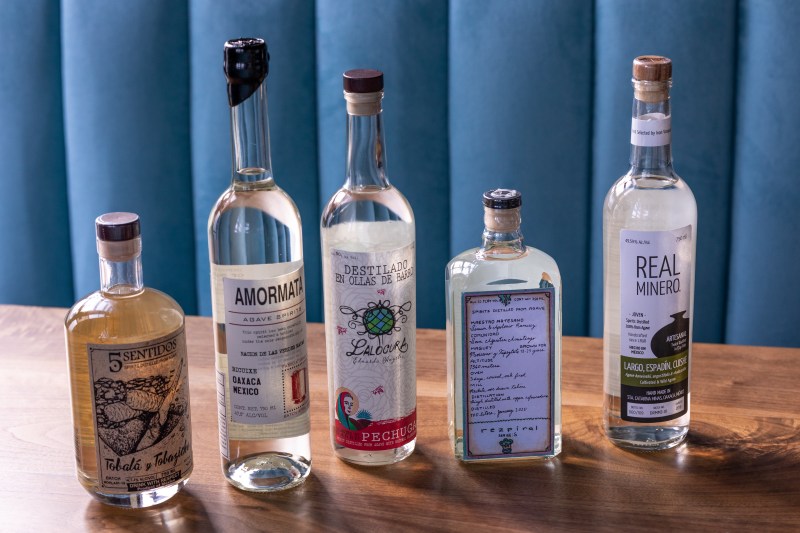 On the menu at Madre
While he never stocked any liquor named after a "Don," "José," someone's patrón, or Hollywood celebrity, Vásquez did pour aged tequilas and mezcales categorized as "blanco," "reposado," or "añejo," which are industry labels. Not anymore. 
Though technically, Vásquez didn't trash all his tequila. 
Flip to page 17 of the menu  to find a host of mezcales "tequilanas" made in Jalisco state from Blue Weber Agave—the official primary ingredient of the spirit most commonly known as "tequila." There is even one by Fortaleza, a familiar brand name that may comfort those who might otherwise feel confounded by the scientific nomenclature and geographic locations that organize Madre's opus of a menu.
We tasted the Fortaleza first, operating as the 'gateway' to more adventurous sipping that afternoon. As he poured, I saw the words "tequila" and "blanco" flash on the label. He didn't miss a beat.
"When we got rid of the aged mezcales, we decided to keep blanco tequilas because they are unaged," Vásquez explained. "And they have to be produced in an artisanal method. In this case, Fortaleza uses stone-crushed 100% agave fermented in open-air tanks, which are considered traditional methods."
Next, he poured a taste of a mezcal distilled from Karwinskii agave in the Mihuatlán region of Oaxaca. The mezcalero is one of Vásquez's favorites for his hand-crushed, single-distillation methods. 
Then there was the astringent sotol from Durango, distilled from dasylirion agave and reminding me of something I once drank with my grandfather from Chihuahua.
All seven of the mezcales I tasted each had their own unique flavor profiles, production methods, and hyperlocal regional influences. And I barely scratched the surface. Lesser known agaves from species across Puebla, Sonora, and Michoacan share space with the voluminous offerings from Oaxaca, which produces over 90% of Mexico's mezcal. 
The history, diversity, and complexity of agave reflected in each bottle in Vásquez's collection are in danger of being flattened, homogenized, or erased by "tequilization."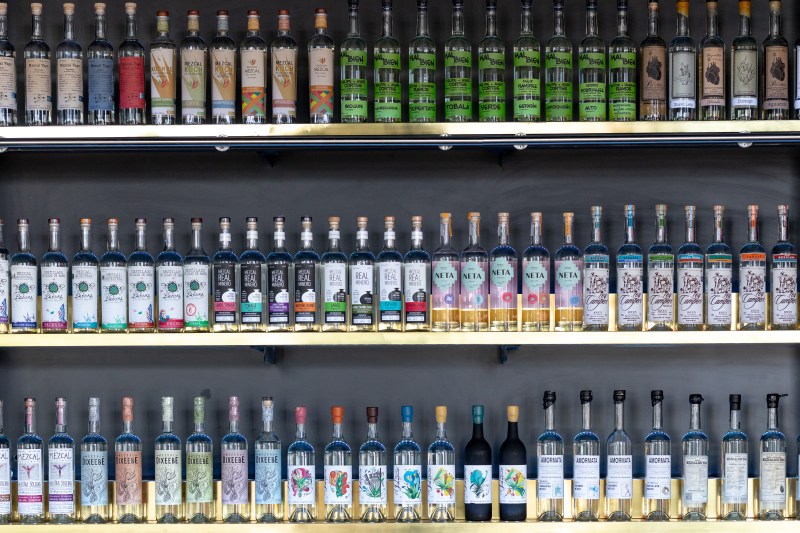 Saying no to the 'tequilization' of mezcal
In her 2015 book Divided Spirits: Tequila, Mezcal, and the Politics of Production, sociology professor Sarah Bowen explains "tequilization" as an effect of industrial methods designed to speed up production for commercial gain, while adhering to national standards that determine where and how mezcal could be made. 
"The DO (designation of origin), the standard, and the CRM (Mezcal Regulatory Council) were all modeled directly after the parallel institutions that regulate the tequila industry [formalized in 1974]. By setting requirements that are almost impossible for traditional mezcal producers to meet, the standard encourages industrialization. The result is what critics call the 'tequilization' of mezcal." 
More than a trendy symbolic move to shun corporate brands in favor of the small and local, Vásquez's move to eliminate aged mezcales signals his forward-looking commitment to challenging these trends that have endangered small producers all over Mexico since 1994, the year the Mexican government established the DO (denomination of origin) and quality standard for mezcal. 
"[Tequilization] is forcing these small mezcal producers to forget their customs and leave their styles for U. S. demands and tastes, like aging in oak barrels. It's a difference between what producers are asked to do versus what they want to do and should be doing, and it's having a huge impact on traditional mezcal making culture," said Vásquez. 
Supporting small producers and what they do
Vásquez knows well the irreversible cultural impacts of these demands on smaller producers, who have to alter or switch their tools, methods, and sometimes the constitution of the mezcal itself to meet the standards if they want to compete.
One example is the industrial use of diffusers, an extraction method that uses hot water and steam, accelerating what should be a three-week process to only 36 hours. "You don't get flavors of the cooked agave, like a good mezcal," explained Vásquez, "just a steamed agave flavor that they'll add other ingredients to later for taste."
So many of these small producers, he notes, can't afford to buy new equipment or "standardize" their operations to get certified, while others simply do not want to change their traditional ways of making mezcal by switching to diffusers or other "advanced" technologies to please the "gabacho" palate. Such tools and aims are not part of their generations-deep, ancestrally-informed local ways of making mezcal. 
Methods include using a tahona, or large stone wheel setup, to crush the agave, using clay or wood stills instead of copper or stainless steel, or using starch from pulque, a pre-Hispanic indigenous beverage and the oldest spirit in Mexico, to begin the fermentation process instead of water. 
Vásquez poured a sample from Santiago, Nuevo Leon called La Mata de Castilla, a distillation of Agave Americana using pulque. It smelled and tasted briny, like olives. The rich, robust mouthfeel made it feel like I was chewing something, a novel sensation from this liquid that looked like water.
"Pulque goes back to our ancestors, the first pulqueros. Mezcal and indigenous tradition go hand in hand," says Vásquez. "Each region has a distinct process informed by their language and methods of production." The languages lend culturally-specific vocabularies, richness, and ways of describing the ingredients, tools, and processes of making mezcal. 
Vásquez tells me a story about these two producers in Ixcatlán, in the La Cañada region of Oaxaca. "There are only two brands of traditional mezcal in Ixcatlán. Right now, there are five speakers of Ixcateco left, and two of them are those mezcaleros. That tells you something. Their culture-specific processes are being lost to tequilization."
Making new mezcal pathways
Through Madre and its growing profile of restaurants, Vázquez creates demand for mezcal from small producers such as the ones in Ixcatlán. 
For his part, Vásquez not only buys mezcal in advance, but he does what many in the industry don't do: pay the mezcaleros on delivery. "Many buyers, including a lot of the big labels, don't pay the mezcaleros until they sell the product. Paying on delivery covers labor and costs of production."
Above all, Vásquez values the connections and relationships he has built with small mezcal producers across Mexico that have taken decades to cultivate. 
"At Madre, we want to redirect money back to the people making it. We want to support mezcaleros and mezcaleras in Mexico who are resisting the pressures to change." 
To illustrate, he pours me a taste of the Chacolo "Lineño" mezcal, distilled from the species Agave Angustifolia in Zapotitlán, Jalisco, and one of six different expressions produced by Chacolo that Madre carries. It's unlike any mezcal I have had before. I tasted grassy herbaceousness and other green flavors, not the "smoke" generally associated with popular mezcales. 
"That's because with a good traditional mezcal, the smoke is secondary," said Vásquez. "The first flavor should be the agave plant itself. That's what happens when you let the plant be and respect its time." 
As I lost myself in the finer points of tasting traditional mezcales, Vásquez told me the story of why he carries all six Chacolo mezcales. 
Chacolo, it turns out, is a struggling fourth-generation operation who refused to cave in to demands to "modernize" or go commercial, and Madre is helping them to stay afloat. 
"If those guys do not have the demand or other resurgence in buying his mezcal, he's going to be out of business, and we're going to lose another great mezcalero in Jalisco who has been fighting for generations. So we buy mezcal from these guys, and we're able to sell his batches in a couple of months because we have built demand for it from followers and people who understand our concept, our passion."
A Oaxacalifornian legacy
There are many Chacolo stories in Mexico, and Iván Vásquez wants to find more. His champions appreciate his support, which represents his broader value-based framework for doing business as a Los Angeles-based, "Oaxacalifornian" mezcal purveyor.
Los Angeles is home to the largest Oaxacan community outside of Oaxaca, and Vásquez proudly claims "Oaxacalifornia" as his home and community on both sides of the border.
Thanks to Vásquez's efforts, Madre has become the largest restaurant buyer of mezcal in the United States and the largest in Los Angeles, evident by that "bible" of a menu. 
As Vásquez explains the layout of the menu and its encyclopedic entries, he smiles and shares a memory about his grandfather's comedor in Candiani, Oaxaca, where he grew up. 
"Back in the days, it was just 'mezcal,' what my grandfather served at the comedor he had. We didn't have all this." His grandfather's comedor was called "El Gato Negro," where he served food on one side and poured mezcales out of a window, or expendio, in the back. No doubt Vásquez's decision to work with only small producers in Oaxaca and elsewhere is informed by his grandfather's relationship with local mezcal. 
In the end, despite the challenges of running a restaurant business with or without a global pandemic, Vásquez wants to nurture throughways for small agave producers to succeed outside of Mexico's standardized industries for generations to come. And while he appreciates tequila for opening the door to mezcal in the U. S., Vásquez remains committed to fighting tequilization by devoting his shelves to smaller producers.
"It would be easy to do what everyone else does. But I'm here for a passion, a legacy. Madre is not about what the gabacho wants. We're here to showcase, educate, and decolonize mezcal, the spirit of us indigenous people in Mexico."
Melissa Mora Hidalgo was born in Montebello and grew up in the L.A./O.C. borderlands of East Whittier and La Habra. She holds a Ph. D. in Literature from UC San Diego and is the author of Mozlandia: Morrissey Fans in the Borderlands (Headpress UK, 2016).
Stay in touch
Sign up for our free newsletter