News
Why Locals in Historic Filipinotown Are Bracing For Gentrification
12:03 AM PST on February 26, 2018
Arturo Garcia says he felt like a stranger when he first moved to Historic Filipinotown some 20 years ago. Garcia migrated from Manila — more than 7,000 miles away from Los Angeles — but he says the city became easier to adjust thanks to fellow Filipinos in the community.
Garcia, who is retired and currently holds leadership roles in the Filipino American Community of Los Angeles and the Los Angeles chapter of the Justice for Filipino American Veterans, fears an ordinance in the works by the Los Angeles Department of City Planning could mean displacement for many of the working-class people in his community of Historic Filipinotown.
The "North Westlake Design District" is an ordinance that seeks to regulate building and construction, as well as enact new parking rules, that some fear — as Echo Park, Silver Lake, Highland Park, and other areas already know — could lead to the inevitable process of "renewal" that others call gentrification and cultural erasure.
The plan, which has been in process for the last few years, also has new requirements for parking.
"They are saying it is a 'design district,' but eventually it will be, again, an area for the expansion of downtown," Garcia tells L.A. Taco. "Basically that's why we are afraid; that this is again a step towards the erasure of our cultural heritage."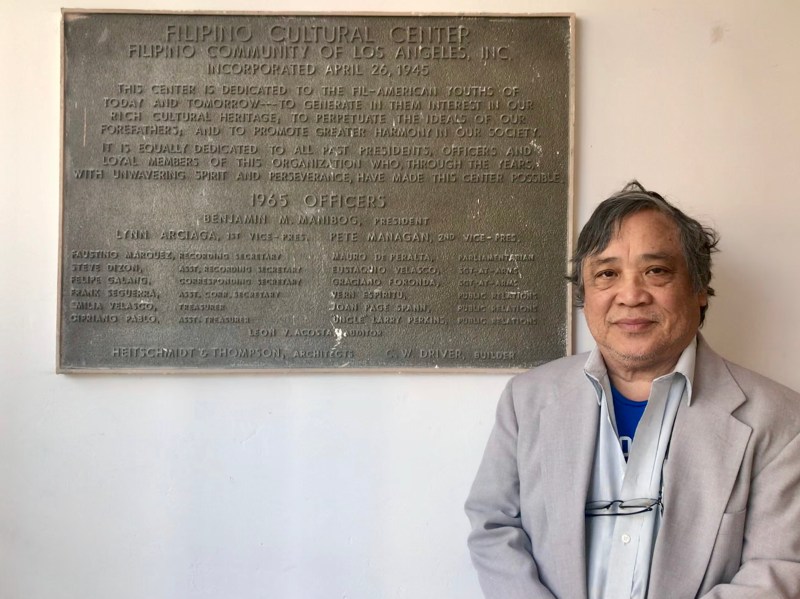 In 2002 Historic Filipinotown was given its name. It was one of the few areas where many Filipino Americans began to settle in Los Angeles during the 20th Century. While Filipinos and Filipino Americans have long not been a majority in the community, the area is home to many Filipino organizations, including the Filipino American Community of Los Angeles, where Garcia is a director.
The borders of the area have always been contested by more well-known neighborhoods around it. Historic Filipinotown is officially located in Westlake, just northwest of downtown, but it's sometimes been labeled as partly encompassed by both Echo Park and Silver Lake.
Although it neighbors those hip areas, the population of Historic Filipinotown are still majority working-class, low-income, Central American, and Mexican. Areas like MacArthur Park — with its street vendors selling food and snacks around the lake — and Historic Filipinotown is full of working-class people on foot and getting around on the bus system.
The area has already been experiencing new development and many locals have been bracing for gentrification for years.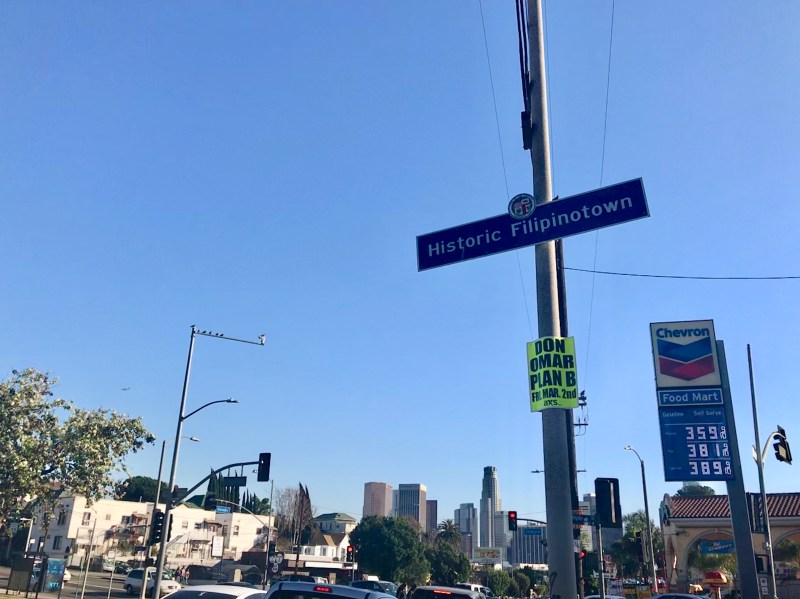 In March of last year, Eastsider LA first reported about a new apartment complex that would rent for more than $6,000 for a three bedroom. The apartments "set a new high for Echo Park south of the 101, which had long been the lower-priced alternative to the higher prices traditionally found north of the freeway," The Eastsider wrote.
With new construction happening, the city planning department says it wants to make sure construction falls in line with the character of the neighborhood and that it becomes more accessible for the majority of residents that commute to work on foot, bike or bus.
"The intent of the ordinance has always been to address the type of reconstruction that could take place and that we are in fact are seeing take place today and in recent years," said City Planner Craig Weber at a community forum in January, which L.A. Taco attended.
"The intent was to ensure that the design of any new structures built on these main boulevards in the community that they fit in with the existing environment, that they fit in with this 100-plus-year-old neighborhood. In particular that new buildings are pedestrian-oriented."
But Garcia doesn't buy it. While he says community buildings need work, he feels that the ordinance has not put community members' interests first.
"It's always in the name of progress but actually what they don't care [about is] if people are misplaced, what they care about is how to make more money," Garcia said. "Sometimes in the name of progress you lose the cultural heritage, so that's why we call it gentrification."
Organizers with the Coalition to Defend Westlake, a network of organizations working to defend the rights of residents of North Westlake, say the ordinance could force out residents who can't afford expensive rent.
"Even with one of those buildings, you move in a coffee shop and that's the beginning of the end where it begins... that will increase speculation," says Trinidad Ruiz, an organizer with the Los Angeles Tenants Union. "We don't even know [how] the housing will affect rents, how the impacts will affect parking, how the impact will affect homelessness."
The L.A. Tenants Union is one of the many organizations a part of the Coalition to Defend Westlake and has helped organized community forums so community members can share their concerns with the city planning department. Trinidad says there's hasn't been enough outreach to community members.
"There's a lot in a name and it tells you really how involved the community was with the fact that they called it 'the Design District,'" he said.
"It totally ignores the culture that is already here and puts emphasis on 'art and design'."
The Department of City planning held meetings in 2014 and a meeting in May 2017 to obtain comments from residents, but the L.A. Tenants Union said in a statement that close to 150 residents they canvassed had not heard of the ordinance.
Public Information Officer Cheryl Getuiza said the City Planning Department has been consistent with department practice in outreaching to the community. "In May 2017, City Staff held a Public Hearing to obtain comments from residents," Getuiza said via email. "As required by the L.A. Municipal Code, the Department mailed hearing notices to every single property owner and occupant within the subject area and a 500-foot radius."
Mitch O'Farrell's District
Historic Filipinotown belongs to the 13th District, along with Hollywood, Mid-Wilshire/Koreatown, Silverlake, Echo Park, and others. Councilman Mitch O'Farrell's office did not respond to requests for comments on the ordinance. O'Farrell has been under fire by community members and advocates for what they describe as not enough action to stop gentrification in his district, despite his stated commitment to prevent displacement.
"Our councilman is talking about that he is against gentrification, but actually he's one of the proponents of gentrification," Garcia said.
The ordinance includes regulations for new buildings, parking, and signs. The proposed rules for new or altered buildings are meant to "enhance the character of the neighborhood by encouraging buildings that create a consistent street edge" and "promote pedestrian activity and sense of place and visually interesting and human-scaled facades."
Improvements would also be made on drive-through establishments in order to make the area more walkable. Parking would be sold or rented separately from residential units and commercial spaces. To improve aesthetics of the area, blank wall areas greater than 20 feet would either be covered by green screens for planting or original art murals.
Exact streets of the projected area are Temple Street, Beverly Boulevard, and the north side of 3rd Street between Hoover Street and Glendale Boulevard, as well as Alvarado Street between 3rd Street and Temple Street.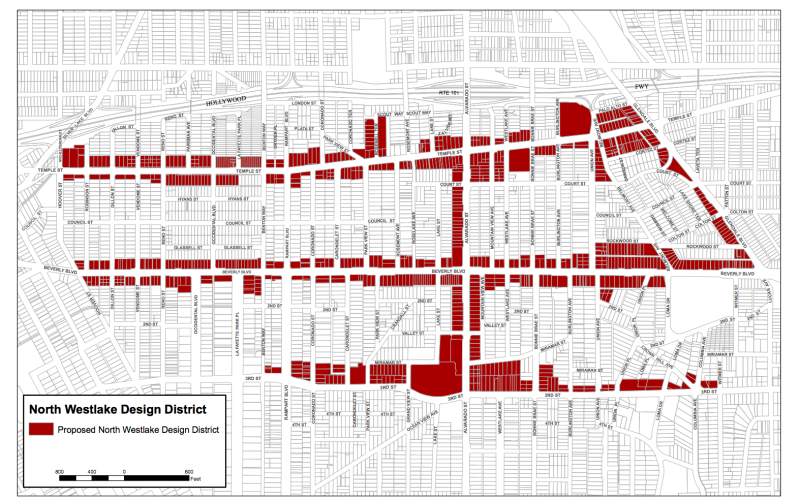 Staff with the City Planning Department is continuing to analyze comments obtained from the May 2017 public hearing and will evaluate if any modifications are necessary and what the next steps are, Getuiza told L.A. Taco.
Ruiz says there is still time for the City Planning Department to consider the community.
"What they need to do is sit down with community leaders, stakeholders and rethink this whole thing because the very name of this thing is ahistorical," he says. "It totally ignores the culture that is already here and puts emphasis on 'art and design'."
Jennifer Velez is a multi-media journalist covering news and culture in L.A.
Stay in touch
Sign up for our free newsletter