Politics
Dr. Beer Butch: Meet the Former Punk Show Promoter From Historic Filipinotown Who Fought For L.A.'s Craft Breweries to Reopen
2:05 PM PDT on April 23, 2021
Welcome back to L.A. TACO's column, "Dr. Beer Butch," where Professor Hidalgo examines L.A.'s craft beer scene using her background in academia, LGBTQ, and [real] eastside L.A. culture.
[dropcap size=big]I[/dropcap] arrived early at All Season Brewing, the new mid-city brewery where I met Frances Cannon, the Los Angeles County Brewers Guild's Executive Director. The county had just moved into the purple tier, and more breweries could now serve pints outdoors. I spotted her talking to Erick García, the head brewer at All Season and the Guild's newest member. 
Members of the L.A. County Brewers Guild regard Cannon as the figurehead of their independent brewery family. Like a cousin, "tita" (Filipina auntie), or even "beer mom," she acts as a clearinghouse for fast-changing information about openings and makes sure new members meet older ones. When emails and texts flood her phone, Cannon sifts through them all, making sure to communicate the most urgent news to everyone in the Guild, even when it's hard to deliver. 
Various city and county officials know Cannon as a fierce advocate for the industry she loves and cares about: local, independent craft breweries. If you love craft beer in L. A.—even if you're not a drinker or don't care much for breweries—you should know about Frances Cannon and why her work matters to our communities.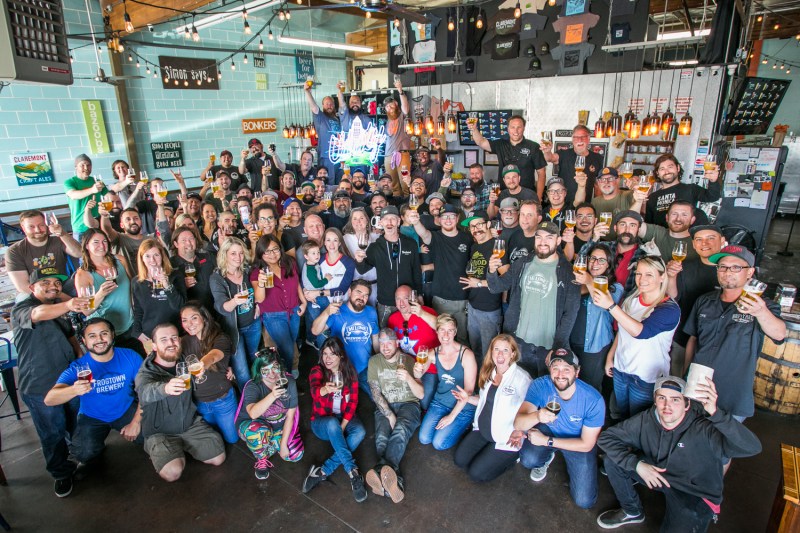 Cannon grew up in Historic Filipinotown ("before it was HiFi"), raised by a working single mama and a Salvadoran babysitter. After high school, she moved to Phoenix, where she studied journalism at Arizona State, played in punk bands, and promoted shows in the desert town's music scene. These experiences laid the necessary groundwork for her work at the Guild.
Hired in 2015, when craft beer was growing in Los Angeles, there were 23 breweries around the county back then. Five and a half years later,  Cannon signed her 94th brewery member. That's over a dozen new breweries per year and counting. It's safe to say that craft beer in L. A. has arrived and survived. But how? And what has it taken to sustain independent breweries in L. A. in a pandemic?
I show up to hearings and speak on behalf of our industry and explain that we're not a big frat-house trying to get everyone drunk.
Over fresh pints of García's classic brews, L. A. TACO talked to Cannon about gaining the support of powerful county supervisors during the dire winter of 2020, the growth of L. A.'s beer scene, breweries' unique contributions to their cities and communities, and why non-beer-drinkers should care about their local taprooms surviving these challenging times.
TACO: Tell us about the Los Angeles County Brewers Guild. What does the organization do, and who are its members?
Cannon: Our mission is to promote and protect independent craft beer in the city and county of L. A. We're a non-profit organization modeled after our state and national trade organizations. Independence is the biggest identifier as far as being a member. That means your brewery is an independently owned small business, you're manufacturing beer in L. A., your roots are in L. A., your interests are in L. A., and you're not owned by someone on the outside or by a mega-conglomerate interested only in their bottom line. 
TACO: What is your role as Executive Director of the Guild? 
Cannon: To be an advocate, mostly to the cities. I help write letters of support that explain what craft breweries are. I show up to hearings and speak on behalf of our industry and explain that we're not a big frat-house trying to get everyone drunk. A lot of these cities were afraid of what would happen, what bad thing this brewery might bring in. Little did they know that the average tasting room is super family-friendly. There are dogs, babies. You name it.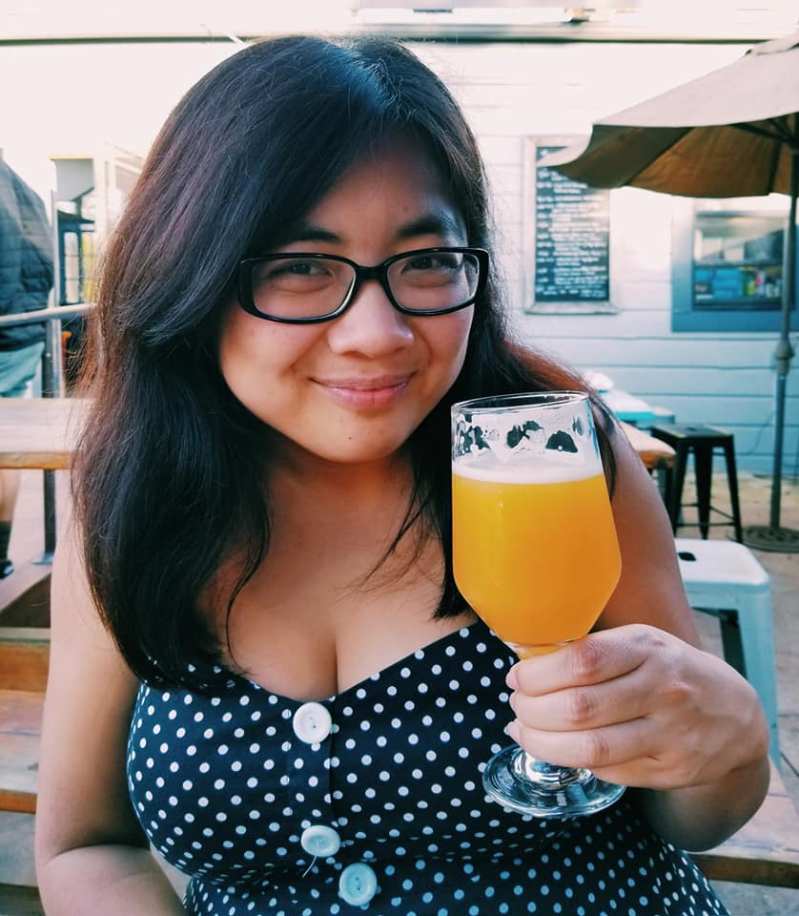 In my first few years at the guild, I functioned primarily as a marketing, events, and advocacy person. Our local advocacy at the time focused on educating the community on what craft beer is, what good business practices were like for brewers. We'd do events like L.A. Beer Week and Casual Fridays at the L.A. Philharmonic. 
Technically, I'm still the Guild's only paid employee. But I have an amazing board of directors who are brewery owners working on a volunteer basis. I don't feel like a solo employee because whenever I need someone, I have someone. 
TACO: How has the pandemic changed your role at the Guild? 
Cannon: Prior to the pandemic, our advocacy was specific to the city the brewery is in. Fall and winter 2020 was the first time that we've really engaged with the county. We weren't asking the county for anything that wasn't already happening in other parts of the state or in another county next door.
We don't have the money to hire lobbyists and do all these things, so we had to think about what we can do to push for change while retaining all of that good faith that we worked so hard to build around our industry.
And I was nervous about it. I had to learn completely new skills and really reach back to my DIY grassroots punk rock skills that I haven't touched in a long time. We don't have the money to hire lobbyists and do all these things, so we had to think about what we can do to push for change while retaining all of that good faith that we worked so hard to build around our industry.
We amped up our #SaveLABrewers campaign as a way to really get our voice out there. We built a coalition of over thirty chambers of commerce that wrote and spoke on our behalf to the county. Several mayors were great allies who wrote and called the county supervisors for us. 
TACO: Thirty chambers of commerce and county support is pretty incredible. That kind of response, in part, seems to indicate that craft beer in Los Angeles has finally 'arrived.' 
Cannon: It was like, 'Viva Revolución'! And it was scary for us. We were in that no man's land of, 'If you don't have food, are you a bar?' But we're manufacturers. The beer production doesn't stop. The federal government classified our manufacturing licenses as 'essential' because we're technically producing a food by-product. We've never had to-go sales taken away, we've never been told we can't produce beer, so then what? I gotta give a shoutout to Supervisors Hahn, Solis, and others who were strong advocates for small business relief and for our industry, specifically because of the extent to which there were closures. Keeping our breweries open and having people come to our tasting rooms to pick up beer really saved us.
TACO: People love their craft beer! And there seems to be so much of it now around L.A. Talk about the growth of the craft beer scene in L. A. 
Cannon: I think 2009 was really the launching pad for craft beer in L. A. as far as having major craft contenders that you could compare to San Diego or the Bay Area. And we just sprouted up. Until recently, you couldn't really open a brewery in L.A. without putting in the time and meeting people in beer. I'd walk into meetings with 70 to 80 people, and I knew every one of them. But not everybody can know everybody anymore. I have members, for the first time since the pandemic started, who I have never met in person. 
I was hired in 2015, and there were 23 breweries in the Guild. I just signed on my 94th brewery.
A brewery can be what you want it to be.
We are growing really fast, and everyone opening is taking a risk. Will people come? Are there too many Torrance breweries? Too many Downtown breweries? Is there enough beer love for everyone to be successful? And I think so. Our county is huge. Our beer drinkers love trying new things, going to diverse places, so you have your regulars, but you also have the people coming in from out of town, from across town. We're L.A.! Going to Santa Monica is like going on vacation for me. There's definitely that wanderlust and that desire for exploring that help us keep the excitement going. 
TACO: That is some staggering growth in L. A.'s beer scene, and there seems to be room for more. What is it about craft beer culture that demands and creates such growth? And why should non-drinkers care about their local breweries?
Cannon: I think beer is a great equalizer. Beer, and craft beer specifically, has always been an affordable luxury for people. It's about the tasting experience. You have a beer with your friends; you talk about it, you're drinking flights, you're challenging your palate. It's taking a moment to reflect on your day and what's in the glass.
And the culture of the brewery is like a public house, a hub for the community. You're not just there for beer; you're there for an experience that showcases the neighborhood. Our goal is to be a place where you could have your birthday party, do karaoke, or video game night. A brewery can be what you want it to be. You want to have a couple of drinks and kick back with some board games with your friends? You can do that there, and no one will bother you. You want to have your kids with you while you have some mommy and daddy adult time? That's fine too. They're welcome there. 
We have regulars who don't drink beer at all, but they go to breweries for the community experience. They go there to play trivia with their friends, for the food trucks, and they love the place. We attract a lot of artists in our community and do collaborations with bands and DJs. That's what makes our breweries special. You always know that you're going to intersect with a different subculture.
We connect beer to a place, so what's of a place when it's an IPA or lager?
TACO: That speaks volumes about the community presence that our local indie breweries create.
Cannon: In 2019, our guild either hosted or partnered with 35 community events. It kept our revenue going, kept me employed, kept our guild active in the communities. We are a super charitable community. Every brewery owner will tell you that beyond running their tasting room, they have a dedicated program for their donations. We're small businesses. We're often cash-poor, but we're beer-rich, so how can we support your non-profit with beer? 
But we also want to tell L.A.'s story. We connect beer to a place, so what's of a place when it's an IPA or lager? You can drink those anywhere in the world, so you have to put something else in the glass—the narrative of your business or brewery. Each one is unique on its own, but collectively, they're telling a very similar story.
TACO: So what now? What does moving into the less-restrictive pandemic "Orange Tier" mean for L. A. breweries?
Cannon: Orange Tier means there's no more meal requirement. You can now go to the brewery and have a pint inside and outside without having to buy something to eat. We still can't allow TV and board games. We do miss people coming to enjoy the spaces and being in community with each other, but our businesses are committed to keeping doing the work to beat this thing. We still ask for masks and social distance. While it feels like things are changing, we're careful about making changes too quickly. We need customers' support, understanding, patience, and their help to get to where we all want to be. 
Melissa Mora Hidalgo was born in Montebello and grew up in the L.A./O.C. borderlands of East Whittier and La Habra. She holds a Ph. D. in Literature from UC San Diego and is the author of Mozlandia: Morrissey Fans in the Borderlands (Headpress UK, 2016).
Stay in touch
Sign up for our free newsletter