German-Beer Styles, Mexican Flavors: Whittier's Long-Awaited New Brewery Offering Guisados Made With Prime Meat Is Now Open
1:58 PM PST on January 13, 2022
Welcome back to L.A. TACO's column, "Dr. Beer Butch," where Professor Hidalgo examines L.A.'s craft beer scene using her background in academia, LGBTQ, and [real] eastside L.A. culture.
During Thanksgiving week, Whittier's newest craft brewery, La Bodega Brewing Company, opened its doors. Word of its soft opening spread quickly on social media and among locals and curious Whittier passersby who have, for over a year, watching the transformation of a vacant optometrist's office into a grand Prohibition-inspired speakeasy brewery, butcher shop, and restaurant in Uptown.
Within a week, La Bodega twice sold out of its signature dish, a chile colorado guisado made with USDA prime steak cuts stewed for 4 to 6 hours in a sauce you'll want to wipe off the plate with a soft, warm, handmade blue corn tortilla. The upstart brewery also sold out the first 200 spaces in its inaugural Stein Club, a VIP-like annual membership good for beer pours, appetizers, and exclusive events throughout the year. 
La Bodega Brewing Company's rather auspicious opening week signals great things for this next-generation restaurant distribution family from Maywood. Brothers Erik, Raul Tapia, and best friend Abraham Mercado co-own the new "speakeasy" brewery and restaurant. With this venture, the Tapias and Mercado are counting on beer to grow the family business and pave the way for its future generations.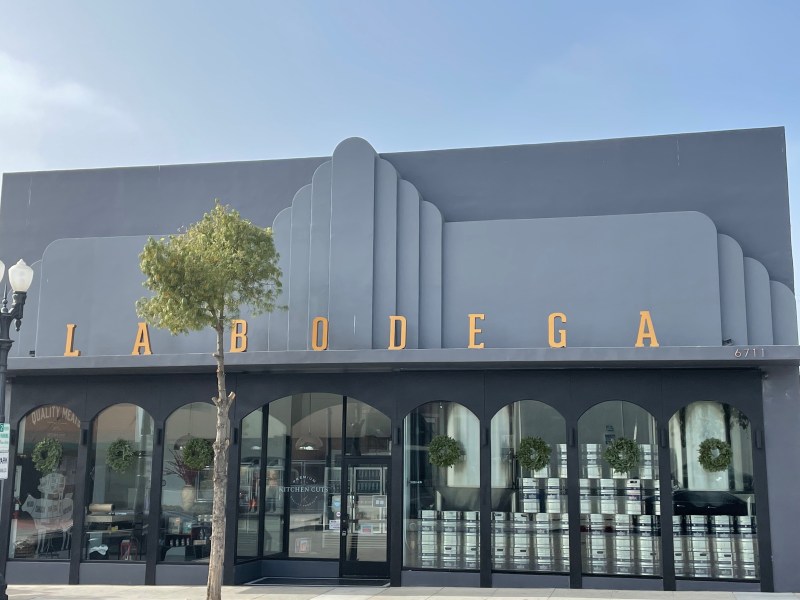 German-Beer Styles, Mexican Flavors
La Bodega Brewing Company's opening day roster of ten beers showcases brewmaster Abraham Mercado's talent for making lagers, ales, and stouts with depth, balance, and flavor. 
Mercado graduated from Fresno State University and,, later, the award-winning Innovation Brew Works brewers program at Cal Poly Pomona. His is an intellectual approach to brewing, informed by education, research, and travels in Germany and England, learning about various hops, water profiles, and other aspects of the influential lagers and ales.
"A lot of what we're trying to do here is bridge the gap between German and Mexican flavors," Mercado told L.A. TACO. "We're big fans of Mexican lagers and the history of how that came to be. We didn't know anything besides Modelo, Corona, Bud Lite, and Miller for a long time. Our goal here as craft brewers is to brew those beers and offer them locally." 
Or, as the brothers Raul and Erik pointed out, "It's just our palates." 
Raul continued, "We don't want to overpower the food. We want to complement it. We like the palate-cleansing effect of lagers and pilsners. As Mexicanos, when we're out having a carne asada, we're not having a glass of red wine or a stout, and we're having an ice-cold beer and eating off the grill."
Bodega Blonde, a pleasant, easy-drinking ale, was Mercado's first beer brewed for La Bodega. But Buena Suerte, a crisp, golden yellow German-style lager that pairs well with just about anything on the menu, rose to the top as La Bodega's signature brew.
Mala Suerte is a "Schwarzbier," a smooth-drinking German black lager that features roasted barley and rich malt flavors. The Mexican Lager is La Bodega's version of the "backyard carne asada beer" that also tastes great with mariscos. 
Other beers include Azteca Stout, poured on draught and nitro for that "Guinness" effect. La Bodega's version tastes like it might be brewed with chunks of Ibarra chocolate. Instead, Mercado uses a from-scratch recipe of coffee, pasilla peppers, cinnamon, vanilla, nutmeg, and chocolate to bring "abuela's hot cocoa" flavors to life in a satisfying stout.
A kölsche ale is also in the works, a style that's becoming more common for its versatility and 'hybrid' lager-ale body. La Bodega does make an IPA, a double IPA, and a hazy IPA—their bestseller thus far—although these typically overpowering beers are on the mellow side here, meant to complement the chile verde, tinga de pollo, or confit spare ribs, not numb your palate to them. True hop-heads looking for the dank stuff might do better at another brewery in Uptown. 
The owners of La Bodega understand the popularity of IPAs and other ale styles, but they remain committed to running a lager-centric brewery. This is rare for a new craft brewery but one that befits a menu of high-quality, protein-centered Mexican comfort food.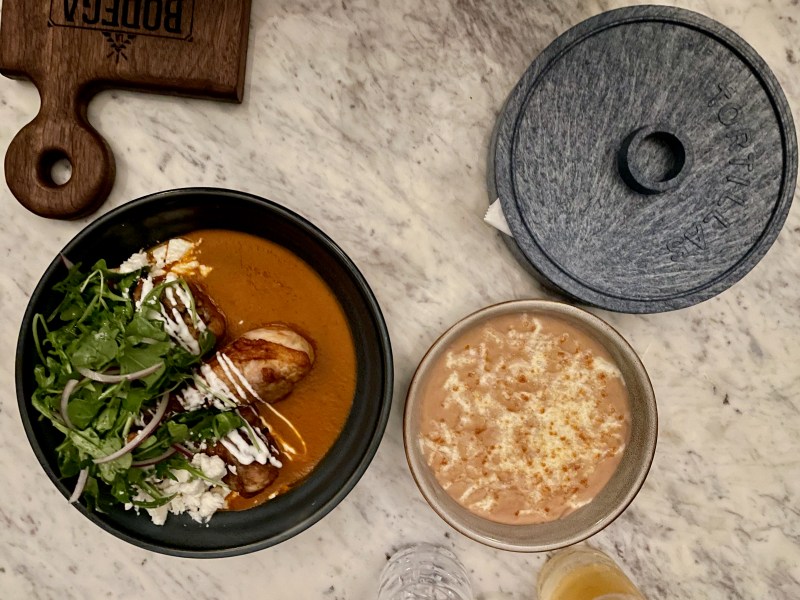 Building a beer-centered menu 
Food was not part of the original plan for La Bodega. 
"As restaurant distributors, we were around food all the time," said Raul Tapia. "We just wanted to do the taproom and serve beers."
Raul, brother Erik, and brewer Abraham all live in Whittier, and they wanted their business to be located in Uptown. But city rules required them to have a restaurant component as part of the brewery, which sent them into a whole new phase of building and planning. 
"If you want to be a brewery in Uptown Whittier, you have to sell food. We didn't want to do bar food, but something a little bit different," the brothers said. "We want to create an experience where you can have Mexican sharable plates, prime cuts, guisados, handmade tortillas and salsas, and beers to match."
The Tapias knew they would feature the high-quality USDA prime cuts of beef and above, like certified Japanese Wagyu and New York steak, cut at their family's own plant. They also use Berkshire pork and Mary's Free Range chicken in their mains and appetizers.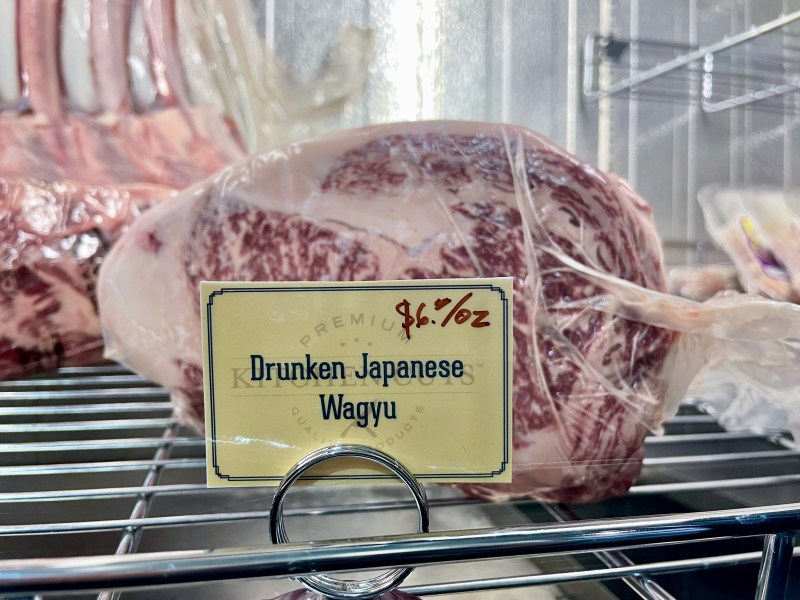 To transform the quality ingredients into their vision of Mexican comfort food, the Tapias tapped Chef Rolando Rubalcava, formerly of Orange County's celebrated Taco María and Playa Mesa, to design their beer-friendly menu in collaboration with Mercado, the brewmaster. 
"Chef and I are intentional with the flavors and pairings," said Mercado. "He uses beer in some of the recipes, like the confit spare ribs. The maltiness of the Mexican lagers complements the tartness of the aguachile."
And the Bodega Fries? "That's been our number one seller since opening night," said Erik Tapia. "It's like a nacho plate with fries, but we throw a prime cut of flatiron steak on top."
The Drunken Japanese Wagyu steak, a rare sight in these parts, is also popular. The unconventional chicken tinga, usually with shredded chicken, arrives as drumsticks drenched in a silky chipotle sauce. Veggie options include the Bodega salad and roasted cauliflower. 
"We do Mexican comfort food and butcher quality proteins," said Raul. His brother, Erik, added with a shy smile, "We're not super healthy, but it's super good, rich, stick to your bones kind of food, like grandma made."
They also want to provide quality meats and six-packs to go for your next backyard carne bash. 
"We wanted to showcase the higher-grade proteins, cuts you ordinarily wouldn't find at a grocery store but in higher-end restaurants. We wanted to bring that to the community as well, and that's how this showcase of the butcher shop came up. You don't have to dine with us. You can grab your carne and beer and have the same experience at home."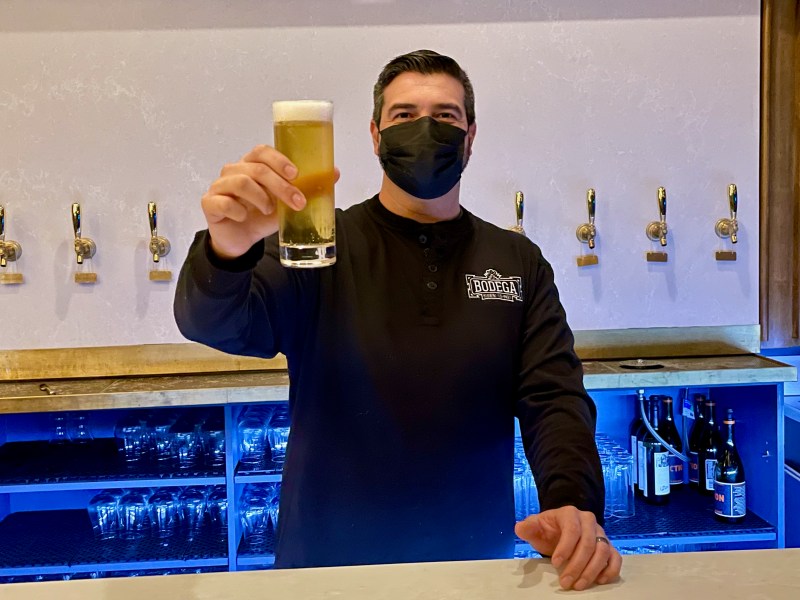 Brewing for the next generation 
Well, kind of the same. 
Unless your home boasts a Mexican-style art deco façade, a refrigerator case full of tomahawk steaks, a craft brewery, a hidden dining area, and a show-stopping octagonal jigsaw of a ceiling imported from Cd. Juárez.
From planning and design to construction and beer production, La Bodega Brewing Company is a family-run affair with deep roots in the restaurant distribution business. 
The three co-owners, brothers Erik and Raul Tapia and Abraham Mercado, all grew up in the East L. A.-Montebello-Whittier area. In 1985, Erik and Raul's father and two tíos founded Tapia Brothers Co., a full-service restaurant distribution company in Maywood. 
"Our family has been involved in the restaurant business for decades, so we're not just coming out of nowhere," said Raul. 
The next generation of Tapias, Raul and Erik, joined forces with Erik's longtime friend from college, brewer-to-be Abraham Mercado. The two met at Fresno State University and bonded over their common hometown, while Raul attended UC Santa Barbara. 
At La Bodega, Erik handles sales and marketing, Raul manages operations, and Mercado brews the beer. The brothers continue their work in the family business and use their existing infrastructure to provide La Bodega customers with the same restaurant-quality goods at a fair price.
La Bodega also represents a new chapter in a diversifying family business. The company serves other family-owned businesses, supporting local family-owned and small businesses. "We live in Whittier, and we want to use all Whittier people," said the brothers. They hired designers, printers, builders, woodworkers, plaque-makers, and other small companies from Whittier to help bring La Bodega to life. 
"Our whole family helped build this place," says Raul and Erik. 
Erik's wife, Jessica Tapia, designed La Bodega's "Mexican, Prohibition-era speakeasy" interior dining and bar area. Her uncle, an architect, and engineer, contributed his skills accordingly, while Raul's attorney and administrator wife, Sugeyle Tapia, runs their HR office. 
La Bodega, like most small neighborhood craft breweries, is family-friendly, and the "speakeasy" vibe is more decorative, less kid-prohibitive. The owners will open an outdoor area soon to accommodate more visitors. 
In the meantime, La Bodega awaits your visit. Feel free to come into the shop, wait at the counter, and ask for the butcher to let you in.
Melissa Mora Hidalgo was born in Montebello and grew up in the L.A./O.C. borderlands of East Whittier and La Habra. She holds a Ph. D. in Literature from UC San Diego and is the author of Mozlandia: Morrissey Fans in the Borderlands (Headpress UK, 2016).
Stay in touch
Sign up for our free newsletter