L.A. Taco Guides
Counting Cash At Dinner: The L.A. TACO Guide to the Restaurants Jose Huizar Dined At While Allegedly Collecting Bribes
12:45 PM PST on November 23, 2021
After digging through thousands of public records associated with former council member Jose Huizar, one thing that became clear is that he enjoyed a good meal. His discerning palate did not discriminate, feasting at Mexican restaurants in Boyle Heights to upscale Italian eateries in the Arts District. 
According to Huizar's calendars, he was a fixture at Fleming's Prime Steakhouse, Drago Centro, Factory Kitchen, and Officine Brera. However, despite dining at some of the city's top eating establishments, the former council member wasn't above meeting at a Denny's or a local La Monarca panadería. 
The word "restaurant" appears at least ten times in the 138-page RICO indictment against Huizar. Federal prosecutors allege that Huizar accepted some bribes as he dined out. During one meeting, Huizar allegedly counted a $15,000 payment from a business person while seated at an upscale Italian restaurant before using a napkin to conceal the cash. A couple of months later, the FBI raided the council member's offices and home.
Huizar's lawyers recently introduced a motion to dismiss the majority of the bribery charges against him, arguing that his actions did not amount to an official act. A hearing scheduled for earlier this month to address the motion was postponed until an undisclosed future date.
Regardless of what took place at these meetings, it's undeniable that Huizar ate out A LOT. At times his schedule was so dense, he had two dinner meetings scheduled on the same night. And sometimes, he held two different meetings at the same restaurant in a single day.
Huizar's calendars were obtained through journalist Adrian Riskin's California public records act, formerly of MichaelKohlhaas.org. They highlight the day-to-day happenings of not only Huizar but also current city council member John Lee. In the case of Huizar, they throw a spotlight on the practice of wining and dining elected officials.
Huizar ate all over town, but to be fair, he often chose to spend his tax-payer-funded paycheck in the council district that he represented. He also regularly supported many Mexican eateries in Boyle Heights, where he lived and grew up, like La Parrilla and Los Antojitos. Here are some of the highlights of Huizar's restaurant tour.
 

View this post on Instagram

 
Officine Brera
In early September 2018, Carmel Partners, a developer with headquarters in San Francisco, was eagerly trying to finalize plans on a development at 520 Mateo Street in the Arts District. They hoped to come to terms with Huizar, who was the head of the Planning and Land Use Management (PLUM) committee at the time, regarding how much affordable housing the development had to have. A pivotal PLUM committee was coming up where it would be decided. The issue was contentious. Carmel Partners allegedly had promised a group of artists who had deep ties to the neighborhood that housing they could afford would be available. However, Carmel Partners would benefit financially by limiting the amount of affordable housing. Huizar had the power to tip the scales in either direction.
Working on behalf of Carmel Partners, Morrie Goldman, a veteran lobbyist from the west San Fernando Valley, began organizing a meeting with his client and the council member the first week of September 2018. "[Jose Huizar] told me he'd like to meet with Neils to discuss public benefits & affordability issues for 520 Mateo." Goldman wrote Huizar's executive assistant and scheduler at the time, Eva Camacho. "Can you please confirm with him?"
After some back and forth, Camacho suggested, "What about Tuesday, September 25th at 7:00 PM?"
"I think that will work. Please hold." Goldman responded. A day later, he wrote, "This is confirmed, Officine Brera, right?" The upscale Italian restaurant located just around the corner from the proposed development on Mateo Street was one of Huizar's favorites. In 2018 alone, Huizar's calendars show that he was scheduled to meet there more than 30 times. Jonathan Gold, the late L.A. Times critic, once described Officine Brera as: "so grand and serious that it's nearly operatic." 
"Can you do dinner with Huizar on Tuesday, 9-25?" Goldman texted someone referred to as Executive M in the federal indictment against Huizar. 
During the fateful meeting, Huizar and Executive M allegedly discussed their mutual support for one another. Carmel Partners was looking for Huizar to support their development project, and Huizar sought help with his wife's political aspirations. At one point during the meeting, Executive M also allegedly offered to provide "opposition research" to Huizar on a female former CD14 staffer who planned to sue the councilmember. They also discussed the possibility of Carmel hiring Huizar after he left office. "Good meeting," Huizar texted Goldman after dinner with Executive M. 
In the end, Huizar voted in favor of Carmel Partners, saving the group an estimated $14 million by reducing the amount of affordable housing. A couple of months later, the FBI raided the council member's offices and home. Last year, Goldman pleaded guilty to conspiracy to commit bribery and mail fraud charges for setting up a PAC fund used to solicit bribes for Huizar's wife's failed campaign. Officine Brera is still open for business but has since changed names to BRERA Ristorante.
Shortly after Goldman agreed to a plea deal, his lawyer had this to say: "He allowed himself to become part of the orbit of a very corrupt man, and he ended up participating in things that he never would have imagined doing."
 

View this post on Instagram

 
La Parrilla
When Huizar wanted to keep things local, he held meetings at La Parrilla, a longstanding Mexican-American restaurant in Boyle Heights known for their molcajetes and handmade tortillas. The colorfully-decorated eatery on Cesar E. Chavez Avenue has recently become a go-to campaign stop for politicians seeking to appeal to Latino voters. 
According to the indictment against Huizar, the former city council member met with George Chiang, a Granada Hills-based real estate consultant and a participant in an alleged scheme involving a real estate development company, which employed Chiang as a consultant. The company was tasked with providing "marketing analysis for real estate and land development opportunities in the greater Southern California area." The gig paid $11,000 per month. 
In actuality, prosecutors allege, Chiang prepared the reports and delivered them to Huizar. Huizar turned around and handed the reports to an associate of his who collected the monthly retainer. According to the indictment, all parties involved understood that the payments were an "indirect bribe."
During one meeting, in which Chiang allegedly handed Huizar a report, the two met at La Parilla for breakfast, according to Huizar's calendar. Over the years, Huizar held meetings at the restaurant conveniently located near his Boyle Heights residence dozens of times.
 

View this post on Instagram

 
La Monarca
On September 6, 2018, prosecutors allege Huizar reportedly met with lobbyist Morrie Goldman outside of a restaurant in Boyle Heights. According to his official calendar, Huizar had a brief 30-minute meeting scheduled at the Boyle Heights bakery on Cesar Chavez Avenue that day. The chain of cafes known for their Mexican organic coffee and pan dulce was a popular meeting location for the former council member. He frequented both the location on Cesar Chavez Avenue and their other cafe on Boyle Avenue near Mariachi Plaza.
During the meeting, Goldman and Huizar reportedly discussed an arrangement with Carmel Partners. The gist was the company would allegedly contribute $100,000 to a political action committee (PAC) in favor of Huizar's wife's political campaign in exchange for Huizar voting to approve Carmel Partners' 520 Mateo Street project, despite objections from a union.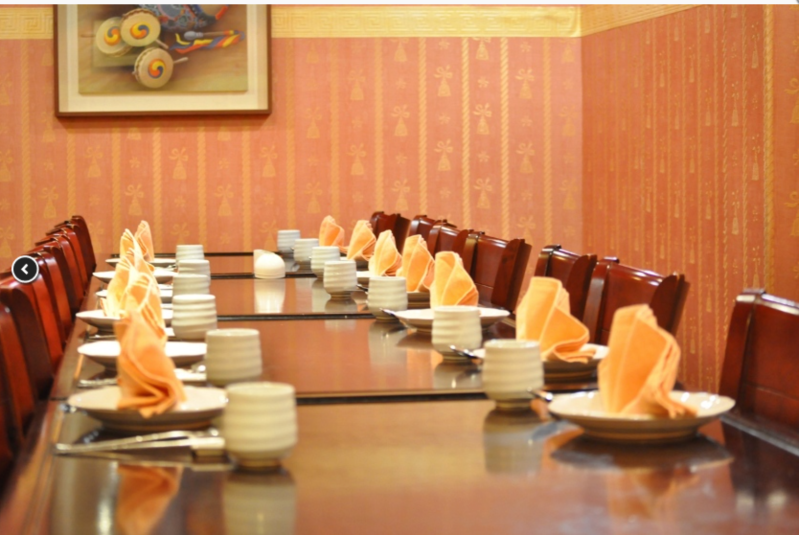 Yongsusan Restaurant
On September 1, 2016, Huizar and two associates had dinner together. According to Huizar's calendar, he was scheduled to meet at the longstanding Korean restaurant, Yongsusan, on South Vermont Avenue. "From the Korean president to Hollywood celebrities, many have enjoyed authentic Hanjeonsik (Korean traditional course meal) at our restaurant," the restaurant proclaims on their current website. Yongsusan specializes in Kaesung and Royal Court cuisine, two cooking styles reportedly difficult to come by, even in the country where they originated.
Later that evening, prosecutors allege that the group went to a karaoke bar nearby. At the karaoke spot, a Huizar associate asked for assistance with an appeal on a development project. The council member agreed to help, but prosecutors allege that at a lunch meeting the following day, Huizar made it clear that his support would come with a fee.
 

View this post on Instagram

 
The Luxe Hotel
According to Huizar's 2014 calendar, the former council member had dinner at the Luxe Hotel in DTLA on November 26, the same day the indictment alleges Huizar and several alleged co-conspirators had a meeting to discuss their mutual support for one another. The meeting and relationship between Huizar and the developers behind the luxury hotel adjacent to L.A. Live became a focal point of the FBI's city hall investigation.
Property owners sought to redevelop the hotel into a much larger hotel. After agreeing to pay $1 million to settle a corruption case, the company behind the development admitted that they provided Huizar with three tickets to a Katy Perry concert worth an estimated $1,000 and covered costs associated with a family trip to China.
 

View this post on Instagram

 
King Hua Restaurant
Huizar met with Wei Huang, the chairman of Shenzhen New World, a China-based company with investments in Los Angeles, at Alhambra's now-closed dim sum restaurant. Huang is now one of Huizar's co-defendants in the RICO case. 
La Serenata de Garibaldi
Another one of Huizar's local favorites. La Serenata was located on 1st Street, just steps away from Mariachi Plaza in Boyle Heights before it permanently closed. Today, Casa Fina, another Mexican restaurant, occupies the space where La Serenata once was. Between 2013 and 2020, Huizar met police chiefs and captains, Senator Alex Padilla, and a host of others at the Boyle Heights restaurant. 
 

View this post on Instagram

 
Perch 
On January 28 back in 2014, Huizar met with Mark Sanders and someone named Art at the rooftop restaurant overlooking Pershing Square, Perch. Sanders is the co-founder of Fifteen Group, a real-estate-focused private investment firm behind a controversial $2 billion plan to redevelop Wyvernwood, a sprawling affordable housing project in Boyle Heights. The Miami-based developer reportedly spent millions of dollars lobbying city officials, but ultimately Huizar sided with the community on this one and publicly rejected the proposal.
This article was published in collaboration with Neon Hum Media. Listen to the latest episode of the 'The Sellout' podcast, produced by Neon Hum and L.A. TACO, here.
Lexis-Olivier Ray is a housing, justice and culture reporter for L.A. TACO.
Stay in touch
Sign up for our free newsletter