Tacos
Is This the End of the Venice Room as Locals Know It? ~ Venerable Bar Is Sold After Generations in Monterey Park
11:59 AM PDT on September 24, 2018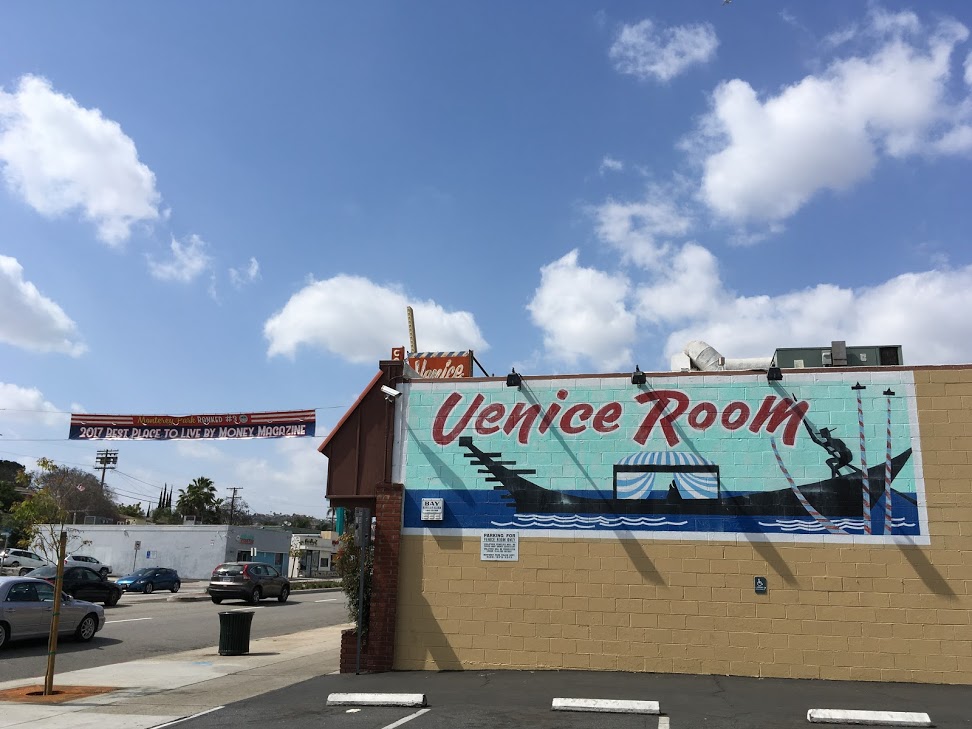 [dropcap size=big]F[/dropcap]or sixty-three years and over three generations of family ownership, the Venice Room bar and steakhouse in Monterey Park has been host to cops and robbers, bikers and biker chicks, dykes and their broads, attorneys and their clients, teachers and coaches, judges and jailbirds, kick-ass karaoke singers, post-game Montebello Dodger fans, and everyone in between.
It is a repository of local lore, and represents a veritable gente's history and living archive of the greater Eastside. The stories I've heard from my aunties, cousins, in-laws, and neighborhood homies about the Venice Room comprise a collective cultural memory of the San Gabriel Valley.
To those who know and love it, the "V-Room" is a special place unlike any other around Los Angeles. Words like "family," "reunion," "old friends," and "good people" come up often when regulars describe the feel of the place. Old photographs of esteemed V-Room visitors line the hallway walls. The décor and famous grill-your-own steak dinners have been the same "since the sixties," a point of pride for the Lombardos, the family who owns the bar.
In a fast-changing world, today's patrons take comfort in the familiarity of the V-Room's vintage surroundings and atmosphere – think Dal Rae's Calabrian cousin.
'The Mongols were welcomed as long as they didn't dress in their logos.'
But all that might soon change. On August 19, the Lombardos posted their official public notification that they have sold the Venice Room. While the new ownership has hinted that they do not want to alter the vibe at the bar, regulars remain skeptical and worry that the one-of-a-kind spot might soon change for good.
"This is family here. You can come in and be yourself," says Jeff Calzada, a Monterey Park resident and 12-year V-Room veteran (and, I find out, my mother's long-lost cousin). "No judgment, no pretensions, just come as you are, and they welcome you with open arms."
RELATED: Support Stories Like This & Become a Member of L.A. Taco Today!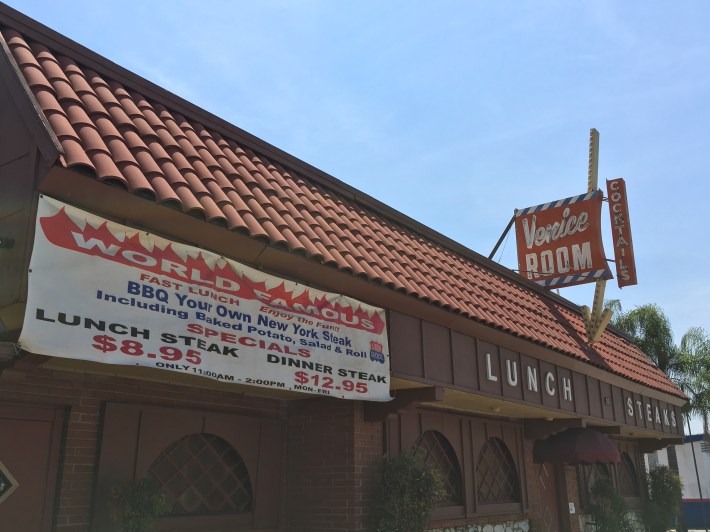 Wednesday Special
[dropcap size=big]T[/dropcap]he Venice Room is open for lunch every day, but only if you're hungry for one thing: a lunch-sized steak, which the customer grills over an open flame, served with a potato, roll, and salad. All for the very old-school price of $8.95.
But Wednesdays in particular are special. The lunch menu changes, and the Venice Room regulars appear like clockwork. They come for the special once-weekly menu of burgers, patty melts, steak burgers, and sometimes sloppy joes. Retired city workers, local business people, and a host of V-Room veterans pack the establishment from 11 am and linger well past the 2 pm lunch cut-off time.
The Wednesday lunch menu remains a favorite Venice Room tradition for regulars, locals, and long-time visitors of the Garfield Avenue institution. Insiders know about others like the Super Bowl Sunday specials, when the V-Room kitchen serves up complimentary nachos and sandwiches, and the New Year's Eve champagne for everyone, on the house. The weekend nighttime karaoke crowd knows the "No Dancing" rule, and singers are serious. They know best to be ready when Al "Big Al" Saropian, the guitar-playing karaoke DJ, cues their songs and slips them the mic, or it's quickly on to the next singer.
Will the new owners keep the Wednesday lunch tradition?
When news of the bar's sale hit the street, Wednesdays at the V-Room have been especially packed with regulars and their friends. "We have to come here as much as we can now, enjoy it while it lasts before the new owners change who knows what," said 12-year V-Room Wednesday lunch veterana, Elena Ornelas.  
[dropcap size=big]M[/dropcap]any regulars I spoke with at the V-Room's weekly Wednesday lunch shared the sentiment. Some patrons sensed a change would be coming after the death last year of the Venice Room's founder, Joseph "Papa Joe" Lombardo, at age 98. Now that the surviving Lombardo sons, Salvatore (Sal) and Dominic (Dom), have sold the family business to a corporate entity listed on the public notice of sale as "Da' Crunch, Inc.," many long-time guests and regulars wonder what will happen.
Will the new owners keep the Wednesday lunch tradition? Will the $12.95 grill-your-own steak dinners remain the Venice Room's "World Famous" signature menu item? Will Big Al still host karaoke every weekend?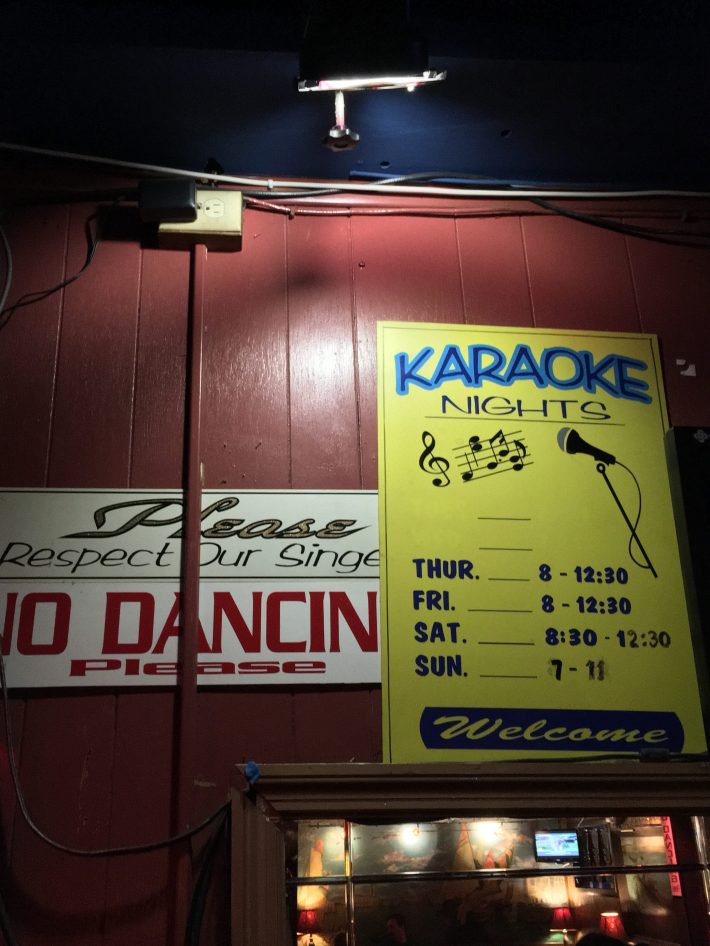 63 Years and Counting
[dropcap size=big]B[/dropcap]efore the 60 freeway existed, before the city annexed East Los Angeles College in the 1970s, and well before Money magazine would name it the third best place to live in the USA in 2017, Joseph Lombardo, an immigrant from Calabria, southern Italy, opened the Venice Room in Monterey Park, California. It was 1955. The Venice Room became known for strong cocktails, delicious steaks, and good company.
Elena Ornelas was eighteen years old and fresh out of Montebello High School when she first set foot in the Venice Room. "My boss brought me, but just for lunch. I didn't come back to drink and hang out until I was 21," she explains.
Dominic Lombardo, an attorney and son of Papa Joe, was her family's neighbor. After she graduated high school, Dom offered her a job working for a bail bonds office across the street from his family's bar. "It was the summer of 1982, and it was my first job. We'd get women out of jail, out of Sybil Brand," said Ornelas, referring to the women's prison in Monterey Park that closed in 1997.
"I spent six years working at the office, and we always came to the V-Room for lunch or just to hang out after work. Even when I left that job, I kept coming back here."
She describes how Montebello police detectives and other local cops would come into the V-Room with their own stories. "The detectives who investigated the Night Stalker in the 80s would meet here at the V-Room to discuss the case," Ornelas tells me. "Cops and bikers would come in and commingle, as long as no one wore their uniforms or started trouble. The Mongols were welcomed here as long as they didn't dress in their logos or gear."
"Even now, you never know who'll come walking through those doors. But everyone is cool here," she adds.
RELATED: Northgate Supermarket to Turn Historic Downtown Santa Ana Location Into 'High Quality' Apartments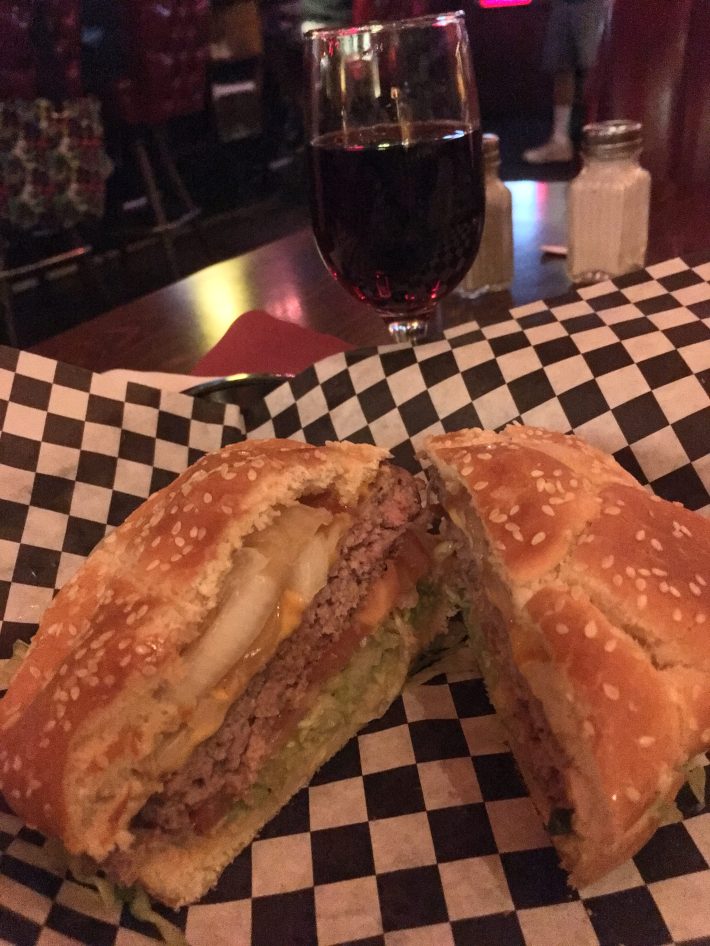 [dropcap size=big]O[/dropcap]rnelas's friends show up, their lunch orders waiting for them at the table.
They are Alma Cabral and Glenda Caro, and the three amigas have been coming to the Wednesday lunch at the V-Room for over ten years, although each has her own, much longer history with the bar. "I'm the karaoke girl. I like to sing, so I come here at nights when there's karaoke," says Caro.
"I was a biker chick back in the days," says Cabral, describing herself as a graduate of Lincoln High School from the early 1980s. "My comadre, Bulla, introduced me to the Venice Room. She was a tough broad who liked to hang out with the lesbians here, even though she was married."
"Everyone knew Bulla!" Ornelas chimes in. By now, the server has brought Caro a slice of spumoni ice cream cake with a lit birthday candle. "I have to celebrate with my comadres here before going to Vegas tonight," she says.
As Ornelas, Cabral, and Caro order another round to toast the birthday girl, they all seem to agree on one thing about the Venice Room: the people make it special.  "That's why I love this place," says Caro. "The people. Everyone who comes here is friendly, and I like how the bartenders and servers, even the owners when they're here, really take care of their customers."
"Being here is always like a reunion," adds Ornelas. "You always know someone here, or there's always someone who knows someone that you know."
As she says this, we notice the back door open.
An elderly man with a cane and wearing knee braces slowly makes his way across the floor, and the crowd at the bar clears space for him. Someone jumps up quickly from a chair and pulls it out for the señor. "Look, that's Coach. That used to be Papa Joe's chair."
I watch with fascination at the deference paid to Coach. The bartender serves his drink just as he sits in the chair once occupied daily by Papa Joe Lombardo. Now the honorary patriarch of the V-Room, Al Chavez, known simply as "Coach" by everyone here, coached varsity football at Roosevelt High School from 1967-1986. Anyone sitting in Coach's chair will know to vacate it as soon as he's spotted walking in from the back entrance.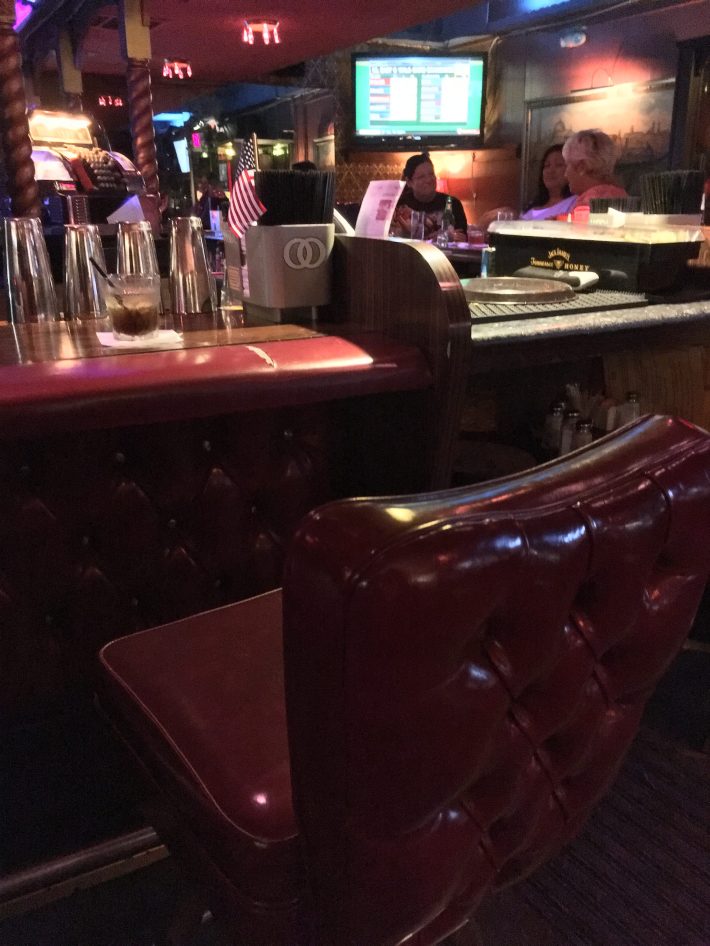 Time to Rest
[dropcap size=small]T[/dropcap]he sense of generational friendships and chosen family among the V-Room regulars extends to the bartenders, servers, and staff, all who seem to have been working for the Lombardos for years. Barbie Velasquez started waiting tables at the V-Room in 1999, while bartender Steve Payan has served the V-Room for six years. "The Lombardo family is wonderful to work for. They're always friendly and hospitable to regulars and newcomers." Payan's family has been coming to the bar for decades—his father was the mayor of Montebello from 1979-2000.
The Lombardos' reputation as personable owners and great employers will live on in the memories of the loyal customers, many of whom call the Lombardos their friends. So why sell their bar now?
"I'm tired," says Sal Lombardo. "I'm 70 years old. I have two grandkids. I've been doing this every day, up at 5 am to run this place and then my business. I'm burned out." Sal has been managing the Venice Room along with his brother, Dominic, and nephew, Daniel Lombardo, but all three have their full-time businesses and law practices to run. And with Papa Joe gone, perhaps it was time.
So sixty-three years after their father opened the Venice Room, the Lombardo brothers will retire, leaving the fate of the V-Room in the hands of its new owners.
RELATED: El Taco on Firestone Shutters; Only Four Locations of Glen Bell's Second Taco Chain Remain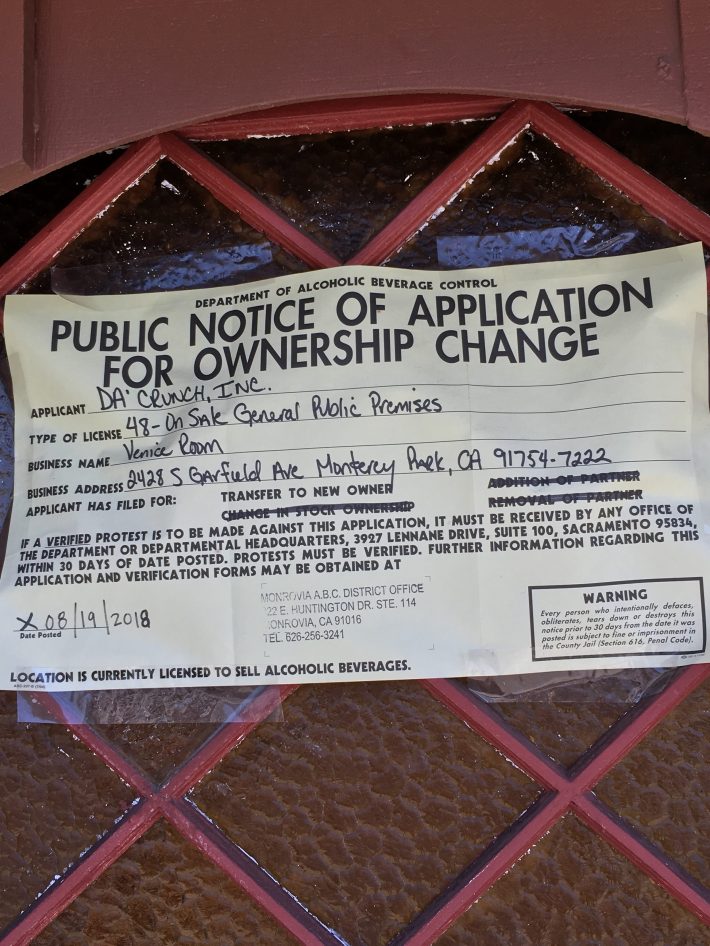 Miriam Rocha, a server at the Venice Room, says the new owners want to maintain the spirit and character of the place even as they promise "improvements." "They're here a lot to see how we work, what the regulars and customers like," said Rocha. "They say they want to keep much of the Venice Room and its traditions the same."
Ornelas has doubts. "Who knows? I mean, where else can you get a New York steak dinner for two with a bottle of wine for $42? I doubt the new owners would keep that tradition going. But who knows."
"There's so much tradition here. It's our clubhouse. We don't want to see anything change," says Calzada.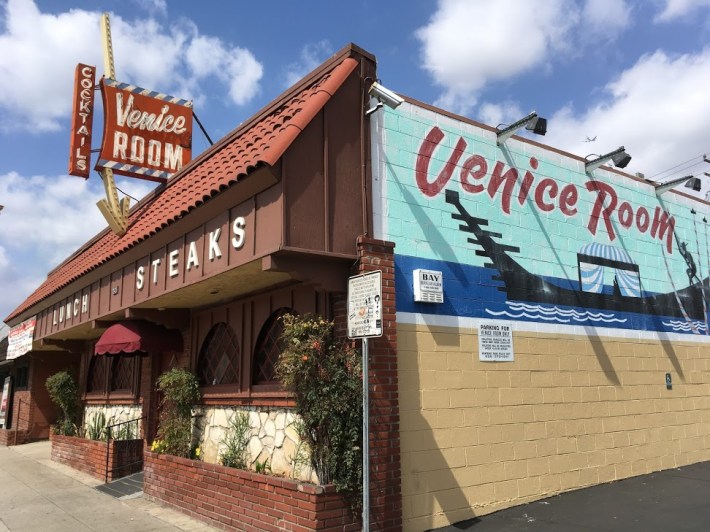 As recently as August 2016, Eater's series "Dining on a Dime" featured the Venice Room. The episode shined the spotlight on a jovial Papa Joe just a year before his death, who reminds customers that they're in charge when it comes to making their own perfect steaks. The DIY steaks and old-school style of the V-Room are well known, and even after the new owners take over, they will forever be part of the Lombardo Venice Room history. This official history, preserved in the Los Angeles Times, the book, L.A. Bizarro, and even the Zagat restaurant guide, will survive the sale.
But what of the rituals, traditions, and quirky rules of the Venice Room? Official history is one thing, but the people's history tells us many others. As Ornelas, the Wednesday V-Room veterana said, "This place should be a historical monument. I don't know why it's not."
RELATED: Garvey Ranch ~ Monterey Park
Melissa Mora Hidalgo was born in Montebello and grew up in the L.A./O.C. borderlands of East Whittier and La Habra. She holds a Ph. D. in Literature from UC San Diego and is the author of Mozlandia: Morrissey Fans in the Borderlands (Headpress UK, 2016).
Read More:
Stay in touch
Sign up for our free newsletter