Tacos
How to Teach Students Spanish Using Tacos and Pupusas ~ Meet Professor Sarah Portnoy
10:25 AM PDT on April 24, 2018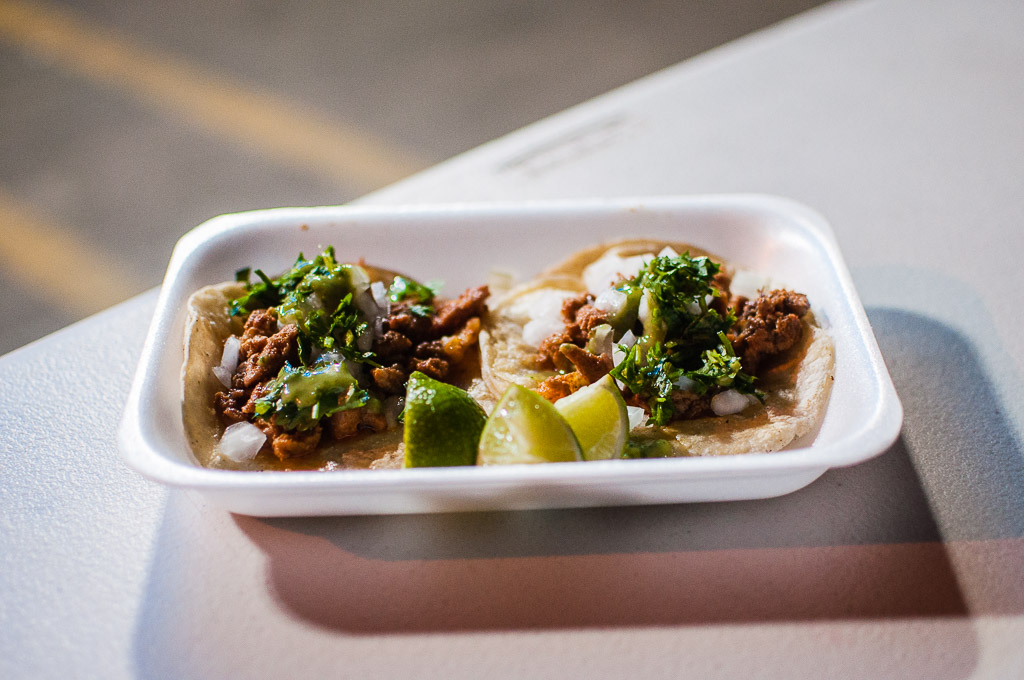 [dropcap size=big]T[/dropcap]his Thursday, April 26, LA Plaza de Cultura y Artes will host "Mexican Street Food of L.A.: Elotes, Discrimination and Politics." The talk comes on the heels of the Los Angeles City Council taking the first step to finally legalize street vending, and will involve a tasting courtesy of Boyle Heights street vendor and activist Merced Sanchez.
Giving the keynote speech is Sarah Portnoy, a professor in the Department of Spanish and American Studies and Ethnicity at USC. She's unique among Spanish professors in the United States in that she teaches students the language not through literature or films but through food. Her course, "The Culture of Food in Hispanic Los Angeles," has students scour Los Angeles for restaurants to profile via blog posts that they write in español.
Portnoy spoke to L.A. TACO via email. Her talk starts at 7 p.m.; tickets cost $20 and come with food. LA Plaza is at 501 N. Main St., Los Angeles, (213) 542-6200. See you there!
How did you get into studying Mexican food?
I have a PhD from [University of California, Berkeley] in Romance Languages and Literature with a focus on Medieval Spanish literature and folklore. So, yes, in theory Medieval literature is pretty far away from food, but in some ways it's not. I wrote a dissertation on Spanish ballads with women protagonists, known as romances, and how they traveled from Spain with the Conquest to Mexico, Cuba, and the United States — looking at them in Mexico as corridos and their offspring, narcocorridos.
In teaching and publications, I used the ballads not only as literary texts but also through fieldwork as teaching tools about culture and the people who sang the ballads. Food is another excellent tool to learn about culture and people, so in that sense not that far apart from where I started.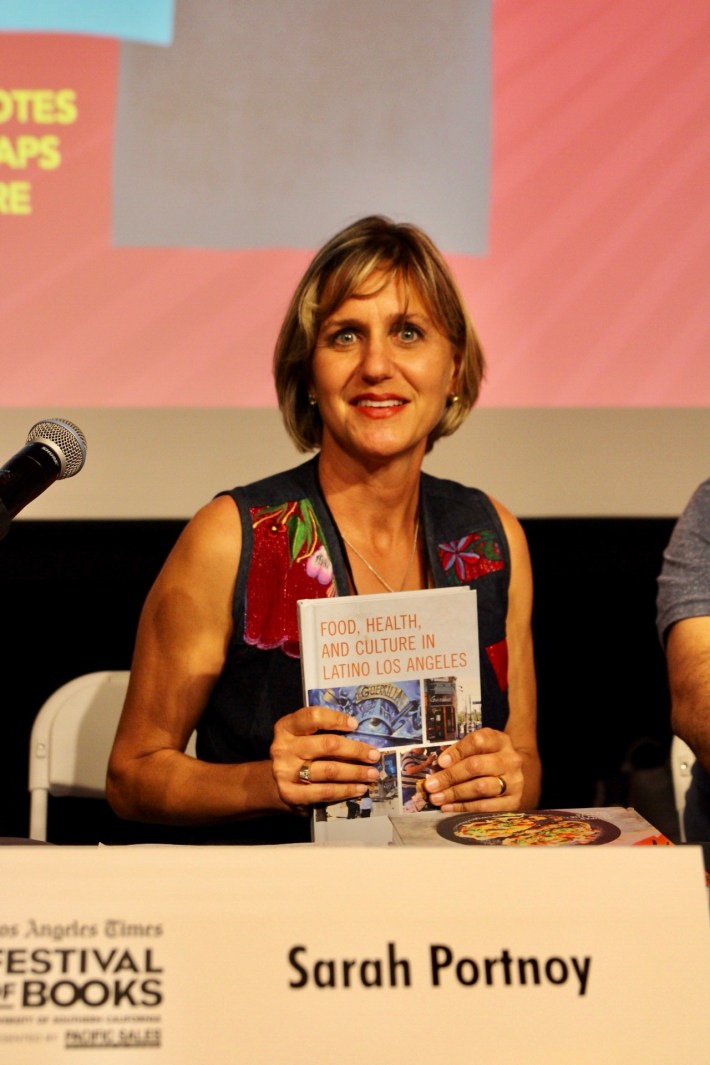 Where did you get the idea of teaching a Spanish class focused around Latin cuisine?
I moved to LA in 2007 from the Bay Area and started commuting from the Westside to USC. As I would get closer to campus, I would see taquerías, pupuserías, panaderías, etc. We weren't taking advantage of this rich Latino culture, all a stone's throw from our campus, in our classes in the Spanish Department. It seemed like such a great opportunity, given USC's location, to have the students use Spanish, engage directly with the community and explore Latino cultures.
Another trigger was probably about eight to nine years ago. I was listening to an episode of Good Food with Evan Kleiman [on KCRW-FM 89.9] with Jonathan Gold when someone called in and asked if Tito's Tacos can be considered authentic Mexican food. And he said, "Yes, because you can consider Southern California to be a region of Mexico unto itself."
I was scandalized by this at the time after having traveled in different parts of Mexico—how can a fried tortilla with cheddar cheese be authentic Mexican food? But it got me thinking and inspired my interest in teaching a course around Latino food in L.A. Now, in my courses, authenticity is a buzzword that elicits so many fascinating conversations about cultural appropriation and who has the right to cook what food, etc.
Describe what you make the students do for their coursework.
They write blogs about their experiences visiting taquerías, markets, restaurants, loncheras, etc in Spanish. They often interview employees and owners for them. They also explore the injustices in the food system in L.A. by thinking about what it would be like to be a low-income Latino immigrant trying to feed a family a healthy diet living in South L.A.
They also do projects based on food from areas such as Oaxaca, Jalisco, Mexico City or national cuisine such as Peru or Guatemala where they visit three or four restaurants or trucks, try the food, interview chefs and employees, and create a video for the class based on their experience.
Have any of your students gone on to food writing?
[Reuters Mexico City correspondent] Daina Beth Solomon was already a food writer for the LA Weekly when she took my class, so I can't really claim her, but she took my class in 2012. Ebony Bailey has gone on to make documentaries around Afro-Mexican culture and Will Chandler is leading taco tours of Culver City for Airbnb using the history and information he learned in my class. Other students have become doctors and have applied their understanding of the problems with the food system to the interactions with their Latino patients.
Do you see students more easily learn Spanish via tacos than in a "traditional" class?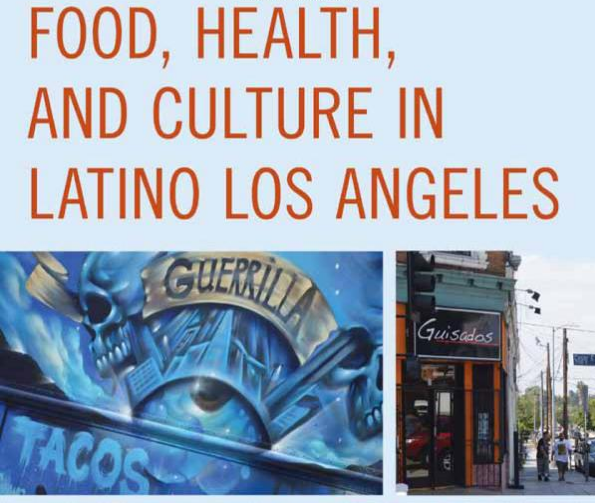 Absolutely! In today's culture of social media, food is a very accessible way for them to use Spanish by engaging directly with members of the community, write about what they have experienced (in Spanish) and discuss it in class. For them, this can be much more accessible than say, Don Quijote.
Talk about your recent book.
In Dec 2016 I published Food, Health and Culture in Latino Los Angeles. In it, I explore the history of Latino cuisine in Los Angeles and the contemporary Latino food scene, one that sharply contrasts with urban Latino neighborhoods where access to affordable, healthy food is a struggle. The book offers solutions such as expanding urban agriculture and legalizing street vendors.
I use the book in my classes and have recently been lecturing at universities in other parts of the country about topics from the book, particularly the battle to legalize street vendors in the city.
What do you think about LA finally legalizing street vendors?
I am thrilled, but somewhat cautious. Let's see what the final ordinance looks like. Luckily, the business veto (allowing brick and mortars to decide where vendors can set up) was overturned, so this will improve the situation. There can only be two vendors per block in the proposed ordinance. Let's see if that is always feasible.
Also, healthy food incentives have been part of the conversation for years. I would like to see discounted licenses for healthy food vendors and other incentives, such as allowing them to sell close to schools and parks, be part of the final ordinance. Make it easier and advantageous for street vendors to sell healthy foods in areas where options are often hot Taquis and sodas.
You're about to take a group of students to Oaxaca for three weeks. How will you teach your class differently?
There, we also explore directly through food but also through food activism with an organization called Universidad de la Tierra, an organization based on Zapatista ideology. So, it is definitely shocking for my students to hear about a very different kind of system than capitalism where people work communally in agriculture and food production. We saw it directly in the fields of amaranth farmers in the Mixtec region of Oaxaca where they showed us how their organization works. They also learn about micro-finance, helping women through small business loans through a local organization, Envia, that offers tours where we meet women entrepreneurs who use food production to improve their quality of life poco a poco.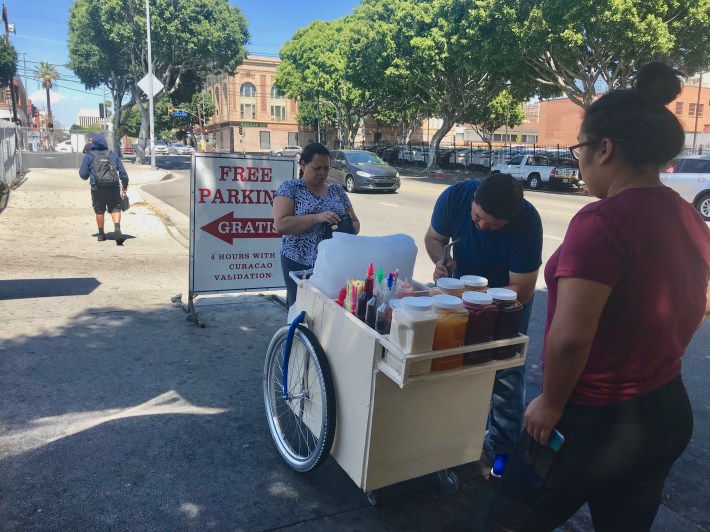 What can people expect at your talk at LA Plaza?
I will talk about the culture of street vendors in Pre-Conquest Mexico, how they are such an important part of the culture and economy in L.A., the struggle for legalization and explore the impact of legalization on vendors and eaters alike.
Finally, give us some of your favorite tacos in Los Angeles.
Mariscos Jalisco has always been a favorite of my students and now quite famous thanks to Ugly Delicious. While not traditional, Guerrilla Tacos—amazing food and a great way to discuss fusion cuisine with my class.
But tacos are just the gateway drug. There is so much else out there—favorite moles, fresh non-GMO tortillas, amazing salsas. My favorite Oaxacan "tacos" and moles are anything made and touched by the mole goddess, Rocío Camacho, a woman who does not receive enough recognition for her contributions here in LA over so many years. I always loved John Sedlar's cuisine [at the much-missed Rivera] and his tortillas florales as an exploration of the roots of Mexican cuisine, even if it's not part of the scene at the moment. I have a chef crush (don't tell anyone) on Carlos Salgado and his food at Taco María. I always get to explore new flavors and eat fresh handmade locally nixtamalized tortillas when I eat there.
And speaking of tortillas: Kernel of Truth is making some incredible non-GMO tortillas right in the heart of Boyle Heights. Just a few dudes who got together and saw the need …
LA Plaza is at 501 N. Main St., Los Angeles, (213) 542-6200. See you there!
BY THE AUTHOR:
The Northgate Grocery Chain Loses Its Matriarch ~ Teresa Reynoso de Gonzalez, 90
How Los Angeles Helped Bacon-Wrapped Hot Dogs Win a James Beard Award
Gustavo Arellano is the author of "Taco USA: How Mexican Food Conquered America" and a columnist for the Los Angeles Times.
Stay in touch
Sign up for our free newsletter