El Monte
The L.A. TACO Guide to Hiking East of East: Four Firme Nature Trails from Whittier Narrows to Puente Hills
12:45 PM PDT on July 16, 2021
he San Gabriel Valley today has so many roads and houses it's hard to imagine anything natural survives. Yet survive it does, and Whittier Narrows helps prove it." 
The authors of Wild LA, a 2019 nature guide published by the Natural History Museum, remind us that nature abounds and surrounds us here in Los Angeles—from the Santa Monica and San Gabriel mountain ranges and Angeles National Forest to our oceans, hills, valleys, arroyos, wilderness parks, and protected habitats. 
And even in the San Gabriel Valley amidst "so many roads and houses," we have unlikely nature havens like Whittier Narrows and the neighboring Puente Hills Habitat near the 60 and 605 freeway interchange.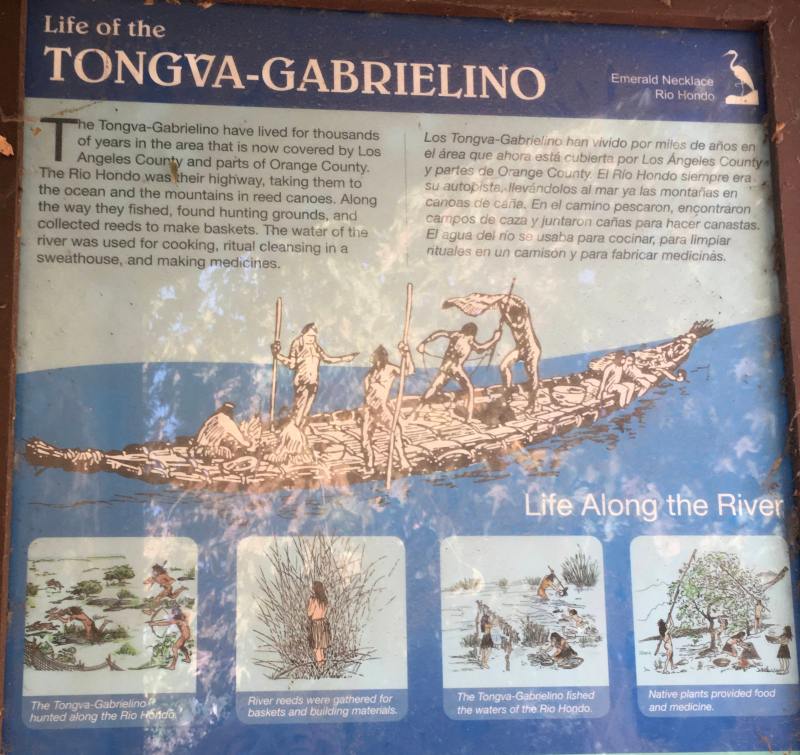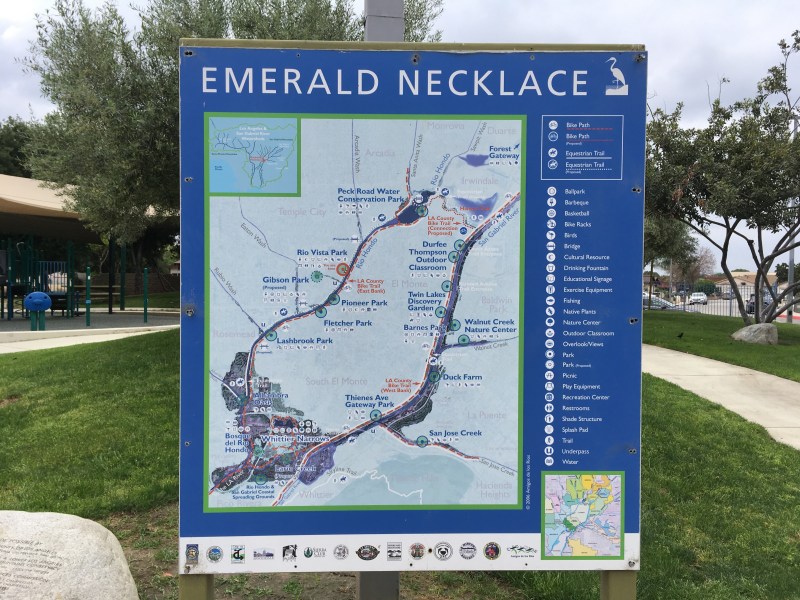 Perhaps one of the few upsides of the pandemic has been the growth of nature-seekers and outdoor recreation. A study from the University of Vermont discusses how COVID-19 has created new "nature lovers," while newspapers around the world clocked a global "boom" of outdoor activities, specifically hiking: AP News reported "8.1 million more Americans went hiking in 2020 compared to 2019," many for the first time.
I became one of these stay-at-home pandemic-era hikers around Whittier Narrows and the Puente Hills Habitat. I've grown to appreciate what my proverbial backyard offers in terms of 'nature.' These San Gabriel Valley parks show us that hiking in L. A. doesn't have to mean trekking to Malibu, Runyon Canyon, or Big Bear. They may not make the big city paper's 'best hiking in L. A.' lists, but Whittier Narrows and the Puente Hills offers some of the most underrated suburban wilderness and nature trails in the county for people at all fitness levels. 
Here are four hikes through local space, time, and natural history.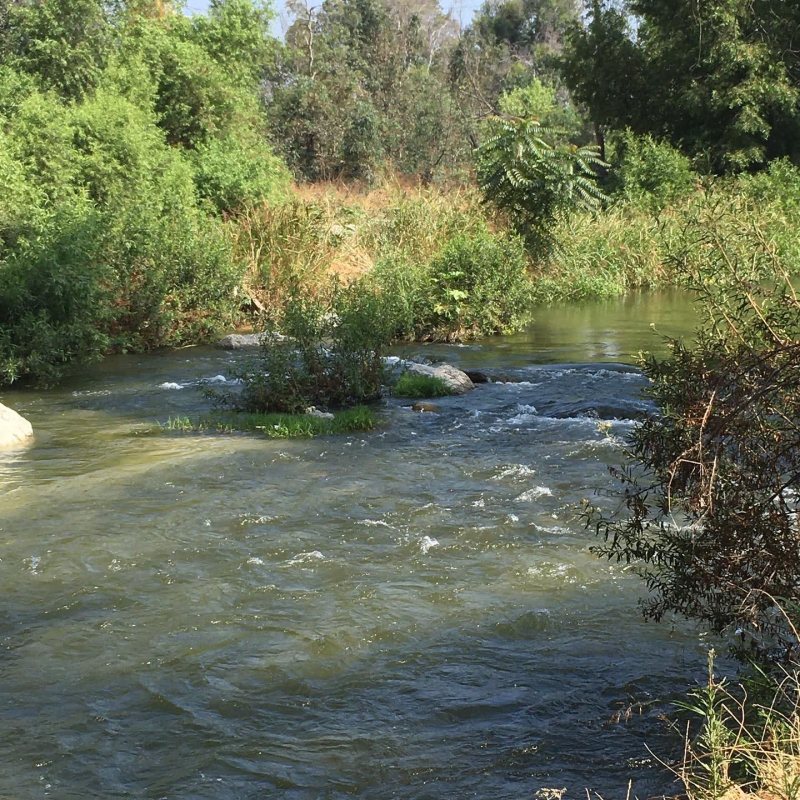 HIKE #1—Bosque del Rio Hondo
Location: Bosque del Rio Hondo, 9311 San Gabriel Blvd., South El Monte, 91733
Difficulty: Easy to Moderate. Flat, paved trail suitable for all fitness levels; ADA accessible.
Length: 4.0-mile loop.
Our first hike is more like a long nature walk through the lushest, greenest, and seasonally wettest part of the sixteen-mile Río Hondo River Trail. This walk covers a two-mile segment at the Bosque del Rio Hondo, a beautiful park and nature center in the Whittier Narrows Recreation Area, and ends on Rush Street in South El Monte, where the river turns to concrete.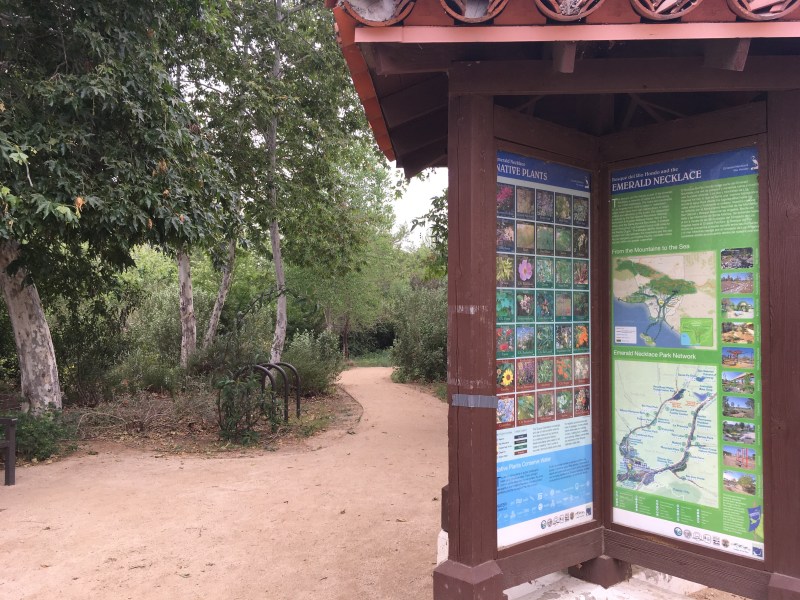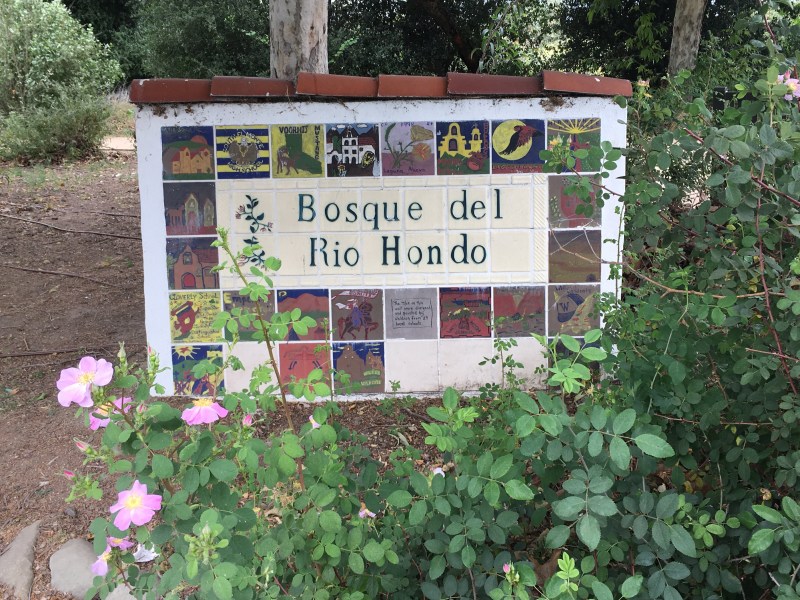 If you've taken San Gabriel Boulevard to the Montebello Mall or zipped down Rosemead near Legg Lake, you've likely whizzed by the Bosque del Rio Hondo without even knowing it. A Spanish mission-style arc and façade mark the entrance to the Bosque parking lot on San Gabriel Boulevard, a stone's throw from the original site of the Mission San Gabriel built-in 1771. Kiosks inside the Bosque tell stories of Tongva villages that thrived in this rich river-fed area and of Mexican barrio kids who would call it "Marrano Beach" hundreds of years later. 
These days, the Bosque del Rio Hondo is the crown jewel of the riparian Emerald Necklace, an "an interconnected loop of parks and greenways along our urban waterways"—in effect, the green spaces sustained by the Los Angeles River, the Río Hondo, the San Gabriel River, their creeks and reservoirs around L.A. County. 
The Bosque del Rio Hondo is "one of the last remaining natural segments" of the Río Hondo. Here's how to enjoy a good hike through this urban forest.
The Bosque Hike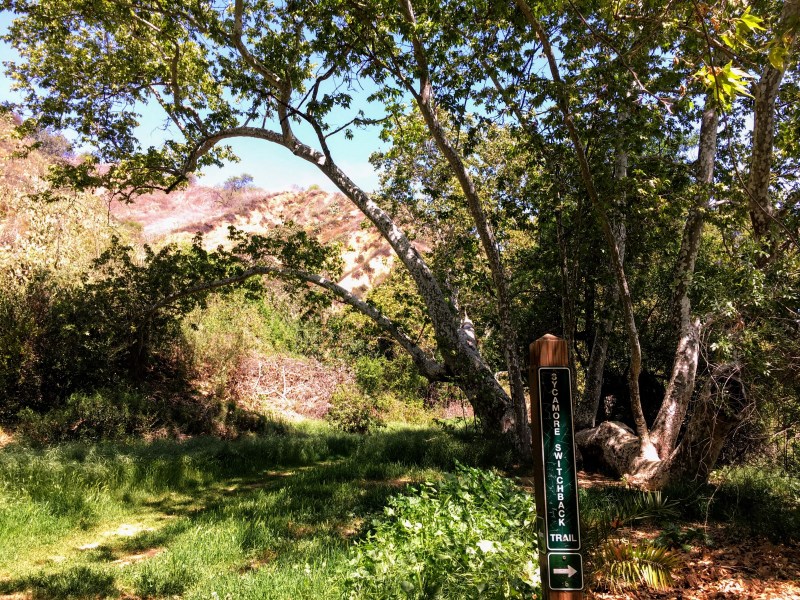 HIKE #2: Sycamore Canyon Trail—Puente Hills Habitat West
Location: Sycamore Canyon Trailhead, 5040 Workman Mill Rd., Whittier, 90601
Difficulty: Moderate to Strenuous
Length: 2.6 or 3.8 miles out-and-back
The first of our Puente Hills Habitat hikes begins at the west end of the Sycamore Canyon Trail. This is a hiking-only trail, so no bicycles, horses, or dogs are allowed—ideal conditions for a long, quiet nature walk through "one of the most beautiful areas in the Puente Hills," according to historian Amanda C. West. 
In her 2007 paper, "The Puente Hills Habitat Authority: A Preservation Success Story," West argues that the preservation was a success in part because a "well-organized grassroots coalition, a series of unusual, creative and sometimes controversial funding arrangements, as well as the sheer determination and tenacity of a handful of individuals" showed that "development, even in Southern California, does not have to be inevitable." After the 1987 Whittier Narrows earthquake turned so much of Uptown Whittier into rubble, land dealers and the historically pro-business Whittier city council were eager to commence the ostensibly "inevitable" housing, shopping, and highway developments that threatened to decimate the natural beauty of the rugged hills to the north and east.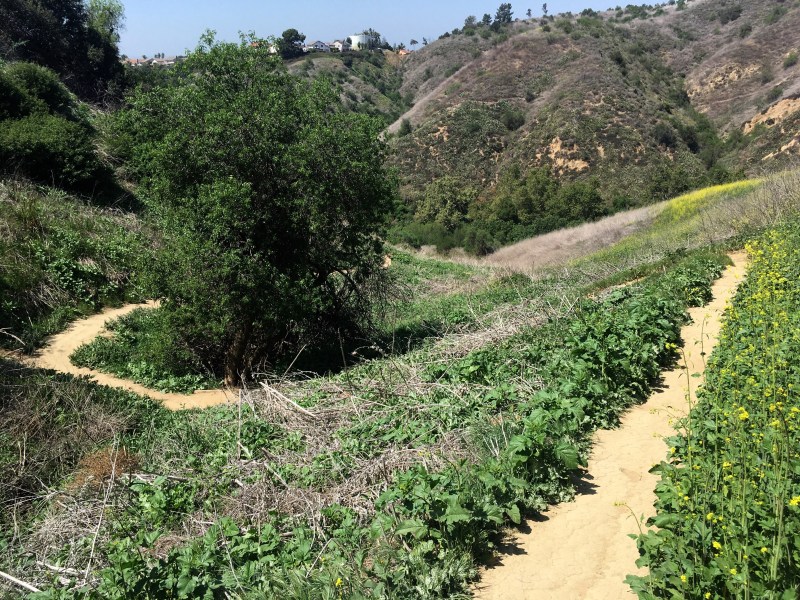 But newly-elected preservationists to the Whittier city council in the 1990s stopped a road extension and condominium construction in the hills by buying out land holdings from Wells Fargo, Chevron, Unocal, and the Catholic church. These transactions, partially funded by 1992 Proposition A neighborhood parks money from Los Angeles County, helped establish the Puente Hills Habitat Restoration Authority to protect and restore the area's natural landscape for generations to come. Today, hikers can enjoy nearly 25 trails throughout the 3,870 acres managed by the Puente Hills Habitat Authority, from the 605 freeway in Whittier to the La Habra-Brea border just over the Orange County line. 
The Habitat Authority calls the Sycamore Canyon trail a "level and gentle nature path," an appropriate introduction to hiking in these Puente Hills. 
The Sycamore Canyon Hike
Hike:

Start on the gravel path and follow the signs to the trail. The first 1.3 miles are relatively flat with a few small hills until you come to the fork in a scenic green area under a canopy of an old sycamore, oak, and cottonwood trees. You can turn around here and head back for a shorter 2.6-mile hike. Or, turn right at the fork, cross the trickling water, and hike up the .06-mile switchback to Rattlesnake Ridge for a heart-pumping workout before turning around and heading back.

Nature:

Lots of sycamore and oak trees, some of them hundreds of years old. Walls of cacti host their own ecosystems, birdsong echoes through the canyon, and the wind rustles the lush vegetation down in the ravines fed by a running stream—wildlife like rabbits, squirrels, lizards, coyotes, and rattlesnakes call this canyon home.

Fun Fact:

Neighboring Rose Hills Memorial Park once owned this parcel of land and wanted to turn Sycamore Canyon into a pet cemetery.

Good to Know:

Parking lot and trailhead hours are strictly enforced and carry a fine if you get locked in, so plan ahead. But don't get mad about the hours. It's

for the animals

.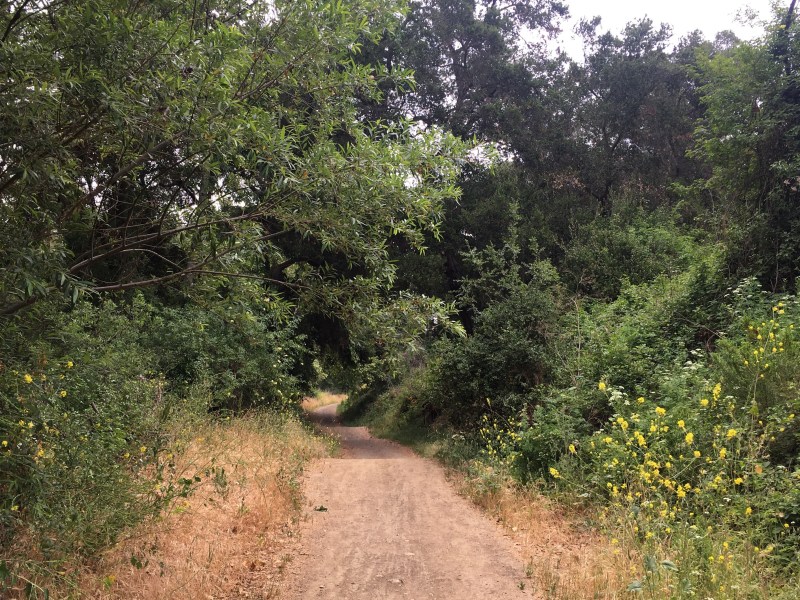 HIKE #3: Turnbull Canyon to Skyline/Schabarum-de Anza Trails—Puente Hills Habitat Central
Location: Turnbull Canyon Trailhead, Turnbull Canyon Road, Whittier, 90601. 
Difficulty: Moderate to Strenuous
Length: 2.6 or 3.4 miles out-and-back
On some weekends, you would think Turnbull Canyon is Griffith Park. 
From morning through afternoon, a steady stream of hikers, runners, dog walkers, and cyclists make their way up to Beverly Boulevard and Turnbull Canyon Road in Whittier to use the trail associated with hauntings and sordid histories since the canyon's first peoples, legend has it, called it the "Dark Place."
Turnbull Canyon hosts over 8 1/2 miles of interconnecting multiuse trails that traverse the valleys and canyons of the central Habitat region. The trail's versatility and proximity to Uptown Whittier, relative accessibility, and sheer mythology make the Turnbull Canyon multiuse trail among the most trafficked in the Puente Hills.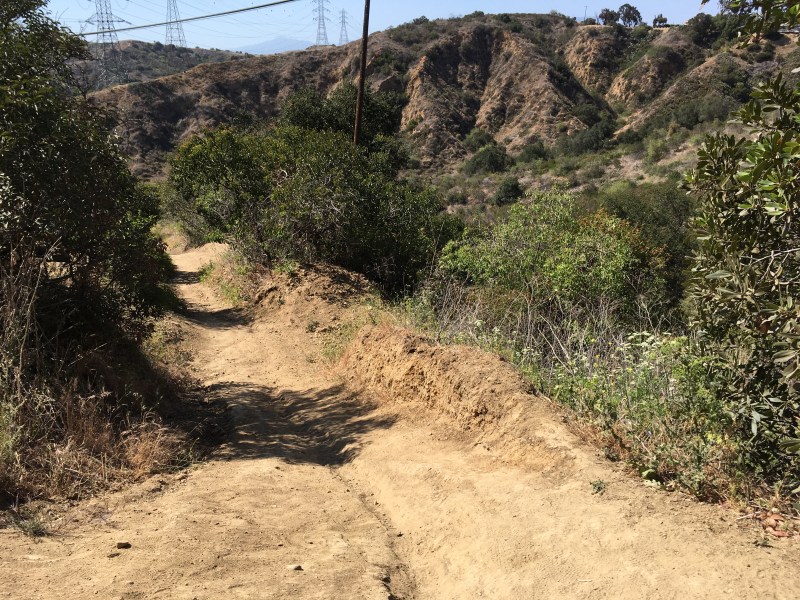 Off-road bicyclists love the Sumac-Turnbull trail for the rocky climbs and downhill speeds. Families with strollers and señoras getting their fitness on like the ease of the trail's first segment, a level path that opens up into the shady and scenic canyon. Hikers favor the challenge of reaching the Skyline-Schabarum (de Anza) trail, only to keep going for miles more on the Juan Batista de Anza national historic route. As for the canyon's mythology, a daytime hike may not provide immediate answers to questions like an insane asylum hidden in the hills or whether Richard Ramirez, AKA "The Night Stalker," really performed Satanic rituals in Turnbull Canyon up by the water tower.
But a hike will take you back in time to when these hills were home to the Tongva trading village Ahwingna or to a plane crash in 1952 that killed all 29 people on board in Turnbull Canyon. 
Choose your own adventure on the Turnbull Canyon Trail!
The Turnbull Canyon Trail Hike
Hike:

The first 0.7-mile segment from the trailhead is an easy walk through a partially shaded canyon until you reach the fork. Take the Sumac Trail on the left for a challenging 0.6-mile climb up to Rattlesnake Ridge, or continue to the right for a peaceful, shaded mile-long hike to the Schabarum-Skyline (de Anza) Trail.

Nature:

Lots of grasses and plant life, both native and invasive, such as California coastal sage and mustard. Live oaks, western sycamores, and arroyo willow trees line the trail where squirrels, birds, and lizards play.
Fun fact:

The Quakers named the canyon for Robert Turnbull, a Scottish immigrant sheepherder who sold his land to them, Whittier's original colonizers. A contemporary of the 19th-century settlers, ranchers, landowning white men like Workman, Temple, "Lucky" Baldwin, and Rowland—names found all over SGV school buildings and street signs—Turnbull was a town drunk whose beaten body was found floating in the Los Angeles River in 1888.

Good to know:

There is no parking near the Turnbull trailhead. Hikers must park somewhere on Beverly Boulevard or Painter Avenue and walk, up to half a mile, to get to the gate on Turnbull Canyon Road. Trail hours are strictly enforced.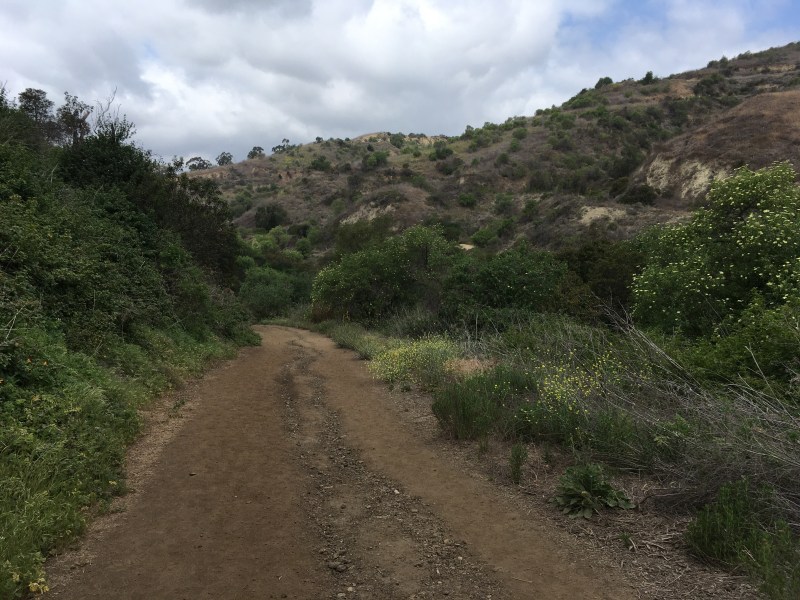 Hike #4: Arroyos San Miguel and Pescadero/Deer Loop Trails—Puente Hills Habitat East
Location: Arroyo Pescadero Park, 7531 S Colima Road, Whittier, 90605
Difficulty: Easy to moderate. 
Length: 2.0-3.4 miles loop or out-and-back
The Arroyo Pescadero Trailhead is one of only two in the Habitat open to hikers from sunrise to sunset, providing the broadest timeframe for enjoying one of the prettiest trails in the hills. Visitors can choose between two trails: the Arroyo Pescadero/Deer Loop and Arroyo San Miguel trails. Both take you through the east-central part of the Puente Hills between Whittier and Hacienda Heights. Chevron used to own property and pump oil in these hills for decades until the late 1980s. Sharp-eyed visitors to the Arroyo Pescadero/Deer Loop trail might see remnants of this bygone era among the restored habitat, from service roads to rusted parts of old machinery. 
Here are two amazing hikes through the first habitat restoration area of the Puente Hills.
The Arroyo Pescadero/Deer Loop-San Miguel Trail Hike
Hike:

The trail begins at the top of the ramp. Follow signs for the Arroyo Pescadero Trail to the left of the fork, an easy 2-mile loop down the canyon and through eucalyptus groves favored by families and dog walkers. Take the Deer Loop connector at the bottom of the hill to add .8 mile. If you prefer a longer hike out and back through the canyon, follow the Arroyo San Miguel trail. It passes under Colima Road at the .3 mile mark and continues another 1.4 miles through some of the most scenic areas of the arroyo near La Habra Heights.

Nature:

In 1998, the Arroyo San Miguel became the first area in the hills to undergo

habitat restoration

. Around both Arroyos San Miguel and Pescadero, look for lots of sage scrub and chaparral, including elderberry, laurel sumac, and toyon—a shrub decorated with red "holly" berries—along with brush rabbits, darning needles, hummingbirds, and lizards.

Fun Fact:

"Habitat restoration eliminates non-native weeds and replaces or restores vegetation to its natural state of native plants," says the Puente Hills Habitat Authority. The information boards at the trailhead list these native plants and point out non-native trees in the area like eucalyptus, likely planted by the oil companies as a barrier.

Good to know:

Because there are two trails associated with this trailhead, pay attention to signs and plan ahead. Dogs and bicycles are not allowed on some parts of these trails.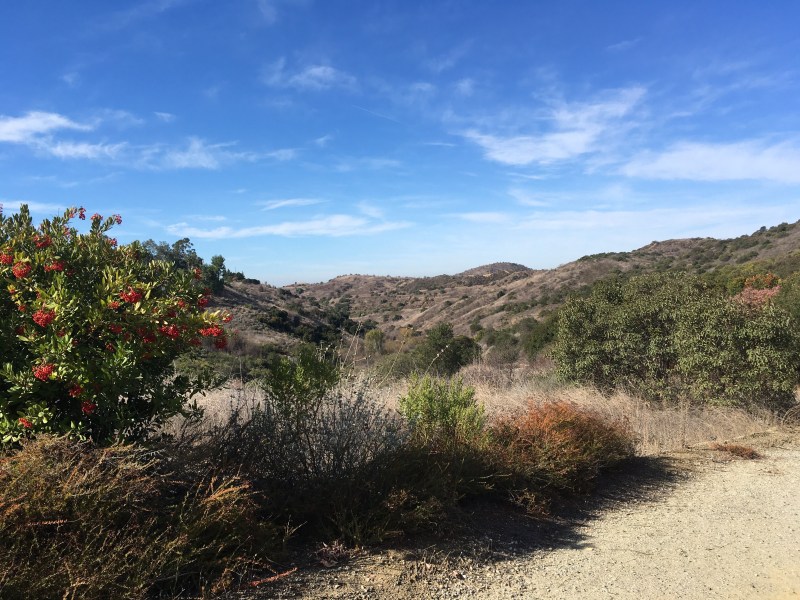 "Leave only footprints"—Finally, Some Trail Etiquette 
Whether you're a seasoned hiker or first-timer on the trails, the common courtesy of "leave only footprints" while adventuring outdoors applies to our urban trails in Whittier Narrows and the Puente Hills Habitat. This is especially true in the Habitat, where usage has jumped from 228 daily visits in 2005 to a whopping 2,600 in 2016 and likely hundreds more now.
In general, bicyclists, horseback riders, dog walkers, and hikers are welcomed on the multiuse trails. Use caution and observe right-of-way signage. Some trails are for hiking only, meaning no pets or bikes. When you do bring your perro, please pick up after them! I've seen way too many dog doodoos on "hiking only" trails. Dog feces mess up the restoration and preservation efforts of the sensitive habitats, and not all areas are safe for pets due to poison ivy and rattlesnakes.  
Be smart and vigilant. Respect the plant and wildlife. Watch where you step, and stay on designated trails. Take plenty of water, wear a hat, and use sunscreen. Even seemingly short hikes of a mile or two can feel more strenuous in the summertime heat. 
Find more site-specific hiking and trail information at Whittier Narrows Recreation Area and Puente Hills Habitat Preservation Authority pages.
Happy trails.
Melissa Mora Hidalgo was born in Montebello and grew up in the L.A./O.C. borderlands of East Whittier and La Habra. She holds a Ph. D. in Literature from UC San Diego and is the author of Mozlandia: Morrissey Fans in the Borderlands (Headpress UK, 2016).
Read More:
Stay in touch
Sign up for our free newsletter