Featured
Where to Go When You're Hungover in L.A.
11:41 AM PDT on June 3, 2016
[dropcap size=big]S[/dropcap]o there you are facedown in bed on a Sunday morning with a raging headache, eyes with the light-sensitivity of Nosferatu, and a stomach feeling like you chugged a couple pitchers of Buchanan's. Meanwhile, your retired neighbor decides to test out his new weed wacker (with a built-in bluetooth speaker) after deciding that 9 a.m. is a reasonable hour for everyone in his world to be awake.
While your first instinct may be to throw random stuff in his vicinity, you quickly come to terms that your body's too depleted to follow through with any twisted ideas you've conjured up, and that ultimately, you're the culpable one for feeling like a dried up dog turd – which doesn't make your neighbor any less of an asshat – but that's a different piece all together. It seems like everyone has their own go-to hangover remedies – from drinking bladder-buster sized sports drinks, to gorging on loads of toast, to popping over-the-counter pain meds.
If you search the internet for help, you'll probably come across lists suggesting that the best cure for a hangover is to prevent from drinking so much in the first place. What? Let's face it, while some of the remedies may offer some relief, others (like limiting your booze intake) make no sense, and none are more instantly satisfying than the offerings from the places listed below – in no particular order: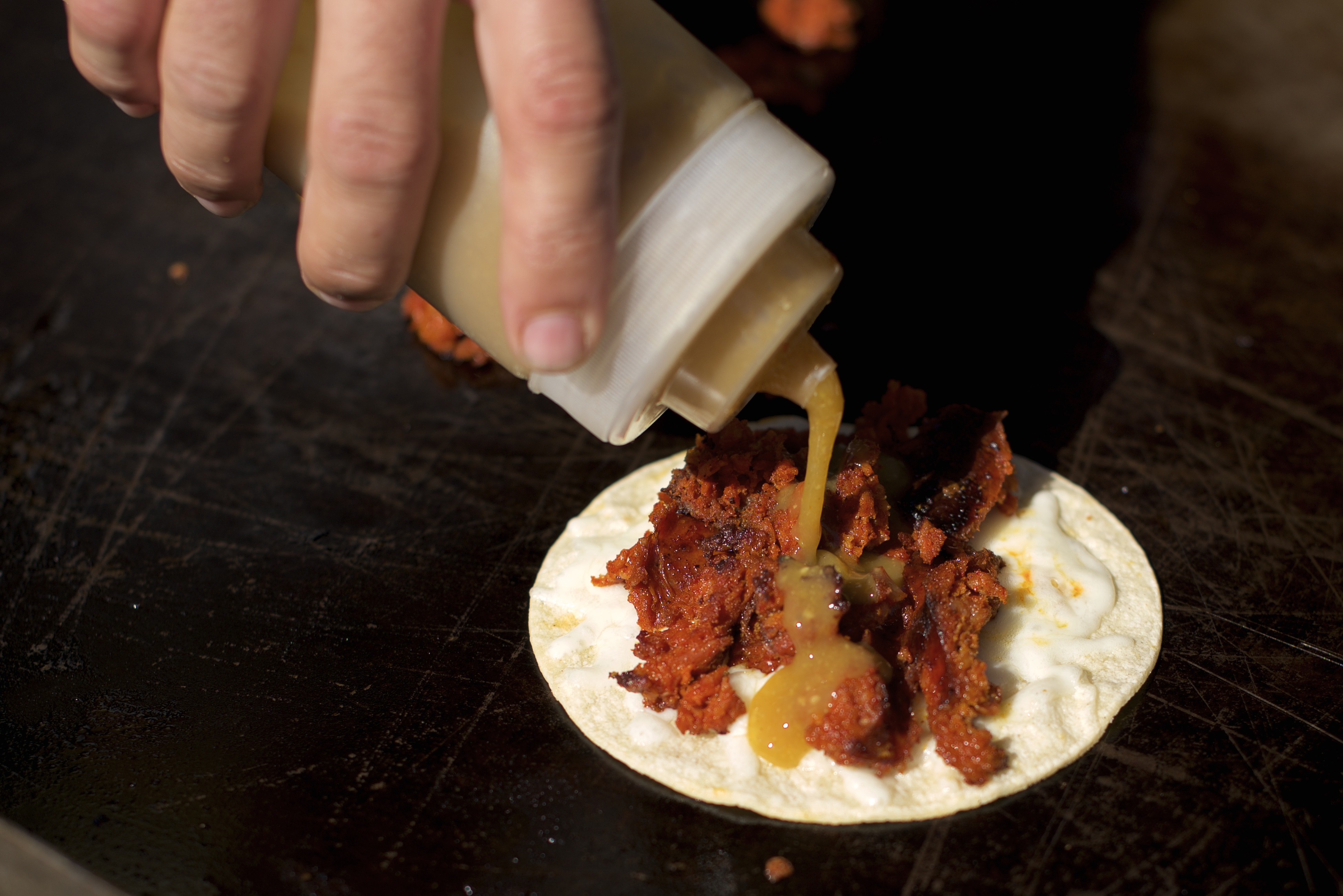 Chori-Man (Downtown L.A.) – Chorizo Burrito
When you aren't trying to use a fork and knife for breakfast, order your hungover, insert-coin-to-continue-having-ass a freshly made Chori-Man burrito and a chorizo taco for good measure. Whether it's his red Zacatecano-style or green Tolucan-style chorizo, you simply can't go wrong by ordering breakfast from fourth-generation chorizo maker Humberto Raygoza's stand at the Wall St. Farmer's Market in downtown. The perfectly griddled burritos he serves hungry crowds every Saturday morning are loaded with artisanal chorizo, fried eggs, seasoned potatoes, pickled red onions and a mozzarella-provolone cheese blend. Yes, this exists at a food stand in your city and if you haven't been yet, what have you been waiting for?
754 Wall St, Los Angeles, CA 90014 Open: 9a.m.-2p.m. Phone: (424) 239-4486
Aqui Es Texcoco (Commerce) – Lamb Barbacoa
Slow-cooked lamb barbacoa, along with a bowl of rich consommé and a stack of warm corn tortillas serves as the perfect meal to help recover from even the most brutal hangover. The barbacoa is first covered in maguey leaves then cooked for hours in stainless steel ovens engineered by owner and barbacoa expert, Francisco "Paco" Perez. He designed these custom ovens to duplicate the same level of tenderness and flavor of the barbacoa from Texcoco, Mexico and surrounding Central Mexican states--which is traditionally cooked in underground pit-ovens. What ends up being served to your hungover ass is an order of succulent, fall-apart tender barbacoa -- a dish typically reserved for breakfast on weekends in Mexico.
5850 S Eastern Ave, Commerce, CA 90040 Open daily: 8a.m.- 9p.m. Phone: (323) 725-1429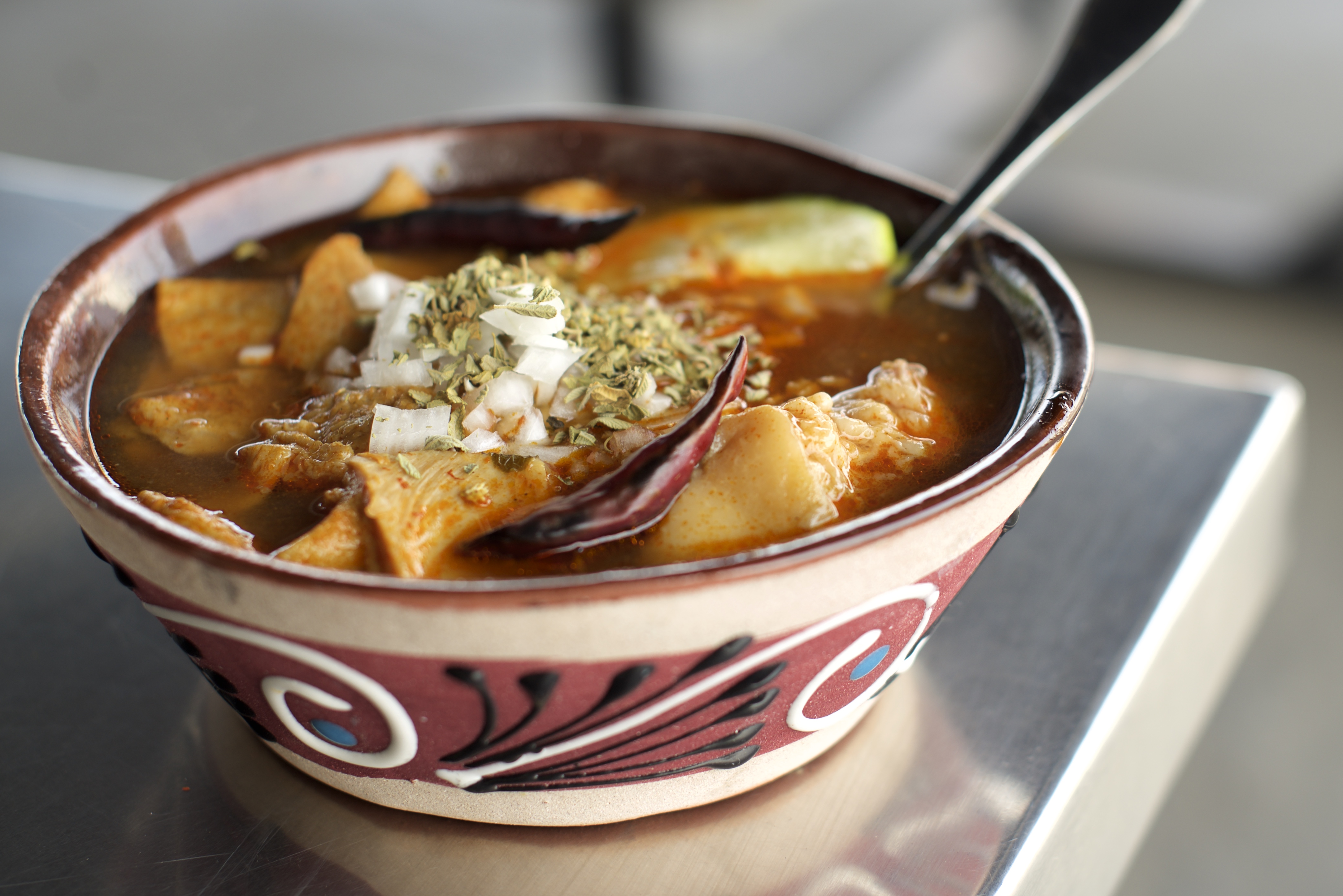 Balam Mexican Kitchen (Lynwood) – Menudo
This fairly new taco joint in Lynwood offers a wide variety of fusion tacos ranging from carnitas with Asian-style slaw to Korean asada tacos with grilled bulgogi sirloin, to their popular Tropical T taco with coconut shrimp, mango-banana pico de gallo, served on a crisp, refreshing hibiscus root tortilla.
However, it's their menudo (served on weekends only) that'll help combat that nasty hangover. The piping hot red-chile beef stew is loaded with heaps of perfectly cooked tripe, and also comes with a rich, gelatinous tendon and marrow-loaded pata de res. Be sure to add all the fixings (dried oregano, red chiles, lime, chopped onion) to get the full benefits of a well-balanced, fully-loaded bowl of menudo. They've got an open patio with a cool breeze always flowing, which might also help in getting you to snap out of that brain fog state of mind.
11700 Long Beach Blvd, Lynwood, CA 90262 Open 11a.m.-8p.m. Closed Mondays Phone: (424) 338-6762 IG:@BalamTaco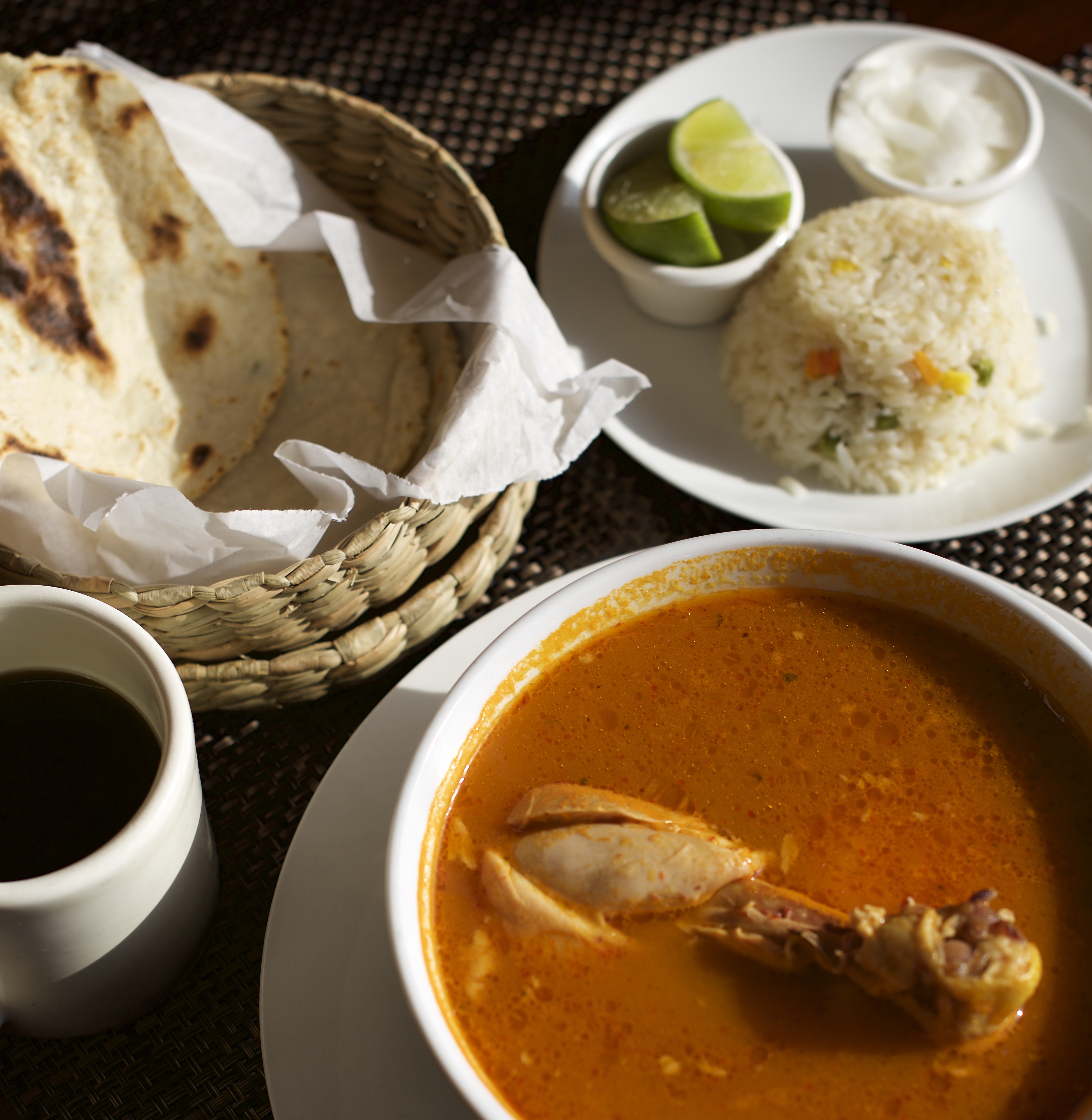 Rocio's Mexican Kitchen (Bell Gardens) – Chilate de Pollo
The addictingly spicy Oaxacan chicken soup that's thickened with masa and cooked with epazote will restore your life energy almost immediately. The soft, pillowy handmade tortillas that accompany this dish are just as magical. Chef Rocio Camacho's extensive list of Mexican specialty dishes like enmoladas, enchiladas placeras, enfrijoladas and empanadas are extremely tempting, but for hangovers, go with the Chilate de Pollo.
7891 Garfield Ave. Bell Gardens CA 90201 Open daily: 9 a.m. – 9 p.m. Phone: (562) 659-7800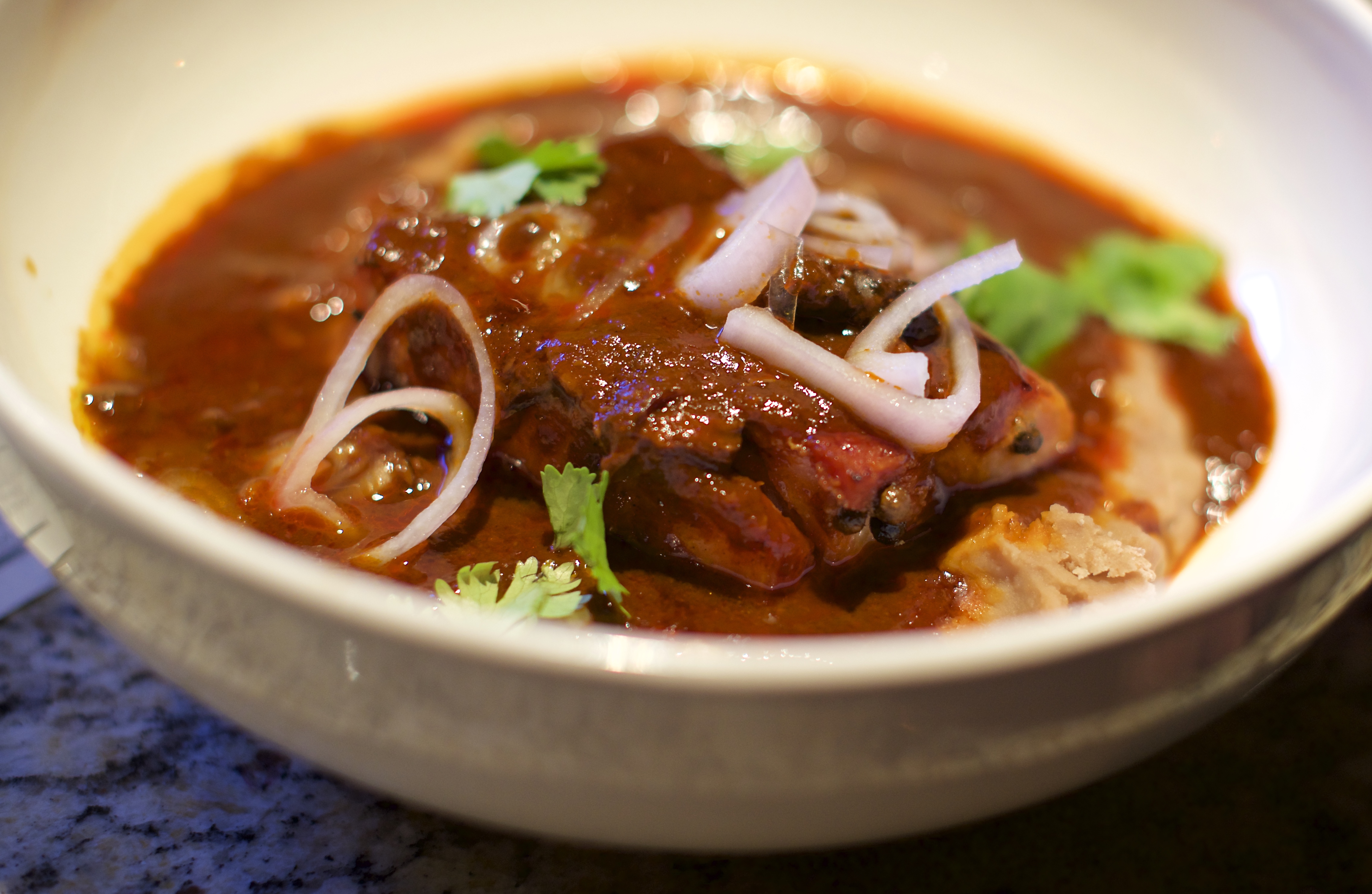 Corazón y Miel (Bell) – Frijoles con Veneno
If a piping hot bowl of menudo loaded with tripe or even Chilate de Pollo doesn't call your attention, try Chef Eddie Ruiz' insanely tender 12-hour Stemple Creek grass-fed beef barbacoa, which typically serves two, except for when you're hungover. Your main objective at that moment is to soak up as much of those rich, tangy beef juices using warm Masienda non-GMO corn tortillas. If you enjoy sharing food, be sure to also try the equally satisfying Frijoles con Veneno (refried beans topped with a fiery pork adobo sauce), a dish from Monterrey, the capital of the Northeastern Mexican state of Nuevo León, with 48-hour pork belly and fried eggs. Having either or both of these dishes will wake you and your nasal passages the hell up and satisfy that breakfast appetite--no matter what time of day/evening it is.
6626 Atlantic Ave, Bell, CA 90201 Open: Sun: 10a.m.-2p.m, 5p.m.-10p.m. Tues-Sat: 5p.m.-10p.m. Phone: (323) 560-1776 IG: @corazonymiel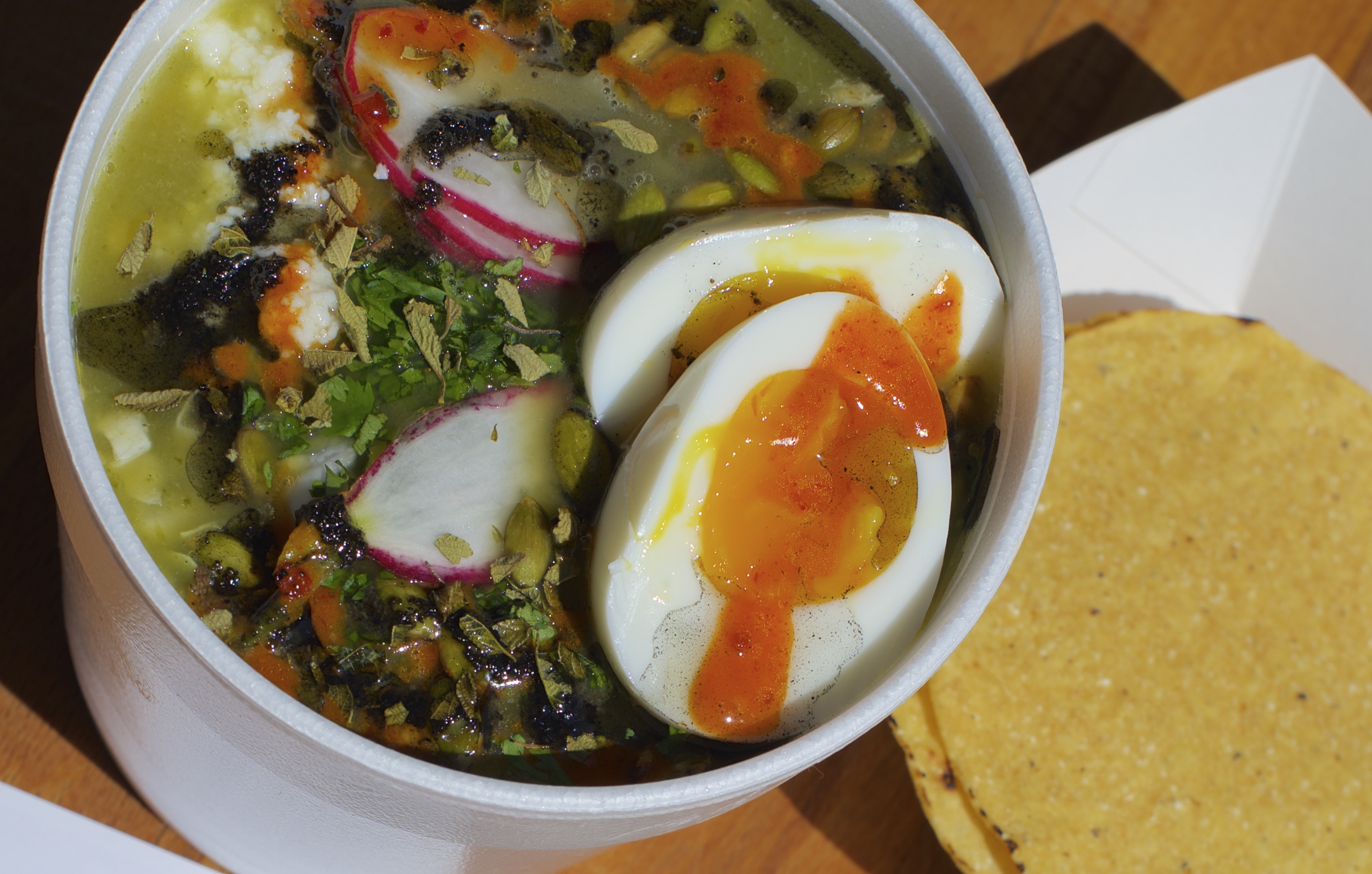 Calo Provisions (Boyle Heights) – Pozole Verde
Chef Ted Montoya is bringing an elevated version of pozole to the people of L.A. with a vast array of toppings made available for optimal customization which include: a perfectly cooked soft-boiled egg, roasted pepitas (pumpkin seeds), queso fresco, pickled red onion, black garlic oil, radishes and homemade hot sauces. Montoya, who has previously worked at Eggslut (back in the truck days) and Corazon y Miel, offers both red and green pozoles with your choice of shredded chicken, pork, or both. If you aren't trying to settle for a mediocre breakfast, order this next-level pozole. It's exactly what your body needs after a night of partying.
Beginning June 19th, keep an eye out for Chef Montoya posted at DTLA's Smorgasburg LA every Sunday.
www.caloprovisions.com and IG: @caloprovisions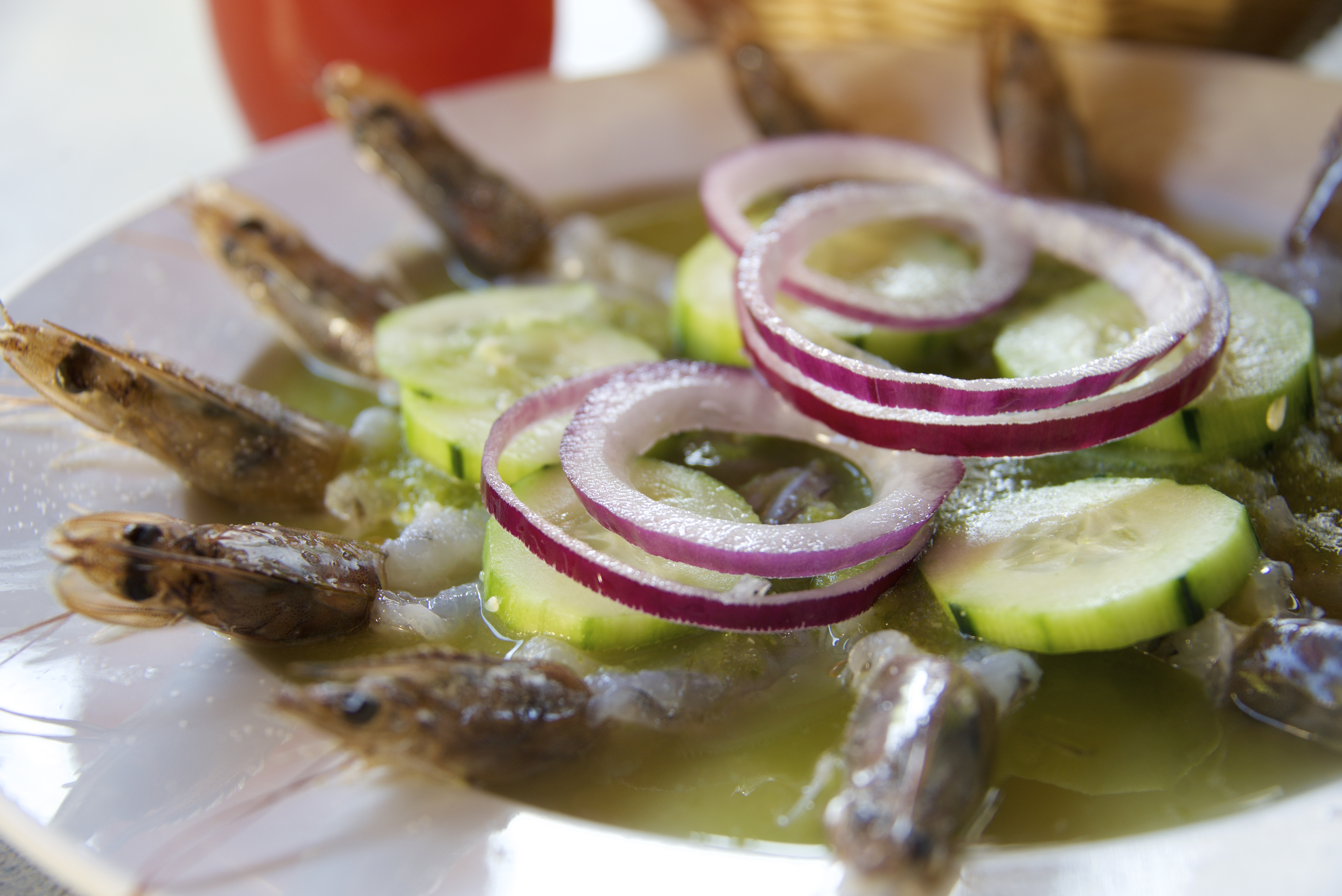 Coni'Seafood (Inglewood) – Aguachile de Camarón
What can be said about Coni'Seafood that hasn't been said already? This Inglewood joint is so consistently good that it makes you want to hit the town, drink way more mezcal than you should, and wake up hungover just to experience the healing powers of their shrimp aguachile. That addicting, mouth-watering spicy jalapeño salsa, sliced red onion and ridiculously fresh shrimp from Mazatlán, paired with an ice cold michelada, will quickly make you forget about, or simply not care about, your questionable behavior the night before.
3544 W Imperial Hwy, Inglewood, CA 90303 Open: Mon-Thurs.:10a.m.-8p.m.; Sat. & Sun.: 10a.m.-9p.m. (310) 672-2339 IG: @coniseafood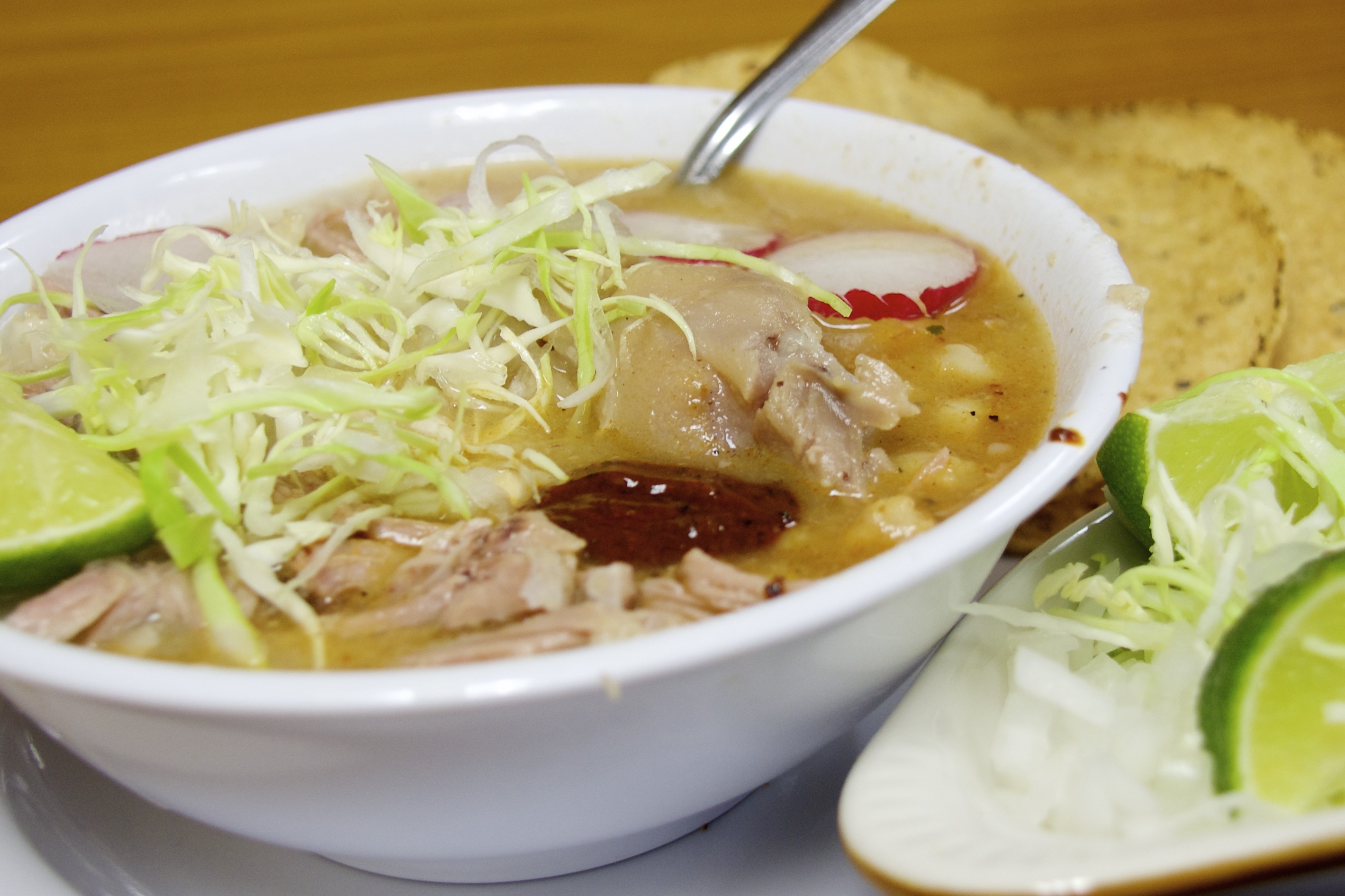 El Colimense (Bell/Bell Gardens) – Pozole Blanco
If for some reason the tripe in menudo isn't your idea of the-best-thing-ever, this killer Colima-style pozole blanco with tender pork and hominy serves as a delicious alternative. Once you add the smoky house-made chile de árbol salsa, shredded cabbage, squeeze of lime and chopped onions, your mind will be so busy trying to figure out how something could be so delicious that you'll have forgotten about how angry you were at your neighbor for waking you up. Don't forget to order the pozole with the patita (pig's foot). You'll leave this restaurant leaving happy and looking forward to your next visit to try other Colima home-style dishes like: sopitos (fried corn tortillas topped with ground beef, cotija cheese, and salsa), enchiladas dulces (Ground beef, almond, raisin, pea and carrot stuffed enchiladas topped with a sweet chili sauce) and pork snout sopes.
4846 Florence Ave. Unit A101 Bell, CA 90201 Open: 8a.m.-8p.m. Phone: (323) 771-1905 IG: @restaurantcolimense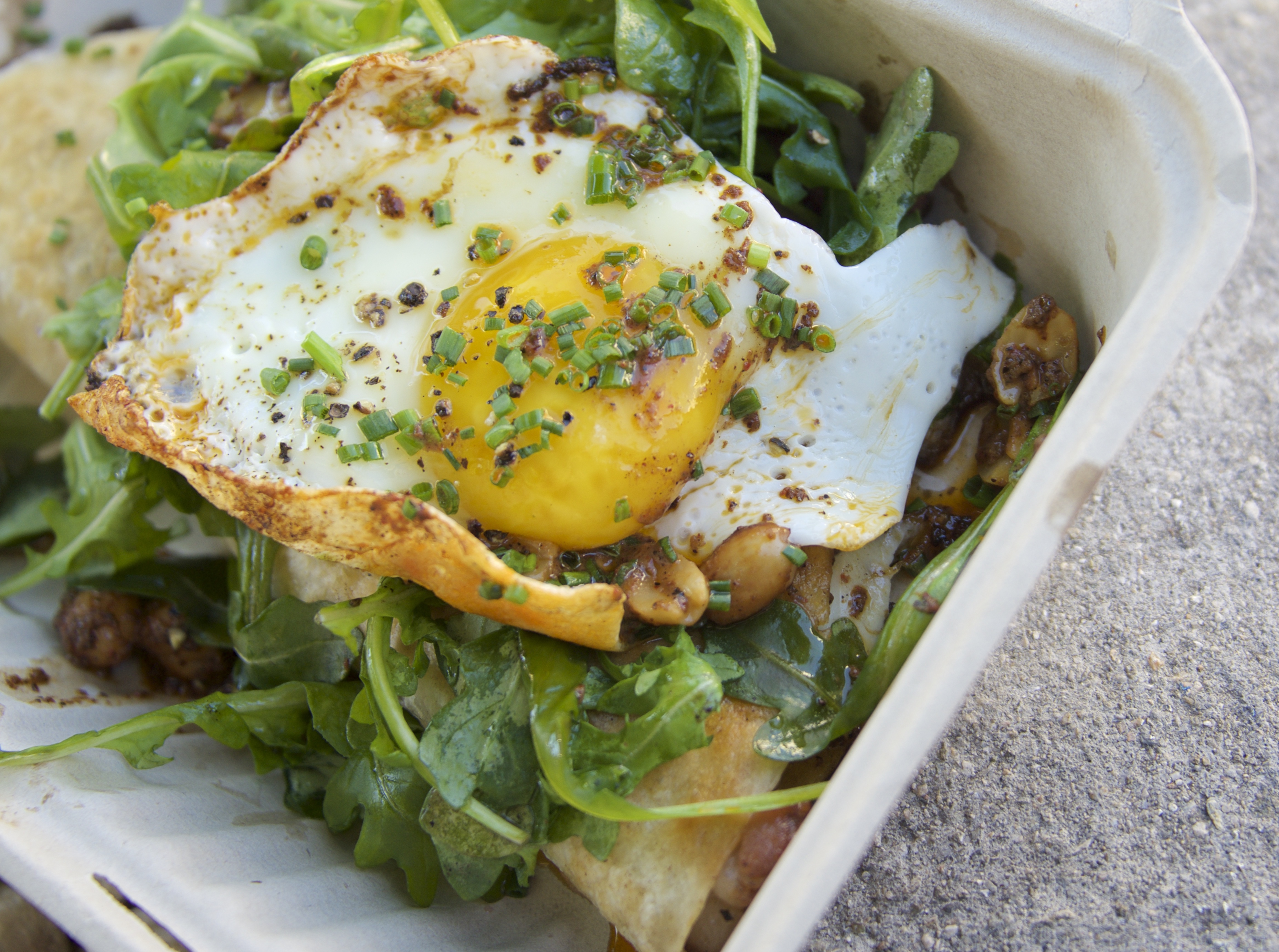 Guerrilla Tacos (Everywhere) Mushroom Bacon Quesadilla w/ fried egg
At least one item from Chef Wes Avila's truck on any given day will serve you right when attempting to get rid of or forget about how shitty a hangover feels. Whether it's a power-boosting bacon and mushroom quesadilla with Oaxacan cheese, market greens, fried egg, and chili-peanuts, or a buttery croissant slice nestling some perfectly soft-scrambled eggs topped with fresh sea urchin. You won't regret making it out to the Dodger-blue, Vyal mural-having, sweet-potato-taco-making, Santa Barbara-uni-serving truck. Be sure to also hook your depleted, wrist-stamped-from-last-night-having-ass up with an ice-cold vitamin-loaded agua fresca.
Check Guerrilla Tacos Facebook and IG: @guerrillatacos for location(s) and schedule.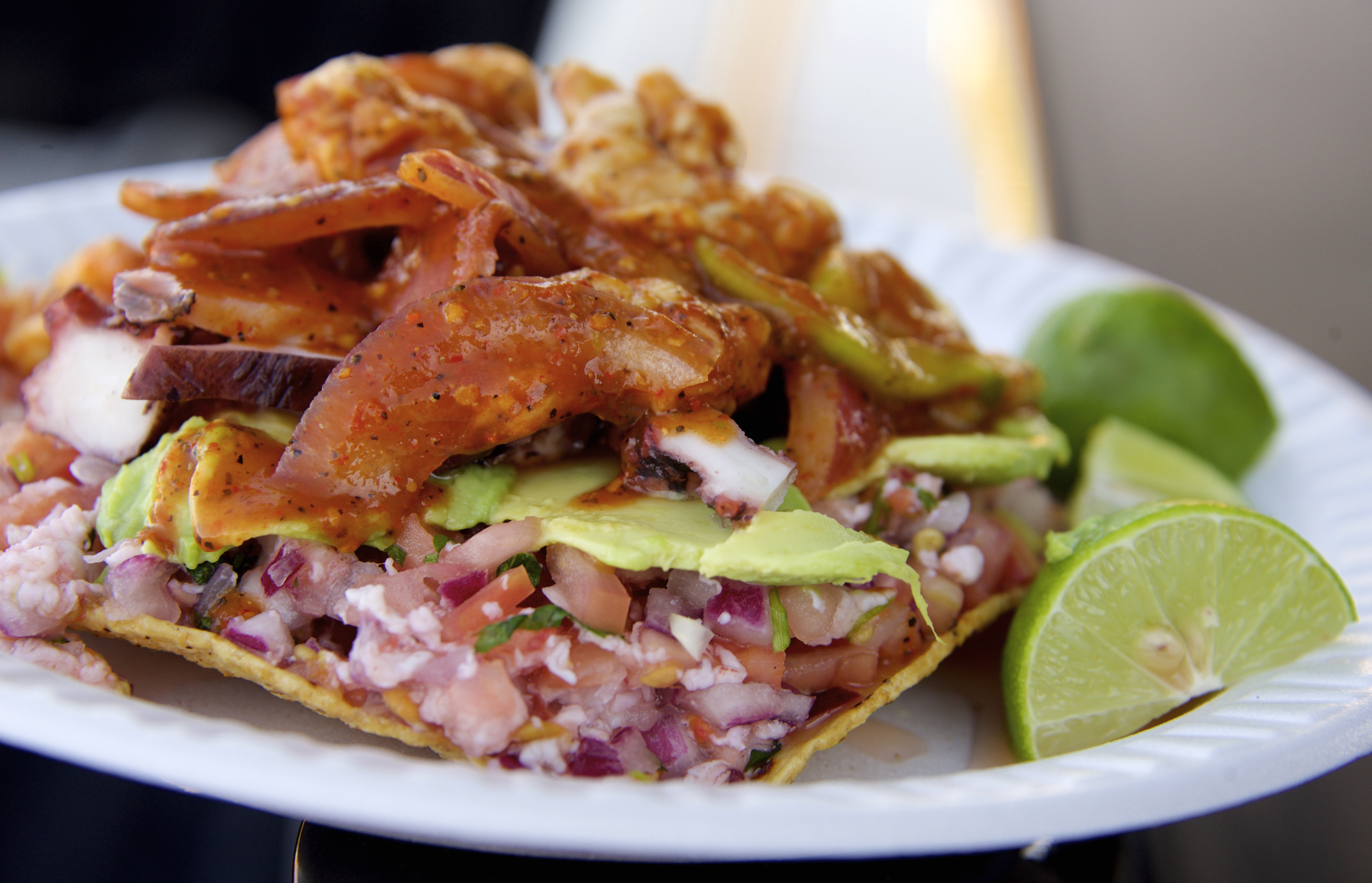 Mariscos Jalisco (Boyle Heights) – Poseidon
While the signature fried shrimp tacos at Mariscos Jalisco will aid in providing some much-needed sustenance, it's their spicy 'Poseidon' tostada that will activate all your senses and quickly help get rid of that annoying hangover. The fiery shrimp aguachile, with chile de árbol, sits atop cooling, strategically-placed layers of octopus, avocado and shrimp ceviche. Get one. Then reward yourself with celebratory tacos dorados...because you can't go to Mariscos Jalisco and not order the tacos.
3040 E Olympic Blvd Los Angeles, CA 90023 Open daily: 9:a.m.-5:30p.m. Phone: (323) 528-6701 IG: @mariscosjalisco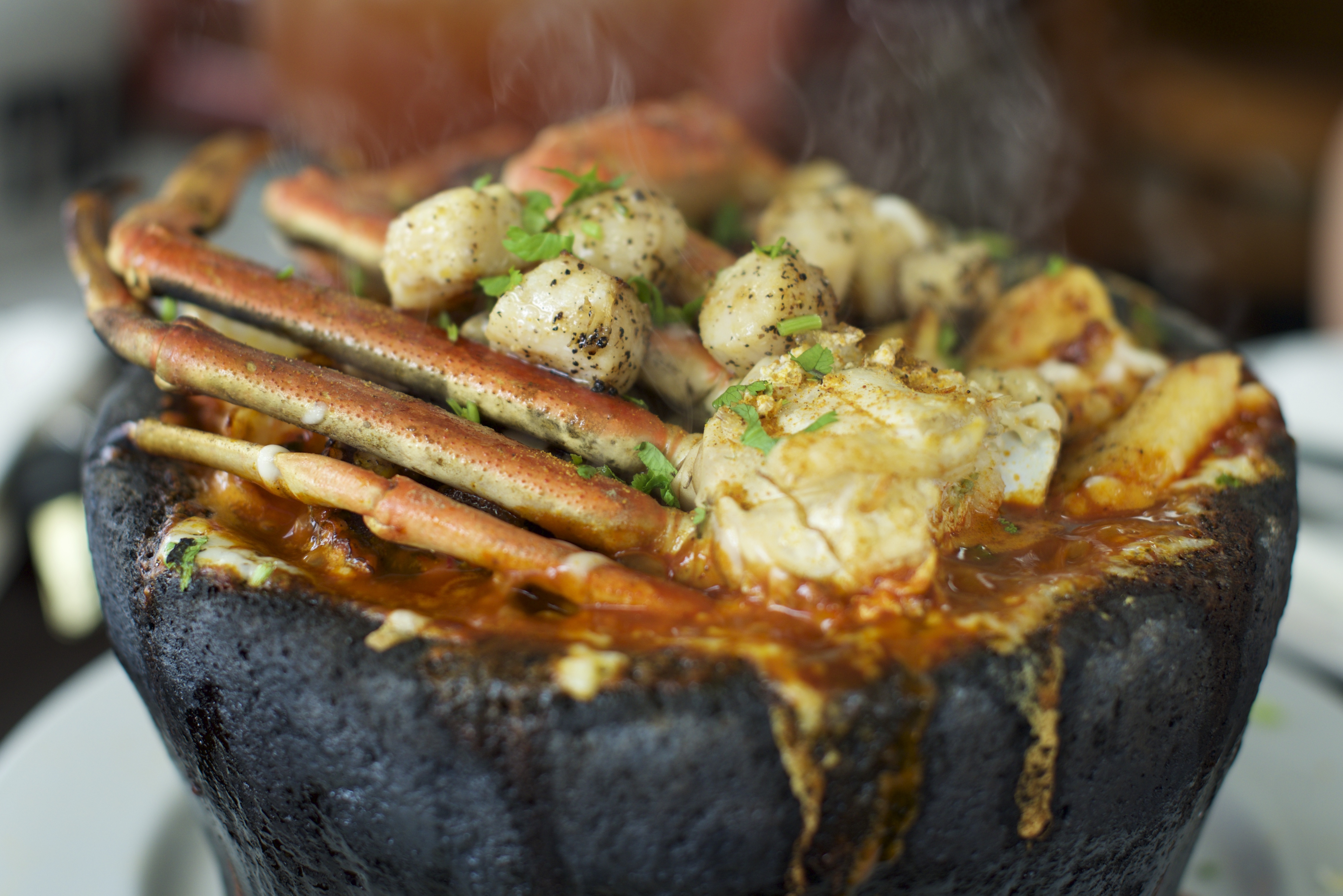 Puertos Pacifico (Boyle Heights) – Seafood Molcajete and/or Oysters on the half-shell
If a warm seafood dish is what you're craving when you feel like you've been run over by a beer truck, stop in to see Chef Alan Matheus and order the seafood molcajete. It's loaded with grilled snow crab legs, shrimp, tilapia, baby scallops, octopus, calamari and comes served in a bubbling molcajete filled to the brim with a smoky chile sauce that absorbs all that seafood goodness. Roll up a warm tortilla and dip into that sauce of destiny to help restore the interior of your vitamin-deficient body.
If you're not into exerting much effort (e.g. working for crab meat) and are also in the mood for a more refreshing option, order some fresh Mazatlán oysters on the half-shell topped with the Matheus' signature mignonettes, which are ever-changing depending on what type of organic produce is available from the local Mott St. Urban Farm down the street (behind Salesian High School)...
1240 S Soto St Los Angeles, CA 90023 Open daily: 10a.m.-12a.m. Phone: (323) 262-0203
Birrieria Gonzalez (South L.A.) - Birria w/ consommé
For those nights where you go from Happy Hour to last call faster than you can say Birrieria Gonzalez Birria de Res Estilo Tijuana, you owe it to yourself to visit this South L.A. truck slinging Tijuana-style birria tacos and chile-stained foam cups of consommé loaded with tender slow-cooked beef. Besides offering the lesser-known beef birria (as opposed to its traditional goat birria counterpart), the truck's schedule (now open 7 days a week) is what helps set itself apart from other birrierias in L.A. Their simple menu which only includes birria-loaded: tacos dorados (fried tacos) on the griddle, quesadillas, mulitas (birria and cheese sandwiched between two corn tortillas), tostadas, and soft, consommé dipped tacos makes it easy to find something that suits your needs. While you're at it, you might as well get a haircut at owner Oscar Gonzalez' barbershop, Casa de cortes Gonzalez, which is conveniently located 10-feet from the birria truck.
2524 Maple Ave. Los Angeles, CA 90011
IG: @birrieriagonzalez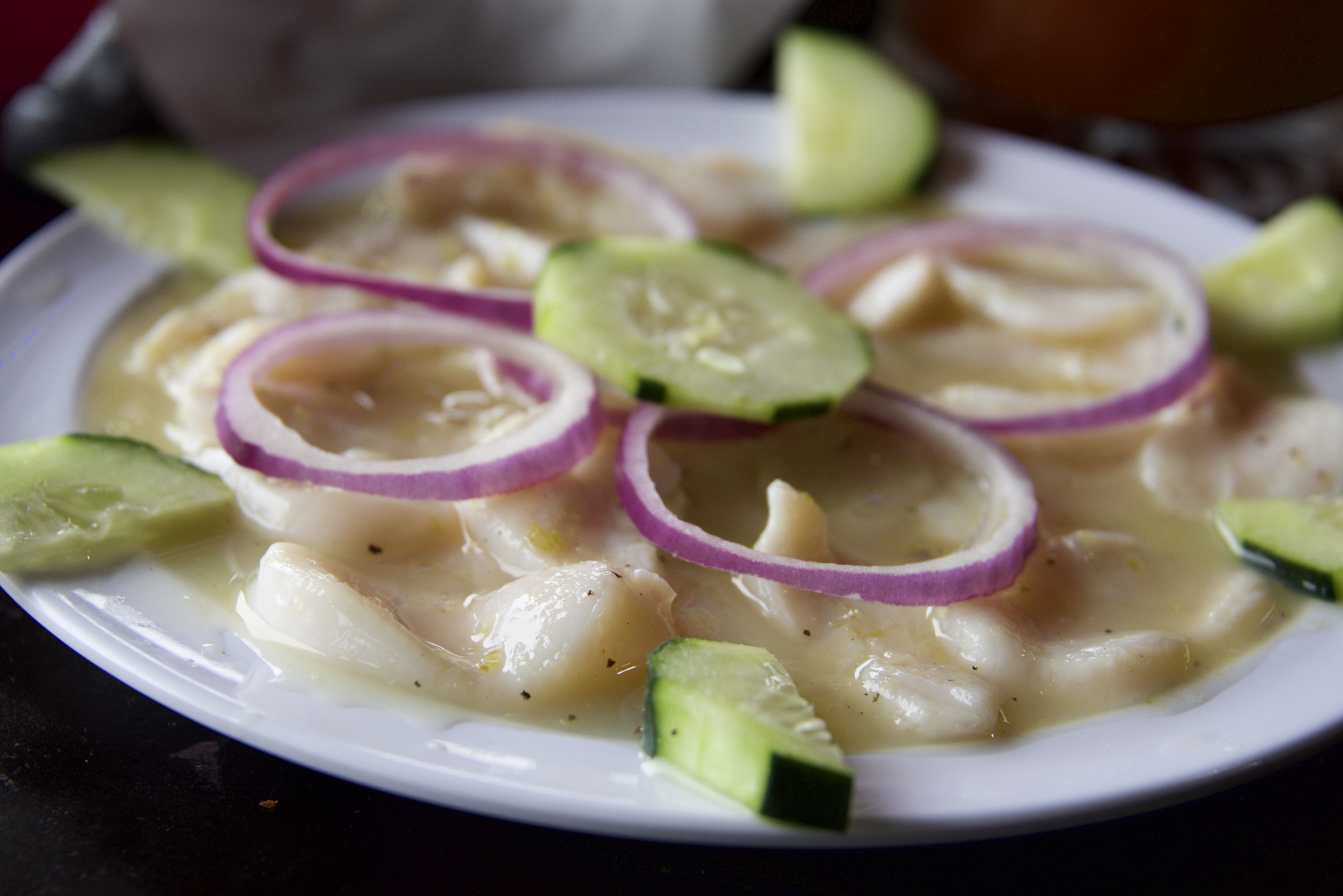 Mariscos Olas Altas (South L.A.) - Callo de hacha
A unique type of seafood option that will not disappoint when you're feeling like week-old roadkill is fresh callo de hacha, or pen-shell clams, prepared aguachile-style (cured in lime juice and smothered with a pureé of tiny tepin or jalapeño chiles) at this South L.A. mariscos restaurant, whose name references a beach in the coastal town of Mazatlán, Sinaloa (Mexico). The spicy dish, along with a side of tostadas and a humongous michelada will pick you right up and get you ready to start partying again.
6606 S Central Ave Los Angeles, CA 90001 (323) 587-2505 IG: @mariscosolasaltas
B.S. Taqueria (DTLA) - Lemon-pepper Chicken Chicharrones
If your hungover self isn't craving a heavy-loaded power breakfast, or a seafood dish doused in lime juice and fiery salsa, try the savory deep-fried chicken chicharrones with shishito peppers at this DTLA taquería. These perfectly seasoned, surprisingly meaty chicken skins go perfectly with an ice-cold B.S. Handshake (Tecate with huichol salsa, lime and salt). This one-two punch of crispy chicken skins and beer tend to kickstart your appetite and may lead you to revisit the menu. If that does happen, and it will (quit playing), do yourself a solid and order their Chorizo &Papas tacos. When the house-made chorizo juices slowly start to drip onto a thin, crispy layer of melted cheese nestling masterfully cooked potatoes piled high on freshly pressed blue corn tortillas, you'll be happy knowing that those pesky impurities lounging in your belly will soon be engulfed in an orange-colored porcine coating like prehistoric insects in amber resin.
Also, get the churros. Always.
514 W 7th St Los Angeles, CA 90014 IG: @bstaqueria www.bstaqueria.com (213) 622-3744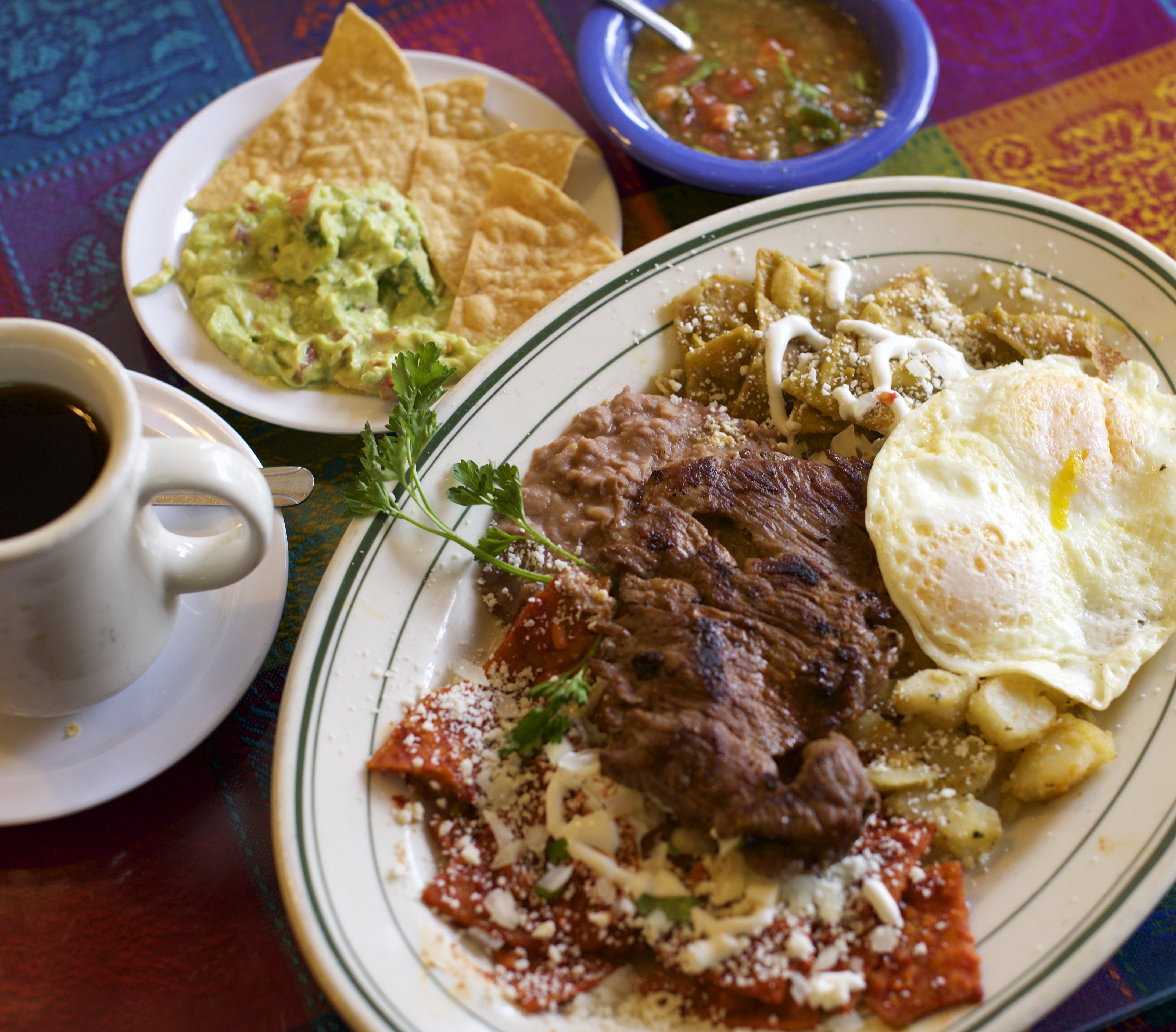 El Huarachito (Lincoln Heights) - Chilaquiles Divorciados
You don't get any more old-school than this loaded plate of crispy chilaquiles smothered in both red and green salsas, a thin piece of carne asada, over-medium eggs, beans and potatoes. The classic Mexican comfort food at this Lincoln Heights landmark will surely help eliminate any signs of a headache or any other hangover symptoms for that matter. Be sure to ask for a side of their house-made habanero salsa to boost your breakfast up to another level.
3010 N Broadway Los Angeles, CA 90031 Phone: (323) 223-0476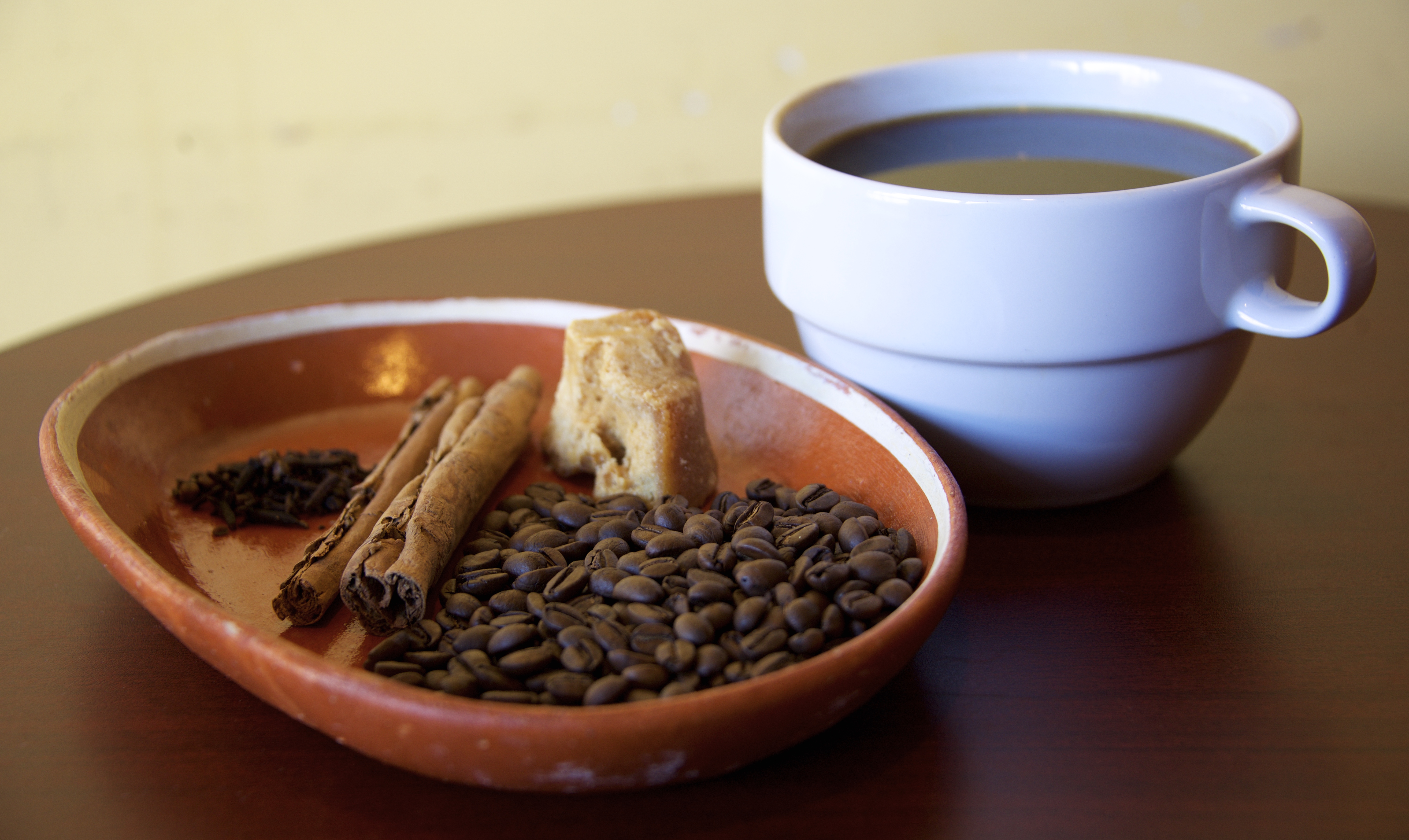 Primera Taza - (Boyle Heights) - Café de Olla
Getting your cold, shaky, hangover-ridden mitts on a well-balanced aromatic café de olla that's not loaded with sugar is rather difficult to find in L.A. these days. Fortunately, there's Primera Taza, an art-filled (by local artists) Boyle Heights coffee house, whose co-owner, Chuy Tovar, prepares a small batch of the classic Mexican coffee beverage daily. His uncompromising approach to consistently using nothing but high-quality, Mexican-imported ingredients such as: piloncillo (unrefined whole cane sugar), cloves, raw cinnamon, along with Mexican micro-lot coffee, is what sets the should-be standard for serving a proper Café de olla--even if it's for the bootleg version of your former self.
If you happen to be in the mood for a cold beverage that will immediately help combat that seemingly unshakeable fatigue, be sure to try 'The Ren', named after awesomely talented artist/barista, Ren, who prepares an astonishingly revitalizing coffee elixir with iced espresso that's topped with Topo Chico (a sparkling mineral water from Monterrey, Mexico). It'll likely have you wanting to perform those morning exercise drills you were forced to do in elementary school.
1850 E 1st St, Los Angeles, CA 90033 Mon-Fri: 7a.m. - 7p.m.; Sat: 8a.m. - 4p.m.; Sun: 8:30a.m. - 1:30p.m.
IG: @primerataza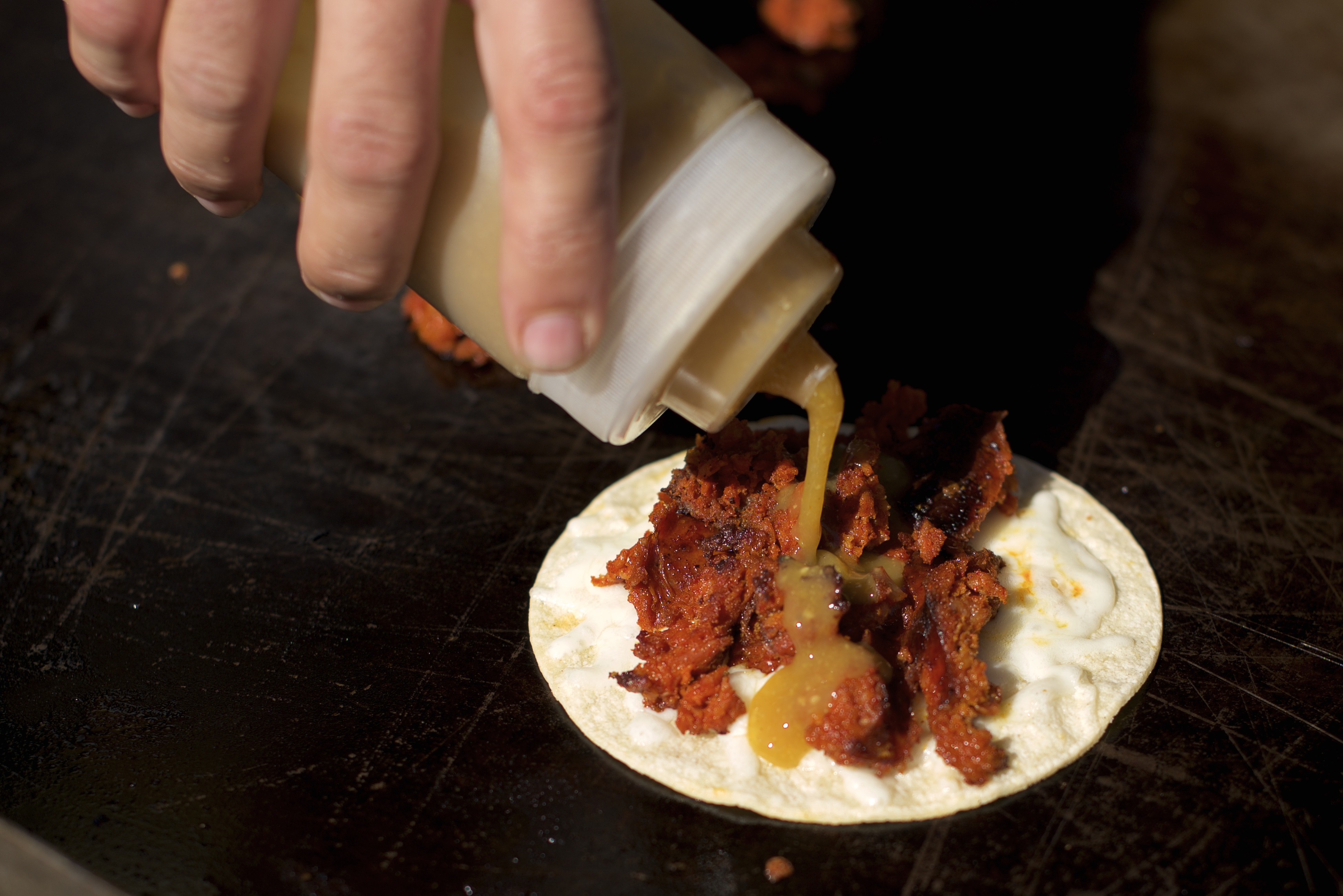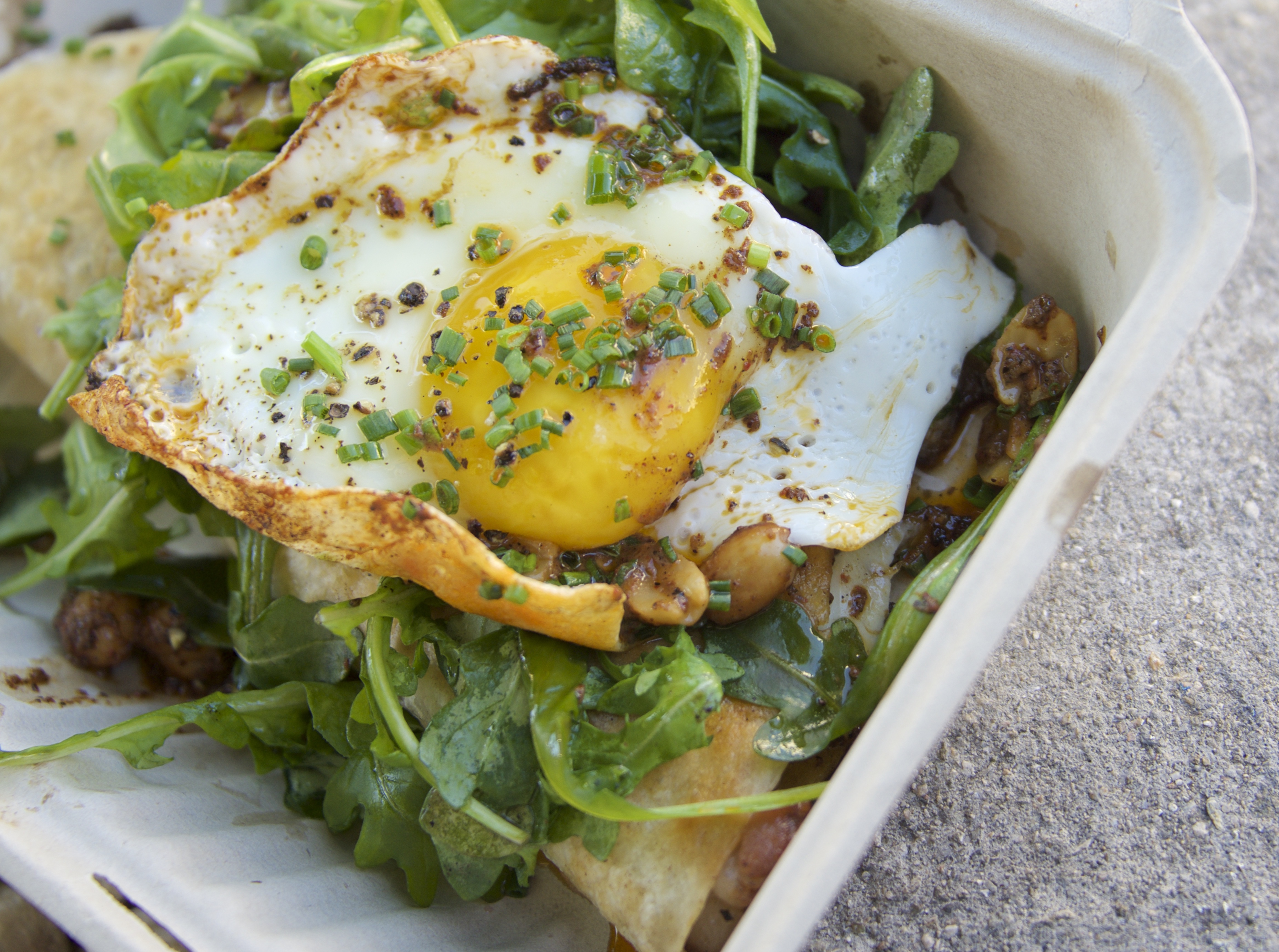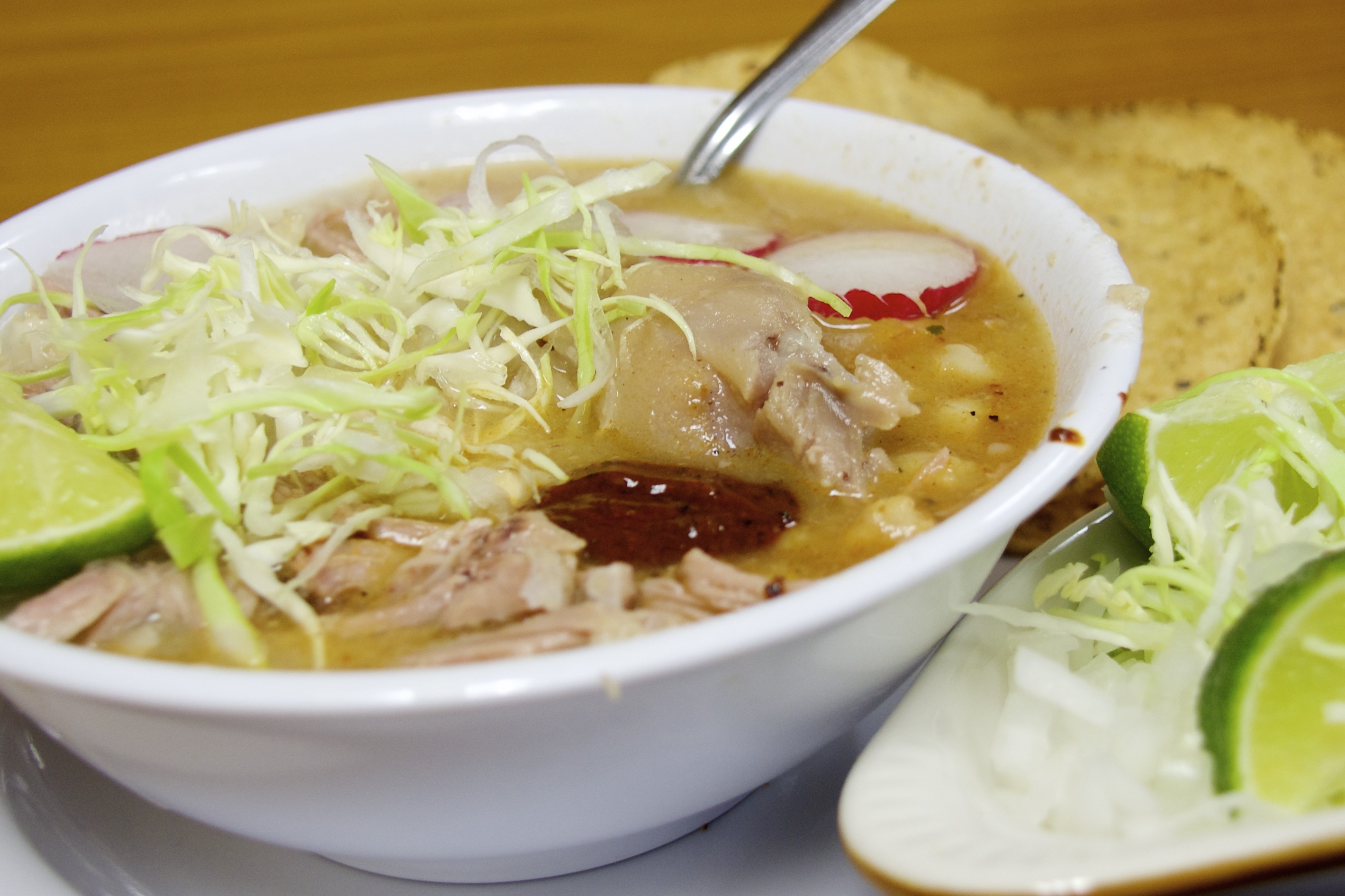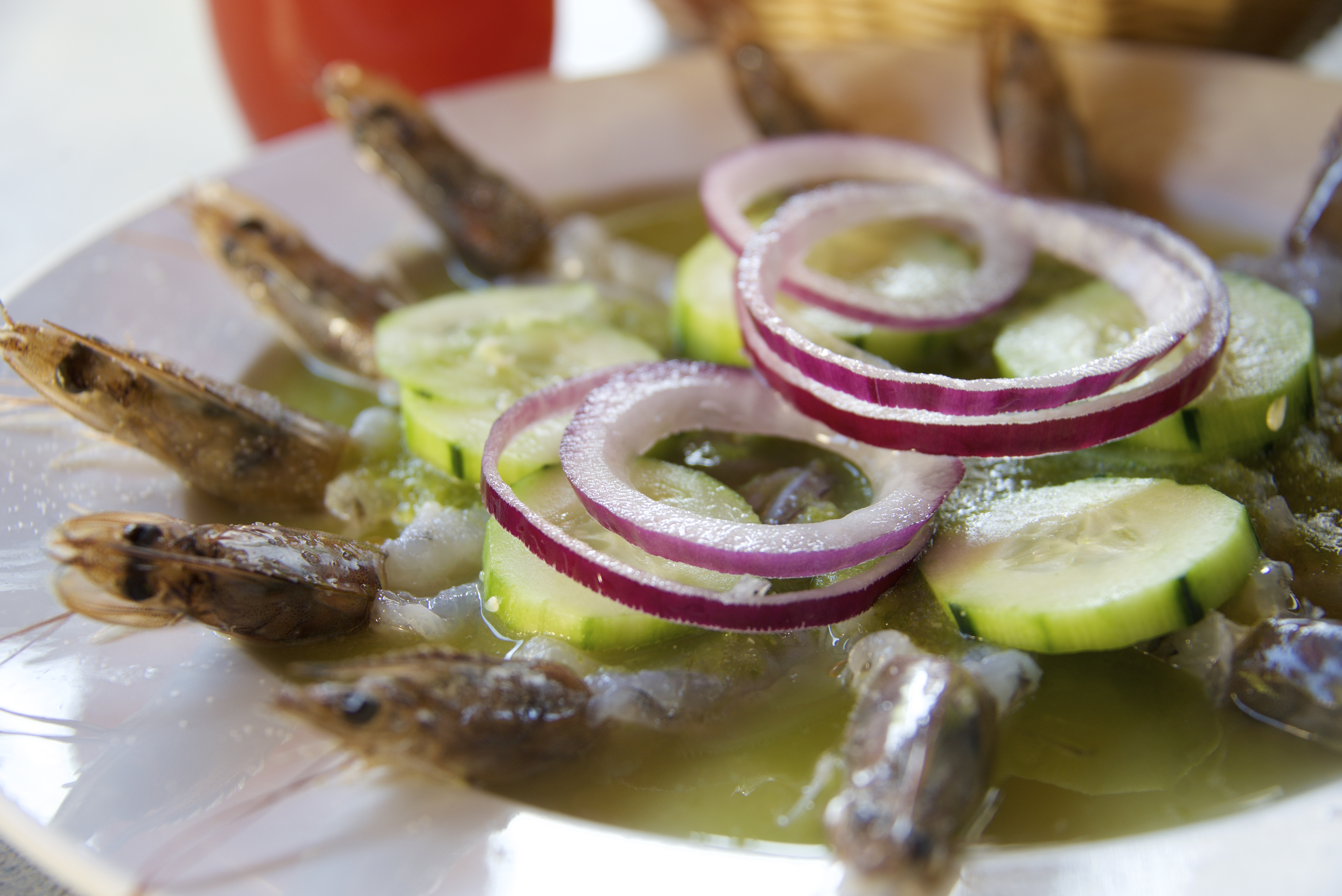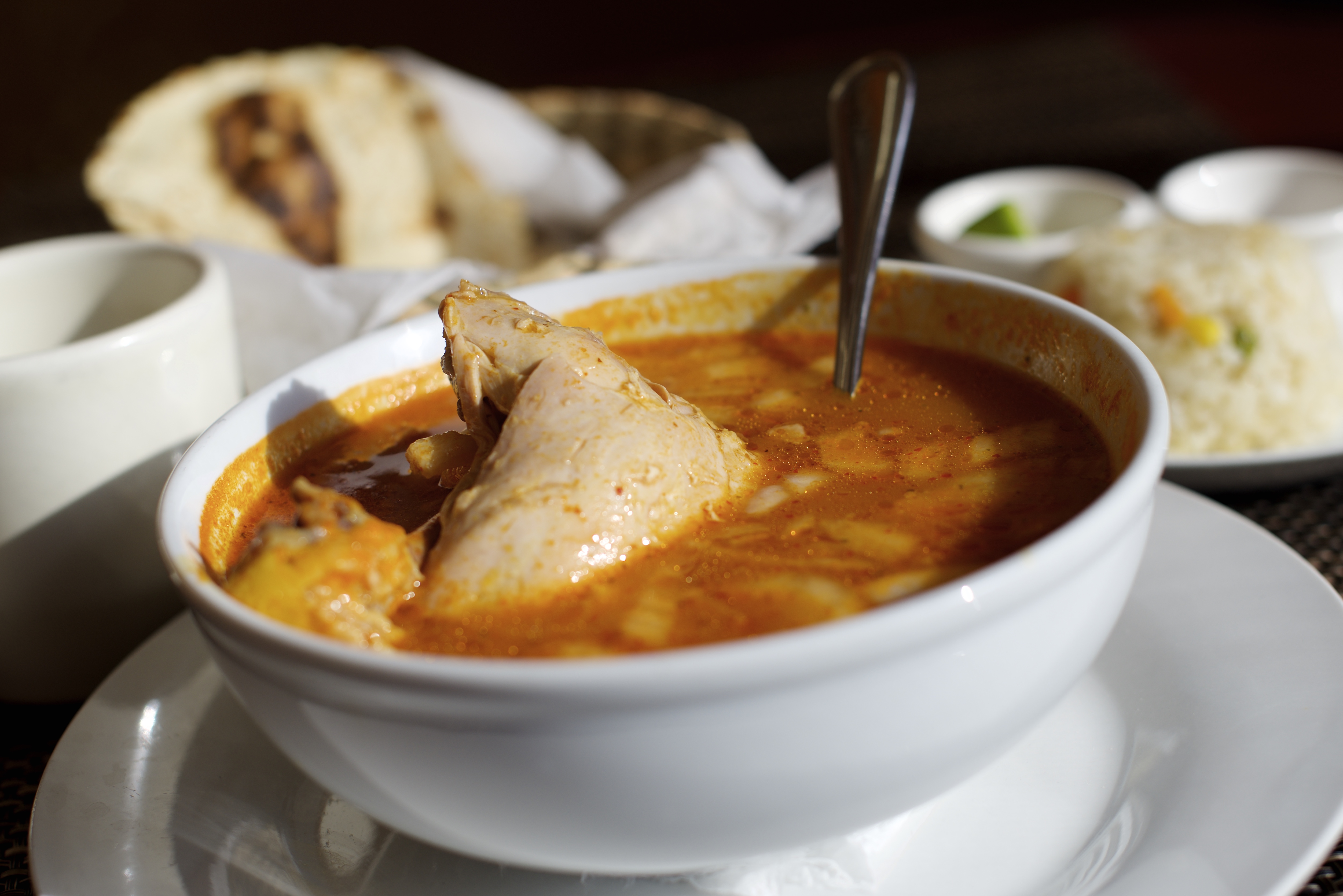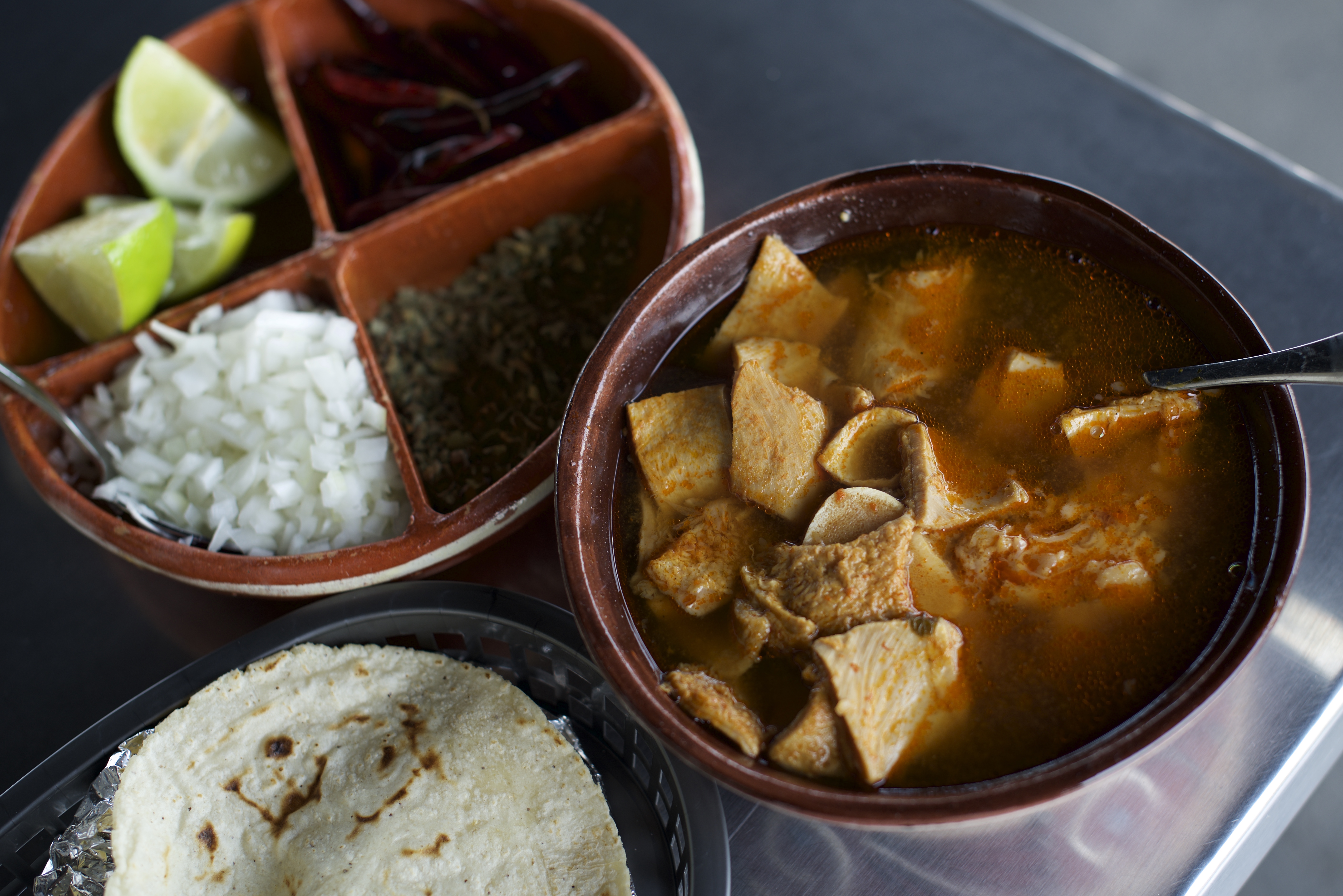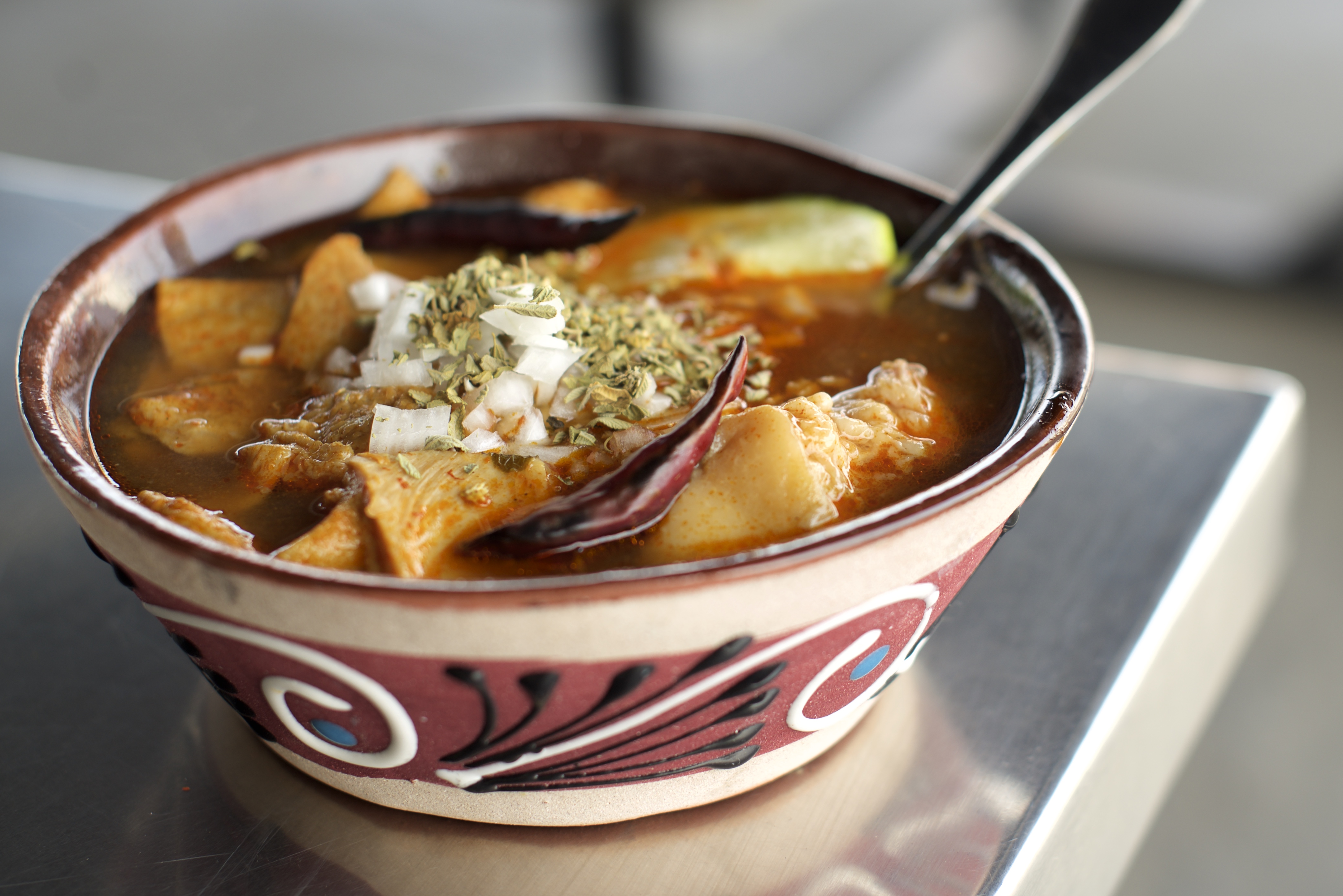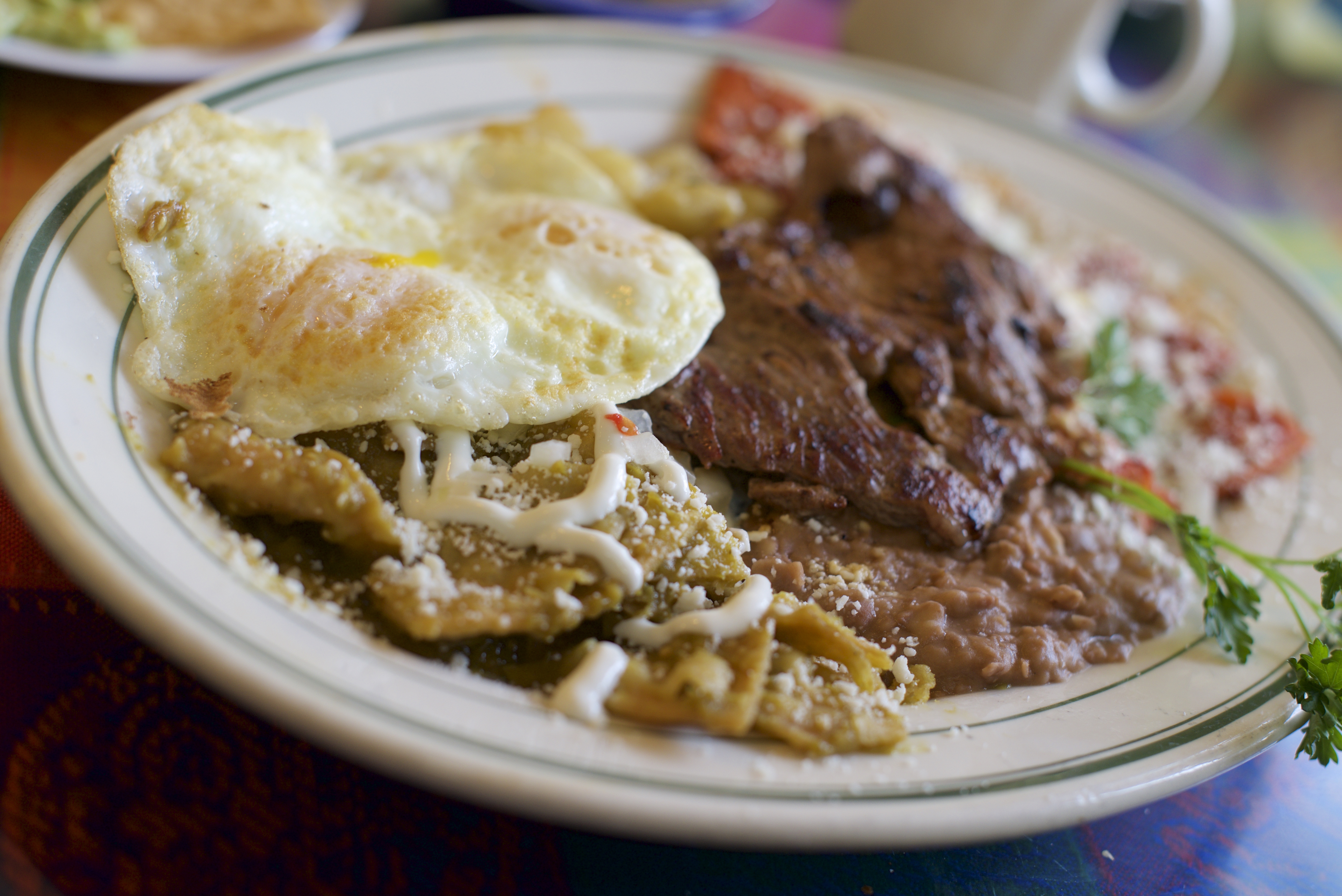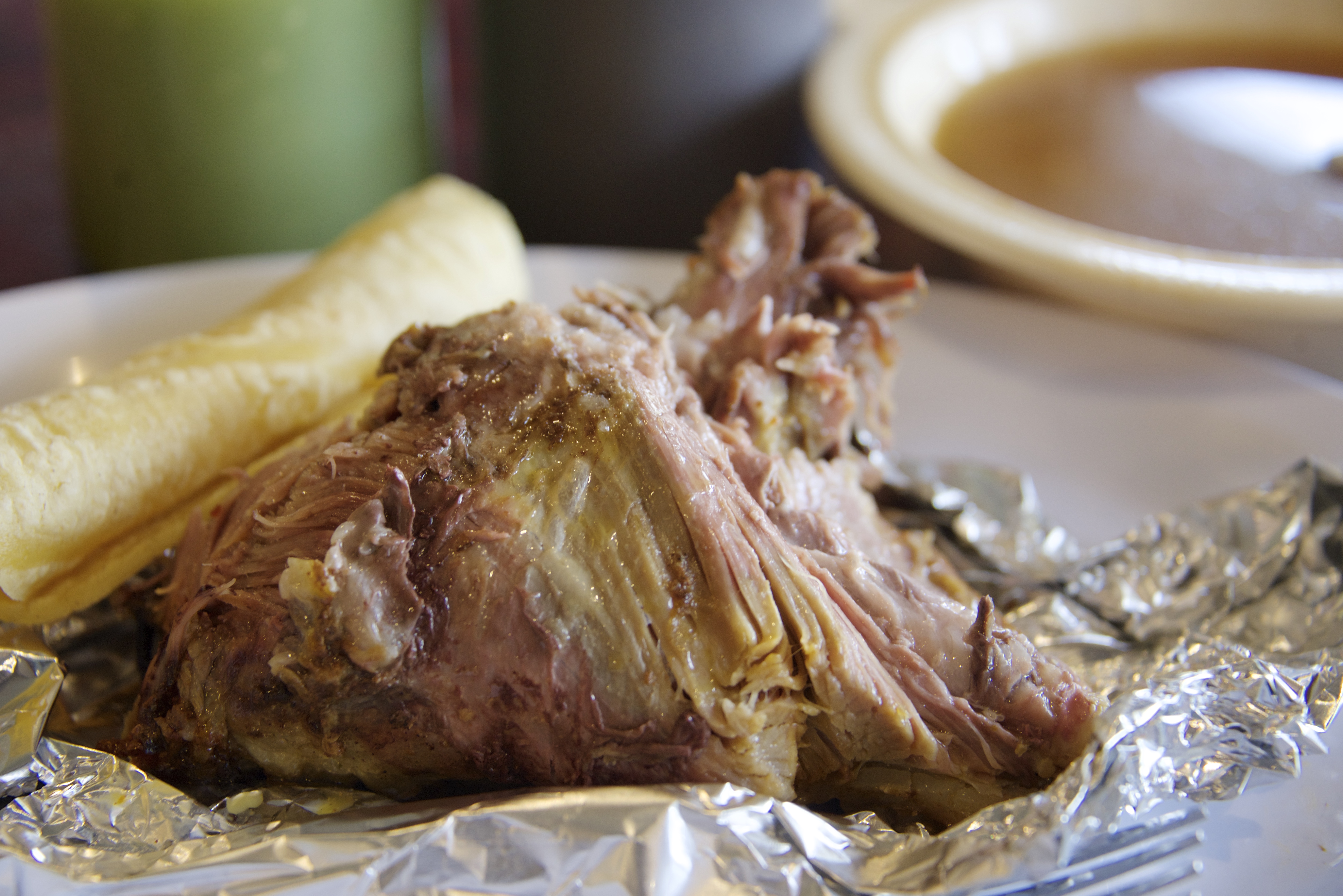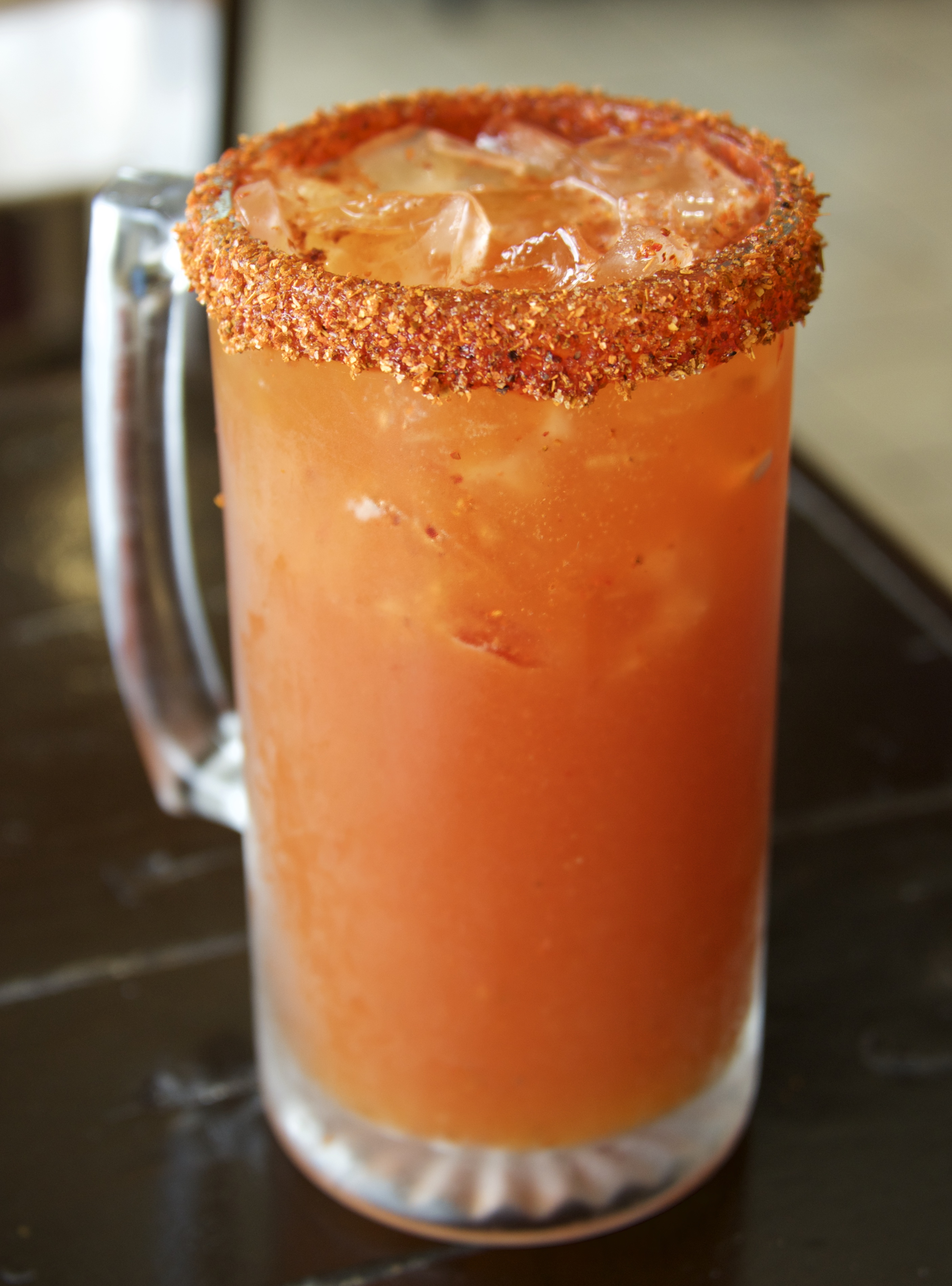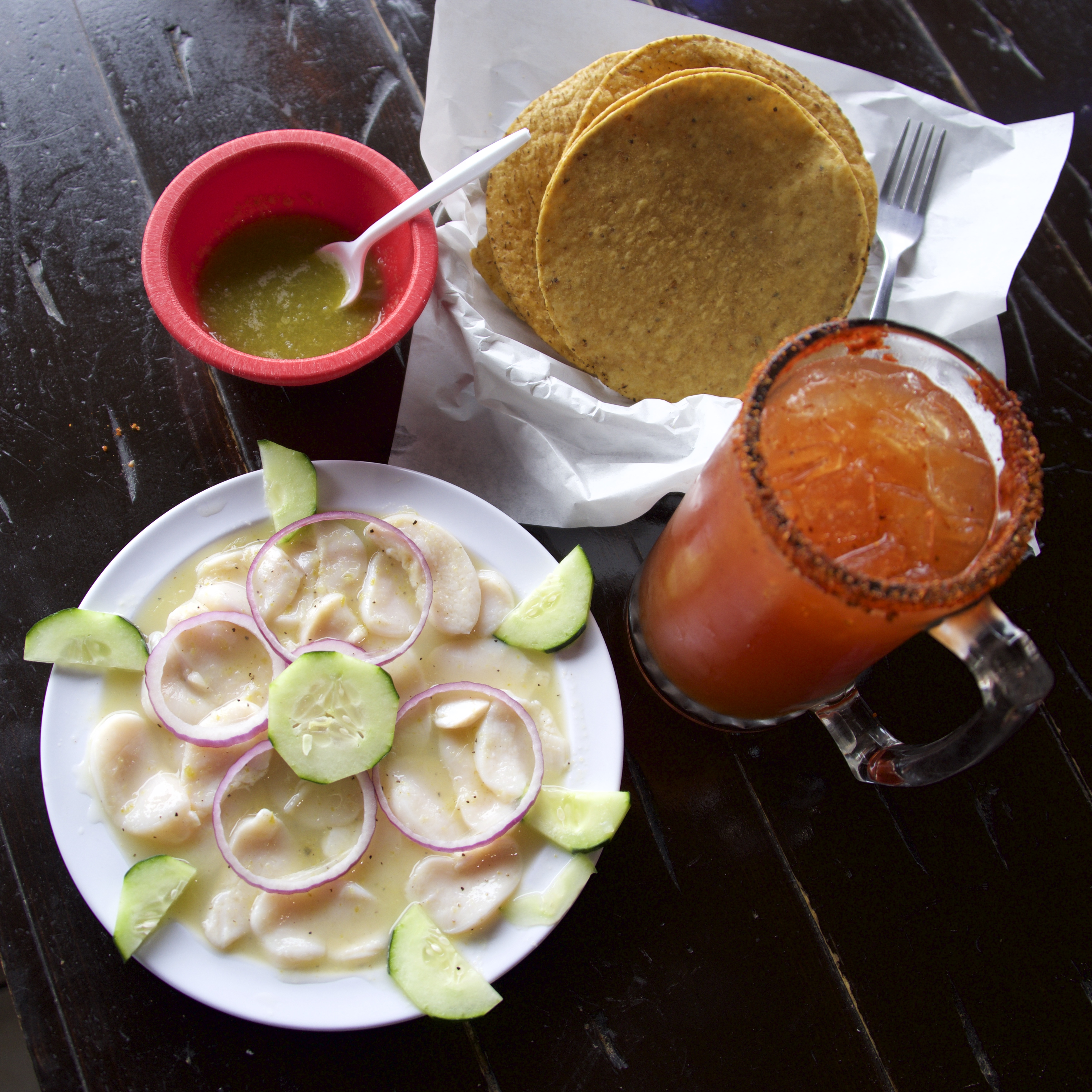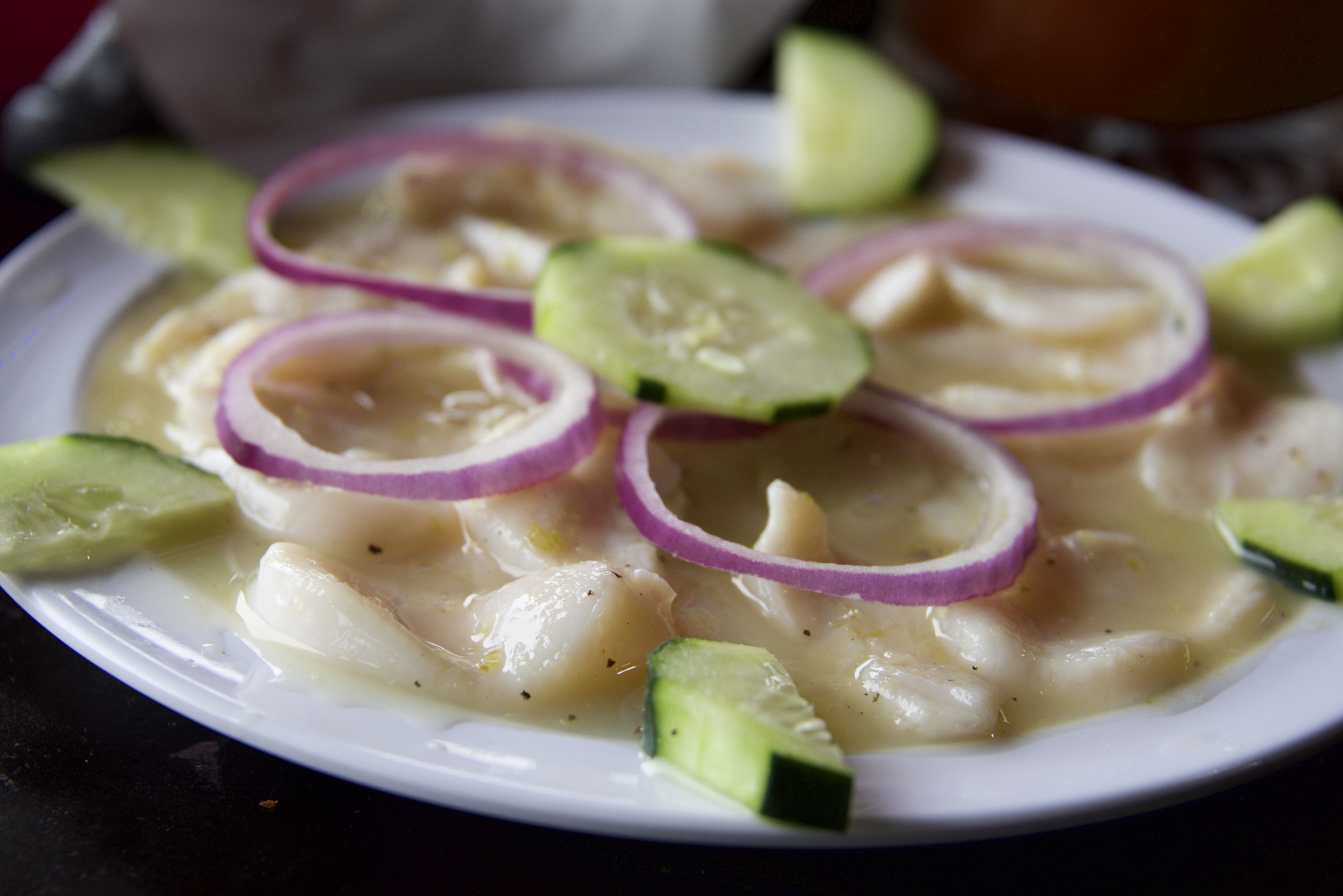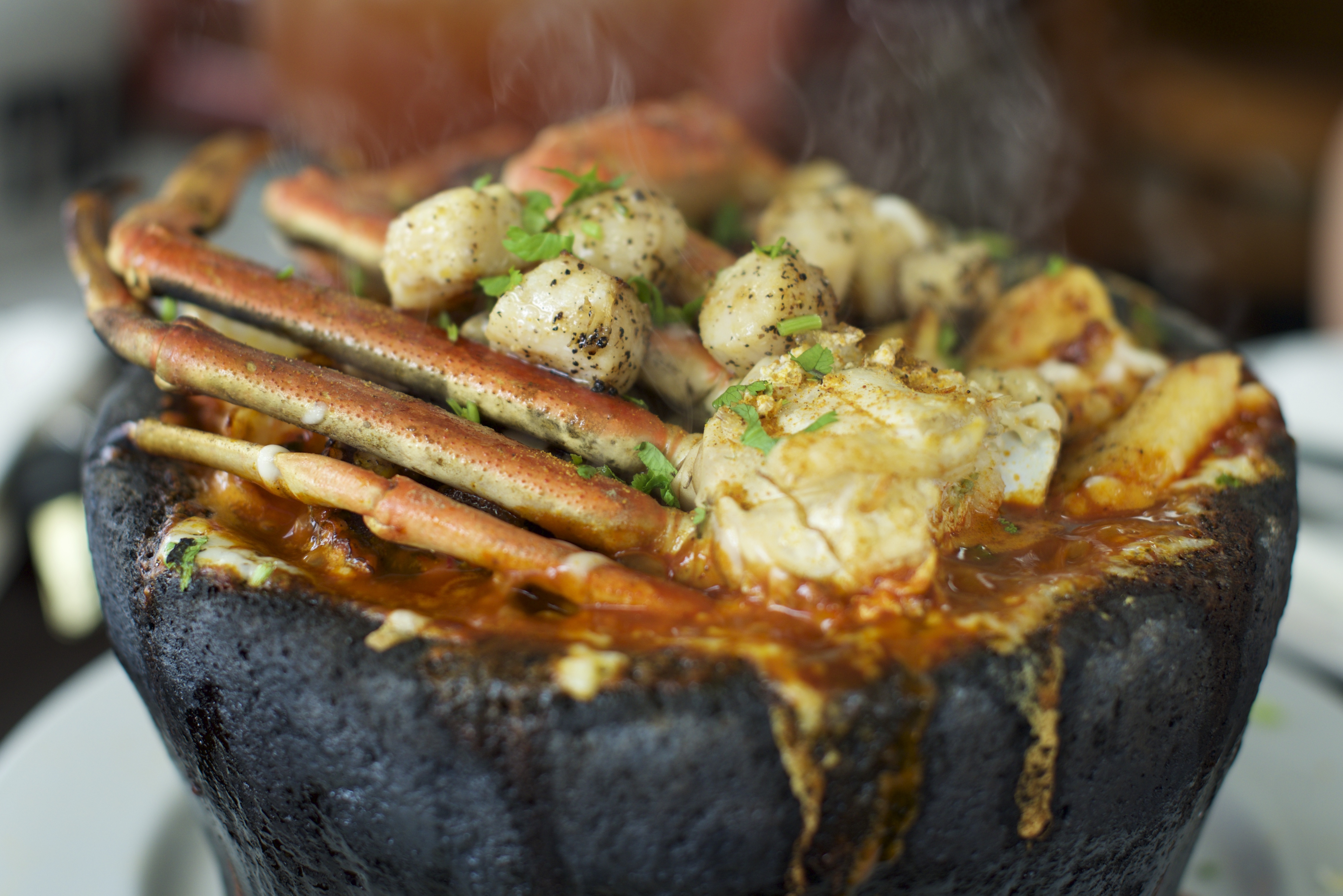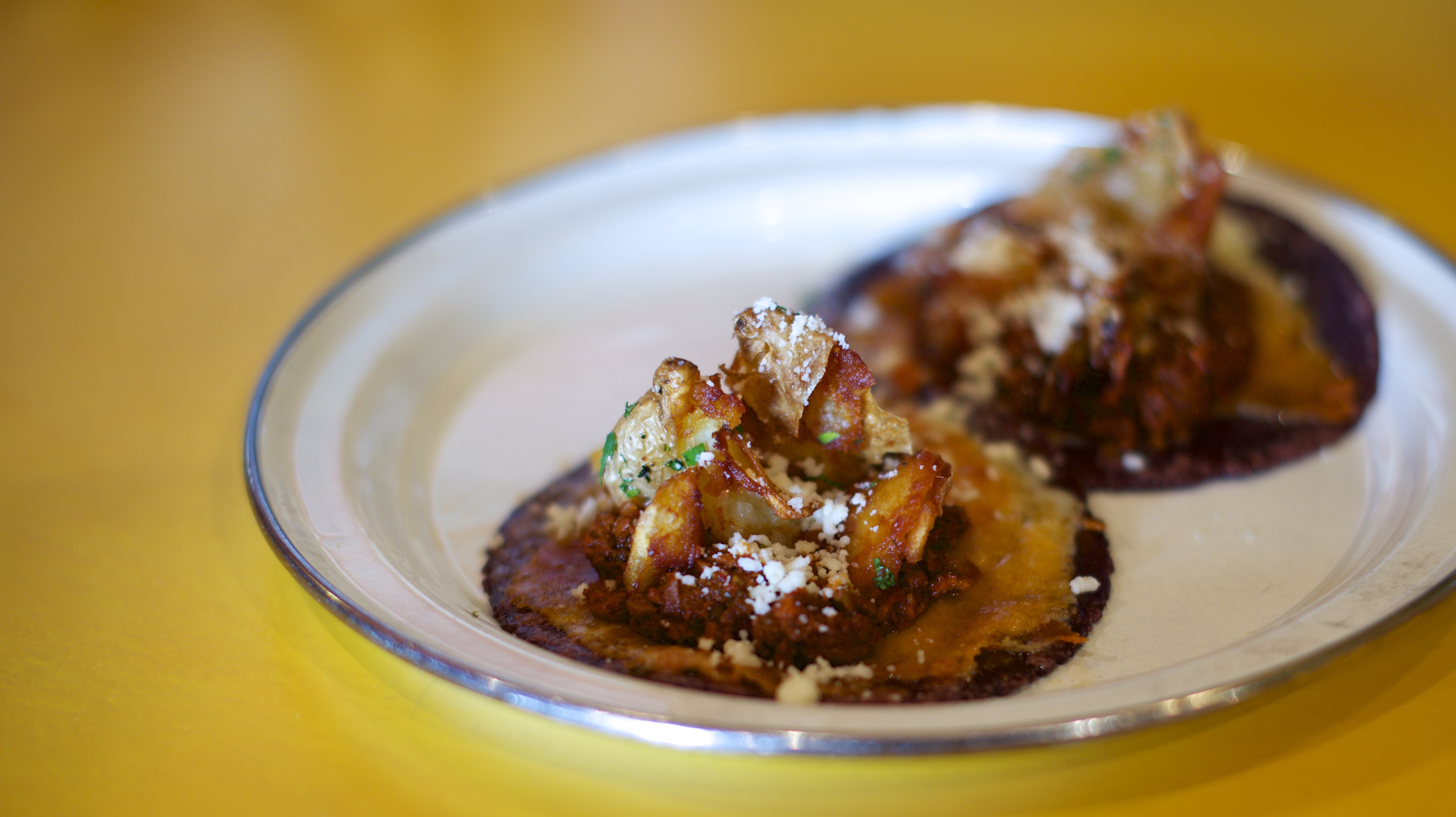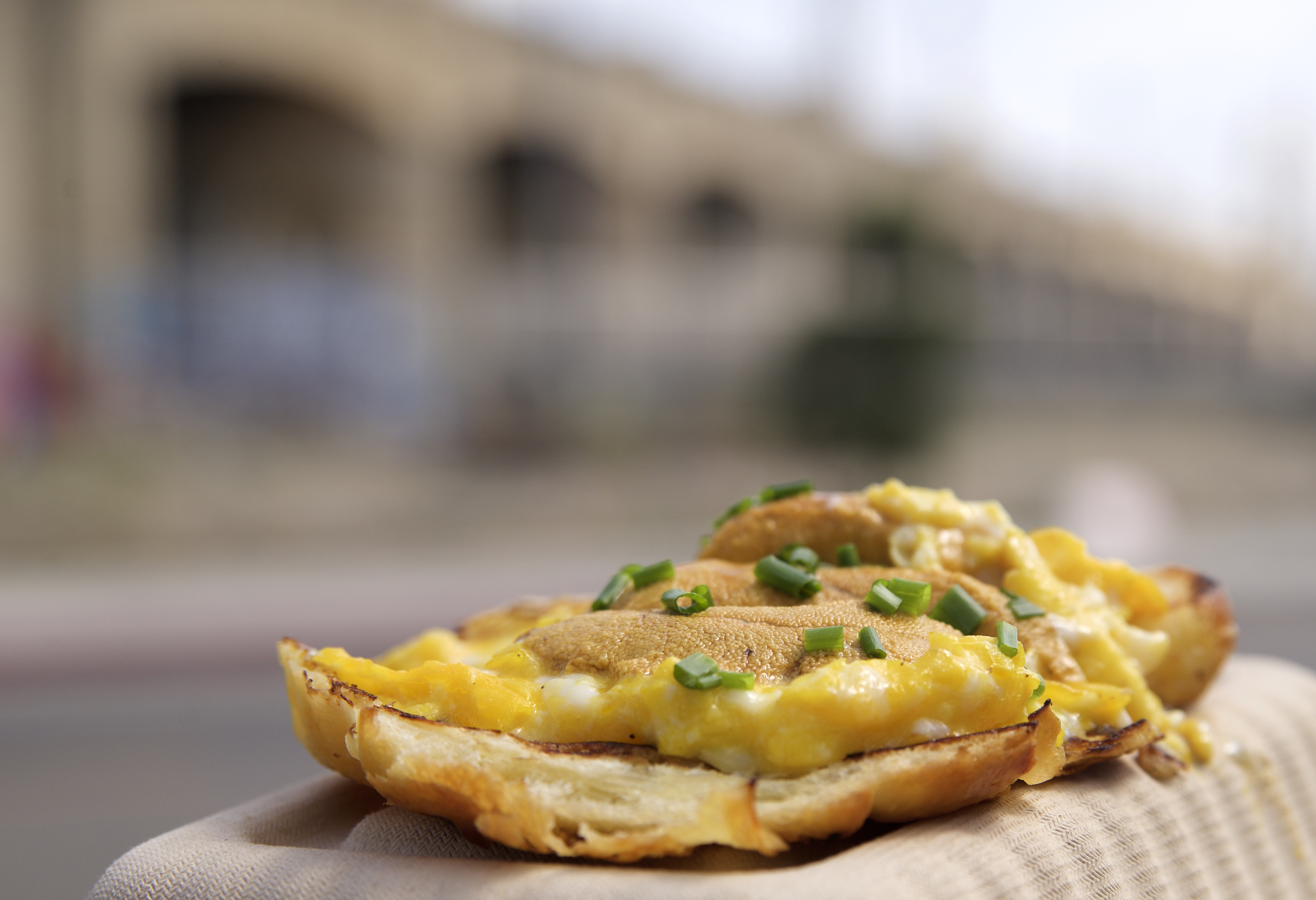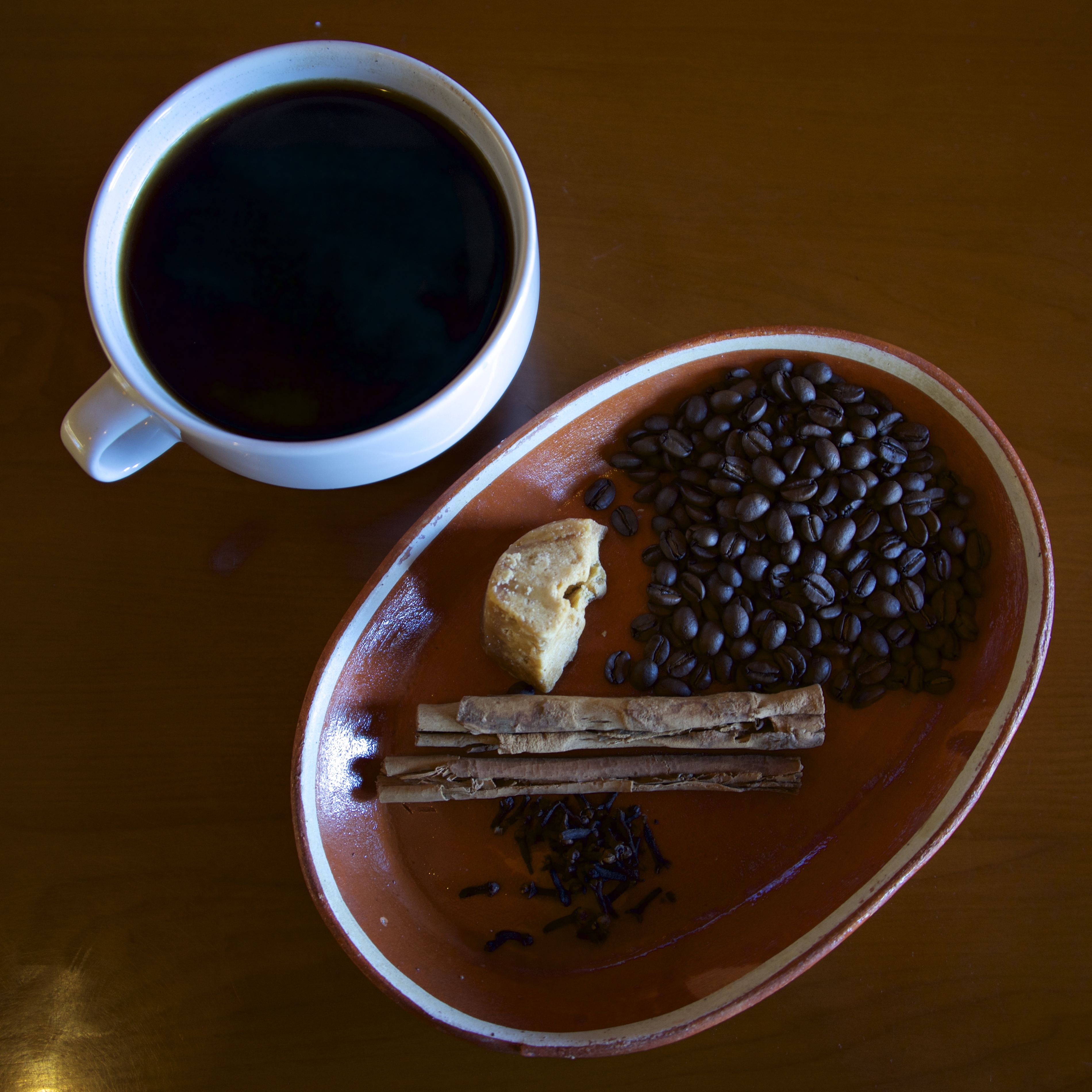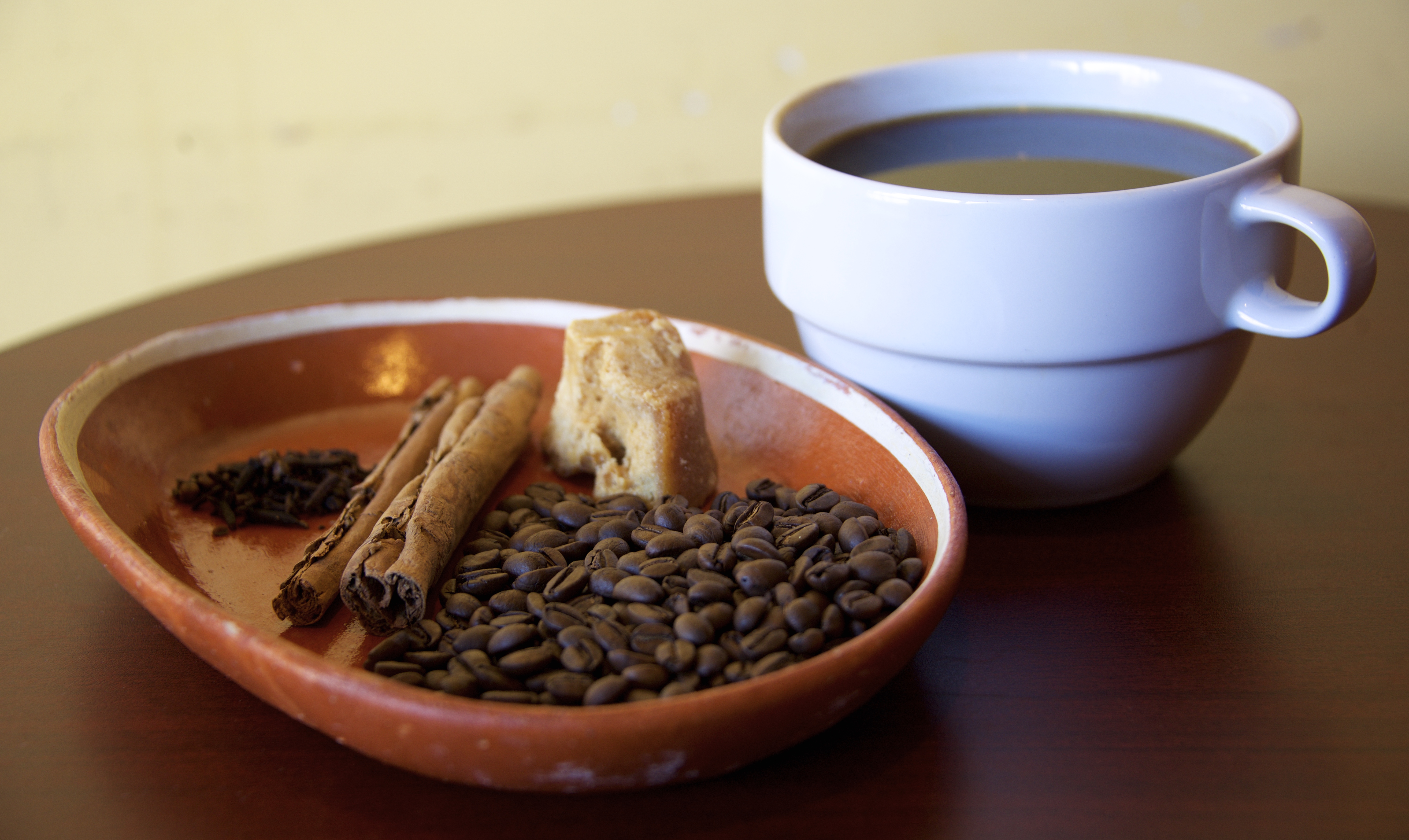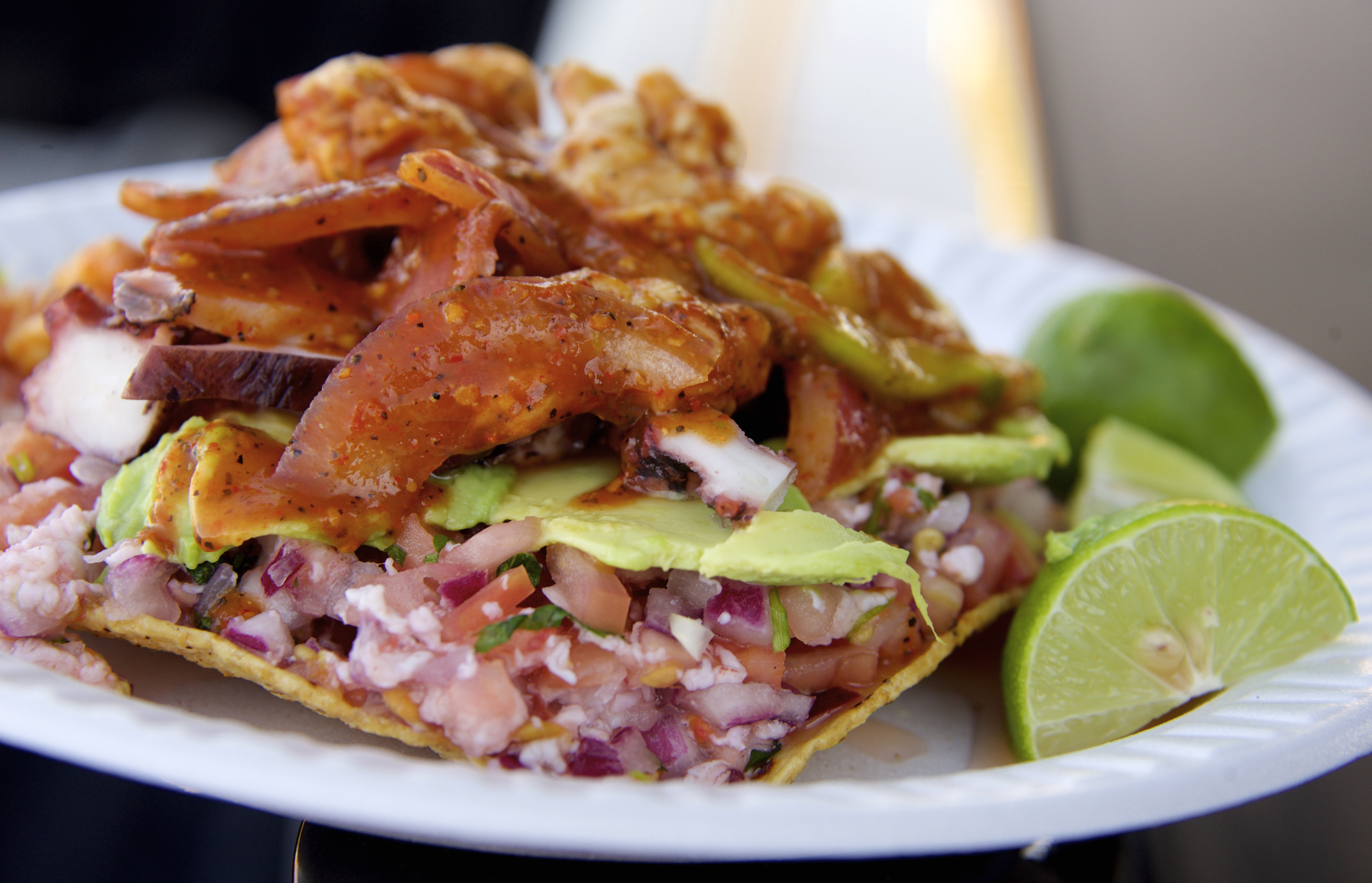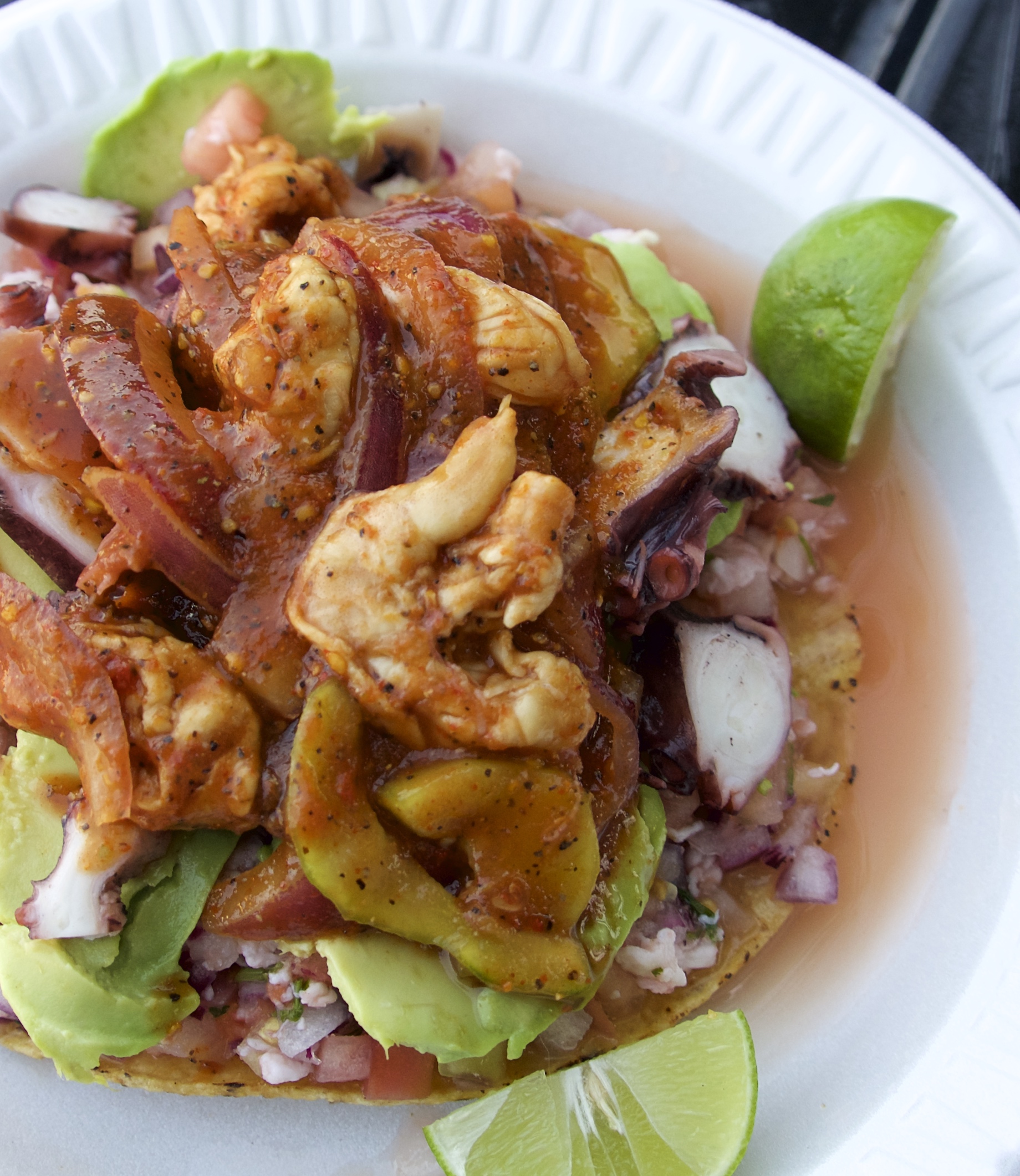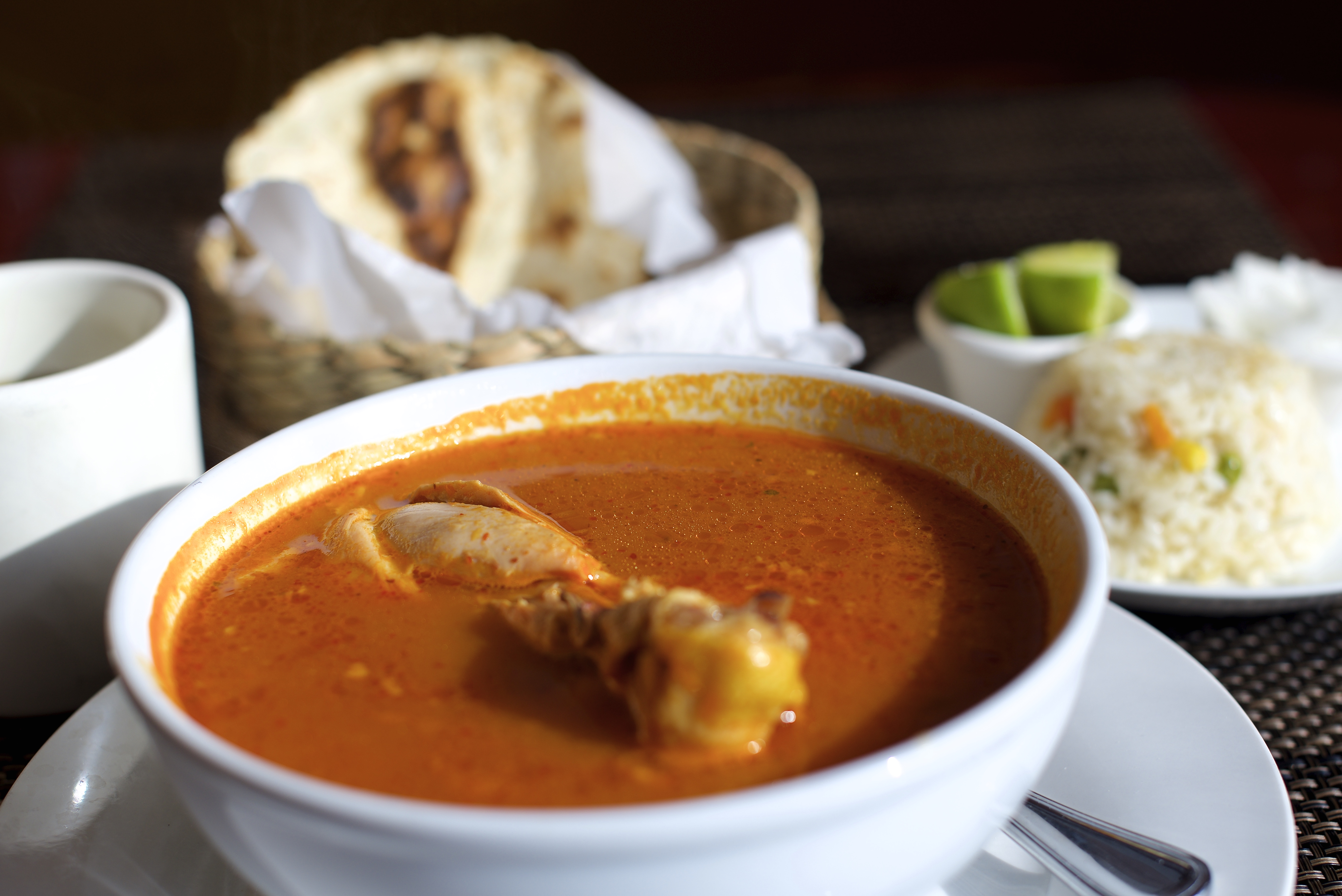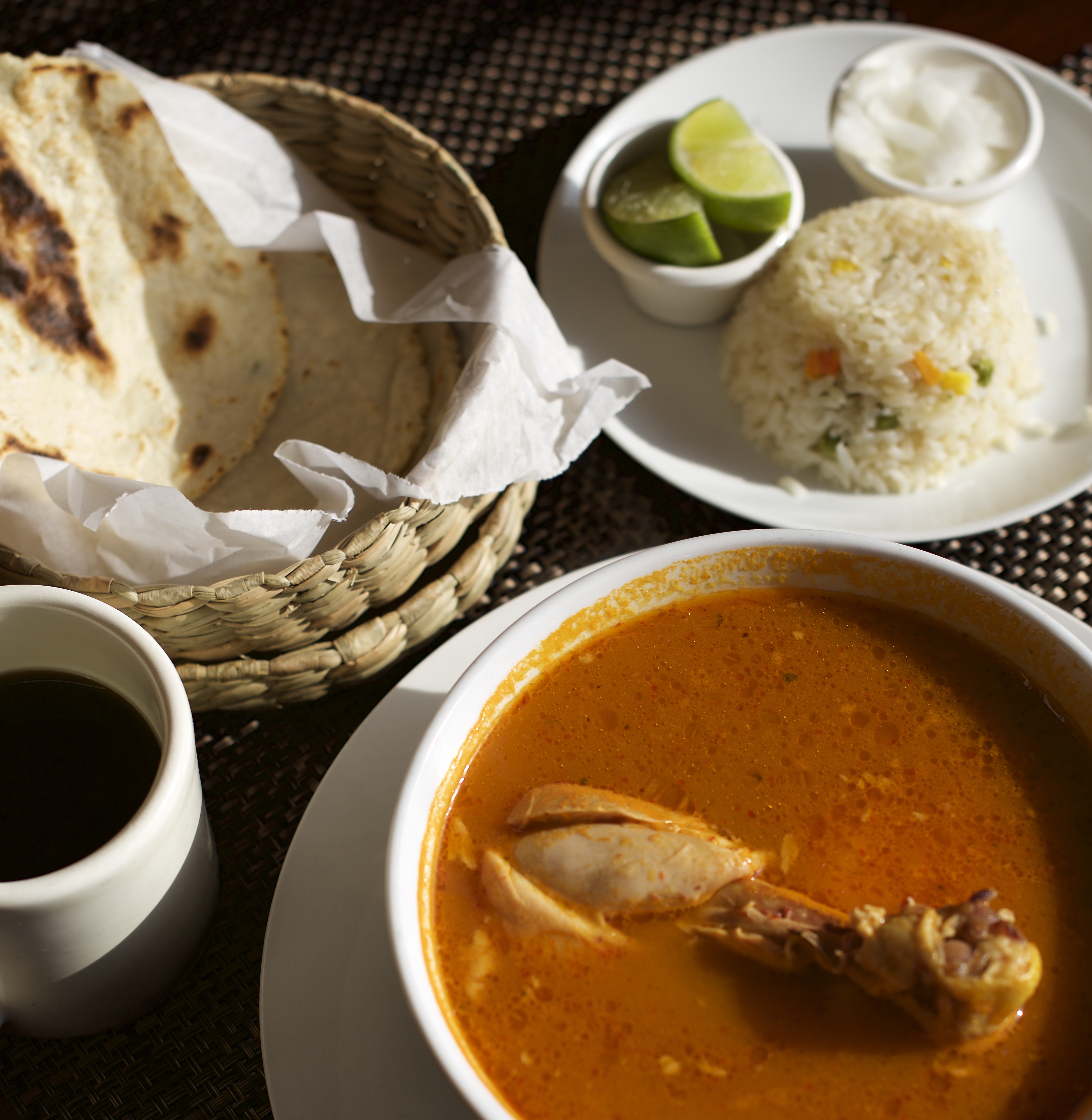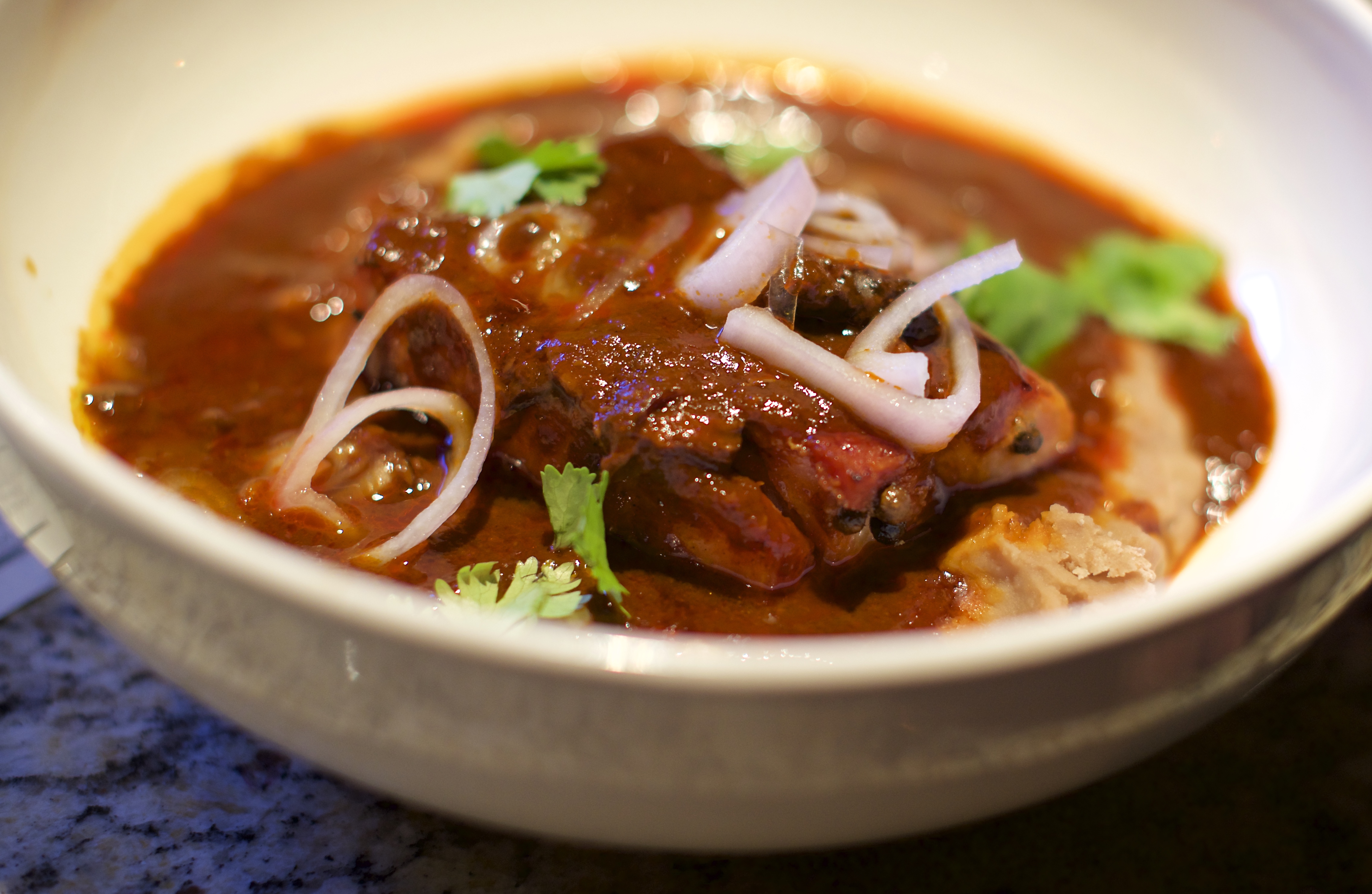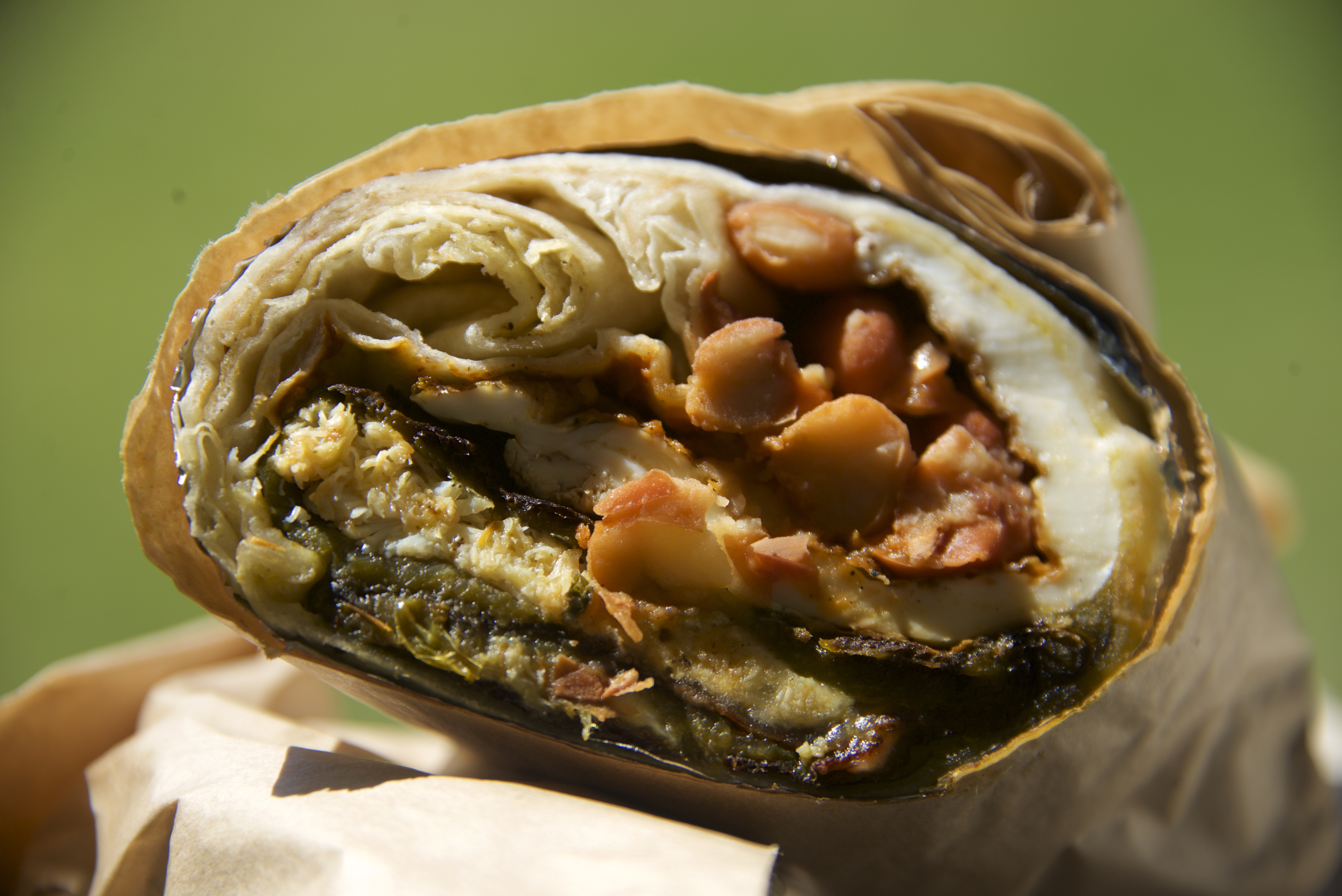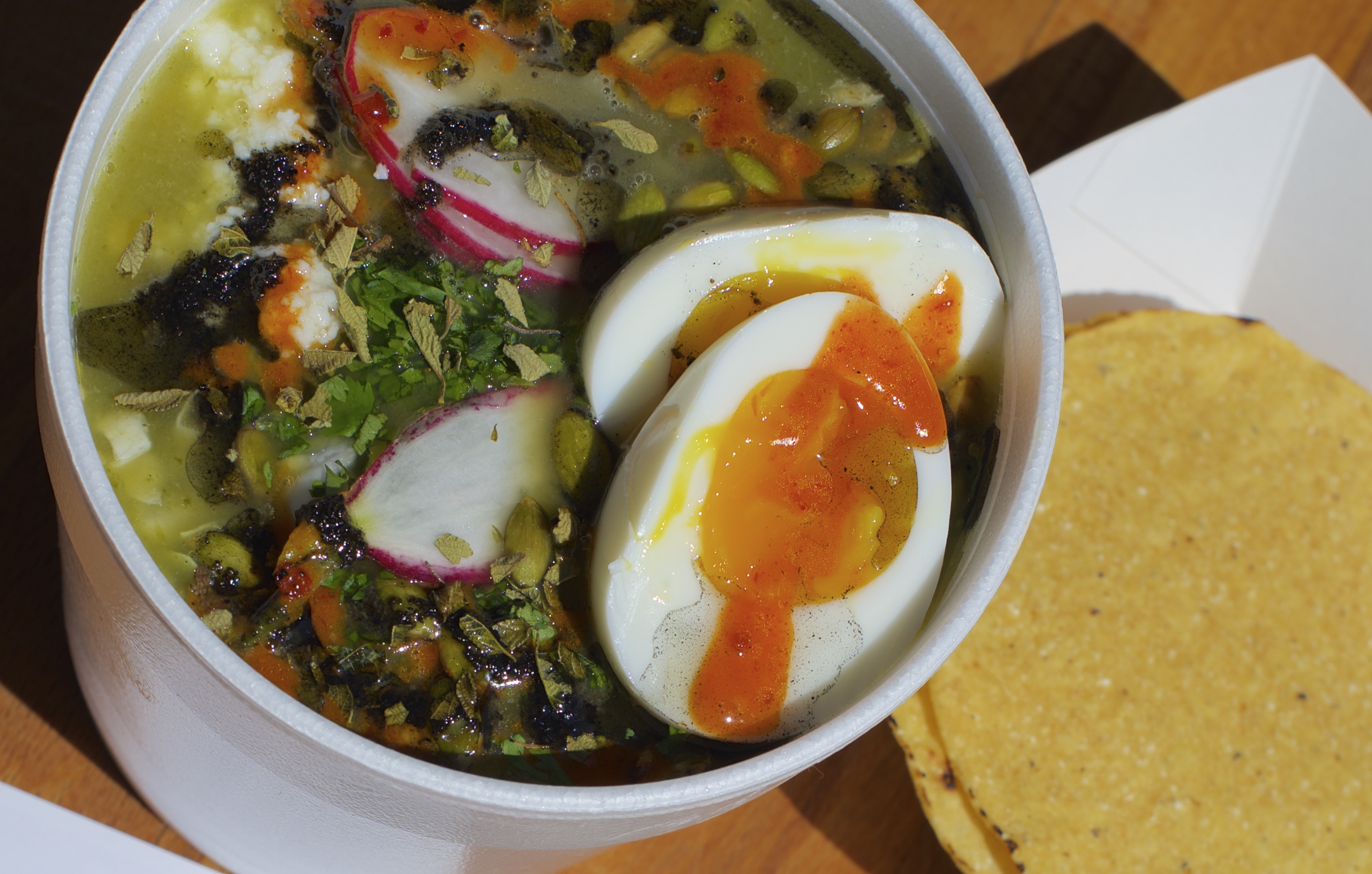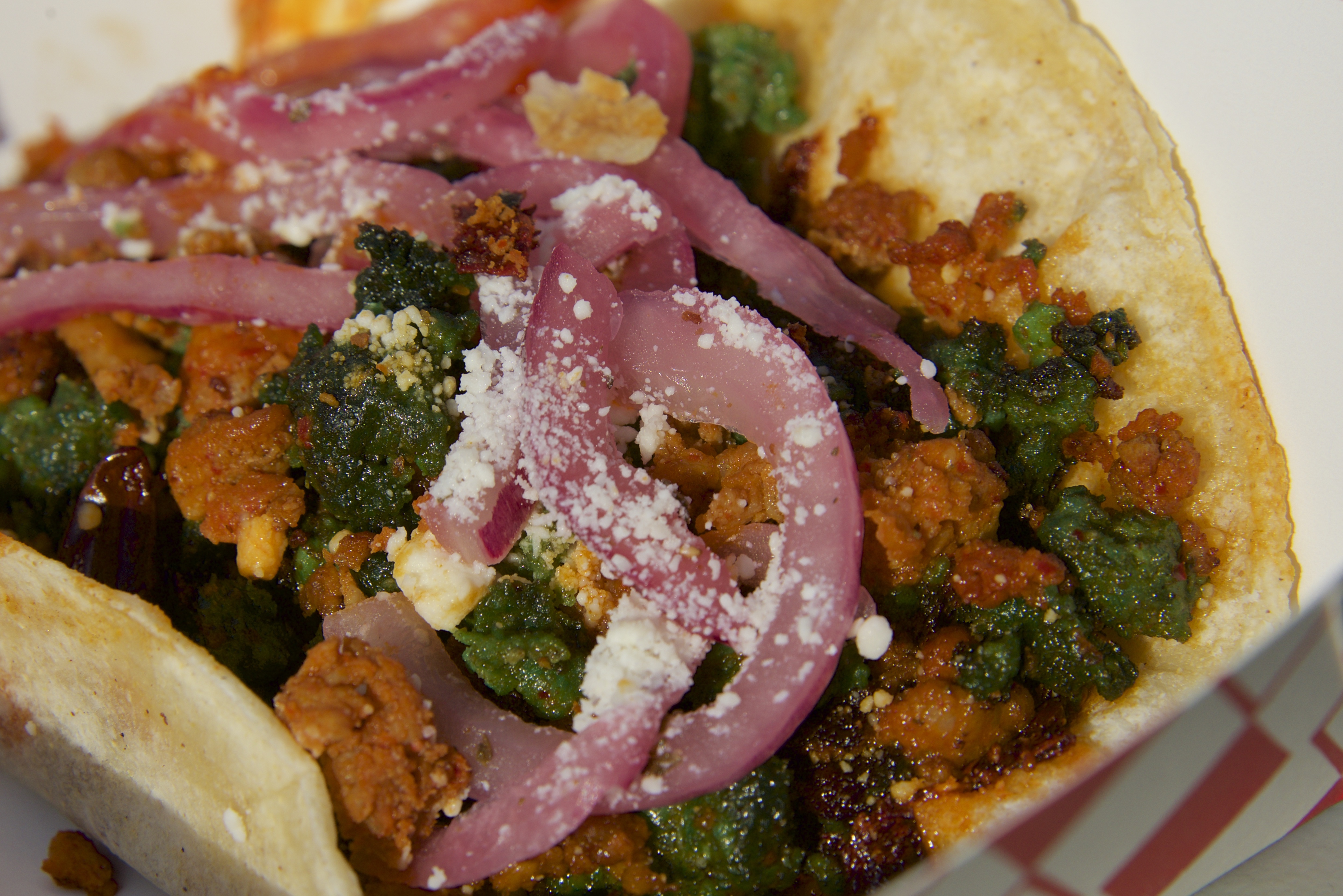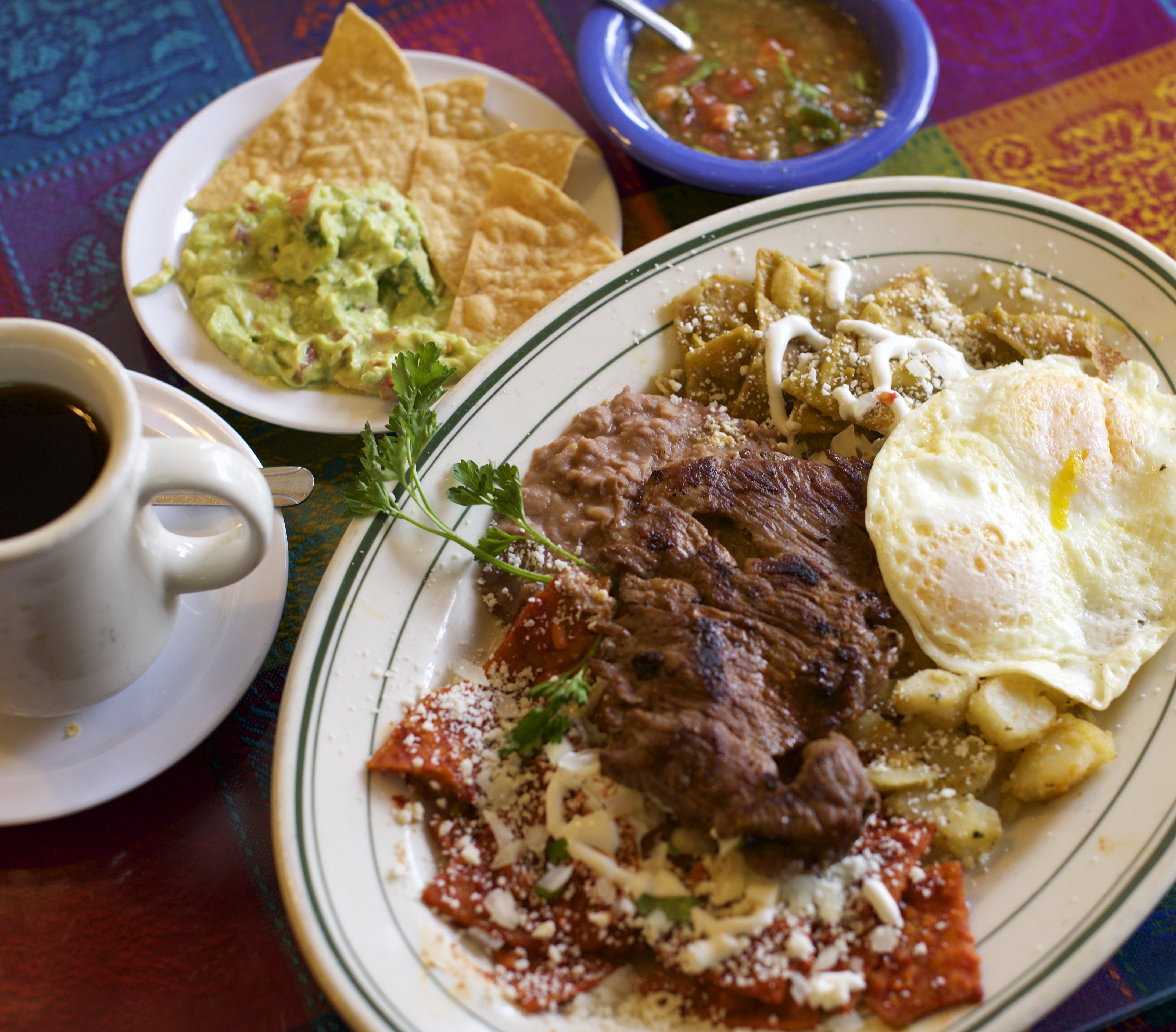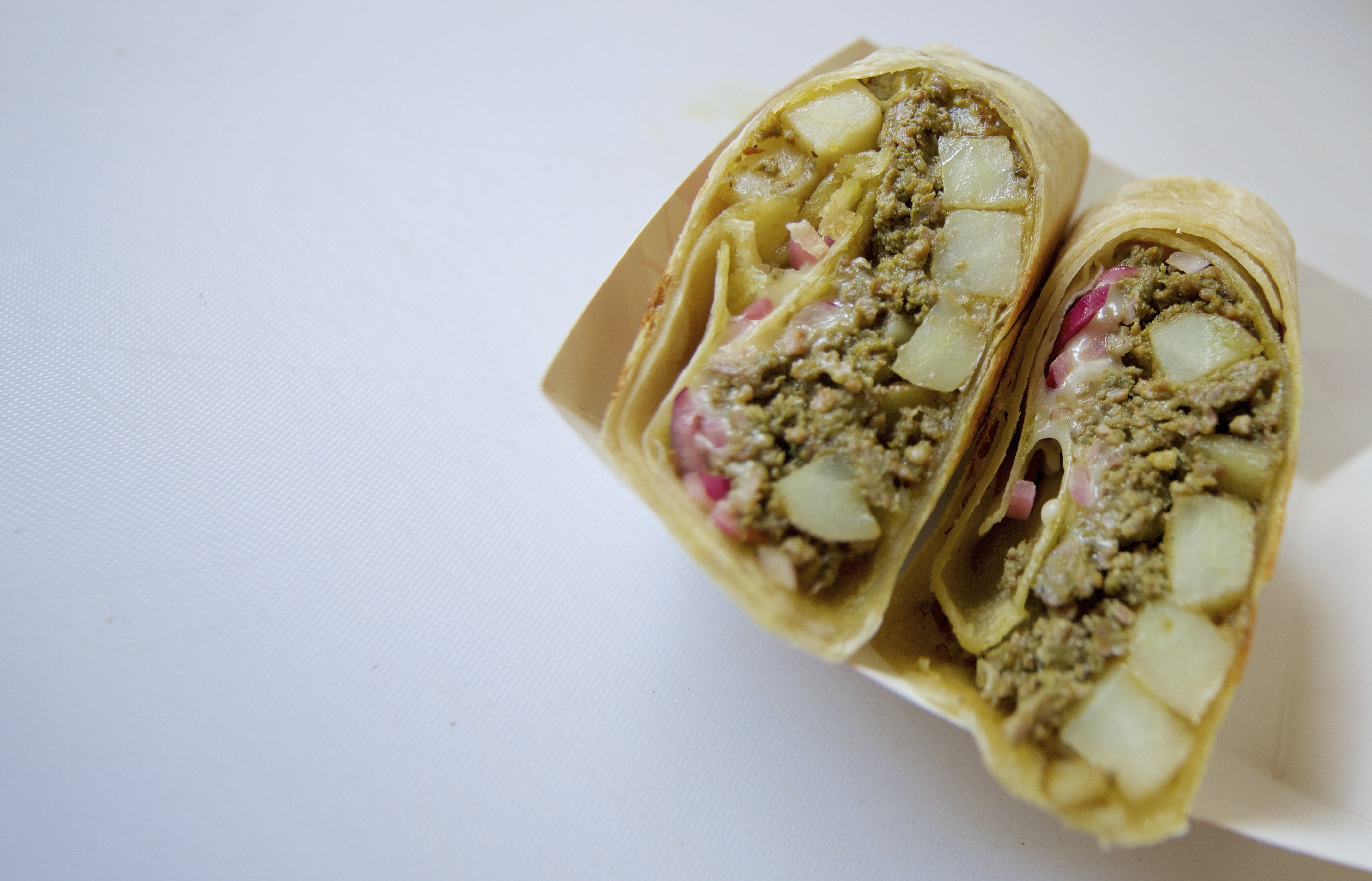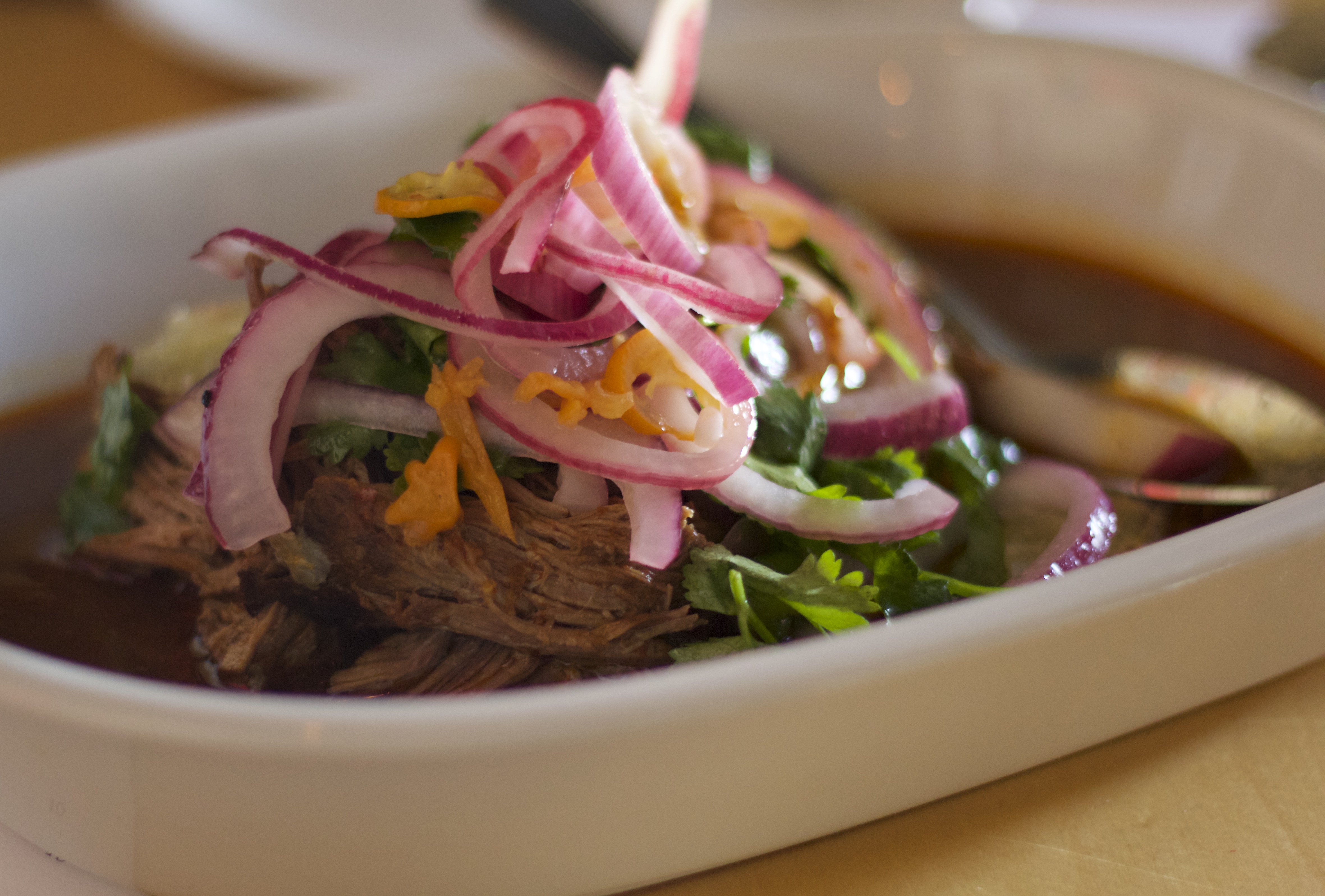 I enjoy making photographs of the Latino food culture in Los Angeles. Storytelling is everything. Tacos. Always.
Read More:
Stay in touch
Sign up for our free newsletter