Obituary
Remembering DJ Al Jackson, the Voice of the Soul Children
9:36 AM PDT on June 16, 2021
l Jackson is our ancestors watching. Al carried ancestral weight—in that lean frame, there was the weight of a million records, thousands of record bag skillets, hundreds of after-hour anvils, he could elevate dance floors, but Al was held to the ground by the ancestors.  Al was always the high priest, never needing explanation, always completely available, happy, and affirming to see you... the nod of a thousand Kamau Daaood poems." The words of world-renowned photographer Brian Cross aka B+, articulate a poetic sentiment that so many share. Over the last three decades, Al Jackson created a place of reverence for the community to explore and celebrate through music. 
News of Al Jackson's sudden, unexpected passing of a heart attack in January 2021 has stung the heart of LA's music scene. Along with DJ Rob One, DJ Dusk, Al Jackson is joining the illest party in the ethers. Live beat sets by Ras G, of course. 
DJ Al Jackson was your favorite DJ's favorite DJ and truly a Los Angeles original. He was a Father of L.A. cool. Humming the elders' bliss of Obatala, Jackson's role as a DJ is comparable to the late great pianist Horace Tapscott who for close to 40 years led the Pan Afrikan Peoples Arkestra and saw himself as a community artist and preserver of Black music. With a sophisticated calming aura that radiated acceptance,  Al was the kind, quiet type who preferred to speak with his music. Jason Sugars, dancer and friend of Al's for over 35 years, declares, "I have NEVER heard a bad word said to, of or about him."  
Exciting and igniting dance floors in any genre of Black music, Al had a way of bringing the glow out of a crowd. Al's command of music was incomparable. For other DJs, his mixing ability was a benchmark. "You went home and practiced after hearing Al mix," explains DJ and longtime Angeleno music promoter Azul Amaral. "And if you were playing on the same bill as Al, you better come with it." 
Dating back to the late 1980s, Jackson's been involved in many of the most influential hip hop, funk, soul, and house clubs of the Los Angeles underground from Brass, Brown Rice N' BBQ, Unity, B Boy Kingdom, 33 1/3rd, Words, Juju and Together. Beyond these important venues, he guest DJed in every corner of the city, played on KPFK, KCRW, and as Mark "Frosty" McNeil reminds us, "Al alongside his Soul Children partners Sacred and mcdjOne were amongst the founding dublab DJs and remained a constant, generous presence" on the celebrated internet radio station over the last 21 years. Joseph Thompson, aka DJ J Logic, called Jackson "the Silent Godfather in the Los Angeles DJ/creative community." 
Jackson set the bar high. Garth Trinidad, the former KCRW DJ, conveys, "Al was a kindred spirit with a heart of gold. I studied Al on and off the turntables - his style, manner, warmth, and positivity inspired me. Simply put, Al was one of the best human beings I've ever known, and I'm ever grateful to have called him my friend."
The Nightlife 
In the annals of L.A. musical lore, JuJu is the flagship party where L.A.'s dancers came to experiment within the ritual of the cypher under a banner of health, peace, and UNITY. Founded in 2001 in Leimert Park at the late Richard Fulton's 5th Street Dicks Coffeehouse, it was like no other event in L.A., if not the country. 
Juju eventually became so popular that they needed a bigger space to house all the people, but by the time Juju started in 2001, the Soul Children had already been throwing events for over a decade, and they were really good at it. Al's crew, the Soul Children, consisted of Rome Devase, Alex Burley aka mcdj1One, DJ Sacred, Queen Michelle, and Al. Al would describe The Soul Children as  "A group of like-minded individuals that care about preserving jazz foundations and DJ culture." The Soul Children team credit DJ Sacred as the one who really envisioned Juju in all its spirit. "Sacred presented the name and its meaning," says mcdj1One.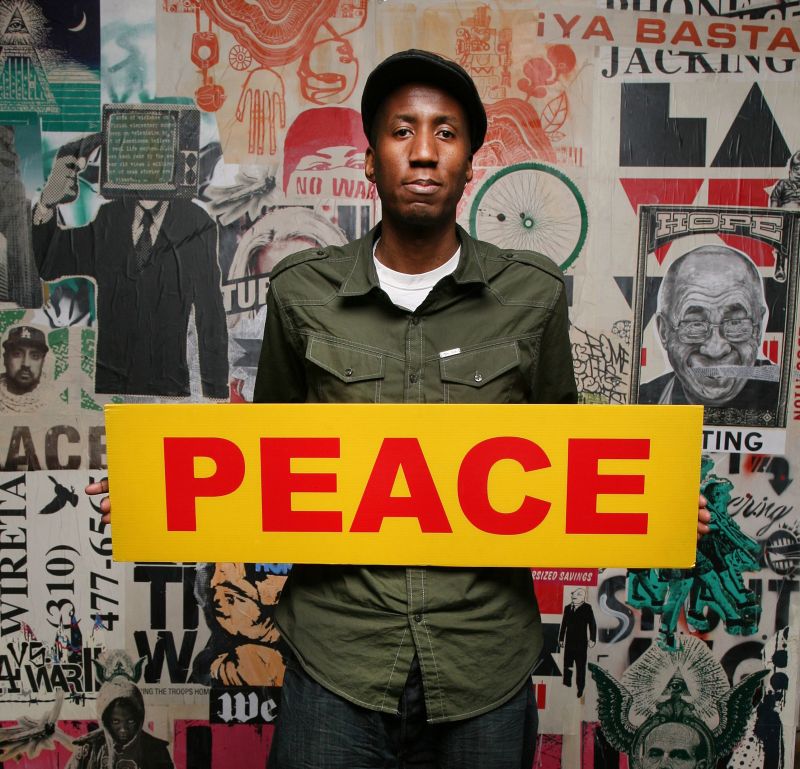 MonaLisa Murray is one of L.A.'s secret ingredients and a friend of Al Jackson and the Soul Children for over 30 years. A B-girl turned cultural pillar and DJ in L.A.'s art community; she recalls meeting Al for the first time. "I met Al Jackson around 1991-92 at Brown Rice N' BBQ near Wilshire Blvd… my first time being at such a cool, laid-back daytime event with good music, good food, and good people."
Al Jackson III was a huge Lakers fan, and as OG an Angeleno as one can be. Al grew up near the intersection of Pico and Genesee. The rest of the Soul Children also grew up along Pico between Crenshaw and Fairfax. This section of Pico is centrally located equidistant between Hollywood, Leimert Park, Downtown, and Venice, and this intersection of neighborhoods and L.A. culture on this stretch of Pico accurately represents Al Jackson and the Soul Children because they brought all these worlds together in their embodied essence.  
Born into music, his father, Al Jackson Jr., even played with Marvin Gaye. Darren Blackburn, aka DJ Daz, recalls the time Al told him the story: "One night I was playing "T Plays It Cool" off the Marvin Gaye Troubleman album, and Al said, 'my pops played on that album,' and sure enough, I looked up the liner notes and there his name was." 
Speaking of Marvin Gaye, DJ J Logic called Brown Rice N' BBQ, "the living embodiment of Ernie Barnes' painting 'Sugar Shack,'" the painting used on the cover of Gaye's 1976 album I Want You. Indeed, DJ Rome said that on the night of the first Brown Rice N' BBQ in 1992, Tupac bought drinks and had a good time. It was right after his first record came out. Held that night at Greece's Barbecue Pit near 9th and La Brea, the iconic spirit of Brown Rice N' BBQ and the Soul Children's later event Juju is echoed by Monalisa Murray and filmmaker Ava Duvernay. 
"Vibrations were especially high when Al would play."
Duvernay's 2012 film Middle Of Nowhere features a scene where the two main cast members go to a club called JUJU in Leimert Park. Duvernay cast Murray as the DJ. "JUJU was a special place to Ava," Murray says, "and my part in the film was special to me because I had always wanted to play a set there." 
In April 2017, Murray finally got to play there, and she and Al celebrated the moment. Over the years, they played together all over the city at New Year's Eve parties, Dublab events, opening for Robert Glasper, Ciclavia, Black Gold, and more.
"Vibrations were especially high when Al would play," Murray recalls. "You could feel the energy change within just a few minutes of his set…he always seemed to know exactly what to play and when to play it to get the crowd right where they were longing to be." 
Al Jackson had the music in his blood. He couldn't help but share his love with his city.  By bringing the people to the music, he inspired worlds of sound and culture to collide. The Soul Children was that bridge to the people. "He led by his actions," J-Logic says, "and showed us what could be achieved if we came together as a community." 
Community breathes deeply with soulful leadership. The Soul Children were the path as well as the guide into vibratory realms of ecstatic togetherness. This patient leadership role was natural for the son of Obatala, also known as the Orisha of compassion, knowledge, and justice. Like Obatala, Al was that father figure. Always happy to gather and guide the innocent into the community.
The Soul Children
The Soul Children's first event was held in 1989 in a spot called The Cottage Bar on Pico near Mansfield. They called the night "Bass." Queen Michelle worked the door, and she always had a knack for finding the spaces for their parties, and more often than not, it was a barbershop, beauty salon, barbecue spot, or a record store rather than a traditional bar. "Michelle just has a really good eye and knack for finding spaces and places," Alex Burley says. 
As much as they hosted jams in Leimert Park, the Miracle Mile, and MidCity, the Soul Children family also held court over the years in Inglewood, Lincoln Heights, Santa Monica, West Adams, and Echo Park. The Soul Children always knew how to create a joyful vibe, and they were always very intentional with the art, decoration, lighting, sound, music, gear, etc., in every space they hosted.  
Tomas Palermo is the former editor for XLR8R Magazine and a part of the Umoja HiFi DJ collective. In 2003 XLR8R had an all-L.A. issue that featured the Soul Children. In Palermo's essay, he writes that "The collective has gained a reputation for transforming some highly unconventional spaces into comfortable, spiritual music environments. In a metropolis of many neighborhoods and racial divisions, Soul Children events have brought previously Hollywood-centered jazz, soul, and progressive hip hop nights back to the African-American community in the Crenshaw district and brought the Hollywood club crowd with them. Moreover, the Soul Children have both kept South Central's jazz traditions alive and introduced a younger audience to the music."  
Alex Burley, aka MCDJ1One, grew up with Al, and among the Soul Children, Burley was the one who really configured the design of their events. "My approach to creating a space for JuJu was always conceptual," he says. "Each spot was different and made up differently as well. My general concept was always to create a space that is creative and low key, but also giving people the feeling and comfort and being in an alternative space as opposed to your typical club or bar." 
As mentioned earlier, the Soul Children all collectively grew up around Pico Boulevard between Crenshaw and Fairfax. One particularly kismet space they spent time in the 1990s in their neighborhood was Martin's Records on Pico near Redondo Blvd. Rome Devase remembers the store fondly. "I definitely had my share of spending sprees at the historic Martin's Records on Pico. Owner and founder Walker Martin was a very special individual. Not only for the way in which he preserved the treasured tradition of the neighborhood vinyl record store but for how he interacted with his visitors each time they walked into his store-whether they spent money or not."   
The recently deceased Double K from People Under the Stairs lauded Martin's in a 2006 documentary for the same reasons. Al Jackson and Rome bought a lot of vinyl from the man, and he even had nicknames for the two DJs. "Mr. Martin always made sure that while you were there, you were going to be in for a really good time listening to some good music, or just listening to the light-hearted banter between he and his co-conspirators such as Darrin, but whenever those two were on deck, it was nothing but pure and constant comedy."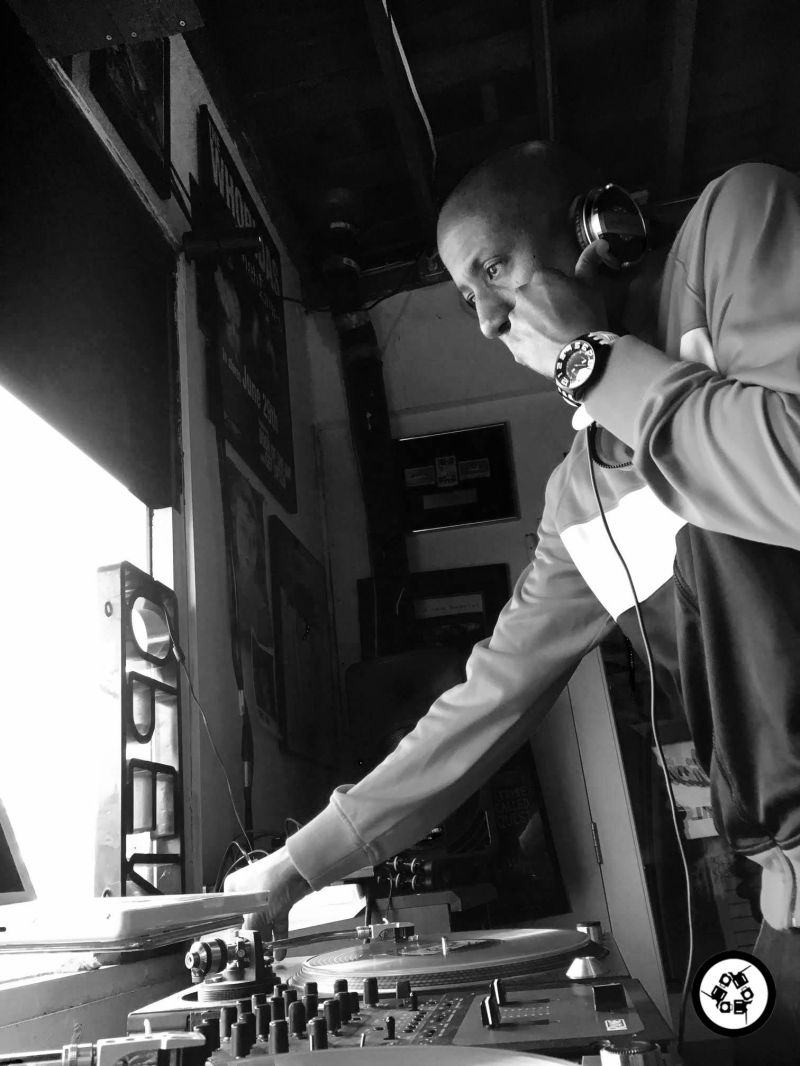 Walker Martin even let the Soul Children throw an event there. "Martin allowed us to do a DJ event in the back of the record store once," Michelle Myers recalls. "I do not remember the exact date, but the year was early like 1990- before the earthquake. Martin was always positive and welcoming. My faves were the 45s - like most of the kids that lived in the neighborhood. I do remember him carrying the extended versions on 12'' because, at the time, the most popular radio station KKTT had a deejay that did something called 'The Ali Shuffle' where he would replay a hit back to back."
Though Martin's Records is now long gone, DJ Sacred is one of the partners in High-Fidelity Records, the record store on the north side of Adams, next to the iconic bar and eatery, the Cork just east of La Brea. The space sings with the spirit of a gallery. Records hung like art.  High Fidelity is an extension of the Soul Children and Al Jackson. Sacred worked for many years in different record stores, so it's a perfect fit for him to now run his own. 
The Man
Al Jackson resonated that classic cool you only thought existed in the bouncy grit of a fast and funky Blaxploitation flick. Standing a slender 6'4' plus, delivering warm greetings with a velvet bass laced voice. Al was a gentle God in the nightlife of Los Angeles. "He was graceful and so down to earth," Monalisa recalls. "I started going to the Soul Children events faithfully and continued over the years… there was always such a beautiful warm, and loving vibe, whether in a tiny spot or a huge venue."  
"Al's sets were often the centerpiece. In those days, it was mostly about selection, but Al's were always delectable," says B+. "Never obscene, never derogatory, always affirming not only in the content but in the generosity... Black as an inclusive space, a generative space, a joyful space."
Palermo gives us a glimpse into AL's soothing spirit.  "We said farewell each time with a firm handshake with eyes locked and a sly smile." Palermo remembers,  "There were dominoes and board games being played, healthy drinks, delicious foods, and rich, eclectic music (soul, boom bap, jazz, rare funk, newness!) that followed no formula other than The Upliftment Theory. Al was alternating that night between beaming, happy, smiling, resplendent, and attentive host bustling about, making the party run and hum. From that moment, Al was a revered and exalted friend to me: a person I admired for his creativity, presence, and humility." A true gentleman and a scholar, Al led with his soul, and his soul spoke with the music. It was all for the love of the people. 
Raashan Ahmad, the lead MC of the Crown City Rockers, said: "Al Jackson was huge in shaping my musical palette. 'Brown Rice N' BBQ' had a whole vibe and was one of the first times I saw huge rooms dancing and getting free to music I've never heard."
Ahmad references the spot in a song called "Floorwax," he recorded with DJ Zeph. "I was a dancer in those days," Ahmad shares, "and the circles at that spot were LEGENDARY!!! The song references a bunch of LA spots (Hollywood Live, Unity, Brown Rice N' BBQ,
Graveyard Shift, Nappy at the Roots, Water the Bush, Ballistix, B-sides, Lotus, The Breaks...) around that time where I learned so much from just being and watching and soaking up game."
The Scene
"Those Brown Rice N' BBQ nights off La Brea at Wilshire" B+ shares " were what all the Hollywood Acid Jazz nights wished they could be. All Blue Note sleeves projected, rappers in thrift store finery, body movements that transcended generations, records that defied marketing categories. A blackness that felt both completely familiar and entirely new at the same time." 
"Al's sets were often the centerpiece. In those days, it was mostly about selection, but Al's were always delectable," says B+. "Never obscene, never derogatory, always affirming not only in the content but in the generosity... black as an inclusive space, a generative space, a joyful space." 
Jason Sugars, an L.A. legendary dance floor fixture and all-around glowing soul, uses his deep heart to articulate the love we all had for Al and the love Al had for our culture. "Music was our métier," Sugars shares. "We could shoot the spit for hours about songs, spots, people, and places we both loved in our beloved hometown of LOS ANGELES, CA." Sugars and Jackson were close for over 35 years dating back to middle school. The following paragraph is a direct testimony from Sugars:
"Whether we running away from some spot, 'cause some ——— was shooting at some party in the Dons [circa the 1980s], hanging out front waiting to get into some event in the '90s, chillin' and chatting at one another's events in the early aughts.. or just standing around at AMOEBA, 'cause we both showed up for a special live event and decided to hang out and get some grub after... just to talk and laugh and chat about life and the things that we loved." 
Brass
In the early 1990s, acid jazz emerged with groups like the Brand New Heavies, and Al Jackson was there. A club called "Brass" was one of the epicenters. One of the resident DJs at "Brass" was Darren Blackburn, aka DJ Daz. "I first met Al Jackson and Fats (Derek) (rest in peace) of The Soul Children in the early 1990s," Blackburn recalls. "I was spinning a weekly event called BRASS, which was the first club in Los Angeles to promote the Acid Jazz sound."
"Although Brass only existed for about 3 or 4 years," Blackburn states, "we would spin everything that was cool. Acid Jazz, Rare Groove, Hip Hop, Dancehall Reggae, House Music, and whatever music that could move the Dancefloor. Brass would move from venue to venue around L.A., Luna Park in West Hollywood being one of the venues. Al and Derek would come through and chill." 
"'Everything originates from jazz,' Jackson muses. 'It's a Black art form. But I was young. I didn't understand that. Now my grandfather and my father, and I have common ground. We're on the same wavelength.'"
In August of 1994, Denise Hamilton wrote an essay in the Los Angeles Times, "Hip-Hoppers Come 'Round to Jazz." The extended essay went really deep into the early 1990s Los Angeles hip-hop, jazz, and the then-burgeoning acid jazz scene. Hamilton started the piece with Al Jackson. Here are the first three sentences: "Jazz was always slinking around the house where Al Jackson grew up… Dad was a musician, so there was no escaping be-bop and acid jazz, even if Jackson, a typical Angeleno youth, was more partial to hip-hop. He wanted to rebel against whatever his parents stood for, and rap was the language of the streets, the beat that spoke to him."
Hamilton spotlighted the Soul Children, Brass, Blue Note Records, 5th Street Dicks in Leimert Park, some of the coffeehouses around Melrose, record stores like Poobahs, poets like Kamau Daaood, records sampled like Roy Ayers, Donald Byrd, Max Roach, Wayne Shorter, Gary Bartz and talked about all the early 90s hip hop that sampled jazz-like Gangstarr, A Tribe Called Quest, Digable Planets. Throughout the piece, she kept returning to Al Jackson. Al embodied this spirit naturally.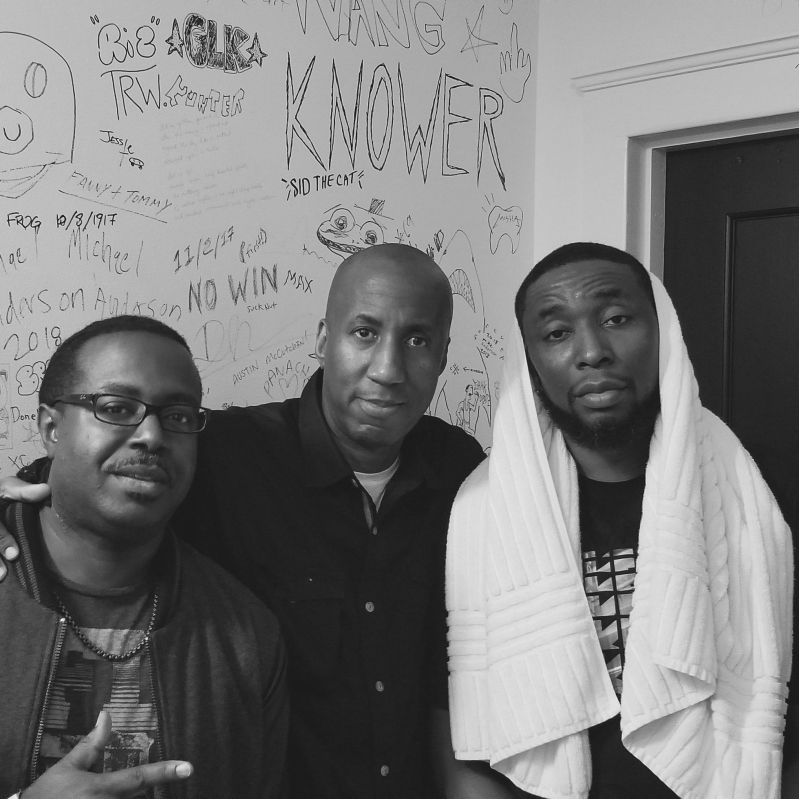 One of the most poignant sections is when Al reflected on his dad and grandfather and their love of jazz: "'Everything originates from jazz,' Jackson muses. 'It's a Black art form. But I was young. I didn't understand that. Now my grandfather and my father, and I have common ground. We're on the same wavelength.'"
It's all for the people, Al and the Soul Children lived in that sacred space between me and all.  In that space, we see the fruit of healthy relationships. Art that smiles, music with memories, they built relationships that warmed the soul of a community emerging.  
Explorations and Collaborations
DJ A-Ski is another Los Angeles native that worked with Al for over two decades. They met in the late 1990s on 6th Street across from MacArthur Park at a vegetarian coffeehouse called Luna SoL Cafe that existed for almost a decade. There was a weekly Poetry & Hip Hop night called 33 ⅓ held every Monday evening where they played together. A-Ski came to Luna Sol one night with DJ SloePoke. Jerry Quickley hosted the Poetry night, and Al was the resident DJ. 
"Luna Sol was a magnet for authentic artistry at its purest. Writers, Poets, DJs, MCs, Graf Artists, Thinkers, it was THE place to be," A-Ski recalls. "To work out your craft and sharpen it up as an artist of any sort; Luna Sol, without a doubt, served as a springboard. A melting pot of all backgrounds.. ethnicities, and walks of life."
HBO Def Poet Cory Cofer, aka Besskepp, remembers Luna Sol as his introduction into the L.A. Arts scene, and Al Jackson's DJing remains imprinted in his memory. "Al Jackson rocked JDilla instrumentals at a dim-lit Luna Tierra Sol Café way back when," recalls Cofer. 
"For me, Mr. Jackson set an unattainable bar.  Every record played was for you, me, us. Every space he occupied was his living room, and those in his presence felt like his invited guests he made feel welcomed." 
The weekly poetry event at Luna Sol was so influential that it produced an offshoot super reading called "Words," held monthly at Fais Do Do, and of course, it was DJed by Al Jackson and hosted by Quickley. A bit more of a showcase, "Words'' would feature heavyweights like Kamau Daaood and Saul Williams, along with MCs like 2MeX and Busdriver. In many ways, the format of Words was like HBO Def Poetry Jam a few years before the HBO show started in 2002.
DJ A-Ski echoes Cofer's praise of Al's skills and timing. "I always admired Al's impeccable taste in selections and his timing," A-Ski shares. "We have played many events together and shared many laughs from the days of Little Temple Saturdays and THANKSGIVENDS. He was always the quiet storm." Both die-hard DJs raised in L.A., Jackson, and A-Ski had a lot in common.
The Soul Children's dublab show "Explorations" was a staple on their station. "In fact," Mark Mcneill, the co-founder of dublab writes, "Al even saved dublab years ago when we lost our streaming services benefactor. Al, who was working at House of Blues Digital at the time, heard the news and instantly stepped up to advocate for our organization. He brought dublab's broadcasting onto the company's streaming servers with nothing asked in return. So if you heard anything you loved on dublab in the mid-2000s, Al Jackson was largely to thank."
Aside from dublab, Al was also a staple at record shops like Amoeba and, before that, Martin's on Pico and Aron's Records on Highland in Hollywood. Aaron Parr remembers seeing him there."I didn't get to know Al better until around the late '90s," Parr says, "hanging out at Aron's Records on Highland Ave digging for 12's (Sacred and Take were working there around that time) and where I also met Ras G (RIP) through Al Jackson we would always bump into each other and talk music and what was happening in L.A."
Aaron Paar, aka DJ Destroyer, reflects on his first encounters with Al. "I first met Al probably around 1992 at an L.A. Underground party off of Las Palmas and Santa Monica Blvd and can't remember if he was spinning or just chilling, but I remember being introduced to him and remember that grin and him being super tall. I'd then always see him around town at spots like Brass and other bars in mostly Hollywood around that time." 
"I always remember Al being super supportive, humble, and a kind giant of a man who was always interested in what I was doing, whether it was beats or making mixtapes. In that genuine way, that was just Al. When I created my Destroyer moniker and started doing shows like Strictly Social, Al was a solid supporter who showed up to numerous events too many to mention and even had him guest DJ several times."
"After I officially became a Umoja Hi-Fi member, he was excited, and we all did some great events together with Soul Children called JUJUMOJA in DTLA. I was an early recipient of Al Jackson's beats since we always talked shop about production, and I supported and encouraged him to keep it going. I was blessed to always get those folders and emails up until late last year of his beats which in my opinion he was just hitting his stride taking the sounds and arrangements to the next level." 
Sincere Beats
DJ Daz of the Umoja crew, an early influencer in the scene, shares his memory. "I teamed up with DJ Tomas to start our night. "Umoja Jazz and Ragga Lounge" at a small bar in Hollywood." Al would come through every week. Eventually, they asked him if he wanted to bless the turntables alongside them. "His jazzy hip hop instrumental sets really fit the UMOJA agenda. We would all vibe out and listen to each other's sets."
"The truth," Daz says, "is The Soul Children and my crew Umoja Hi-Fi always vibed well together. We would even co-promote events. The Soul Children's "JuJu" and Umoja Hi-Fi together for a night of djing. We called it JuJuMoJa. It was as easy as that... no ego... no attitude... no bad vibes... just music."
"Al, who never fell out with anyone in a scene full of petty jealousies and backbiting." B+ says, "Whose version of taste was both impeccable and completely inclusive. How can he make us have room for that too? Because it's Al." One of the monikers for Al's production was "Sincere Beats," and its apropos. 
As cliche as the term "community" is, Al embodied the warmth, kindness, and spirit of camaraderie that defines a community artist. In this way, Al definitely is a kindred spirit to pianist Horace Tapscott. Tapscott always said, "art is contributive, not competitive." 
Drummer, a producer, and engineer Daryl Moore aka JMD confirms this. "They both were community musicians and worked for and with the community. Horace was an educator, and in his own way, so was Al. I know he educated me as far as direction and helped me find a lane that I could fit into. I wanted to make records that sounded worthy of being played at Juju, Brown Rice N' BBQ, and any other Soul Children venue."
A long time ago, when I first started DJing, somebody mentioned to me that if you stay ready, you don't have to get ready.
JMD is qualified to compare Al with Horace because he worked closely with both giants over the last 30 plus years touring with Tapscott in the 90s and playing countless shows where Al DJed in between JMD's band in spaces like Fifth Street Dicks and Fais Do-Do. JMD's band, the Underground Railroad, often served as the house band for the Freestyle Fellowship, Pharcyde, and other groups from the Good Life and Project Blowed and his production team, the Earthquake Brothers, produced several songs on Freestyle Fellowship's Innercity Griots. 
"What Al would play during our breaks," JMD states, "would give us a direction for our next set of music; Al taught us another vocabulary and showed us another lane we could get into comfortably." Shortly before he passed, Al gave JMD a few tracks he had produced for the great percussionist to record some drums for the songs to help finish them. JMD plans to finish these songs.
Andrew Lojero is one of L.A.'s most dedicated event promoters, and co-owner of the Jazz is Dead record label. He shares what it was like to have Al play a DJ set at their Jazz is Dead event on February 16th, 2020, opening up for Digable Planets. "Al Jackson is one of our favorite people on the planet, point-blank," Andrew said.  "We were honored to have him share music with our crowd that evening. It was a special set that began with a soundbite of our friend Ras G who had recently passed away. Little did we know that that would be the last time he would bless a Jazz is Dead stage...or any stage."   
Old Soul Is What He Embodied
"Al Jackson is our ancestors' eyes upon us," B+ declares. "Old soul isn't what Al played. It is what he embodied. Deep like we wish we could be but never understood how."
All along, Al knew what he was doing and why he was doing it. Back in 2003, he told Tomas Palermo, "The end result is a product of love," says Jackson. "We were never in this for the money. The spiritual aspect of what we do overshadows the material aspect." Al was familiar to everyone, a familiar spirit.  So familiar that he made us all familiar, and thus family. 
Here is Al in his own words, borrowed from a recording he did for Dublab:
"My name is Al Jackson. Representing Los Angeles. I am A DJ and Producer. A long time ago, when I first started DJing, somebody mentioned to me that if you stay ready, you don't have to get ready. I never really understood what that meant. Years later, Djing at different events, different clubs around town, in various genres. It dawned on me that the more familiar that I am with my music, regardless of genre, the easier it is for me to prepare for a gig. It didn't dawn on me until years later. Now, whenever I'm called to play a set, I am ready, regardless of the circumstances."
Thank you, Al Jackson. 
Sometime in September 2021, the Soul Children will be hosting a public event honoring Al Jackson. Stay tuned for more details. 
DJ Mix Honoring Al Jackson
Songs for Al Jackson as Told By His Closest Friends:
"Love Supreme" John Coltrane
"Players" Slum Village
"Celestial Blues" Gary Bartz
"Golden" Jill Scott
"Flava in Your Ear," Craig Mack
"Rebirth of Slick," Digable Planets
"Running Away," Roy Ayers
"Highest" The Detroit Experiment
"Let's Ride" Q-Tip, produced by Jay Dee
"Back to Life" Soul to Soul
"Be Happy" Mary J. Blige
"Hot Music" New York Soho
"Sketches of Spain" Miles Davis
"Simpatico"  DJ Fudge feat Omar
"Electric Relaxation" A Tribe Called Quest
"What I'm Here 4"  Gang Starr
"African Rhythms"  Jay Dee
"Party Hard"  Donae'o
"Thrills"  Black Motion
"Uhuru Sasa"  Gary Bartz
"Effi" Max Roach
"You Use To Love Me" Faith Evans  (Ali Shaheed Muhammad Remix)
"Eve" Spacek (Jay Dee Remix) -Spacek
"Water No Get Enemy" Fela Kuti
"African Rhythms" Oneness Of Juju
"Dark Sun Rider" Dark Sun Riders
"The Blast" Talib Kweli & Hi-Tek
"Just Friends" Musiq Soulchild
"Rose Rouge"  St Germaine
Hank Ballard & the Midnighters
Mike Sonksen aka Mike the PoeT is a 3rd-generation Los Angeles native. Poet, professor, journalist, historian and tour-guide, his latest book "Letters to My City" was just published by Writ Large Press. He teaches at Woodbury University.
Stay in touch
Sign up for our free newsletter