Featured
Neighborhood Food Guide: The 15 Best Spots in Wilmington
3:23 PM PST on January 17, 2023
L.A. TACO is embarking on its biggest mission yet: to create a reliable taco and food guide for every neighborhood in Los Angeles! Along the way, we will also be releasing brief histories of each neighborhood to understand L.A. a little more and why each and every neighborhood makes our fine city unique. Check out the rest of our history and food guides on our neighborhood page. 
Initially inhabited by the Tongva people, Phineas Banning, a businessman from Delaware, acquired the land from Manuel Dominguez and renamed it after his east coast birth town, Wilmington. This coastal barrio is now known as the "Heart of the Harbor." Wilmington is an unincorporated city in the Harbor Area of Los Angeles. Populated by a high percentage of Latinos and foreign-born residents, mostly of low to medium-income, there is a great food if you know where to find it.  
Nearly 20 percent of Wilmington's total land area is taken up by refineries, making it the third-largest oil field in the US. There are only six parks in the 9,14 square miles that make up the city. During the COVID-19 pandemic, Wilmington had one of the highest death rates in all of L.A. County, exacerbated by the elevated levels of industrial pollution. If a city fits the definition of environmental racism, Wilmington would be it. 
Alas, When asked to write a taco guide for Wilmington, the city that made me, I couldn't say no, but I also couldn't just write about tacos. Growing up in the late 80s and 90s, my experience of Wilmas wasn't tacos; it was having Wienerschnitzel (the first location ever built is the Wilmington location), it was cheeseburger specials, and zucchini fries from Gus burgers, it was pizza parties at Red West and later as an adult, sobering up at Los 3 Cochinitos with some chile verde fries afters wasting away a Friday night at backyard show or a friends garage. 
Growing up, I always thought the Dream was to leave Wilmington and never look back. Now I realize the dream was leaving and coming back, or for some staying, and making Wilmington more than a forgotten locals-only refinery port town. So next time you find yourself driving down the 110 or maybe making your way to Long Beach to check out a cool bar pop-up like Chuntikis, cruise down to Wilmington. 
These are the diamonds in the refinery-laden rough that is Wilmington.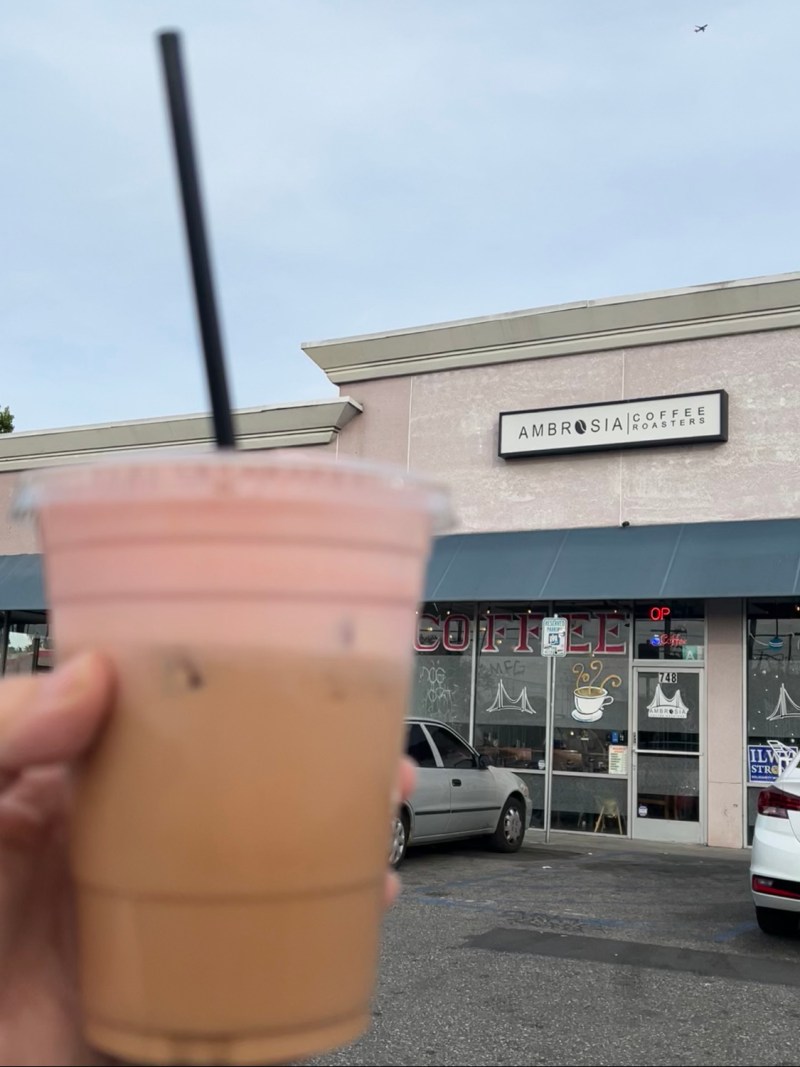 Opening in June 2020, it's been a rollercoaster for John Phan of Ambrosia. Born and raised in L.A., he probably never envisioned opening a shop in Wilmington, but after seeing the need for a proper coffee shop experience that could double as a community space in a much-needed area, he chased his dream and opened even at the height of the pandemic. A few years now since it opened, he is proud to represent the community he's invested in. Come here for fancy pour-overs from beans selected and roasted to fit the local taste, and fun lattes, or snag a Cafe au lait that pays homage to John's heritage and diverse culture that is Wilmas.
748 N Fries Ave 90744. Closest Metro lines and stop: Bus Lines 232 or 246 - "Anaheim/Fries."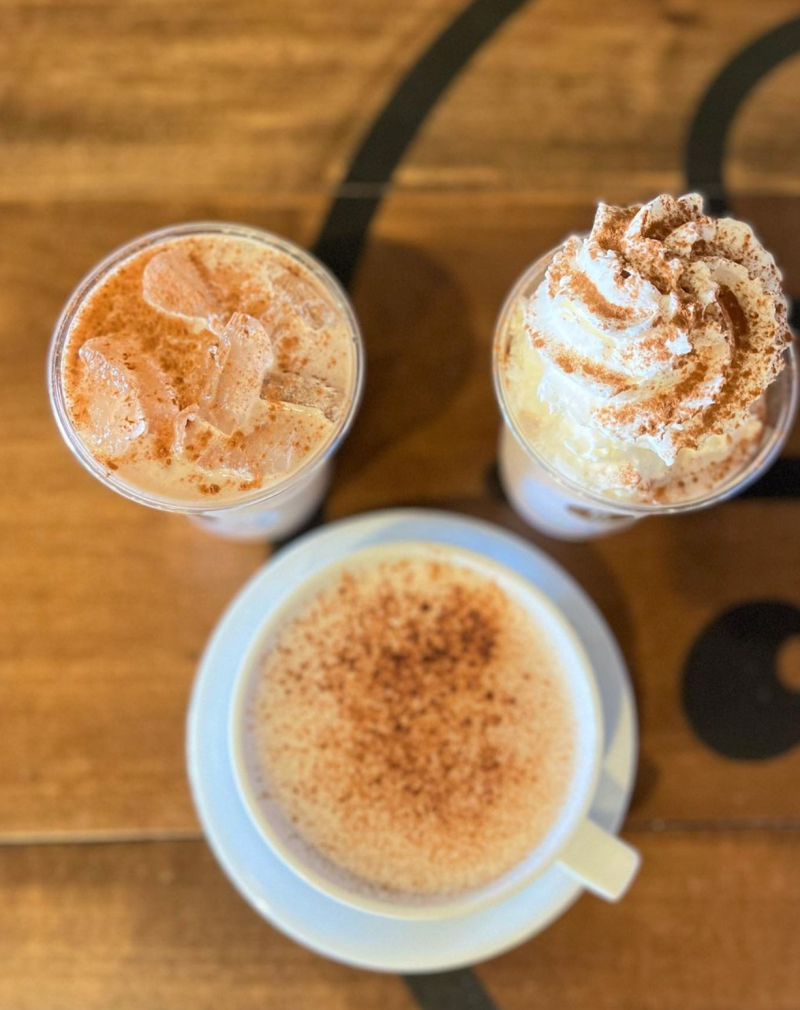 This coffee shop has been offering fun Frappes since 2016. Frappes like Horchata y Mazapán to Barra de Coco y Gansito. Def worth the sweet stop, perfect after visiting the Night Market across the street.
1330 W Pacific Coast Highway Wilmington, CA 90744. Closest Metro lines and stop: Metro J Line (950) - "Pacific Coast Highway Station" or Bus Lines 205, 232, or 246 - "Pacific Coast Highway/Figueroa."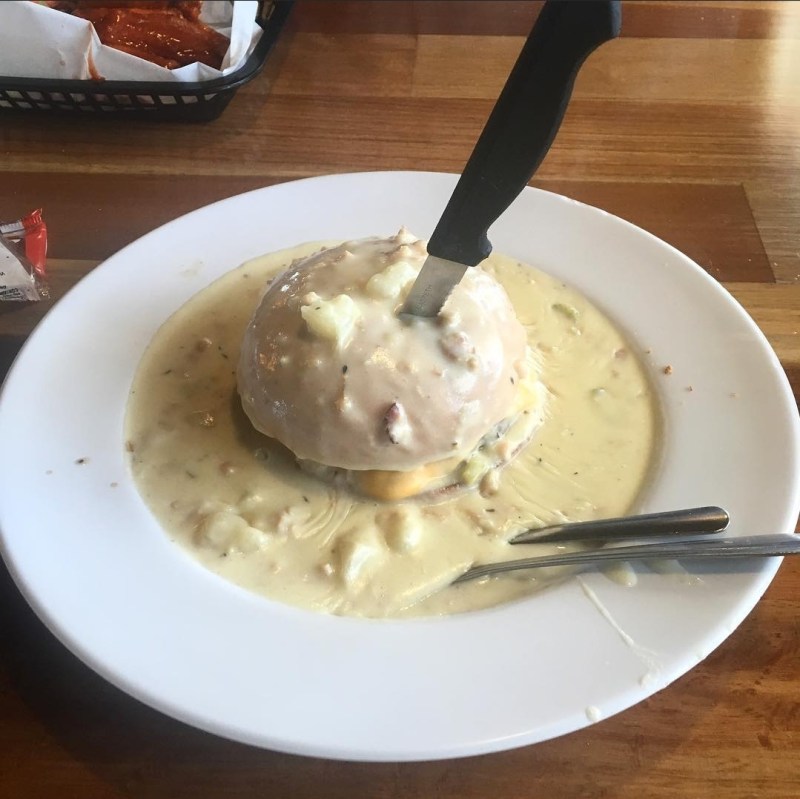 L.A.'s oldest and only floating restaurant isn't in L.A. city, it's in Wilmington. Originally built for Clark Gable's Mutiny on the Bounty in 1935, the barge was used to hold the studio's equipment. After the film, it was mostly abandoned, until it was purchased in the late 60s by the Panter family. They retrofitted the barge and docked it in Long Beach west of the 7th Street Landing, serving boaters and dock workers alike cold beers and hot bowls of chowder. But in 1988 it was ousted from its location to where it is found now in, Leeward Bay Marina. Now owned by former Chowder Barge waitress, Nyla Olsen, the barge hasn't stopped serving cold beers and hot chowders. Come here for fried seafood goods, come here for a captain's mug of cold beer, come here for the chowder. Creamy boston style chowder we all love; or better yet,come for the Rev, a cheeseburger drowned in a bowl of chowder, make it a double and add fried clams to it; come take step back in time, come to see what life is like in Wilmington Shores.
611 N Henry Ford Ave, Wilmington, CA 90744. Closest Metro line and stop: Bus Line 232 - "Anaheim/Henry Ford."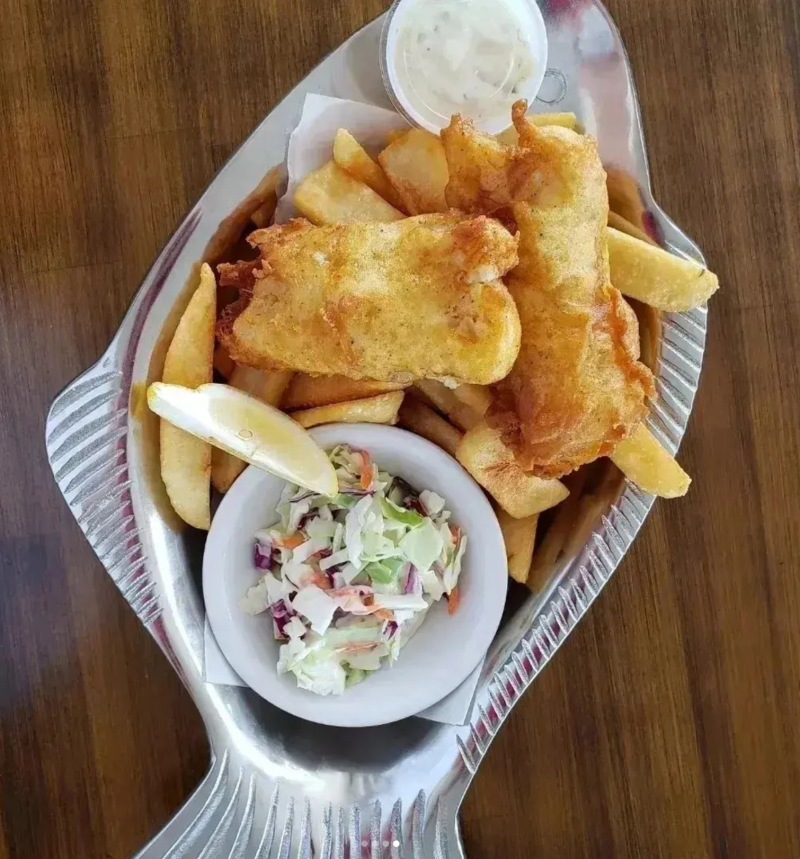 Marina Cafe, right up the street from the Chowder Barge, proudly serves breakfast and lunch daily to those that live in the marina or those who make their way to what owner Sheri Hadjis has dubbed, "Wilmington Shores." Opened in 2015, they offer diner classics and daily specials. Seeing a Monte Cristo on a menu is not only fun but delicious, and if you visit on the weekend, the small dining room is filled with the uniquely yeasty aromas of the Belgian Waffles being made. Come enjoy waterside dining with views of what an industrial port town looks like. 720 Peninsula Rd #202, Wilmington, CA 90744
As famously seen towards the end of 1988's hit movie "Twins," El Pollo Lico has been providing the community and the connecting pool hall, with succulent Pollos Asados. This family-owned business has been flipping these spatchcocked chickens since the 80s, offering an affordable menu that is rare to see these days (a whole chicken with rice, beans, salsa, y tortillas still under $20 and enough to feed 3-4 people), while they offer a full spread of tacos, tortas y mariscos, the apparent choice is to go for their chicken combo plate and build your own tacos. Make a date out of it and grab a miche and shoot some pool next door.
702 N Avalon Blvd. Wilmington, CA 90744. Closest Metro lines and stop: Bus Lines 232 or 246 - "Anaheim/Avalon."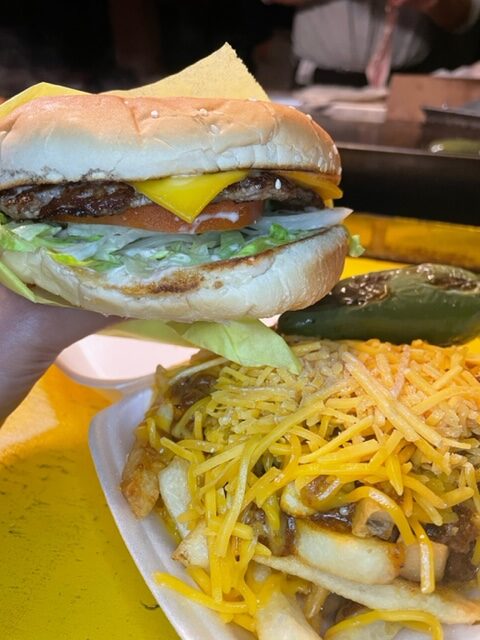 Like any other 'hood, you have your Tam's, Tom's, and Tommy's. After all, an L.A. hood is only as good as its respective 'hood burger. Seeing someone use the taquero on the corner idea and flip burgers instead, we dig that. Hugo, who started popping up at the Wilma's night market (more below), has now taken this stand back to his hood, serving a well-dressed version of that very much nostalgic L.A. drive-thru burger that shall go unnamed. And it comes with ease for Hugo; he's been working at famed Gus Burgers for over 30 years! But the reason to stop here is the chili cheese fries. Not sure if it is the homestyle ingredients or the love and sense of pride when you receive your food, but every bite is a warm hug to your stomach. Here's to hoping zucchini fries are in their future. Visit their custom-made cart Friday-Sunday. 5-9 pm.
1065 Hyatt Ave, Wilmington, CA 90744. Closest Metro line and stop: Bus Line 232 - "Anaheim/McFarland."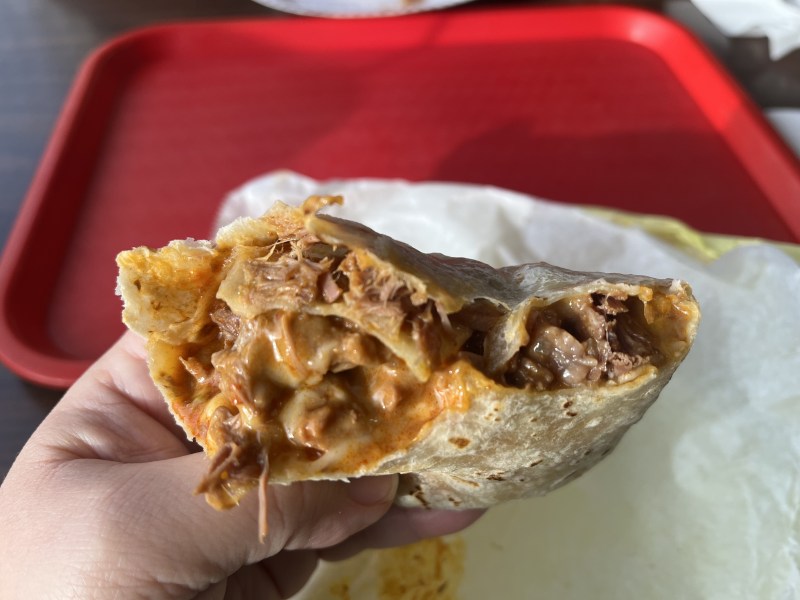 Started by two cannery workers, husband and wife Issac and Antonia Medina, Issac's Cafe have been a longshoremen staple since 1977. Known for their burritos, people flock for their asada and green chile burritos, but the one to get here is the Jones burrito. Named after one of their first and regular longshoreman customers, the "Jones" consists of stewed red beef wrapped with cheese and avocado. These family recipes are tried and true. One visit and you'll know what's up.
632 N Fries Ave. Wilmington, CA 90744. Closest Metro lines and stop: Bus Lines 232 or 246 - "Anaheim/Fries."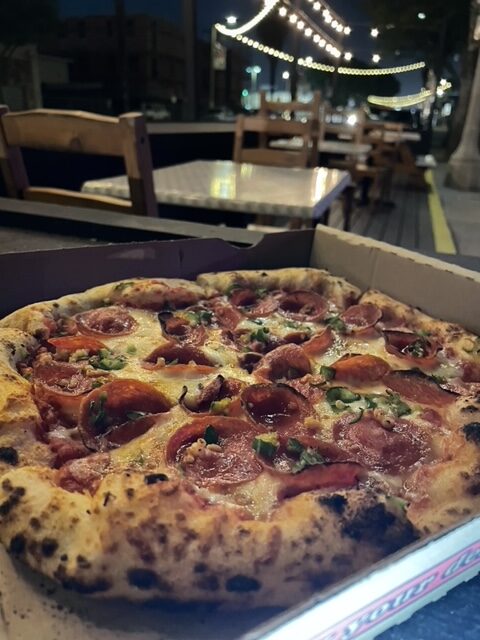 This pandemic-born pop-up has gone from selling Detroit-style pizzas out of their home to some of the best Neapolitan-inspired pies in the Harbor Area out of their quaint brick and mortar. Self-made pizzaiolo, Alvaro and their wife Jackie are homegrown Wilmeros who found a way to reinvent themselves and take a chance in the community that saw them grow. While Al handles all the pizza making, Jackie handles the front of the house, and sometimes their daughter even lends a hand when not in school. Besides being a family affair, the pies can speak for themselves. Sourcing all this flour from Italy and choice ingredients for their sauces, they even use locally produced sausages from Smokehouse Meats & Treats, making this the most Wilmington pizza out there in proper form. Try their best seller, the Spicy Garlic Pepperoni, or their signature, the OG Waterfront, with Pepperoni, Sausage, Olives, and Ricotta. L.A. Waterfront Pizza, making Wilmas proud.
422 Avalon Blvd. Wilmington, CA 90744. Closest Metro lines and stop: Bus Lines 232 or 246 - "Anaheim/Avalon."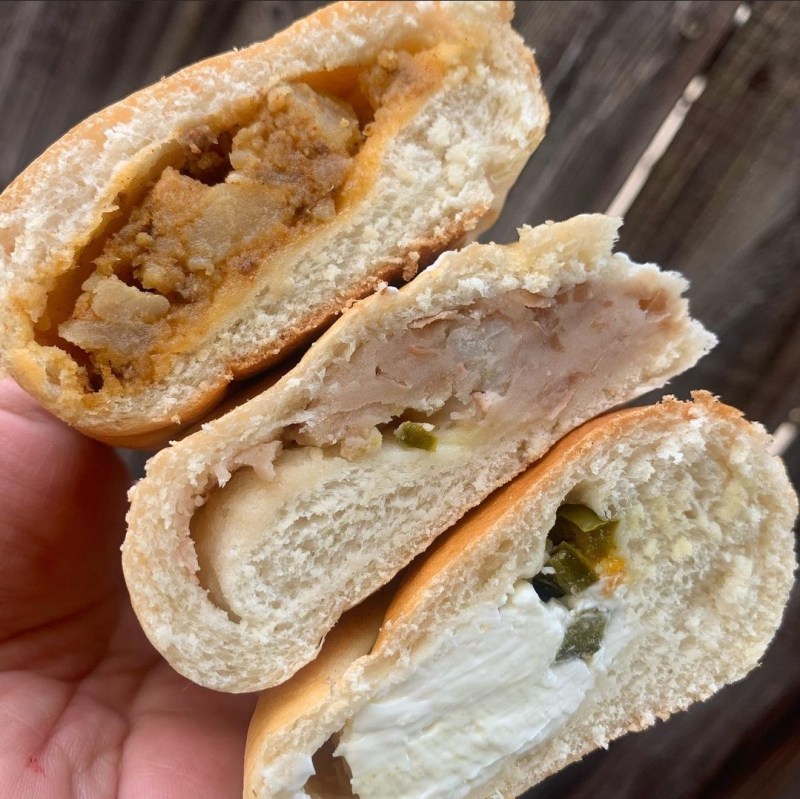 Talking to Dona Vega, owner, and operator of La Perla, she tells me that this bakery has been in their family for about 50 years. The building has been an operating bakery since the late 1800s or early 1900s. One thing is true, regardless of when this place started, it is a genuine Pearl in the community that has seen the faces of many local generations. Besides being a stellar Panaderia, the space also moonlights as a small mini-mart that provides more than bread to the community. It is not uncommon to see a line out the door in the morning, not just for their conchas, but for their stuffed bolillos or avenas. Bolillos not just stuffed with cream cheese and jalapeno, but stuffed with chorizo con papas, frijoles con jalapeño, huevos con weenie, etc. y lonches like tortas de jamon for all you chavos. They even offer dinner plates in the evening, like chile rojo or tinga, and menudo on the weekends. To call this, a simple panadería would be an understatement. La Perla de Uruapan is the American dream that Don Pepe had, and may it live on for another 50 years.
1126 Sanford Ave. Wilmington, CA 90744. Closest Metro line and stop: Bus Line 232 - "Anaheim/Sanford."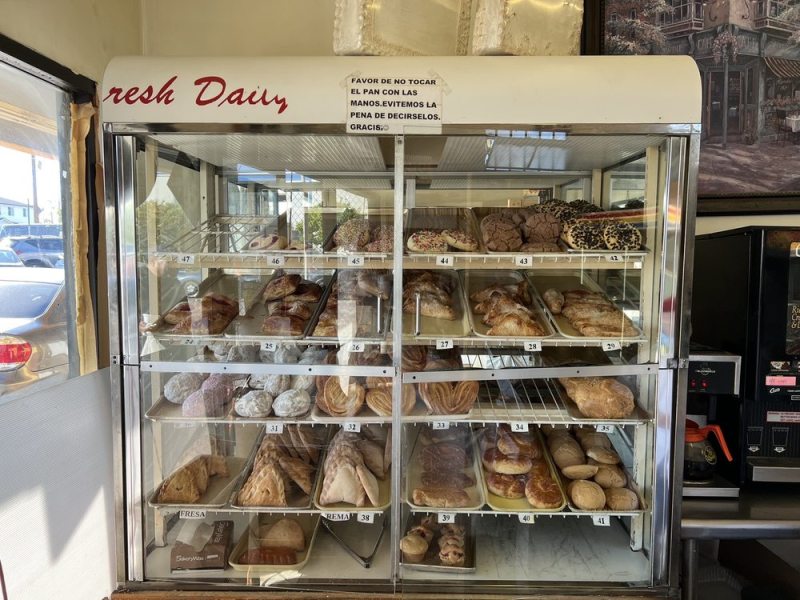 Pan de yema is a hearty regional pan dulce that is the lifeblood of the entire state of Oaxaca. It gets its name from the egg yolks that are used to enrich the dough, and it tastes delicious with some chocolate or coffee at any time of the day.  This bakery also has the usual pan dulce, but like any Oaxacan food business in L.A., their strength relies on self-imported Oaxacan goods like Oaxacan chorizo (has more vinegar for a brighter chile flavor), unpasteurized quesillo (the real stuff, not "Queso Oaxaca," mole, Tasajo, and more.
843 N Wilmington Blvd 90744. Closest Metro lines and stop: Bus Lines 232 or 246 - "Anaheim/Wilmington."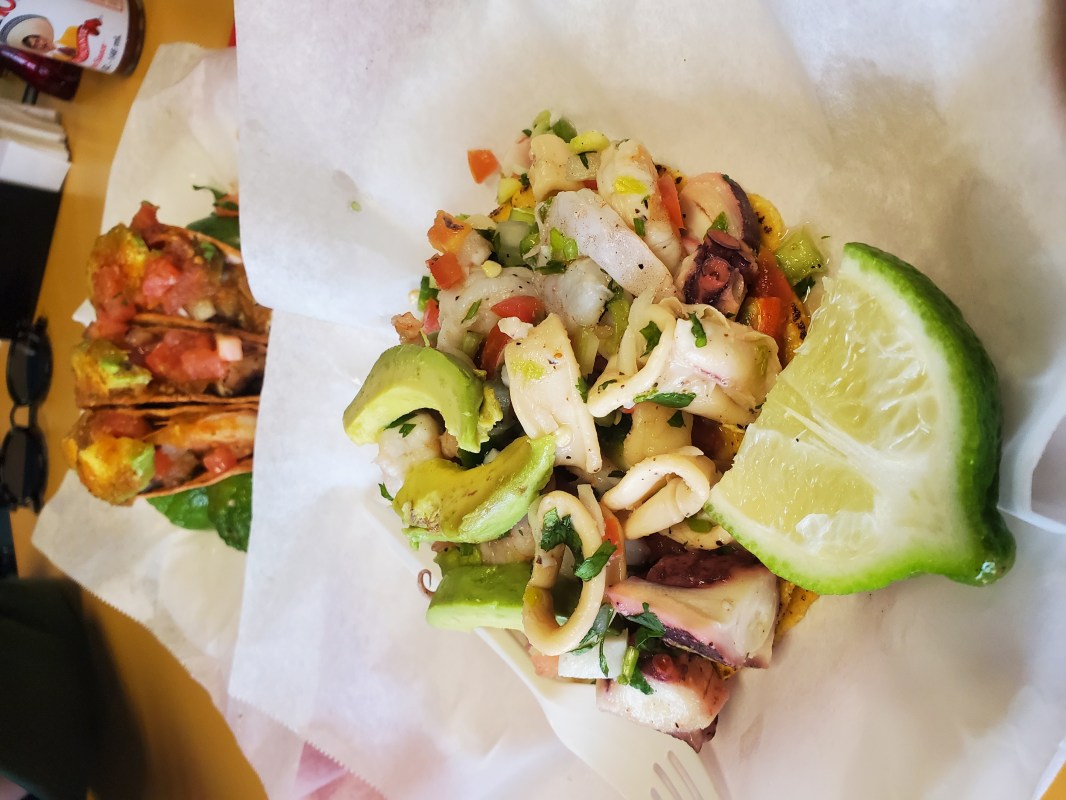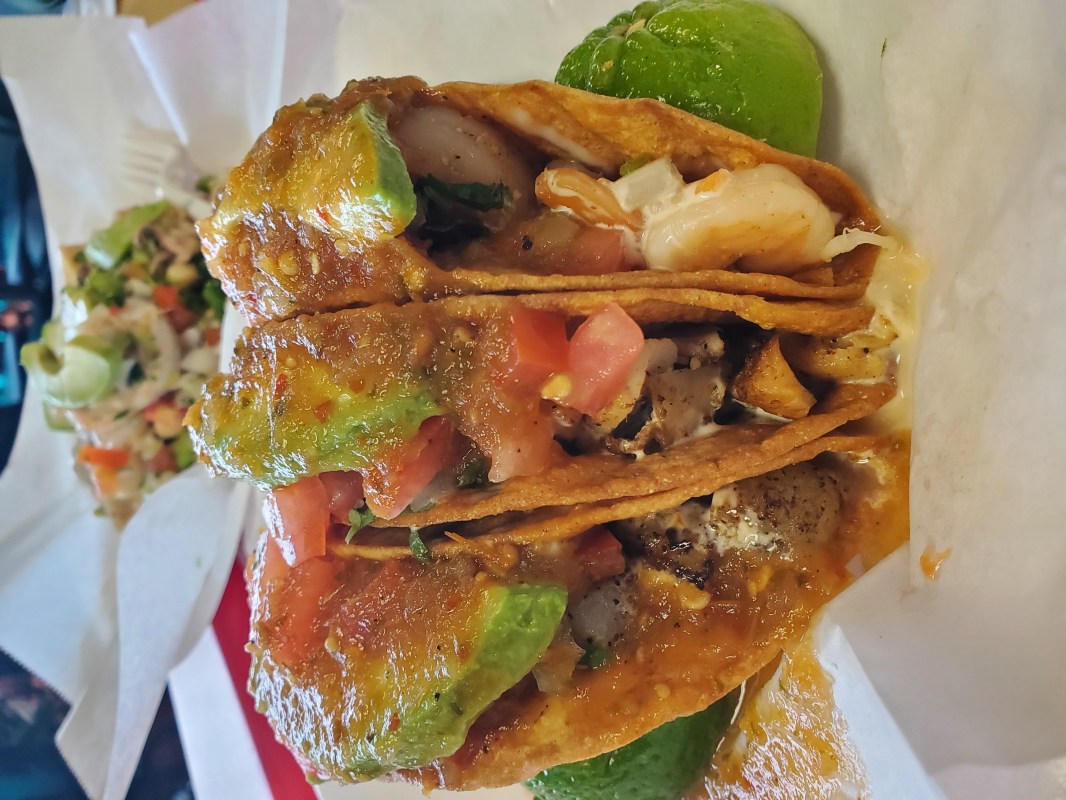 Mariscos Rosarito
Mariscos could be tricky in Wilmington. You have classic joints like La Paz or new contenders, Al Cien, but the place often overlooked is Mariscos Rosarito. Hidden in a strip mall, This place has been churning out the freshest mariscos in Wilmington for over 20 years. As you enter, you are greeted by their deli display case, with at least eight of their ceviches next to seafood waiting to be prepared. To the side, they have mojarras (tilapia) on ice waiting to be picked and fried. You can't go wrong with anything here, from seafood burritos to seafood nachos; pick your own adventure. But I must say, a must-have here is their shrimp taco dorado, and why not taste the ocean and have a ceviche Marinero tostada? You'll be coming back to this gem.
1110 W Anaheim St. 90744. Closest Metro lines and stop: Bus Lines 232 or 246 - "Anaheim/Wilmington."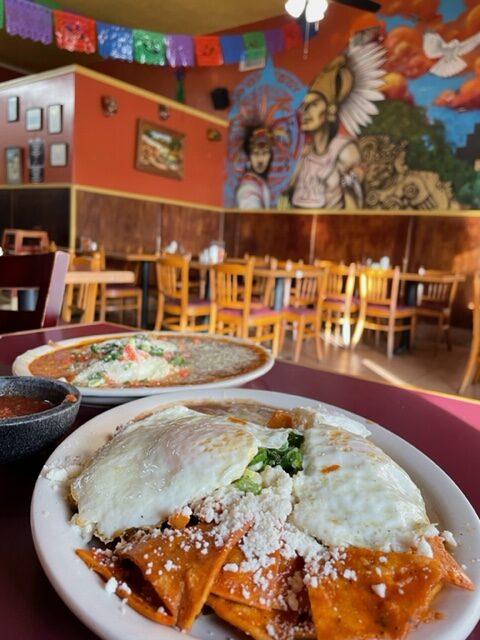 Started by the Gamboa brothers in 1945, but now under the ownership of the Sanchez brothers, You can find either Ricardo or Rodolfo cooking for the restaurant they own. The Maya shines in their breakfast offerings. Try one of their ten different omelets, Like the "Don Chuy" omelet that pays homage to the founding owner, loaded with ham, spinach, cheese, peppers, onions, salsa, and avocado, or try their Chile Relleno omelet that is as good as it sounds. Or stick with a classic like chilaquiles or their new classic, "Enchilada Aplastada," a flat cheese enchilada served with eggs and beans. There is no losing at a place that serves breakfast all day by lovely tenured servers like Rosa or Irma. Even though The Maya has moved to three different locations, it's always stayed within the Wilmas community. We hope this stretch of Avalon is its forever home.
401 N Avalon Blvd 90744. Closest Metro lines and stop: Bus Lines 232 or 246 - "Anaheim/Avalon."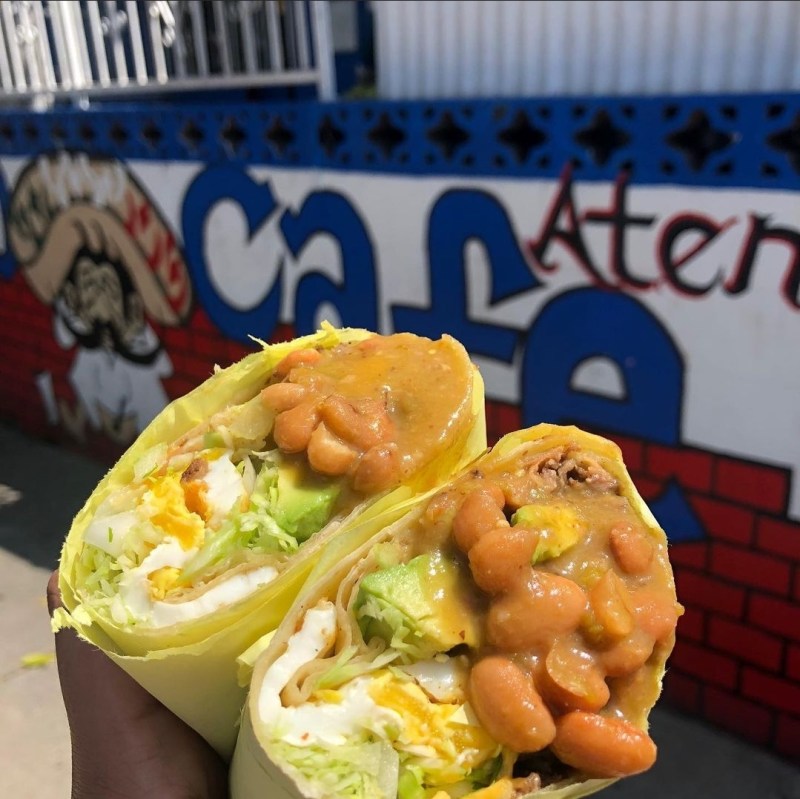 Built by Evaristo Montoya in the late 60s, tucked in a residential corner, Montoyas is an eastside Wilmas institution. Even when the cafe changed hands, and the Rodriguez family took over in the 80s, the reason why people come here hasn't changed, and that's the burritos. The menu offers your standard fillings, and the star of this place is the Chile Verde. Stewed pork chunks in salsa verde that are spicy enough to wake you up but not hot enough to stop you from taking a second bite. And for those with a big homie appetite, they have the "Oso (bear) Burrito." Stuffed with carne asada, chile verde, eggs, beans, and avocado, this once-secret menu item goes down easy with one of their signature lemonades (try "The Screecher"). Their taco dorados de chorizo are also a standout, and if menudo is your thing, come by on the weekend; you know it's good if tías are lining up with their pots by 6:30 in the morning. Montoya's is not only a rite of passage for those born and raised in the area, but it is also a pilgrimage for many who have moved away or are searching for the ultimate burrito.
1133 Watson Ave. 90744. Closest Metro line and stop: Bus Line 232 - "Anaheim/Watson."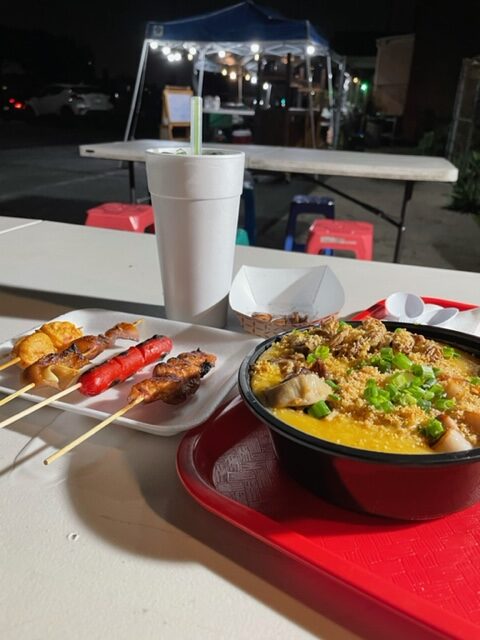 In a town with new trompos y planchas popping up on every corner, it is refreshing to see a new street food pop up in the least expected places. Pinoy Big Mouth is a Filipino concept located in the corner of a church parking lot, blink, and you might miss it. Named after their love for food and karaoke (there is a karaoke room behind their grills), Husband and Wife Tony & Maria offer classic Filipino street food & rotating specials along with DIY bbq skewers. Highly recommend their Goto Abot Langit, a porridge similar to arroz caldo but made with glutinous rice, heavily perfumed with ginger, and topped with a generous helping of porky goodness, including lechon. Enjoy with a Gulaman, a jelly pandan beverage that drinks like the perfect dessert after a few skewers.
444 E Lomita Blvd 90744. Closest Metro line and stop: Bus Line 246 - "Avalon/Lomita."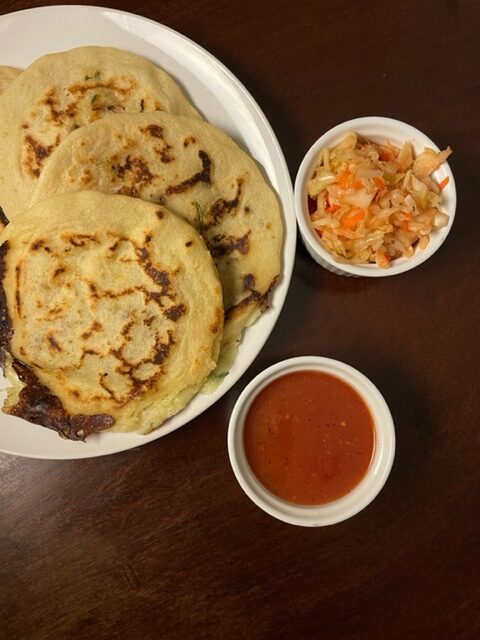 This family business started over 30 years ago in the city of Ilopango, El Salvador, and opened its doors in Wilmington in 2004. Specializing in Salvadoran cuisine, this place is a Pupusa haven. With over 20 different pupusa options, from classics like loroco and revueltas to cool ones like al pastor and Crab. Feeling healthy? Half the pupusas are vegetarian and can easily be made vegan. Plus, attached is a full-service juice and tea shop, making Estela unique over other Pupuserias. If you visit on weekend nights, you might stumble upon an open mike or karaoke. Not one pupusa in their vast menu is bad, and the option of adding and making your own combos, like their al pastor with grilled onions and jalapeno inside or getting the Loroco con espinaca y hongos, makes this place truly special and perhaps L.A.'s most exciting pupusería.
401 W Pacific Coast Highway 90744. Closest Metro line and stop: Bus Line 246 - "Avalon/Pacific Coast Highway."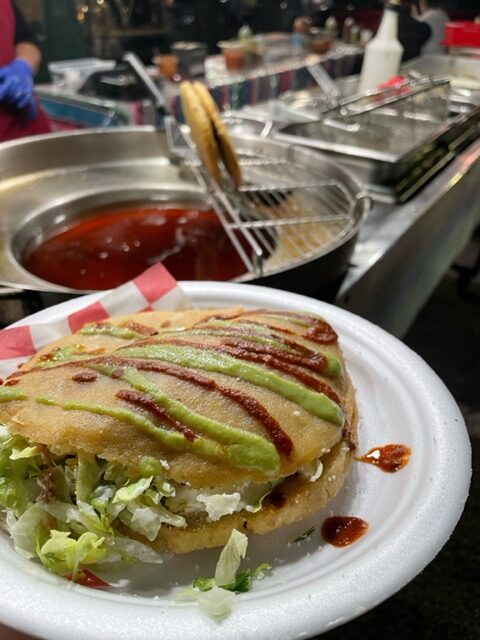 Wilmington Night Market

The Wilmington Night Market might be the newest on the scene, but it's the fastest growing. You can find T.J.-style tacos from El Compita, juicy birria tacos from Hijos de Villa, and succulent Nayarit-style roast pig tacos from Los Sabrosos del Horno. But why not look beyond the taco when you visit? Grab a fresh fruit atole from Tamales Corona (both the guayaba y piña have been superb), and cruise the market. You might find yourself at one of the most incredible stands, Las Gorditas Chingonas Estilo D.F. Usually playing cumbias sonideras and señora Sandra and crew are making Mexico City delights like quesadillas, pambazos, sopes, and much more, but the reason you stopped here, to have a "gordita chingona" de chicharrón prensado. One bite and you're transported to a side street from el Zocalo in CDMX; life is grand.
Corner of PCH & Figueroa. Closest Metro lines and stop: Metro J Line (950) - "Pacific Coast Highway Station" or Bus Lines 205, 232, or 246 - "Pacific Coast Highway/Figueroa."
May it be via Beer, Cocktails or Print, I am a story teller. Also, I like Punk Rock, Cumbia, y Tacos.
Read More:
Stay in touch
Sign up for our free newsletter