Featured
The L.A. Taco Guide to the Best Menudo in Los Angeles, Mapped
3:29 PM PST on February 20, 2020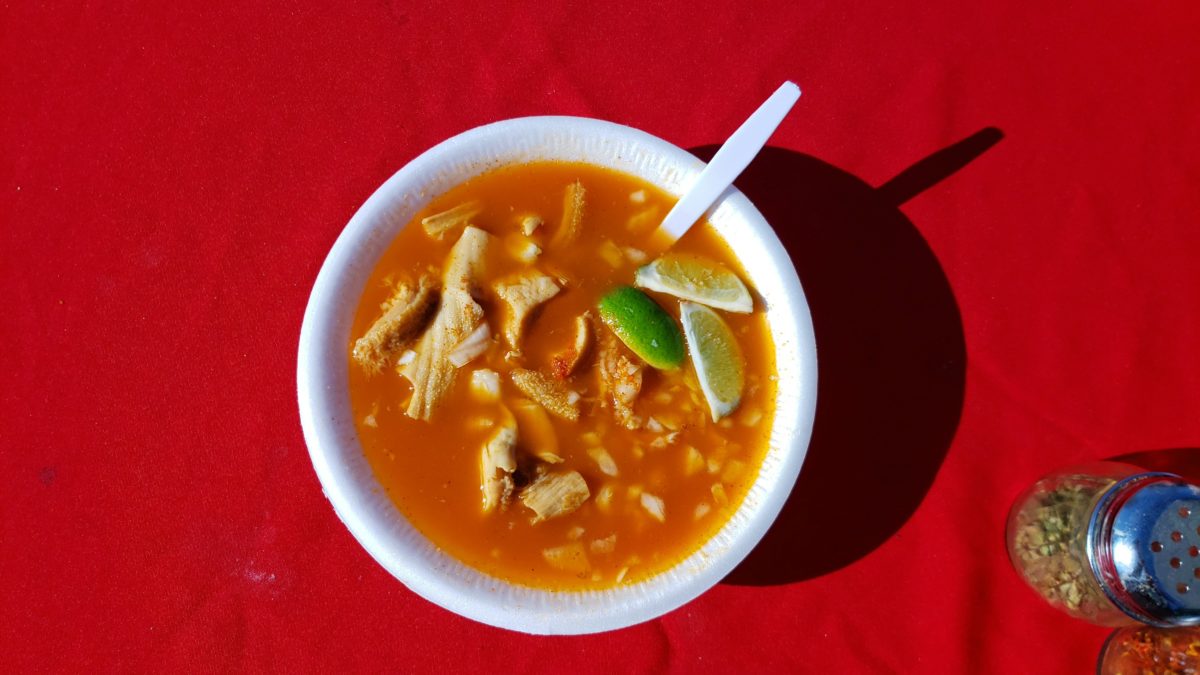 [dropcap size=big]T[/dropcap]here's usually a brief moment of contemplation involved when eating menudo, Mexico's world-famous pansa soup. Where you consider a cow tripe's relationship with its digestion process. But it is a mental hurdle well worth getting over to enjoy a bowl of deeply comforting menudo and its highly sought after hangover-annihilating properties. 
To some, it conjures up vivid memories associated with the long hours and labor that go into making the dish (the pansa isn't going to get squeaky clean themselves). But to many, it is a symbol of working-class cuisine that transforms a protein that would normally be tossed and turns it into something absolutely delicious. Most importantly, menudo is a communal dish, that's often shared on weekend mornings among families or those closest to you.
"Menudo is a working-class sopa,"  Enrique Ochoa, professor of History and Latin American Studies at Cal State LA, tells VICE. Menudo became popular in the US in the 1930s and 40s when migrant workers from Mexico settled in places like East L.A. or San Antonio. 
While it's uncertain what part of Mexico menudo originated from, Spain has a dish that's called callos a la madrileña that bears a striking resemblance. The major difference? Mexicans added spicy chiles over Spain's use of sweet chiles. Menudo is known by three names in Mexico: menudo in the north, pancita or mole de pansa in central parts, and mondongo in Yucatan.
In Los Angeles menudo is plentiful, it remains a fixture in the Mexican weekend diet. Often at a spot you'll see long lines of people with pots they brought from home. Aside from a chance to flex your chafa le creuset cazuela, the BYO-Pot culture that surrounds menudo speaks volumes about coming together. That pot full of menudo is a ritual for many families. Menudo is always there for us when we need it most and it goes a long way in filling up pansas. If you still trip out on making an entire meal out of pansa, just add more limon, chile, and oregano—whatever gets the job done.
So grab a pot, get up early, and share a bowl with your friends and family.
Norwalk
Noemi's Mexican Food - For the good boy or girl after church on Sundays
Electric blue vinyl booths hide inside this small restaurant near the iconic Norwalk Square sign. Noemi's serves up steaming hot bowls of menudo that feature exquisitely cooked bits of tripe that almost seem to melt in your mouth. Filled with small bits of fresh-tasting hominy (granos, for all you picky eaters who only ate that growing up) that crumbles perfectly into each other with each spoonful. Served with your choice of flour or corn tortillas along with sides of cilantro, lime, and onion. The kaleidoscopic colors in the bowl after all the fixings will send you into a trance and create an offal-filled reflection pond. But there are no uncut gems here, just corn, pansa, and your cruda. Believe it or not, you almost don't need any of the garnishes. That's how satisfying this bowl is on its own. You walk away feeling content with yourself. This is how you win. -Gab
14350 Pioneer Blvd. Norwalk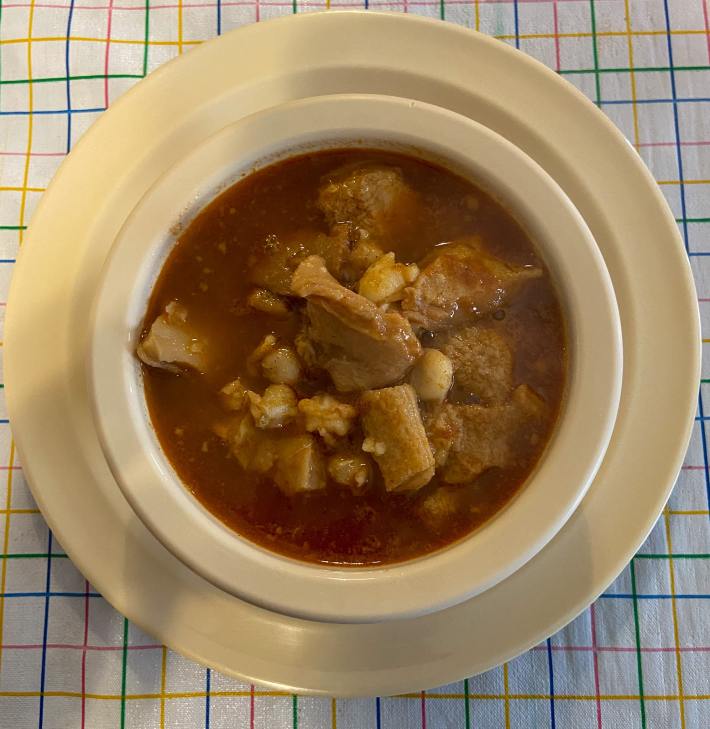 Angie's Deli - For when you want to mix it up and go next door to Noemi's
How is it possible that this place is directly next door to Noemi's and offers equally high-quality menudo? But it's true. Norwalk may just hold the record for stellar Menudo spots per capita. Situated in an even smaller space, Angie's Deli seats maybe 20 at a time, but nevertheless their menu is stacked high with heavy hitters such as their exquisite tasting menudo. Coming in three sizes including large, medium and the "baby" size for all you petite foos. The unwatered down, hearty broth is like your grandmother's arms reaching out giving you a warm embrace. Take her arms and eat all the tripe. -Gab 
14346 Pioneer Blvd. Norwalk 
East L.A. and Boyle Heights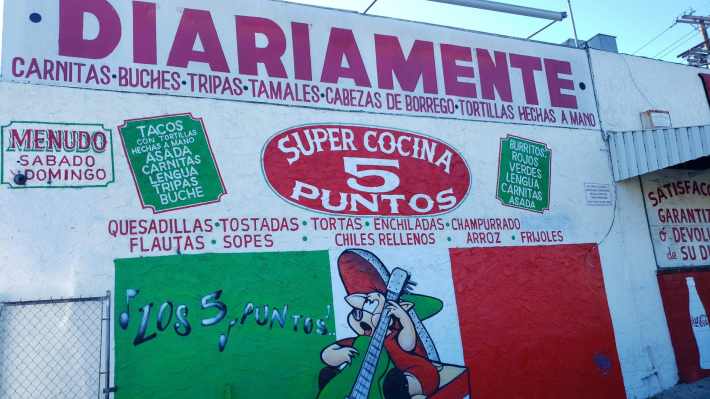 Los 5 Puntos - Aka El Tony Starch
Cinco Puntos is the kind of landmark that you go to knowing and expecting the food to be good. They are a service to the community, offering various Mexican food ingredients and powerful Mexican dishes like beautifully cooked carnitas or for the purposes of this list, menudo. The menudo is classic, chock full of hominy for all of you who prefer more granos than tripe. There is a floating island of delicious fat on the top of the broth that will either enthrall or unnerve you—just accept the temporary thrill of your soup. It is starchier than other ones on the list. The hominy breaks down to create a velvety broth to form a corn chowder almost, except one with delicious pansa. It's served with the usual additional toppings like onion and cilantro and their awesome fresh handmade tortillas that are the size of a 45-inch record. Of course, it goes without saying, get some carnitas dude. - Cesar
3300 East Cesar E Chavez Avenue, Boyle Heights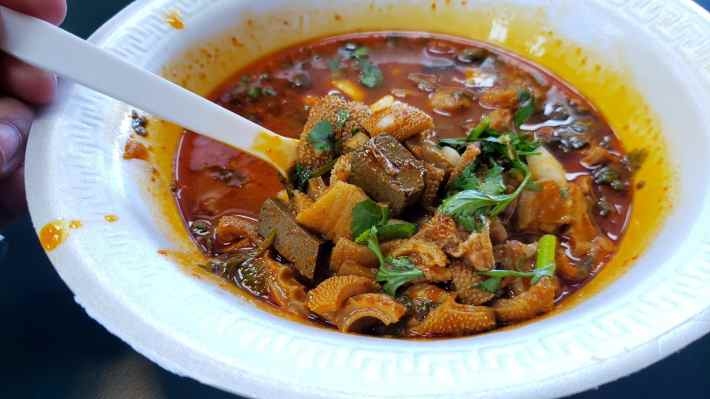 Barba Kush - "Game of Pansa Thrones"
Aside from the excellent barbacoa, you can find a rare dish that's not really offered around L.A—mole de pansa enchilada. It's a regional iteration of menudo from Puebla where lamb offal is the protein of choice for menudo. The dish looks much like a standard menudo but somehow the caldo's crimson color radiates like a warning of the impending heat. It's appearance isn't just for show, after one sip of the caldo you can see why it has the "enchilada" qualifier. It has a deep spice that is slow to start but once it hits you feel it's power. The spice also helps to mask the bold gaminess of all the lamb offals used in the stew, which we will leave to your imagination to pick out. The tortillas are particularly good at Barba Kush and your only hope for surviving. Take a bite from your tortilla, hope your mocos aren't running, and dive back in. It's truly something special. - Cesar
2635 Whittier Blvd, Boyle Heights
San Gabriel Valley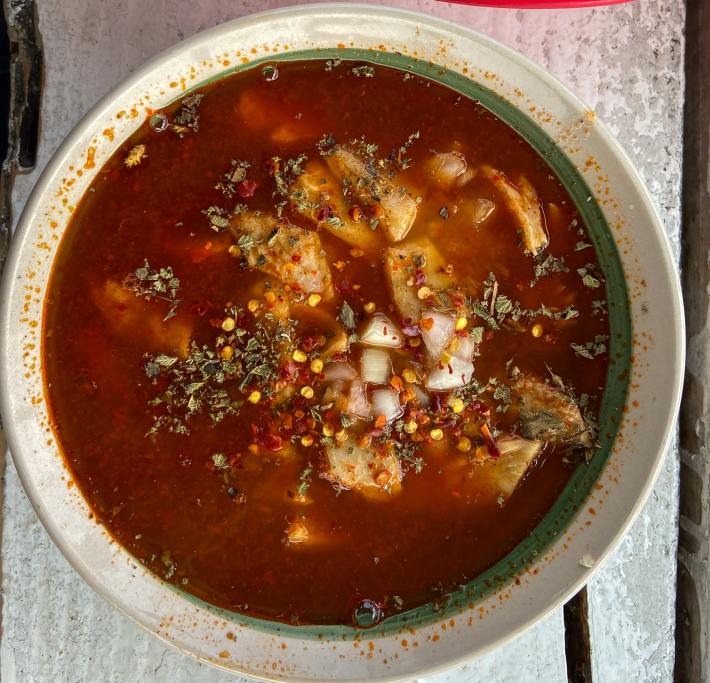 Antojitos Mi Amor Menuderia - The hit and quit hangover cure-all
If you ever find yourself in the city of El Monte, east of where the 10 freeway meets the 605, like a concrete delta that spews from the San Gabriel Mountains, you'll find Antojitos Mi Amor.  A humble roadside walk-up with a few picnic benches scattered in front along with a small adjoining space. The hum of traffic from busy Peck Road serves as the soundtrack. Upon ordering, you are served a hot steaming bowl containing a rich broth that is colored with the deepest red hue. There is a potency that you can taste upon your initial slurp, containing medium to large-sized soft morsels of tripe that seem perfectly proportional to the contents of your bowl. Remember to get there early as they often sell out by 11 AM. For a good bowl of pansa, you can sleep when you're dead. -Gab
4721 Peck Rd, El Monte 
Whittier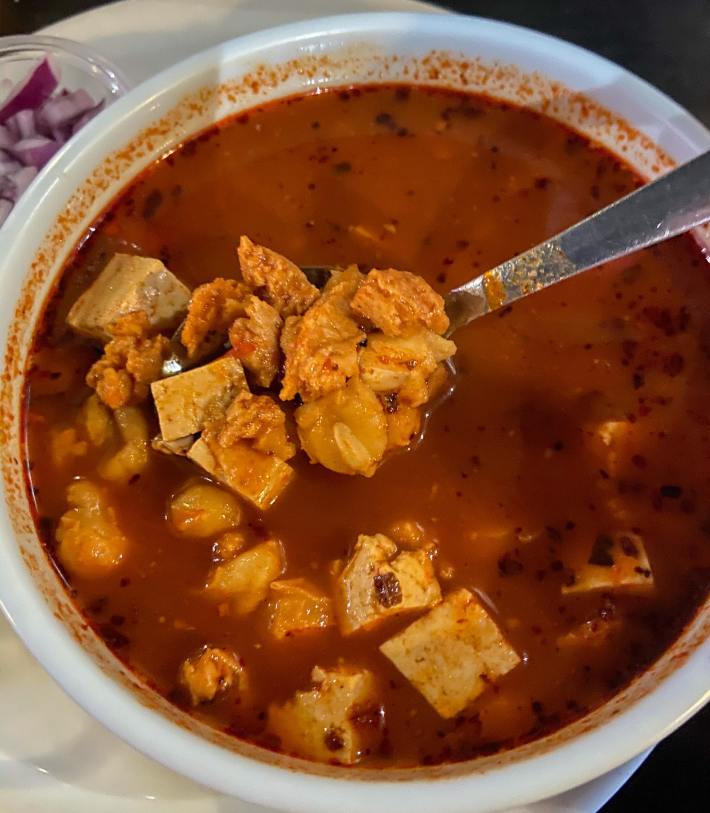 The 6740/Modern Shaman - For the vegan foos
Vegan menudo, you read that correctly, is absolutely fantastic. Owner Mike Kachoeff, who grew up in Whittier, was looking to add more plant-based options to his menu. Having tried others, he knew he wanted to get this dish as close to the real thing as possible. Zeroing in specifically on the broth, he adds just the right amount to fat to convince any haters out there. The result, which has become a signature dish of sorts for local Whittier-ites, is made with equal parts tofu and soy and hominy making for a winning combination. Since opening their plant-based sister restaurant Modern Shaman next door, they'd added it to their regular menu and it is offered daily. - Gab
6740 Greenleaf Ave, Whittier (served Saturdays and Sundays)
6744 Greenleaf Ave, Whittier, CA (served every day)
Compton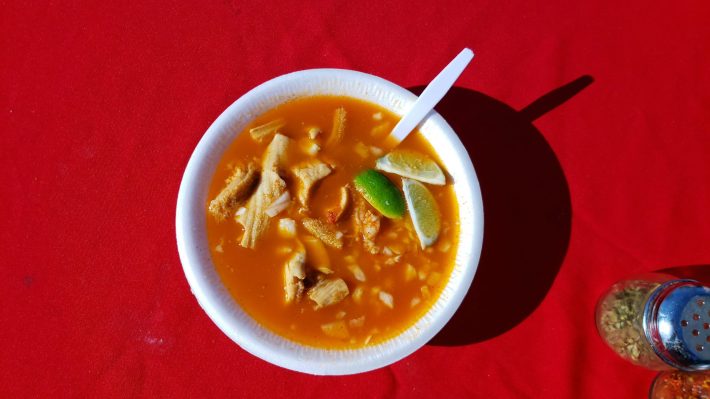 Mr. Menudo - The youthful and confident pop-up in the streets
The rising star in the menudo game, Mr. Menudo has made a name for themselves slanging bowls on East Compton's taco row. The marked difference with this menudo is that it is much cleaner-tasting than most bowls. You won't see layers of collagen and fat rendered on the top of the bowl. You can order it with or without hominy but truthfully it tastes best without. The beef pansa they use in their menudo is springy but not overly chewy which tends to soak up the caldo. The broth has a hint of chiles but not overly so but if you're looking for the heat, they offer peppery powdered chiltepin from Sinaloa. It works wonders on anything it touches and tripe is no exception. Additionally, they make really tasty tamales de rajas and pollo verde in case you want to compliment your bowl, cuz body by masa. - Cesar
15323 Atlantic Ave, Compton 
Long Beach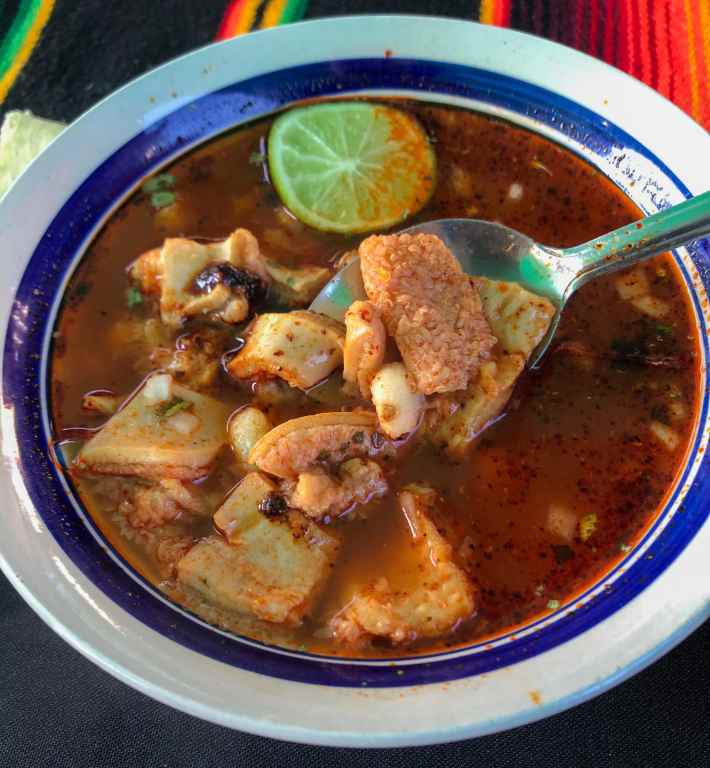 The Menudo Lady -  The ultimate abuela experience 
Most times when you ask someone where their favorite place to get a bowl of the good stuff, they quickly answer with "my grandma's house, foo." But for those of us whose abuelas have since left this mortal coil, west Long Beach's own Menudo Lady has you covered. Nestled in a backyard patio in someone's home, Sinola-born Doña Maria and her grandchildren welcome you as warmly as if you were family, while you nestle up to the folding tables. Space is filled with local families and friends who often strike up a friendly conversation with while they pass you the container of cebollitas.  When your order arrives, it's a sharp dark red broth that sets you perfectly straight. For that extra added kick, there's not one but two homemade salsa for you to sample. Protip: if you're still hungry afterward, hit up Dona Maria's grandson who has his own side hustle ceviche business. -Gab
Saturdays and Sundays
The San Fernando Valley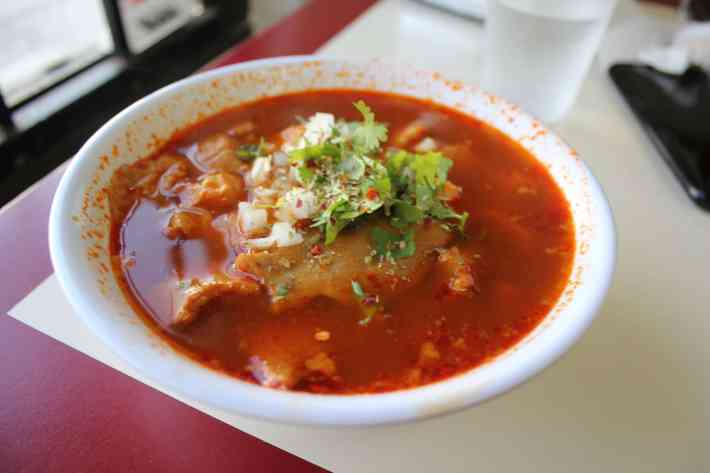 Carrillo's Tortilleria - The spot in the Valley
Most known for their flour tortillas, at Carrillo's you can also get a great bowl of menudo. It's another entry on the list that's a classic menudo. The broth tastes of a classic tripe, grano, and chile stew. Menudo is usually served with corn tortillas but paired with flour tortillas, the pansa tastes kind of eggy in a very pleasant way. The cuts of it could do with a bit of chopping to make it easier to eat but overall the bowl is strong. Word to the wise, you should not leave without copping a dozen flour tortillas and a taco de chicharrón for the road. - Cesar
1242 Pico St, San Fernando
South Central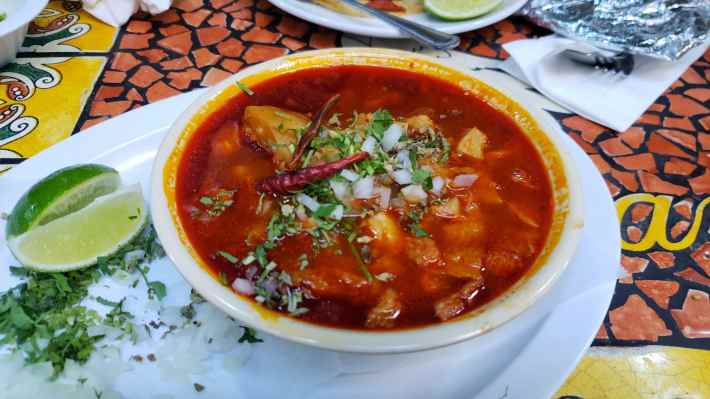 Taqueria Vista Hermosa - "The one with the best texture"
This al pastor specialist at Mercado La Paloma also makes a fantastic menudo. The most notable thing about this bowl is the focus on making the pansa pleasant, which believe it or not is possible. Owner and chef Raul Morales explains that it starts with cleaning the shit (sorry) out of the protein with vinegar, salt, and garlic. "All night long," Morales comments on the long hours of preparation. The result is a bouncy but easy-to-eat tripe, a feat that's difficult considering the beef stomach's chewiness. The broth is cloudy red that tastes of starch and chiles. They also offer pata for those who are into feet play, no kink-shaming. It's served with a side of onions and cilantro, as well as dried chiles that will bleed some of its dark red color into the broth, only heightening the chile's presence. Vista Hermosa ditches the grano and serves it with only protein, just like they do in Michoacán. - Cesar
3655 S Grand Ave C-5, Los Angeles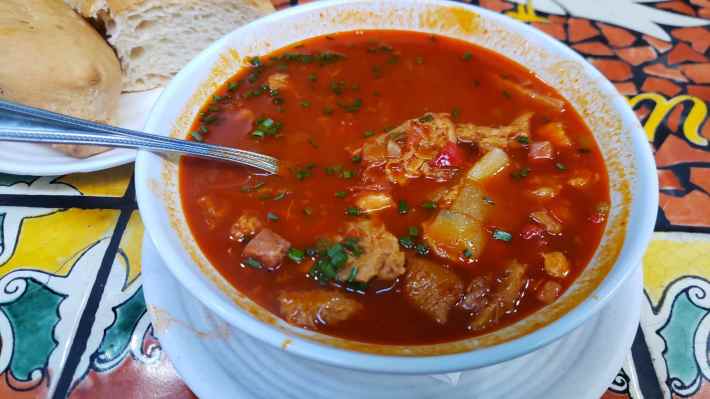 Chichén Itzá - Of course, they're on the list
At this point it's expected that I'll find a way to put Chichen Itza on every list I write but to their credit, they offer one of the most unique regional variations of menudo. The dish is called mondongo a la andaluza, and it's the Yucatán peninsula's version of menudo. First thing to note, it tastes unlike any of the other picks. The insanely starchy thick caldo tastes more like a vegetable soup with a presence of red peppers. It has potatoes, garbanzos, salchichas, red peppers, and beef pansa. You get the choice of tortillas or bread that they make in-house. The bread acts as a sponge to soak up the thick broth but still has a crunch. It's what I imagine they serve in Mayan heaven next to the all-you-can-drink pox fountain except you can find it in Los Angeles next to the 110. - Cesar
3655 S. Grand Ave., Los Angeles
Gabriel Chabrán is a food writer and journalist from Highland Park. He currently lives in Long Beach with his wife Katie, their new baby, and their Russian Blue cat, Mars.
Read More:
Stay in touch
Sign up for our free newsletter