L.A. Taco Guides
10 Los Angeles Restaurants Owned by Women Of Color to Support This Weekend
2:05 PM PDT on March 19, 2021
[dropcap size=big]L[/dropcap]os Angeles is one of the world's culinary capitals, with over 29,000 restaurants representing cuisines from nearly every continent. However, according to RestaurantHer, an initiative aimed at promoting gender equality in the restaurant industry, women only represent 24 percent of chefs and 6 percent of head chefs across the culinary world. In Los Angeles, Regarding Her Food is also a great resource to find female-owned restaurants. 
In the restaurant industry, 59 percent of restaurants are owned by white restaurateurs. Latinx individuals incorporate 18.2 percent of restaurateurs, and Black individuals own 9.6 percent of restaurants. Thus, women of color often face a double-edged sword of breaking into an overwhelmingly white and male industry. In honor of Women's History Month, we celebrate ten restaurants owned by women of color in Los Angeles that you should support during this difficult time for restaurants.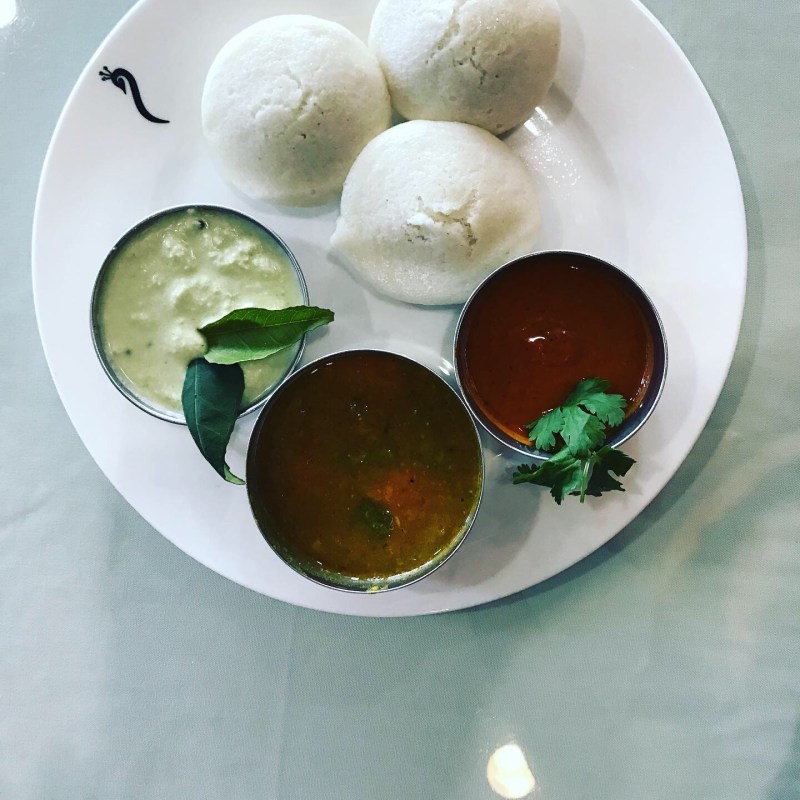 Pictured above: On the left, Idli with various accouterments and Dr. Padmini Aniyan). Photos courtesy of Mayura Indian Restaurant.
Cuisine: South Indian
10406 Venice Boulevard, Culver City, CA 90232
Tel: 310-559-9644
Dr. Padmini Aniyan is an immigrant from Kerala, South India, also known as "God's own country," as she refers to it. Before starting Mayura, Aniyan was a professor of business management and accounting. She started Mayura with her husband, Aniyan Puthanpurayil, a veteran restaurant owner. "When we came as immigrants, we had a plan to start a business model with unique food, preferably eliminating GMO products and adding more vegan and gluten-free dishes," Dr. Aniyan tells L.A. TACO. She continues, " We landed in Culver City as many of our family members live here." The restaurant attracted a loyal fan base in Culver City, including the late Pulitzer-award-winning food critic Jonathan Gold, who always placed it in his annual best-of restaurant lists.  
Then the pandemic happened. 
"Numbers start to climb in California—it was a dramatic change, and overnight we had a big drop in our business. I remember in the initial days. We hardly had ten or 15 orders throughout the day. I felt that lack of knowledge about COVID and the government's lack of timely response affected people. As time passed, we were consistently operating at 50 to 70 percent of our average," Aniyan says. As in-house dining came to a standstill, Aniyan says she had to "improvise." 
"When we heard about the fast spread of COVID and the possibility of lockdown, we signed up with SEVEN delivery Apps like Doordash, Ubereats, Postmate, Chownow. We tried to do our best to ensure that we stay afloat and continue to employ our staff and support their families. Fortunately, we are getting wonderful support from the community for which we are grateful forever," Aniyan tells L.A. TACO. 
As for the dishes she recommends, Aniyan suggests going for the Fish Curry, a fish-cooked Kerala style in coconut and spice-filled gravy with appam, a gluten-free rice pancake popular in South India. She also recommends the Chicken Tikka Masala cooked in a savory tomato-based sauce. Other dishes to try at the restaurant include Dosa, a crepe-like dish made from a fermented batter consisting of lentils and rice, and idli, a steamed rice cake made from fermented black lentils and rice.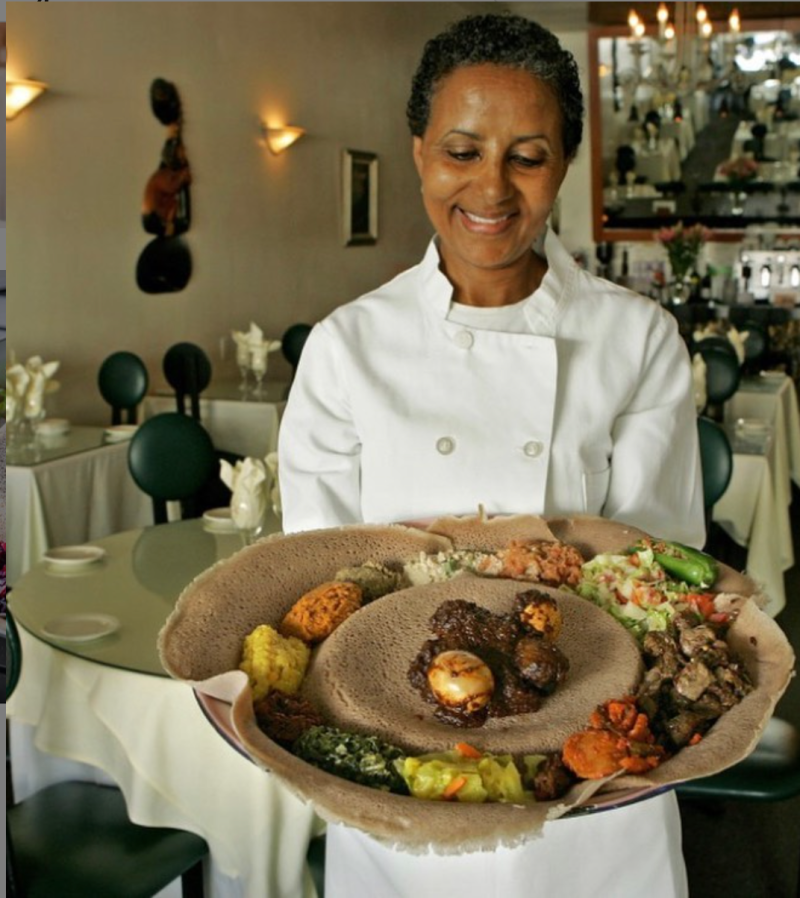 Pictured above: The Vegetarian Platter and Genet Agonafer. Photos courtesy of Meals by Genet.
Cuisine: Ethiopian
1053 S Fairfax Ave, Los Angeles, CA 90019
Genet Agonafer started her restaurant, Meals by Genet, 21 years ago in the heart of Little Ethiopia. In 2004, Gold wrote an article in LA Weekly about Agonafer's amazing Doro Wot, a simmered curried chicken and egg dish that can take several days to prepare. That review changed everything. Since then, Agonafer has been featured in many food publications and was featured in the Johnathan Gold documentary, City of Gold. Further, she was awarded a 2019 MICHELIN Bib Gourmand. Agonafer aims to showcase the diversity of Ethiopian cuisine in an upscale bistro setting. In pandemic times, however, Meals by Genet only operates through takeout and delivery for now. 
"I love to cook but never really wanted a restaurant but was waitressing and running a catering company. Long story short, the catering company took off," she says. She added that the catering company served non-Ethiopian fare, but her sister pushed her into getting a restaurant. She says her son found a place for her to serve Ethiopian cuisine and called the place for her.
"Ethiopian food is a shared food. You can eat it with your family or eat it by yourself and have leftovers," she says. She recounts that she heard about people eating it with their family members over a Zoom call. 
When it comes to must-try dishes, Agonafer says, "The vegetarian Platter. Always." She says it's often seen on Instagram with 12 different vegetarian side dishes all around the Ethiopian fermented flat-bread, Injera, and a hearty serving of her famous Doro Wat in the middle. 
"If you're a vegan or vegetarian, I have lots of tofu dishes as I am vegan myself, so I take it very seriously. I have a wonderful tofu dish that goes along with the vegetarian platter," says Agonafer. 
The most traditional must-try is her Doro Wot, made famous by Jonathan Gold, which takes her days to prepare. Agonafer tells L.A. TACO, "I am so glad that he picked the one dish I worked so hard for." 


Pictured above: Chu-Chee Salmon Curry and on the right, Vanda Asapahu. Photos courtesy of Ayara Thai.
Cuisine: Thai
6245 West 87th Street, Los Angeles, CA 90045
Tel: 310-410-8848 
Ayara Thai, a family-owned business established in 2004, is run by Vanda Asapahu. The restaurant remains one of Los Angeles's best spots for authentic Thai cuisine. The founders of the restaurant are her parents, Andy and Anna Asapahu. 
"It's a privilege to cook what we want to cook, and this was not a privilege we had when we first opened Ayara in 2004 or when my parents opened their first restaurant in East Los Angeles in the late '80s when we had to cook dishes we may not have wanted to, simply so we could pay the bills," Vanda Asapahu says. 
She continues, "Dishes that we cook that we want to cook and stand out to me are dishes my siblings, and I grew up eating, such as our Muay Thai Wings, Thai Beef Jerky, and Chu-Chee Salmon. Wings and jerky with sticky rice were what my mom packed in our lunch boxes when other kids had peanut-butter sandwiches. Chu-Chee Salmon Curry was something my parents made when we had guests over for dinner or celebrated a special occasion. Our menu is filled with memories and dishes we enjoy cooking, sharing, and eating as a Thai-American family."
When she is not busy running Ayara, Vanda Asapahu leads virtual cooking classes on Zoom with public and private courses due to the pandemic. In April, she will be conducting four courses in collaboration with several other chefs,  teaching Thai dishes for Songkran, Thai New Year.  
As for running a restaurant as a Woman of color, Asapahu says, "Isn't it strange that most of us grew up with our moms, aunts, and grandmothers running our home kitchens, yet when it comes to the restaurant industry, it tends to be men who have shaped, influenced and led its culture for a very long time? While some male chefs and restaurateurs create restaurant work environments that allow for both men and women to contribute and thrive equally, there is still room for improvement." 
"As a family-owned restaurant whose kitchen is led by my 60-something-year-old badass immigrant mom (Chef Anna, who everyone calls "Mama"), we run our kitchen more as a family than a hierarchical brigade system. What we do is nothing revolutionary. Women have been running kitchens and cooking forever. My mom, sister, and I are on the line cooking like any other employee. Every team member understands their primary duties, but like family, we help each other along the way. Mama is not barking orders or commanding from an executive chef's table. There are checks and balances that allow anyone on our team to hold everyone accountable regardless of age, seniority, and gender. Much like a home kitchen, we cook together and work together with trust and love."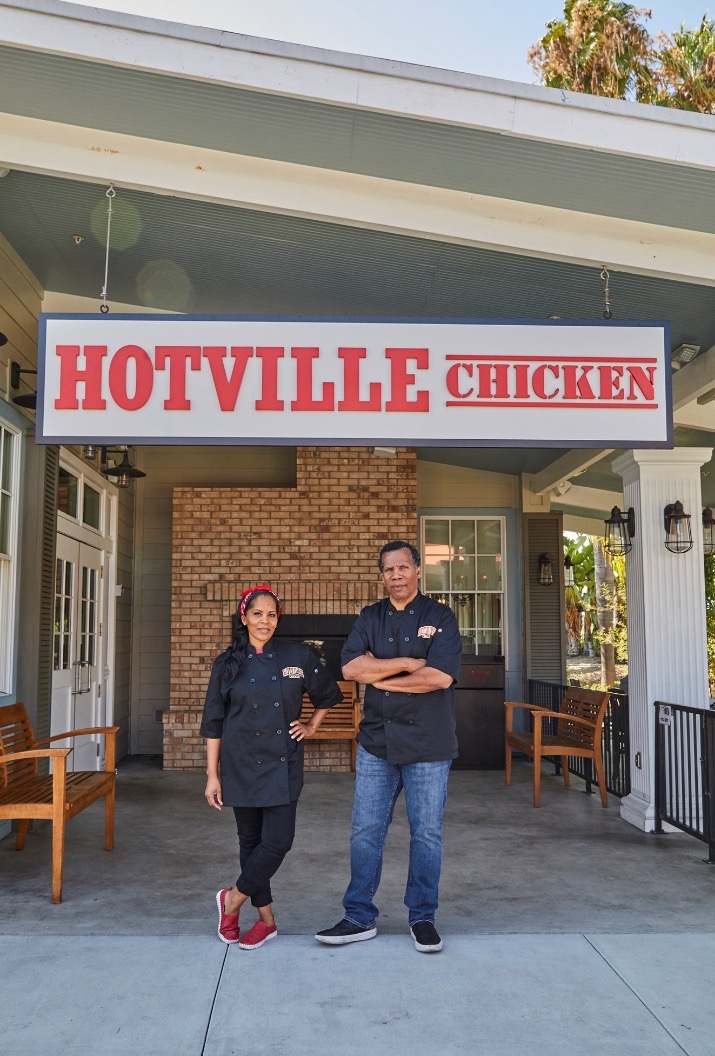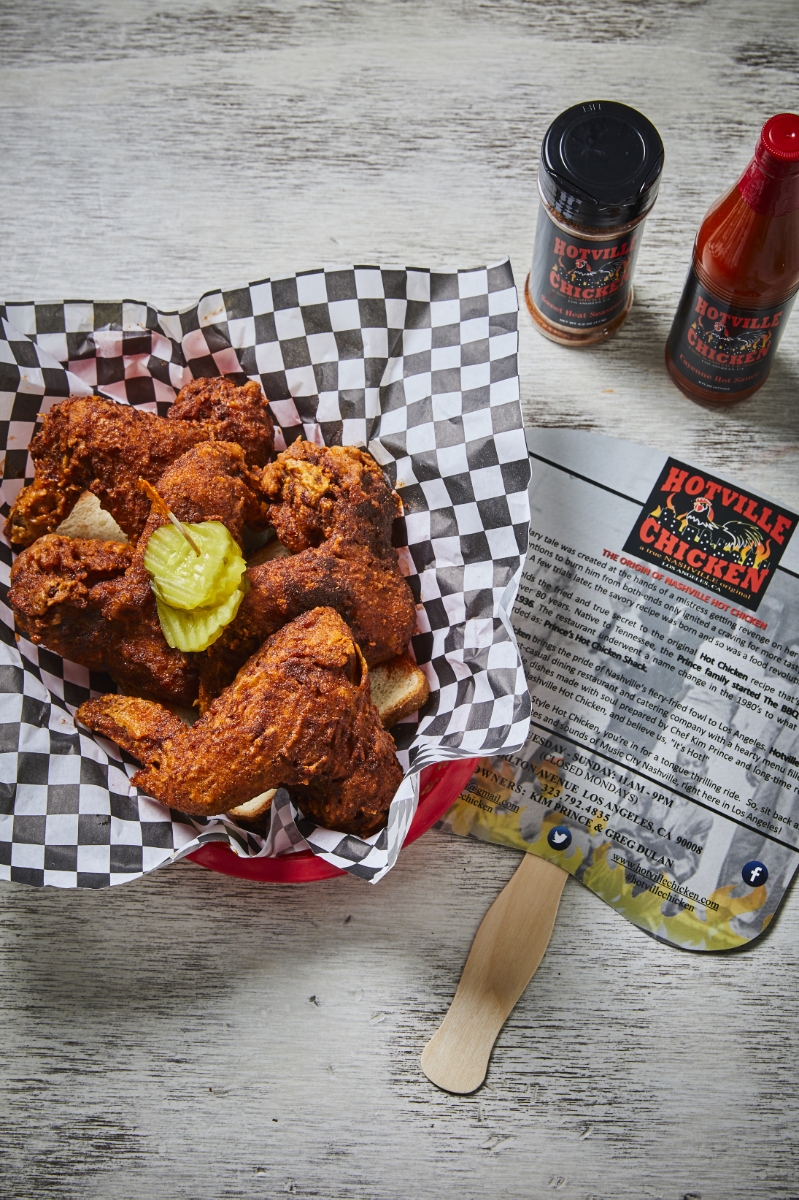 Pictured above: Kim Prince and Business Partner, Greg Dulan. Hot Chicken quarters). Photos courtesy of Hotville Chicken
Cuisine: Fried Chicken 
4070 Marlton Ave, Los Angeles, CA 90008
Kim Prince is a Nashville Hot Chicken expert. After all, it was her family who started it all. She says her family started the Nashville Hot Chicken tradition, opening the BBQ Hot Chicken Shack in 1936. The name was changed in the 1980s to Prince's Hot Chicken Shack, but the authentic legacy remained. 
"We are a people of color. My ancestors are great entrepreneurs, and I have so much joy in opening my doors every day. I have a picture hanging on the walls of the restaurant of my original ancestors that started the first restaurant, and I look at that picture every day," says Prince. She is on a mission to spread the gospel of Nashville Hot Chicken in Southern California. 
"There's something about Nashville Hot Chicken; it's more than just a meal. It's a conversation piece and a conversation starter. It's an experience that stays with you. It takes people to a place like an out-of-body experience and creates dialogue, and we look forward to engaging in that dialogue with our kinfolk, our customers. I knew early on that people in Los Angeles would respond to Nashville hot chicken the same way people in Nashville react to it- They'll love it," says Prince
Prince says she loves being a restaurateur and says her loyal fanbase, or her "kinfolk," as she calls them, is what fuels her. 
As for food recommendations, Prince says, If you want the original Nashville Hot Chicken, you have to order the leg quarters or breast quarters and then pick your spice. Then, you add your sides and make sure you eat the bread. The bread is your friend and coats your stomach." She says the bbq baked beans are her favorite and loves to put them on top of her chicken. Every chicken meal comes with pickles, the essential to a genuinely authentic Hot Chicken, she says. 
However, the Shaw, aka the chicken sandwich, is the most popular meal at the restaurant. 
Prince says, "Nashville hot chicken is a wonderful meal to eat by yourself, but a fantastic meal with company. I love seeing people come to Hotville chicken- from the utility workers, the fire department workers, and the nurses at the hospital, who all come for their lunch break.  It just brings everyone together."


Pictured above: Bricia Lopez. Chillies Rellenos. Photos courtesy of Guelaguetza.
Cuisine: Oaxacan 
3014 W Olympic Blvd, Los Angeles, CA 90006
Tel:  (213) 427-0608
Bricia Lopez was born and raised in San Pablo Villa de Mitla in Mexico, migrating to the United States at 10 with her parents. There, they opened Guelaguetza, an Oaxacan restaurant in Koreatown, in 1994. After her parents retired, Lopez, her brother, Fernando, and sister, Paulina, took over the family business. Jonathan Gold also praised the restaurant as the "best Oaxacan restaurant in the United States." In 2015, Lopez and her family were bestowed with the prestigious James Beard award for Guelaguetza's "Local character and lasting appeal." 
Lopez says her favorite dishes at the restaurant are "enfrijoladas (black bean enchiladas topped with parsley, onions and queso fresco), taco de barbacoa, chiles rellenos (green chiles stuffed with chicken picadillo or cheese dipped in an egg and flour batter and fried. Served with a red tomato sauce, rice, and beans) and a tlayuda Guelaguetza (tlayuda tortilla topped with pork-rind paste, black bean paste, queso fresco, cabbage, tasajo, cecina, chorizo, and Oaxaca cheese)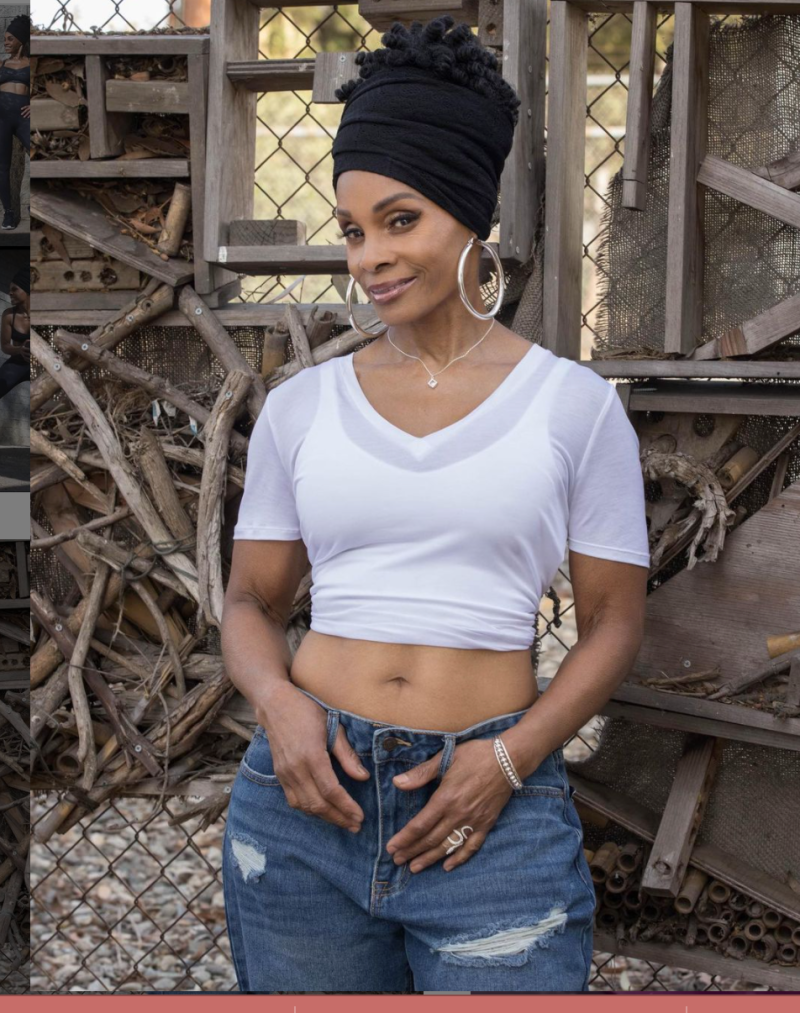 Pictured above: Chef Babette. Pot pie special. Photos courtesy of Stuff I Eat. 
Cuisine: Vegan
14 N Market St, Inglewood, CA 90301
Davis was a singer who went to Japan for work. However, when she was there, she cooked constantly and catered, which changed her career path. "When I came home, I knew I wanted to start a catering company," she says. That's when she and her husband, Rondal Davis, started catering outside a spiritual center on Sundays. "We started gathering block-long lines outside the spiritual center. That's when the restaurant on Market Street started," adds Babette Davis. Davis has a vivacious personality that translates into her passion for healthy, tasty vegan food for all. "My husband and I weren't business people. We did it all the old mom and pop way," she says. 
Davis says she stopped consuming animal products in 1990 when she met her husband, Rondal. 
As for dishes she recommends, she says, "On Saturdays and Sundays, I make a Mexican pot pie, and it is off the chain. It sells out super quickly." 
Other best-sellers include the enchilada pies, burgers, and the soul food platter. 

Pictured above: Shirley Chung. Tea Smoked Duck with Lotus Buns and accompaniments. Photos courtesy of Ms Chi Cafe
Cuisine: Chinese
3829 Main St, Culver City, CA 90232
Tel: (424) 361-5225
If you're a big fan of Top Chef, then the name "Shirley Chung" may sound familiar to you. Chung was the finalist on season 11 of Bravo's Top Chef New Orleans. She then went on to become the runner-up on season 14 of Top Chef in Charleston. Born in Beijing and emigrating to the United States when she was 17, she describes Ms Chi Cafe on its website as "progressive Chinese American cuisine." Since the pandemic, Chung has had to be resourceful and creative in utilizing the restaurant amidst a time when so many restaurants are shuttering in Los Angeles. 
"When dining was shut down in Los Angeles, I turned Ms Chi into a food hub, producing and shipping my frozen dumplings and other comfort food nationwide on GoldBelly.com. I added concepts that worked better for to-go and delivery platforms, created pop-up fried chicken experiences at Ms chi, and added started a mochi donuts dessert concept," Chung says. 
She continues, "After I found out that filming production was back, we started to offer COVID-standard catering for the local studios—especially as they could no longer use regular craft services. We create individually packaged meals for the cast and crews, and they can enjoy a freshly prepared, safe meal.
As for dishes she recommends, she says the Tea Smoked Duck with Lotus Buns and accompaniments are a must-try at the restaurant.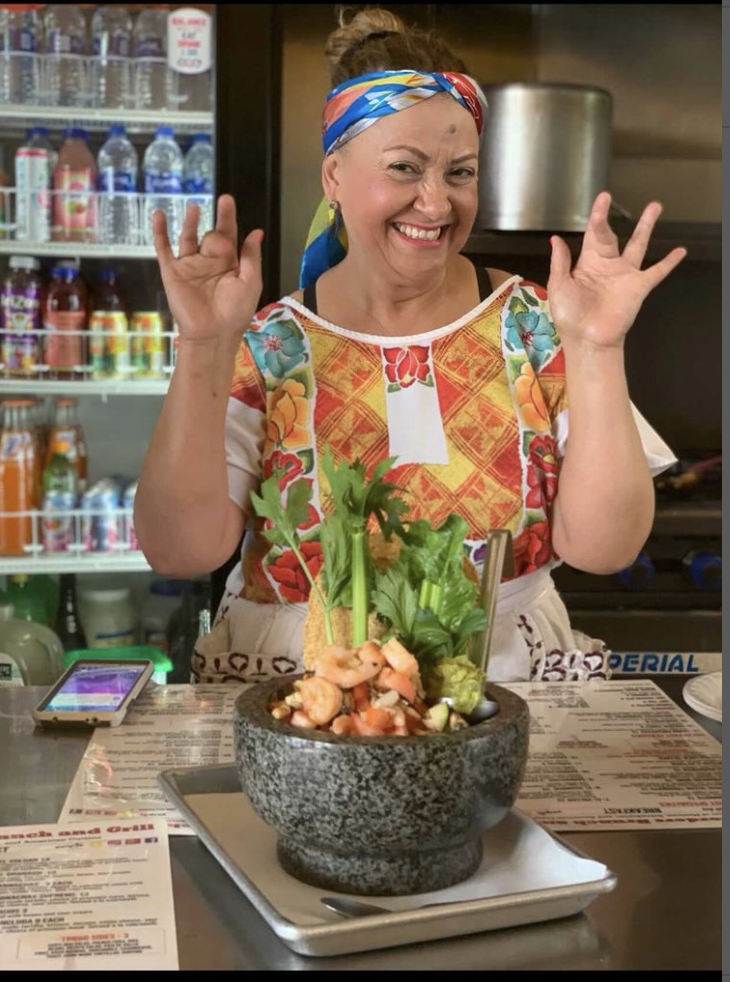 Pictured above: Rosalina Vanegas. Breakfast Tronquito. Photos courtesy of Three Borders Grill.
Cuisine: Salvadoran and Mexican
5269 W Olympic Blvd Los Angeles, CA 90036
Tel: (323) 440-9294
Mother-daughter duo, Yanira and Rosalina Vanegas run Three Borders Grill together. Rosalina describes the food as a fusion between Mexican and Salvadoran cuisine with a Los Angeles twist. 
Rosalina says that her mother, Yanira, is the "soul of our restaurant. She spends all her time in the kitchen cooking for our customers with passion and love every day." 
Rosalina says that her mother's recipes come from her mother's grandmother's ancestors. She and her mother are proud that they could create Three Borders Brunch and continue serving their loyal customer base amidst the pandemic. 
Since the pandemic, she says her mother hasn't been able to take a day off. Despite the hardships that the pandemic has placed on them, Rosalina says about her mother, "She's proud to be a woman of color and own her dream restaurant, and having our customers feel like they're coming over to grandma's house." 
As for dishes to order, she recommends the most popular word—the Breakfast Tronquito,  a breakfast burrito stuffed with fresh spinach, hash brown, eggs, onion, tomatoes, and  Monterey Jack cheese. She also recommends their signature gourmet pupusas.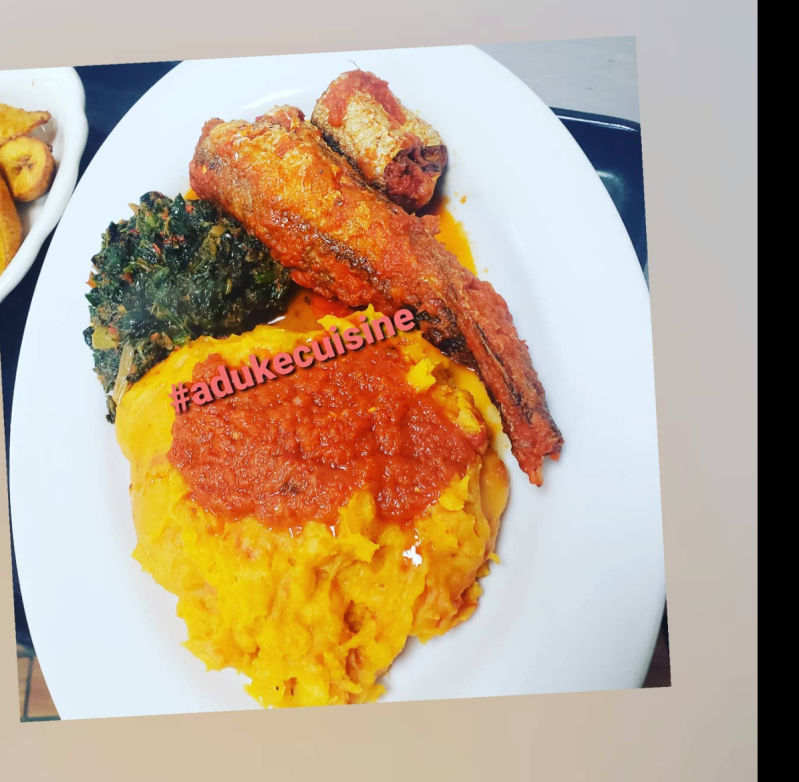 Pictured above: Aduke Oyetibo. Yam Porridge with Fish (Asaro). Photo courtesy of Aduke Nigerian Cuisine. 
Cuisine: Nigerian 
1117 W. Manchester Ave. Ste. C, Inglewood, CA 90301
Tel: (213) 261-0737
Oyetibo started a catering business in 2013 and said her grandmother back home in Nigeria trained her. "After migrating to the US, I kept craving food from my tribe, the Yoruba tribe. I couldn't find any Yoruba dishes in California, and when I was pregnant, I really craved Yoruba food. I started eating out, but I never got any satisfaction. My uncle says he went to several restaurants and said that the food was not freshly made. So despite being pregnant, I cooked for him. And he said that after you have your baby, you need to start a restaurant. 
That's how it all started.  The Business started in Beverly Hills, and soon enough, the business was booming. 
"My food isn't fast food," says Oyetibo. "If you have the patience to wait 30 to 40 minutes, it's worth it. It is made to order."
The restaurant has attracted significant popularity on social media apps like Instagram and Tik Tok. 
For dishes, she recommends ordering the Joloff rice combo: rice cooked in tomatoes, red bell pepper, onions, and spices. It comes with sauteed spinach on the side, plantain, and a choice of protein-chicken, and fish and goat meat. 
She also recommends the Egusi Stew; a melon seed stew garnished with vegetables and bell peppers blended in it. She says it is cooked with chicken, fish, beef, or goat and comes with fufu, also known as pounded yam. 

Pictured above: A Kamayan Feast Menu during February at Petite Peso. Ria Dolly Barbosa. Photos courtesy of Petite Peso. 
Cuisine: Filipino
419 W 7th St, Los Angeles, CA 90014
Tel: (209) 438-7376
Chef Ria Dolly Barbosa describes Petite Peso as progressive, Filipino cuisine with modern takes on classic dishes. She says, "The food I used to eat with an L.A. lens." Before opening Petite Peso, Barbosa was named Eater LA's "Chef of the Year 2018." 
Barbosa had an idea for a restaurant with her partners for several years. When a spot opened up in Downtown Los Angeles that once belonged to another Filipino restaurant, it felt like fate. Opening a restaurant during a pandemic when so many are shuttering isn't easy, but Barbosa has been carving a name for herself in the Los Angeles food arena. 
Barbosa says a must-order at the restaurant is the crowd-favorite, the Chicken Adobo Rice Bowl. The Petite Peso version of the much-beloved Filipino dish consists of stewed chicken in soy and vinegar and finished with coconut milk, a variation on the traditional recipe. 
A writer who has lived across the globe and passionate about all things social justice and politics. Curry enthusiast and knower of completely useless facts.
Stay in touch
Sign up for our free newsletter