Featured
'They Make Us Feel Like Criminals:' Street Vendors Plead the City to Stop Police-Assisted Raids Against Them
7:30 AM PDT on June 23, 2021
[dropcap size=big]S[/dropcap]treet vendors in Los Angeles feel hopeless following a string of sweeps done by the LA County Department of Public Health in the last couple of weeks, describing the sweeps as inhumane, aggressive, and violent.
It's important to note that DPH inspections "sweeps" are not something new. They happen as often as every eight to 15 days, according to vendors. Before the pandemic, some vendors reported inspections as often as every week. DPH's reasoning for the often aggressive confiscation of their equipment and disposal of inventory is the lack of the vendor having a proper permit. However, as vendors argued today during a press conference, obtaining a permit is next to impossible, especially for food vendors. 
On Friday, June 11, DPH was filmed by a group of street vendors in one of the most recent sweeps after they [DPH] showed up unannounced to the Guatemalan Night Market on 6th Street and Bonnie Brae. 
 

View this post on Instagram

 
¡Sigamos Grabando! Let's keep recording! Said street vendor Julio Monterroso to other vendors as they followed DPH workers down the street. 
According to Monterroso, DPH arrived accompanied by LAPD around 3 PM that day. The video, shared by the organization Community Power Collective, shows how a group of four DPH employees begin to throw away the vendor's items into black plastic bags. Meanwhile, LAPD officers are seen telling vendors to move back.
"They didn't say anything to us. They didn't identify themselves," said Monterroso. "It feels like an attack on us, more than that they don't think about how it hurts our pockets."
That day a total of nine vendors had their things thrown away in an hour. 
Single mother Natalie Pineda, who has been street vending at the Guatemalan Market for the past six years, was one of the vendors who had her food thrown away. Pineda sells pollos asados (fire-grilled chicken), tostadas, sides, and more; that day, she said she lost $800 on inventory alone. "A la basura se fue," "to the trash it went," she said. This was not counting the money she would've made had she been able to sell that Friday. 
"I'm left wondering where I'm going to get the money I just lost. I'm barely recovering from the pandemic, and then this happens," she said. "I plead [to] the city to try and work with us, come talk to us and make the right changes. We don't want to be scared anymore."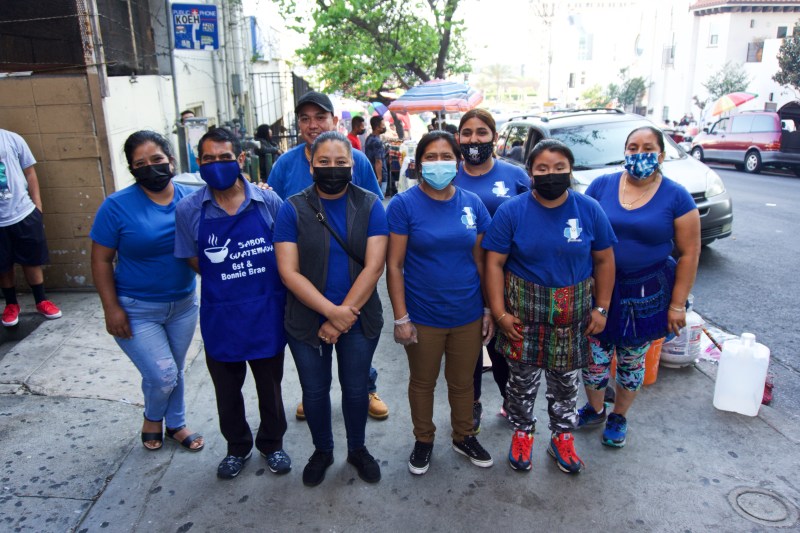 According to Monterroso at the Guatemalan Night Market, there are different types of vendors. He said some have their nice carts, those who work out of shopping carts, and then there are the older vendors who are far too old to cook, so they sell coffee or atole. "When we say we do it out of necessity, we really mean it," said Monterroso as he pointed down the street that was decorated by a row of rainbow umbrellas. 
As California opens back up, street vendors and advocates hope the city will reinstate a moratorium on ticketing vendors to help vendors focus on education and outreach.
The moratorium, which was placed early in the pandemic and has since ended, put a temporary stop to citing vendors for not having the proper permits to sell food. As we know, fines for not having the proper permits can be as high as $1,000. Kenneth Mejia a housing justice activist, recently pointed out on Twitter how the city of LA is budgeting to collect $1.26M on street vending permit fees and fines in the next fiscal year. He goes on to say:
"Over the past two years combined, the city has collected only $346,111 in permit fees and fines related to street vendors," he continued. "If the city only collected $346,111 in two years, it shows that street vendors are facing financial difficulty. On top of that, burdened by fines."
L.A. TACO reached out to DPH regarding how many fines were given out from 2020 to now but has yet to hear back from them.
On Tuesday morning, over 100 street vendors from places like Echo Park, Leimert Park, Hollywood, and the Guatemalan Night Market showed up alongside advocates to LA City Hall, where they held a press conference to demand change. 
"The Public Health Permit is one of the hardest permits to get," said Merlin Alvarado, a Hollywood hot dog vendor. "And what happened at Bonnie Brae last week is what we've been living for the past couple of years."
At the conference, street vendors held up a makeshift cart that showed how unrealistic DPH's idea of a vending cart is. The cart had 11 compartments, a sink, dirty and clean water access, steaming, and more. "It's too big!" some vendors shouted. 
Back at the night market, Mildred Flores, who operates out of a much smaller cart than the DPH design, said she lost $400 the day of the sweep. She said they don't know what to do anymore.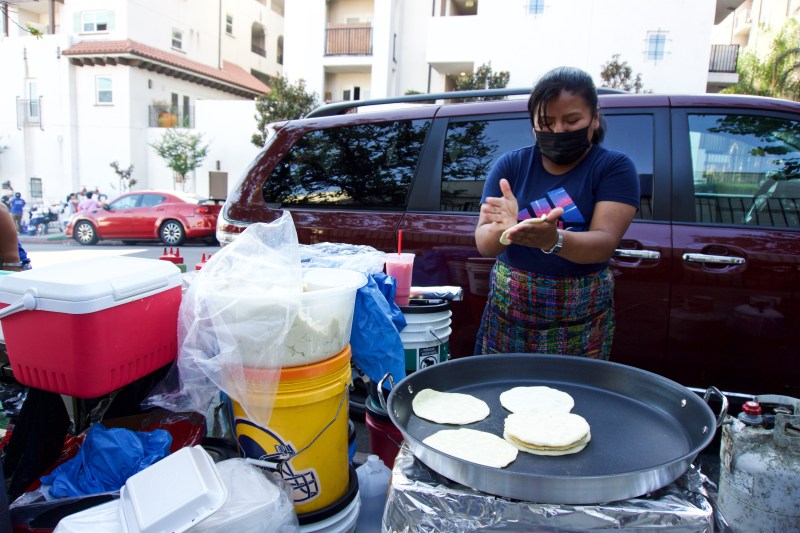 "If we can't work, we can't make money to buy good carts or to get the permits they want us to get, but they don't seem to understand that, we feel hopeless," said Flores. "No one pays us back for what they throw away, we don't receive help from anyone, sometimes we have to ask others to lend us money, and that's just adding to our debt."
Executive director of vending advocacy nonprofit Inclusive Action, Rudy Espinoza, said permits are too expensive, and laws related to food vending are antiquated. In fact, as of July 1st, vendor permits which are currently $291, will be going back up to $541. And even if vendors had the money to purchase their permits, their carts wouldn't be approved by DPH. Last year the L.A. County Board of Supervisors approved a program to develop a code-compliant, affordable cart. However, there still is no set cart made, so advocates are demanding a temporary halt on fines. 
Just got the latest video of @lapublichealth removing street vendors, this time in Glassell Park happening now! Heart breaking to see workers stand in dismay as their food is thrown away and their equipment confiscated. Our laws are designed to punish, not to help. pic.twitter.com/Lb3MbFzMk2

— Rudy (@MrDOLPH) June 19, 2021
"The latest string of Public Health Department raids against street vendors are an example of how we punish the poor in Los Angeles. Although our economy is re-opening, many vendors are saddled with rent debt and past due bills. They want to be part of our economic recovery too."
In the last two weeks, L.A. TACO was alerted of four different DPH sweeps, the Guatemalan Night Market, Glassell Park, Echo Park, and the shut down of one vendor on Olympic and Indiana in East Los Angeles. In all four instances, the same four DPH employees are seen arriving with LAPD, not speaking with vendors, and going straight to throwing their food away. Many vendors express discomfort having DPH employees show up with law enforcement. In one video posted last week on Twitter by Espinoza that received thousands of views, a full-covered trompo of Angel's Tijuana Tacos' al pastor weighing about a hundred pounds is seen thrown directly into the trash. That's about 800 tacos worth of fresh pork that the celebrated taquería has been going through every night of the week for the last three years since they started popping up in Eagle Rock.
"Why come with the police? I don't understand. They make us feel like criminals," said Monterroso. "We're just working to help out our families. We have to pay bills just like everyone else. Nothing in this country is free. We know that, but they don't let us work in peace."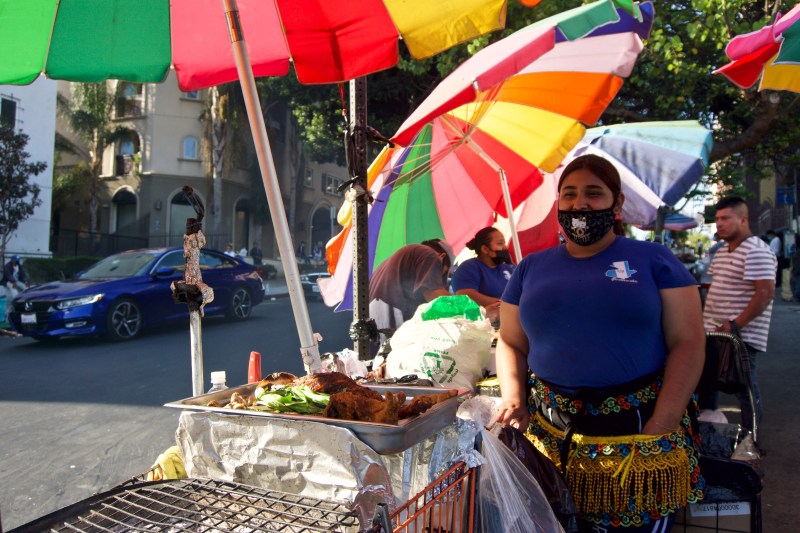 L.A. TACO reached out to DPH regarding their work with LAPD on these sweeps to which they said: 
"Many times, health inspectors have been threatened or intimidated while inspecting unpermitted food vendors. Accordingly, from an employee safety perspective, it is necessary for law enforcement officers to accompany them on pre-planned sweeps of areas known for unpermitted food vending."
Sergio Jimenez, the community organizer for the organization Community Power Collective, said these sweeps are traumatizing for street vendors. Aside from losing a day's work which can be critical for vendors in debt and can't find work elsewhere, they often express feeling paranoid and feeling like they always have to watch over their shoulders. 
"I think it's key that DPH understands the cycle of violence they are perpetrating. While we all know they do their job, they can take a role in analyzing food code laws that are particular to Los Angeles," Jimenez said. "Also, they have to meet with vendors. I think they see vending as something external, foreign, black and white, and that nativist perspective needs to change."
In the meantime, street vendors who were hit by the sweeps these last couple of weeks are trying to recover. They said they hate how the city makes them feel like they are "dirty" or work in unkept conditions. Monterroso said it's quite the opposite. He said street vendors at the Guatemalan Night Market stay after hours to clean all their trash, and they take a day out of the week to wash and clean the sidewalks they use. Monterroso expressed what every vendor who has experienced a sweep says: "We just want to sell in peace."
"We're human beings, and all we want to do is work hard. We're not asking for money. We just want to sell without fear," he said. "We want to work with the city. We want them to talk to us like the humans that we are, and we want them to understand our side of things."
Janette Villafana is a multimedia journalist from Santa Ana, CA who often covers stories that highlight diverse communities, their issues, success, and personal stories.
Stay in touch
Sign up for our free newsletter