Food
Is Social Media Ruining the Vibes of Your Favorite L.A. Eats?
While there are obvious benefits to the visibility [social media] provides, there are real fears over inequities in the food industry being exacerbated when the nuanced histories of food and culture are flattened into short, 60-second vertical videos.
9:57 AM PDT on July 25, 2023
This article was produced in collaboration with The Objective and is a part of its series "The Food Media Reckoning" — a collection of reporting, essays, and criticism about the holes that still exist in food media — and what its future could look like when we look to its past. Read more here.
As a kid, my favorite Sundays were the afternoons when church sermons were followed by a food excursion to Kang Kang Food Court in Alhambra. My family would, of course, order its famous sheng jian baos or Shanghai soup dumplings, which my siblings and I would scald our tongues on, in our greedy impatience. It was like a scene out of Kung Fu Panda as my siblings and I would duel over who would get the last dumpling rights — our parent's beleaguered arbitrators trying to keep us fed and happy.
The San Gabriel Valley has some of the best Chinese food. Many of us Chinese Americans settled comfortably just east of L.A. proper and formed ethnic enclaves. But it was shocking to me that the other day, when I returned to my beloved Kang Kang Food Court — there was a trio of white girls sitting in the corner of my childhood restaurant. 
Begrudgingly, I helped one of them grab a pair of chopsticks as they struggled to communicate with Mandarin-speaking servers. Of course, I couldn't determine their motives for being there, but I was filled with a sudden, and irrational, dread that my favorite local spot could become one of those gentrified new-age Chinese restaurants without a single Chinese patron as white people flocked to its doors. It's happened before — one doesn't have to look further than L.A.'s Chinatown, which has become a tourist attraction, from hip yuppies eager to try the cultural eats while the local elderly residents are unable to buy basic groceries in that food desert. 
Kang Kang Food Court always had an endearing layer of food grime streaked on its tables and awkwardly glaring yellow banners with bright red Chinese characters declaring its food deals. It wasn't the most aesthetically pleasing restaurant, but it was our go-to spot and a bright one in my childhood memories.
I had a feeling I knew who was snitching on the neighborhood eats. Food vloggers are everywhere on TikTok and Instagram — boasting that they've found the one spot you hadn't tried in L.A. For selfish, gatekeeping Angelenos like me, our worst fear is an oncoming horde of strangers stampeding into our communities with some voyeuristic claim on our spaces.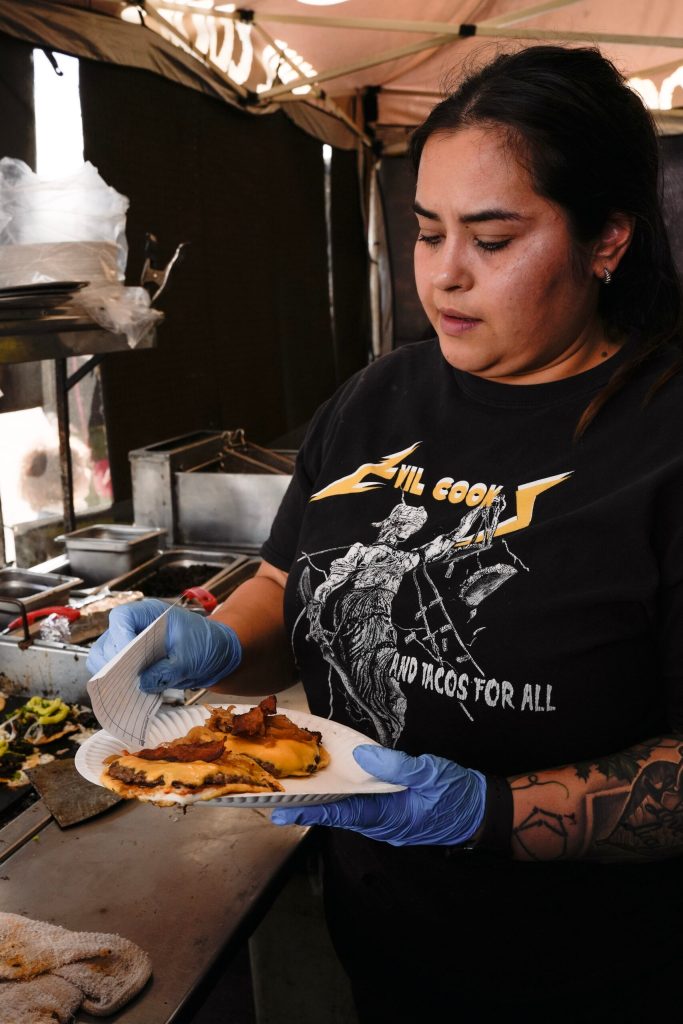 In some parts, these fears aren't unfounded. When Avenue 26 night market blew up on TikTok, crowds in Lincoln Heights swelled so large that officials could no longer ignore the eyesore of the mounds of waste that appeared after every night — the city shut it down. While the night market's iconic taquerías have kept their namesake and set up shop in Eagle Rock and Little Tokyo, I know many people, like myself, who miss walking past the food vendors down the block and finding the best eats for affordable prices. 
But my wariness around the hype of TikTok food trends isn't a complete narrative, as I learned from food writer Esther Tseng. Tseng, who has written for the New York Times, the Los Angeles Times, Eater, Vice, Bon Appétit, and Food & Wine and was a judge in the 2022 James Beard Awards, got her start running her own food blog in the mid-2000s.
Tseng is especially aware that as a Taiwanese American food critic, she's a minority in the obvious whiteness of the food media industry. She knows food trends can cycle through periods of hyper-visibility as certain ethnic foods catch the attention of a wider, white American audience. 
"[Sometimes] there's a tendency for certain marginalized communities to think, 'Oh, maybe our food's next,'" said Tseng. "That very question is just insidious and insulting. We're just waiting for acceptance from a certain population or audience in order to gain legitimacy when it should be enough."
Tseng pointed out to me that social media is a lifeline for lesser-known cuisines that desperately need visibility. The restaurant business has some of the highest failure rates: 61% of restaurants don't make it past their three-year anniversary — a statistic that has been exacerbated by the pandemic.  
Often, certain ethnic restaurants founded by people of color struggle to receive the same recognition and respect that the public ascribes to other elevated cuisines. Author of "The Ethnic Restauranteur" and chair of nutrition and food studies at New York University, Krishnendu Ray told The Washington Post that the label "ethnic" often carries a level of flattening "inferiority."
We're not willing to pay more when we expect the easy, inexpensive food experience of, say, Chinese fast food. 
Many street vendors in L.A. are immigrants who are still struggling to gain the dignity they deserve even with new pathways to legalize their work through bills like California's newly passed SB 972. But the pathway to getting permits isn't without barriers. Just last month, L.A. Taco reported on a police raid of the beloved Los Palomos food truck in El Monte.
There are food vendors who are looking to elevate street food, like the popular Evil Cooks, a gothic-style taco truck based in East L.A. that has been featured in the New York Times for their unique spin on Mexican food with flavors like black pastor and El Asesino, a mix of pastor and octopus. 
The co-founder Alex Garcia started Evil Cooks simply as a t-shirt series that eventually grew so popular on social media that he was able to kickstart his food business. Garcia says that locals at times balk at his prices because they are used to buying Mexican street tacos for a few dollars, but he says they put in the time to bring their customers flavors they can't experience elsewhere in L.A. 
To me, a flood of an affluent crowd willing to pay a higher price point for a cultural experience in dining is an early sign of encroaching gentrification that pushes out people of color — from accessible food stops and eventually, from their own neighborhoods. I still remember an uncomfortable dinner date I spent at a Mexican restaurant on the Westside where the only Mexican people in the establishment were the servers themselves — the white patrons were oblivious to how their tastes contributed to the commodification and racialized class lines around Mexican labor and culture. 
But Garcia and co-founder Elvia Huerta don't see their business that way. Thankfully, they've never been harassed by police while selling their food. They've also seen their own food bridge communities and break down barriers between people of different classes and races. 
"They leave all their differences at the door," Garcia says of his clientele. "They come here to enjoy the food and they start talking to each other like they're friends." 
There has been some confusion with their online social media branding — with their mascot being a cartoon devil face, Huerta says, "[People] think we worship Satan, which is not true."
But for the most part, folks recognize the branding as a riff on a joke. Huerta and Garcia attribute their glowing success to the loyal following they've developed online and through word of mouth amongst friends, neighbors, and the wider community of foodies in L.A.
On a Thursday evening, I made a trek out to Avenue 26's taquería in Little Tokyo to find a certified social media-influenced foodie in L.A., waiting to pounce on some unsuspecting taco lovers. After three non-starter conversations, I spotted a pair of friends that stood out in their unique, thrifted outfits and approached them.
Ava Kendall and Judith Hernández are co-workers in retail and recent transplants who moved to L.A. in the past two years. Kendall heard about Avenue 26 by recommendation from a friend and then saw the taco stand featured in a TikTok and decided to try it out, only later making the connection that they were one and the same.
"There [were] a few weeks where I was literally coming like every day," said Kendall. "It's so affordable and it's so good. Their staff is so nice and I love that I get to put on my own toppings."
Kendall had been coming to Avenue 26's taquería for about a year and then invited Hernández to join her. At first, Hernández, Mexican American, doubted whether her white friend really knew where the best taco spot was in L.A. But when Hernández tried her first Avenue 26 tacos, she was hooked. This Thursday evening was their second time stopping by for tacos this past week. 
"I literally have already messaged my friends to come here," Hernandez said of the moment she took to snap a photo of her tacos. 
As Gen Z, they've relied on social media to help them simplify and navigate complex and diverse food geography in the urban sprawl of Los Angeles. There's often a calculus finding a new favorite eat —- the time spent driving means factoring gas costs alongside food prices. They say social media recommendations simplify the search by offering a tantalizing preview of what you'd be eating and often by recommendation by a trusted source you parasocially knew online.
Some food vloggers have put in the intention and care to build community with their followers and the restaurants they review. That includes vlogger Tiffany Jefferson, who exposes her online audience of over 30,000 followers to new Black-owned food businesses through her platform Black Owned Food LA. She started her food platform as a way to support Black-owned restaurants across L.A. to highlight these "hidden gems."
In 2020 after the summer of the Black Lives Matter protests, the push to support Black-owned businesses catapulted Jefferson's Instagram account into notoriety. Since then, she says the response from the community was overwhelmingly positive, she gets invited to make content at restaurants all the time. Sometimes people aren't able to pay her but Jefferson isn't focused on that: she's in it to show up for the community and amplify their businesses and accepts whatever businesses can offer.
Gatekeeping can be selfish, as Jefferson reminds me. "If nobody is coming in to eat, and they're struggling to keep the doors open, then I may not have that food within this year or next year," Jefferson said. "Who's really winning at the end of the day? They now have business at the end of the day."
And the stakes around food and visibility can be higher than we think. For Bughra Arkin, the owner of Dolan's Uyghur Cuisine in Alhambra, the food comes secondary to his mission to spread awareness of the crisis of the repression of Uyghur Muslims in Xinjiang, China. He has his servers wearing shirts that read "Google Uyghurs" as they serve patrons popular items like their lamb kebabs, traditional hand-pulled noodles, and baklava. 
Many food vloggers find Dolan's food a novelty in the food landscape in the San Gabriel Valley, and in exchange for TikTok reviews and videos, Arkin offers them free food.
Arkin knows his audience and is expanding his business this year to include two new locations in Irvine and Rowland Heights where he knows he can win over an existing Chinese immigrant population. Although he hasn't had a social media strategy before, he's open to paying for professional marketing services on social media to advertise these changes. It doesn't hurt that his current restaurant has already received a lot of attention and supportive reviews in publications like The Los Angeles Times, Eater, KCET, and more. 
"Since 2019 — because the Uyghur issue is pretty big in the media — I really advocate in LA," said Arkin of the media attention he's received. "I also had interviews with a lot of big media. Maybe that's why we are [promoted] on the internet somehow a lot."
In a way, his food has been fueling his social platform instead of the other way around. His business is inseparable from his activism. And in keeping the Uyghur food traditions alive in Southern California, it's also keeping the stories and awareness of Uyghurs alive as well.
I'm still not entirely certain that I trust social media's all-giving nature. I recognize that while there are obvious benefits to the visibility it provides, there are real fears over inequities in the food industry being exacerbated when the nuanced histories of food and culture are flattened into a short 60-second vertical video.
Social media, like any tool, has the potential to create a positive or negative impact depending on who's wielding it. There are platforms like MAMA that have "[dedicated] themselves to preserving immigrant culture through food" in a way that elevates and amplifies the personal histories and connections people have to their food cultures. Their social media features local street vendors and restaurants in L.A. and they run a popular night market even while raising money for organizations like Respect Your Elders that aims to address food insecurity for seniors in minority communities. 
At the root of it, I recognize that my protectiveness around Chinese food is more of a protectiveness around my own tenuous relationship to my Asian American identity, with my flawed Mandarin and lack of cultural fluency. 
Because even if I couldn't trust myself to speak perfect Chinese, I could trust my tongue after 22 years of eating quality Chinese food in the San Gabriel Valley. I was worried about what it could all mean if all my neighborhood spots became those new-age restaurants, with their appropriately-explained menus, to attract an audience of non-Chinese strangers.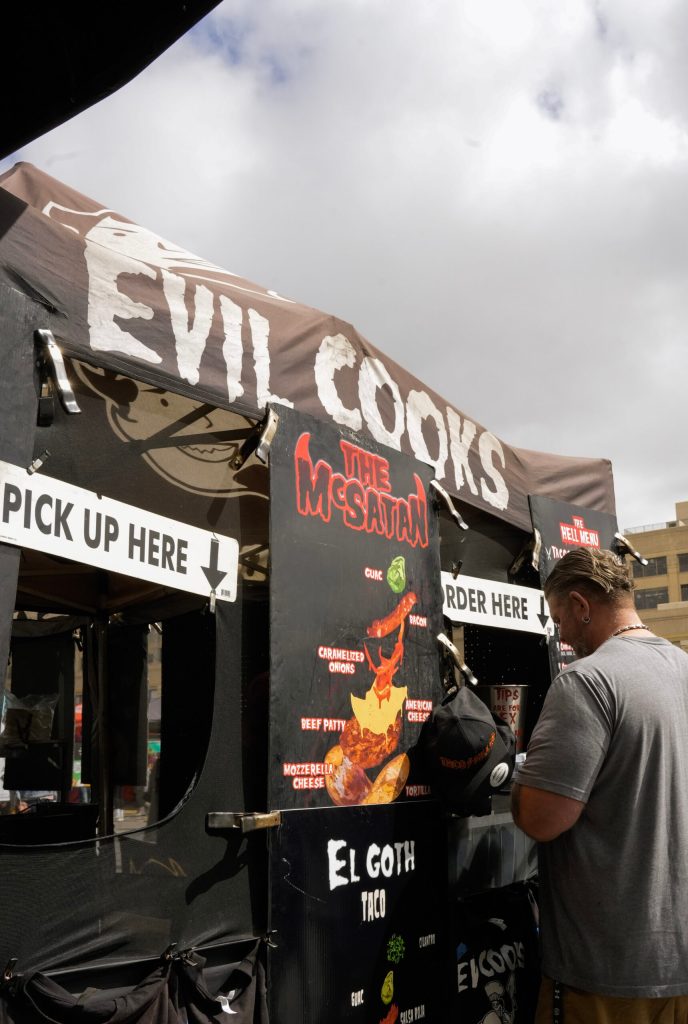 But these food reels aren't an ethnographic endeavor, and they shouldn't strive to be. It was a humbling reminder that food landscapes change all the time and compete to get a portion of our palettes. Even Chinese dishes in the San Gabriel Valley had to be adapted from mainland China at the beginning when there might have been a dearth of essential food staples. Its people adapted — resilient and stubborn to stay — like our food. 
And our food isn't just nourishment, it's a potential site for gathering, sharing, and building a deeper connection with our neighbors. 
As I was talking to folks at the Little Tokyo location of Avenue 26's tacos I was surprised to hear that more than one person had simply followed the scent or word-of-mouth recommendation to find the taquería and weren't aware of the large social media following they had online. It didn't matter how we got there, but here we all were: a diverse crowd of Angelenos, in a parking lot getting closer in some way to one another, all thanks to mouth-watering carne asada tacos.
Jireh (they/them) is a queer Taiwanese/Hong Konger American poet and multimedia journalist born and raised in the San Gabriel Valley. Their writing on L.A., arts and culture, and identity appears in The Los Angeles Times, The Guardian, The Washington Post, KCET, Teen Vogue, NPR, Literary Hub, and more. They serve as the national board representative for the Asian American Journalists Association, L.A. chapter and currently co-direct AAJA national's LGBTQIA+ affinity group.
This piece was edited by Omar Rashad. Copy edits by Gabe Schneider.
Stay in touch
Sign up for our free newsletter